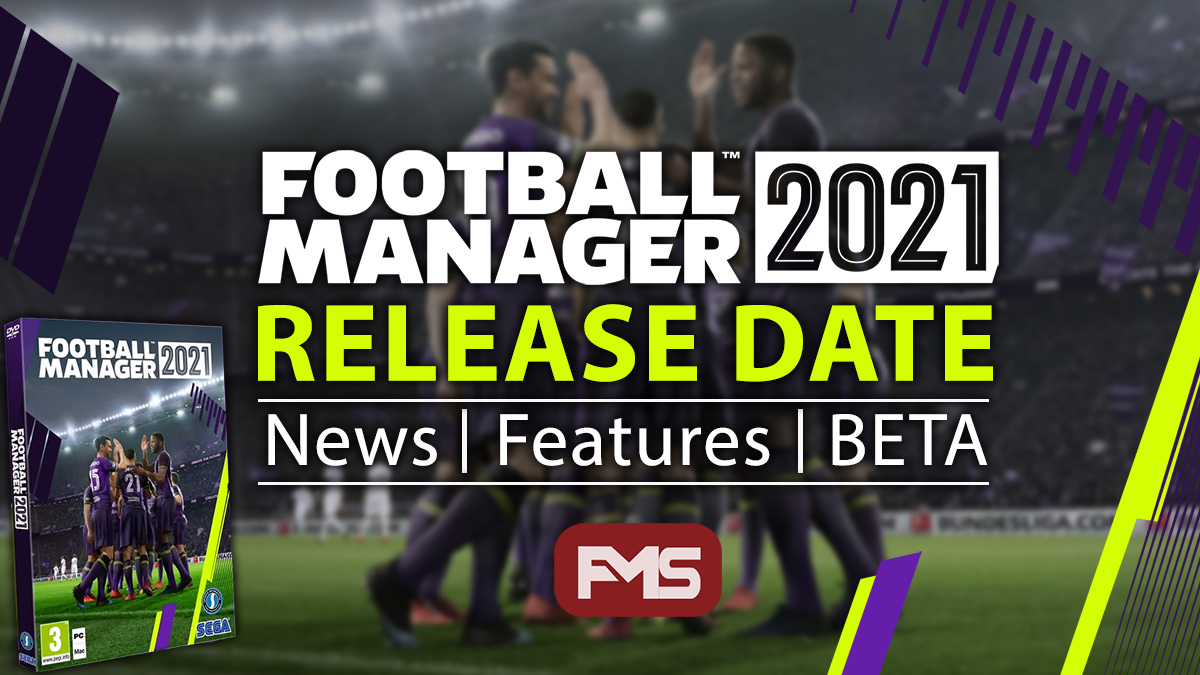 FM 2021 Newgen Faces To Be Upgraded
Football Manager 2021 Newgens are receiving a graphical upgrade. this has been coming for many years and coincides with the enhanced Manager creation graphics.
You've had a couple of manager models so, what about Newgens?

Because I'm feeling generous, here you are… #FM21Features pic.twitter.com/mcVMjK9DpB

— Miles Jacobson (@milesSI) October 21, 2020
Miles Jacobson Talks COVID-19 In FM21
On the 20th October Miles Jacobson released a blog to explain how the recent pandemic will be represented in FM21.
Will COVID-19 be in Football Manager 2021? Get all the details here.
FM 2021 New Features Video – 15th October Update
Thats right, Sports Interactive have just shared the first FM21 features reveal video and here are the highlights. For all the FM 2021 new features and screenshots click here.
---
We have written numerous blogs delving into the detail of each headline feature:
---
New look, sharper interface
Perfect your tactic with new backroom advice
Hold recruitment meetings
Be more specific when scouting targets (eg: search for intelligent midfielders)
Ask agents about player availability
New media handling
Gestures repolace the old tone model in chats and interaction
More stats: XG (expected goals) added
Re-modelled match engine
New trophy ceremonies
New matchday feel with pre-match build up
New tactical insights, team sheets, and opposition reports
Better opposition preperation advice from staff
Football Manager 2021 Release Date & Early Access BETA Announced
Its official guys, Sports Interactive have announced the official Football Manager 2021 release date as Tuesday 24th November! The announcement was made on Thursday 24th September and Miles Jacobson confirmed the early access BETA will be available for those who pre-purchase the game roughly two weeks before release.
Don't forget you can buy FM21 through us and by supporting our content you receive an exclusive 33% discount, making the game £26.99. Click the link below to find out more.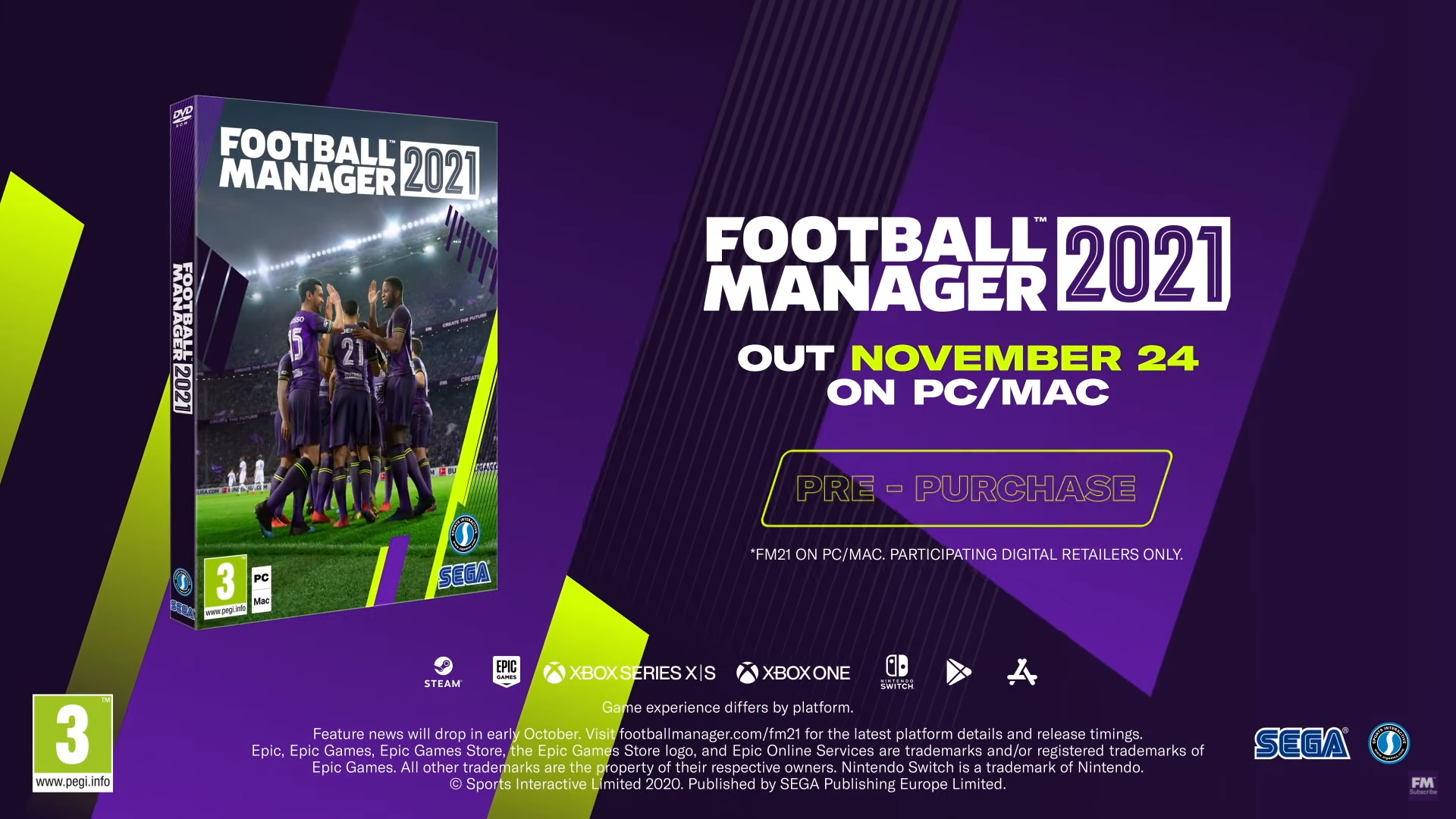 FM21 will be available on XBox One and XBox Series X|S modelled on the successful Touch version. The long awaited return of Football Manager to console is finally here. FM Touch will also be available on tablet and Nintendo Wii sometime in December.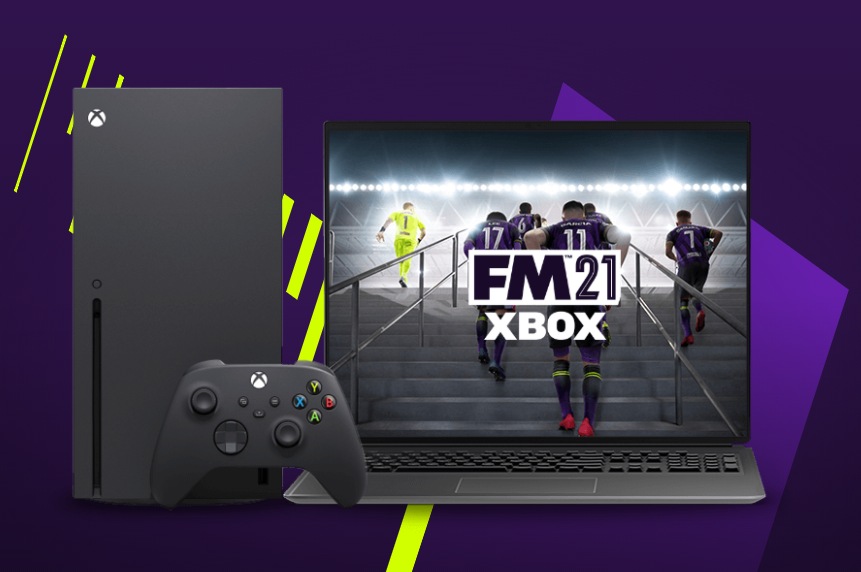 Sports Interactive also confirmed we can continue XBox saves on PC and vice versa! This means you can start an FM 2021 career on computer and carry on playing with XBox through Microsofts play anywhere functionality.
FM 2021 Minimum System Requirements
FM21 Windows system requirements:
Requires 64-bit processor and operating system
Windows 7 (SP1)
Windows 8/8.1
Windows 10 (1903/May 2019 Update)
Processor:
Intel Core 2 or AMD Athlon 64
1.8 GHz or higher
Memory: 4 GB RAM
Graphics Cards: Cards equal to or better than the following:
Intel GMA X4500
NVIDIA GeForce 9600M GT
AMD/ATI Mobility Radeon HD 3650
256MB VRAM
DirectX Version 11
Hard Drive Space: 7 GB available space
FM21 MAC system requirements:
Operating Systems (64-bit only):
macOS 10.13.6 High Sierra
macOS 10.14.6 Mojave
macOS 10.15.5 Catalina
macOS 11 Big Sur
Processor:
Intel Core 2 Duo – 1.8 GHz or higher
Memory: 4 GB RAM
Graphics Cards: Cards equal to or better than the following:
Intel GMA X4500
NVIDIA GeForce 9600M GT
AMD/ATI Mobility Radeon HD 3650
256MB VRAM
macOS 10.14 and later requires Metal API: Version 1; macOS 10.13 and earlier requires OpenGL: Version 2.1
Hard Drive Space: 7 GB available space
FM 2021 Trailor – New Season New Kit
To coincide with todays announcement of the FM21 release date shown above Sports Interactive also shared the first promotional video below.
New Football Manager 2021 Announced: 30th July Update
Anticipation for the Football Manager 2021 release date is building and Miles Jacobson provided an update today on the impact of COVID-19 on Sports Interactive and more importantly Football Manager.
Despite the global pandemic Mile's and the team have been working hard, albeit remotely, to bring us a new game later this year. The announcement (quoted below) suggests FM 2021 will be released in the back end of 2020 and later than previous years.
What I can confirm today is that, despite all the problems going on in the world, there will be new Football Manager games released later this year. They will be delivered a little later than we'd originally planned, but they'll have exceptionally strong feature sets…(Miles Jacobson 30/07/20)
The quote above suggests we can expect 'exceptionally strong feature sets' and Mile's later explains the game will be available across more platforms than ever before. Could Football Manager 2021 be available on X-box and PlayStation?
Our games will be on more platforms and available on more stores than ever before when they're released later this year but, with regards to features and release dates
The full update from Sports Interactive studio Director, Miles Jacobson, can be found here.
As we approach the new game this page will implode with more Football Manager 2021 new features, latest news and announcements, so be sure to give us a follow on Twitter. As for the FM21 release date, we know it will be later than previous years so below is an analysis of those dates and what this may mean.
Previous Football Manager Release Dates
We have checked the history books and below is every Football Manager release date from FM05 upto FM20.
Football Manager 2005 – Friday 5th November
Football Manager 2006 – Friday 21st October
Football Manager 2007 – Wednesday 18th October
Football Manager 2008 – Thursday 18th October
Football Manager 2009 – Friday 14th November
Football Manager 2010 – Friday 30th October
Football Manager 2011 – Friday 5th November
Football Manager 2012 – Thursday 20th October
Football Manager 2013 – Friday 2nd November
Football Manager 2014 – Wednesday 30th October
Football Manager 2015 – Friday 7th November
Football Manager 2016 – Friday 13th November
Football Manager 2017 – Friday 4th November
Football Manager 2018 – Friday 10th November
Football Manager 2019 – Friday 2nd November
Football Manager 2020 – Thursday 31st October
The most common launch day is a Friday and Sports Interactive favour an early November release, as has been the case for five of the last six editions of the game.
Football Manager 2021 Release Date
Its official, Football Manager 2021 release date is Tuesday 24th November with the game available roughly two weeks prior on BETA release.
---
Why not get a head start by reading our best FM 2021 wonderkids to watch?
---
FM21 BETA Release Date
The Football Manager BETA is generally available roughly two weeks prior to full release. The official line from Miles Jacobson is 'roughly' two weeks and we are yet to see a delay.
As for the official FM 2021 release date, well working it back from 24th November suggests we may be playing Football Manager 2021 around 10th November or whenever the BETA is ready. Hear it here first by following us on Twitter and Facebook for all the latest Football Manager 2021 news.
We have compiled a Football Manager 2021 features wishlist, jam packed with our own hopes for the new game and those of the community. All FM 2021 new feature announcements however will be hosted on this page.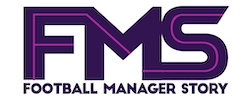 Subscribe to our Newsletter