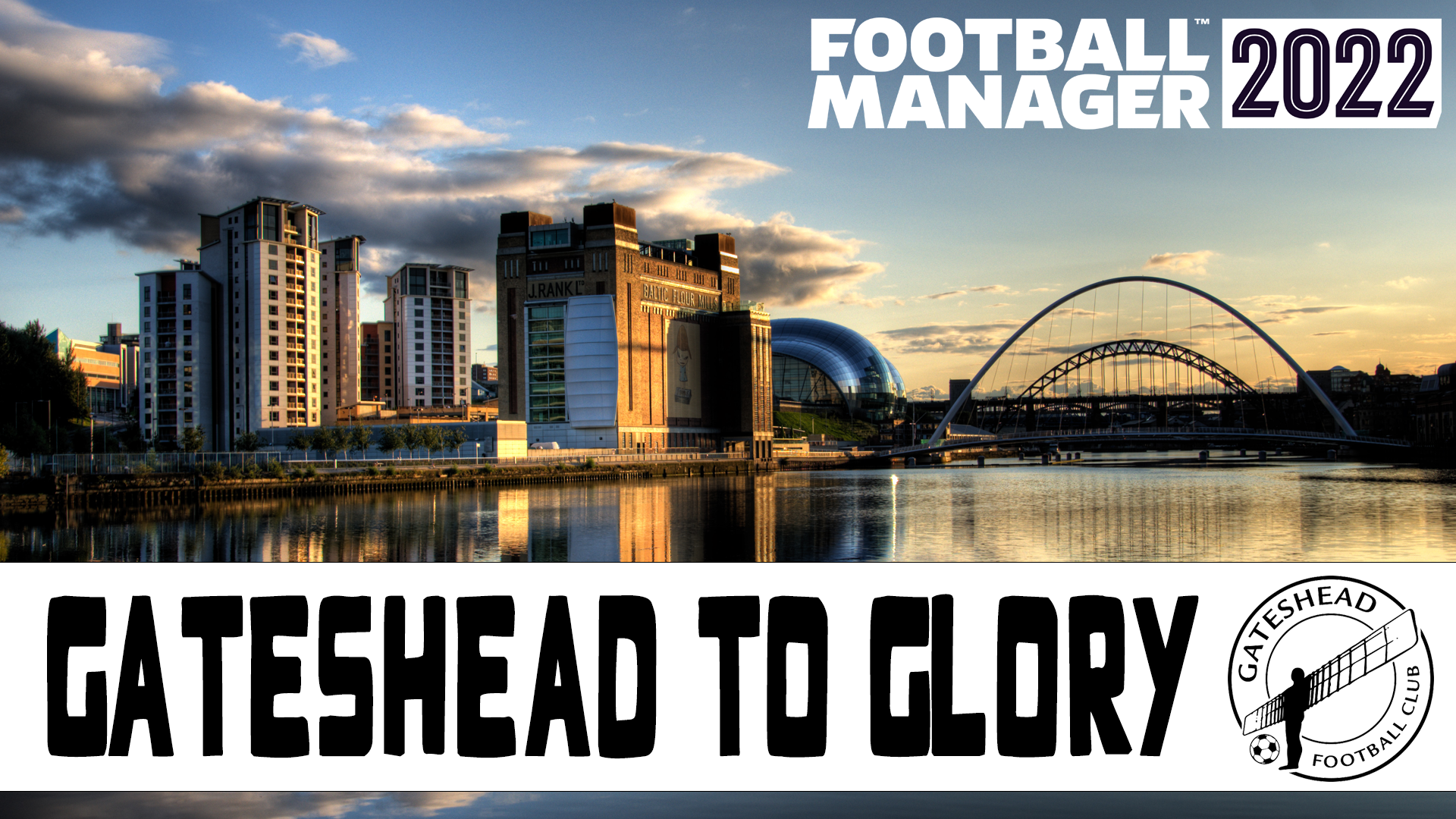 Hi, welcome to a new episode of my Football Manager story managing Gateshead from Vanarama National North to Glory.
After five back to back promotions from the Vanarama National North League, it is time for the Gateshead's debut in the Premier League.
If you haven't read the previous posts, here is a quick recap:
Introduction: My presentation as Gateshead's manager.
Season 1:  We won the FA Trophy and the Vanarama League North without loosing any games, with 112 points in 42 matches.
Season 2: We lifted the FA Trophy Cup and the Vanarama National League without loosing any games with 122 points in 46 matches.
Season 3: We won the Sky Bet League ,2 seventeen points ahead of second placed team MK Dons.
Season 4:  We Won the Sky Bet League 1 and the Papa John's trophy.
Season 5: Won the Sky Bet Championship League.
Our Performance this Season
Pre Season League Odds
The media and the odds expected us to finish in last position.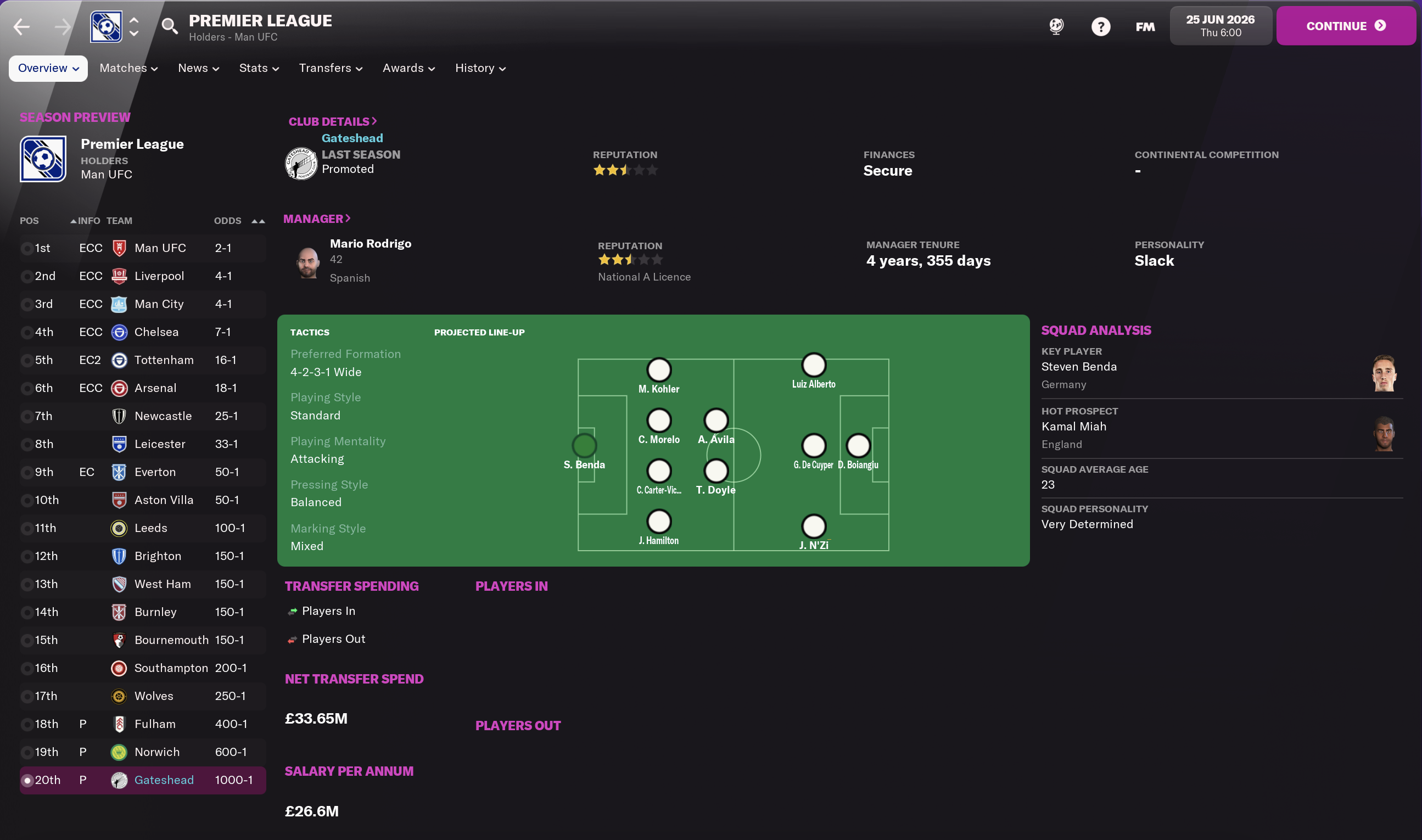 Premier League Fixtures
Though we over performed and avoid relegation, I make one huge rookie mistake.
After thr great results in the pre season friendlies and the performance during August, I got too confident and started trying to sell and to buy more players near the transfer dealine.
The players didn't like being offered to other clubs. Tit affected the overall morale, we lost a couple of games and then got into a terrible loosing streak of nine out of eleven games. 😢😢.
And, after December when the team started to show signs of improvement, in January I made the same error, and we went on another terrible loosing streak, which almost costed us a relegation to Championship.

The Premier League Final Table
We manage to avoid relegation, that's the most important thing, but if I didn't do the mistakes I mentioned above, I believe we could have challenge for an Europe Conference League spot.
End of League Odds
The Squad improved one position in this table.
But the team is much better that in the pre season.  I believe this is because the many young players we have, improved during the season becoming better players thanks to lots of playing time.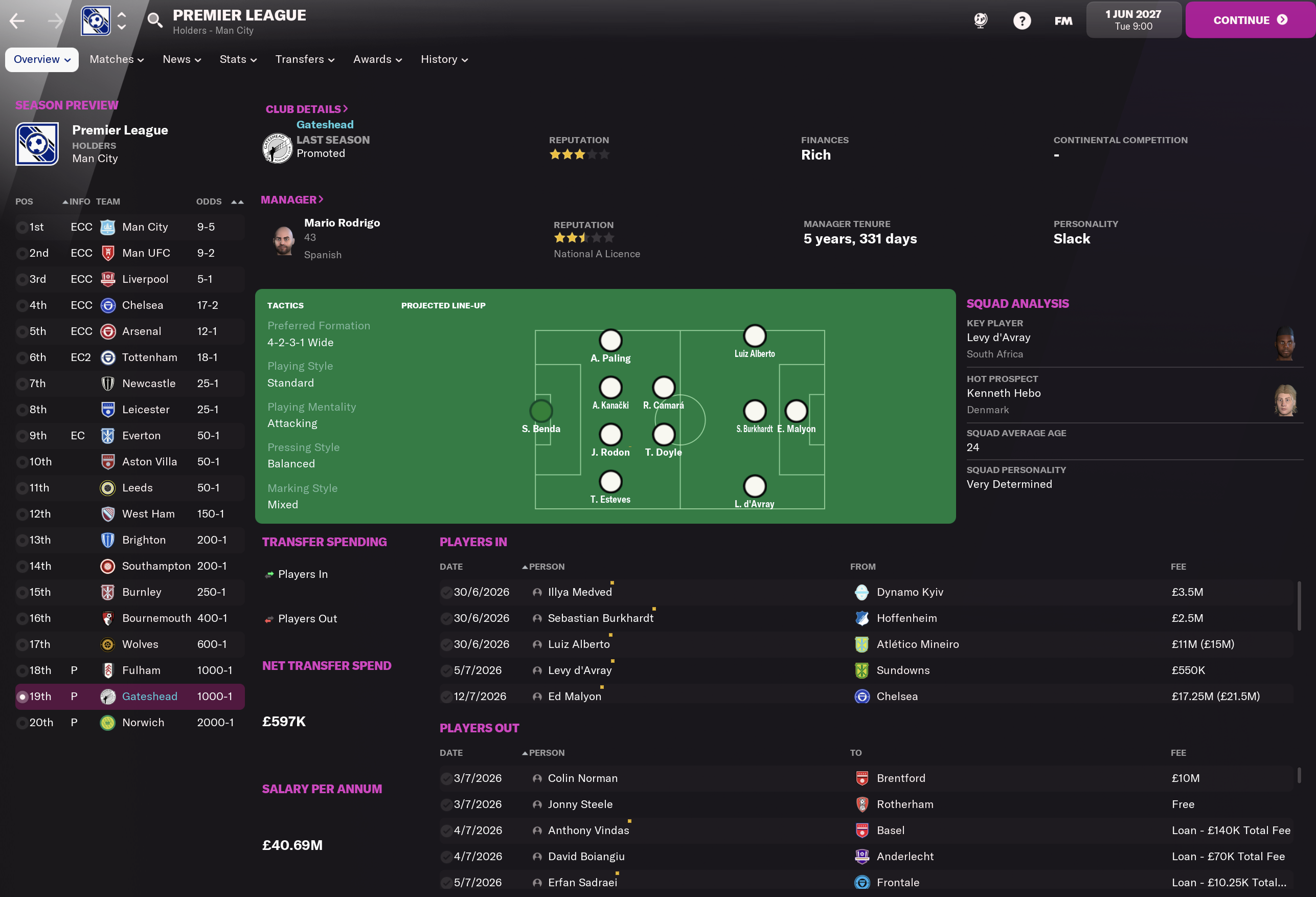 The Carabao Cup
We did terrible in this cup, we got knocked out by League One's side Forest Green on penalties.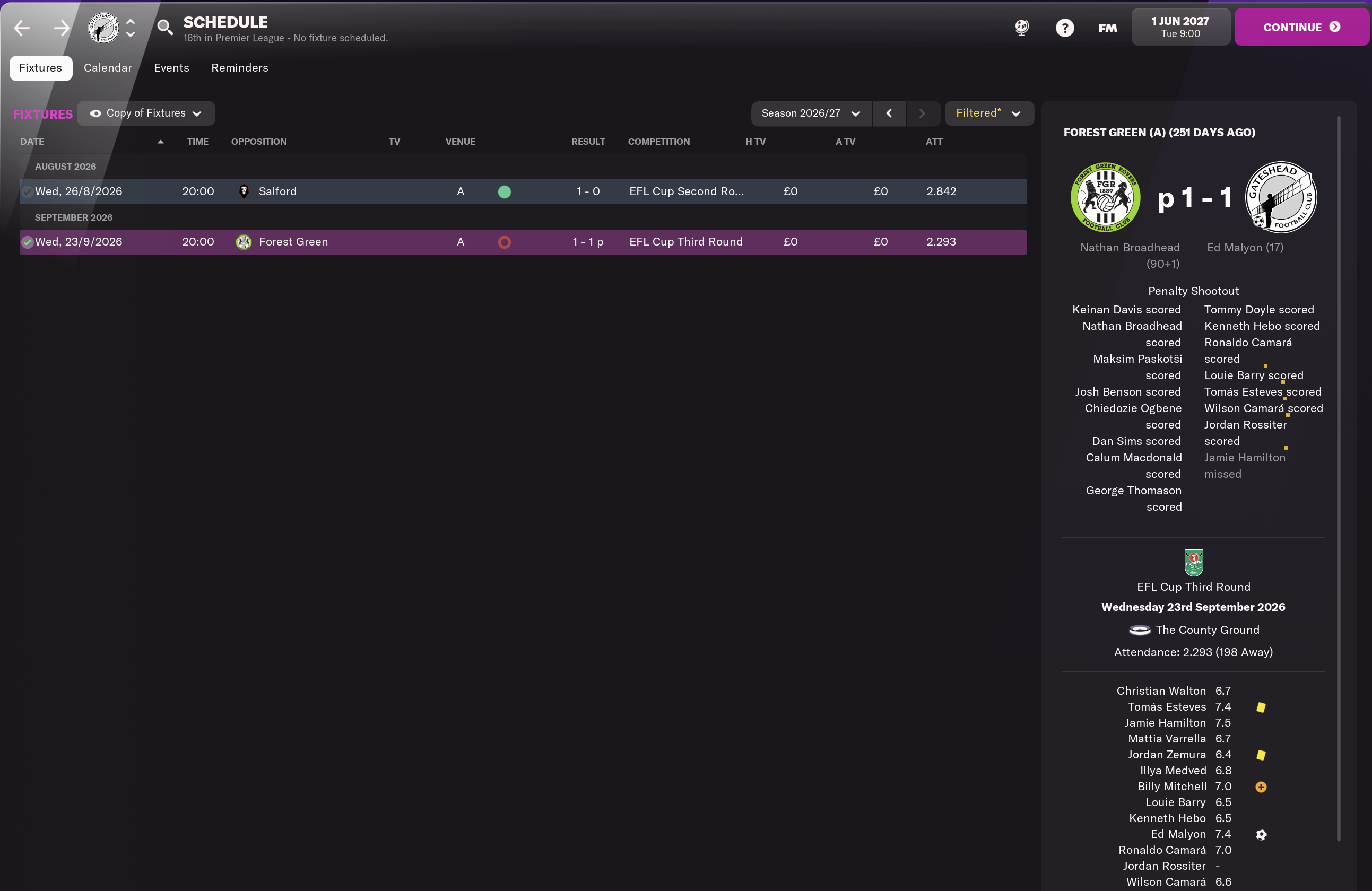 The FA Cup
In this cup we did ok, loosing to a much stronger side as Leicester 1-3 in the fifth round.
 Premier League Player Performance
All first 11 team players ended up having an average rating below the 7 points average. I was expecting much more from the players.
Ed Maylon with 25 goals was our best player, and he is just 19 years old.
Young Brazilian winger Luis Alberto with 9 assists should become a leading Premier League star.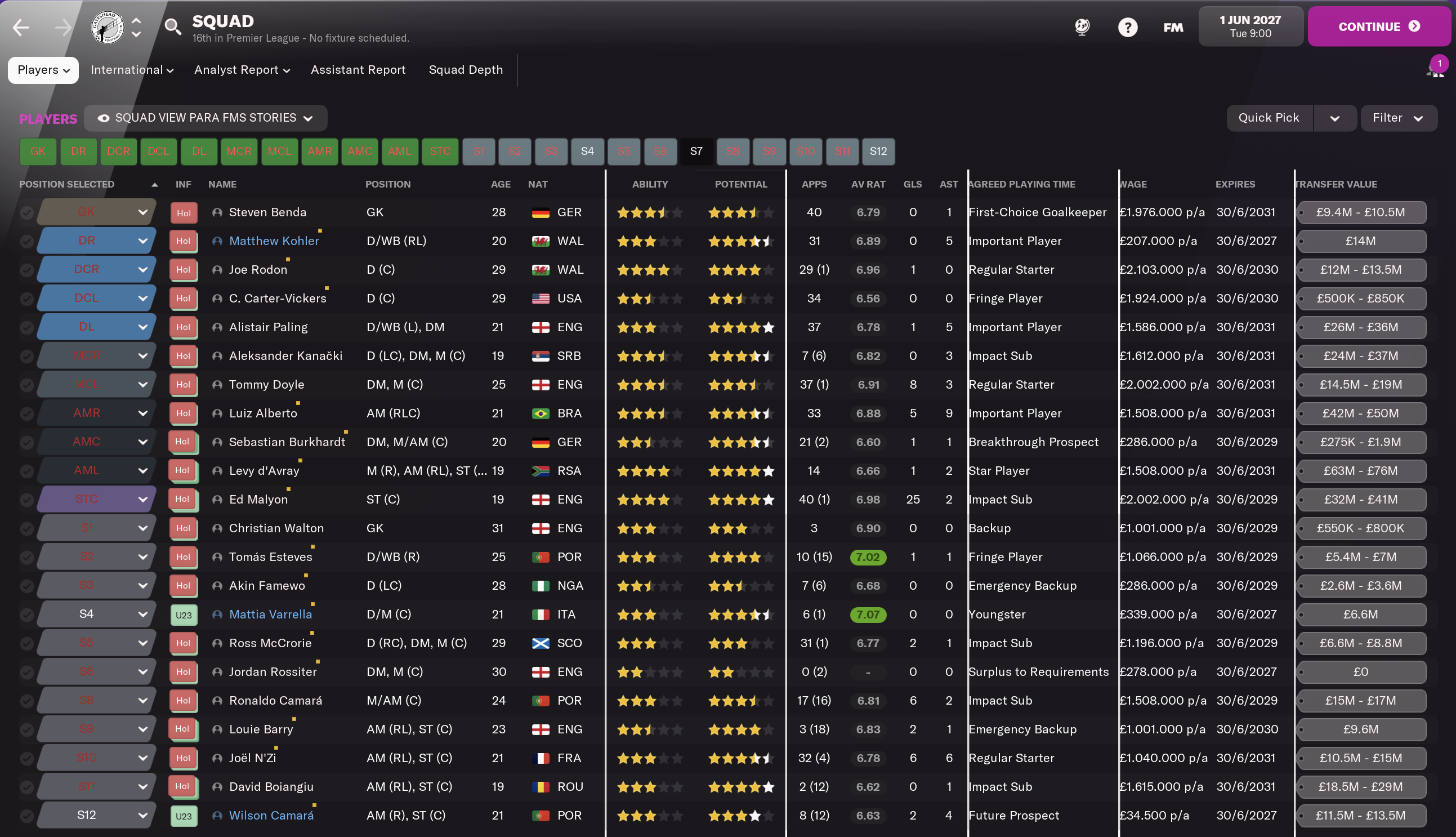 The First 11 Players
Sweeper keeper on defend duty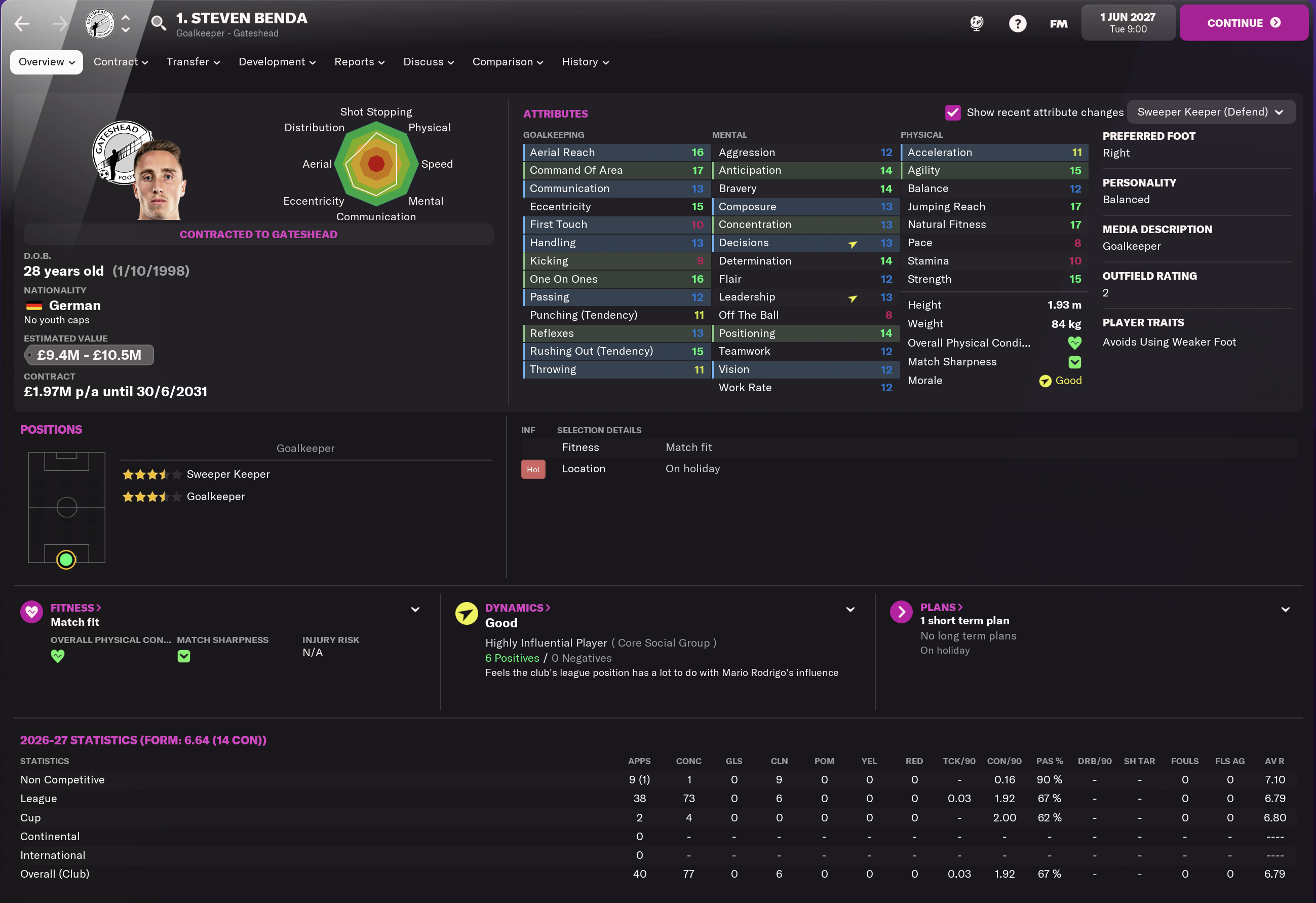 Right wing back on attack duty
Left full back on support duty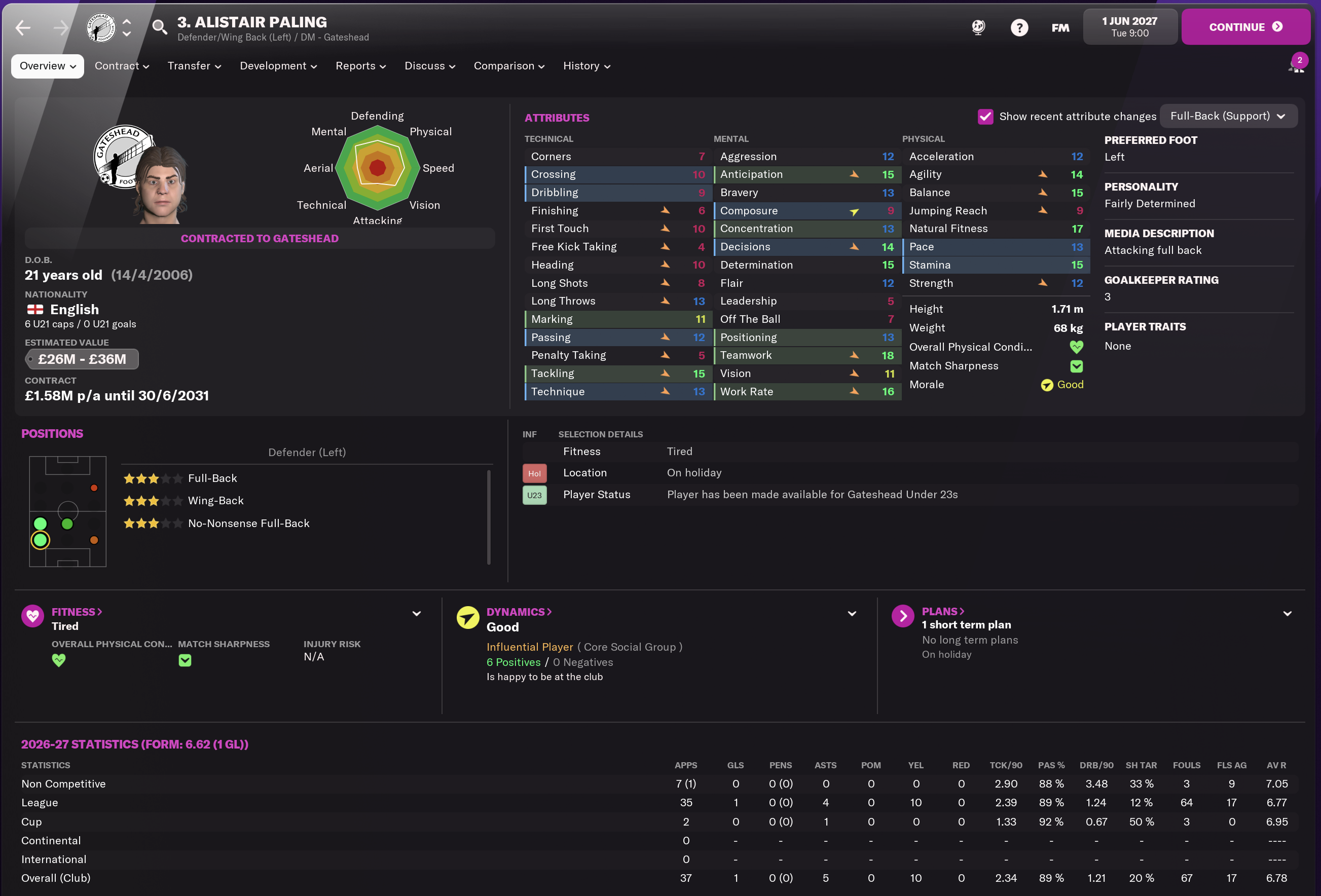 Central defender on defend duty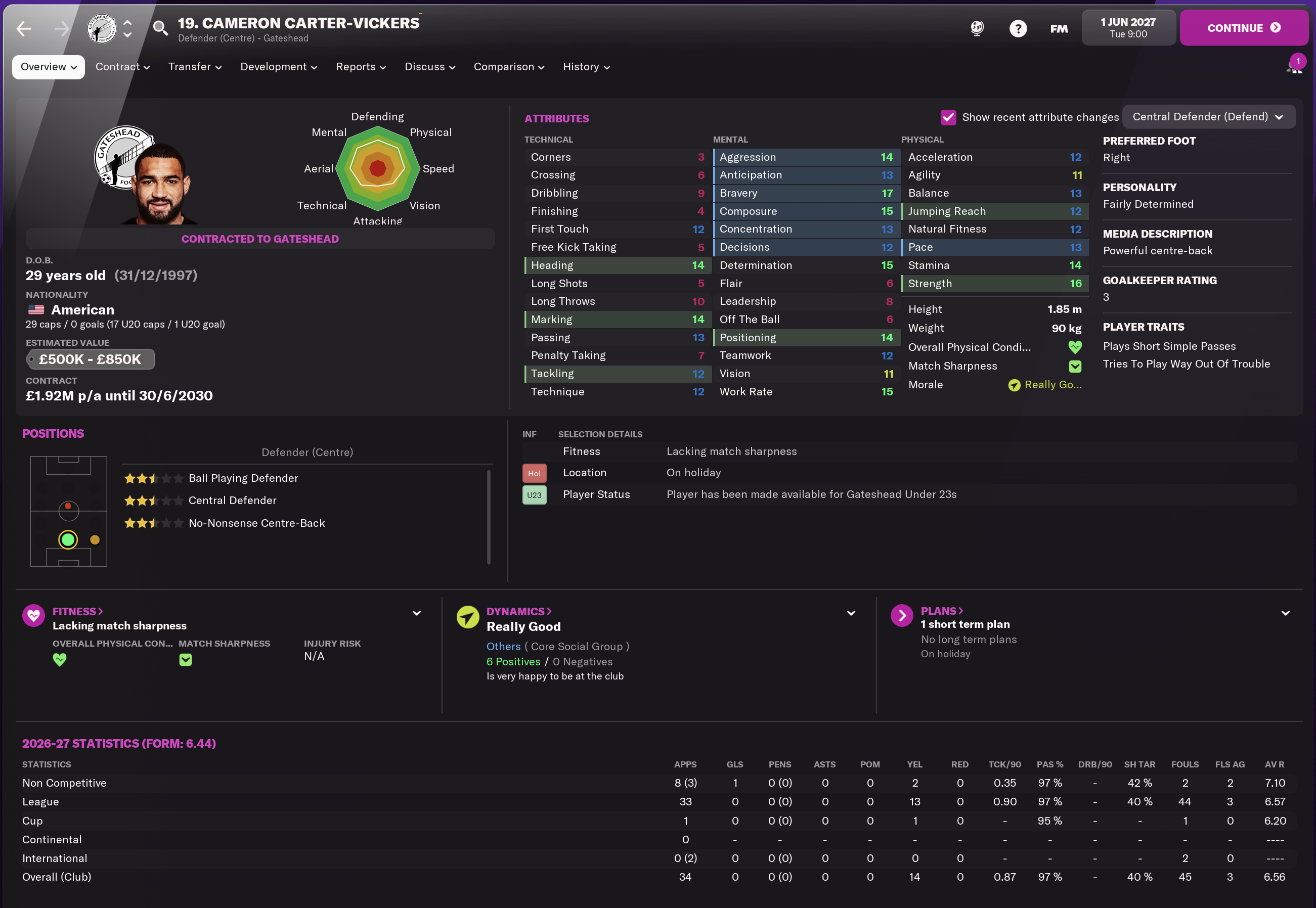 Central defender on defend duty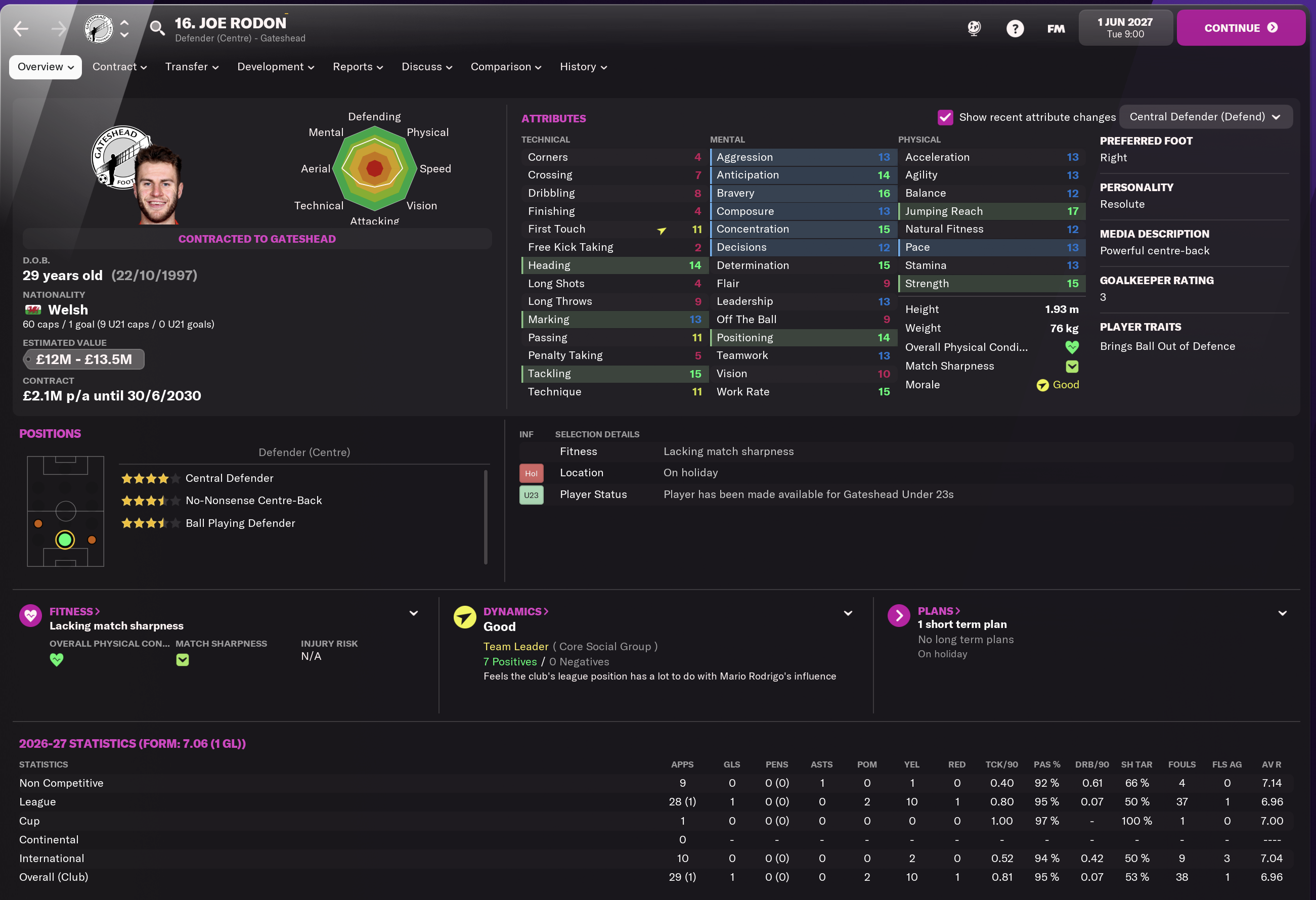 Central midfielder on defend duty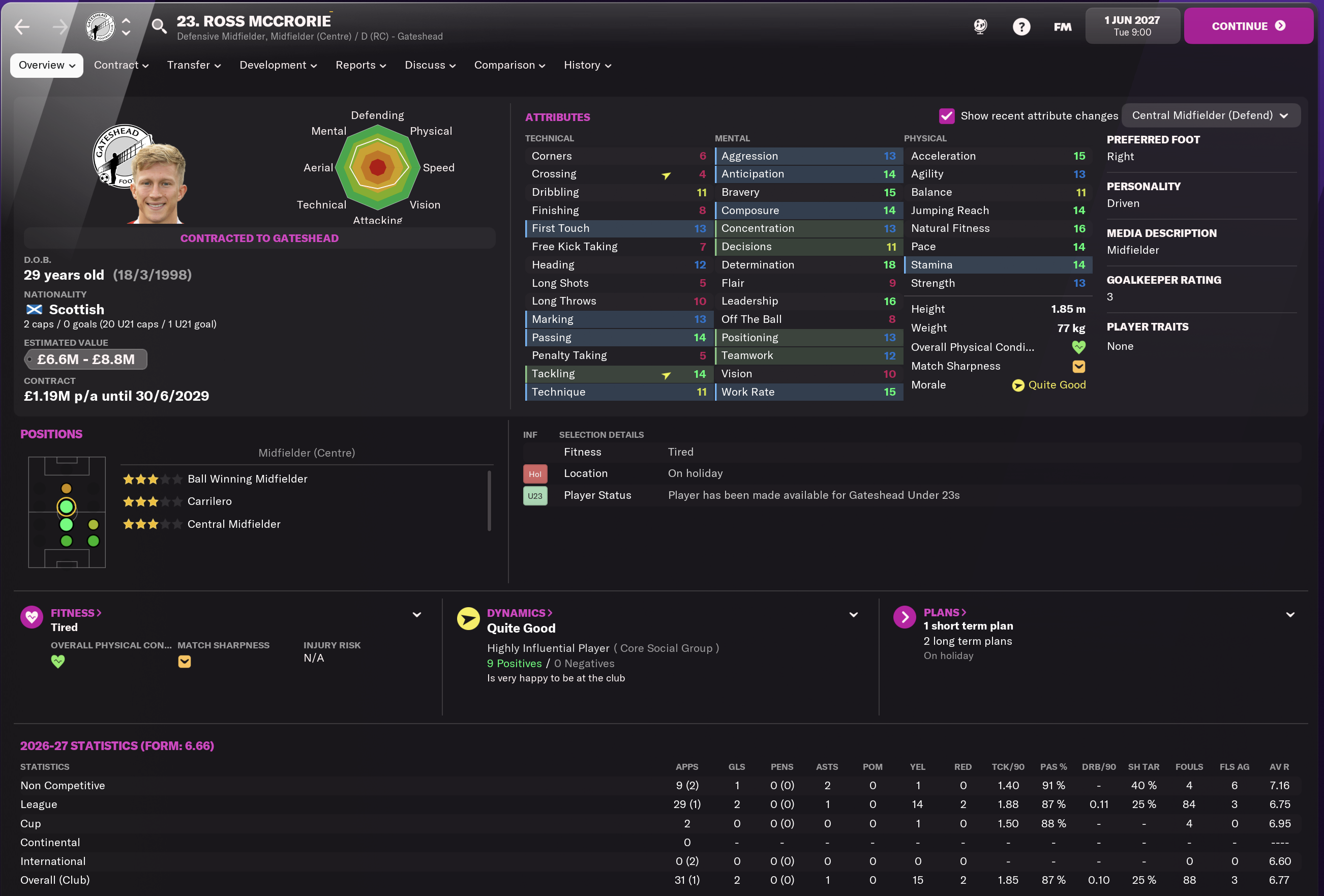 Box to box midfielder on support duty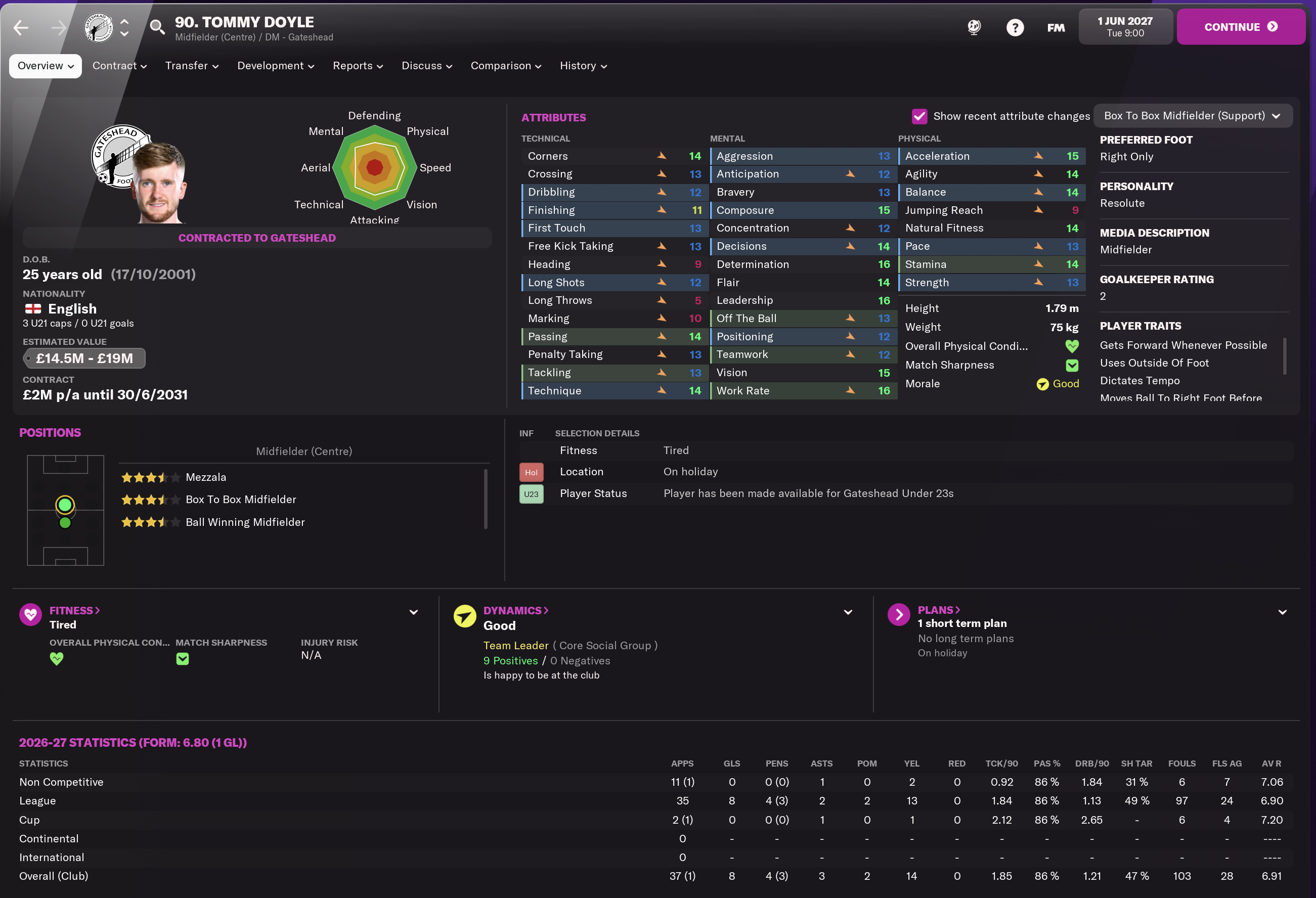 Right winger on support duty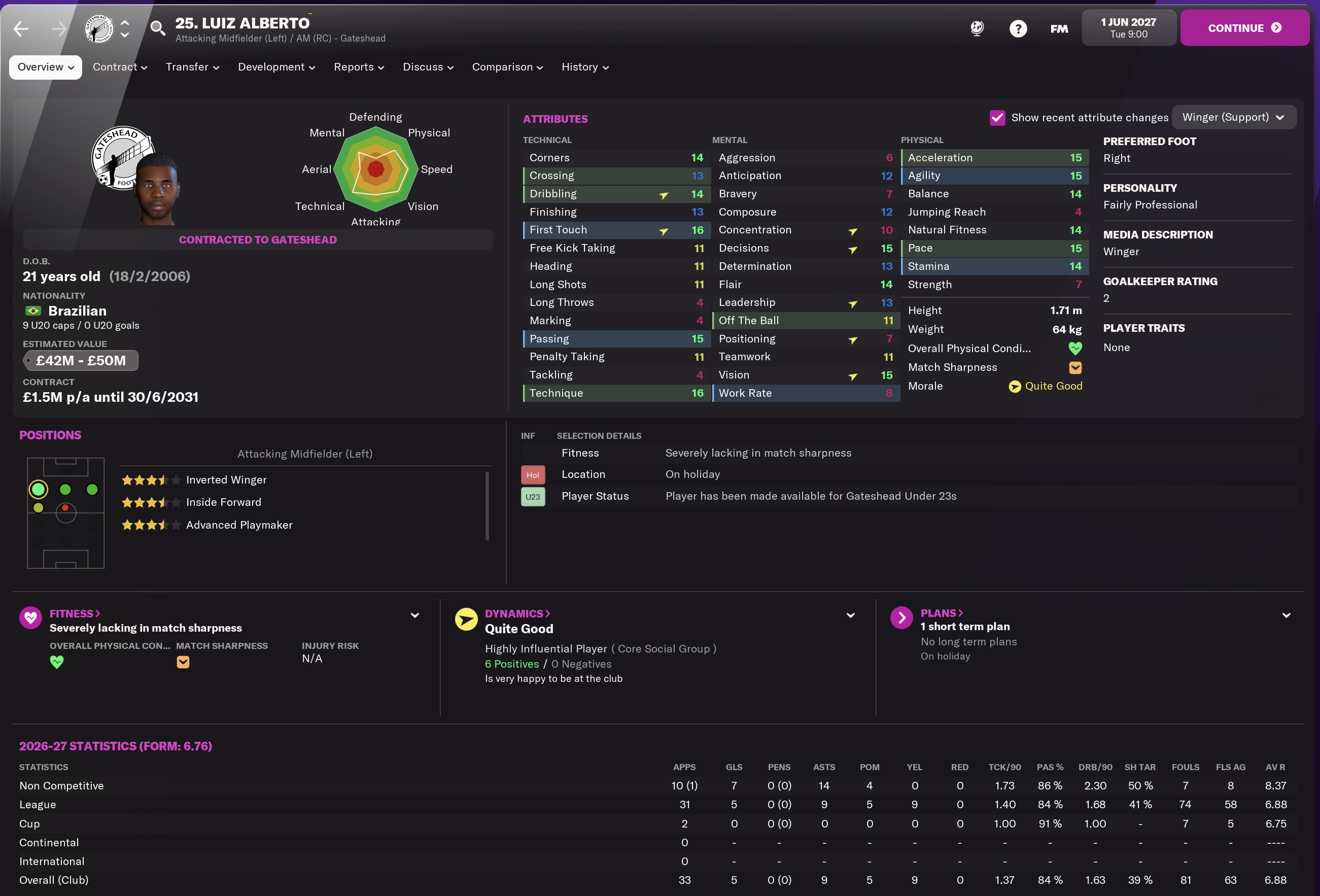 Advanced playmaker on support duty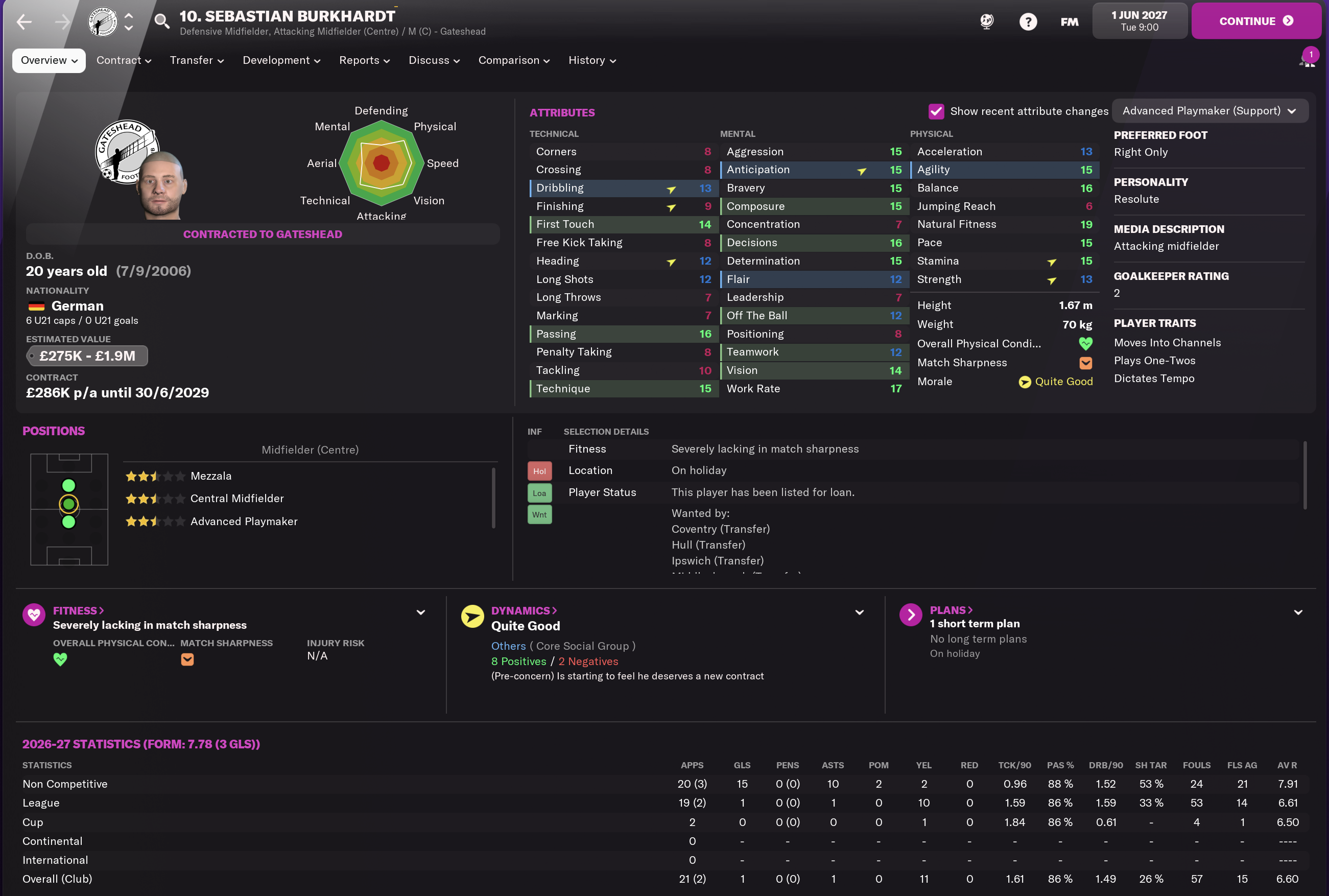 Inverted winger on attack duty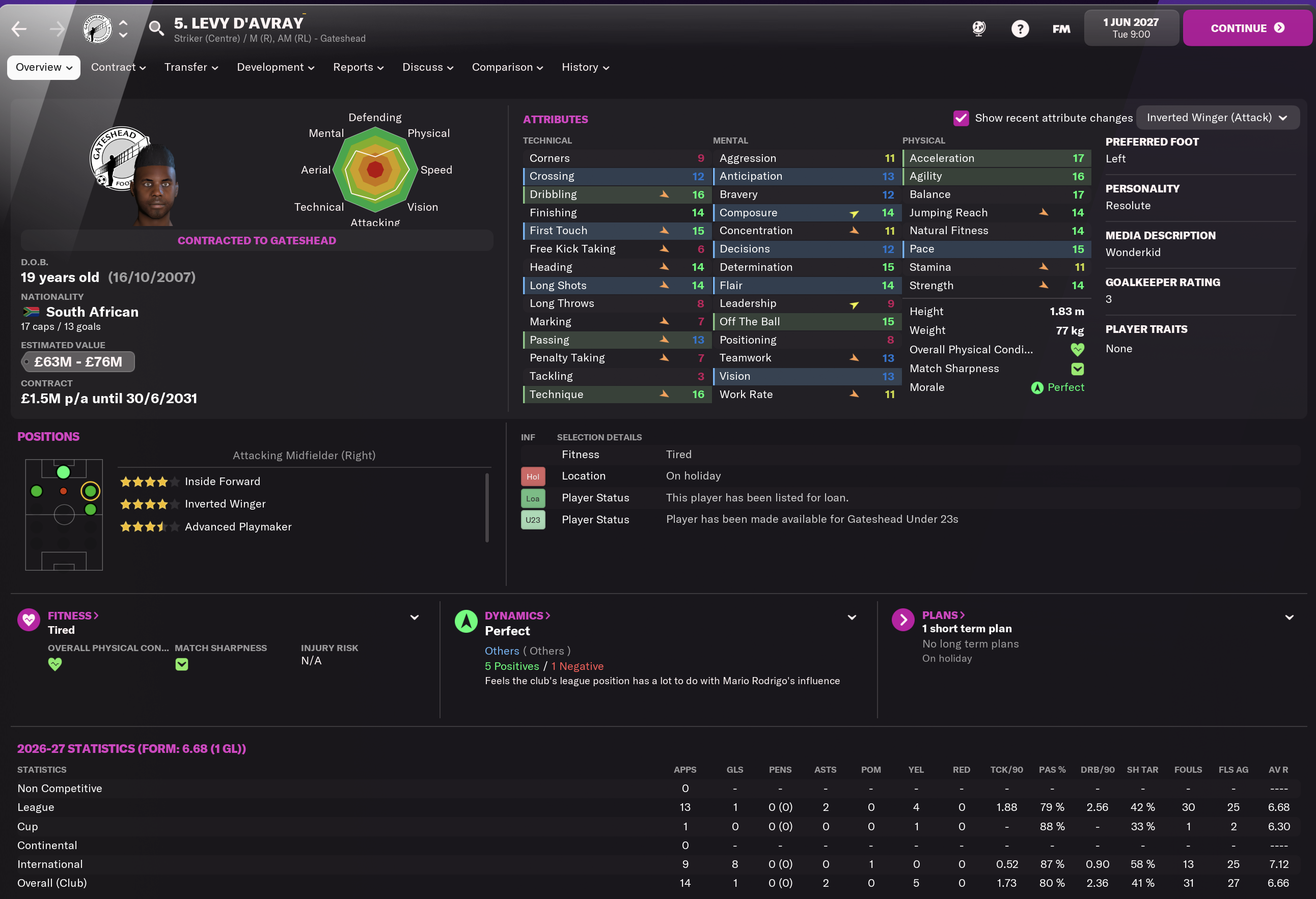 Advanced forward on attack duty

The Transfers
I did three more player sales for profit from regens I signed for pennies with my "lower league money method".
Colin Norman costed me 28k from South Shields, Brentford paid 10M cash for him plus 50% of a future transfer.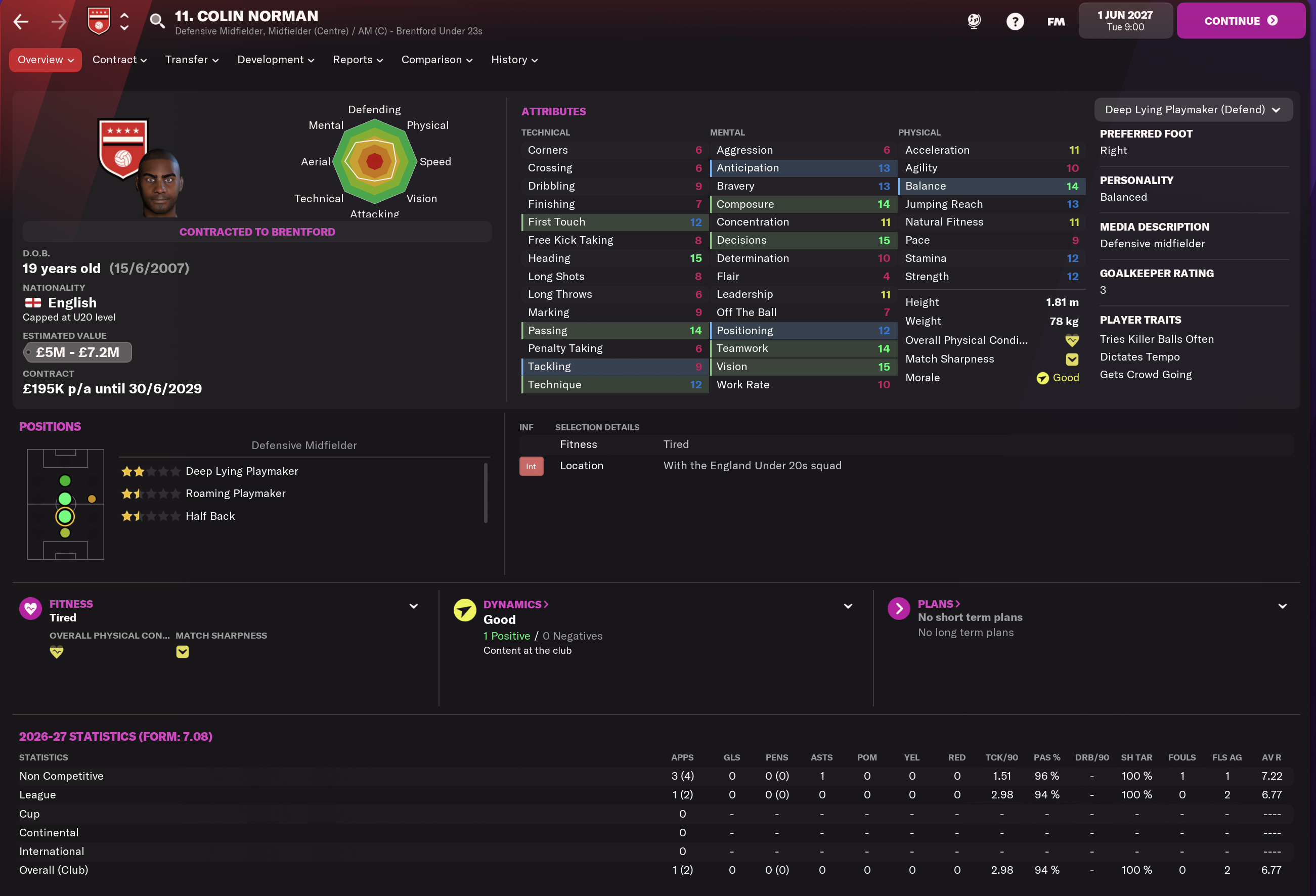 Kamal Miah was bought for 170k in installments, sold him to Aston Villa for 10M cash too.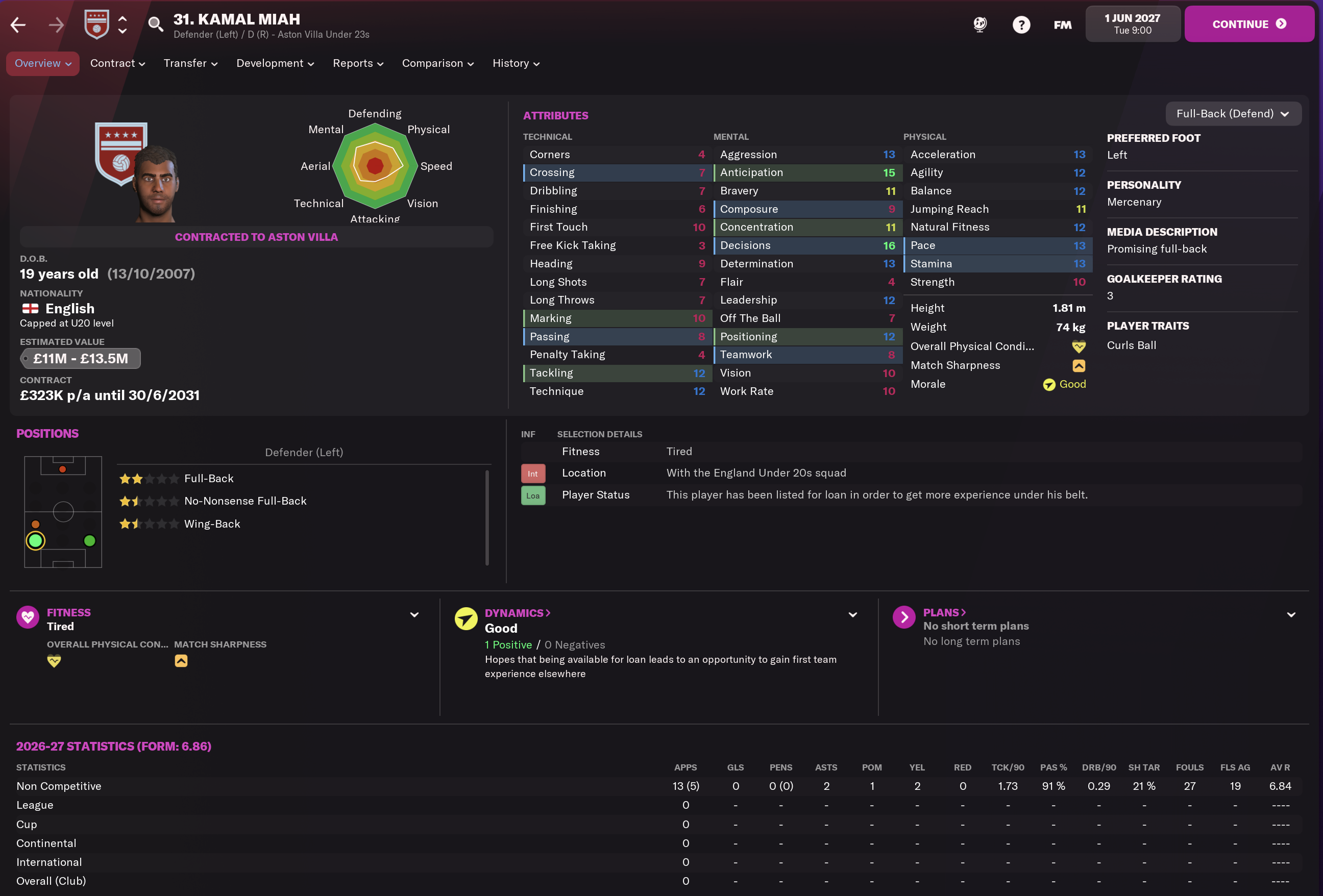 And last but not least, I also sold Dembele, a Malian youngster to Porto for 7M.
I  bought him from Stade Malian for 57k two seasons ago.

======================================================
=========================================================================================
Players out:  £40.5M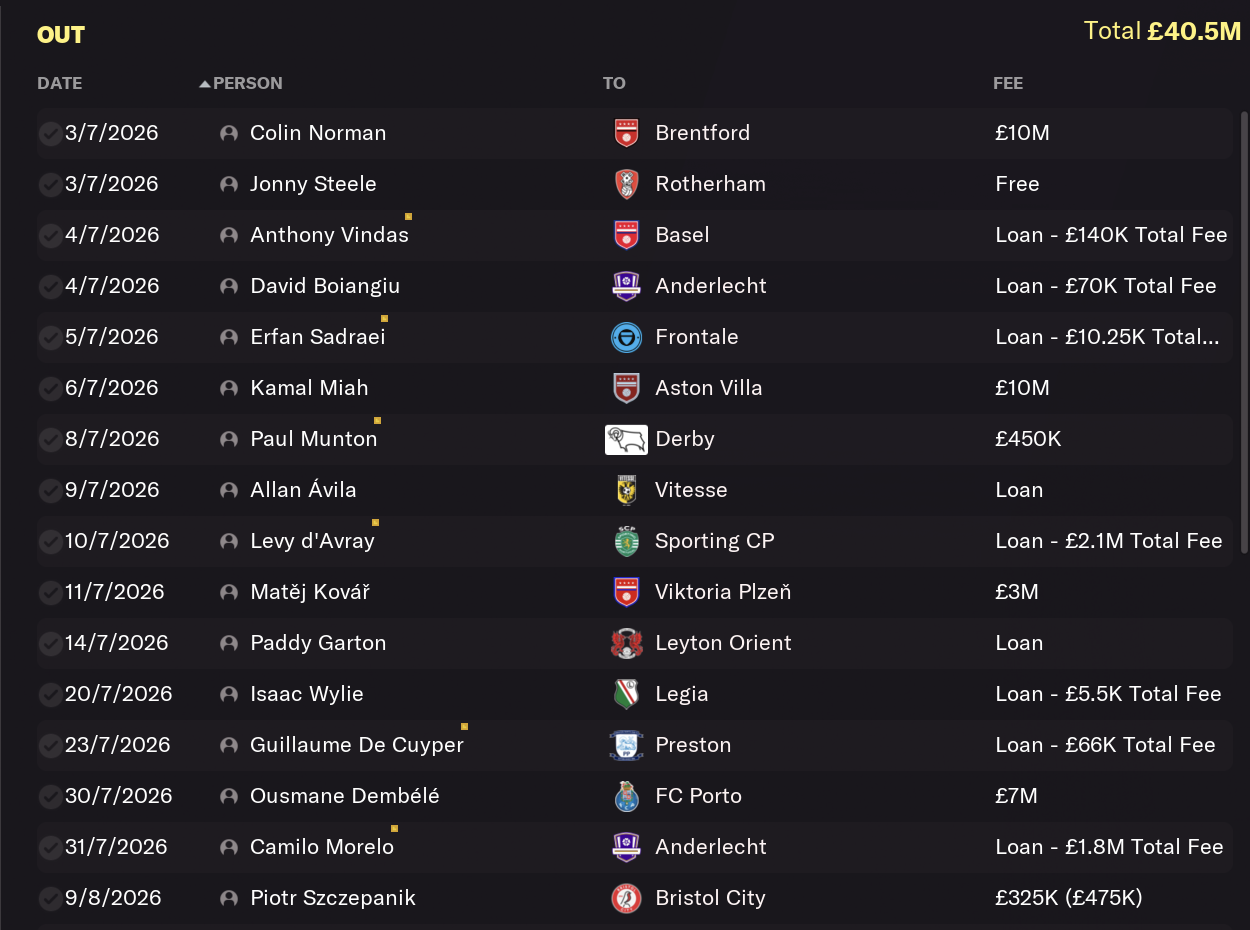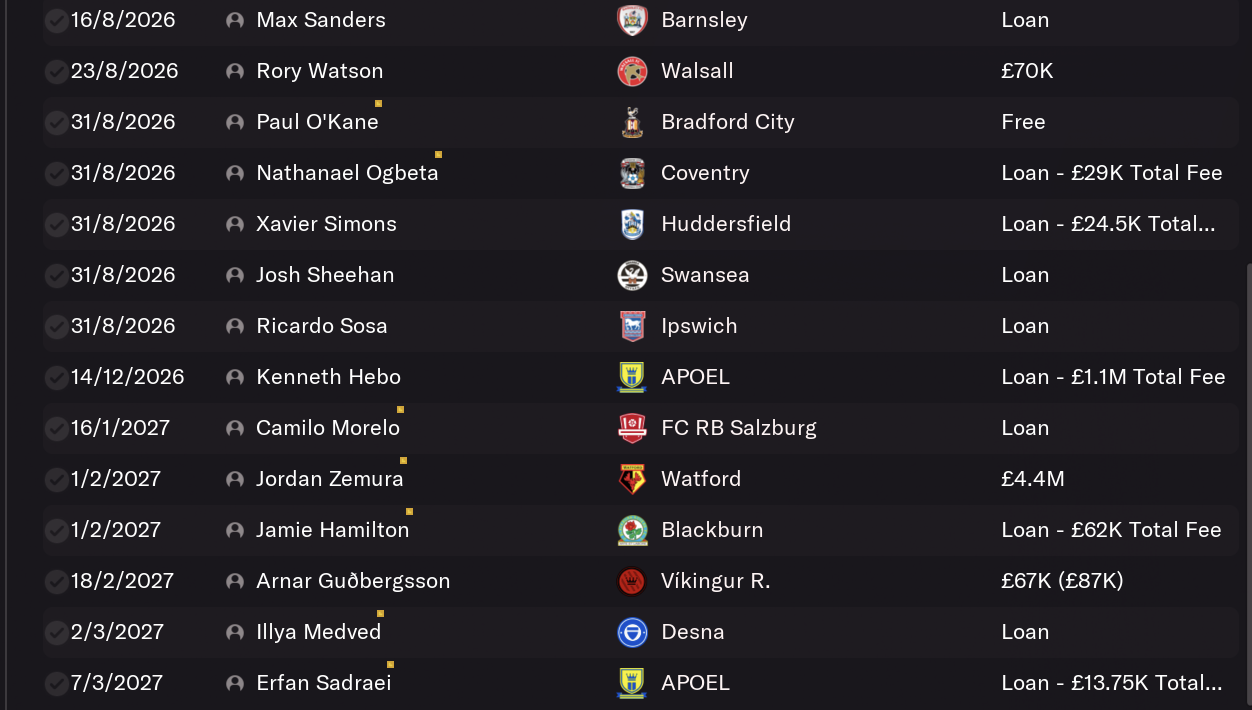 Players in: aprox £88M
Bear in mind that the players I sold, were paid mostly in cash, while most of the players I brought in are being payed in installments.
I did my best to bring players to improve the squad, but it was not easy. I was not satisfied with the level of the ones willing to come to Gateshead.
Anyway, it is a good base to build for the future, I have wingers and striker to compete at the highest levels. The young defensive midfielder I bought in mid season looks very promising too.
I am optimis that next year we will be challenging for an European competition spot.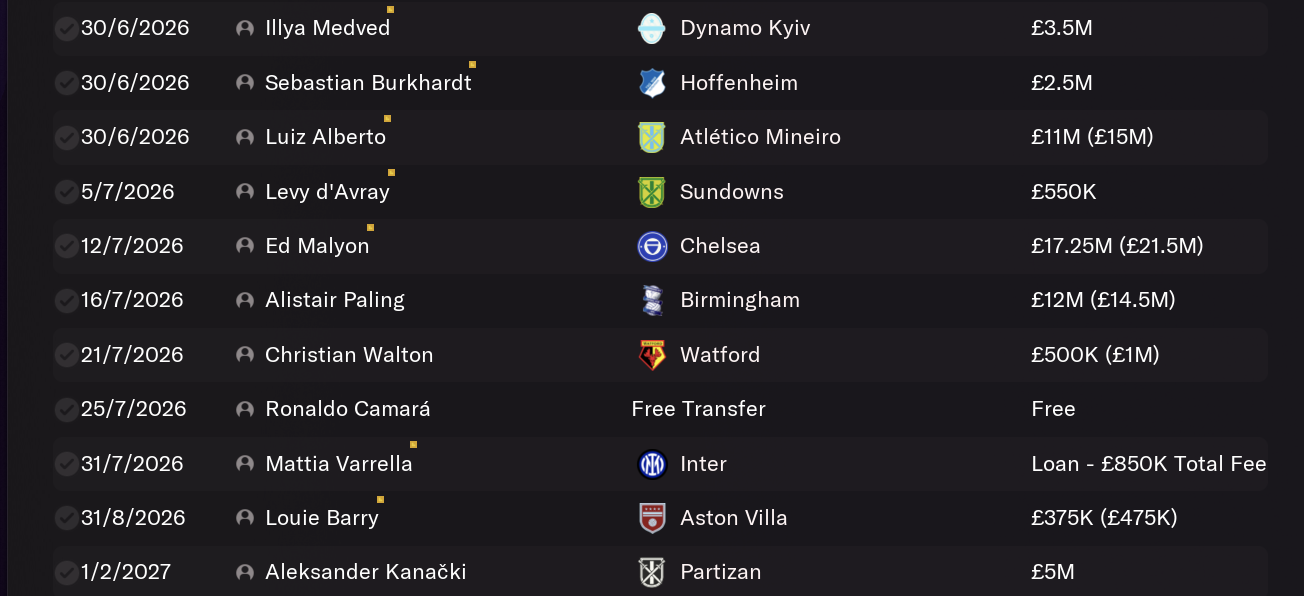 The Club
At the beginning of the season the media predicted that we were going to finished in 20th position, we finished 16th. 😁
The squad personality improved from a determined to a very determined personality.
Gateshead's national reputation has improved from from 2.5 stars to 3, this should make the club more appealing to future signings.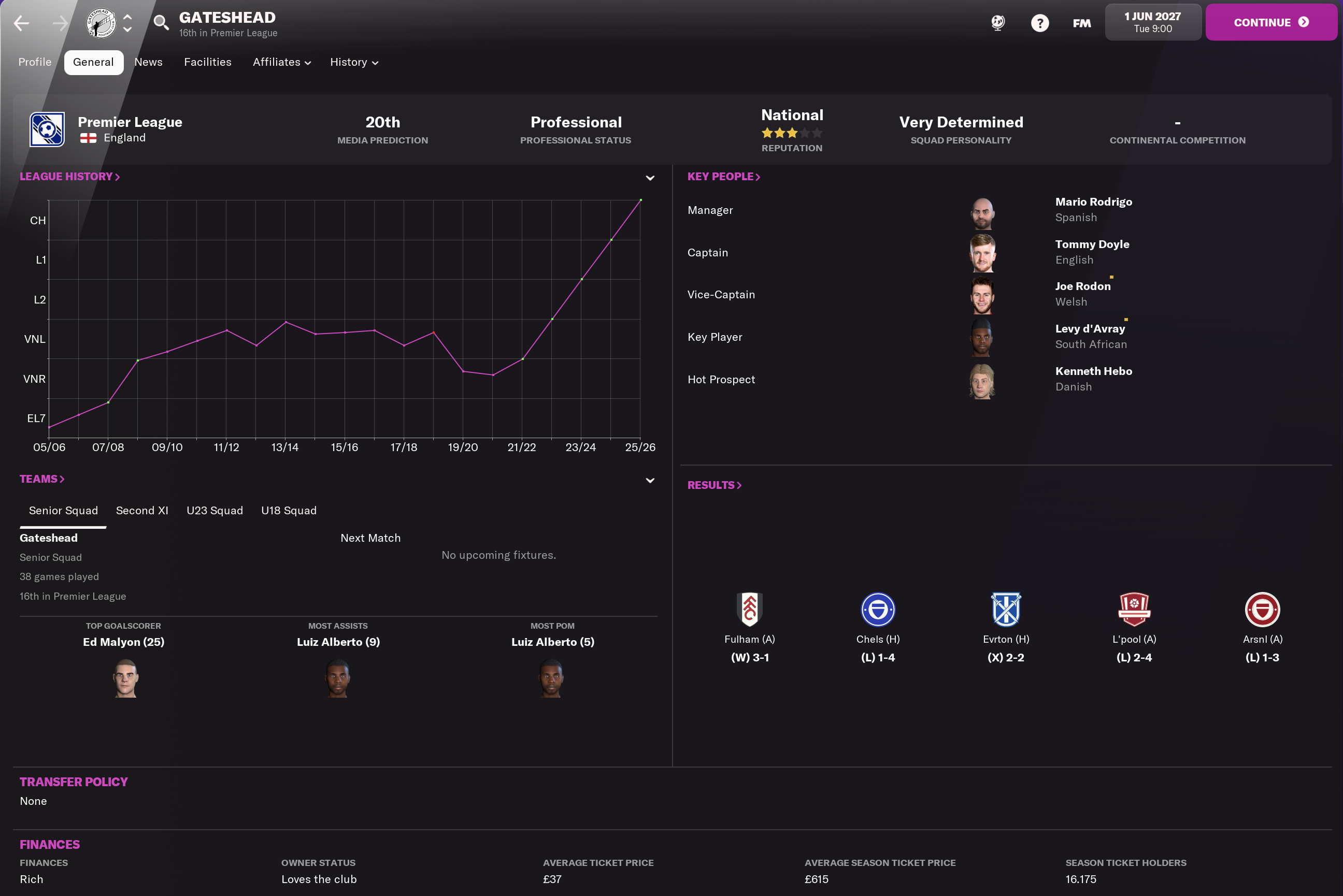 I am considered a club legend since since my forth season at the club. 😀👍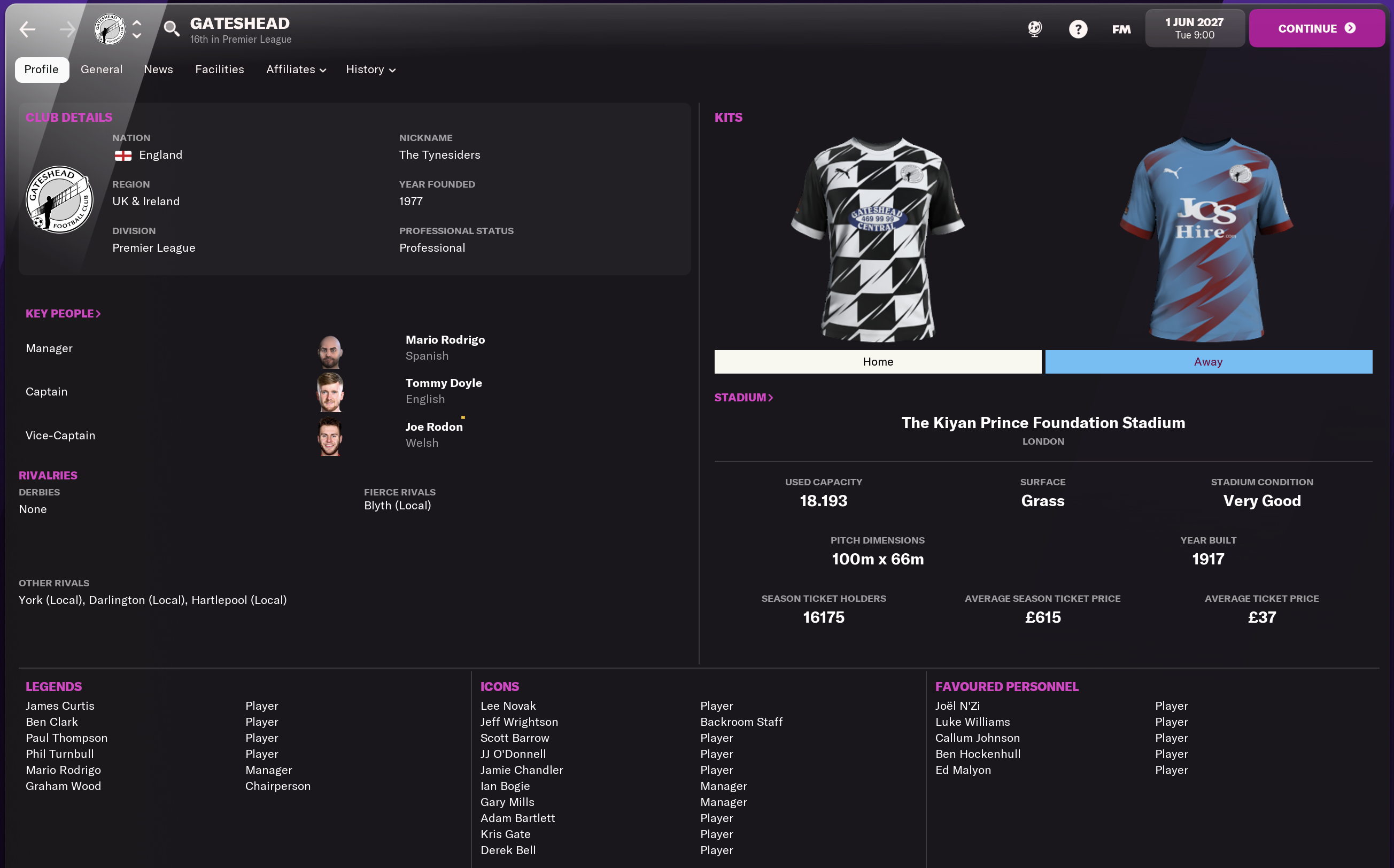 The Facilities
Last season Gateshead had adequate corporate, training and youth facilities.
Finally the board decided to improve them.
Now we have good training and great youth facilities.
The junior coaching academy is still average, but the youth recruitment was improved from average to exceptional.
And we are building our first own stadium!
I will be investing more in facilities as soon as the board agrees to.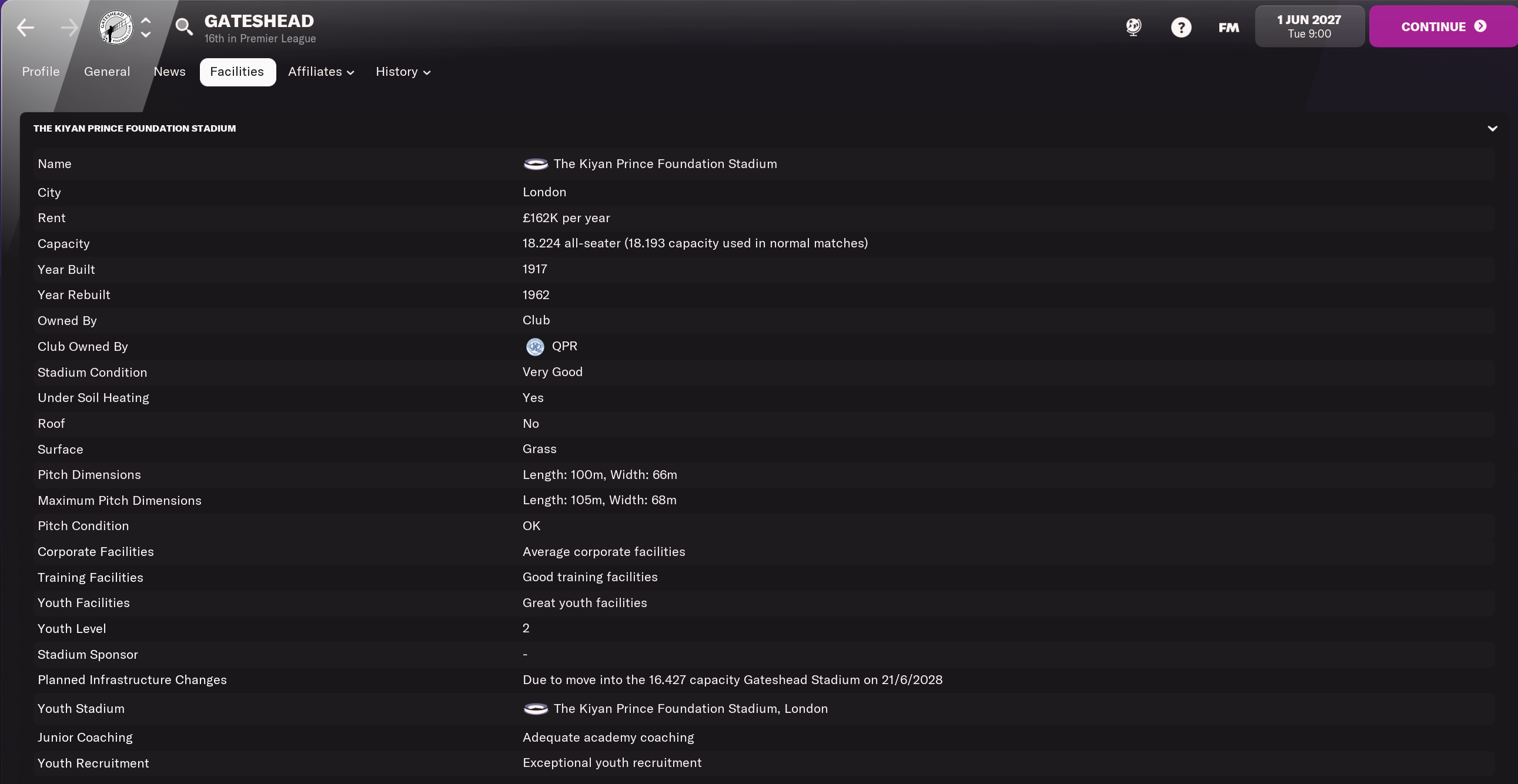 The Affiliate Clubs
As we are in Premier League, we can't have a senior affiliate anymore.
Now Gateshead has 3 affiliates to send players on loan.
 End of League Finances
The overall balance is 52.7M, I am very happy with this.
Neither the owner or chairman have injected one penny since I took over the club's management 5 seasons ago 😡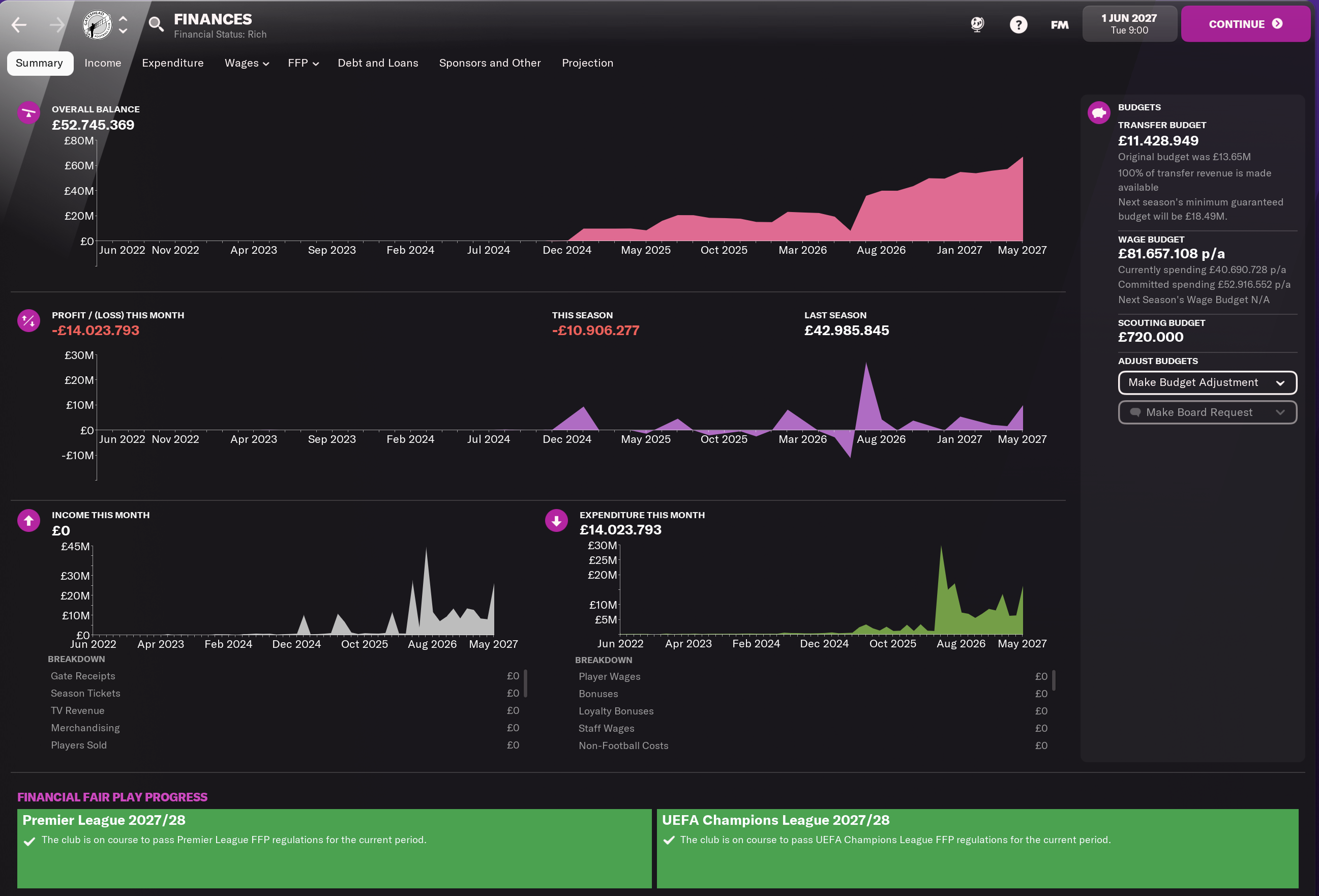 The Tactic
During this season I used my wide 4-2-3-1 lower league attacking tactic, which was successful in the last five seasons.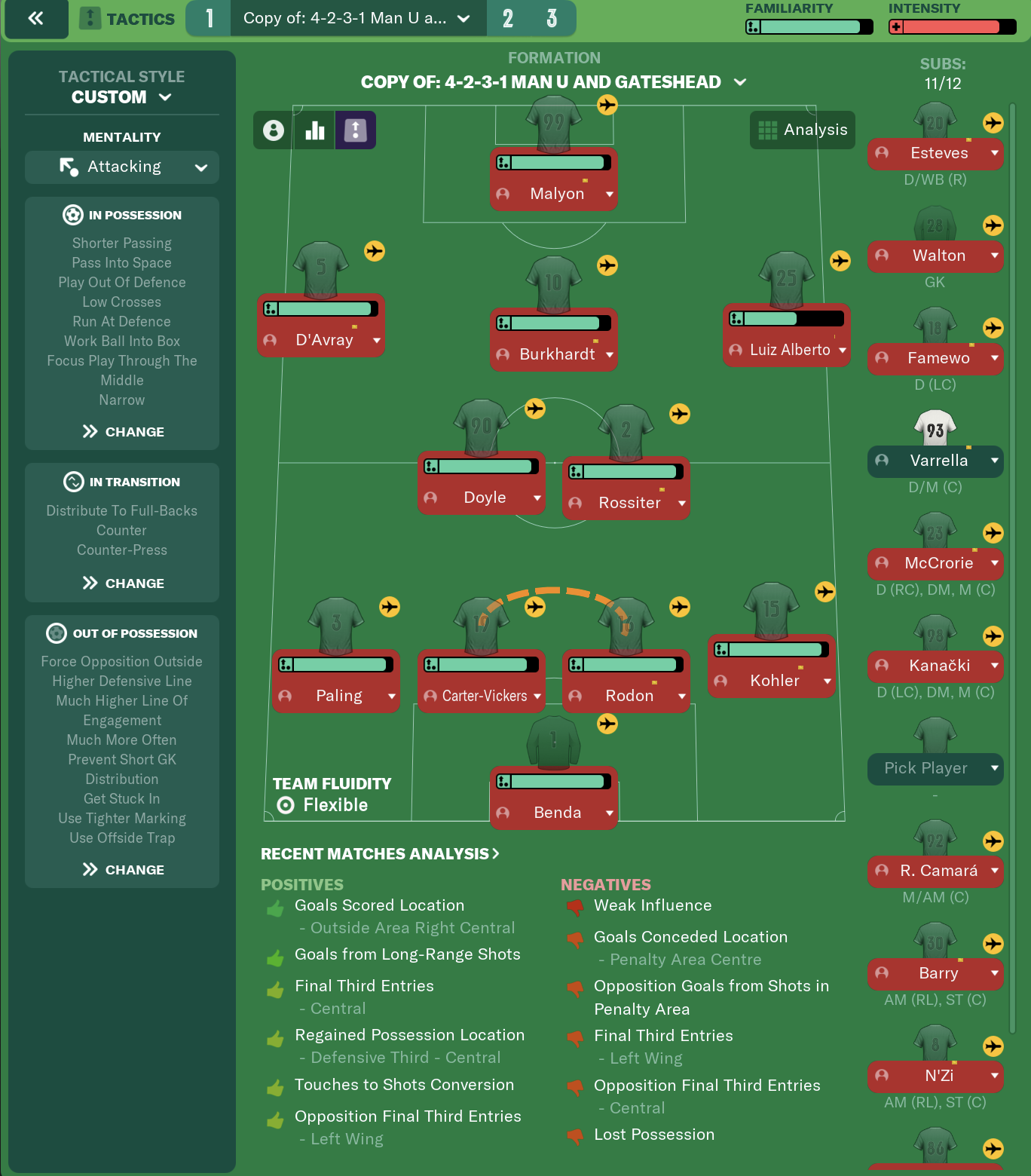 Squad Dynamics
I will never get tired of stating this, you have to get this section ok, if not, it doesn't matter how much money you have, how good  your players are, which tactic or training schedule you use, if this is not ok, you will "struggle" to say the least.
Unfortunately during this season I forgot about this, unsettling many players by offering them to other clubs during the playing season.
It is also very important to get as few groups as possible, with a numerous and tight core social group like this.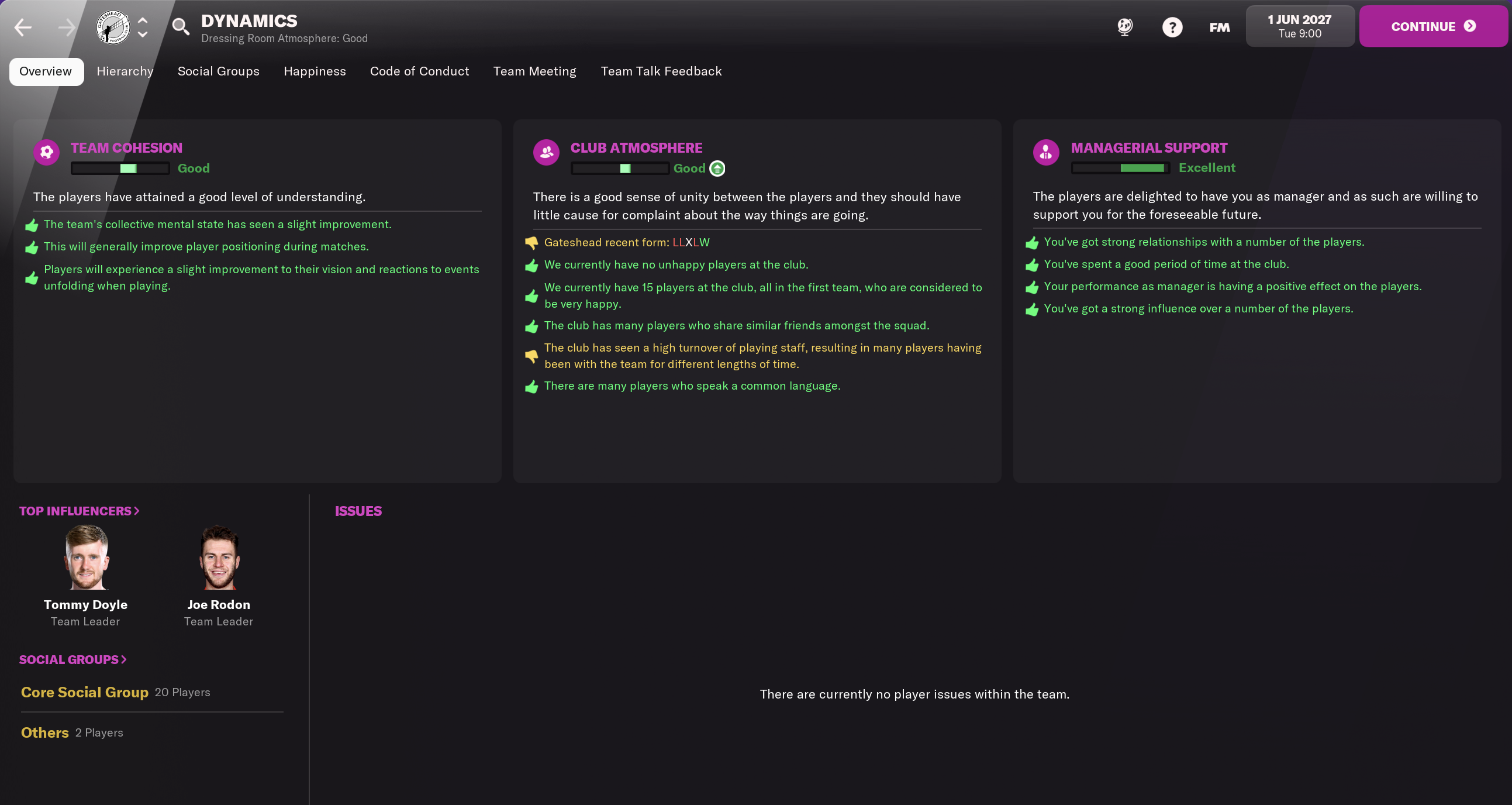 Building for the Future
I already have six young players with huge potential that already got Premier League level. Most of them are attacking midfielders and strikers.
I also signed this two Romanian and Serbian potential wonderkids ,who were subs during this season.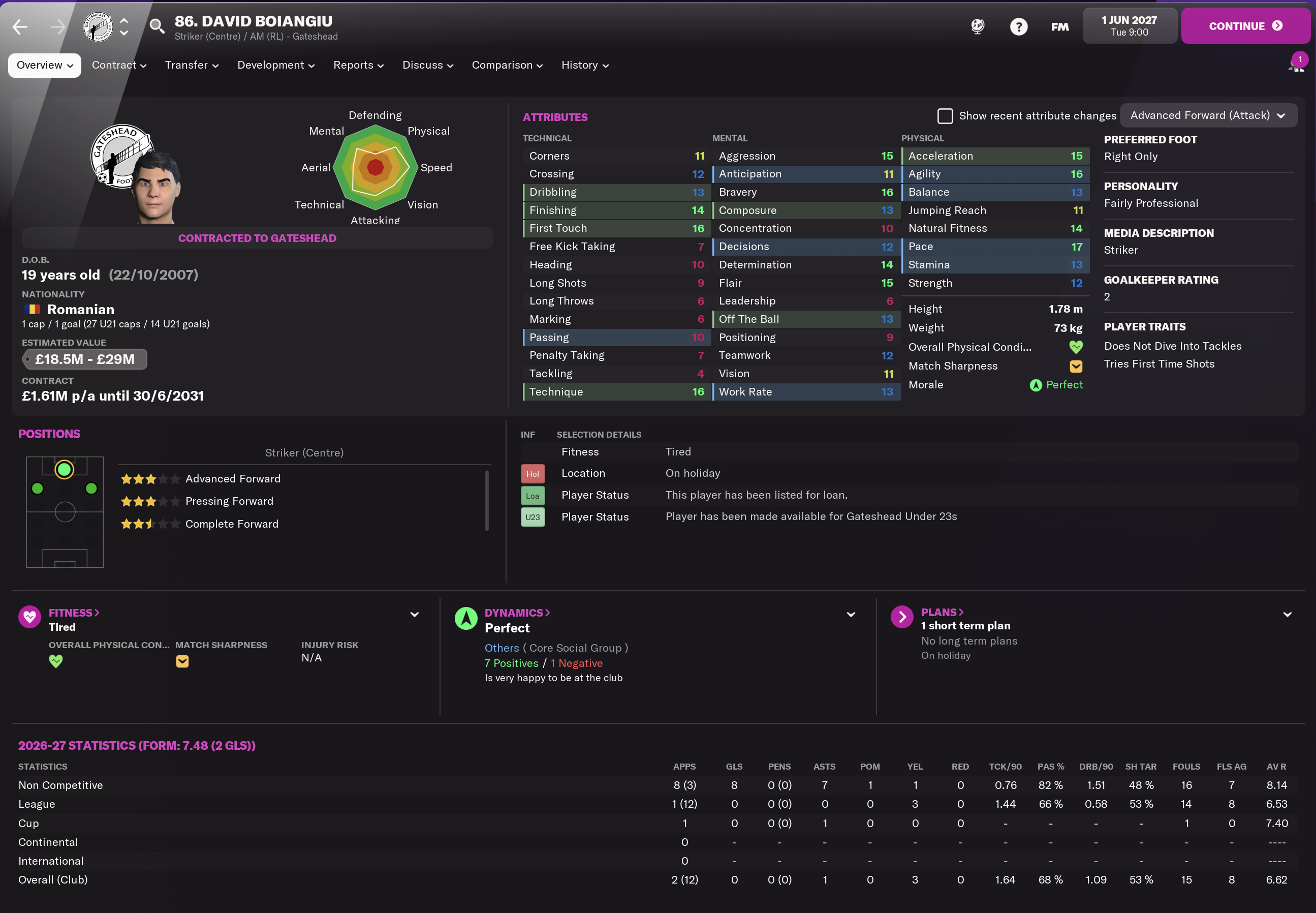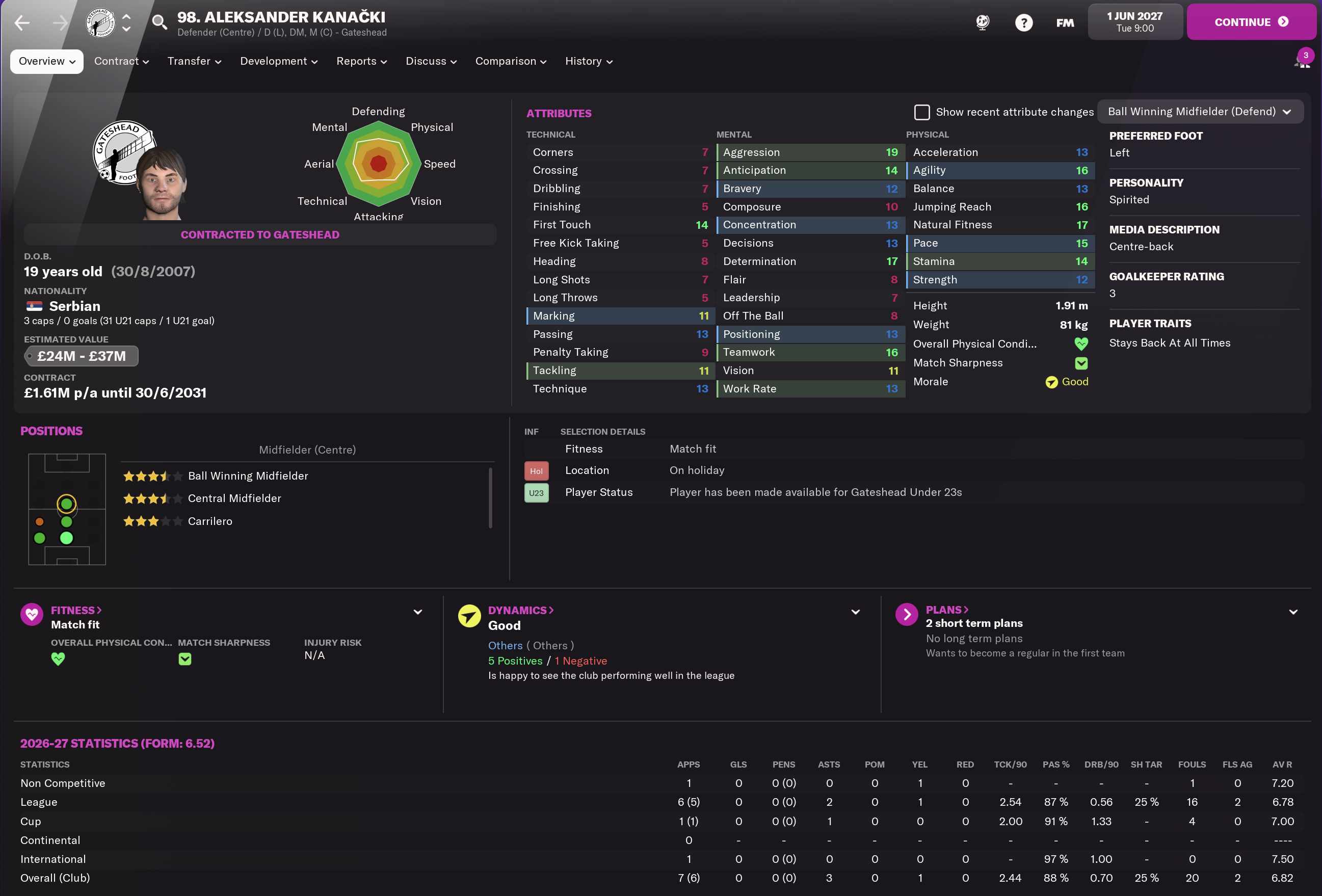 For the next season, I'll be looking to bring some young defenders and a goalkeeper with leading League level potential.
The plan is to challenge for the title in our third or forth seasons in the EPL.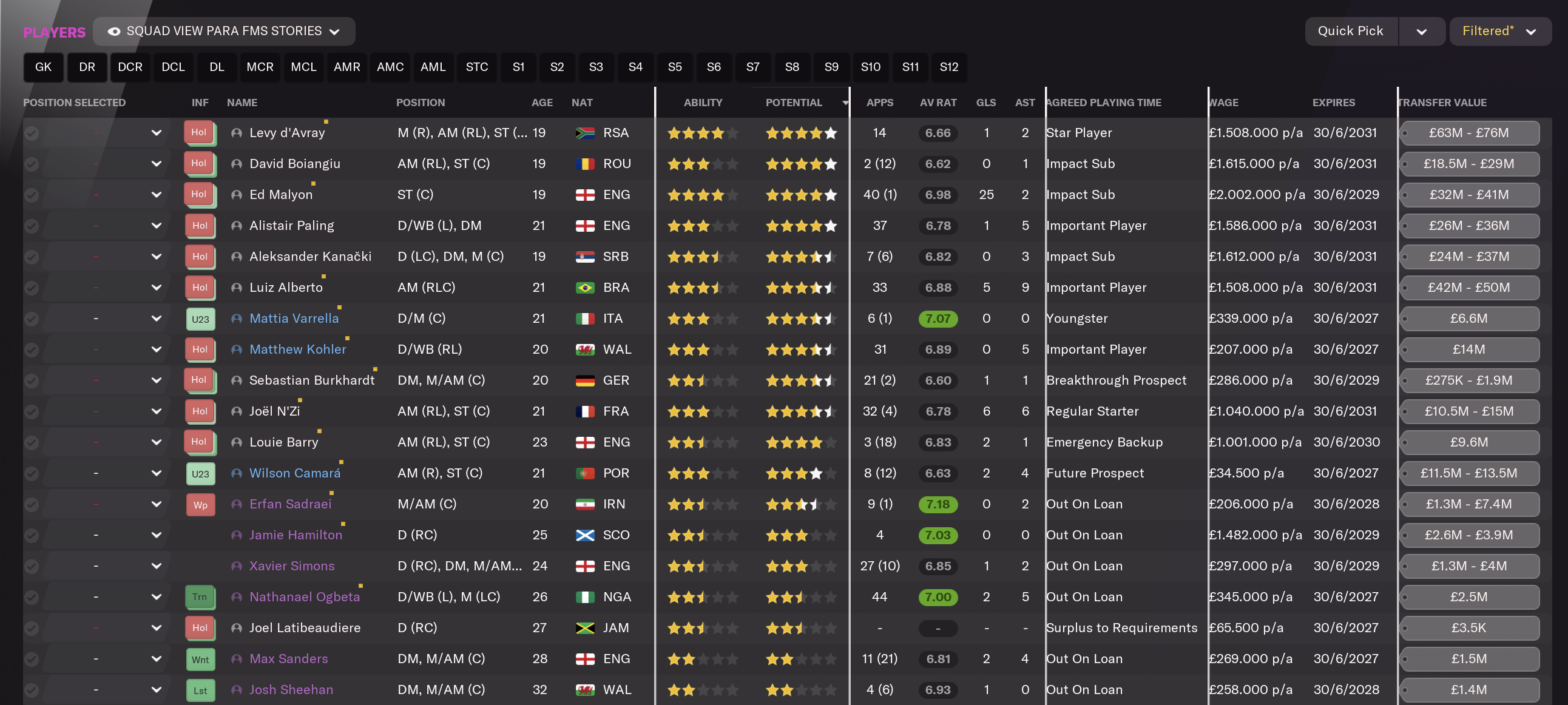 The Coaching Staff
I managed to improve the club's training categories from 3.4 / 4  stars  to 4/4.5 stars⭐️

The Training Schedule
As in the last five season's I trained the players with Andrew Gibney's schedules.
You can check Andrew's Youtube channel here.

The Club Vision for Next Season
I will have an 81.6M yearly wage budget and a 11.4M transfer one.
The stadium is being built and the youth facilities being improved. We should only go up from now on(I hope).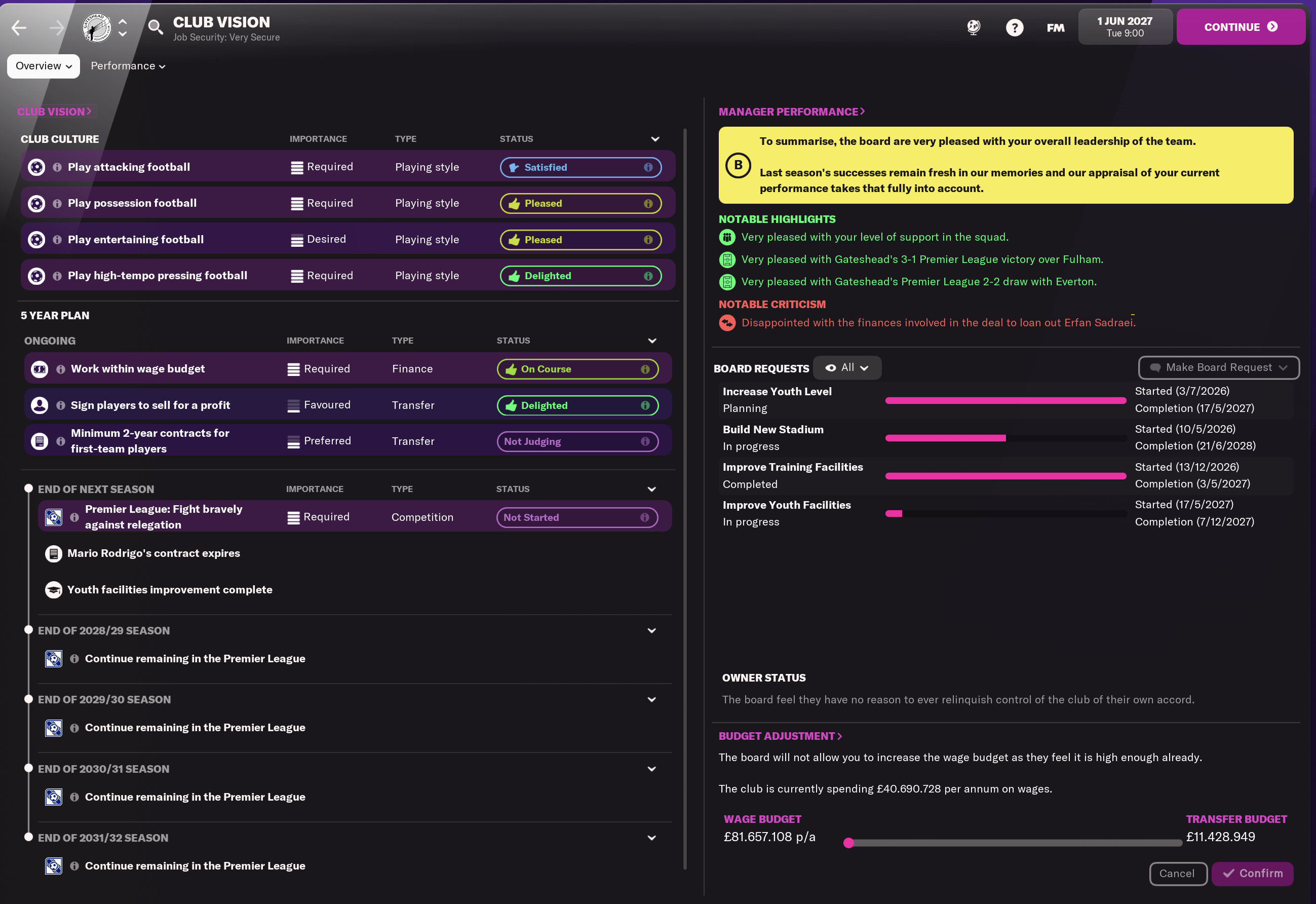 Thanks for joining me on this new episode,  see you on the next post.
I will be aming to qualify for Europe competitions! 😃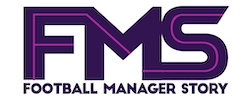 Subscribe to our Newsletter