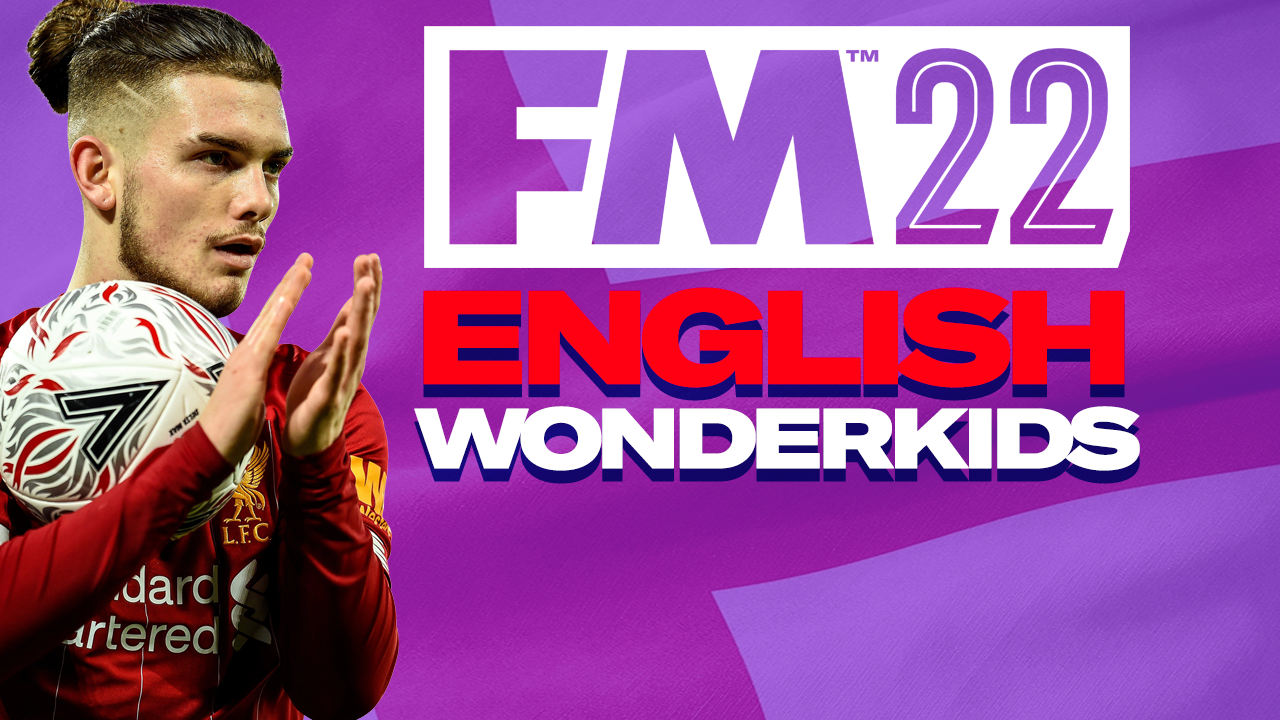 Who are the FM22 English Wonderkids? We've searched through the Football Manager 2022 Database to pick out the top 10 talents who can help you find success in the Premier League and hit those homegrown numbers.
It's hard not to believe the future is bright for the England National Team looking at this list, and who we left off.
Not only will you find below 10 of the best FM22 English Wonderkids, but we will show you how they look in 2021 and in 2026. We have prioritised players with a flexible potential, as the highest PA they could achieve would put them up near the Elite level.
We have also left off Mason Greenwood, Callum Hudson-Odoi, Bukayo Saka and Tariq Lamptey. The reason being they are already established and playing for Premier League teams, and they have a fixed potential.
Jude Bellingham has been included as in some saves he could have the PA to be one of the best players on the game. If you are controlling a big club in England, you should be signing the Dortmund star.
Aged between 17 and 19, as always, the development of these English players will depend on how quickly the gain playing time, the training facilities and coaching staff of where they play.
Top FM22 English Wonderkids
10. Shola Shoretire: Man United — Age: 17
2021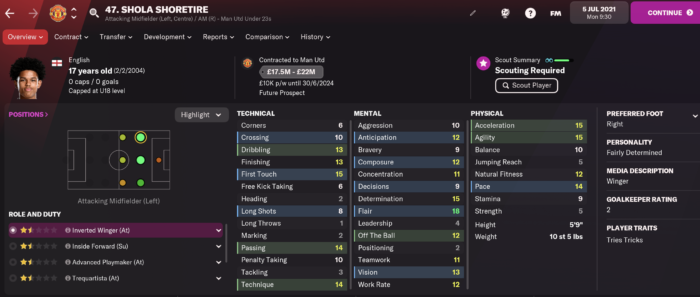 2026

Nothing explains English football more than a player being valued at £26-32m and having played only three games and is registered for their Under 23s. A loan spell at Charlton didn't help
It's sad, cause he looks like a very exciting player. 16 First Touch, excellent Dribbling, Crossing, Passing and physically very good. He deserves better.
9. Liam Delap: Man City — Age 18
2021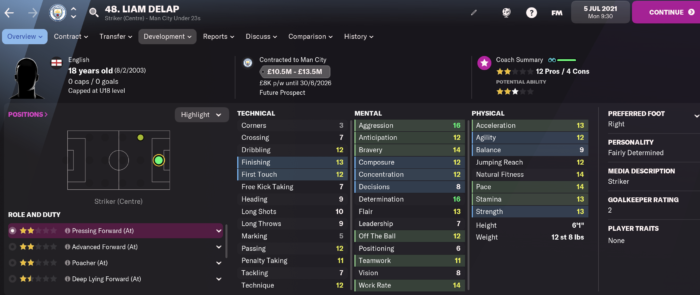 2026

For a 23-year-old forward, Liam Delap is mentally and physically brilliant.
You could expect more from his Off The Ball and Finishing/First Touch, but there's still time to get that into the 15s. Loan spells at Brentford, Sheffield United and PSV Eindhoven has helped. It would be interesting to see how many games he plays for Man City. Currently he's on two.
8. Faustino Anjorin: Chelsea — Age: 19
2021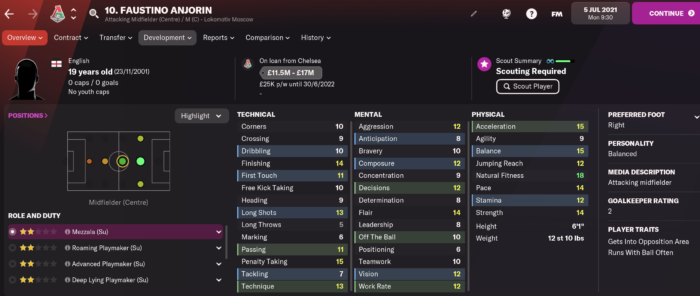 2026

One of the rare English wonderkids who has made some moves. After a loan spell at Lokomotiv Moscow, he played eight games for Chelsea before Leeds United snapped him up for £2.4 million.
Two seasons without breaking through, he moved to Eintracht Frankfurt in 2025.
Attribute wise, he doesn't look good enough to play through the middle in his natural positions. His Passing and Vision are not elite. He looks much better as a winger, with his Acceleration, Pace and Balance. As an Inside Forward with 15 Finishing, he could be ridiculous.
---
FM22 Wonderkid Series
---
7. Cole Palmer: Man City — Age: 19
2021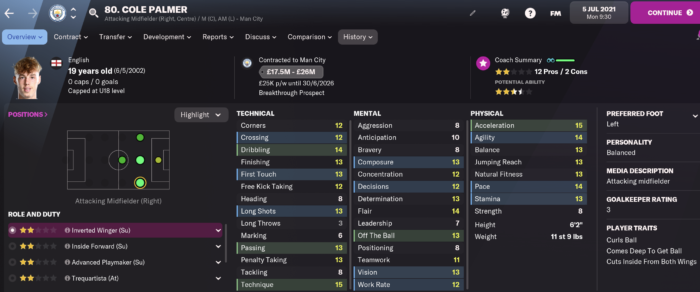 2026

Loan spells at Middlesborough, Bournemouth and Freiburg will have helped his development, but his last two seasons at Man City are disappointing. At 24 years old, it's unlikely he'll never reach his potential.
This is the problem with English wonderkids. Regardless of their Current Ability, they are always going to be pushed to the side for foreign signings. They deserve better. And Palmer hasn't improved at all.
6. Dane Scarlett: Tottenham Hotspur — Age: 17
2021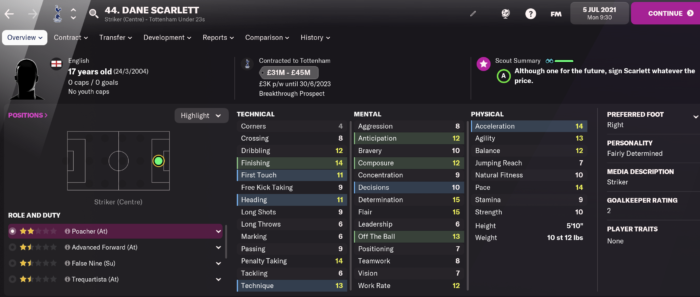 2026

Playing 25 games for Spurs in six seasons, it's unlikely Dane Scarlett is ever going to make it in North London. He needs to move on.
He's fast and agile and has Composure of 15 and Finishing 14. His Off The Ball could be higher. You can see improvements to his physical numbers, but perhaps a disappointing increase in his Technicals and Mentals. He could be a great signing for a lower level team in the Premier League.
Tough when they value him over £60 million.
5. Alfie Devine: Tottenham Hotspur — Age: 17
2021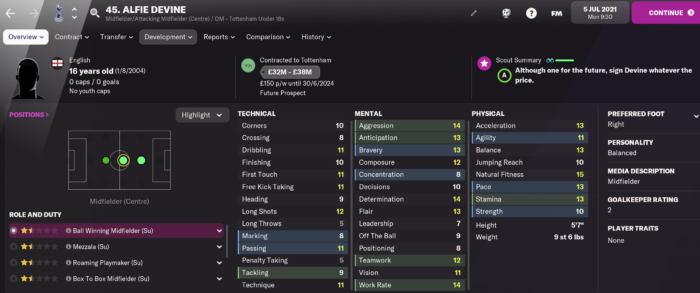 2026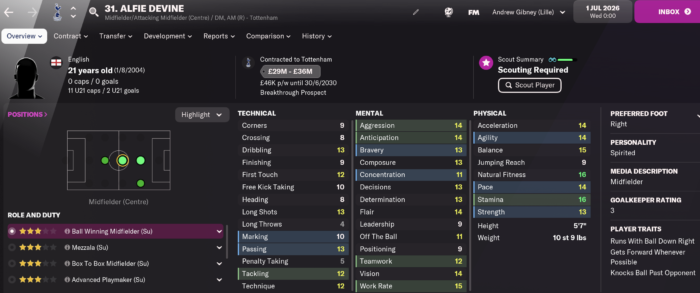 Alfie Devine's loan spells at Swansea and Reading worked, leading to the midfielder playing 24 times for Spurs in 2025. His five assists helped to a avg rating of 6.87 and should see him, at just 21 years old, should see him secure a place in the first-team.
If his Technicals improve, combined with very good Mentals and his Natural Fitness and Stamina, he could be an excellent central midfielder.
---
Find the best FM 2022 players:
---
Every year we test countless tactics and review the very best. For FM22 these systems will be ranked and listed within our tactics index linked below.

---
4. Tino Livramento: Southampton — Age: 18
2021
2026

80 Premier League appearances for the former Chelsea youngster before his 24th birthday gives us reasons to be thankful.
Yet, despite having a PA of over 150, he's actually regressed. Crossing and Dribbling has gone down and he's not as quick. Little increments in his Mentals is great, but this is very very disappointing and actually goes against everything we should expect from FM.
He's played top tier football for a team with good facilities and he's worse. Great.
3. Harvey Elliott: Liverpool — Age: 18
2021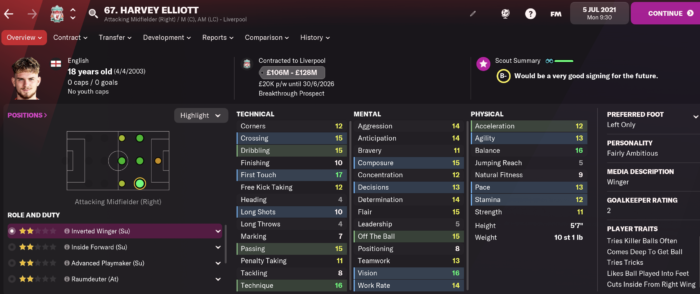 2026

With every player we pick out, my distain for English football grows and grows. After a successful loan spell at Blackburn, Elliot has played 44 times for Liverpool in five years and yet they value him at between £44-55m.
If you think he'd that good a player, bloody play him or sell him. Football is dumb,.
His Dribbling, First Touch and Composure is elite. He could be ridiculous for a great team. But he's just sat on the bench,
Still way below his PA, if someone breaks the bank, he could become even better. But don't be surprised in 10 years if he's still at Anfield.
2. Noni Madueke: PSV Eindhoven — Age: 19
2021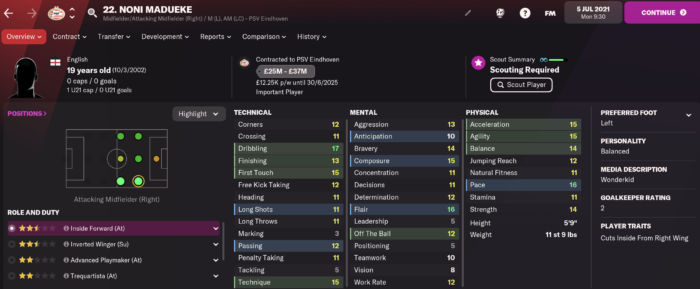 2026

LOOK WHAT HAPPENS WHEN YOU USE A PLAYER!!!
Appearing over 140 times for PSV in the Eredivisie has helped Madueke develop beautifully. His Physicals are excellent, that 16 Pace is going to do some damage. Mix it in with his 17 Dribbling and Technique, 16 First Touch and Composure.
It's criminal he has not been capped by England. Linked with Bayern Munich and Chelsea, PSV will cash in and they'll deserve every penny.
1. Jude Bellingham: Dortmund — Age: 18
2021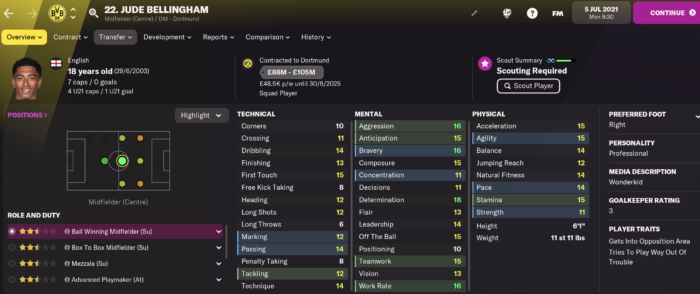 2026

We feel short changed by the development of Bellingham on this save, which we spoke about on his FMS FM22 Player Profile. He's still ridiculous and a 4 star+ player, AND he's only 23 years old. But he could progress so much more.
He still has nine of his Mental attributes at 15 or above. Physically a monster. It's just the technicals you'd want slightly better.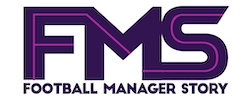 Subscribe to our Newsletter