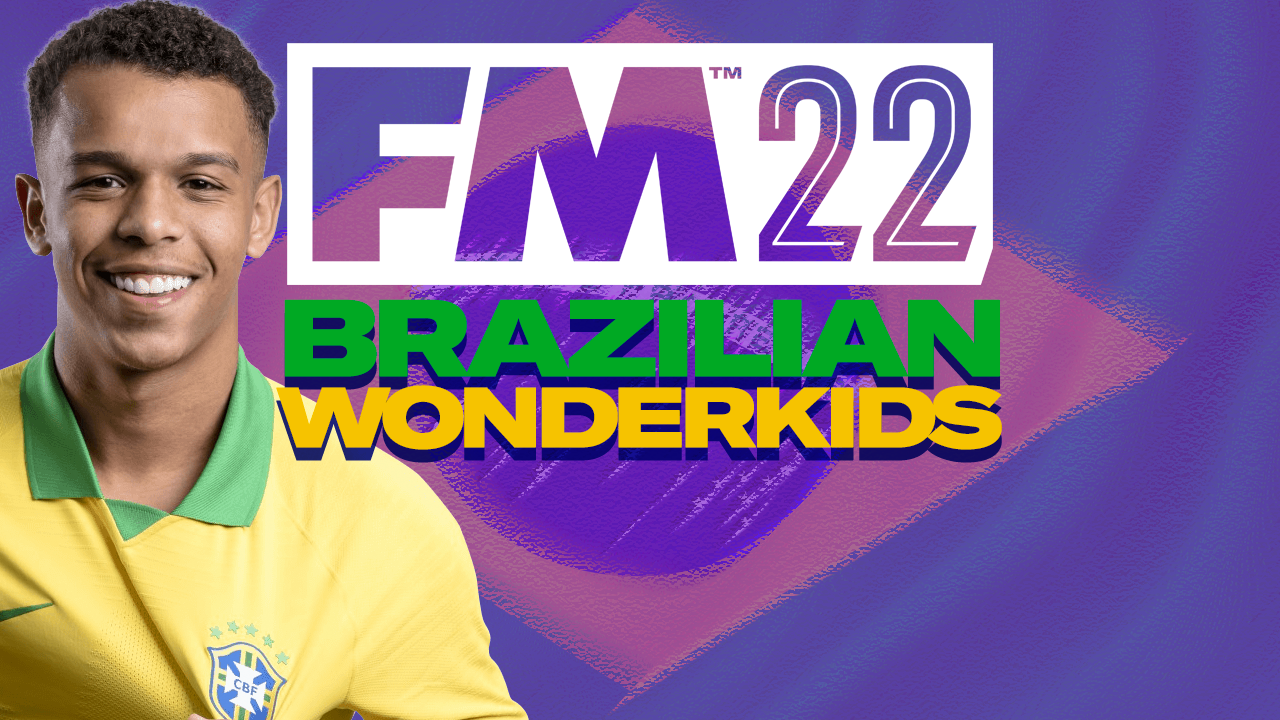 Who are the FM22 Brazilian Wonderkids? We've searched through the Football Manager 2022 Database to pick out the top 10 talents from the samba section of South America.
Not only will you find below the best 11 FM22 Brazilian wonderkids, but we will show you how they look in 2021 and in 2026. Two of the players have a fixed Potential Ability (PA), and eight have a range of between 140 and 180 — we won't tell you who, that ruins the surprise.
Aged between 16 and 20, the development of these unique talents will also depend on how often they play, your training facilities and your coaching staff.
Top FM22 Brazilian Wonderkids
11. Matheus Franca: Flamengo — Age: 17
2021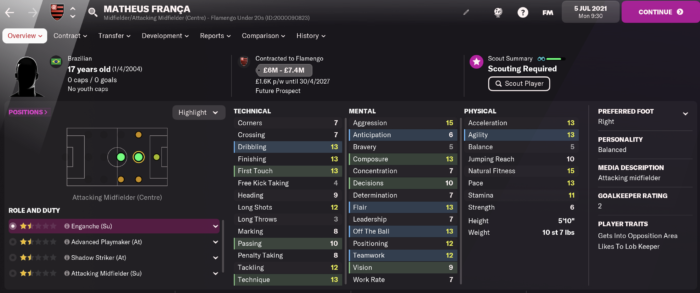 2026

It wasn't until 2024 when Franca forced himself into the Flamengo first-team. He would only have been 20 years old, and it doesn't seem to have harmed his growth. Atletico Madrid paid £18.75 million in 2025 to take the AMC to Spain and he has started very well. In just 13 games he has five goals and three assists.
With Technique, Composure and Off The Ball of 16, and a few years left to grow, it looks like a bargain for the current La Liga champions.
10. Matheus Goncalves: Flamengo — Age 15
2021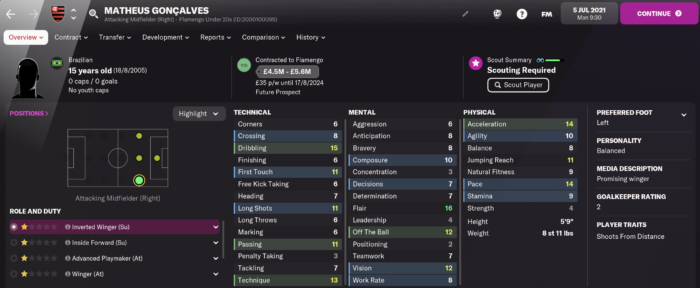 2026

He's still only 20 years old, so it's no shock to see him still at Flamengo in 2026. There has been a vast increase in his physical attributes, but his technicals don't look great. Perhaps missing out on first-team football has hindered his progression.
9. Savio: Atletico Mineiro — Age: 17
2021
2026

Manchester United picked up Savio for a cool £12.5 million, yet they've not used him. Although he played 75 games in the Brazilian Serie A, he's managed just three league games in England over three years. With 13 important attributes measuring 14 or over, and him still only 22, he looks good enough for more playing time.
8. Renan: Palmeiras — Age: 19
2021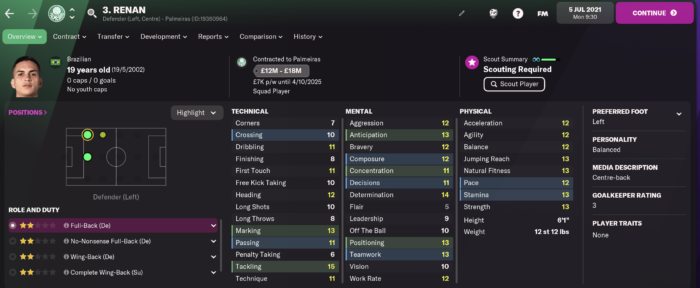 2026

An initial move to Liverpool in 2022 was followed by a huge £50m move to Spurs 2024. The centre-back has yet to average over a 7.00 in England, but with Tackling 16 and Marking 15, he is more than capable of making an impact, even if perhaps the London club overpaid for his services.
7. Talles Magno: New York City — Age: 19
2021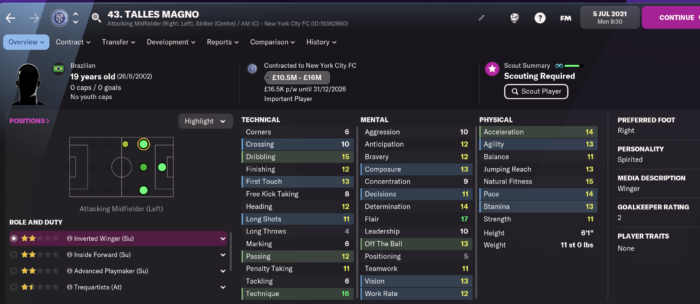 2026

In an interesting career move, Talles Magno actually moved back to Brazilian in 2024, joining Corinthians. Then, Spurs, flashed with cash, stumped up £25m to take him to London. In seven games he added three goals and two assists in his first season. His 16 dribbling and 16 Technique, added with his speed and Flair make his a very exciting prospect.
6. Danilo: Palmeiras — Age: 20
2021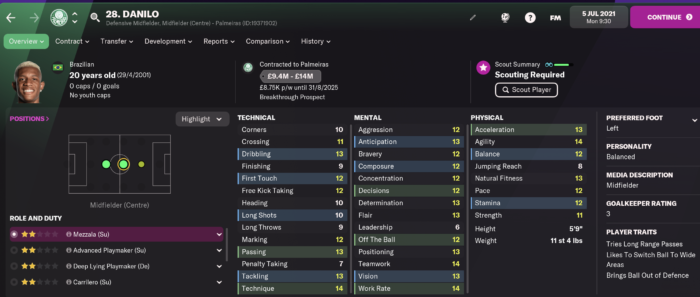 2026

Even though he has played nearly 200 league games in Brazil, Danilo hasn't developed as expected, which is perhaps why he's still at Palmeiras. Only four attributes at 15 isn't good enough for a 25-year-old. Solid across the board, but unspectacular. He hasn't reached his full potential.
---
Find the best FM 2022 players:
---
Every year we test countless tactics and review the very best. For FM22 these systems will be ranked and listed within our tactics index linked below.

---
5. Kaiky: Santos — Age: 17
2021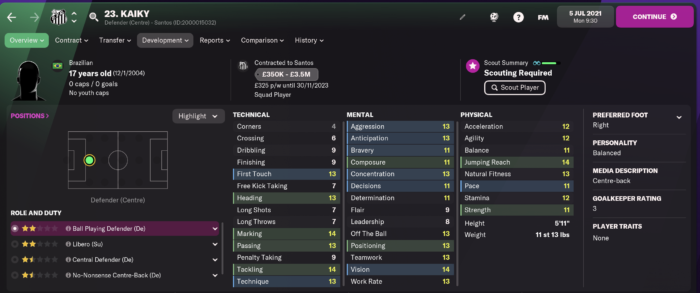 2026

Everton paid £13 million to grab the centre-back from Santos and at 22 years old, Kaiky has so much more to show. He has the mentals and technicals already nailed. Physically decent. He could become a world-beater.
4. Sandry: Santos — Age: 18
2021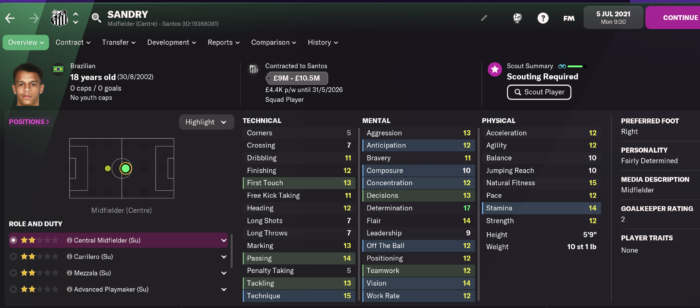 2026

After the disappointment of Danilo's development, Sandry looks like a much more exciting prospect. Signed for Aston Villa for £13m after 190 league games in Brazil. He's yet to make his Premier League debut. He's mentally excellent and his passing and technique are elite for a defender.
3. Gabriel Menino: Palmeiras — Age: 20
2021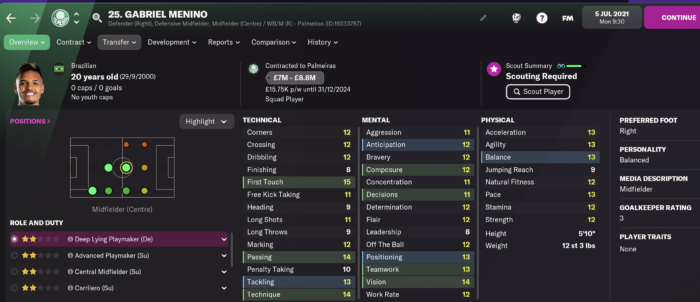 2026

Everyone would have expected Menino to move to Europe, but an £11 million move to Flamengo only happened in 2026. His attributes don't look as if they have fully met their potential, but he's fairly solid. There is a good player in there, it just hasn't emerged in this save.
2. Morato: Benfica — Age: 20
2021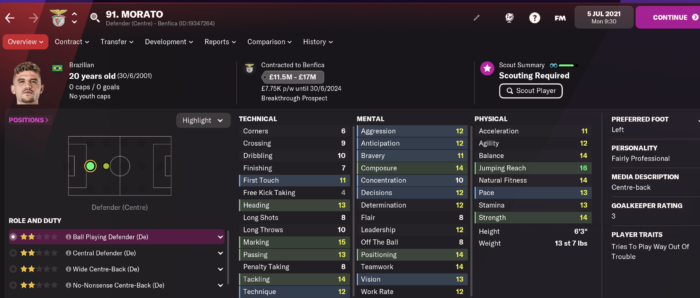 2026

The one player on this list to start the game in Europe, a big move was almost guaranteed. Arsenal spent £37.5 million in 2024 and you can see why. 6 foot 3 and physically excellent. His technicals could improve and mentally he is good enough to lead any defence.
1. Angelo: Santos — Age: 20
2021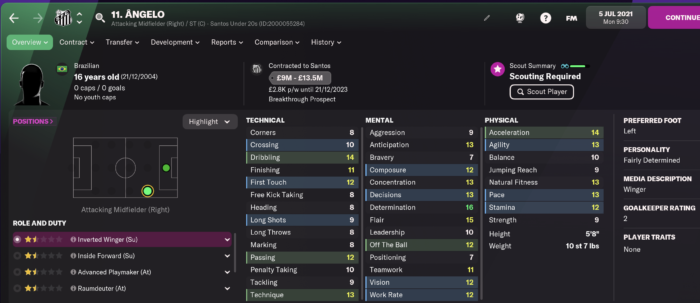 2026

One player to be truly excited about on this list. Angelo is going to be a superstar. Rennes waited until 2025 to pull the trigger, paying £18.5 million to bring him to one of the best youth producing clubs in Europe. His Acceleration and Agility are excellent. He has years to show his technicals can improve still. Rennes will cash in at some point and he could be world class.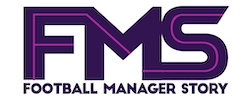 Subscribe to our Newsletter