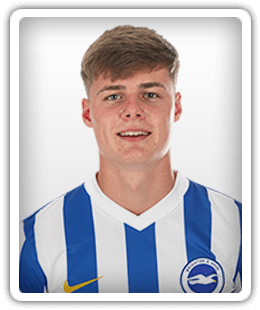 Evan Ferguson FM23 Wonderkid
Age: 17
Position: Striker

Roles: target man, pressing forward, poacher, complete forward, advanced forward

Club: Brighton & Hove Albion
Nationality: Ireland
Value: €25-47 million
Hidden Potential: 128 / -9 (150-180)
Ferguson made his debut in senior football in 14 in friendly match against Chelsea. It was a 2019 year and next two he played for Bohemians from Dublin, Ireland. Despite that, for the first squad he made only three appearances. The young talent was spotted by Brighton from EPL and in January 2021 they made a bid. Right now Evan has twenty matches for Brighton and four appearances for the Ireland national team.
Evan Ferguson FM23 Wonderkid profile in 2022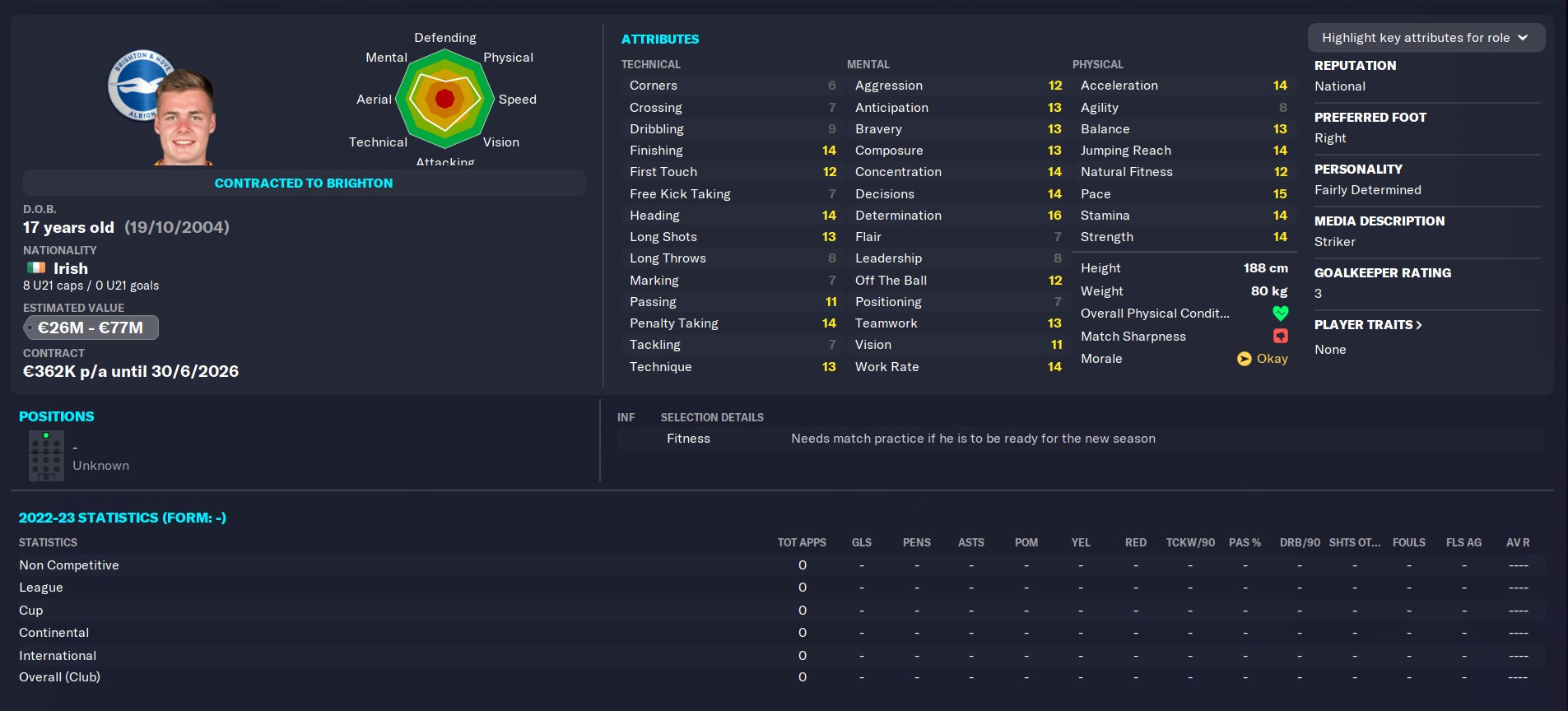 How good is he right now. In my opinion, Ferguson is ready to play in Brighton from start of the season as an impact sub. Maybe, even as a regular starter. Evan can play on the field and in the air, all three categories of skills on a high level, as for 17-years-old. His weak spots right now are dribbling and agility. Ferguson has a good personality that helps him to grow better. This is more important for player, because he doesn't have a fixed potential ability and can get big amount of PA points. In future Evan can be at the Harry Kane level, if you train him properly.
Evan Ferguson FM23 Wonderkid coach report in 2022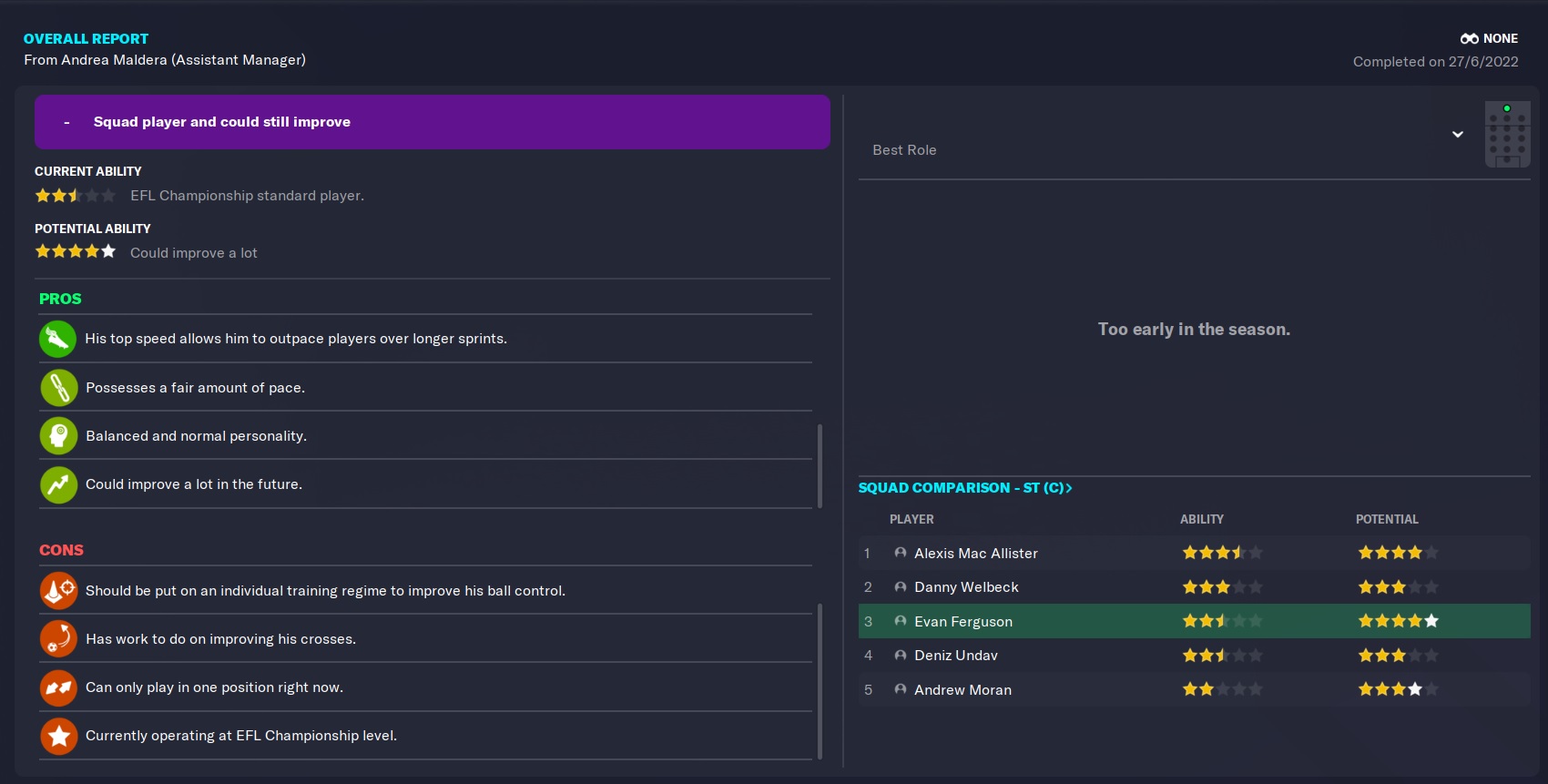 Assistant manager from Brighton believes that Ferguson will be a star player, better than the top striker at the club. But currently his level is a Championship. 1-2 years on loan in a decent club will be good for Evan, but pick the best club with great facilities. Main thing, which is acknowledged by the assistant is a great speed of the player. 
Evan Ferguson FM 23 Wonderkid Man City scout report in 2022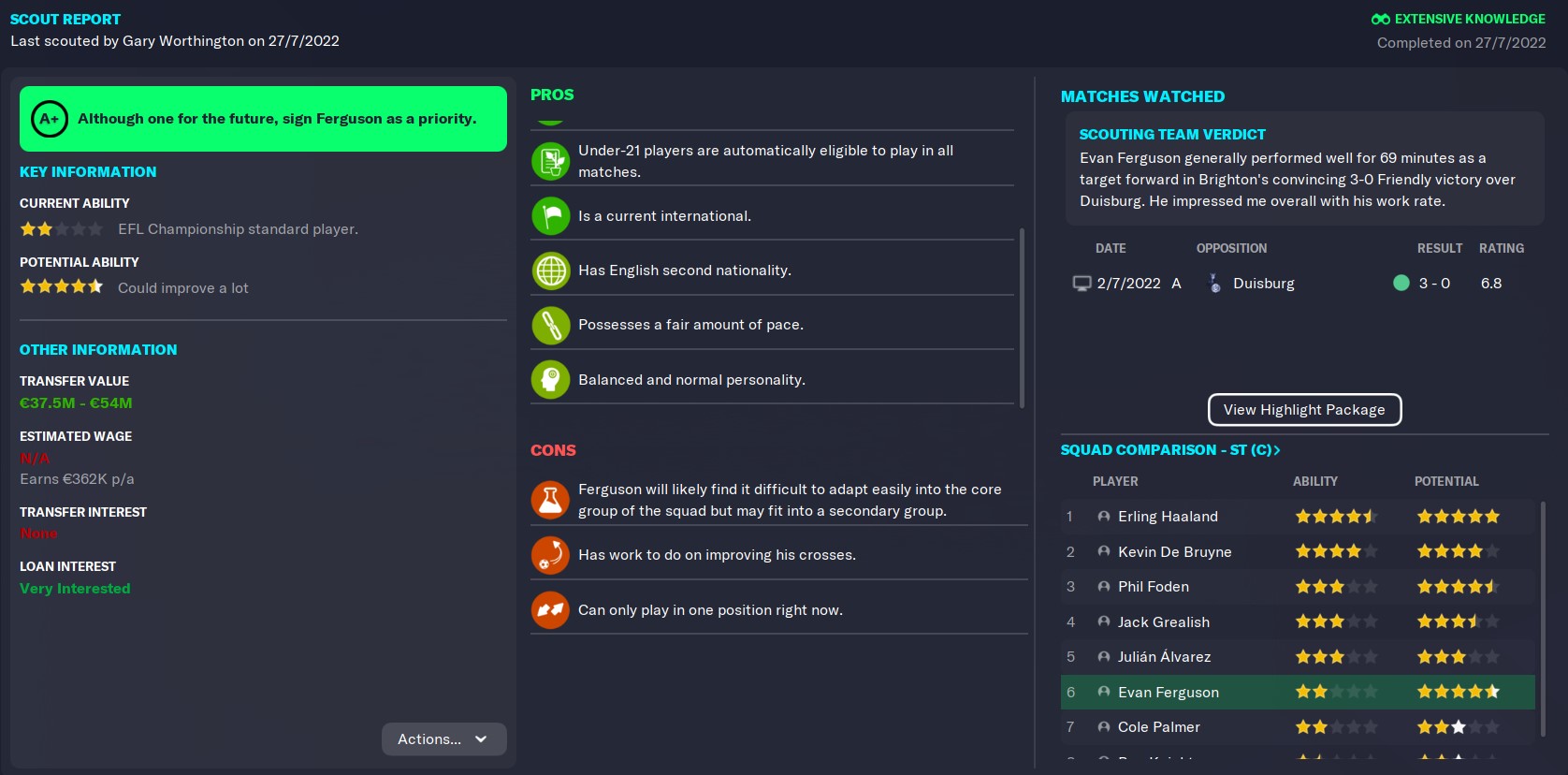 Scout from Manchester City believe that Ferguson has a potential to be the next Erling Haaland. Stop, stop, don't rush to buy him. Let's talk about Ferguson's hidden skills. Main here are unfixed injury proneness, consistency and big matches. These three pillars of every  FM footballer will be randomly rolled from save to save, and you will need to scout player first. Also, all his hidden attributes responsible for personality are random too. That's very important, scout him until you have full knowledge and look at performance 1-2 years before buy. This may help you to save a lot of money.
Evan Ferguson Agent Demand to Man City at the Save Start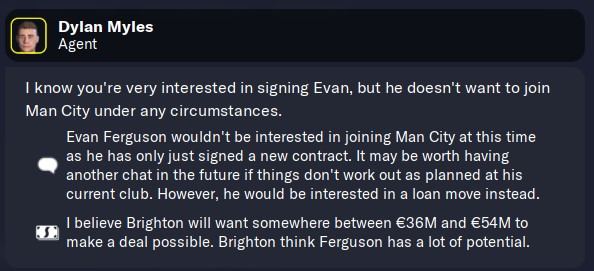 Classic moment here, the player just signed a new contract and doesn't want to go anywhere. But the current club is ready to sell young star and the price is worth it, in my opinion. 
Wonderkid Evan Ferguson FM 2023 profile aged 22 in the year 2027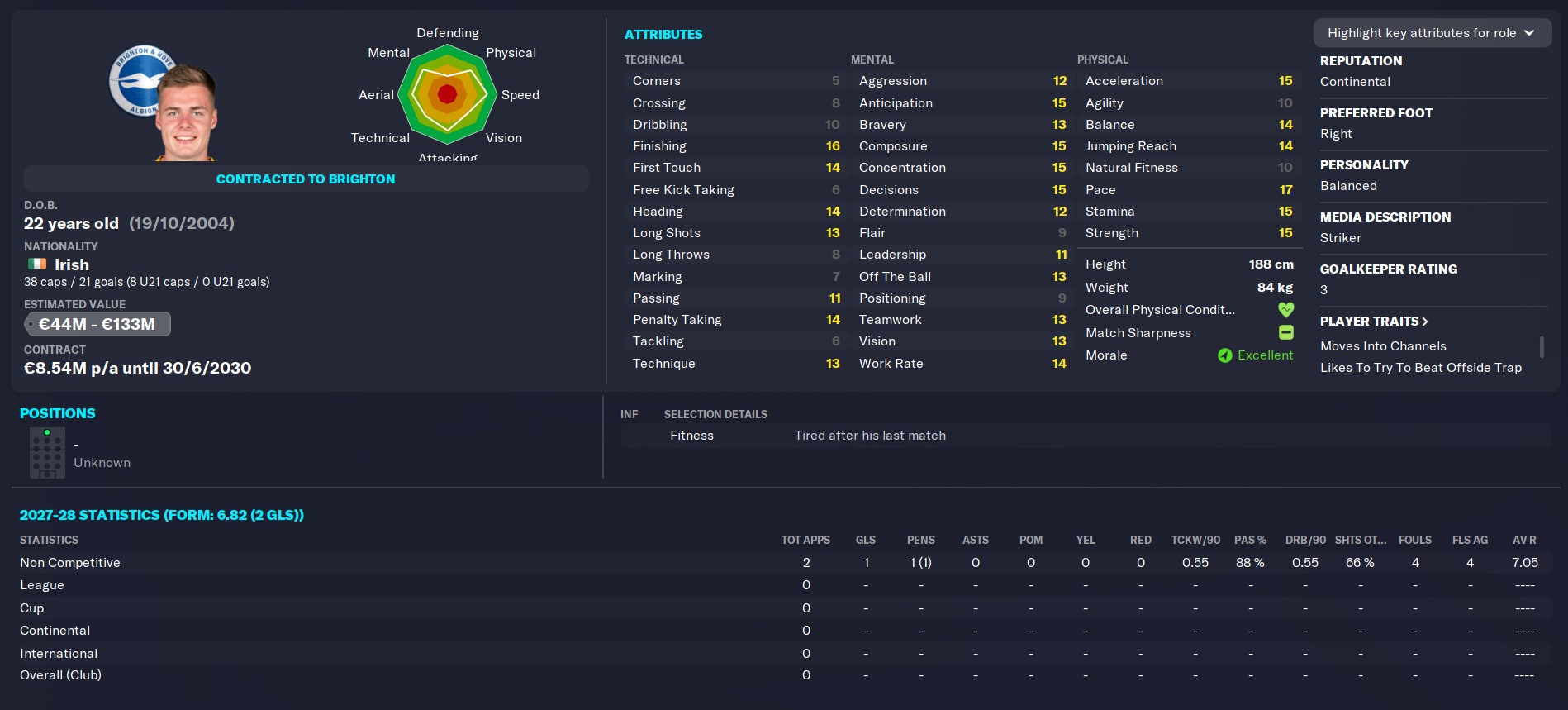 Evan Ferguson FM 2023 Wonderkid career history until 2027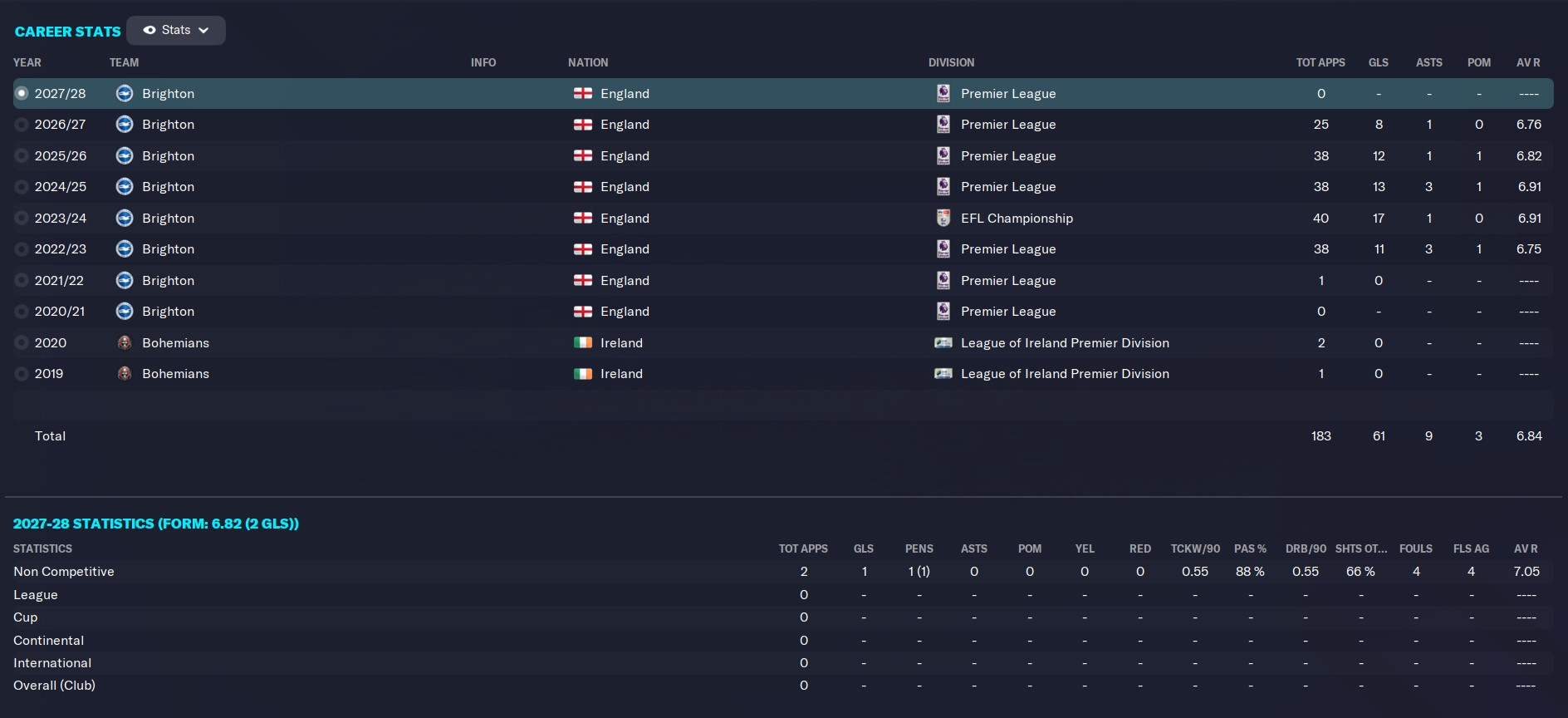 That's odd, for five years no one wants to transfer him, when Evan shows a decent performance. He shows a loyalty to the club, even then Brighton was relegated from the EPL.
Evan Ferguson Football Manager 2023 Wonderkid FMS Summary
Pros:
Great skills in save start

High amount of speed

Transfer price 
Cons:
Random hidden skills: injury proneness, consistency and big matches

Random determination

Low dribbling and agility attributes
Conclusion
Evan Ferguson is a truly wonderkid. He has great potential and current ability for a 17-years-old. If you want to buy him, wait for the winter transfer window and try to make a bid. Until that try to scout him a couple times to get all his strong and weak sides and hidden attributes. Remember, with time price for Ferguson may be higher, like on the screenshot, where he is 22 and cost €44-133M. 
For all the best Football Manager 2023 wonderkids click here, from cheap bargains to worldclass prospects.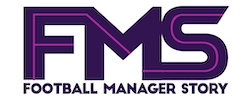 Subscribe to our Newsletter