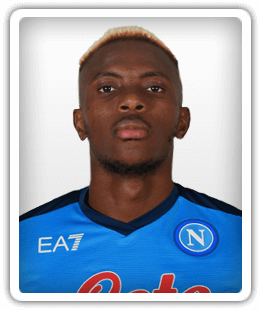 Victor Osimhen FM23 Wonderkid
Age: 23
Position: Striker, attacking midfielder (right, left)

Roles: advanced forward, poacher, complete forward, deep-lying forward, target man, pressing forward

Club: Napoli 
Nationality: Nigeria 
Value: €50-150 million
Hidden Potential: 162 / 175 
He has come a long way from Nigerian football to Serie A and now is rightfully considered a world-class star. Victor began his football career in the Ultimate Strikers Academy, and after two years he moved to Germany, to play in Wolfsburg. This time his journey in the Nigeria national team starts too. Just admit that he scores for Napoli 49 goals in 82 games from 2020.
Victor Osimhen FM23 Wonderkid profile in 2022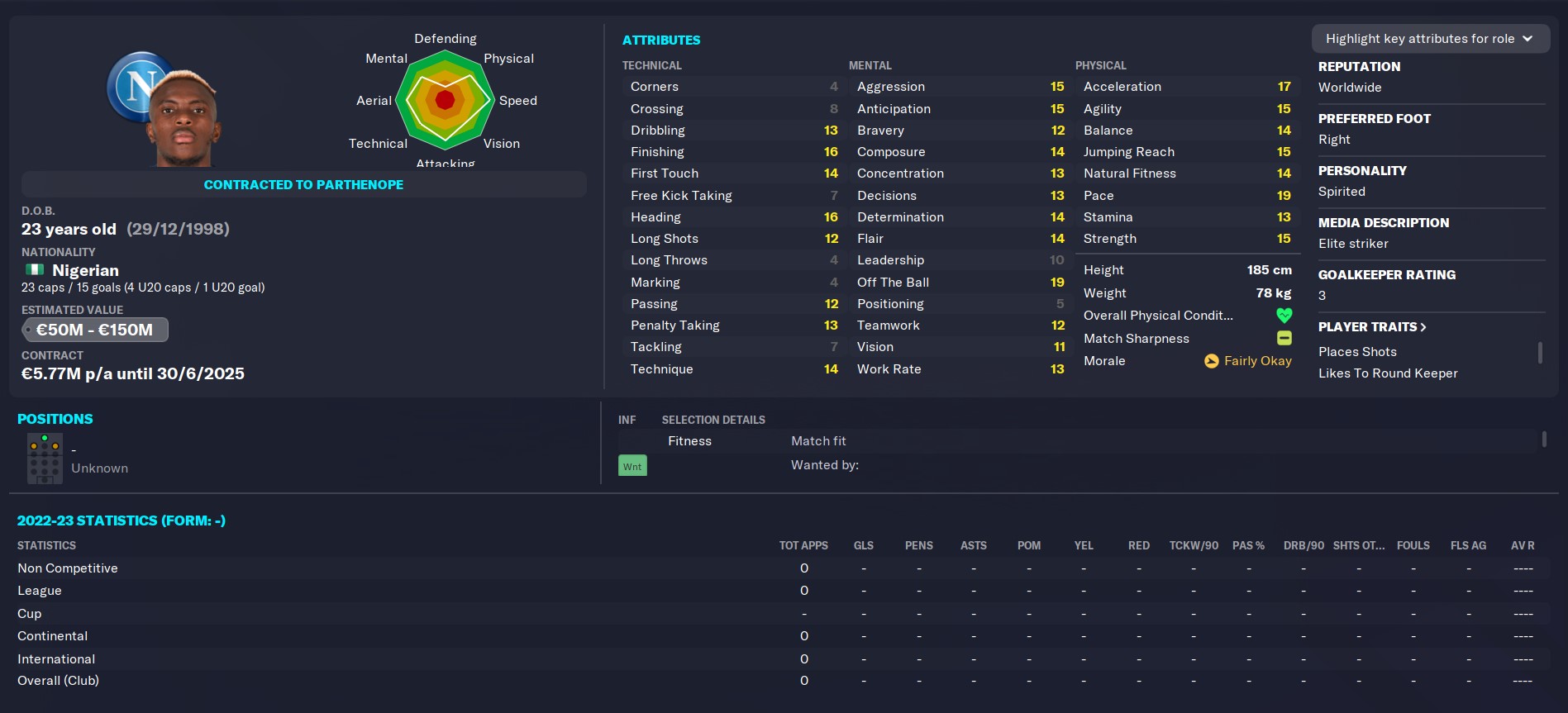 Victor is an elite striker, despite his young age. His technical attributes at a good level, and physical skills are incredible. Literally, this player does not have weak points in attributes. With his height Osimhen has a good heading and jumping, you may expect a couple of goals from the air. In some cases his weaknesses may count low crossing and only one natural position on the field. That means, you can't use him on the flank and play through crosses on a striker. Only as an inside forward and before that he needs to learn to play in this role and position.
Victor Osimhen FM23 Wonderkid coach report in 2022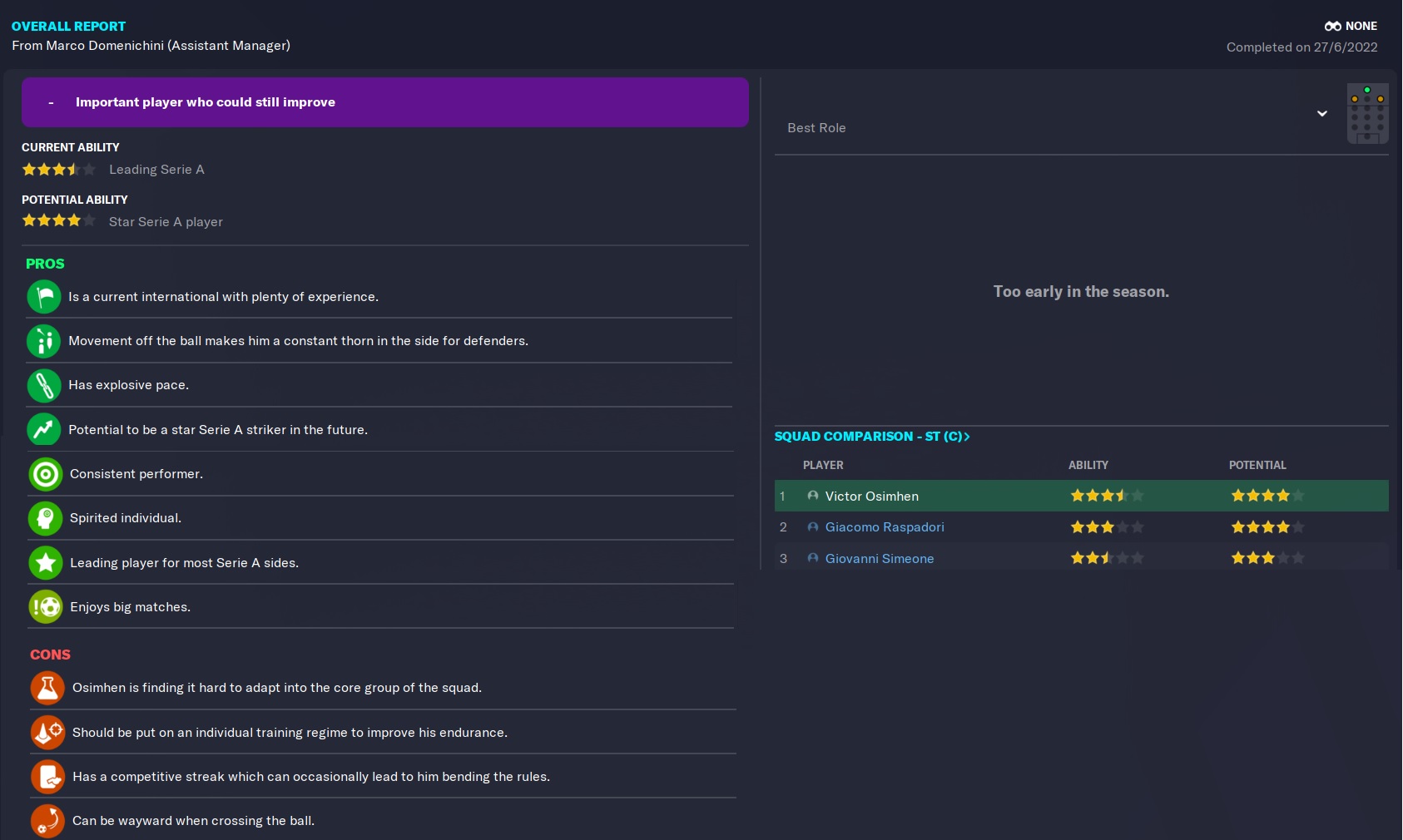 Napoli assistant manager thrilled to Osimhen. Victor has all major pros for a football manager player such as consistency and big matches. Also, his speed is admired by club staff. Main bad news here is the competitive streak, which means that striker sometimes will be on the card.
Victor Osimhen FM 23 Wonderkid Man City scout report in 2022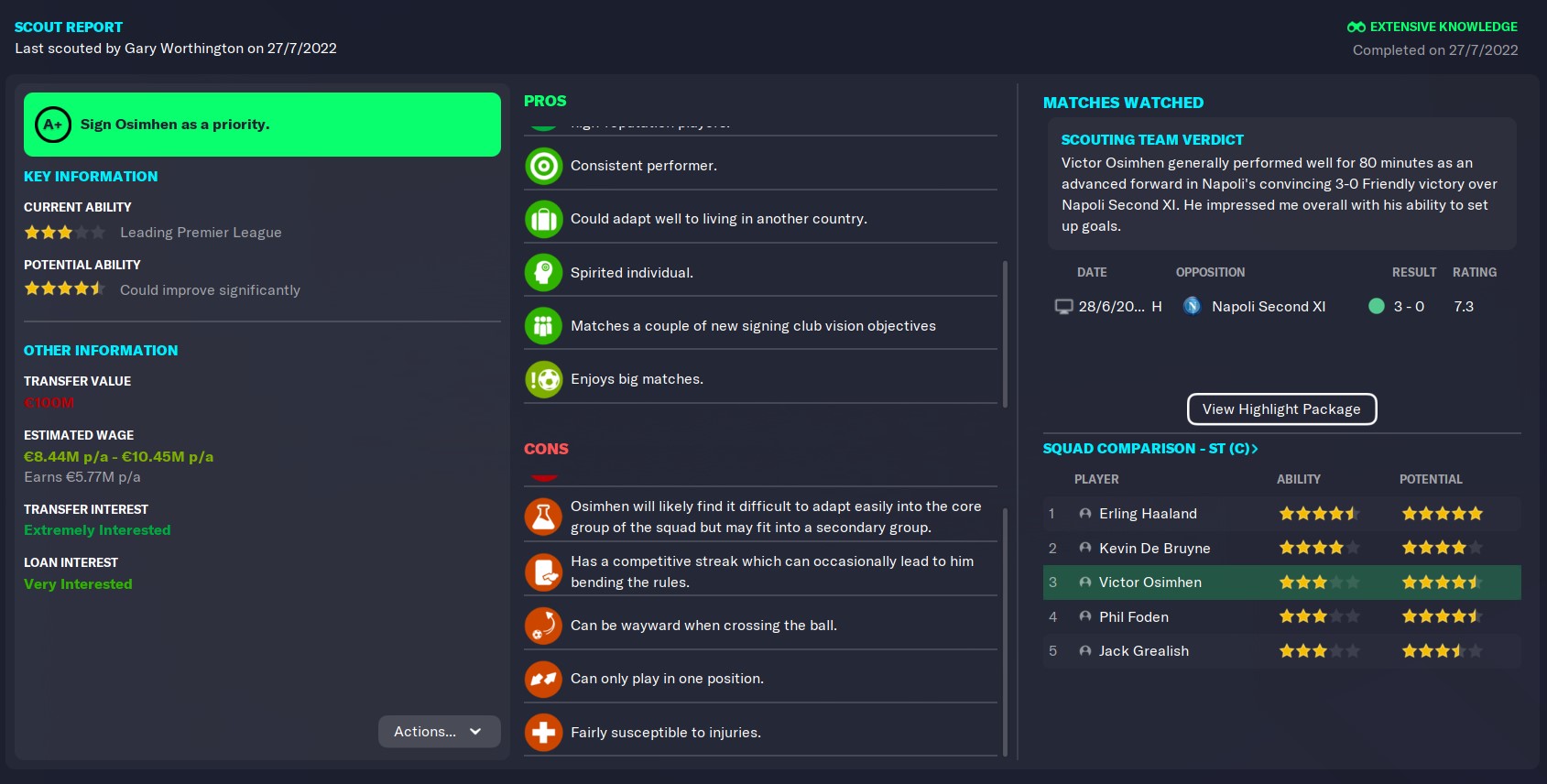 Chief scout from Manchester City gave new insights of Osimhen. His adaptability is quite good, you can bring him in any country and league. But there is a susceptibility to injuries, this hidden skill is decent (12) and may cause trouble. 
Victor Osimhen Agent Demand to Man City at the Save Start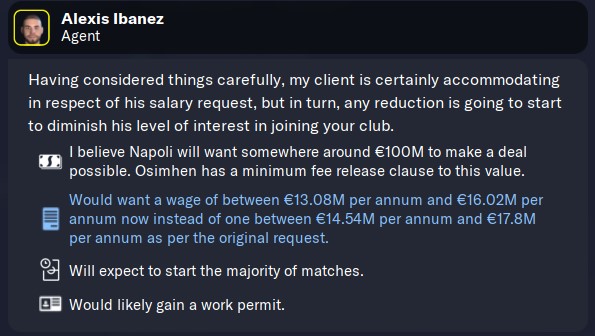 The price is high but justified. For €100M your club received a top forward and goalscorer machine. Sounds like an ads, but i think, you see it yourself soon after transfer) Player also will demand a top wage for himself, but you can low numbers if deal with an agent first. 
Wonderkid Victor Osimhen FM 2023 profile aged 28 in the year 2027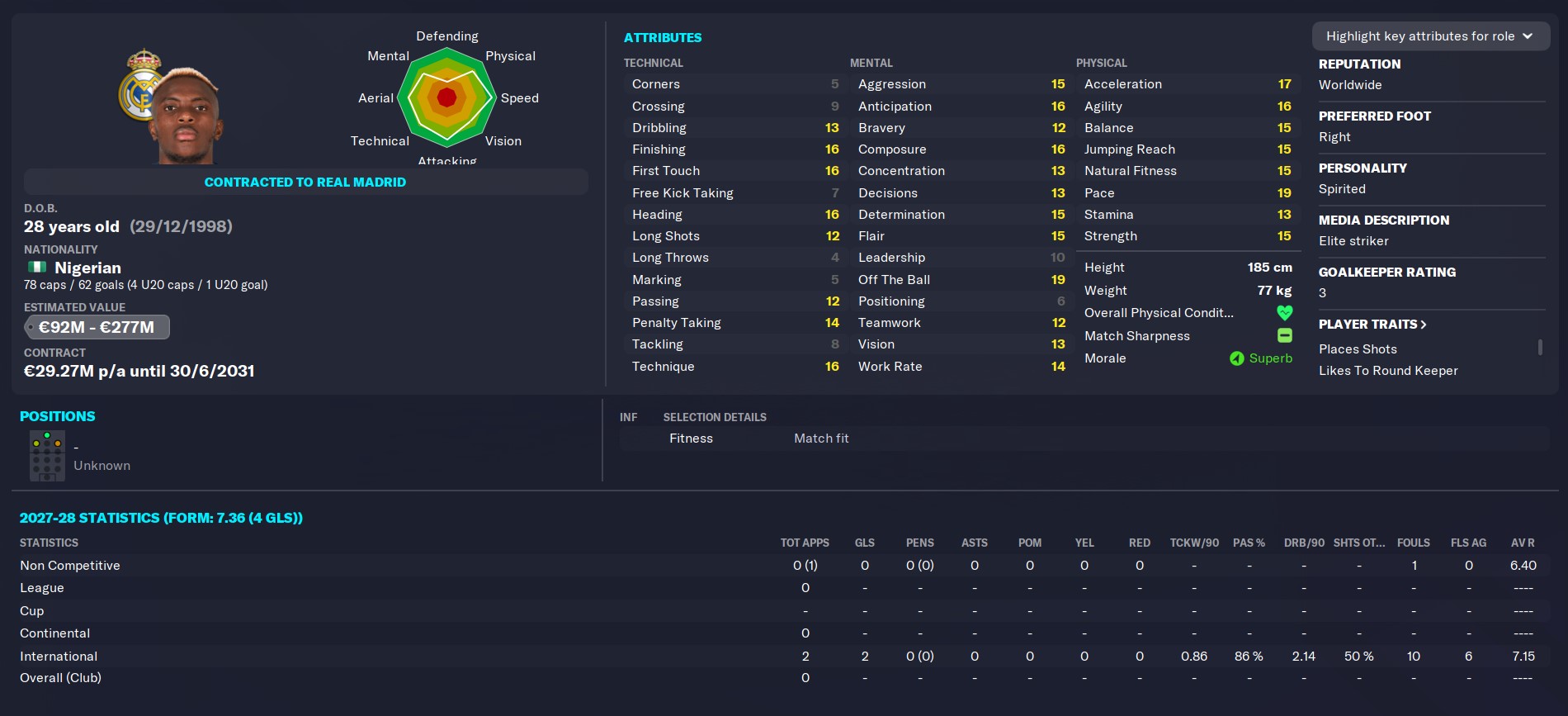 Victor Osimhen FM 2023 Wonderkid career history until 2027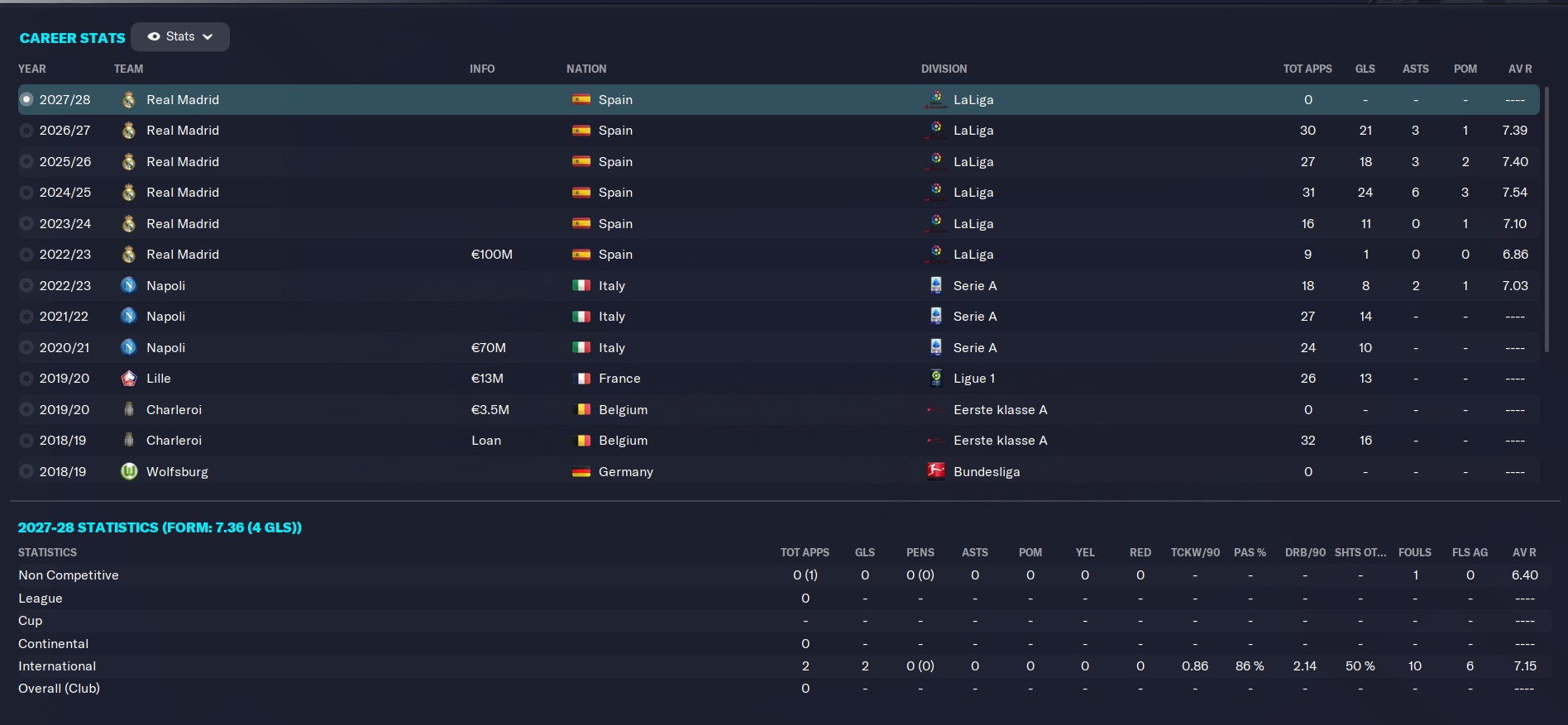 Victor Osimhen Football Manager 2023 Wonderkid FMS Summary
Pros
Spirited personality

Explosive speed

Good consistency and big matches

Can adapt to live in new country

Young age
Cons
Price

Injury proneness

Weak crossing

Competitive streak
Conclusion
This is a big goldfish in the ocean and you will need a lot of effort to catch her. Or rather a big bag of money) Osimhen is definitely a top class footballer with some weaknesses, but if you play for a club from top five and need a good striker, this is your choice. Victor will close forward position for years.  
For all the best Football Manager 2023 wonderkids click here, from cheap bargains to worldclass prospects.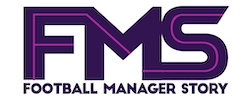 Subscribe to our Newsletter