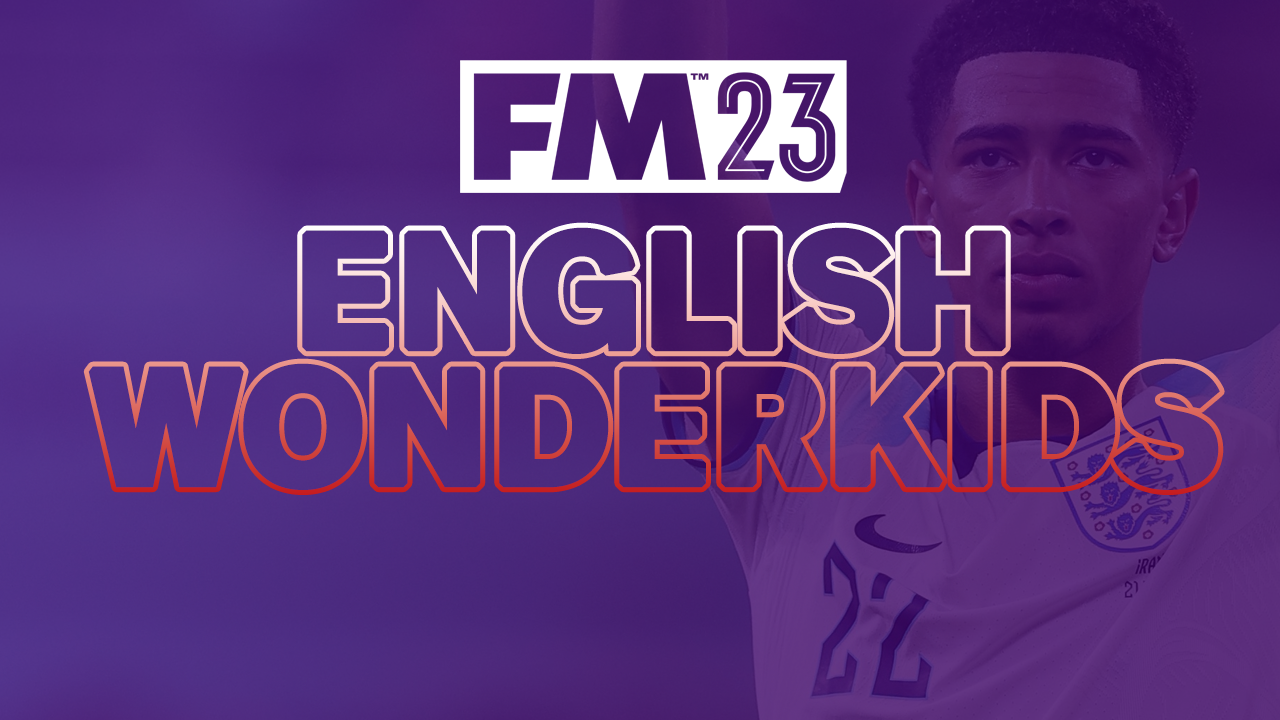 Throughout the past 10 years, English football has seen it's youth teams develop into one of the World's best sides, but who are the Best English Wonderkids in FM23? We have picked out 10 players you must try and sign in Football Manager 2023.
Standing at number one is one of the most impressive young midfielders in the World. Arsenal are developing an incredible exciting winger and over at Tottenham Hotspur, they are waiting for two of these youngsters to break through.
Not only will you find below 10 of the best FM23 English Wonderkids, but we will show you how they look from day one in the FM23, but also in 2032, and see how they have developed over the next 10 years. This is a mixture of players with a flexible and fixed potential.
Just missing out are Leeds United striker Joe Gelhardt and Liverpool's Kaide Gordon. It was close, but the very exciting Cole Palmer, finally getting minutes under Pep Guardiola at Manchester City, was just edged out.  
Aged between 17 and 21, as always, the development of these English players will depend on how quickly the gain playing time, the training facilities and coaching staff of where they play.
Top FM23 English Wonderkids
Jamie Bynoe-Gittens: Borussia Dortmund — Age: 17
2022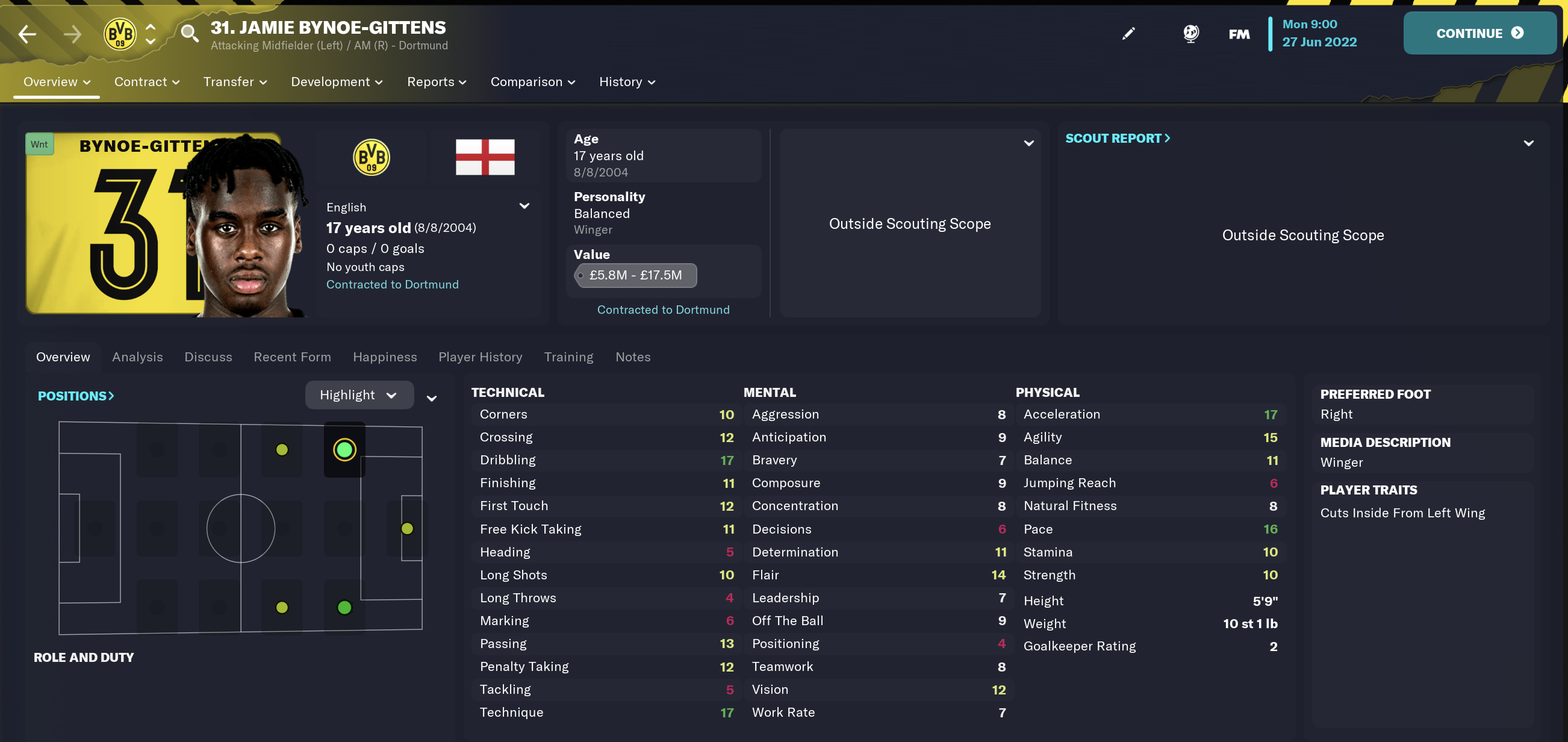 2032

Still with Borussia Dortmund after 10 years, his lack of development is down to only playing 175 games. Dribbling is still there and he is electric quick, but Bynoe-Gittens just hasn't played enough to push on.
Emre Tezgel: Stoke City — Age 16
2022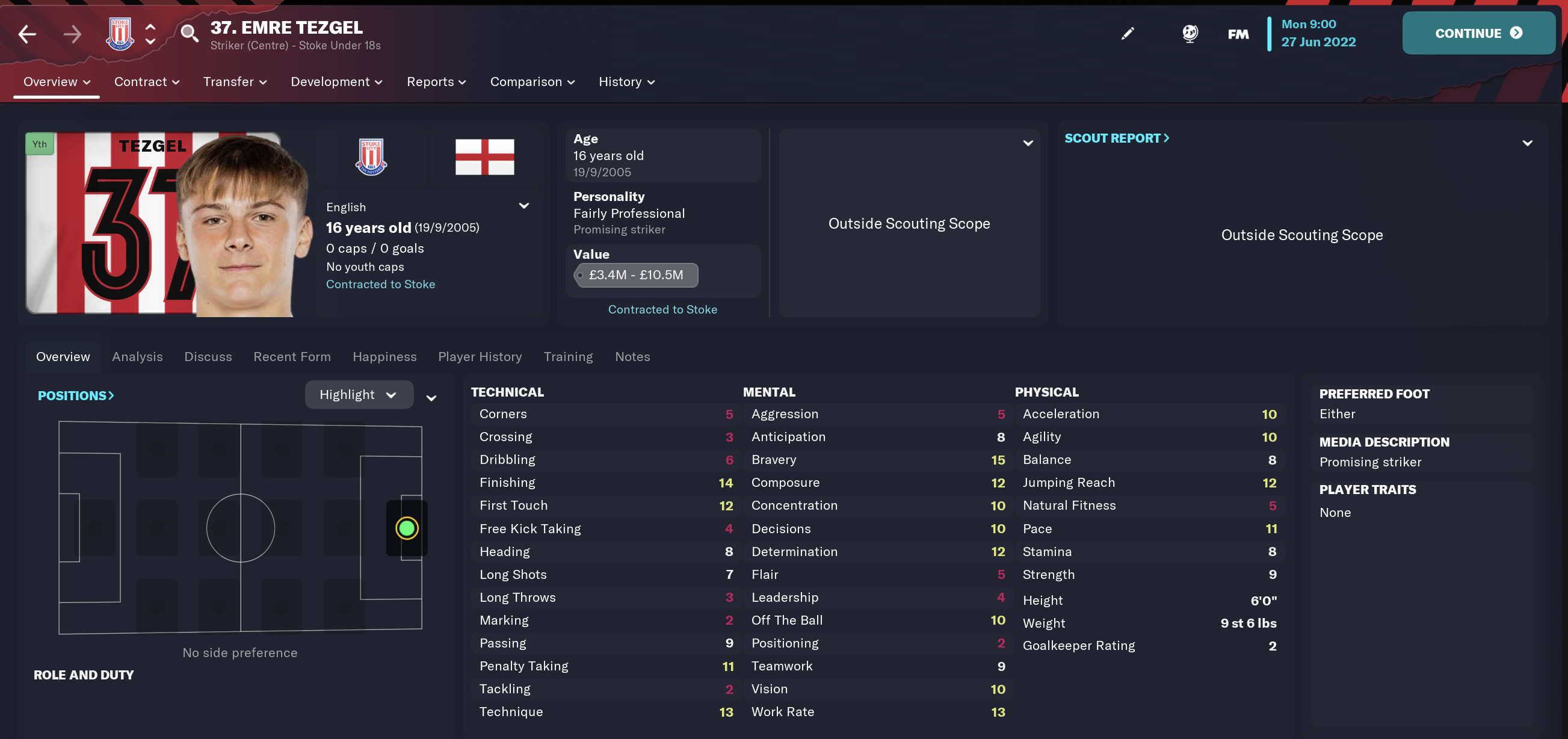 2032

No disrespect to Bolton, but Emre Tezgel deserves better. In some areas, like Anticipation and his physicals, have improved, but just 22 senior goals shows why he moved to the Lancashire club for free. A prime example of someone who needs nurturing and proper playing time to ensure he develops.
Archie Gray: Leeds United — Age: 16
2022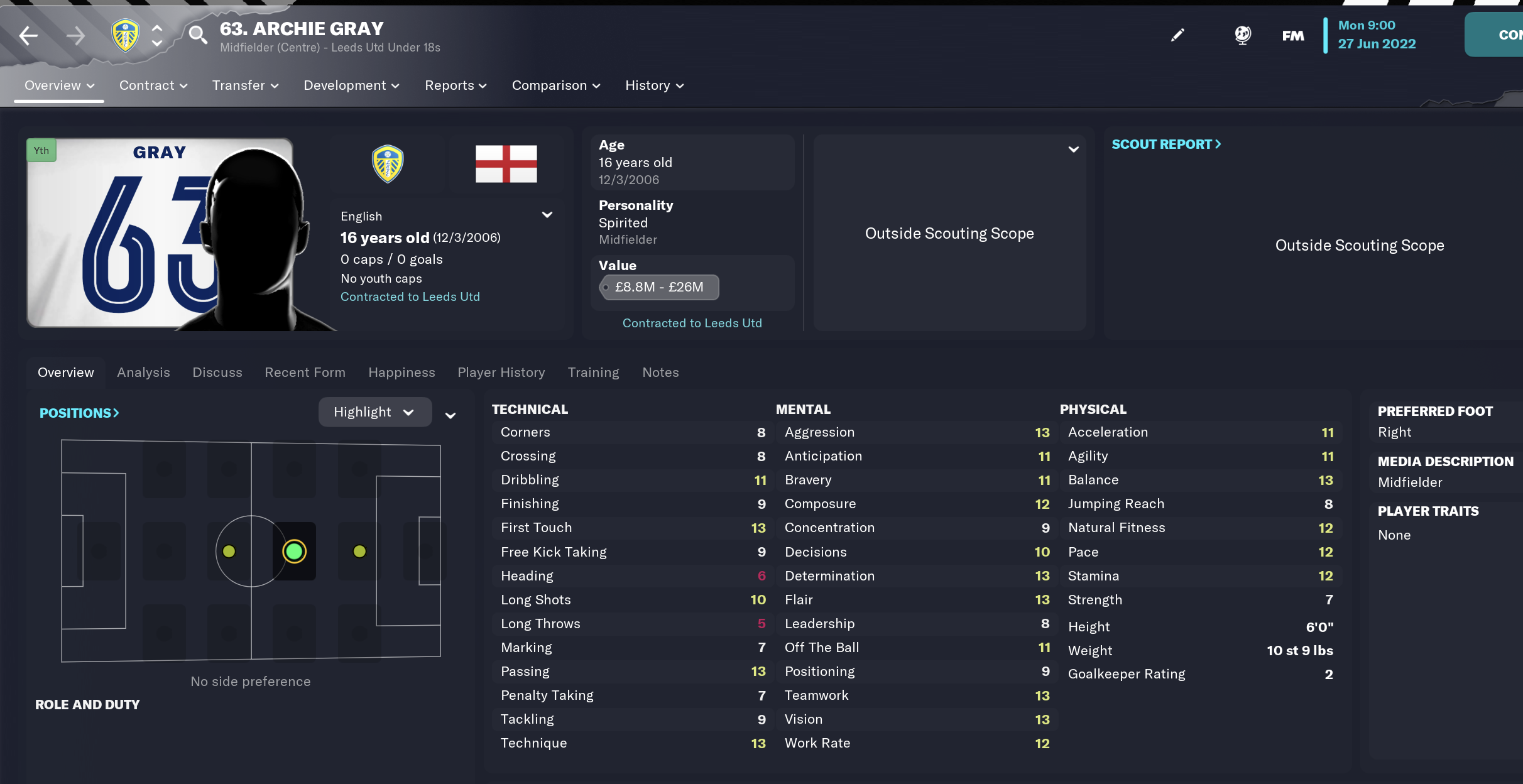 2032

It didn't come till 2030, but Archie got his big move to Monaco. There has been a slight improvement in his mentals, but it's the physicals showing the biggest jump.
---
---
Dane Scarlett: Tottenham Hotspur — Age: 18
2022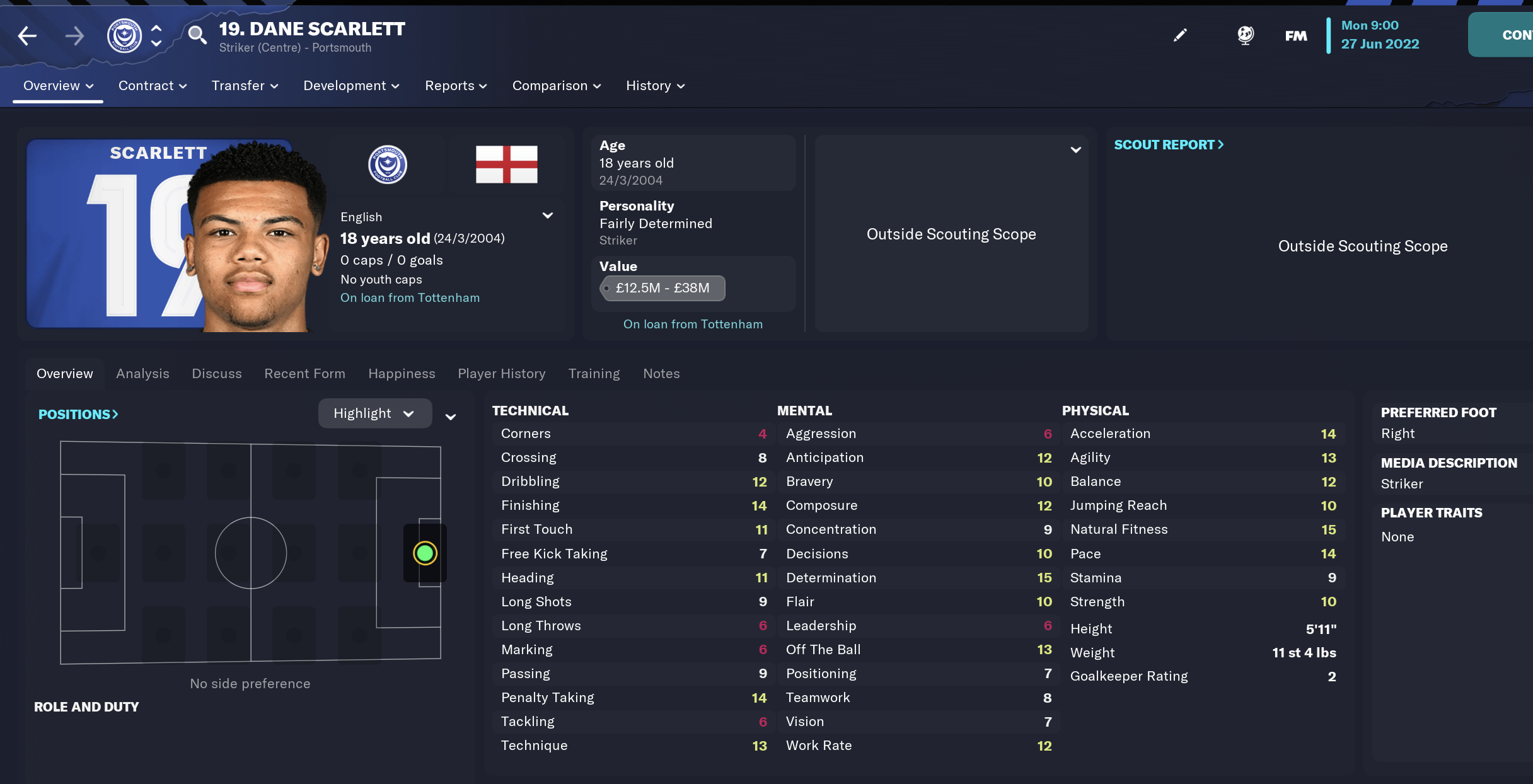 2032

Improvements across the board for the forward and it shows he has played loads over the 10-year period. A £17.5m move to Wolves was followed in 2031 by Fulham paying £46.5m for the Englishman. Pace, finishing, composure and Off The Ball. Dane Scarlett looks a scary prospect.
Alfie Devine: Tottenham Hotspur — Age: 18
2022
2032

Fulham have gone big on the English contingent, spending £30m to bring the midfielder to Craven Cottage. His physicals look fantastic. The mentals have improved too, but nothing over the 15s. He looks like a superb Box-to-box midfielder or Mezzala.
Tino Livramento: Southampton — Age: 19
2022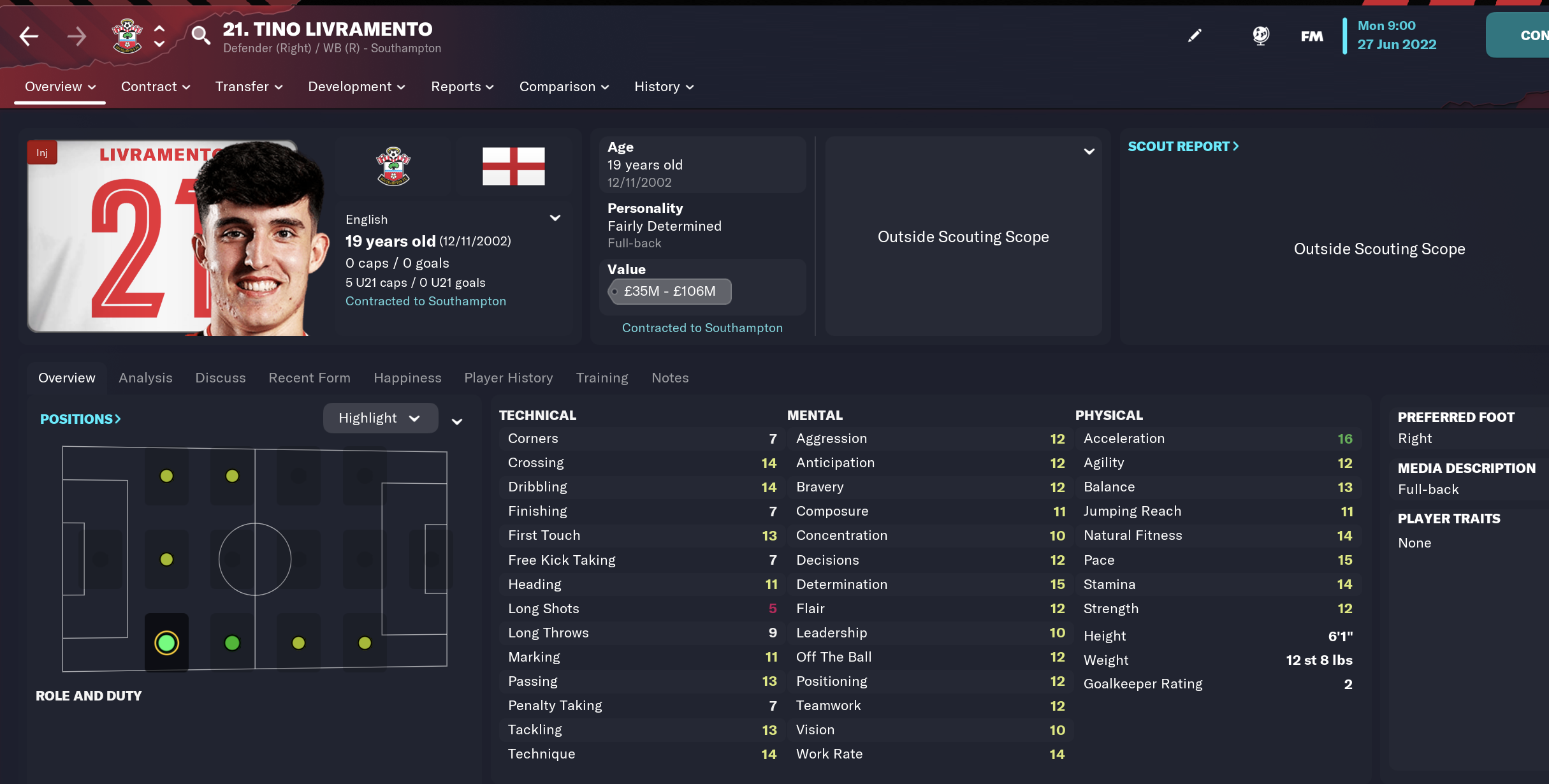 2032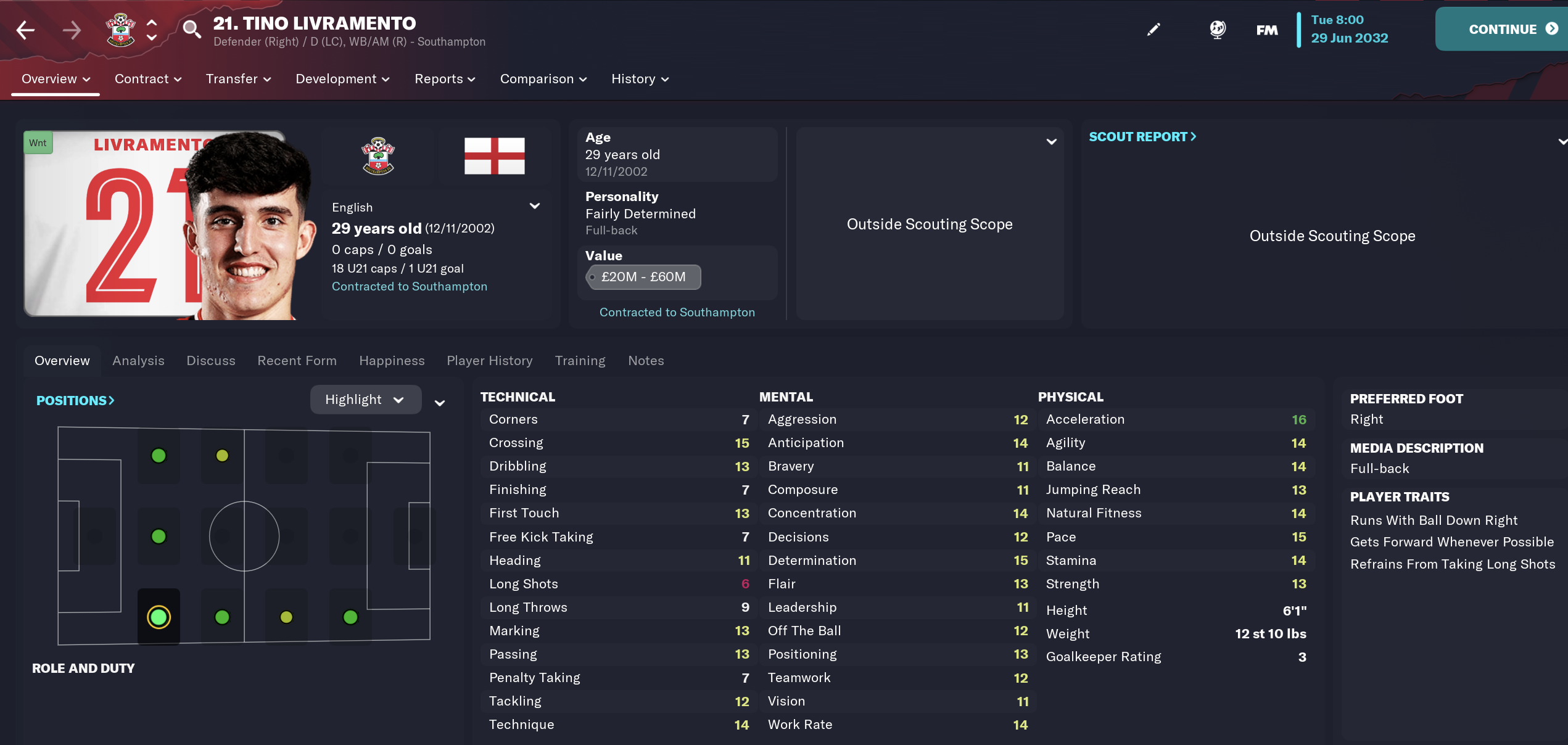 Sadly, the Saints full-back hasn't really improved in 10 years. Which is bizarre considering he's played over 300 senior games in this save. 20 CA points short of his full potential. Southampton need to do better at developing their young stars.
---
Find the best FM 2023 players:
---
Every year we test countless tactics and review the very best. For FM23 these systems will be ranked and listed within our tactics index linked below.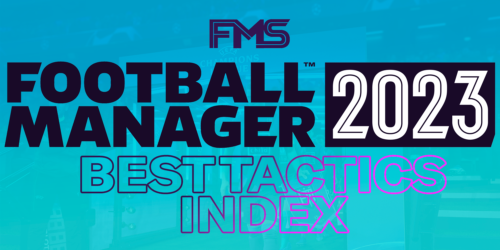 ---
Callum Hudson-Odoi: Chelsea — Age: 21
2022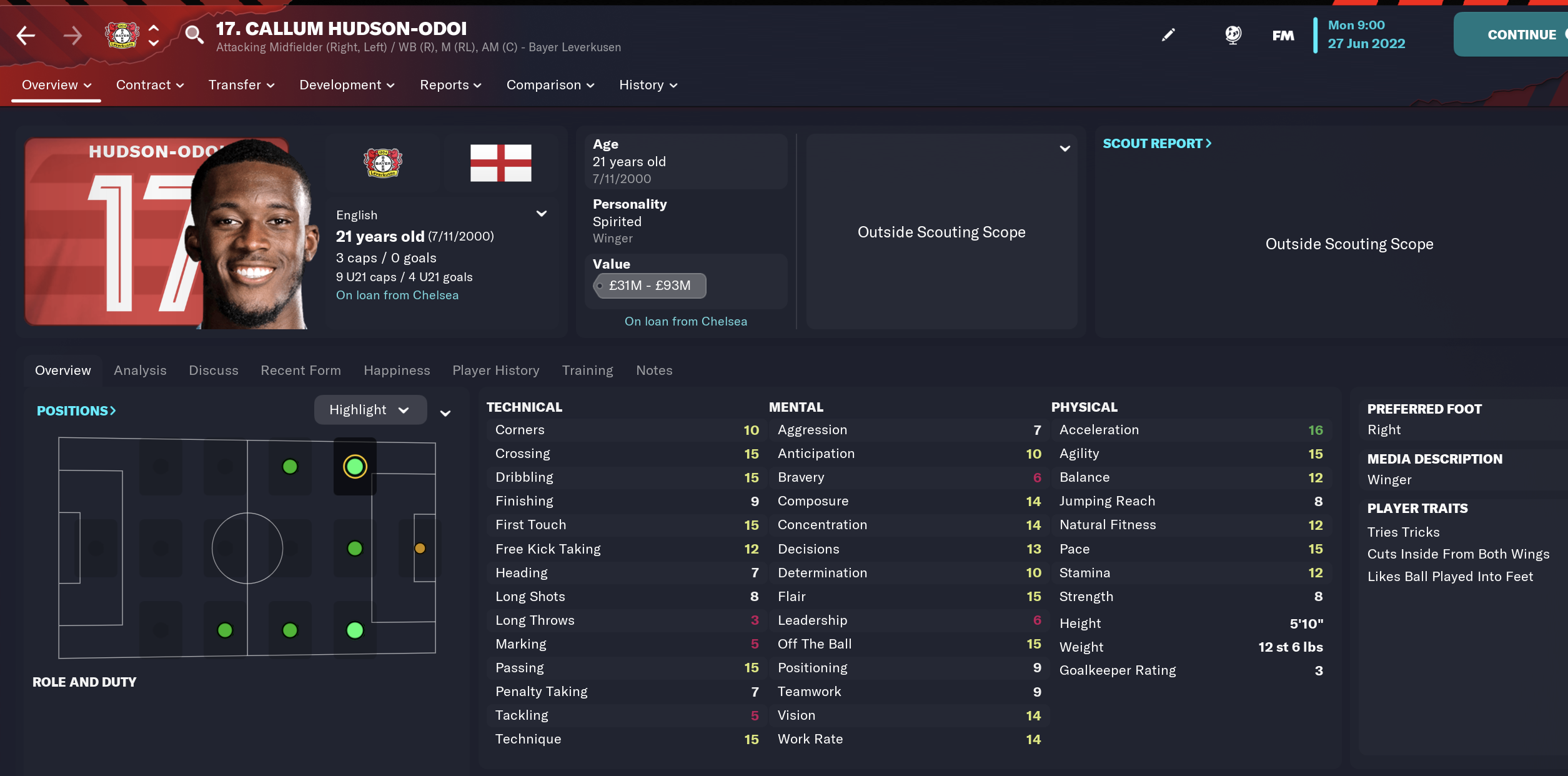 2032

What a career for Hudson-Odoi. Real Madrid paid Chelsea £42.5 million to take him to Spain. He failed to play — shock — and PSG then paid £26m for his services. 73 appearances later, Liverpool stumped up £27m to bring him to Anfield. Three assists in 22 appearances is not what you'd expect from someone with the above attributes.
Bukayo Saka: Arsenal — Age: 20
2022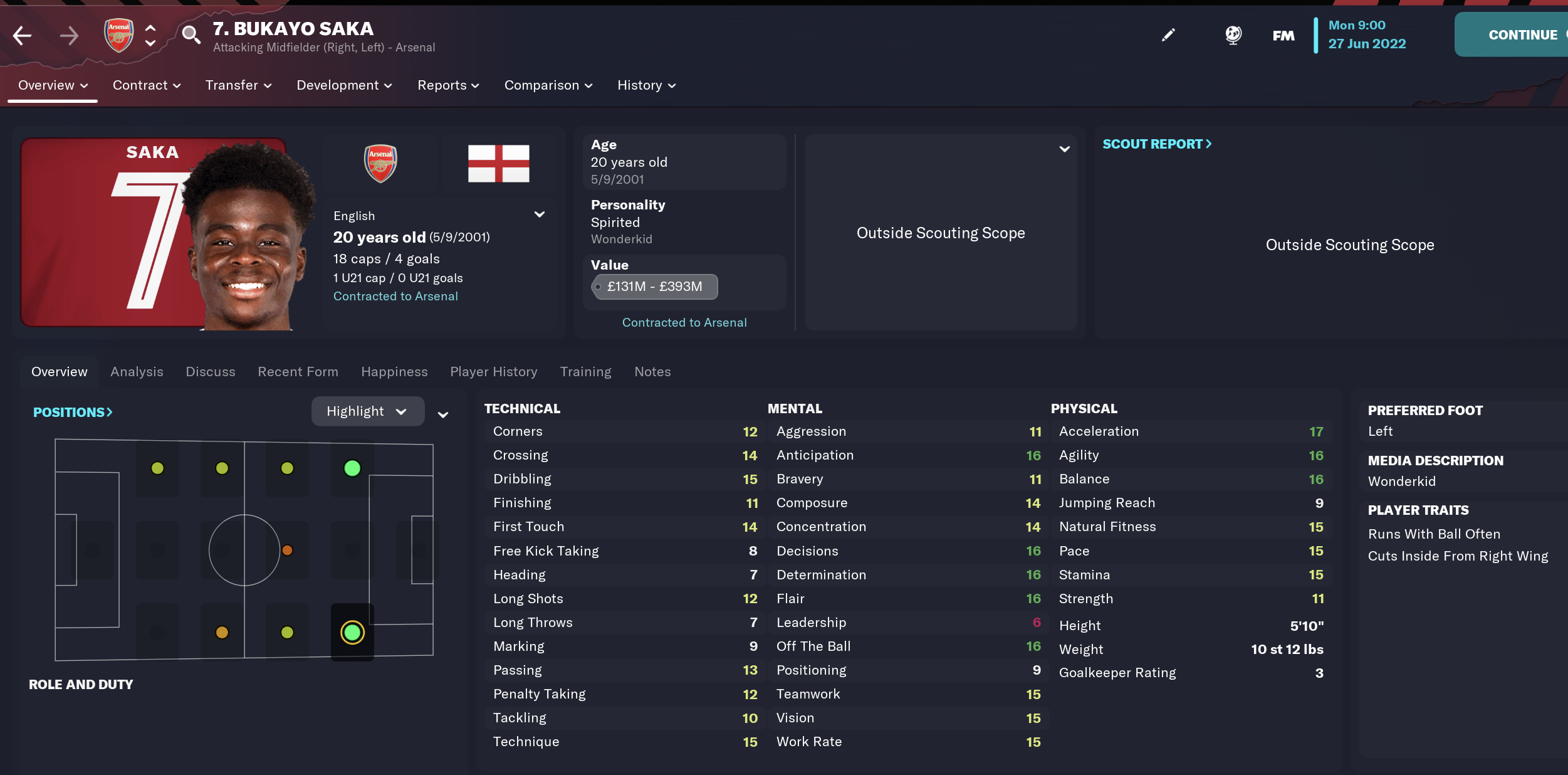 2032

At 30 years old, Saka looks incredible across the board. The vision, the technique, super. Composure, Decisions, Agility. A cultured winger with loads still to give. Over 400 games for Arsenal, he's a club legend. The Gunners lifting FOUR Champions League medals with Saka in the line-up.
Harvey Elliott: Liverpool — Age: 19
2022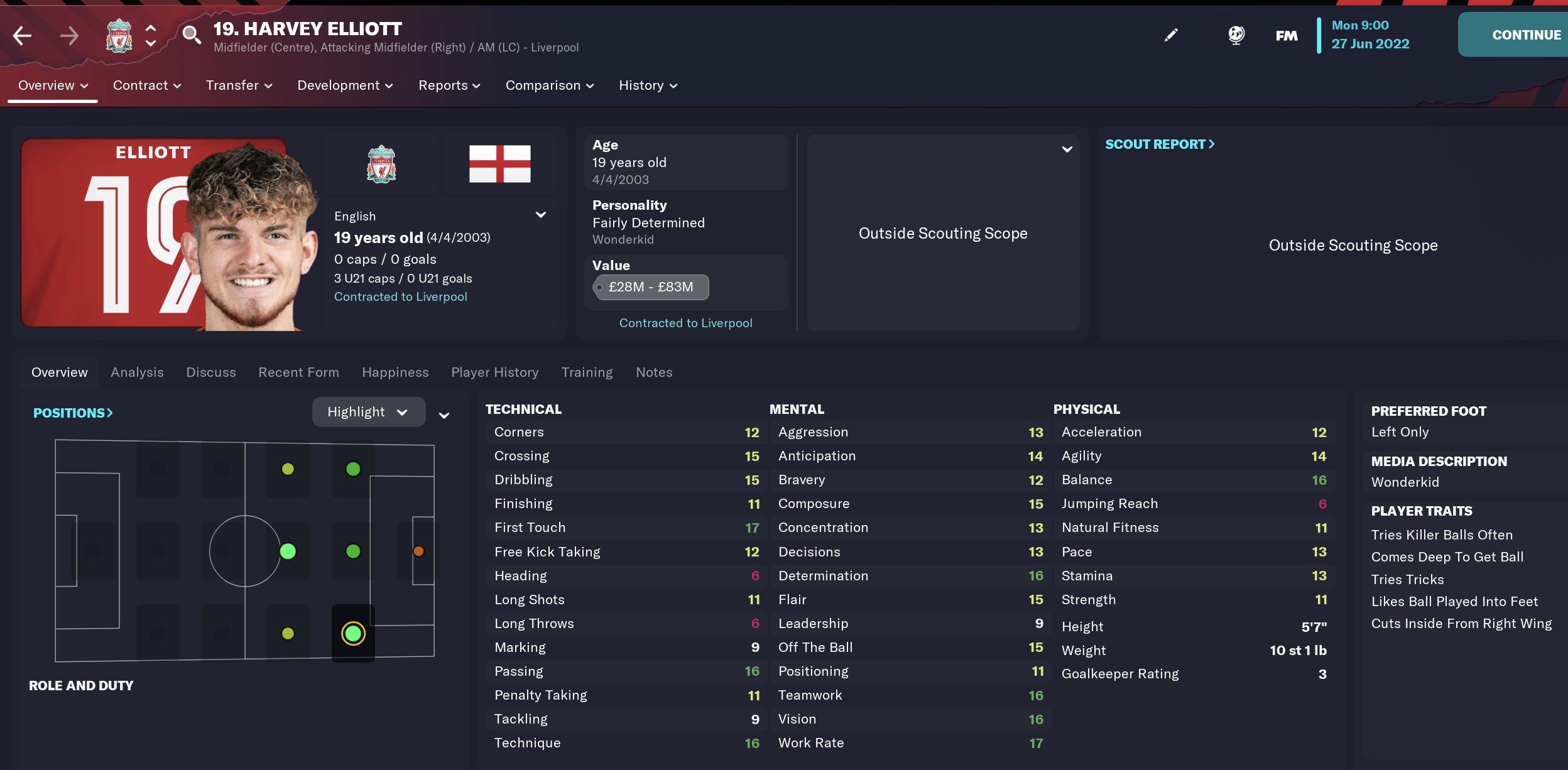 2032

If Harvey Elliott gets anywhere near the player he looks in 2032, Liverpool will be very very happy. Superb attributes in all three areas. On this save, he played for Arsenal and Real Madrid before Bayern Munich spent £120m on him.
Jude Bellingham: Dortmund — Age: 19
2022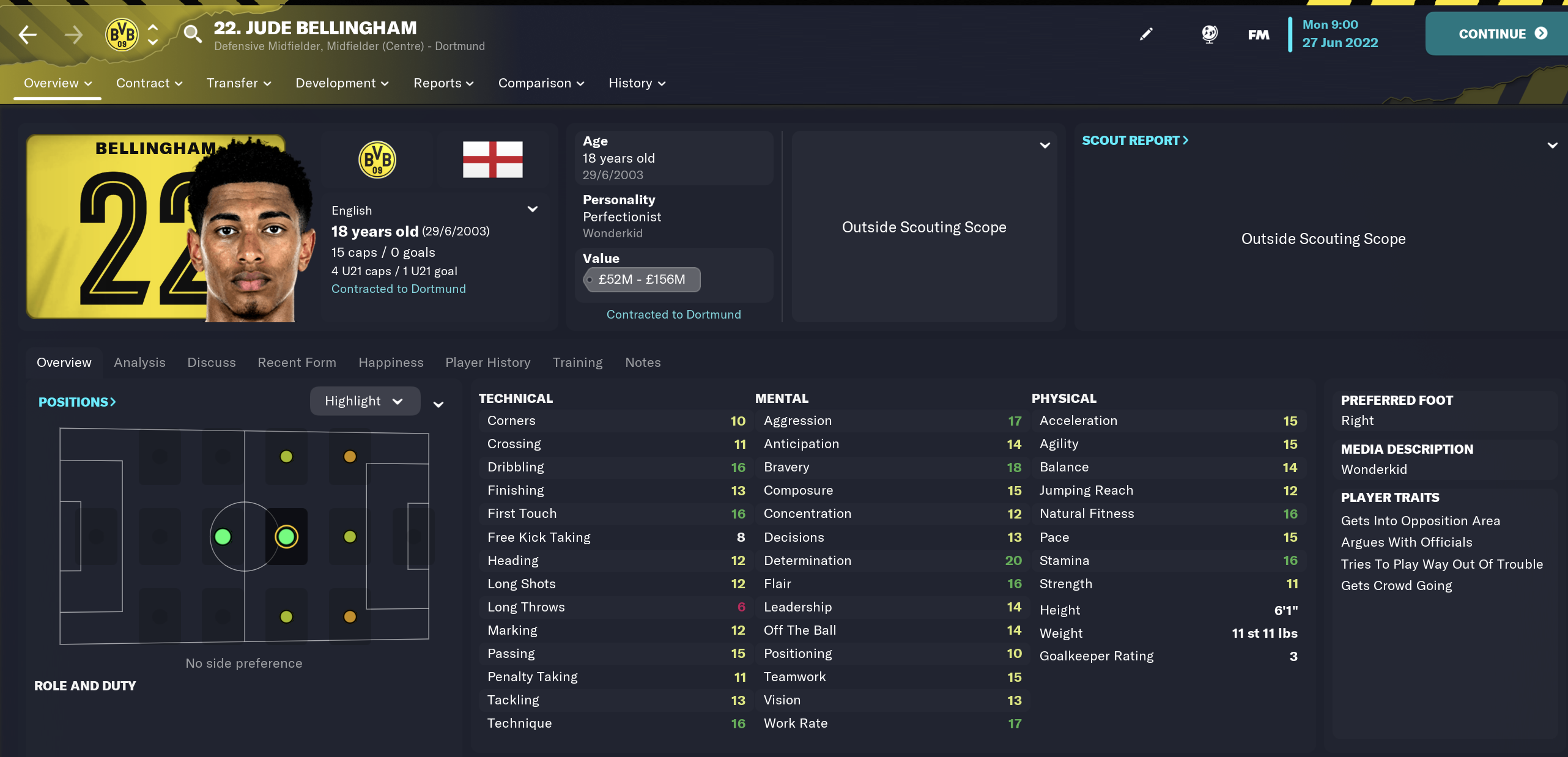 2032

He's already one of the best players in 2022, but in 2032, wooooow. He's incredible. The physicals are off the chart, but with the anticipation, composure, off the ball, vision and work rate, he can be anything he wants to be. £104m from City in 2024, gave them the best midfielder in FM23. And it's not even close.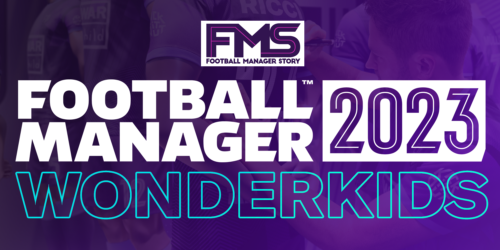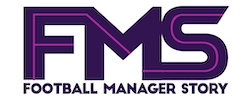 Subscribe to our Newsletter