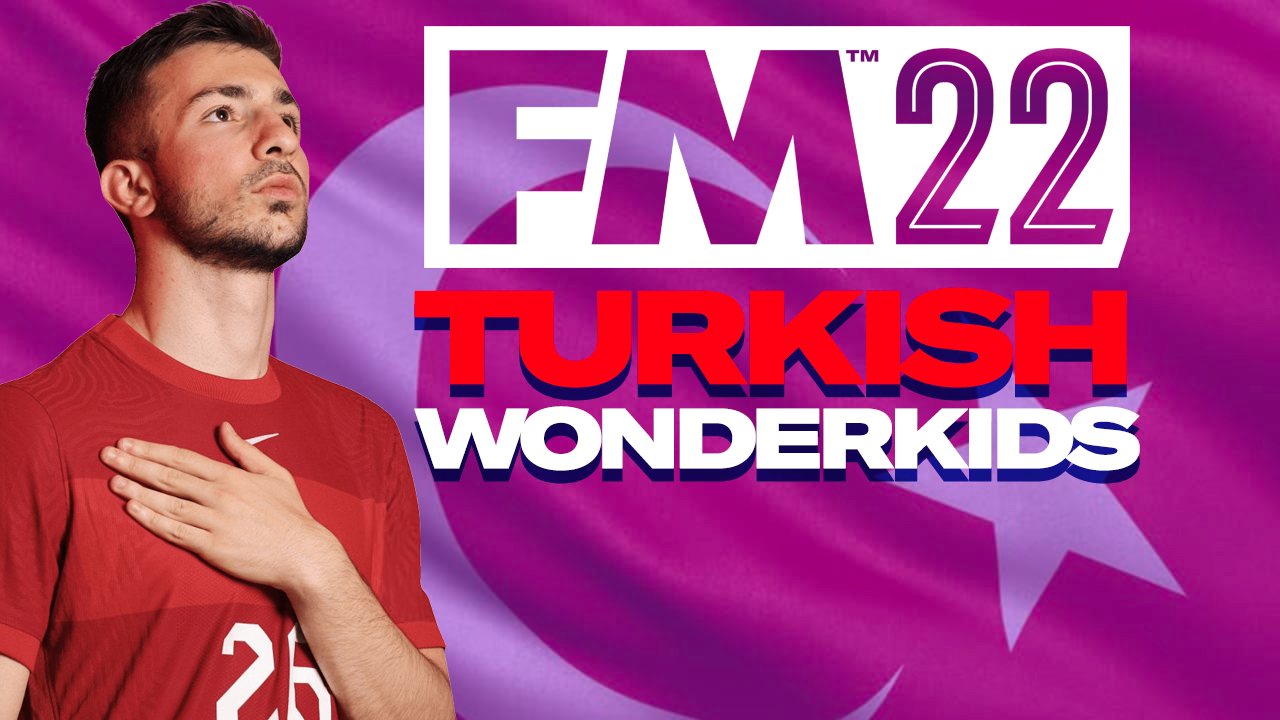 Who are the FM22 Turkish Wonderkids? We've searched through the database in Football Manager 2022 and picked out the 12 players deemed to be special talents and part of what could be a golden generation for Turkey.
Going into Euro 2020 last year, Turkey were supposed to be one of the dark horses to win the tournament. Over the last three/four years they have improved and put up some excellent results, so it was a huge disappointment when they crashed out after a terrible run.
Not only will you find below 12 of the best FM22 Turkish Wonderkids, but we will show you how they look in 2021 and in 2026. All of these players have a Flexible Potential between 130 and 170. If they reach the higher end, you are looking at Europe's Elite.
At the bottom end you still have a very solid option for a European club. .
Five of the men already play their football outside of Turkey, so might be harder to sign, but it still leaves seven excellent options.
Top FM22 Turkish Wonderkids
🇹🇷
12. Mustapha Kapi: Lille – Age: 17
2021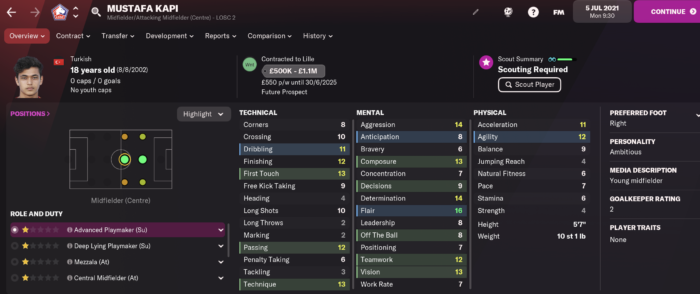 2026

Five years at Lille failed to see the midfielder pick up any playing time for the first-team and in 2026 he is a free agent.
Easy to see why his attributes have not increased, and it's unlikely at 23 years old he'll full reach his potential. It would be interesting to see his path had he gained some meaningful playing time.
His First Touch, Passing and Technique start at a high level. There is a good player in there.
11. Ardo Guler: Fenerbahce – Age: 16
2021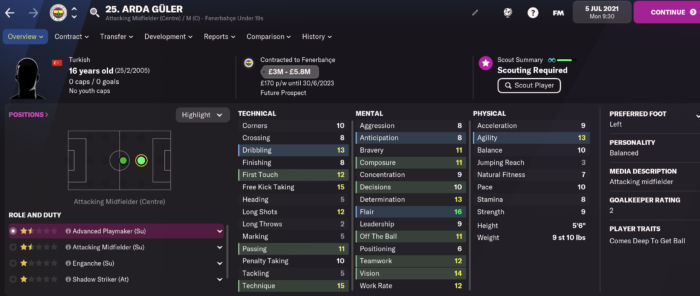 2026

At 21 years old, Ardo Guler has played 20 times for Fenerbahce, and looks a real talent. First Touch, Technique, Flair and Vision are excellent. Agility of 17 could make him a superb AMC.
Still only valued at £8.6 million, he could become very special and worth developing from a young age.
10. Yusuf Barasi: AZ Alkmaar – Age: 18
2021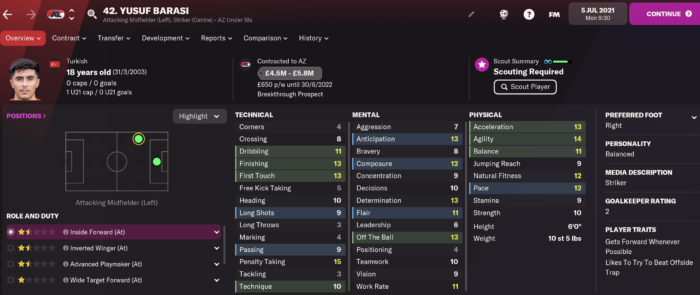 2026

For a striker who has played 150 league games in the Eredivisie, you would expect him to have scored more than 50 times.
Physically he is impressive and has the Acceleration, Agility and Strength to lead the line well. Technically he is fine, but could still be better. It's the Mental attributes which let him down. You'd want a higher value for Off The Ball and Decisions.
There is still time for a move to a big club in order to further his development.
9. Emre Demir: Kayserispor – Age 17
2021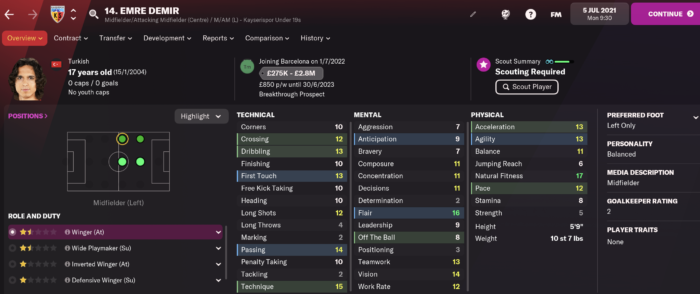 2026

There is already a future move agreed to Barcelona when you start any new save. As we saw in your FM22 English Wonderkids article, a lack of playing time at a big club has stunted his growth.
All of his football has been played in Spain's third tier with Barca B, leaving Emre Demir looking very similar to the player who saw in 2021.
He has done well in 2025, finishing with four goals and 12 assists, but you can't help but think he could be better.
8. Omer Beyaz: Stuttgart – Age: 17
2021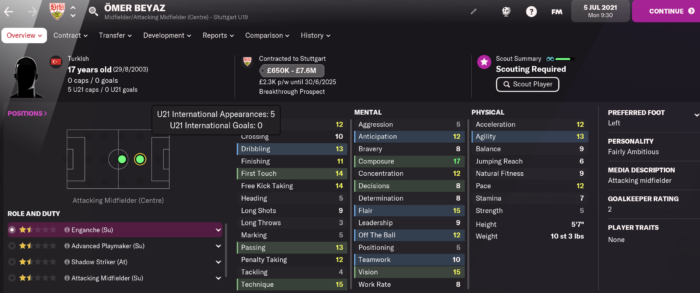 2026

Touted as a huge wonderkid with potential in FM21, the career of Omer Beyaz has not gone as hoped.
His free transfer to Stuttgart yielded just two appearances for the first-team and then he was sold to Freiburg for £325k in 2024.
And again, most of his football there has come in the second team. Still only 22, his 19 for Composure, 16 for Vision and Flair, plus good Passing and Technique makes his a very interesting option.
If he can be this good without real playing time, he could become an exceptional midfielder.
---
FM22 Wonderkid Series
---
7. Ravil Tagir: Istanbul Basaksehir – Age: 18
2021
2026

Although he is only 6 feet tall, Ravil Tagir has developed well, moving from Turkey to Borussia Dortmund and then to Tottenham Hotspur for just under £17 million in 2025.
On the ground he has good Passing and Technique. Heading of 15 will help him in the air. The most impressive numbers are his Composure and Concentration.
Still only 23 years old, he could go on to earn over 50 caps for Turkey.
6. Ridvan Yilmaz: Besiktas – Age: 20
2021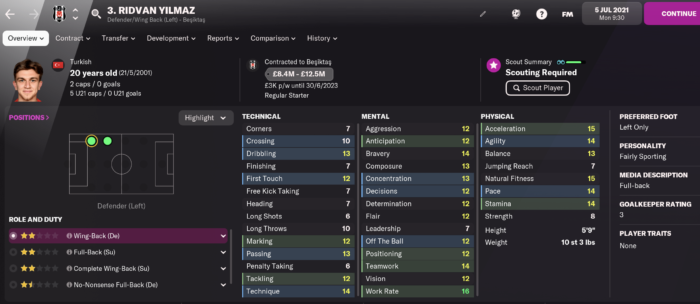 2026

Ridvan Yilmaz has become a very exciting, fairly ambitious left-back who can cross the ball, is quick and has excellent mental attributes.
His Marking, Tackling, Positioning and Off The Ball are more than good enough to be a very impactful full-back. He could easily make a move up the ladder, or play over 300 games for Besiktas.
There's no reason why his club wouldn't demand over £25 million to take him west.
5. Orkun Kokcu: Feyenoord – Age: 20
2021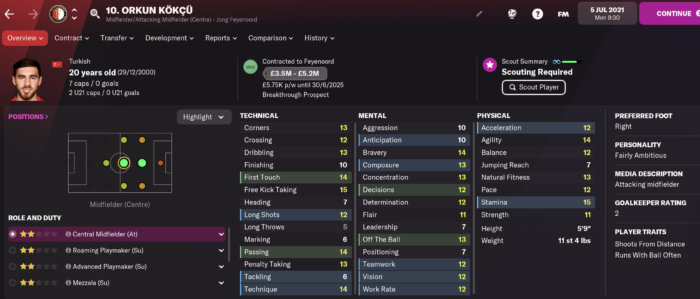 2026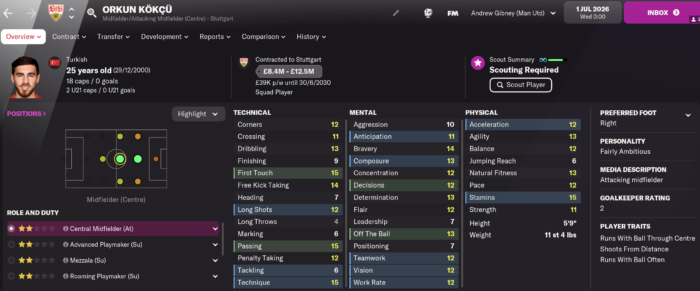 Although he got an early move to Stuttgart for £4.5 million, and he has played over 100 games in the Bundesliga, his development has stalled.
Which is backed up by his loan move to Hoffenheim – in which he only played seven times.
There is no doubt he is a competent midfielder, with 15s for Passing, Technique and First Touch. His Mentals are not elite, but he could be very useful for the right team.
---
Find the best FM 2022 players:
---
Every year we test countless tactics and review the very best. For FM22 these systems will be ranked and listed within our tactics index linked below.

---
4. Ali Akman: Eintracht Frankfurt – Age: 19
2021
2026

In many iterations, in many other saves, Akman will become an excellent striker for club and country.
Sadly, the 25 appearances he made on loan for NEC Nijmegen in 2021 is double the amount of games he has played since.
Frankfurt has not used him and you can see it from his attributes.
Always a popular wonderkid, he's still worth buying, as long as you use him.
3. Ersin Destanoglu: Besiktas – Age: 20
2021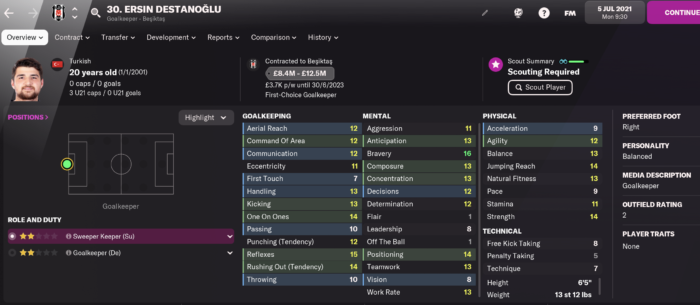 2026

Ersin Destanoglu, at 25 years old, looks like a very good goalkeeper. Standing 6 foot 5, with Aerial Reach, Jumping Reach and Positioning of 14, Reflexes of 15 and 16 for One on Ones, there are few flaws to his game.
He is Besiktas' starting goalkeeper and a very good signing for most European clubs.
2. Burak Ince: Altinordu – Age: 17
2021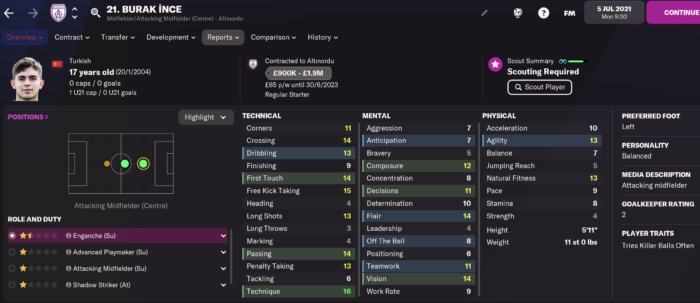 2026

Burak Ince is still only 22 years old, but is already a member of the Turkey National Team.
After moving to Mainz in the Bundesliga, he played over 100 games before Bayer Leverkusen stumped up £24.5 million and you can see why.
Passing, Technique and Vision are superb and look incredible. Composure, First Touch, Dribbling, all at 15s and then traits you'd want for a playmaker. This kid is going to be special.
1. Halil Dervisogli: Brentford – Age: 21
2021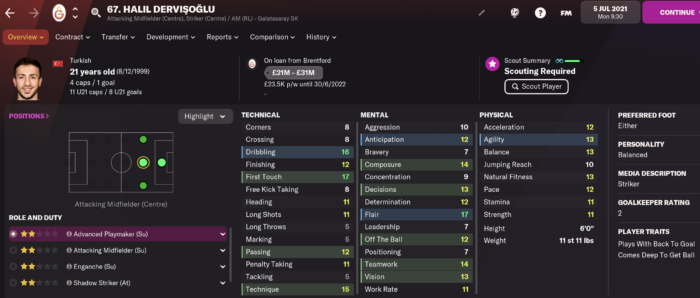 2026

A lot has happened to Halil Dervisoglu in just five years. His loan spell at Galatasaray helped him gain experience. Brighton had no use for him and loaned him to Norwich. They paid £8.25m for him in 2024. Although he only scored four goals in 39 games, Brighton then paid £12m for his services.
Parts of his game look excellent. His First Touch, Dribbling and Flair. His Off The Ball isn't great, either is Finishing, Passing and Acceleration.
He has the traits to be a Shadow Striker or Deep Lying Forward, but it's unlucky he has what it takes to lead the line higher up the pitch.
Which of these FM22 Turkish Wonderkids will you try and sign?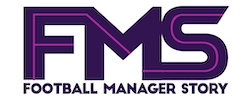 Subscribe to our Newsletter