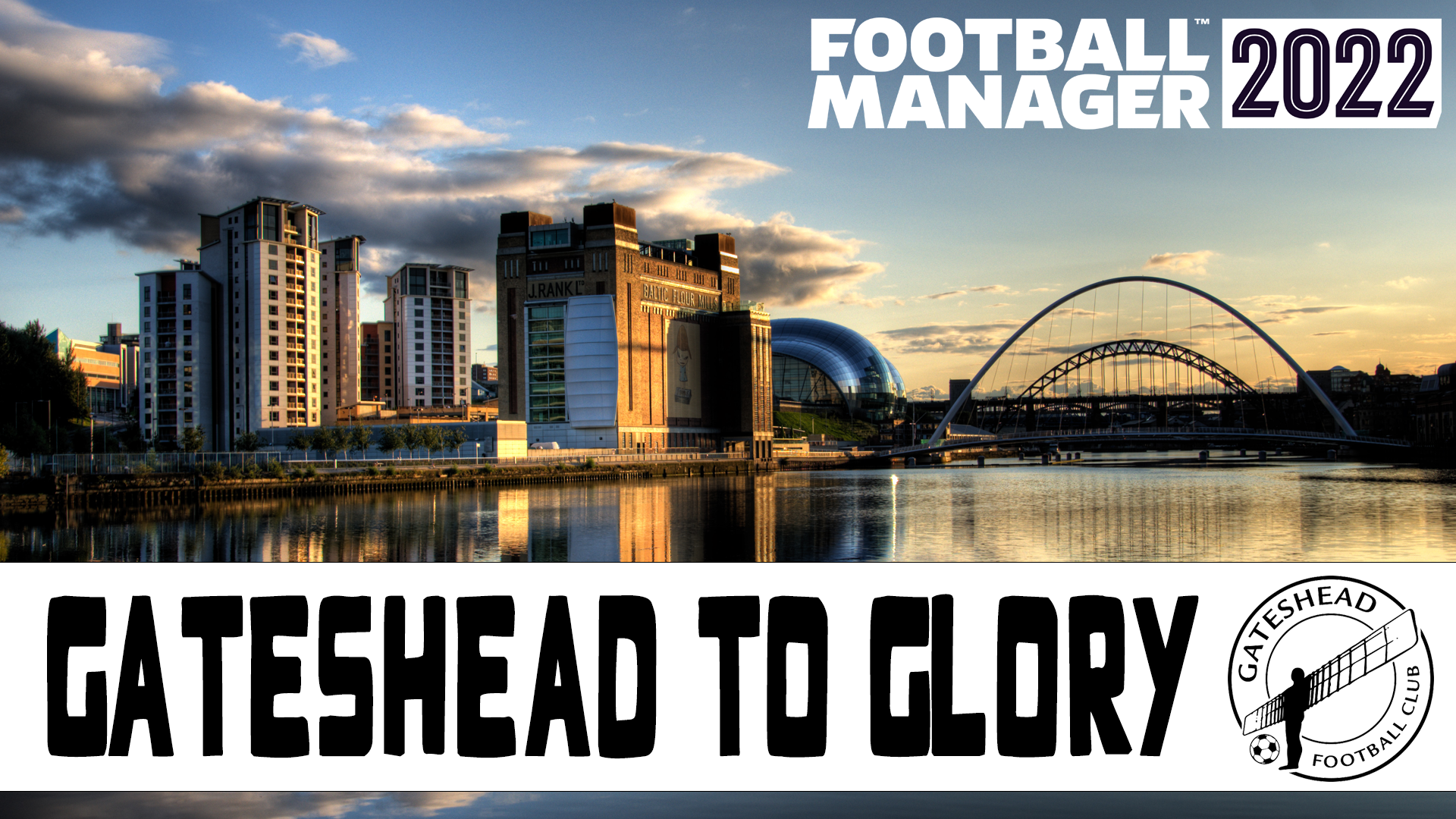 Welcome to a new episode of my FM 2022 story managing Gateshead from Vanarama National North to Glory.
After five back to back promotions from the Vanarama National North League, and two seasons in the Premier League, it is time for our first time playing in an European competition.
If you haven't read the previous posts, here is a quick recap:
Introduction: My presentation as Gateshead's manager.
Season 1:  We won the FA Trophy and the Vanarama League North without loosing any games, with 112 points in 42 matches.
Season 2: We lifted the FA Trophy Cup and the Vanarama National League without loosing any games with 122 points in 46 matches.
Season 3: We won the Sky Bet League ,2 seventeen points ahead of second placed team MK Dons.
Season 4:  We Won the Sky Bet League 1 and the Papa John's trophy.
Season 5: Won the Sky Bet Championship League.
Season 6: I avoided relegation in the first season in the Premier League.
Season 7: We finished in 5th position in our second season in the Premier League, qualifying for the Europa League.
Pre Season League Odds
At the beginning of the season we were placed in j16th position.
 Pre Season Matches
We won six out of seven matches. The 5-1 won over Olympique Marseille was the pre season highlight.
Premier League Fixtures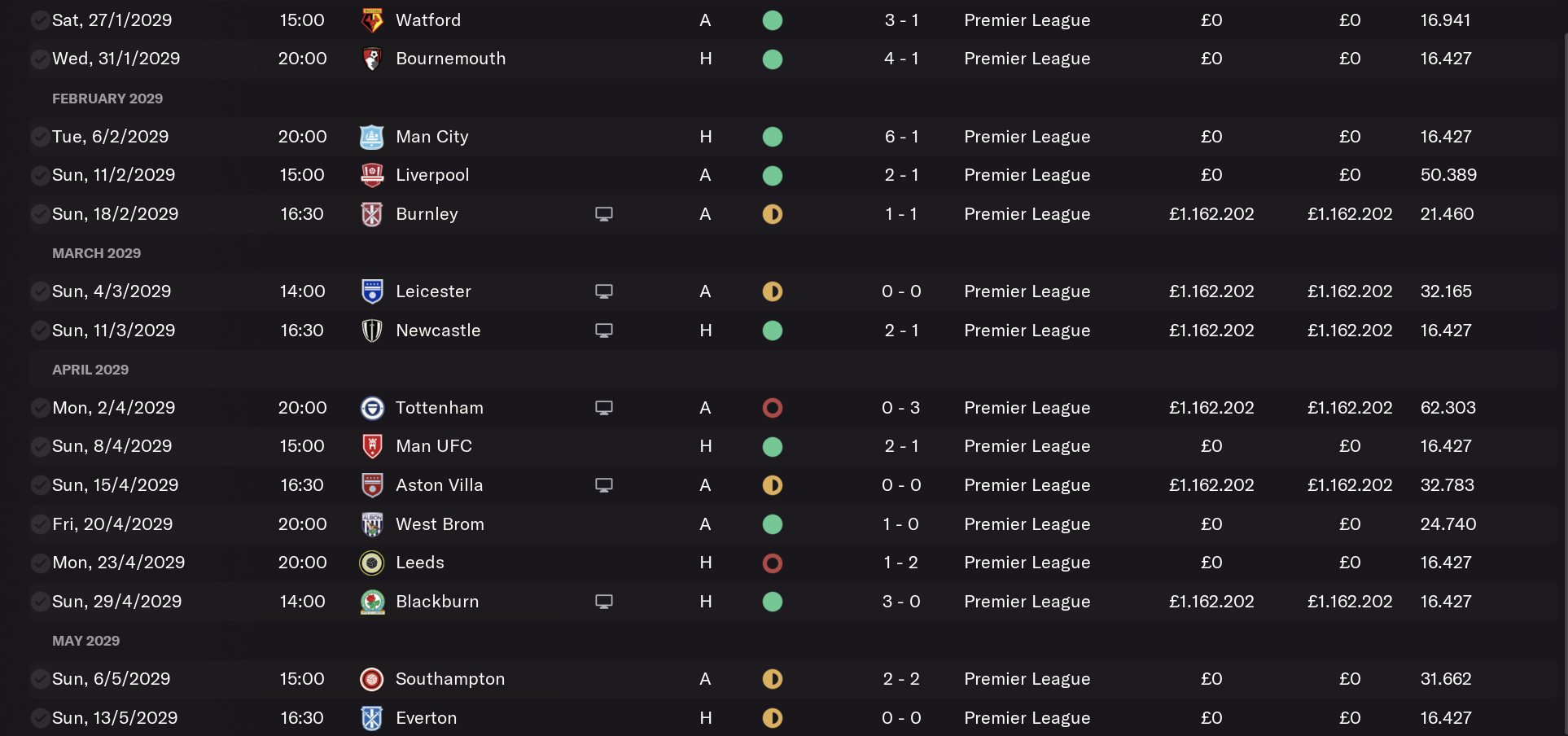 End of League Odds
By the end of the season we were placed 4 positions above from the beginning, in 12th place.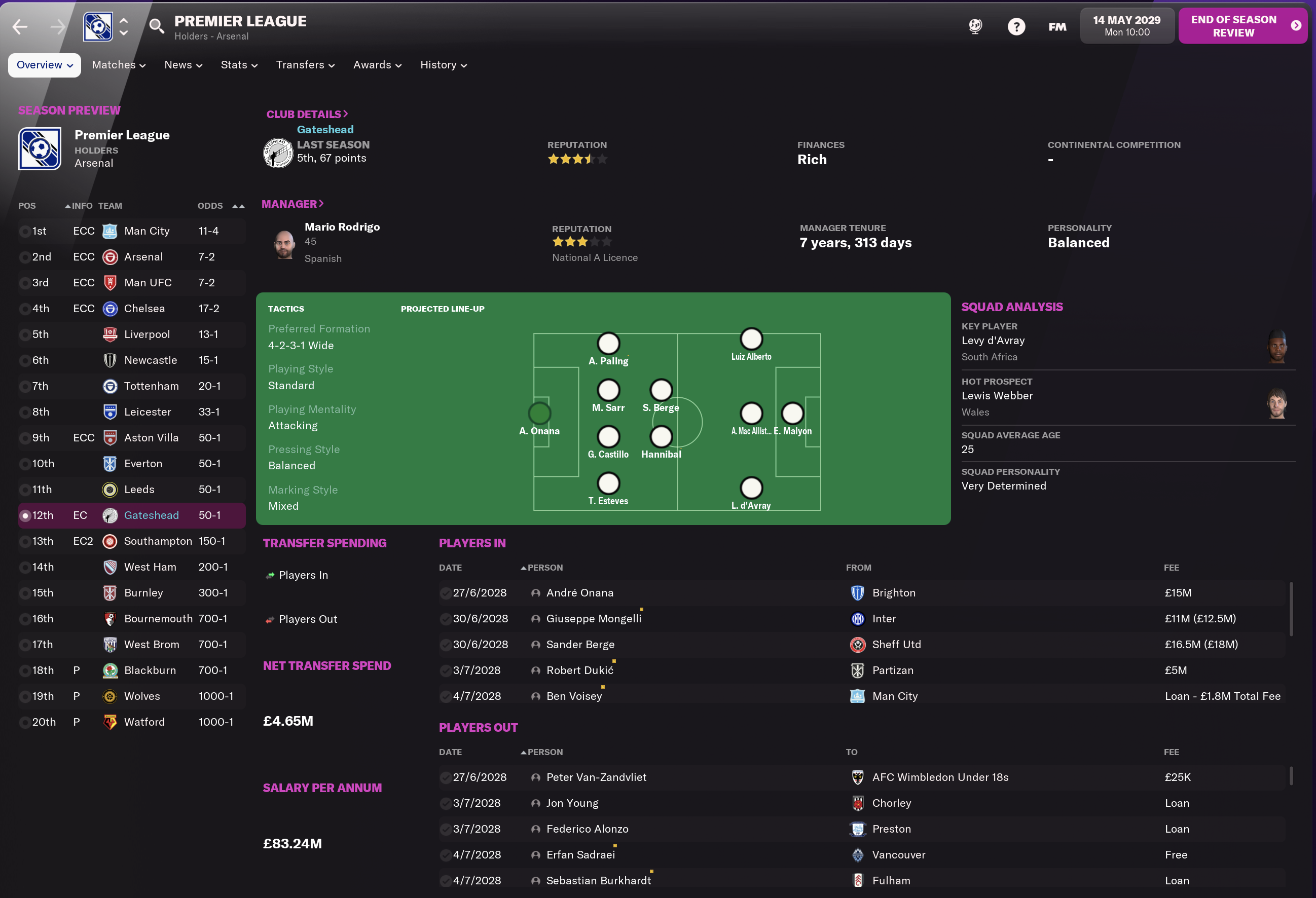 The Premier League Final Table
The Tynesiders continue to improve year after year, we qualify for the European Champions League by finishing in 4th place! 😁👍 Just three point below Arsenal, this season champions.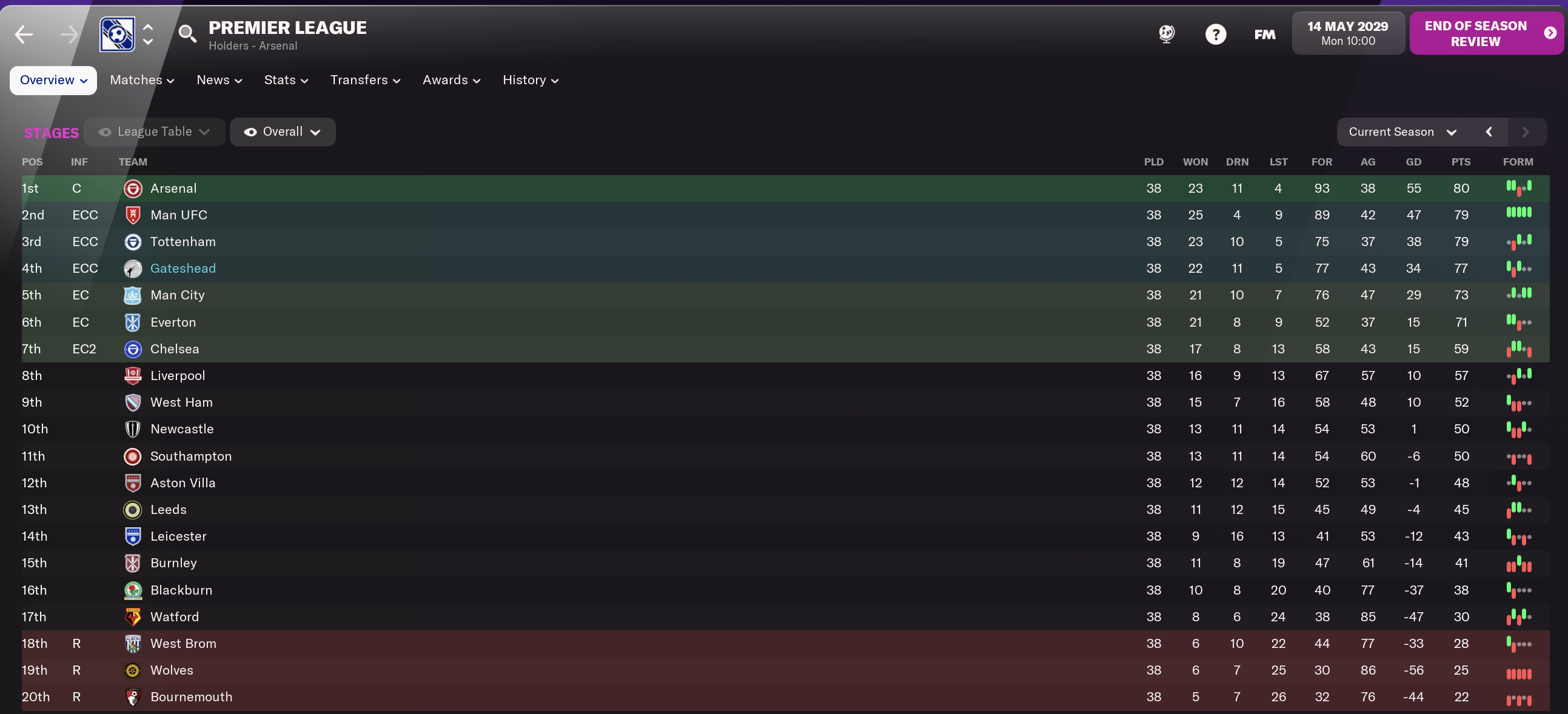 The Europa League
We did great in the Europa League, but unfortunately, a terrible away first leg against Valencia, left us out of the competition.
I think we could have win this cup, in the final Athletic Bilbao defeated Valencia 4-1.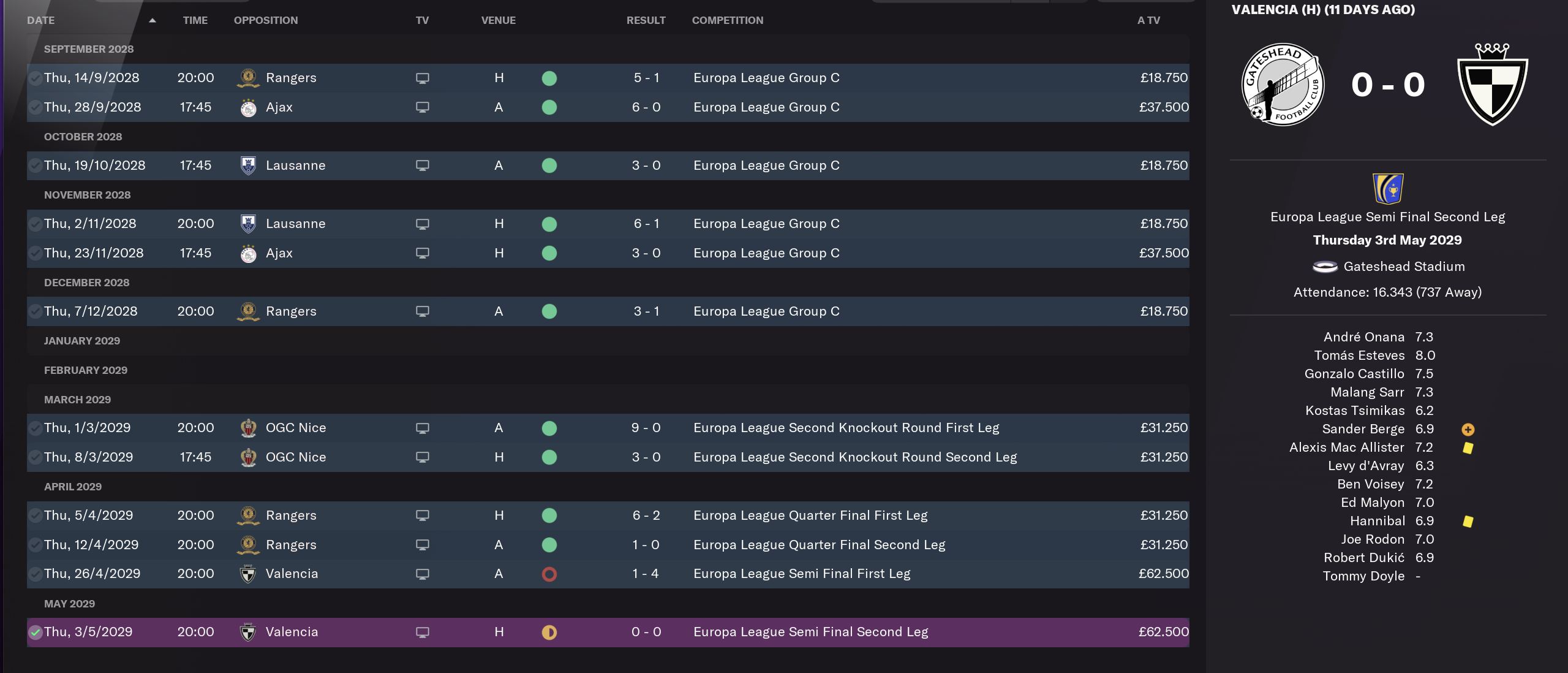 The Carabao Cup
Yes, for the first time in the Tynesiders history, I manage to lead the team to win the Carabao cup, defeating EPL champions, Arsenal, 4-0 in front of 90.000 fans at Wembley 😀👌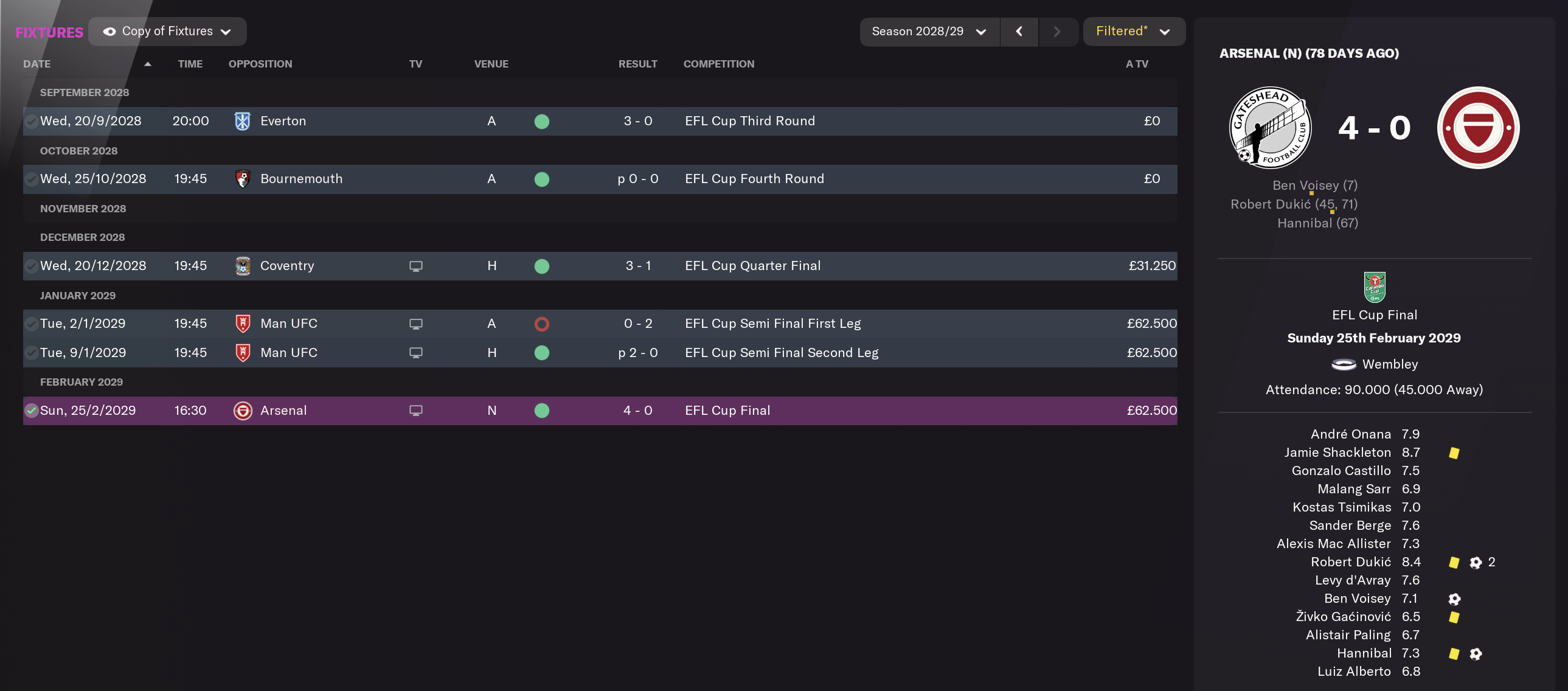 The FA Cup
Out in quater finals by all mighty Man City.

Premier League Player Performance
Great individual performances from first team players and the subs. All of them, except Alistair Paling with an average rating of 9.98, got 7 and above ratings.
Our wonderkid striker Maylon scored 33 goals and Hannibal made 13 team assists.

The First 11 Players
Sweeper keeper on defend duty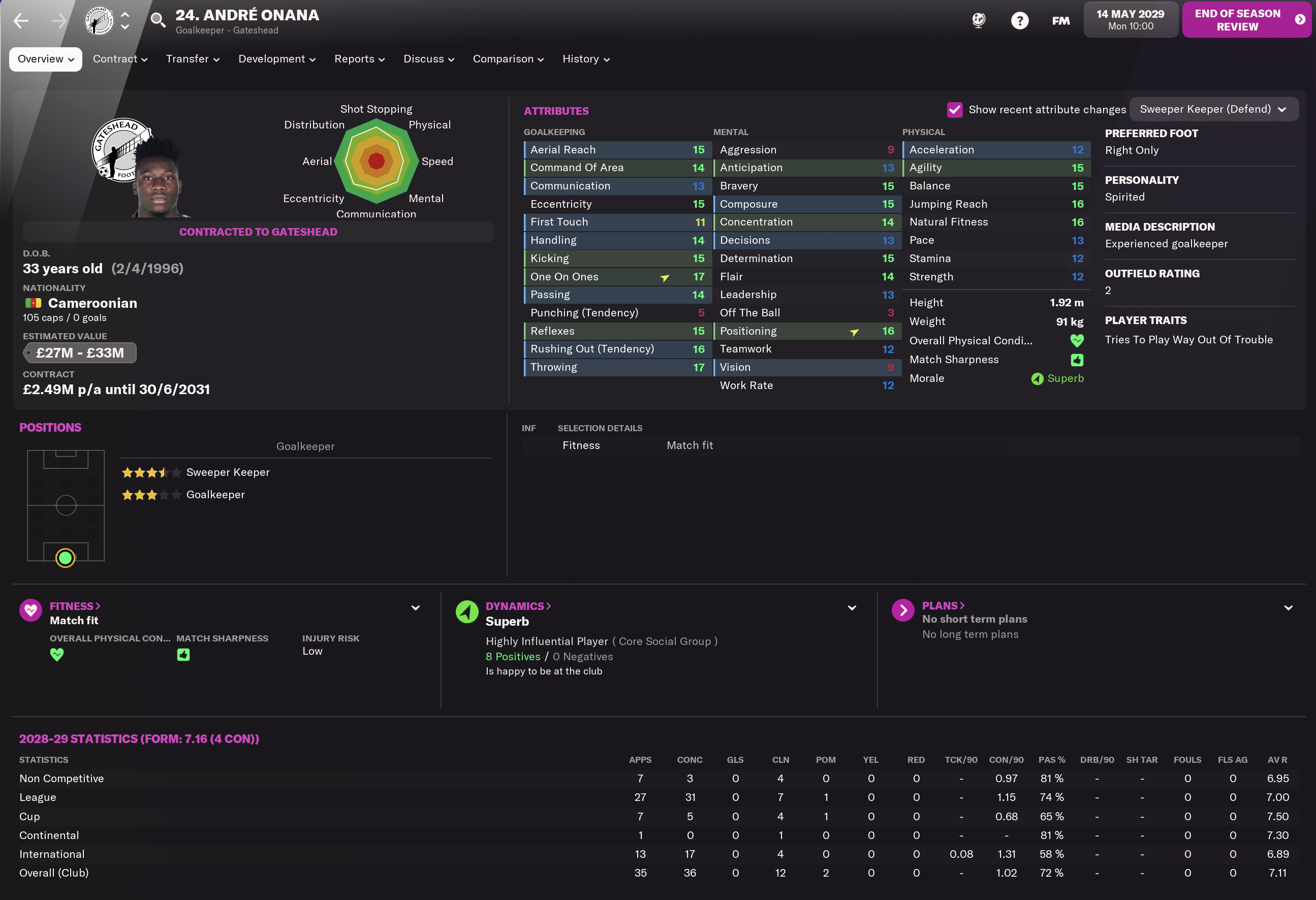 Right wing back on attack duty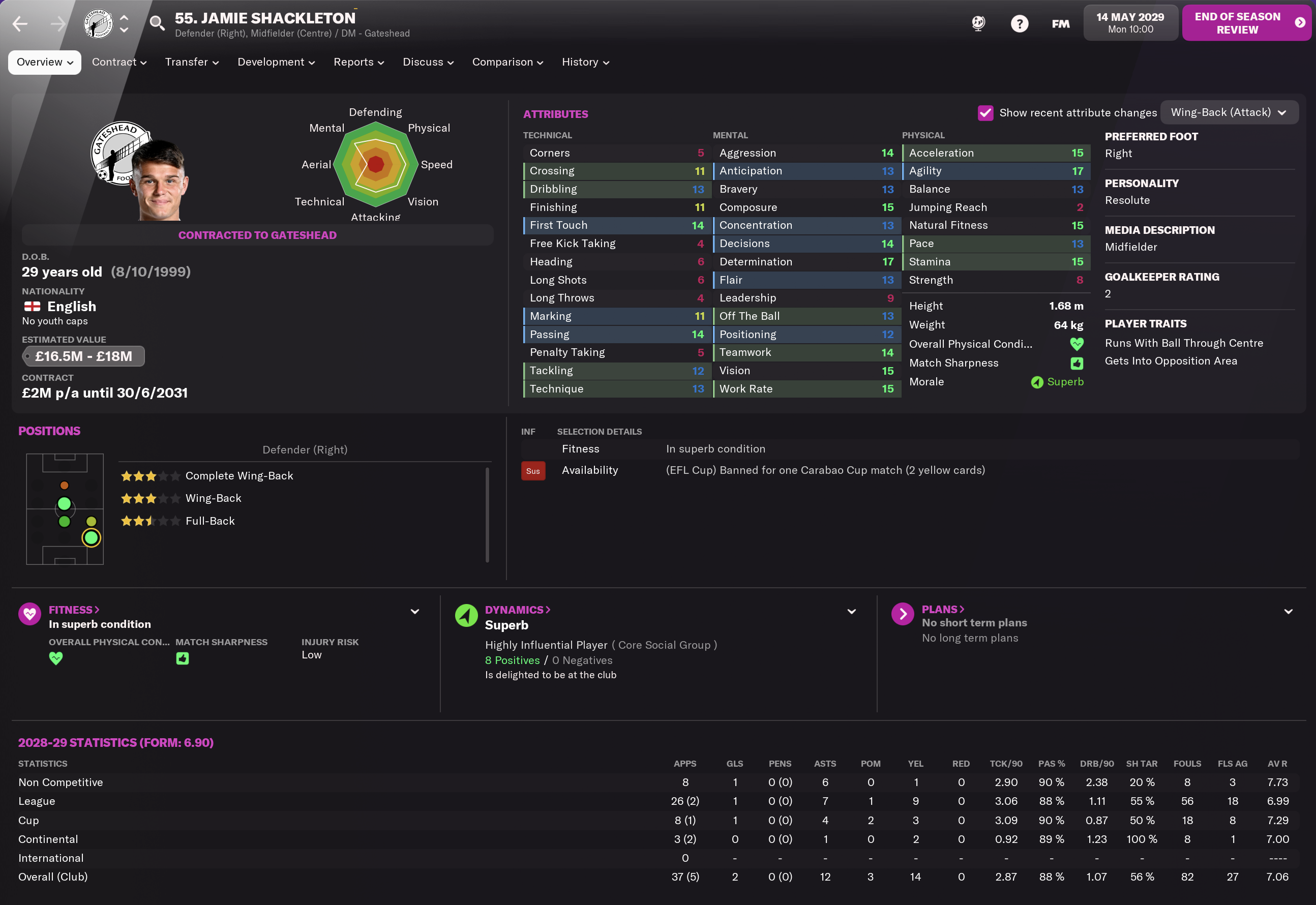 Left full back on support duty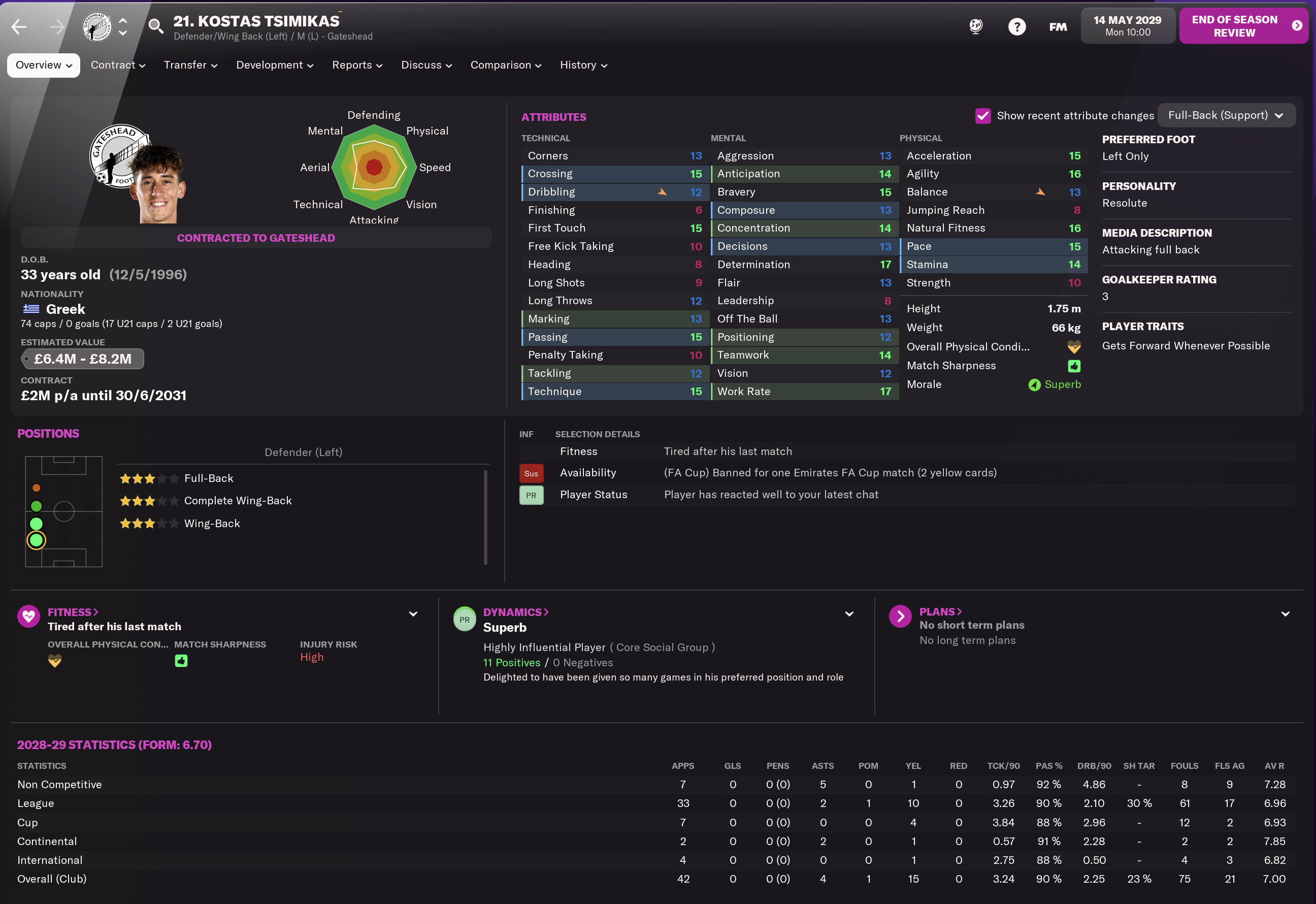 Central defender on defend duty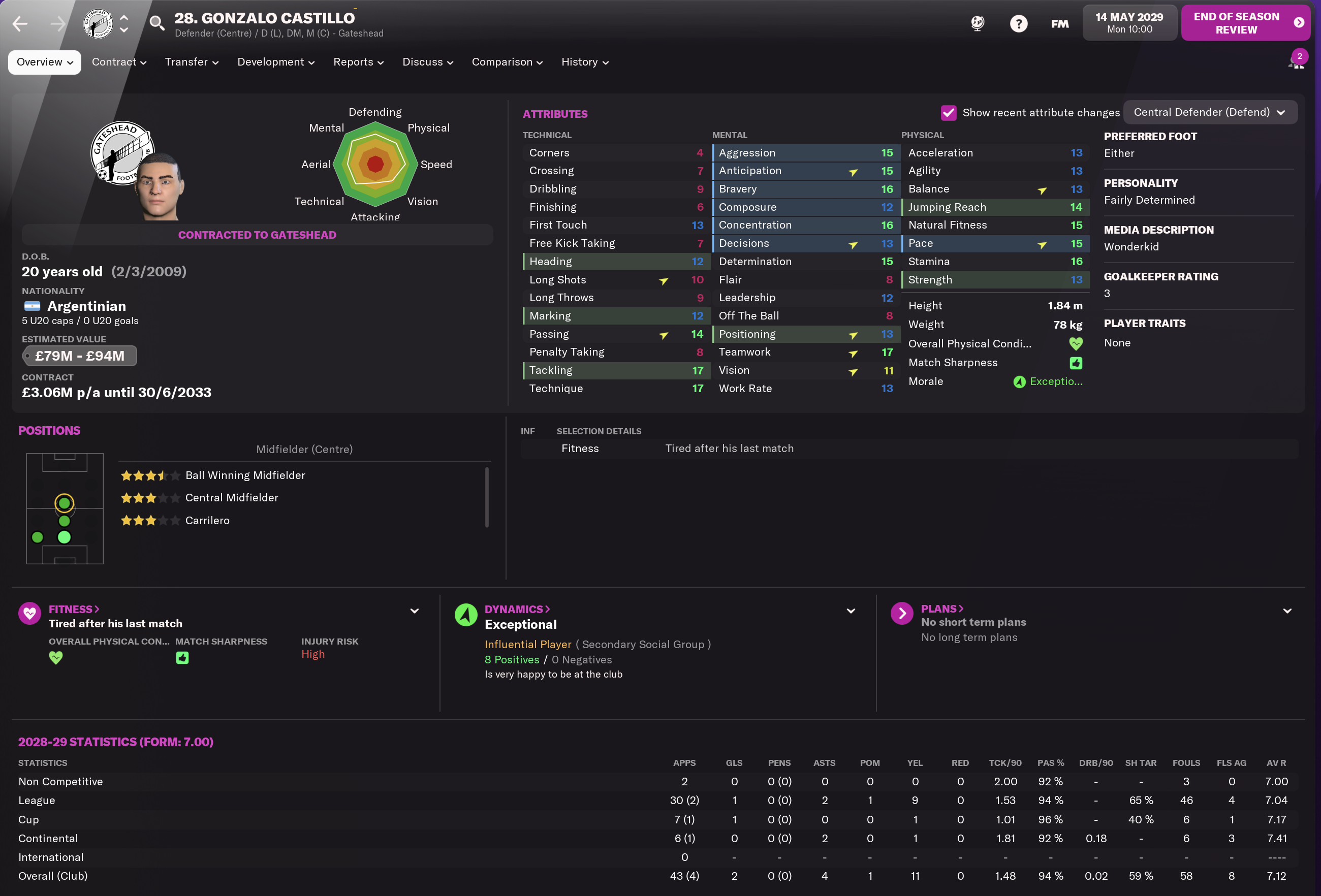 Central defender on defend duty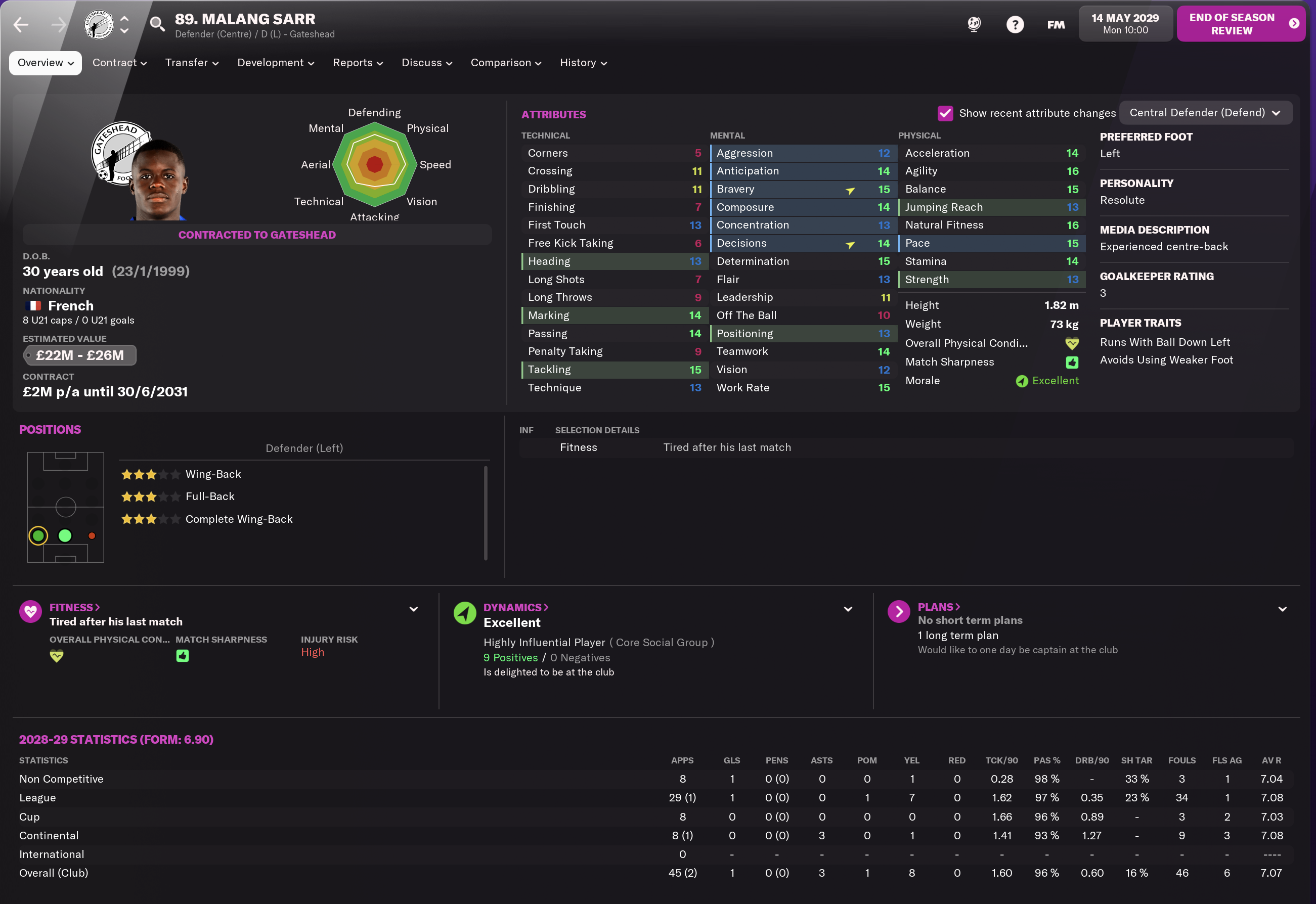 Central midfielder on defend duty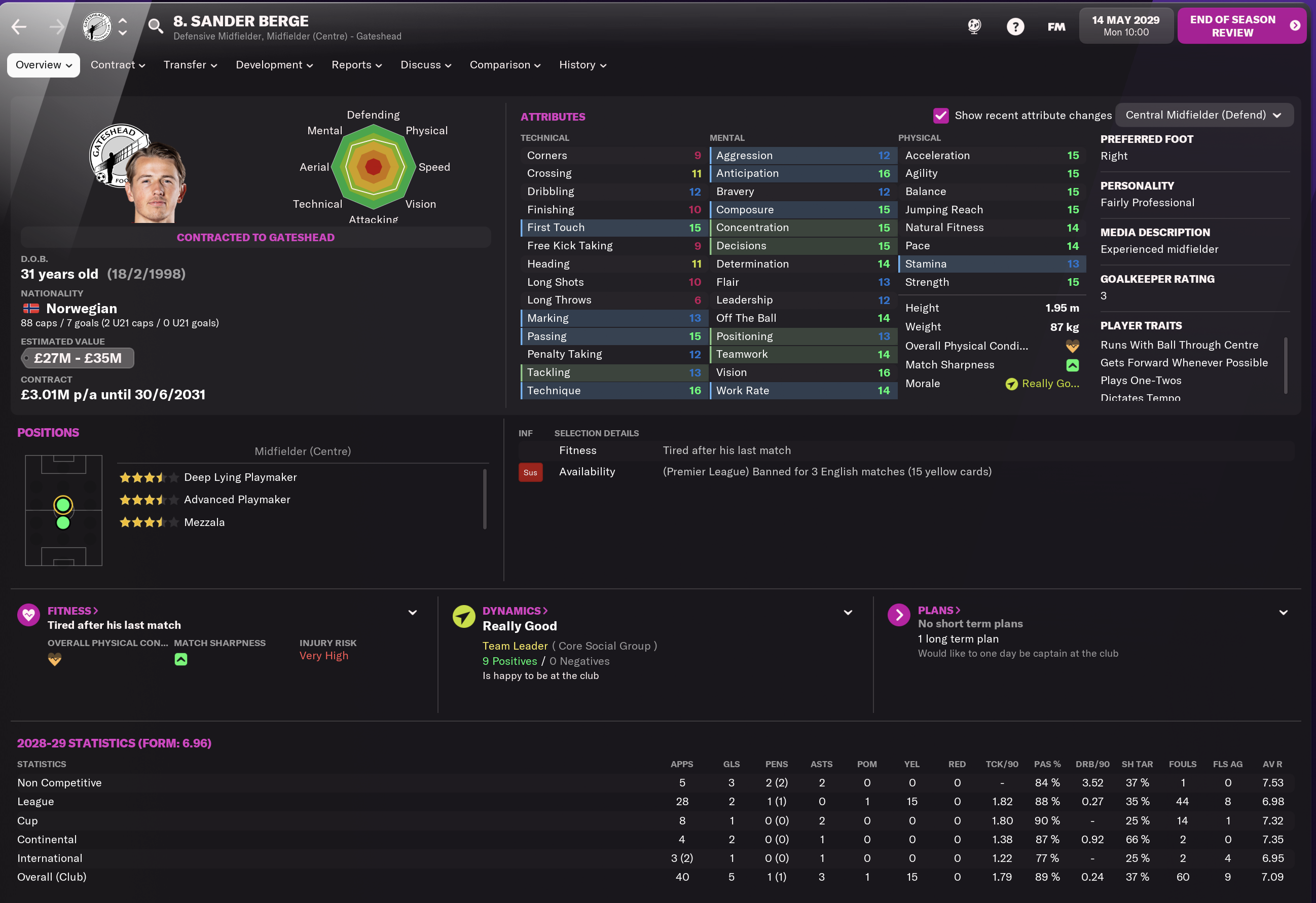 Box to box midfielder on support duty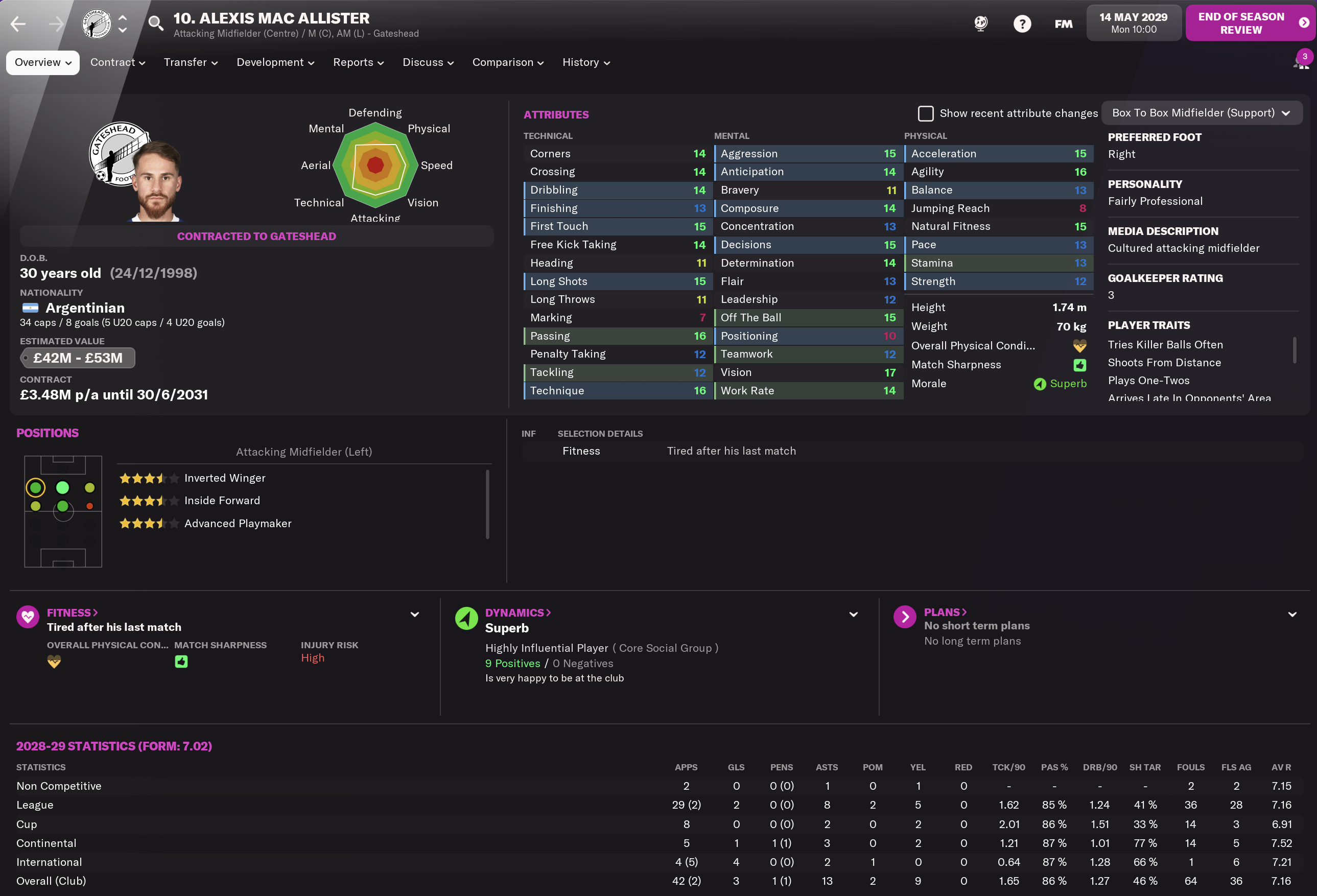 Right winger on support duty
Advanced playmaker on support duty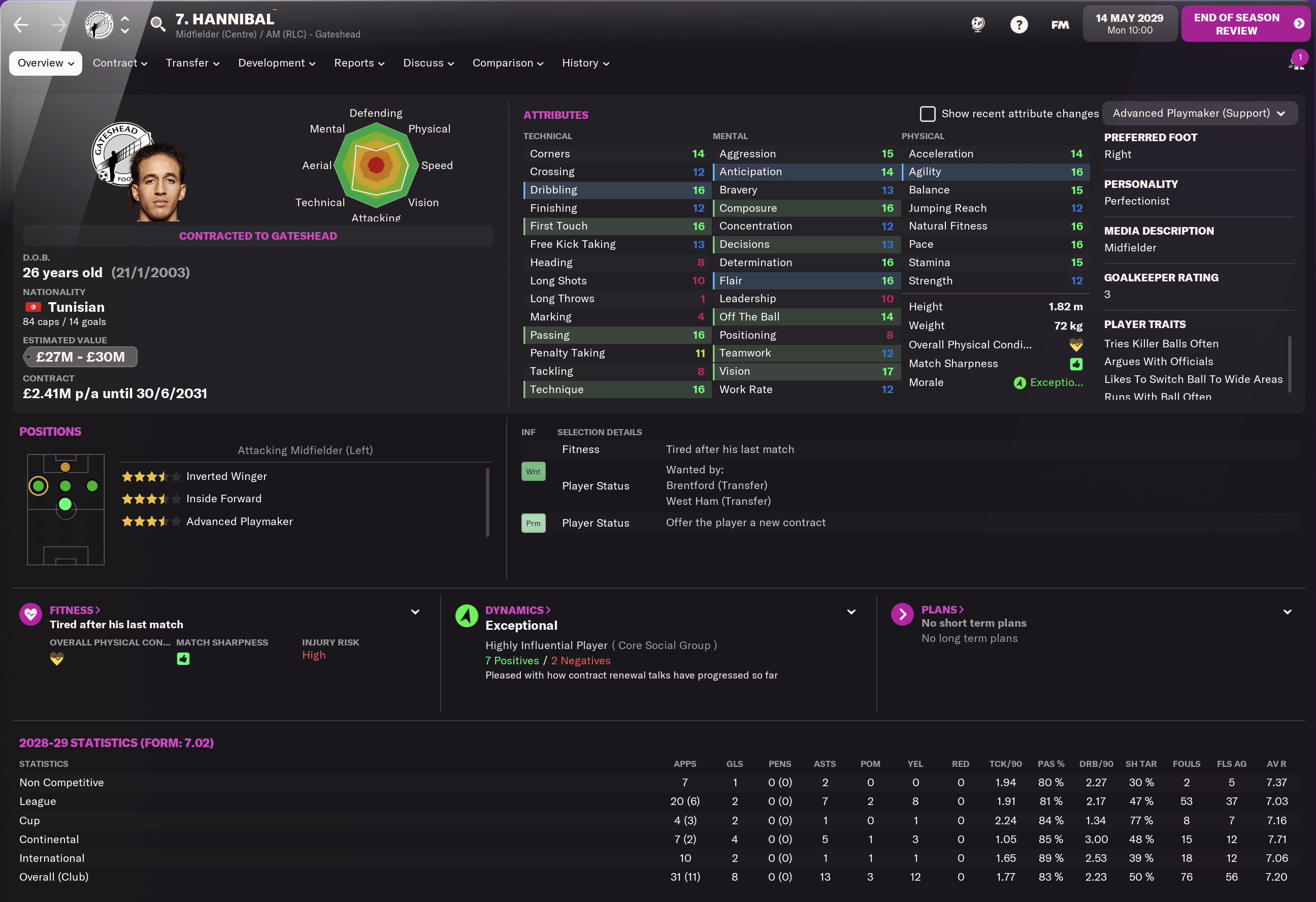 Left inverted winger on attack duty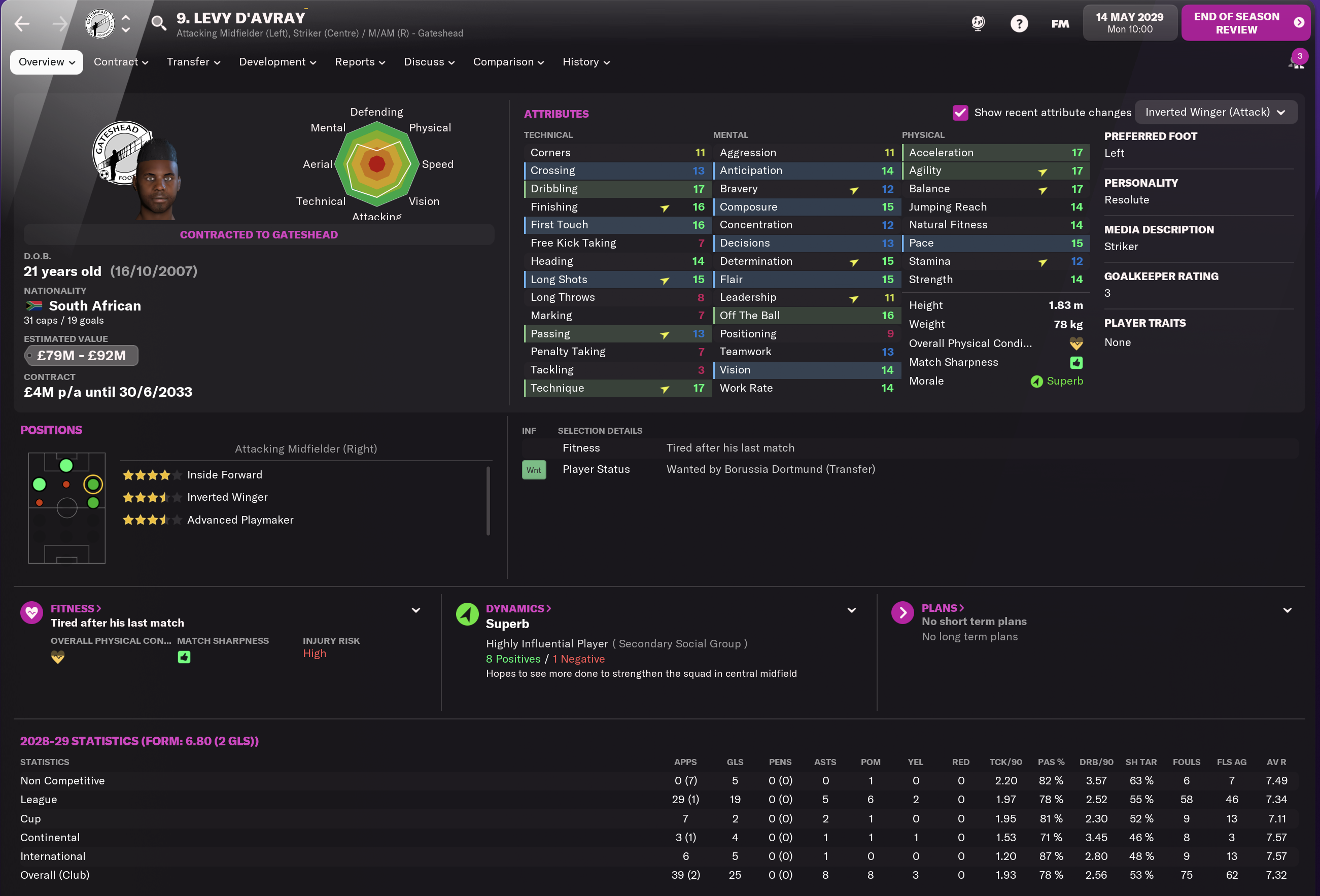 Advanced forward on attack duty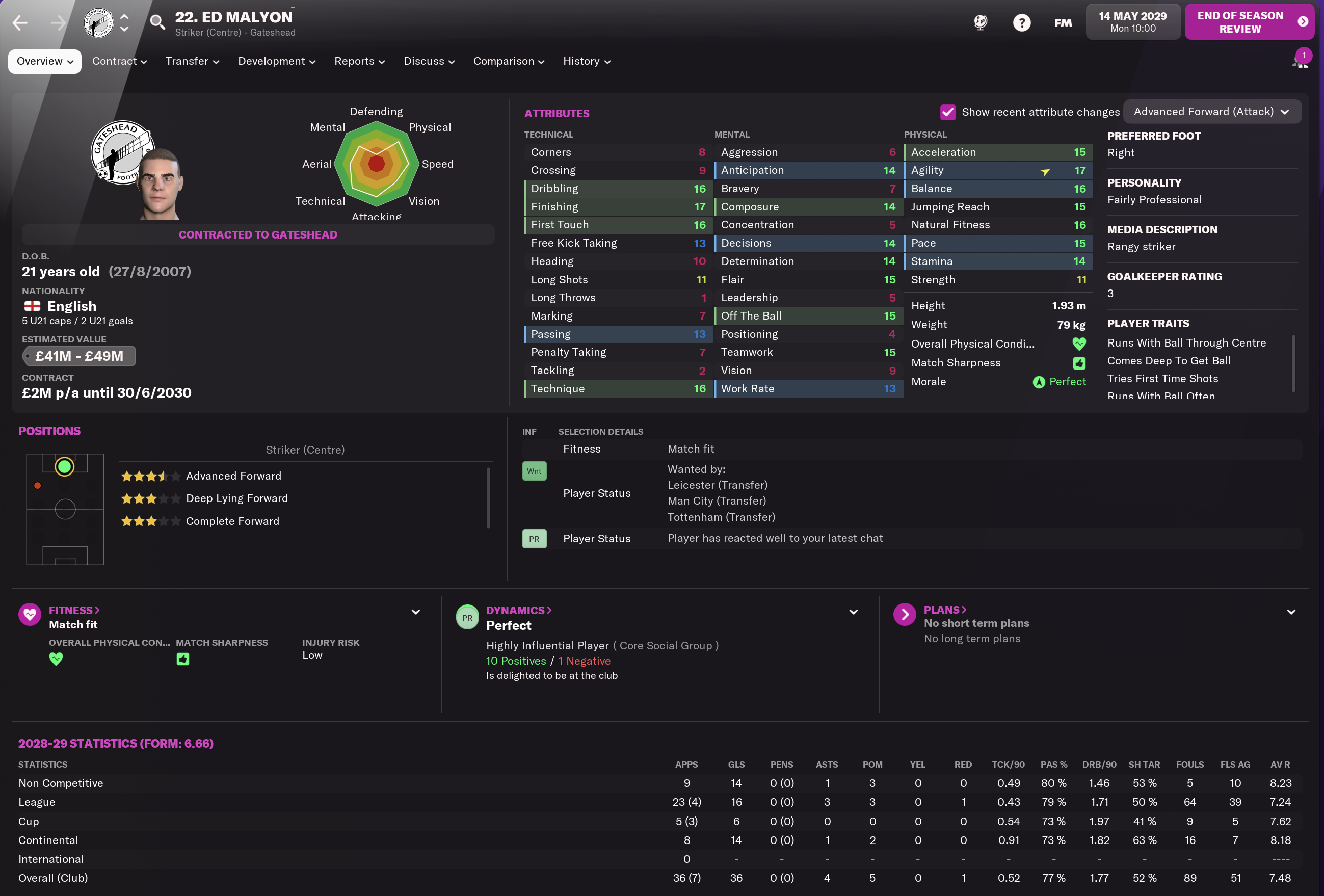 Top subs
Sub keeper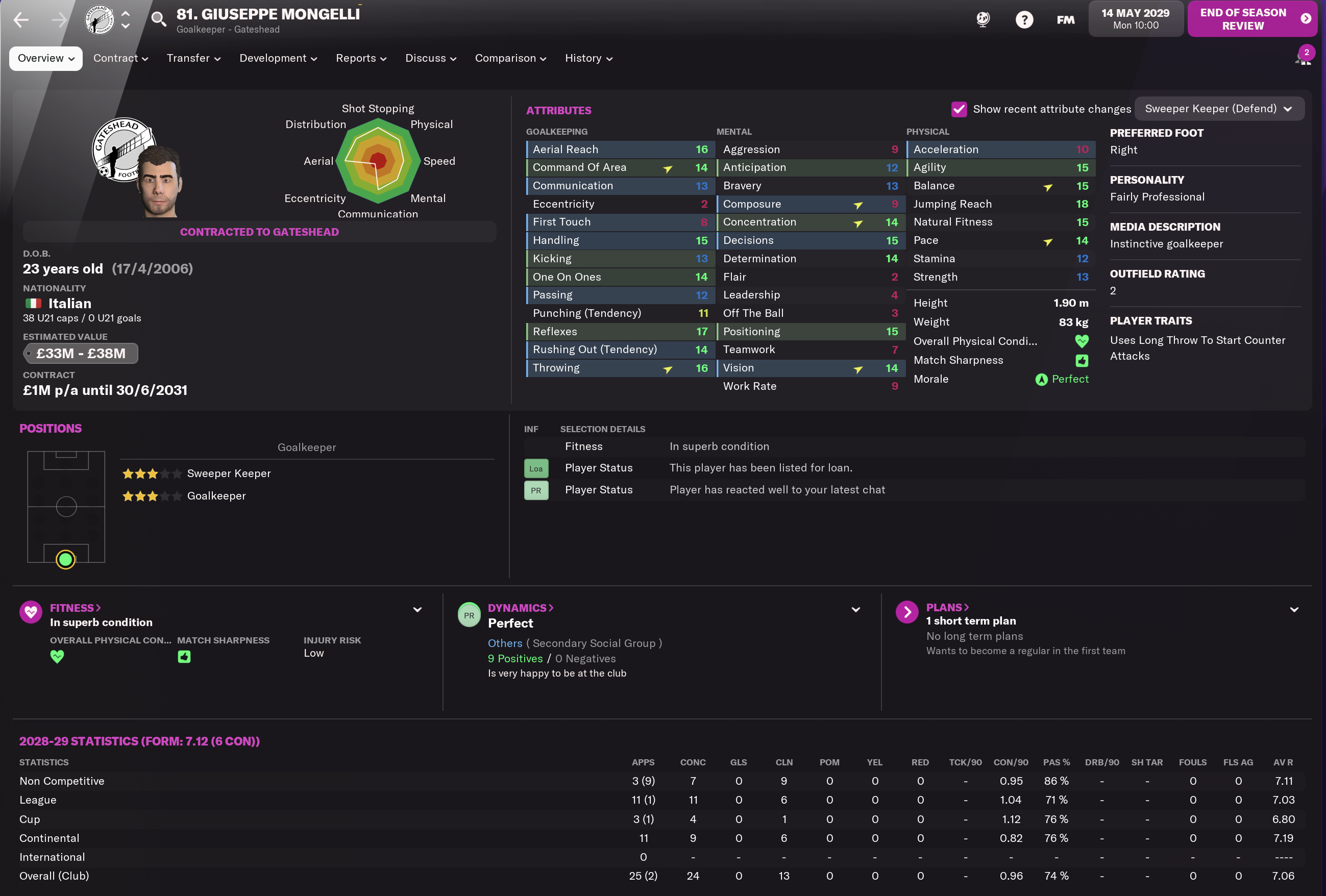 Sub winger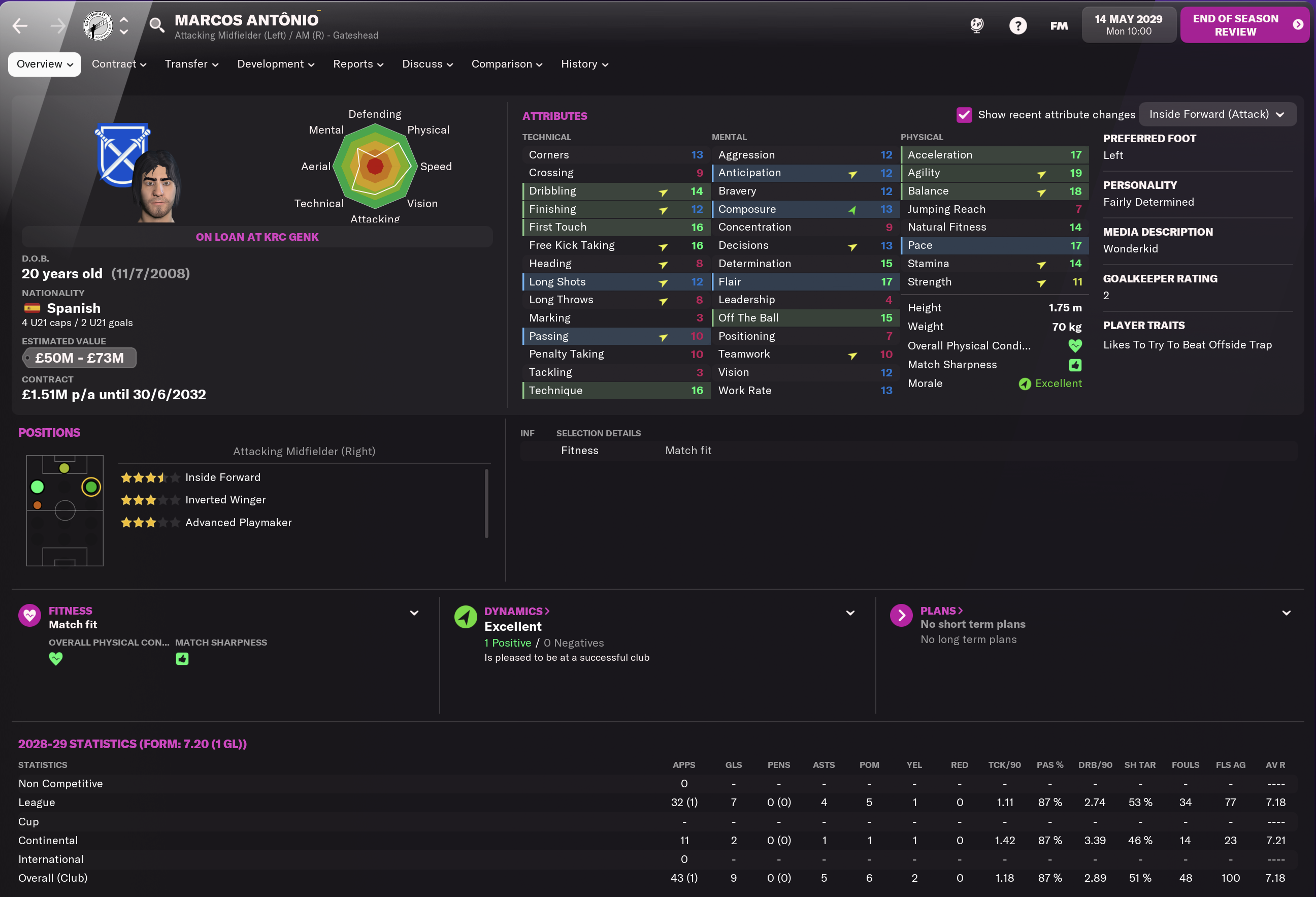 Sub winger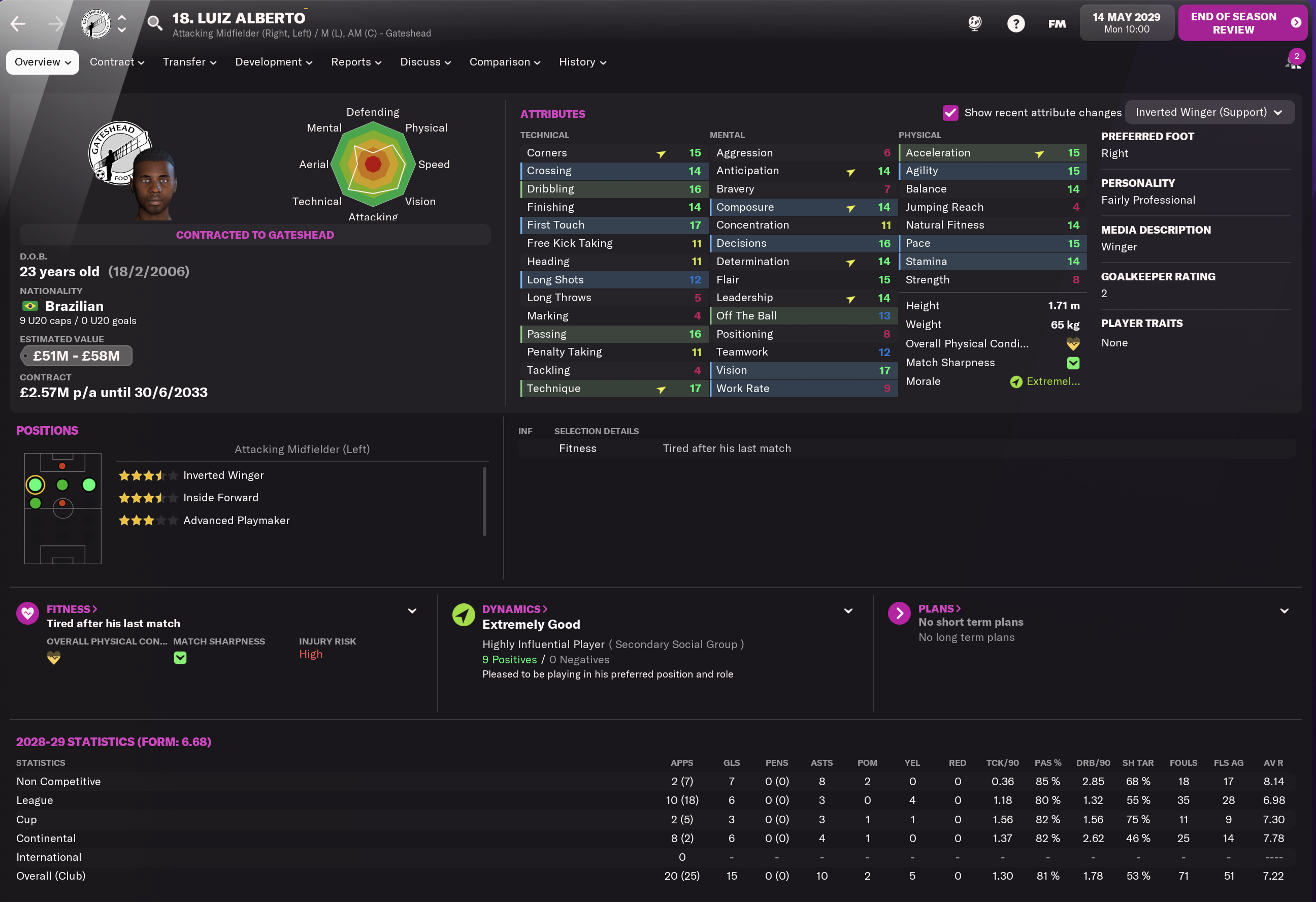 Sub striker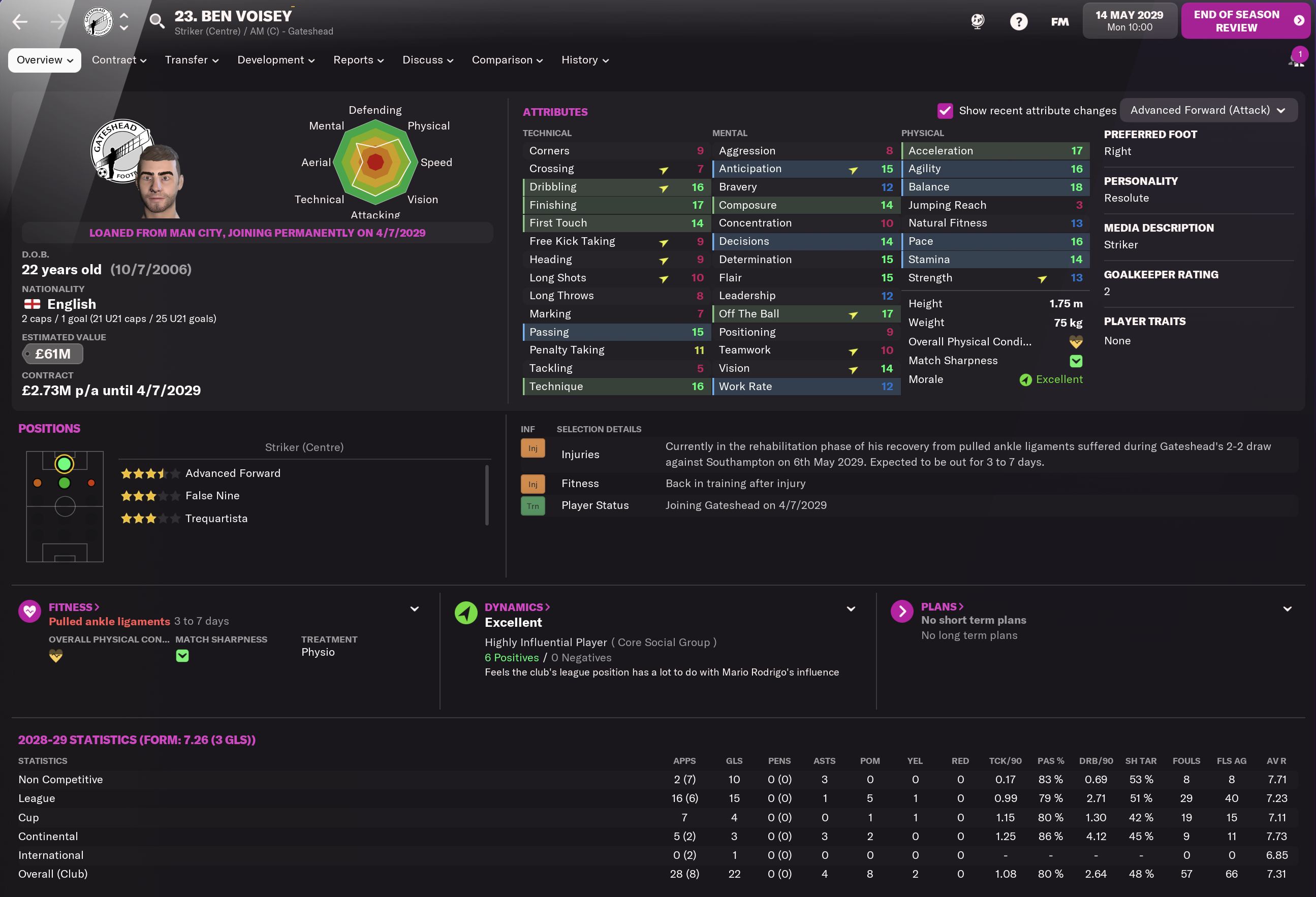 The Transfers
I managed to sell some more regen players for huge profits. I signed them for pennies with my «lower league money method». You can read it here. 😀
Players out:  GBP 45M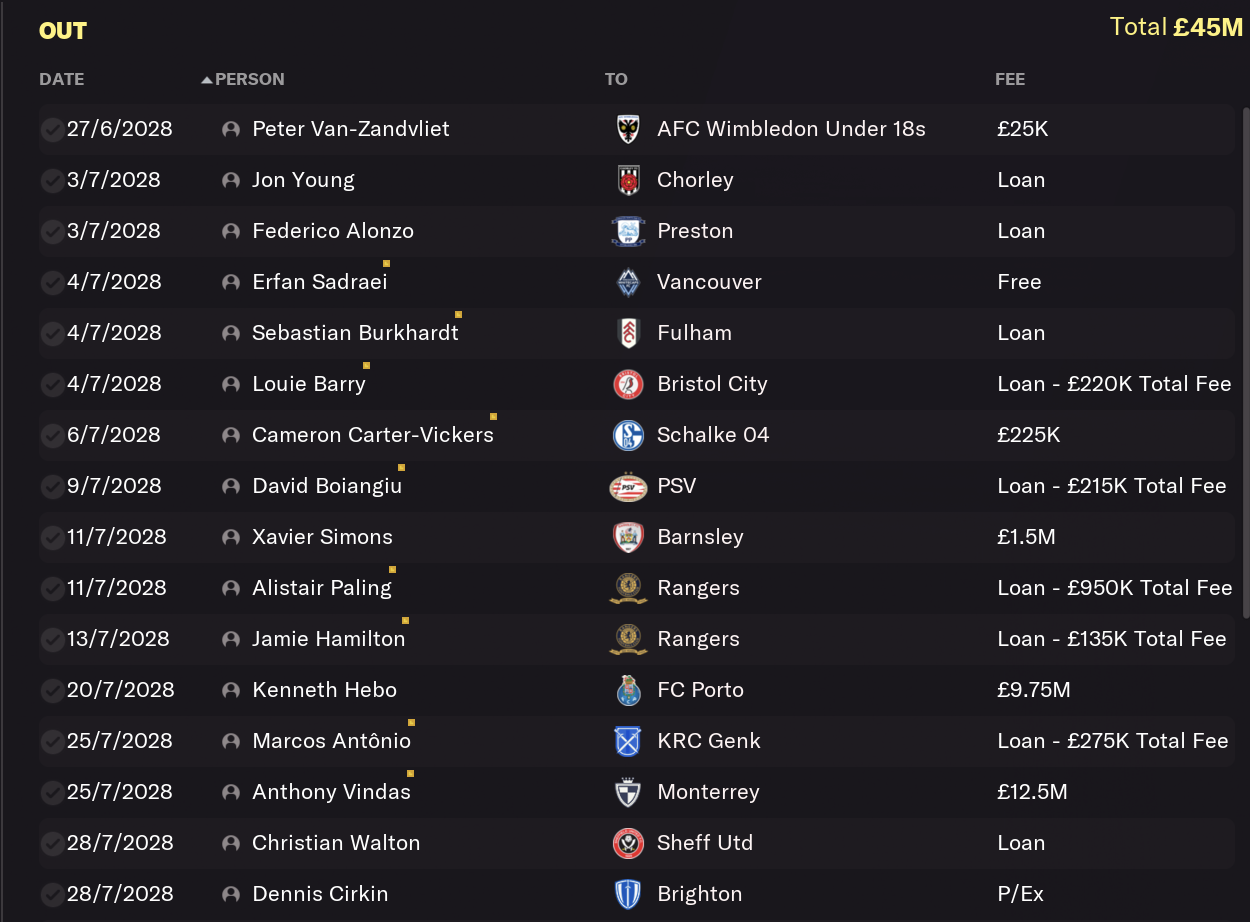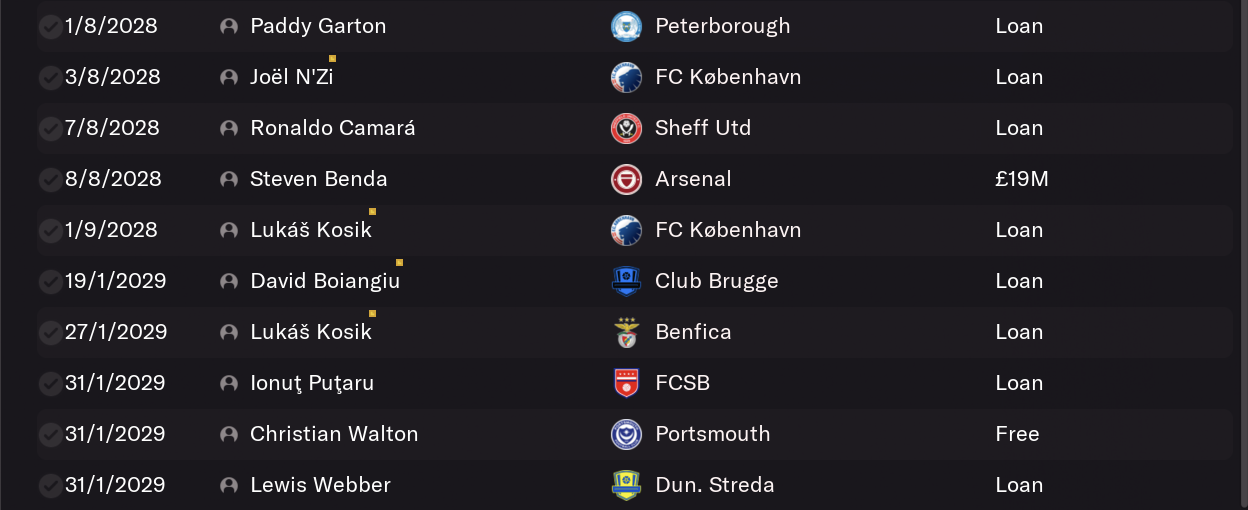 ======================================================
=========================================================================================
Players in:  aprox GBP 68M
Bear in mind that the players I sold, were paid mostly in cash, while most of the players I brought in are being payed in installments.
During this season I signed Andre Onana as a keeper, Sander Berge to play as central defensive midfielder, Alexis Mac Allister to play as box to box midfielder, regen winger Robert Dukic and Ben Voisey as striker on loan(he will be joining permanently next season).
I also bought two wonderkids that were sent on loan, such as Slovak Lewis Webber and Romanian Ionut Putaru.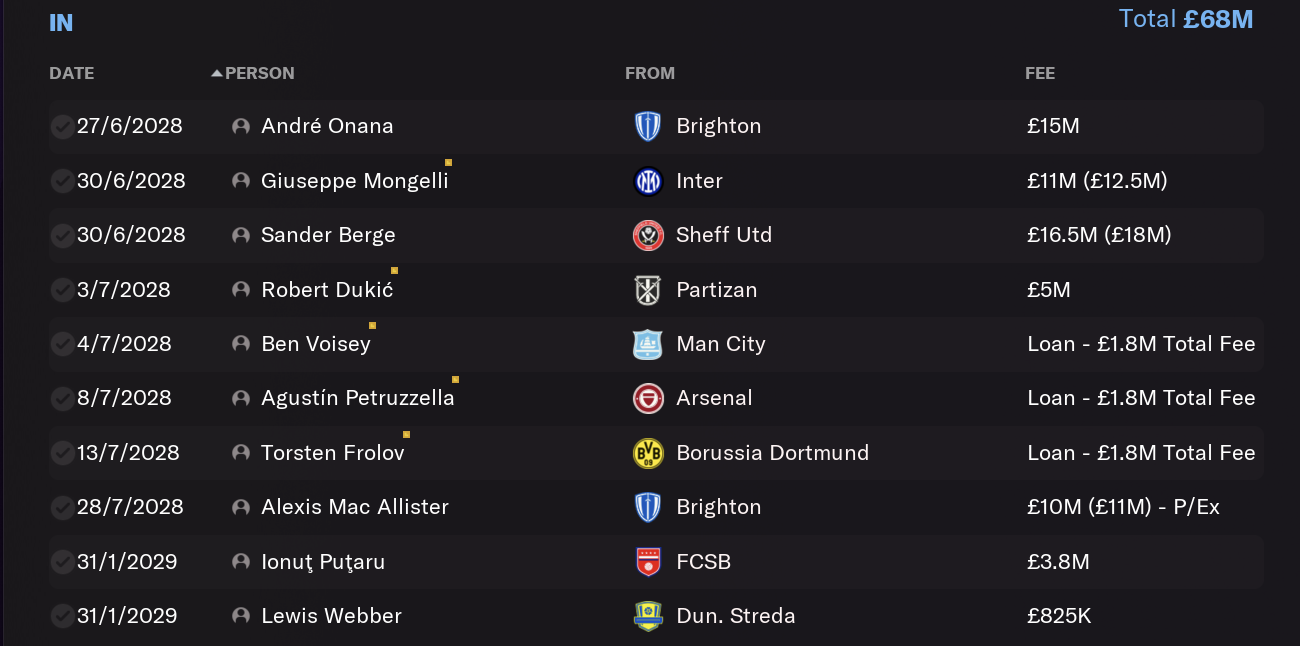 The Club
At the beginning of the season the media predicted that we were going to finished in 13th position, we finished 4th. 😁
The squad personality is very determined, I always want my teams to be mentally very strong.
Gateshead has a National reputation, but now with three stars and a half.
Next season if we do good in the Champions League, would be nice to reach continental reputation.
I am considered a club legend since since my forth season at the club. 😀👍
 The Facilities
Gateshead has great training facilities and excellent youth ones.
The junior coaching academy has been upgraded from average to good.
Our youth recruitment is exceptional.
We now have our own stadium with a capacity for 16.427 seated fans. 😁👍
My goal is to upgrade all facilities up to state of the art quality level.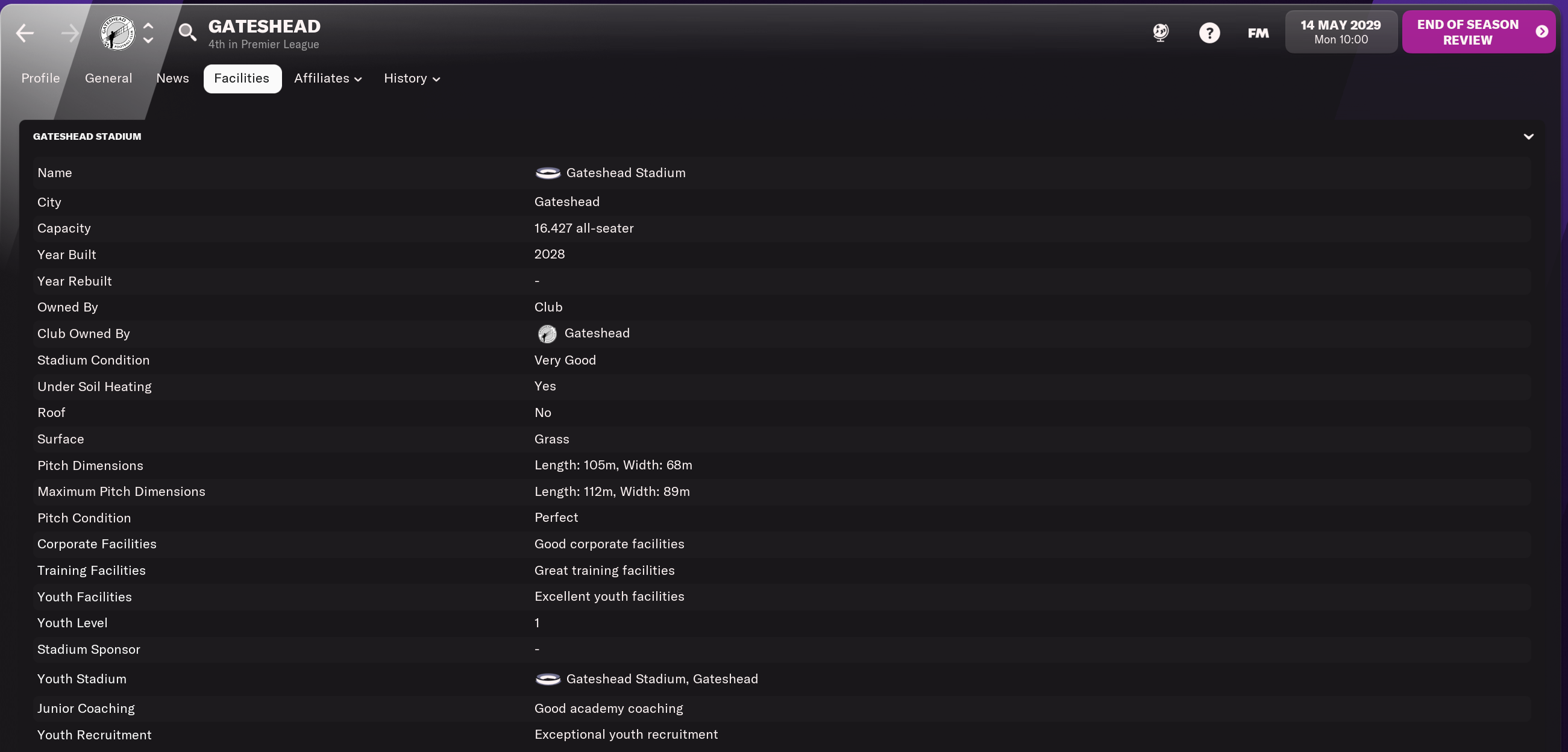 End of League Finances
The overall balance is GBP 49.3M.
The transfer budget is GBP59.2M and the yearly wage budget is GBP 93.3M
Neither the owner or chairman have injected one penny since I took over the club's management 5 seasons ago 😡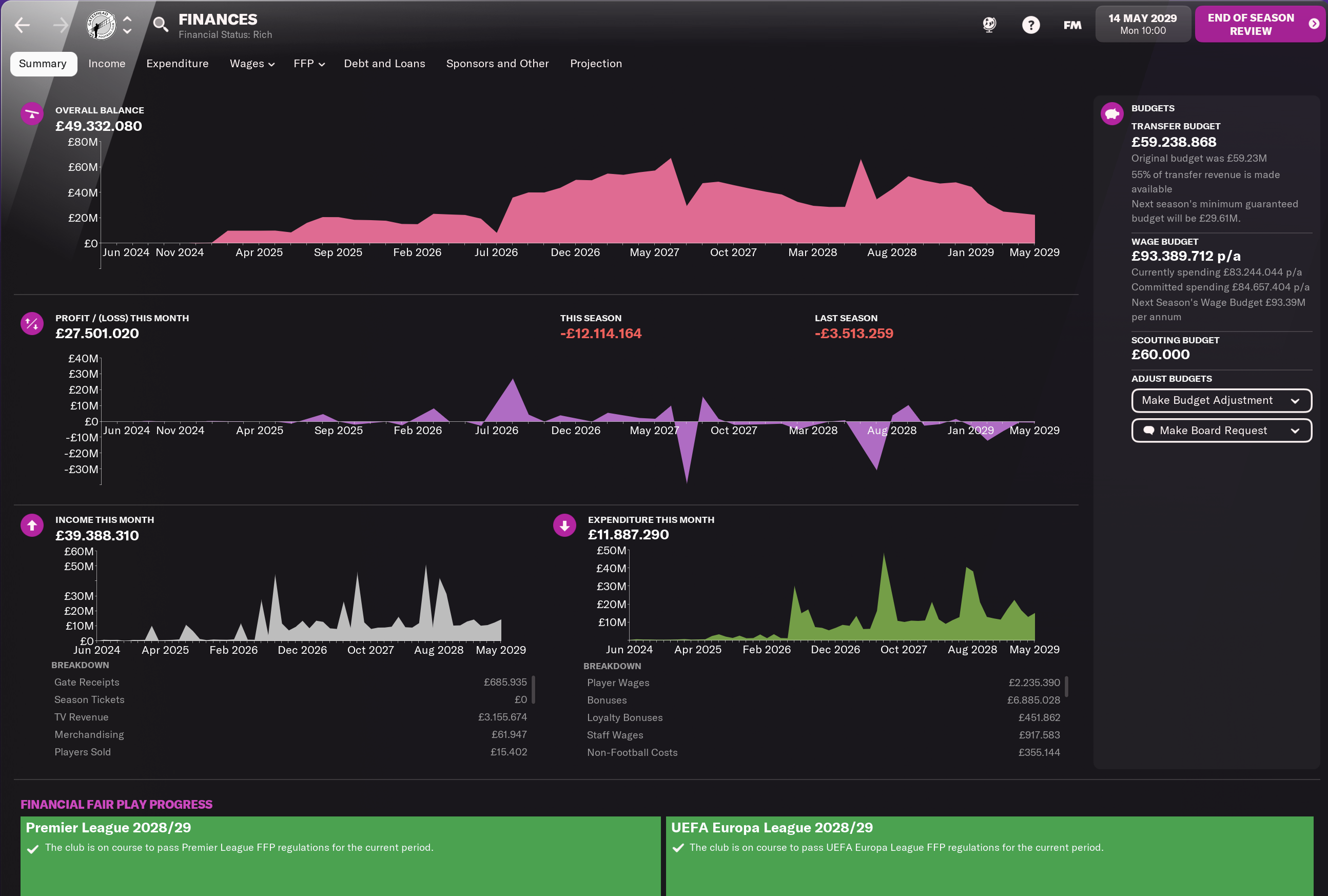 The Tactic
During this season I used my wide 4-2-3-1 lower league attacking tactic, which was successful in the last six seasons.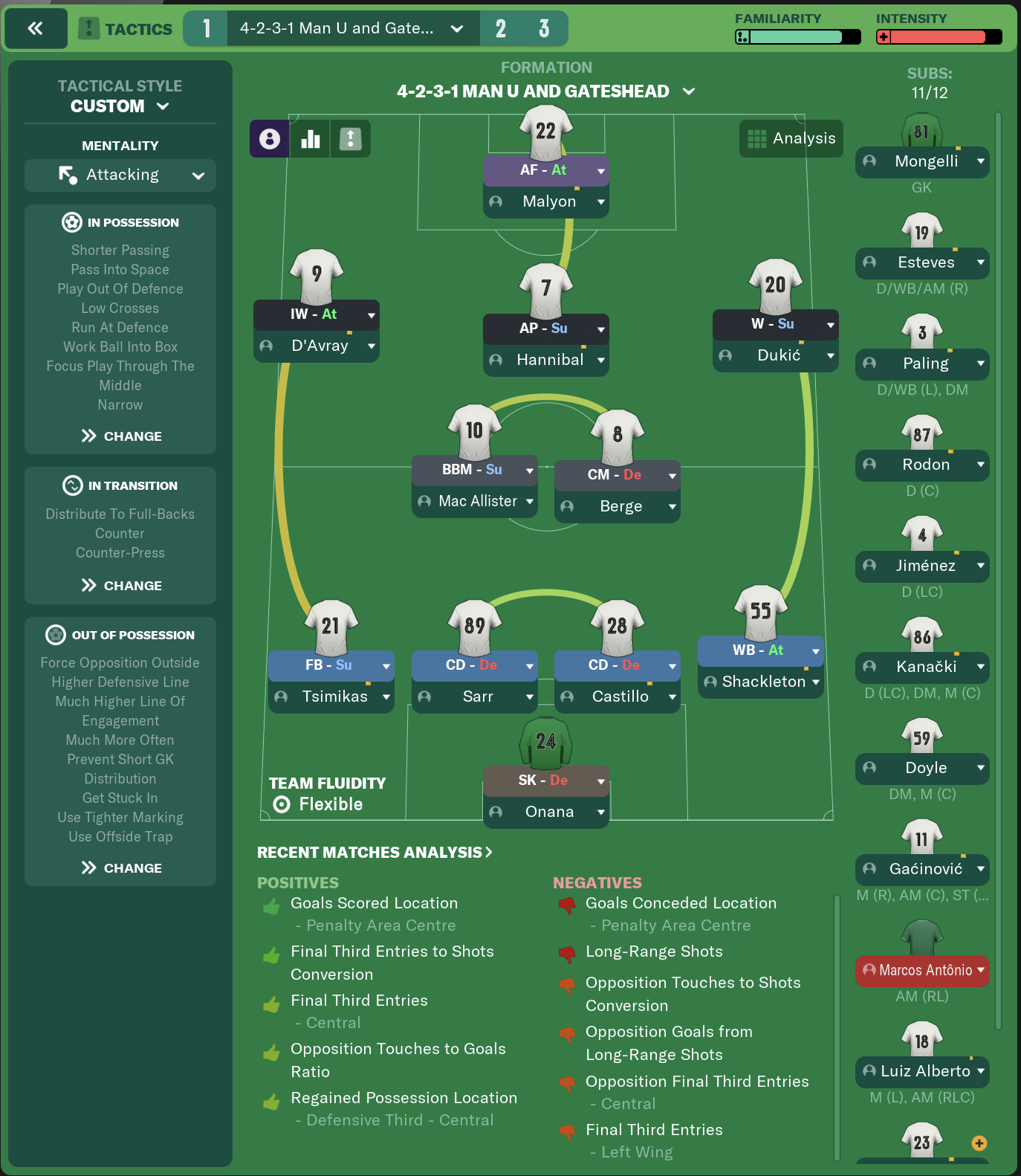 Squad Dynamics
The dynamics are great and I have only two big tight core social groups.
Dynamics are a very important part of the game.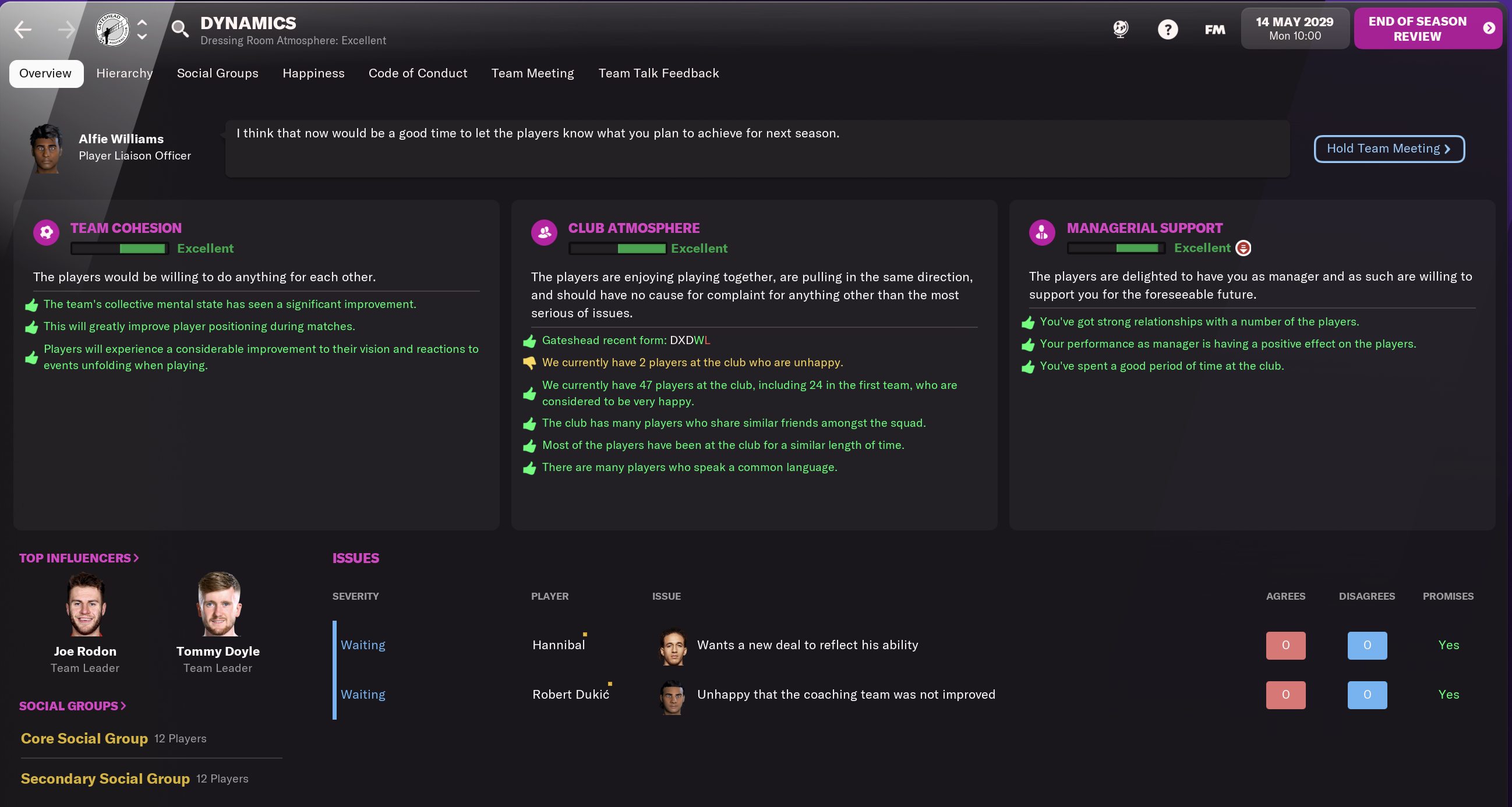 Building for the Future
Gateshead now has a lot of young potential elite players, may of them, already with first team current ability.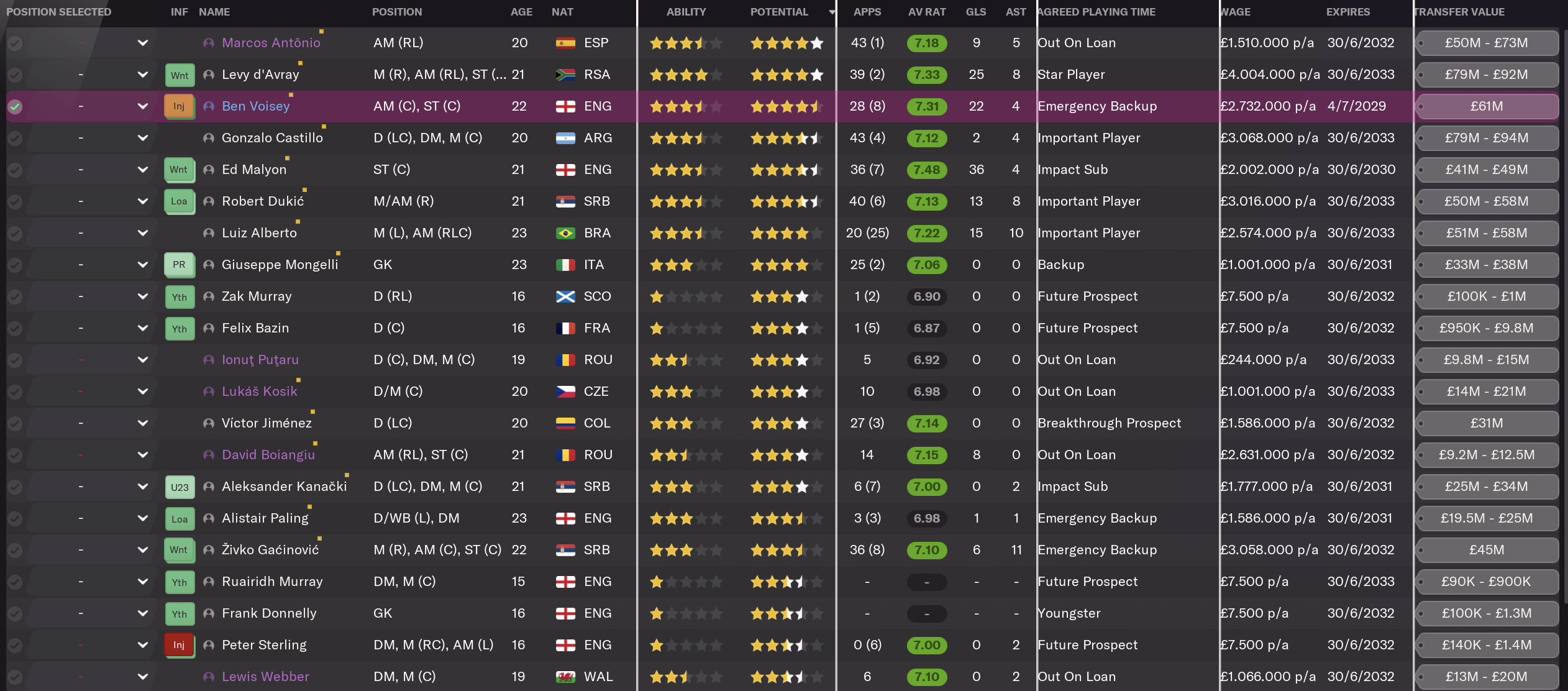 The Coaching Staff
Most training categories now have 4.5 stars ⭐️.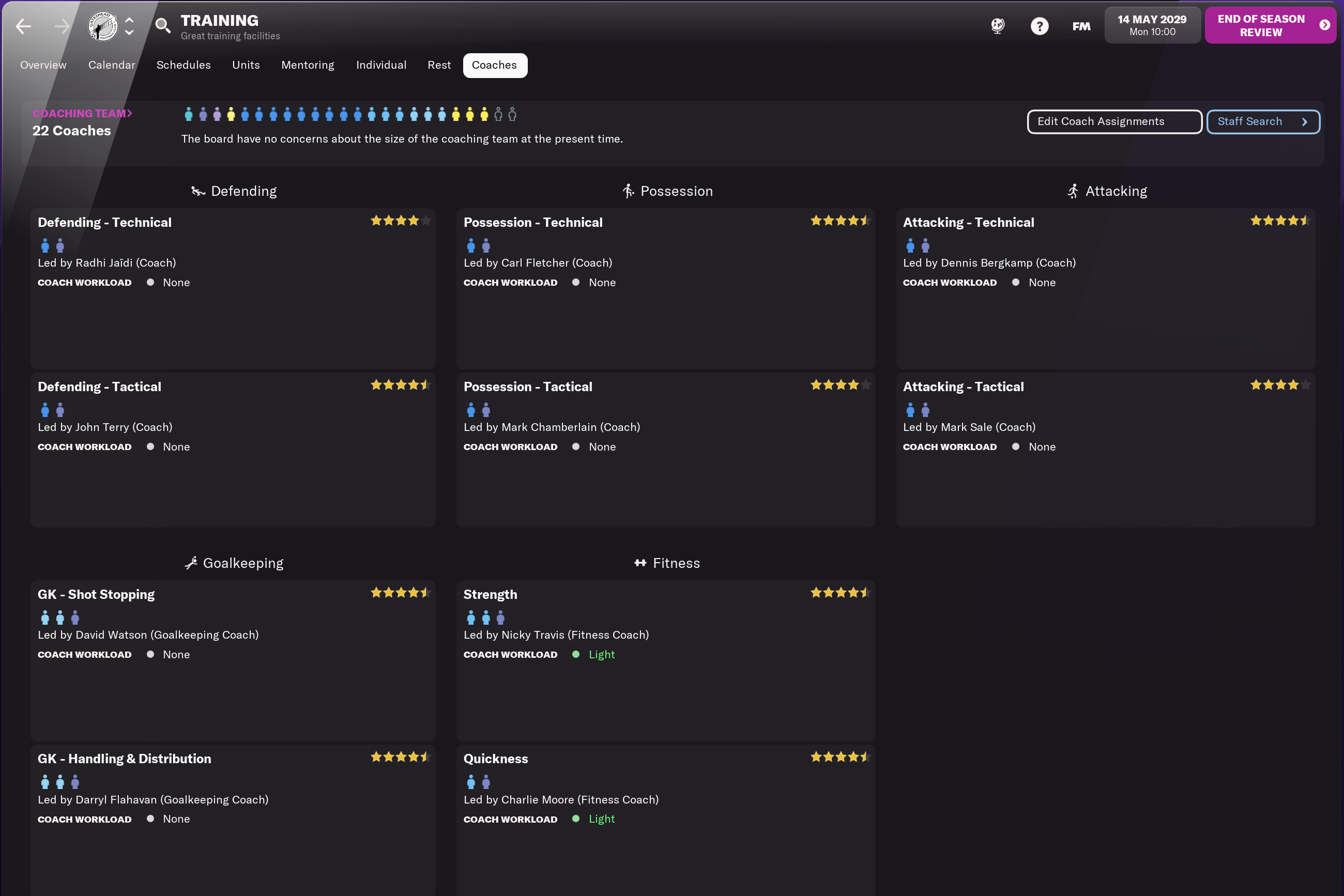 The Training Schedule
As in the last five season's I trained the players with Andrew Gibney's schedules.
You can check Andrew's Youtube channel here.

The Club Vision for Next Season
I will have an GBP 93.3M yearly wage budget and a GBP 59.2M transfer one.
The training facilities are already being upgraded.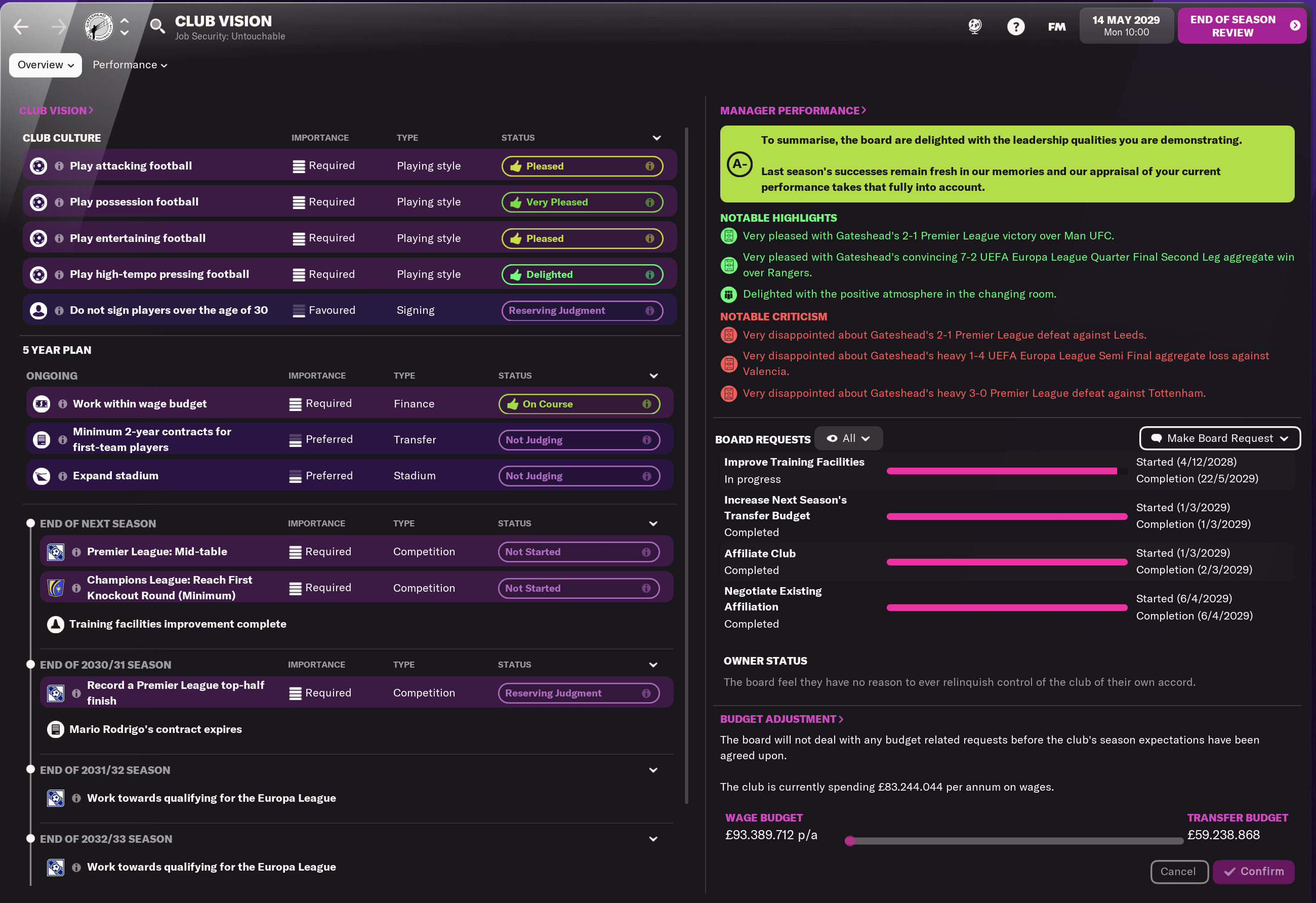 I really hope you are enjoying this FM story and that it may inspire you on your own saves! 😃 🙏👌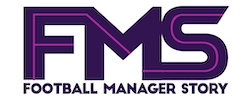 Subscribe to our Newsletter