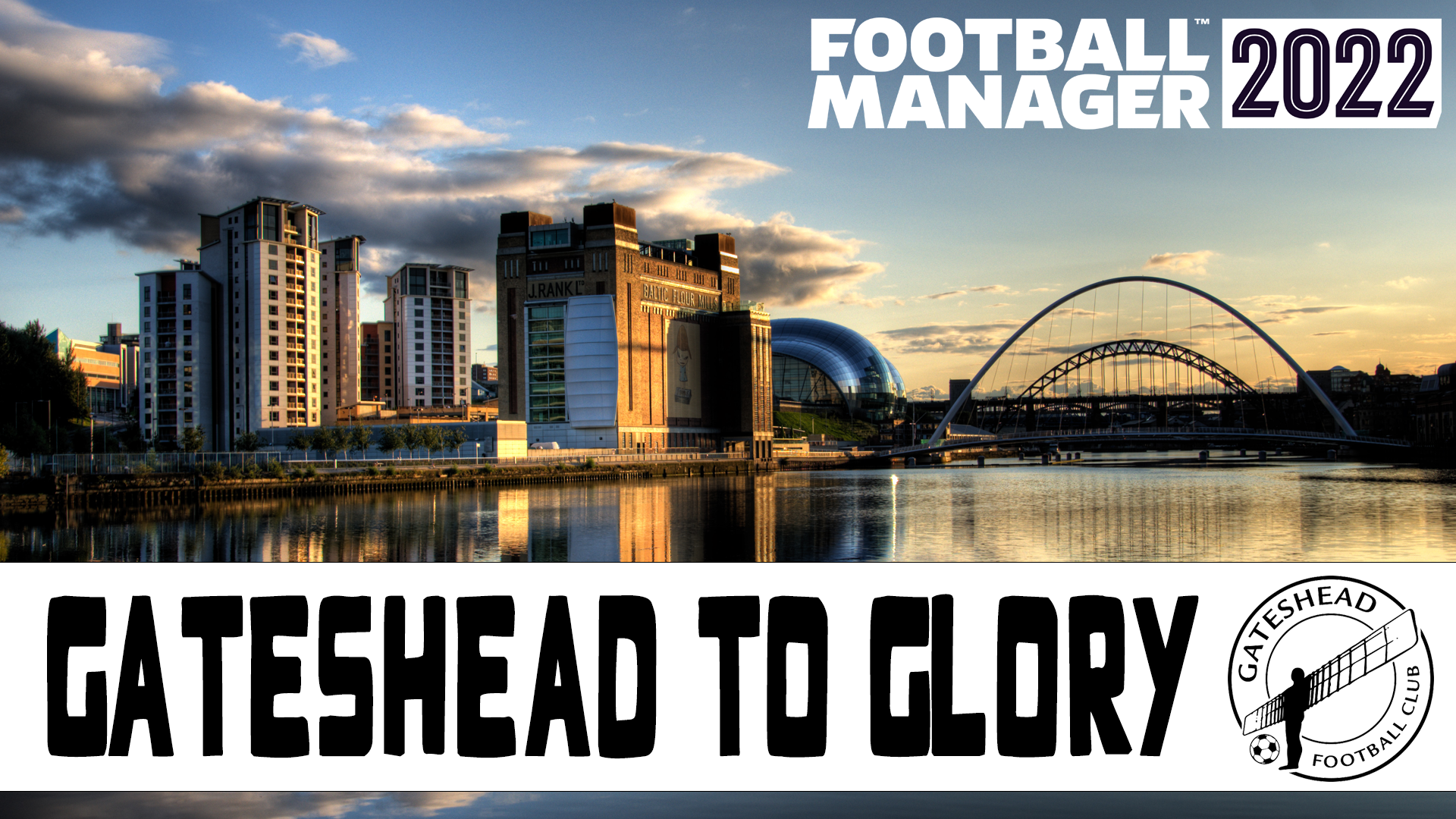 Hi, welcome to a new episode of my save managing Gateshead from Vanarama National North to Glory.
It's time to face the Sky Bet Championship.
If you haven't read the previous posts, here is a quick recap:
Introduction: My presentation as Gateshead's manager.
First season:  We won the FA Trophy and the Vanarama League North without loosing any games, with 112 points in 42 matches.
Second Season: We lifted the FA Trophy Cup and the Vanarama National League without loosing any games with 122 points in 46 matches.
Third Season: We won the Sky Bet League ,2 seventeen points ahead of second placed team MK Dons.
Fourth season: We Won the Sky Bet League 1 and the Papa John's trophy.
Our Performance this Season
Pre Season League Odds
The media and the odds expected us to finish in 21st position…..

Sky Bet Championship League Fixtures
But once more we did incredibly great over performing the initial expectations set on us.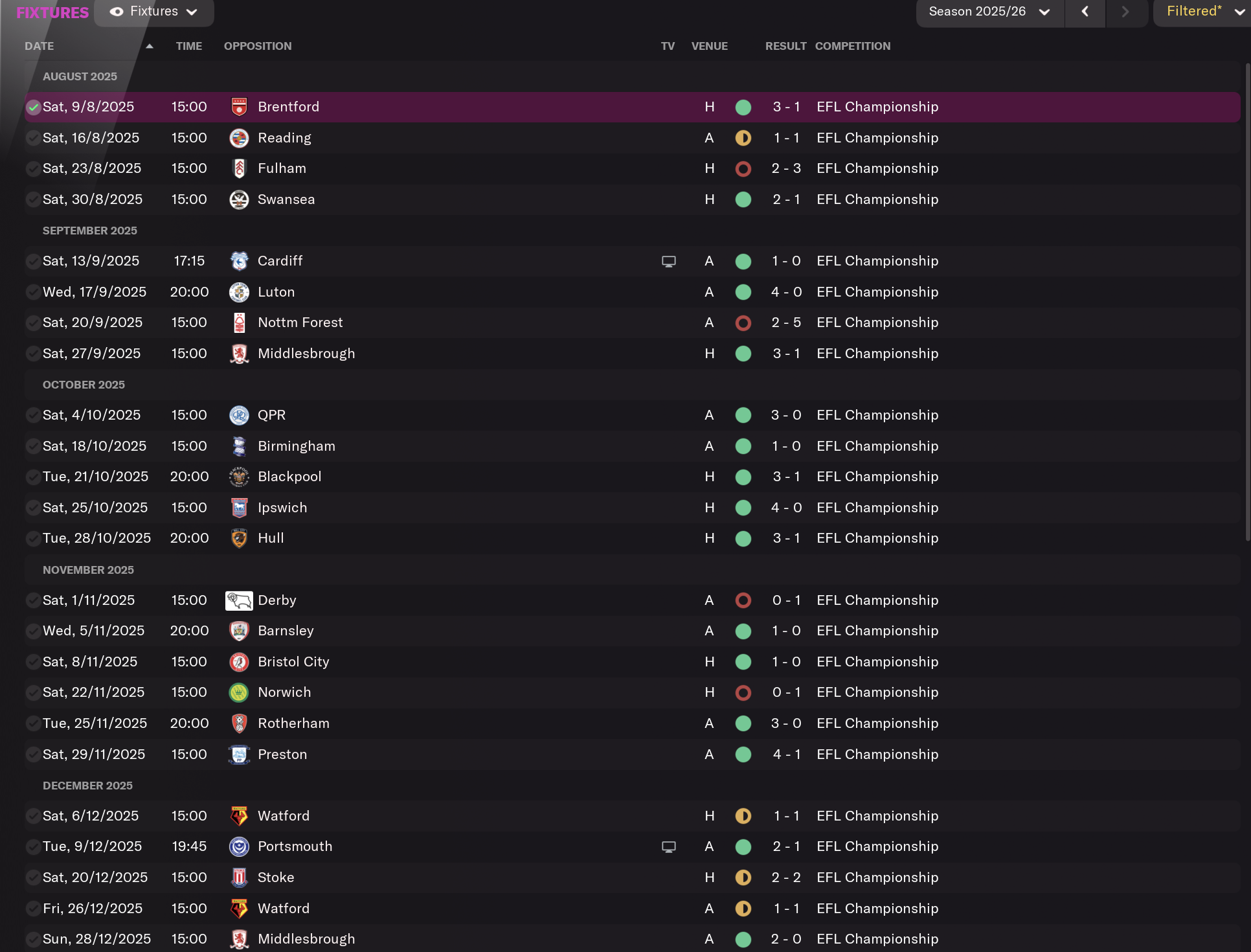 The Sky Bet Championship League Final Table
Yes, we won the league and archive back to back promotions from National League North to Premier League!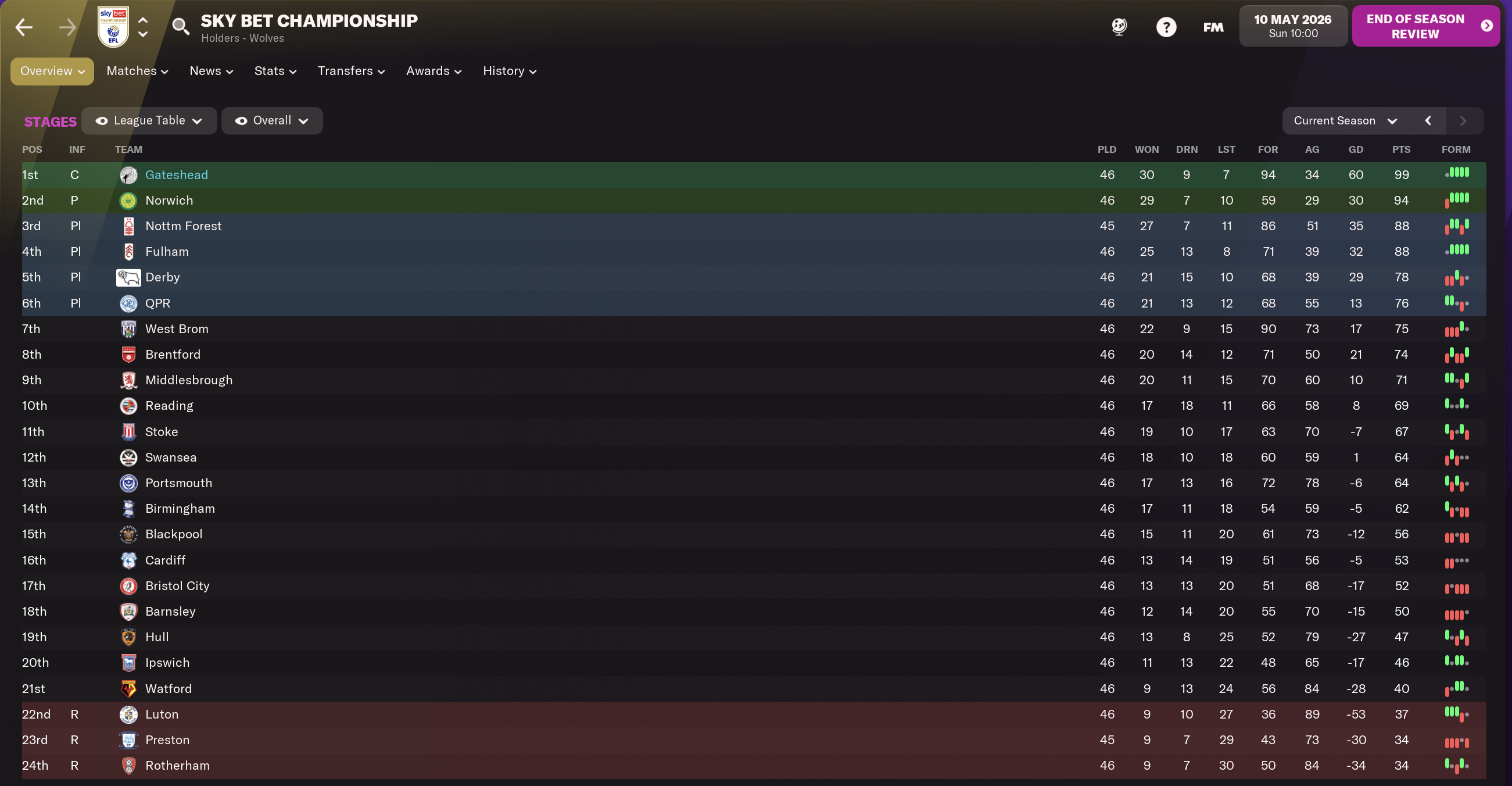 End of League Odds
By the end of the season we are in 15th position, this means that I will have a very tough challenge next year in  the Premier League.

The Carabao Cup
We underperformed in this cup after being defeated by Doncaster in the 3rd round, but was a good thing as we were able to focus in the League.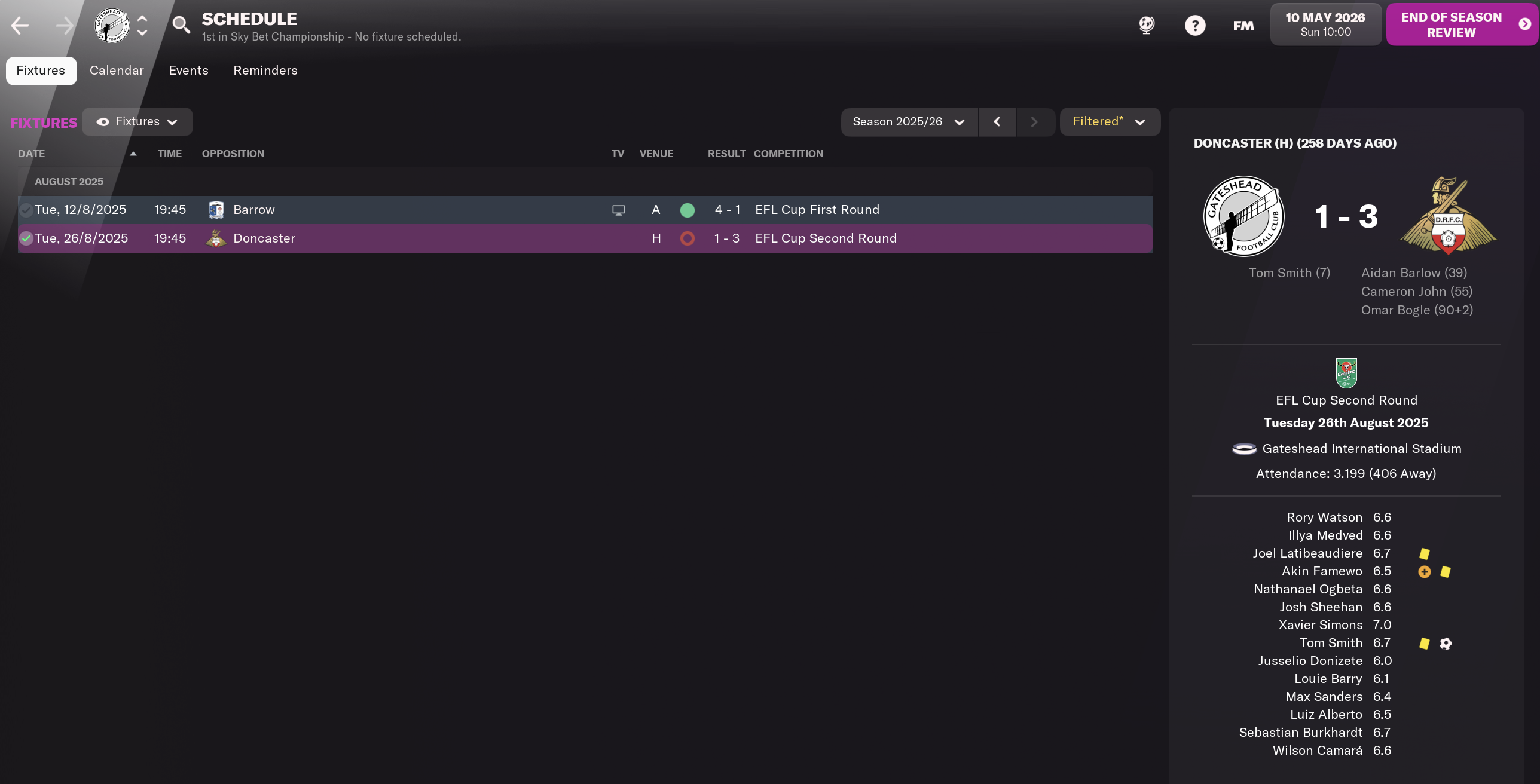 The FA Cup
The board expected me to make it to the forth round.
We only made it to the 3rd round, and got knocked out in a replay match by Premier League team Bournemouth.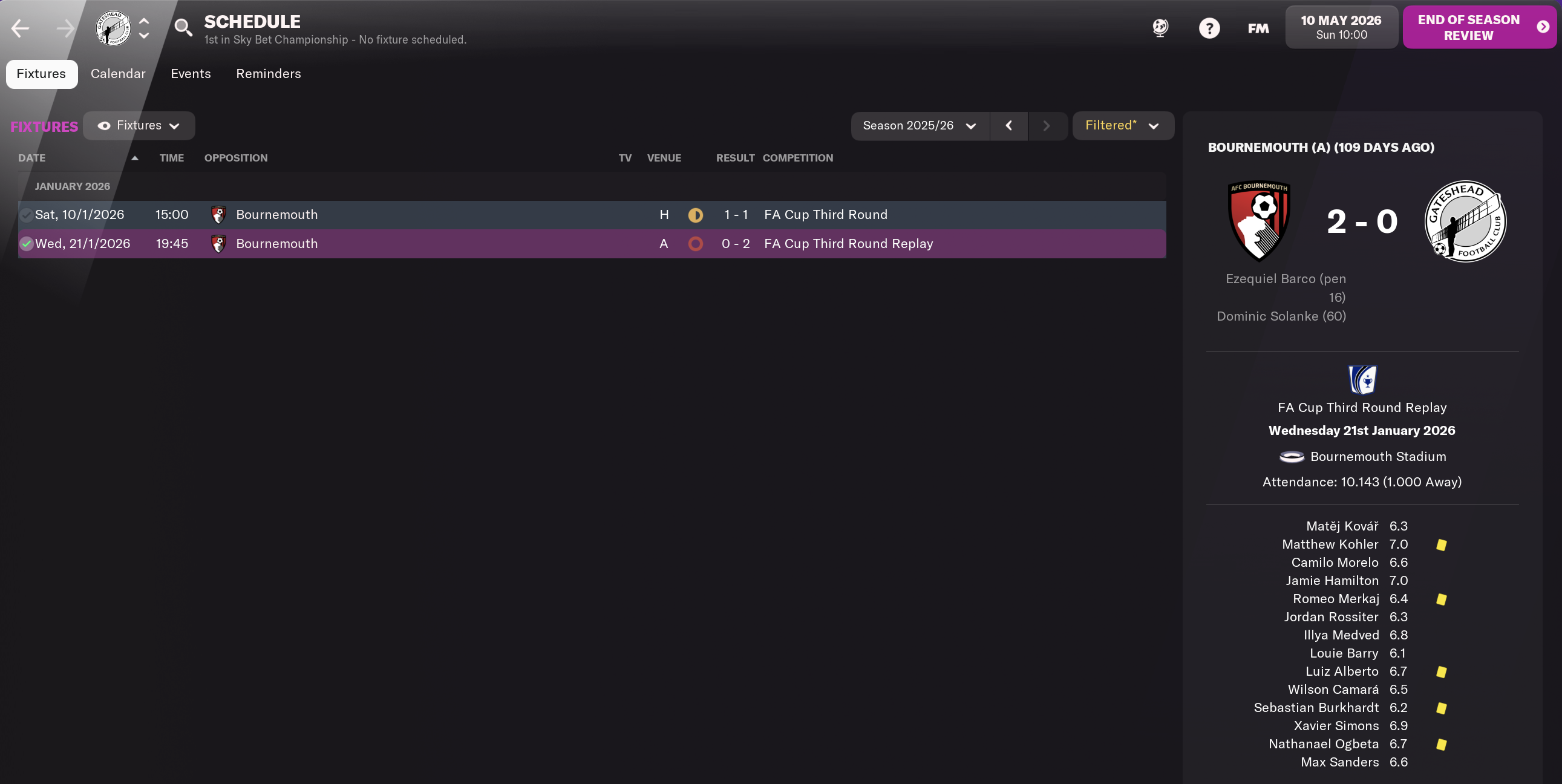 End of Sky Bet Championship Player Performance
All first 11 team players ended up having an average rating over 7 points except central midfielders Rossiter and Mitchell.
Right French 20 yo winger, Joel N'Zi was the best player with an average rating of 7.25, 15 goals and 10 assists.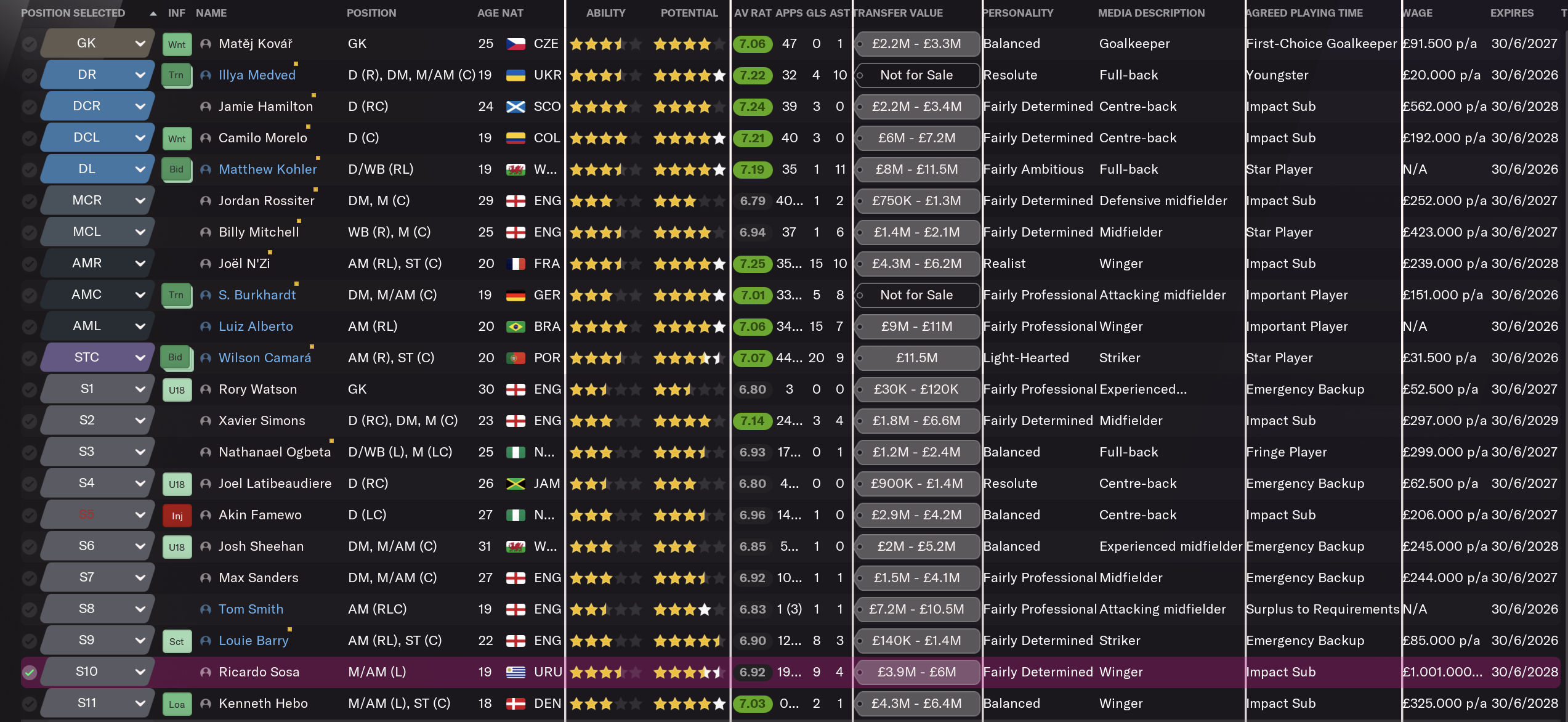 The First 11 Players
Sweeper keeper on defend duty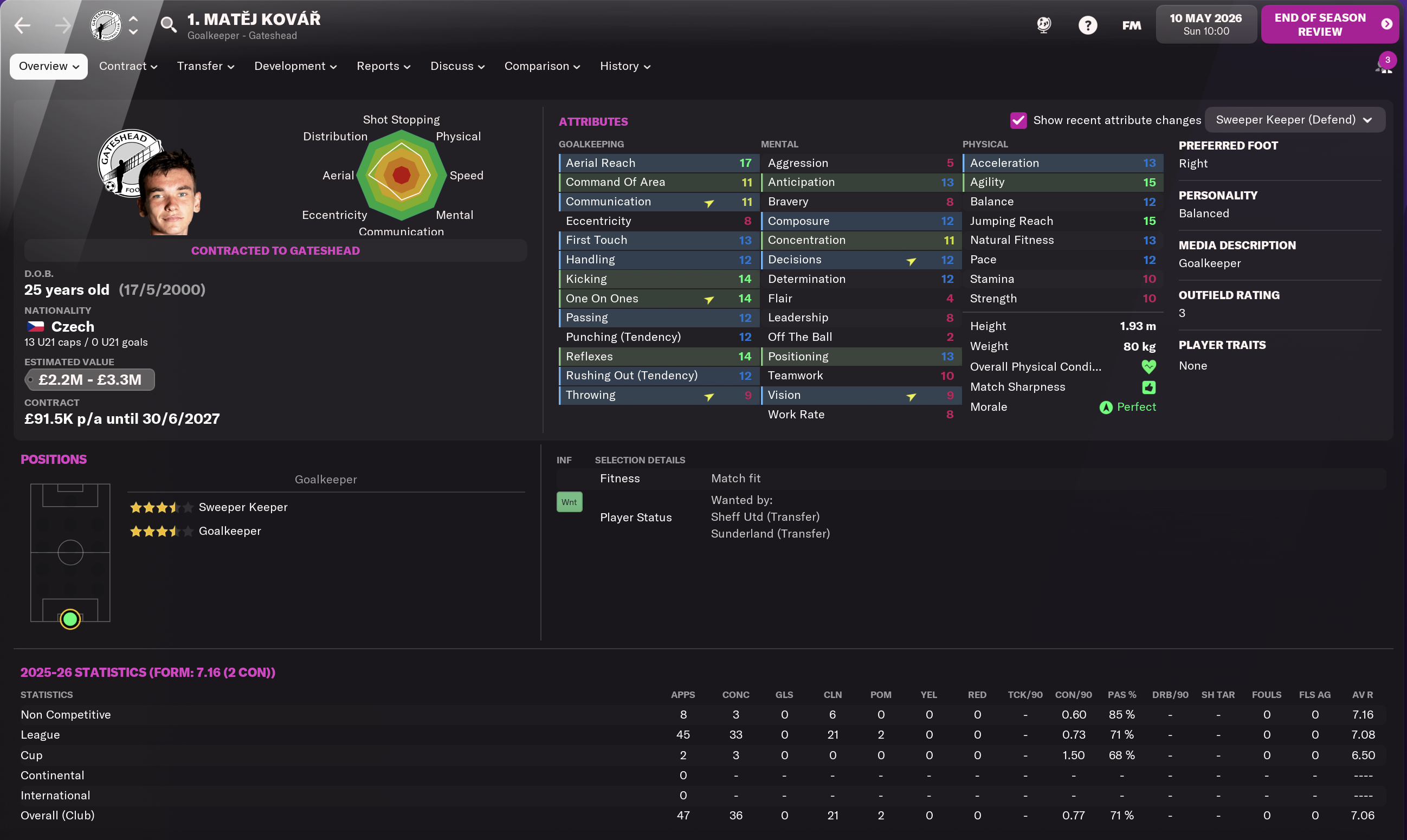 Right wing back on attack duty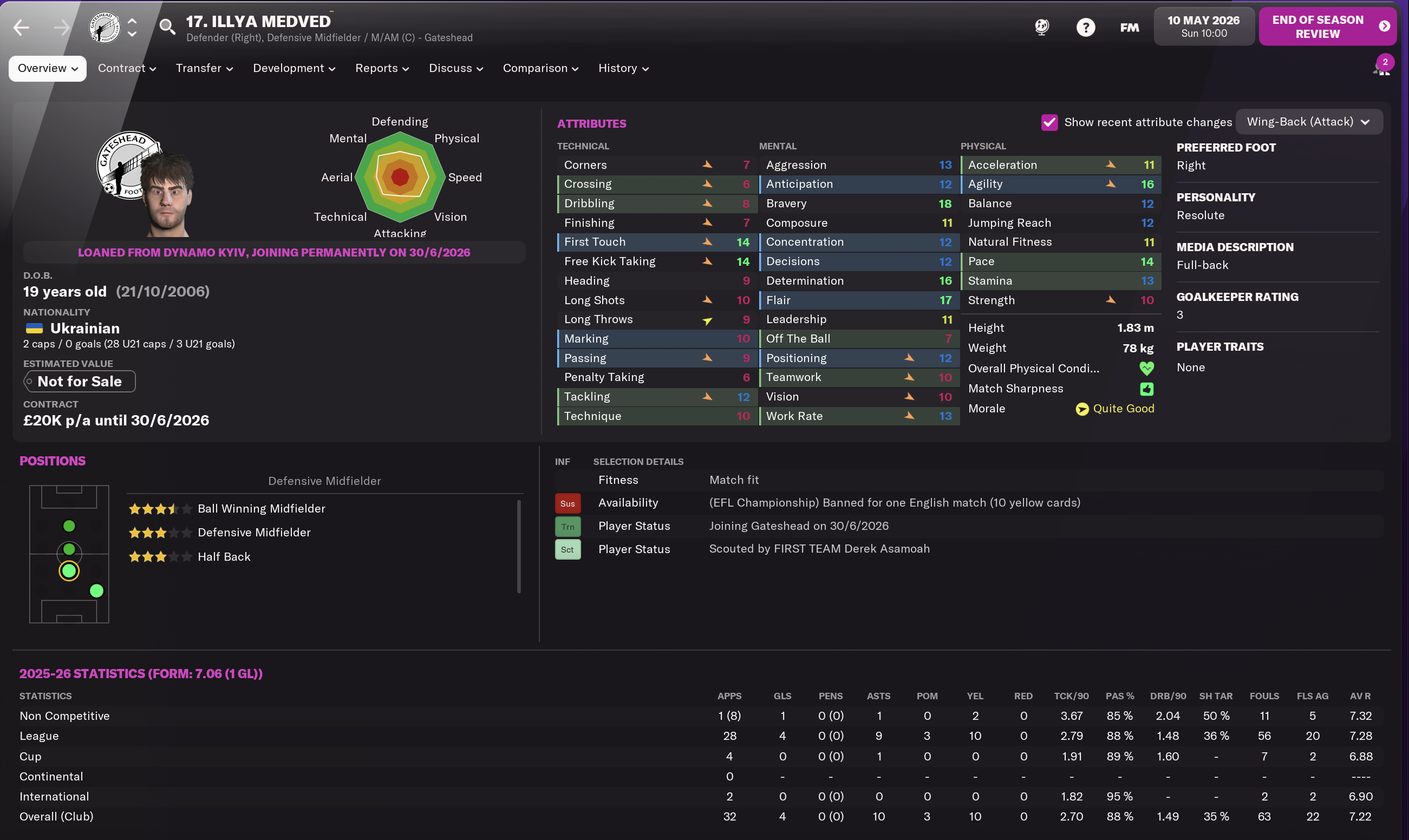 Left full back on support duty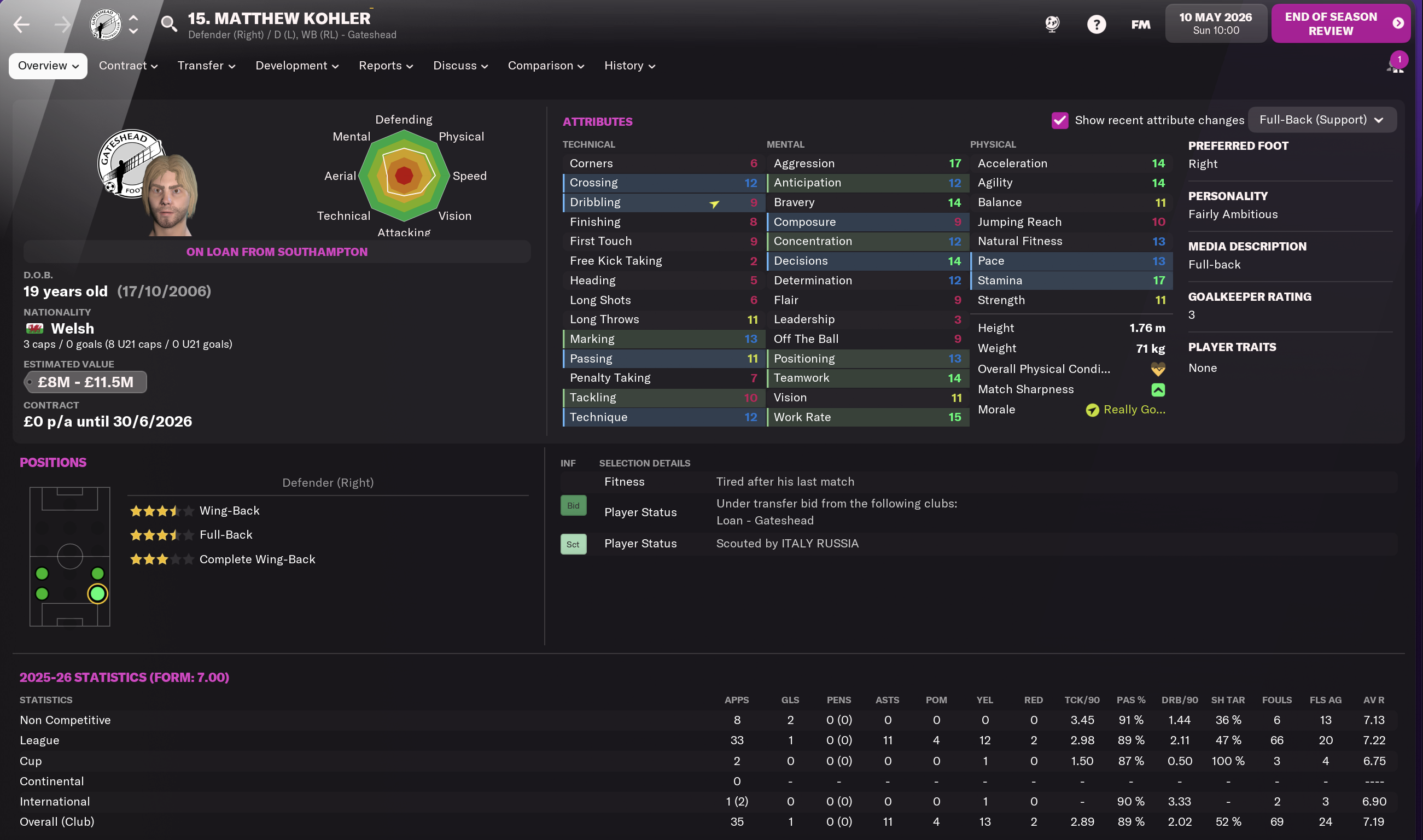 Central defender on defend duty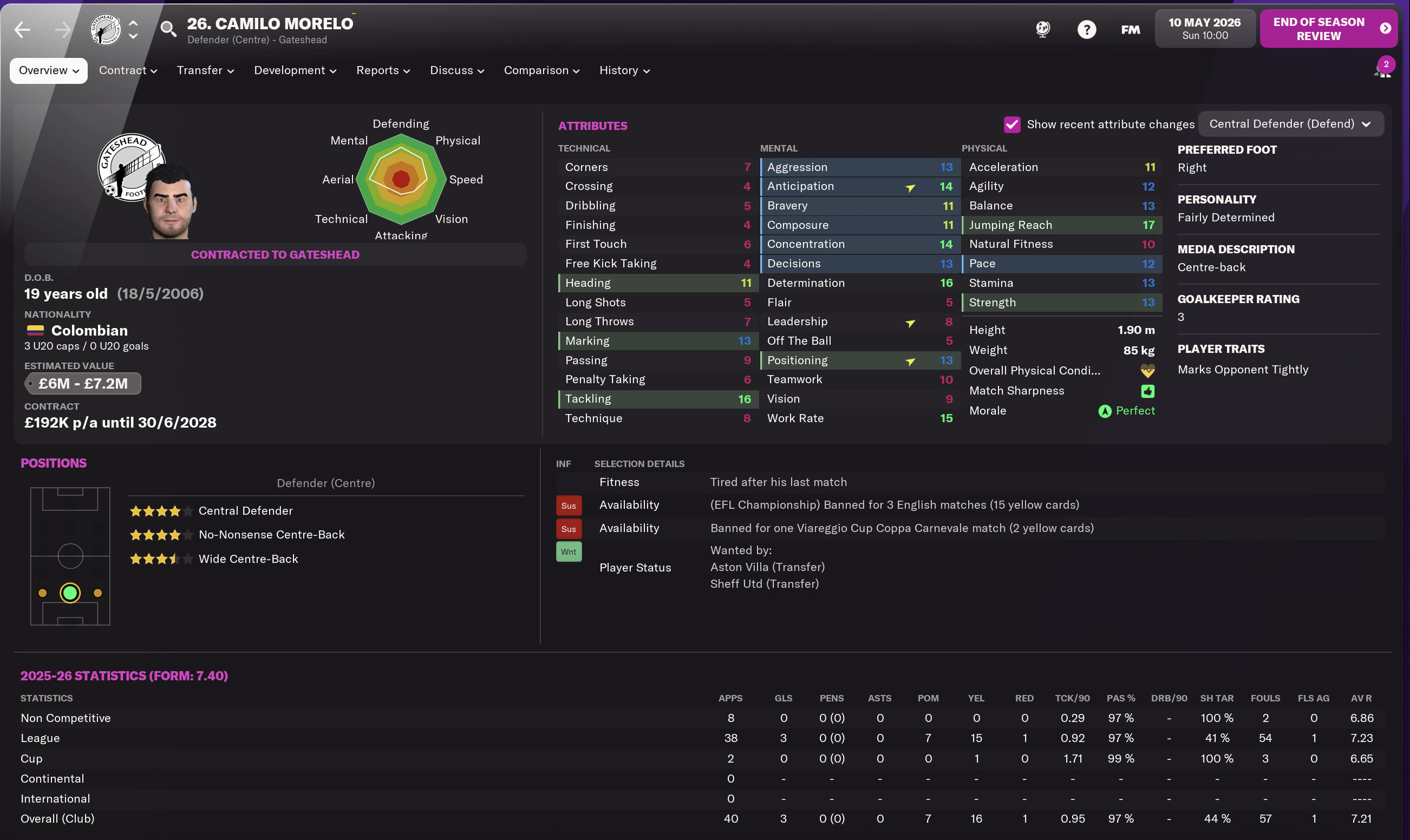 Central defender on defend duty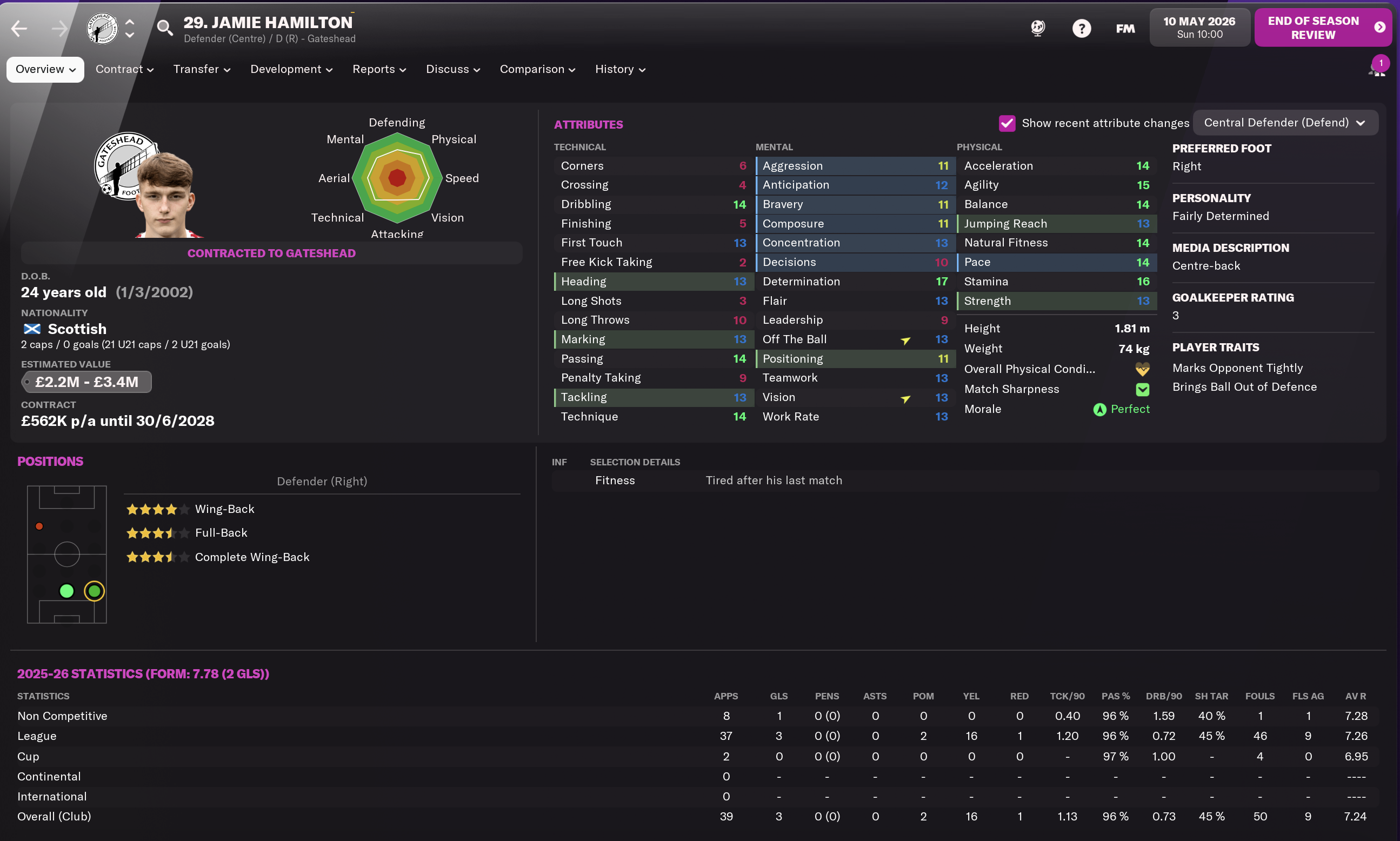 Central midfielder on defend duty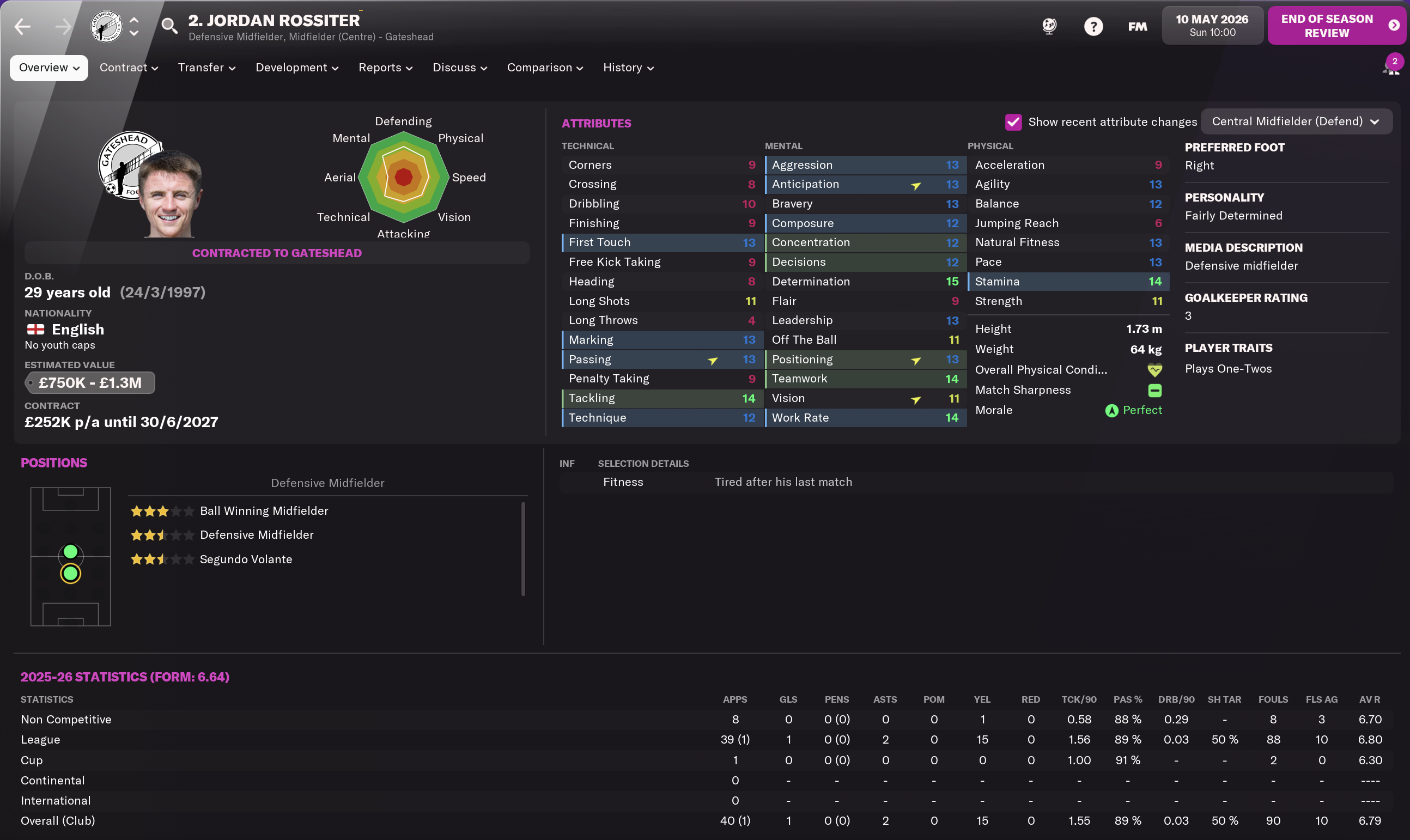 Box to box midfielder on support duty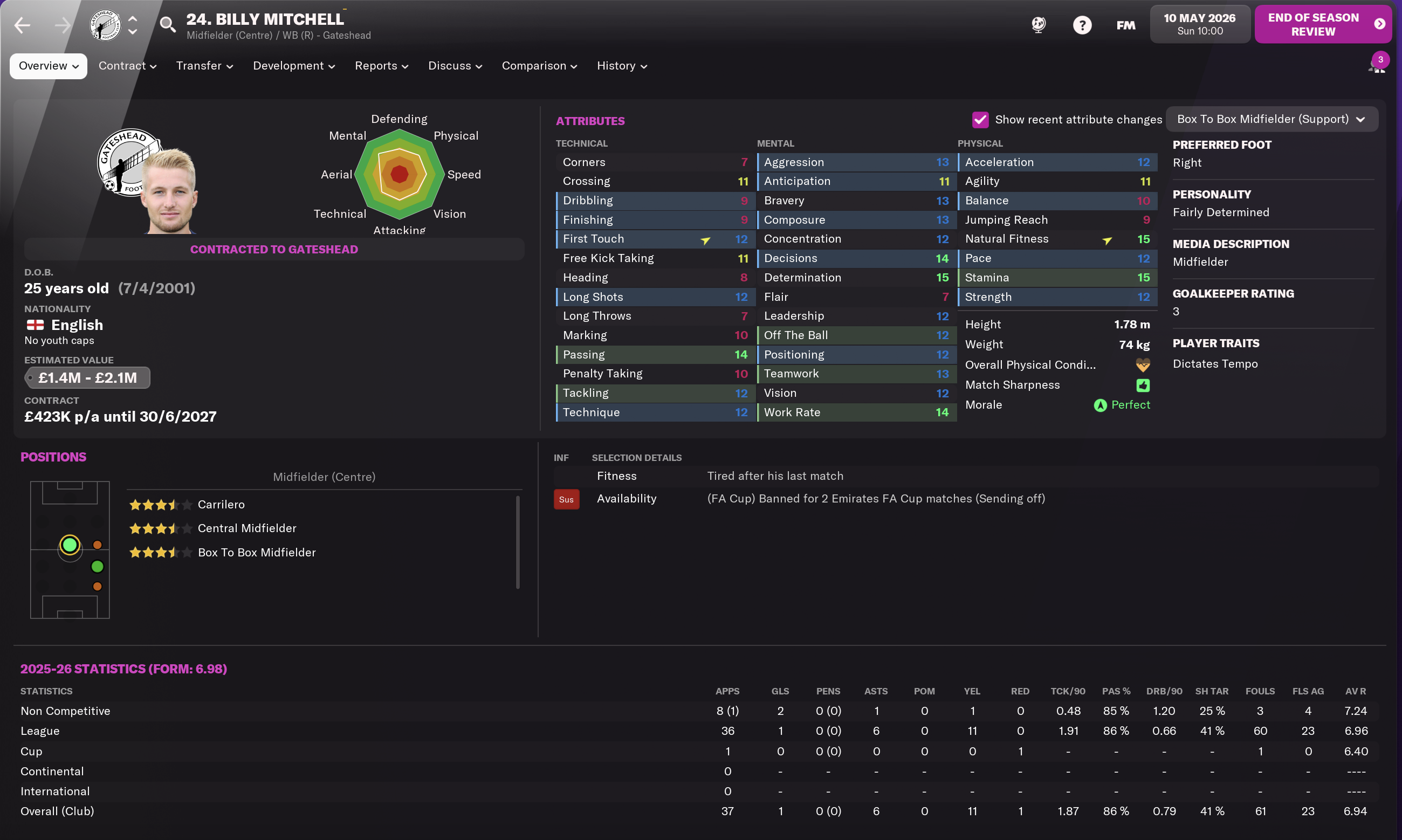 Right winger on support duty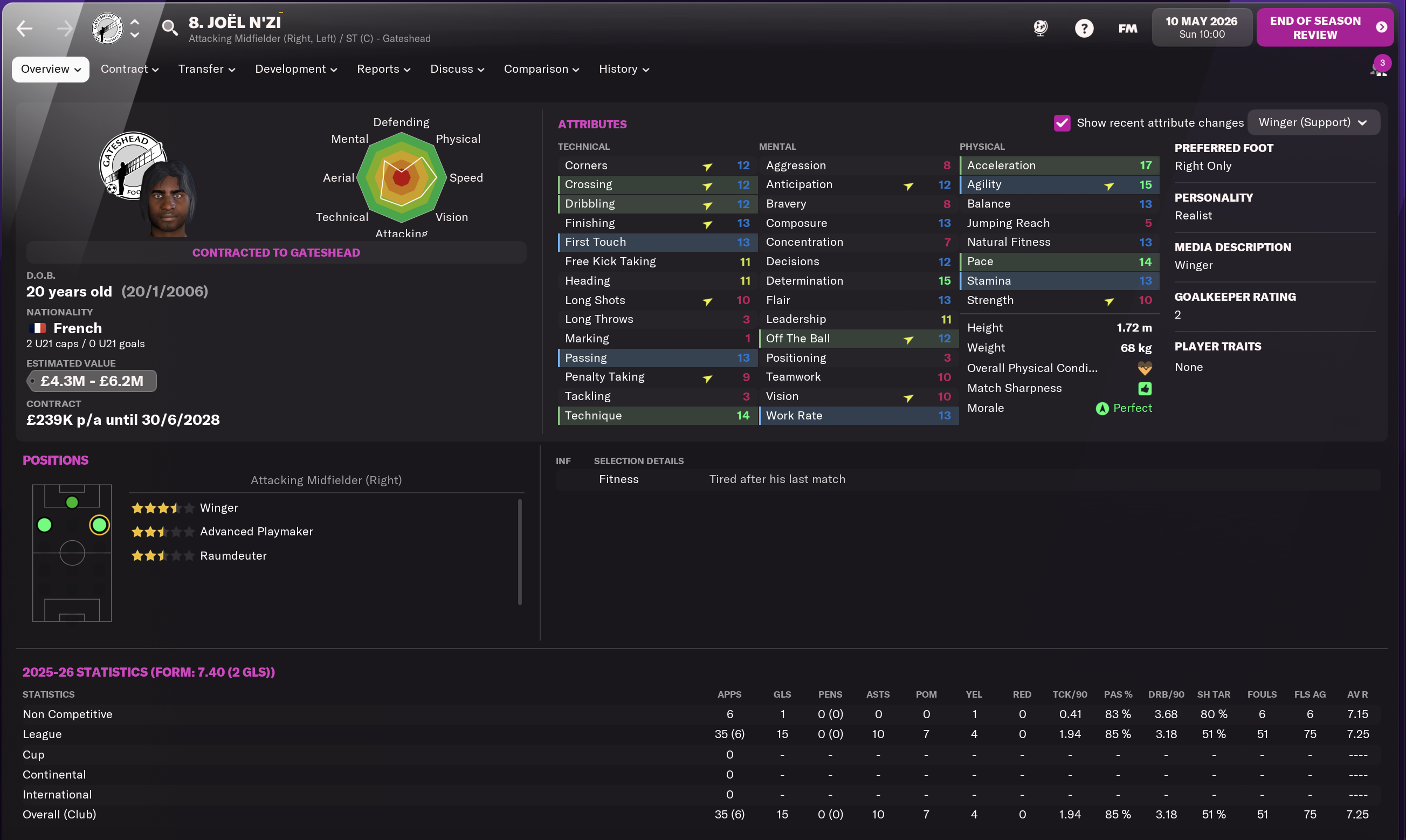 Advanced playmaker on support duty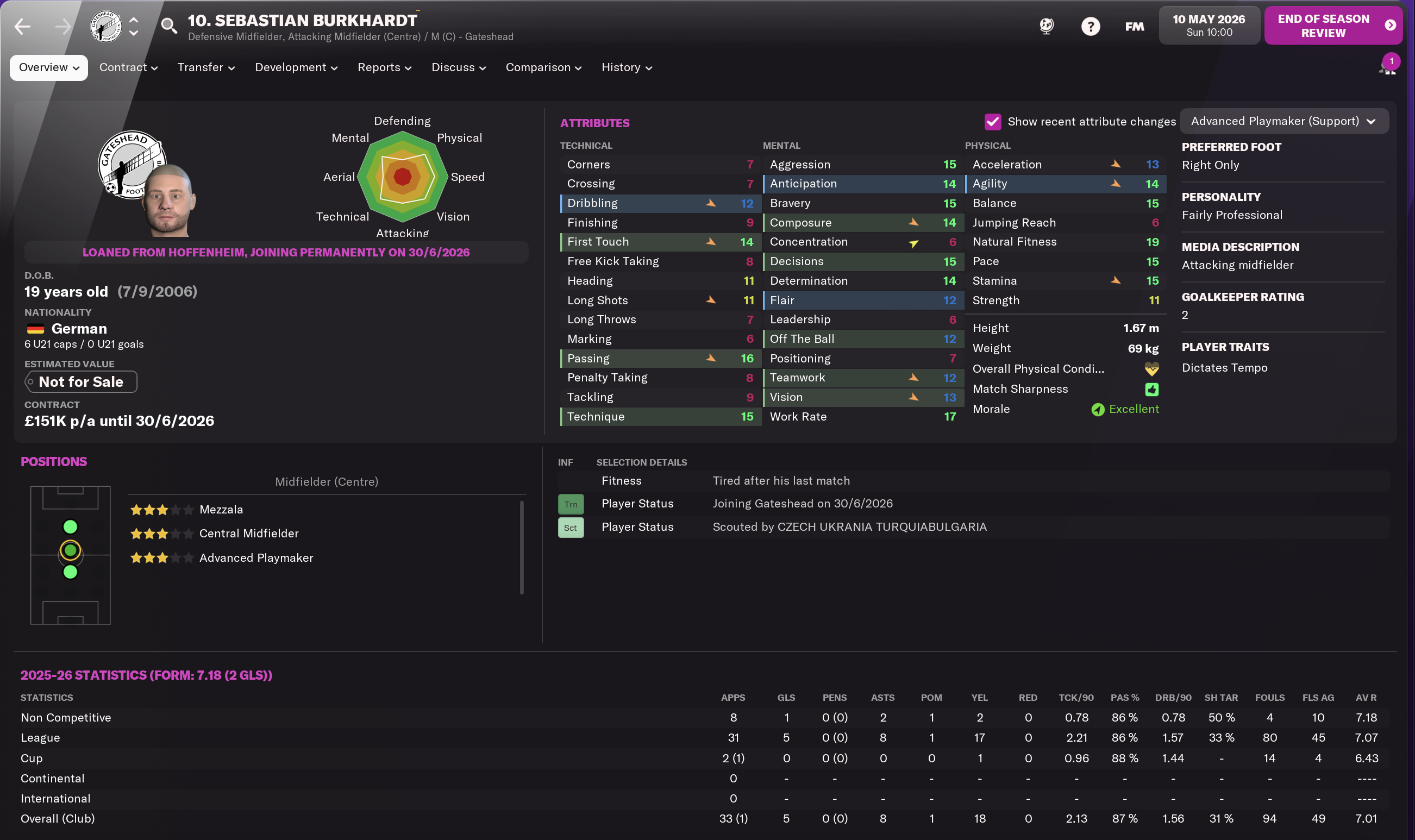 Inverted winger on attack duty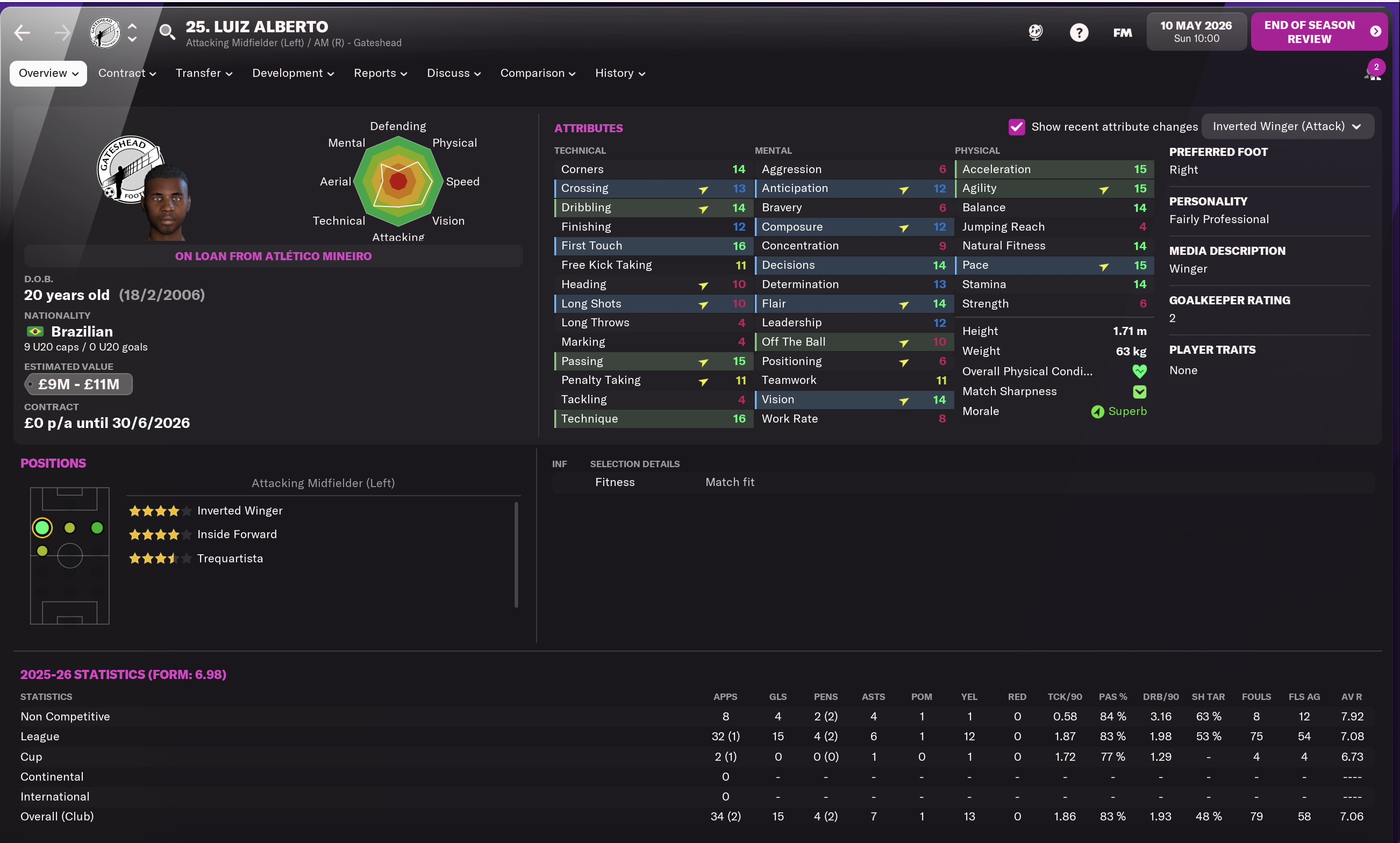 Advanced forward on attack duty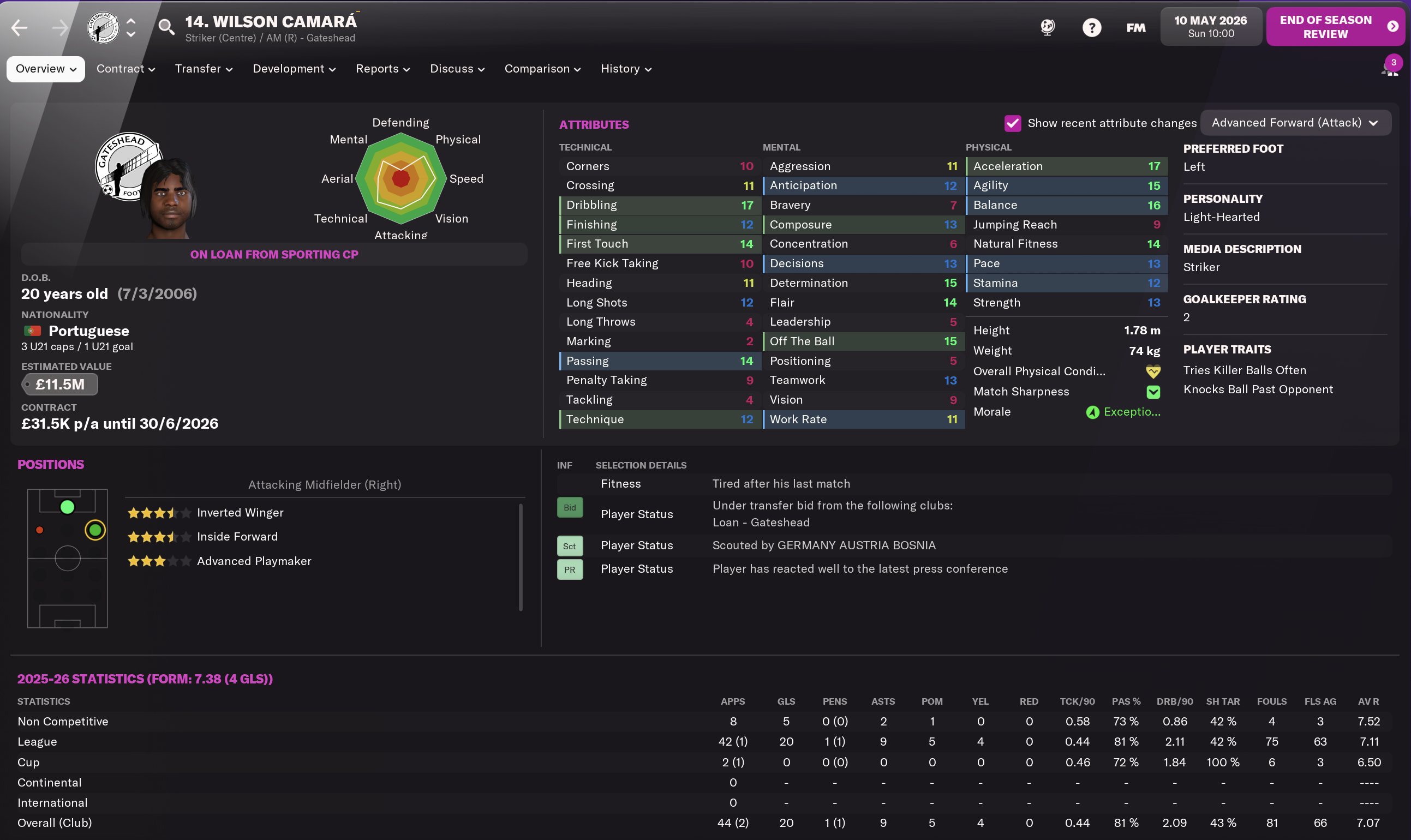 The Transfers
Players out:  £25.750.000
Most of this money came from selling young regen Steeve Humbert to Crystal Palace for £10M (bought from South Shields for 15K)
Tony Hanson to Brentford for £5M(bought for 21K from South Shields)
Regen Tom Smith for £10M to Crystal Palace(bought for 175K from King's Lynn)

Players in: aprox £15M
As usual I brought many youngsters and many other  players to face the challenge of a first season in the Championship. Six of the new players will go straight into the first 11 squad.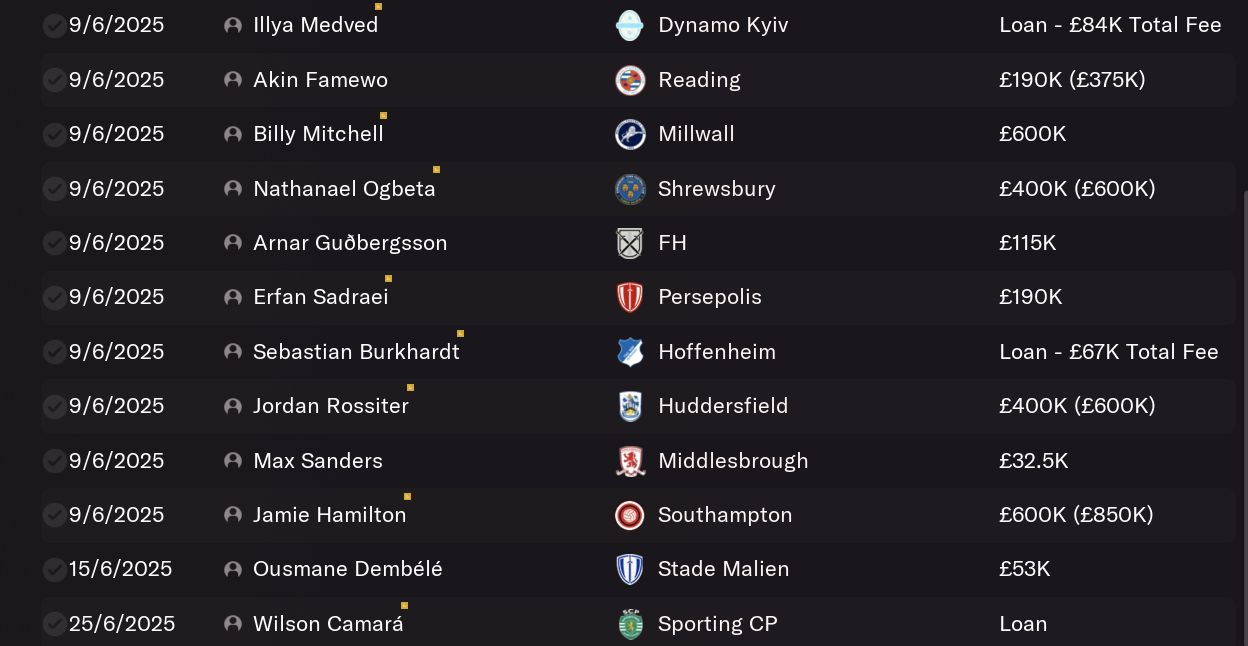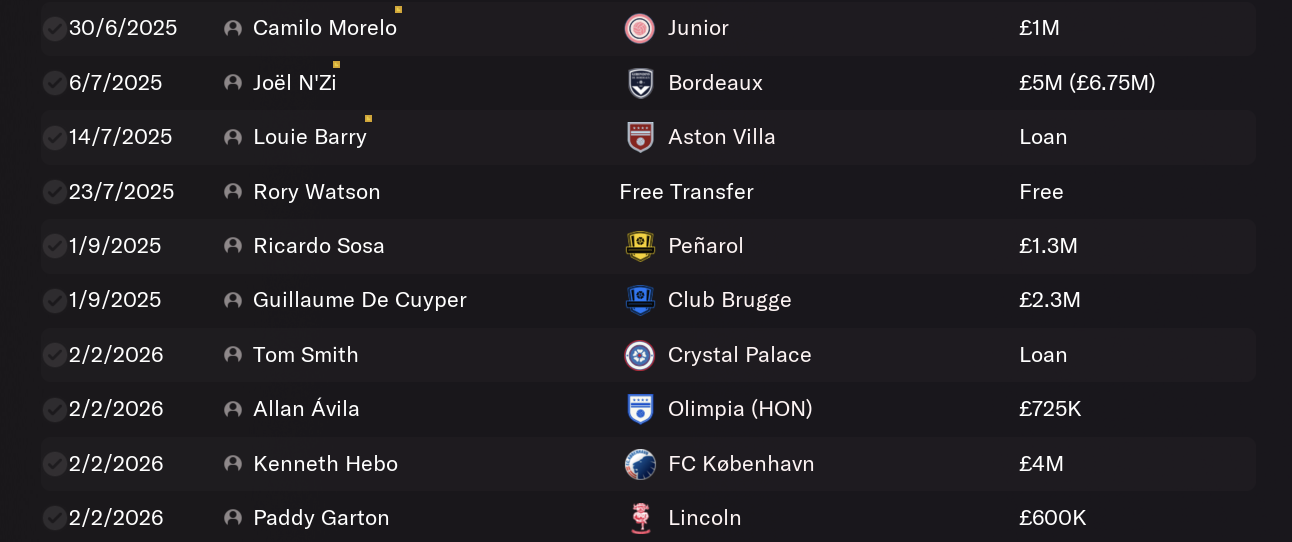 The Club
At the beginning of the season the media predicted that we were going to finished in 21st position.
We have a determined squad and with  professional status.
Gateshead's reputation has improved from regional to national, this should make the club more appealing to future signings.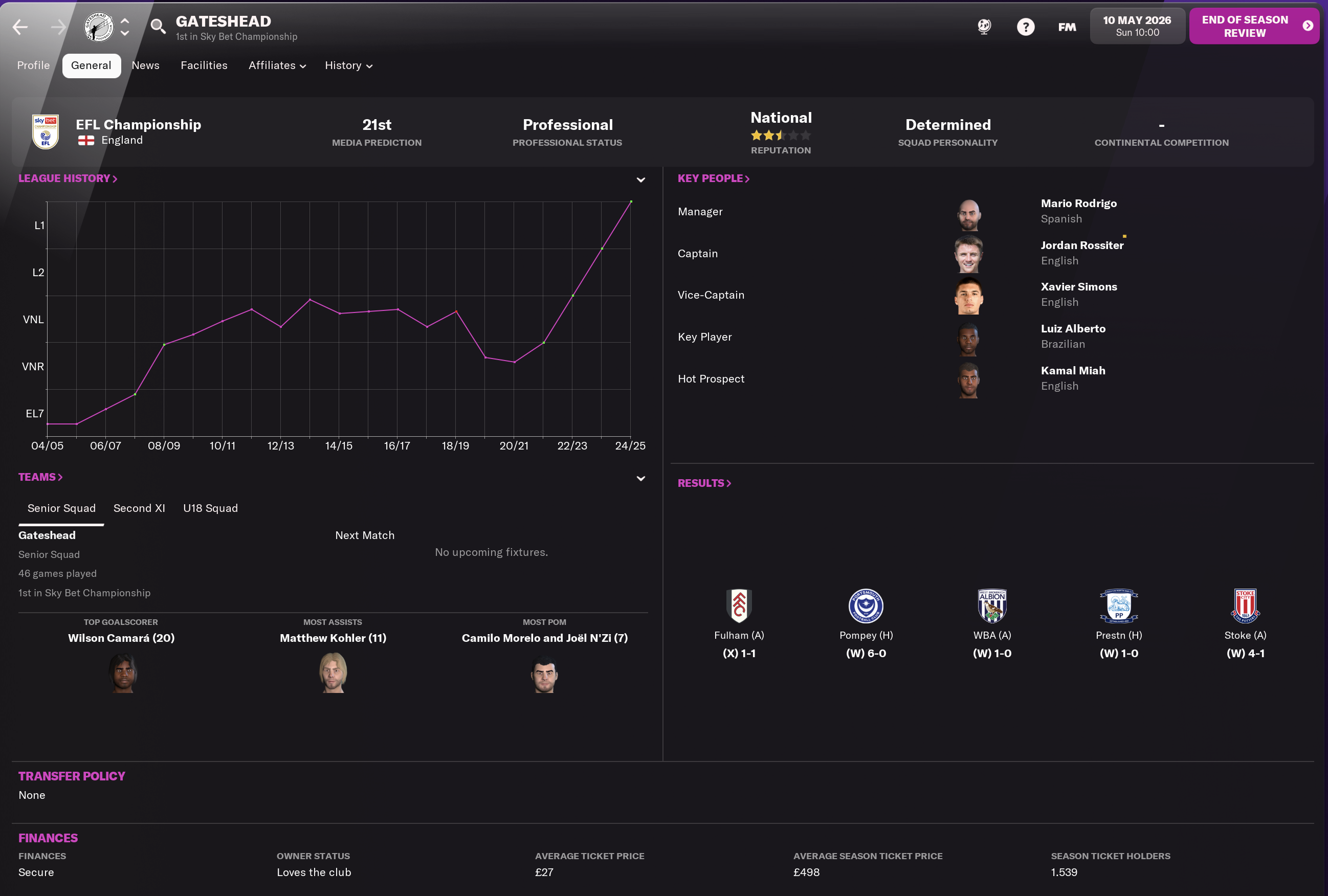 I am considered a club legend since last season.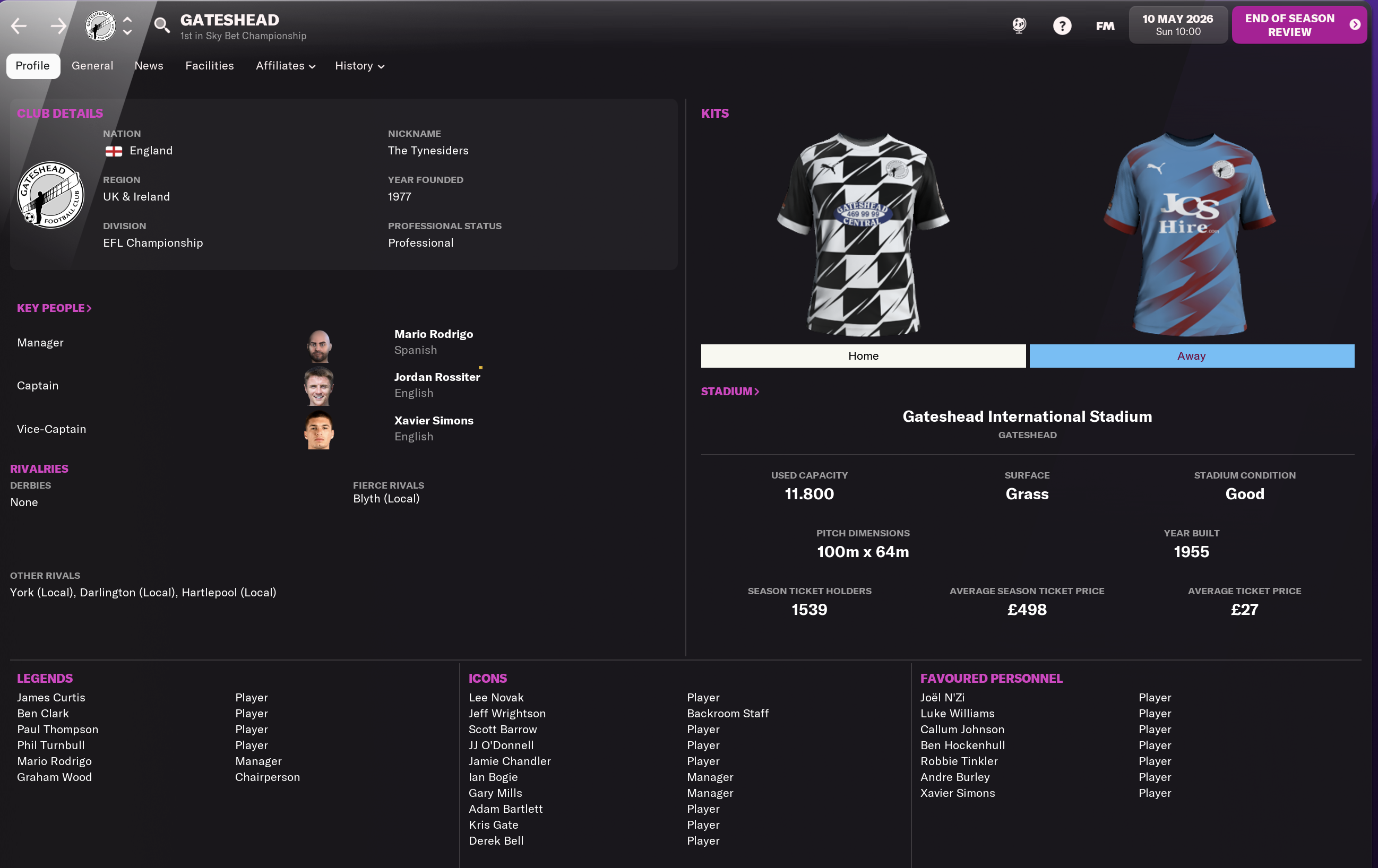 The Facilities
Gateshead has adequate corporate, training and youth facilities.
The academy coaching and youth recruitment are average, with a youth level of 3.
The stadium has a capacity for 11.800 all seated fans.
I will be investing in facilities as soon as I start making some serious cash.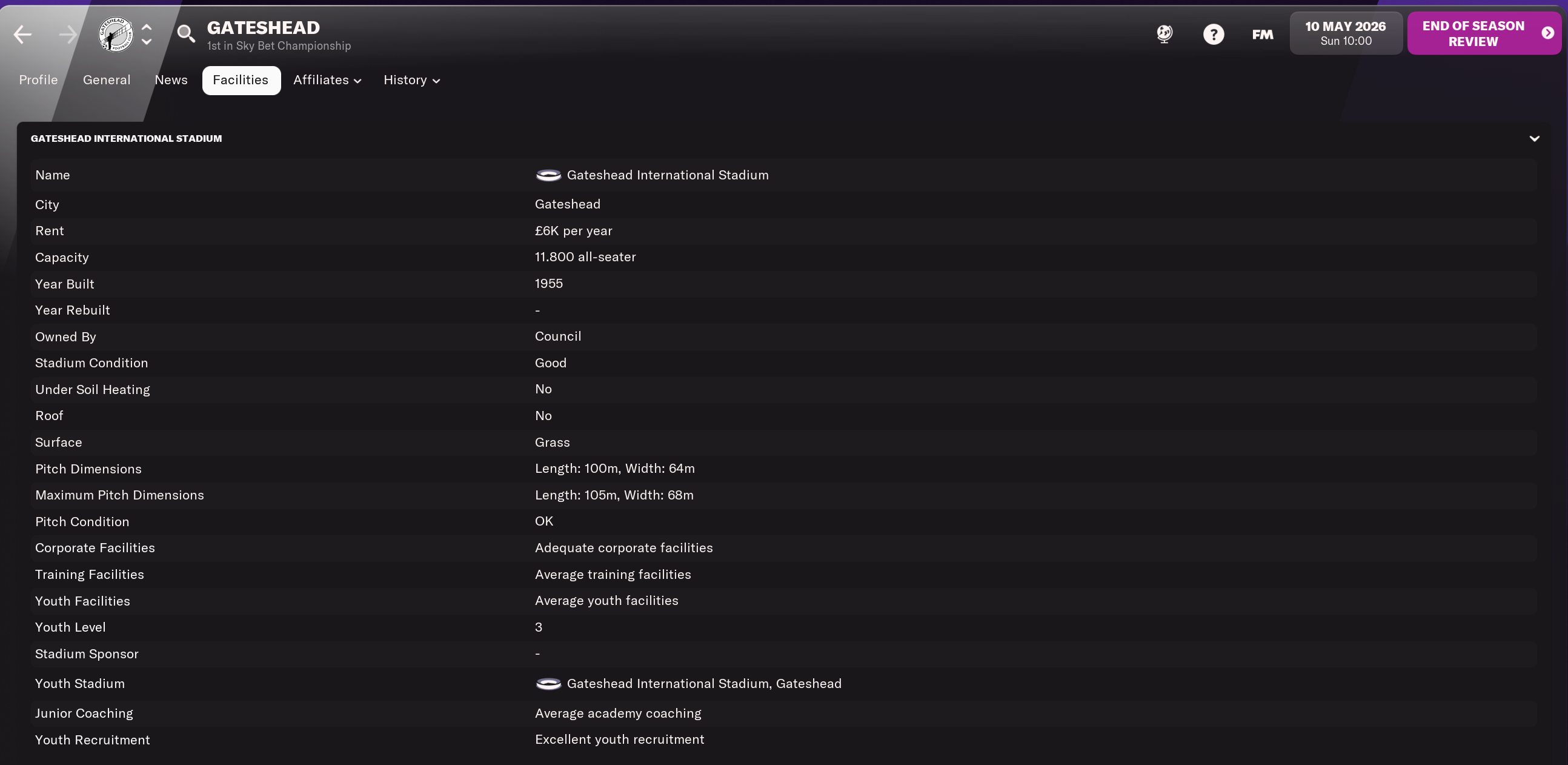 The Affiliate Clubs
We got an affiliate link to powerful Man City, with 2 players on loan for free, and the tickets sale of a home friendly match.
This link will be cancelled as we will be playing in the Premier League next season.

End of League Finances
Going into the next season, finances are looking very good with an overall balance of £22M, a transfer budget of £22M and a wage budget of £18M.
Neither the owner or chairman have injected one penny since I took over the club's management 😡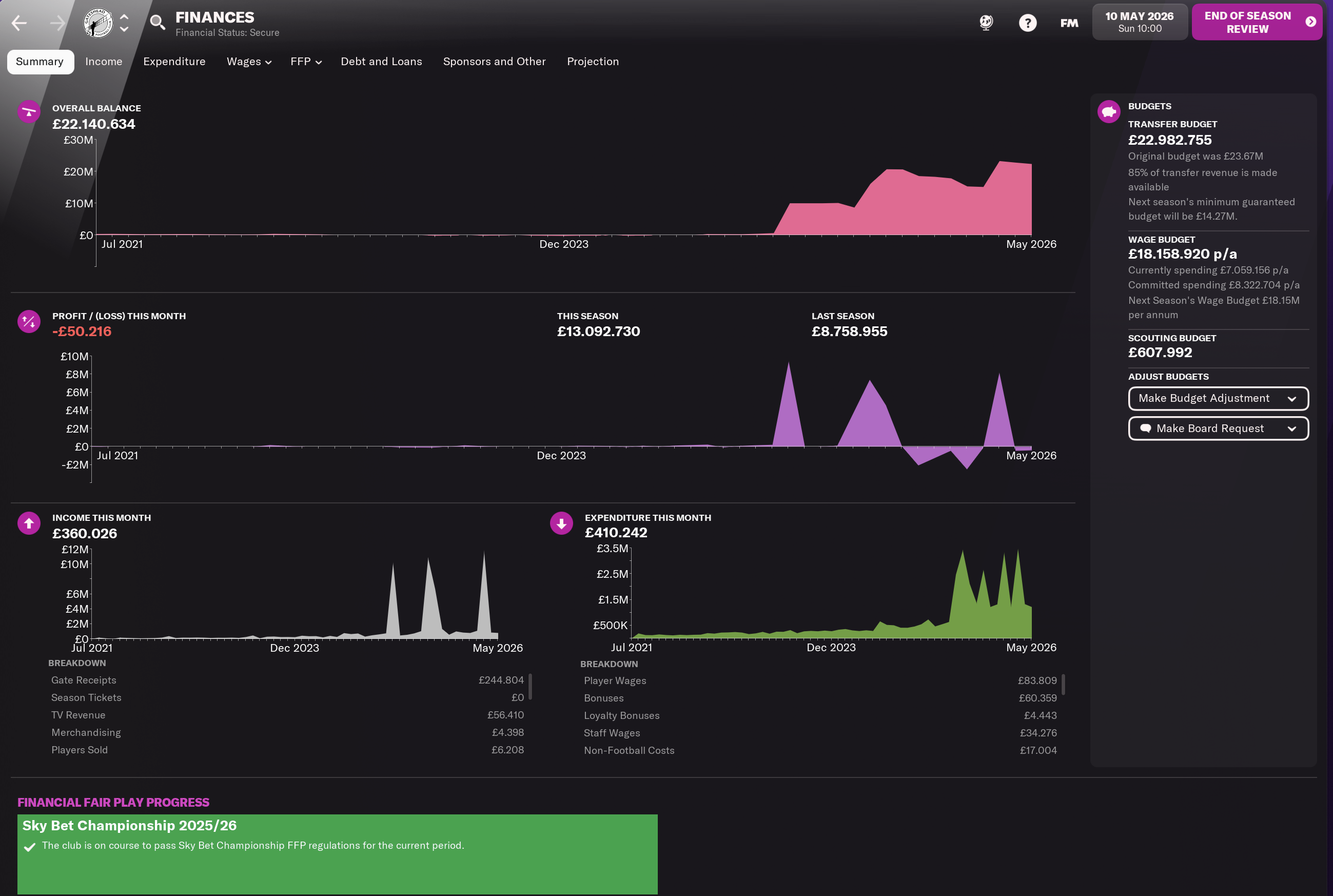 The Tactic
During this season I used my 4-2-3-1 lower league attacking tactic which was successful in the last four seasons.

Squad Dynamics
I will never get tired of stating this, you have to get this section ok, if not, it doesn't matter how much money you have, how good  your players are, which tactic or training schedule you use, if this is not ok, you will "struggle" to say the least.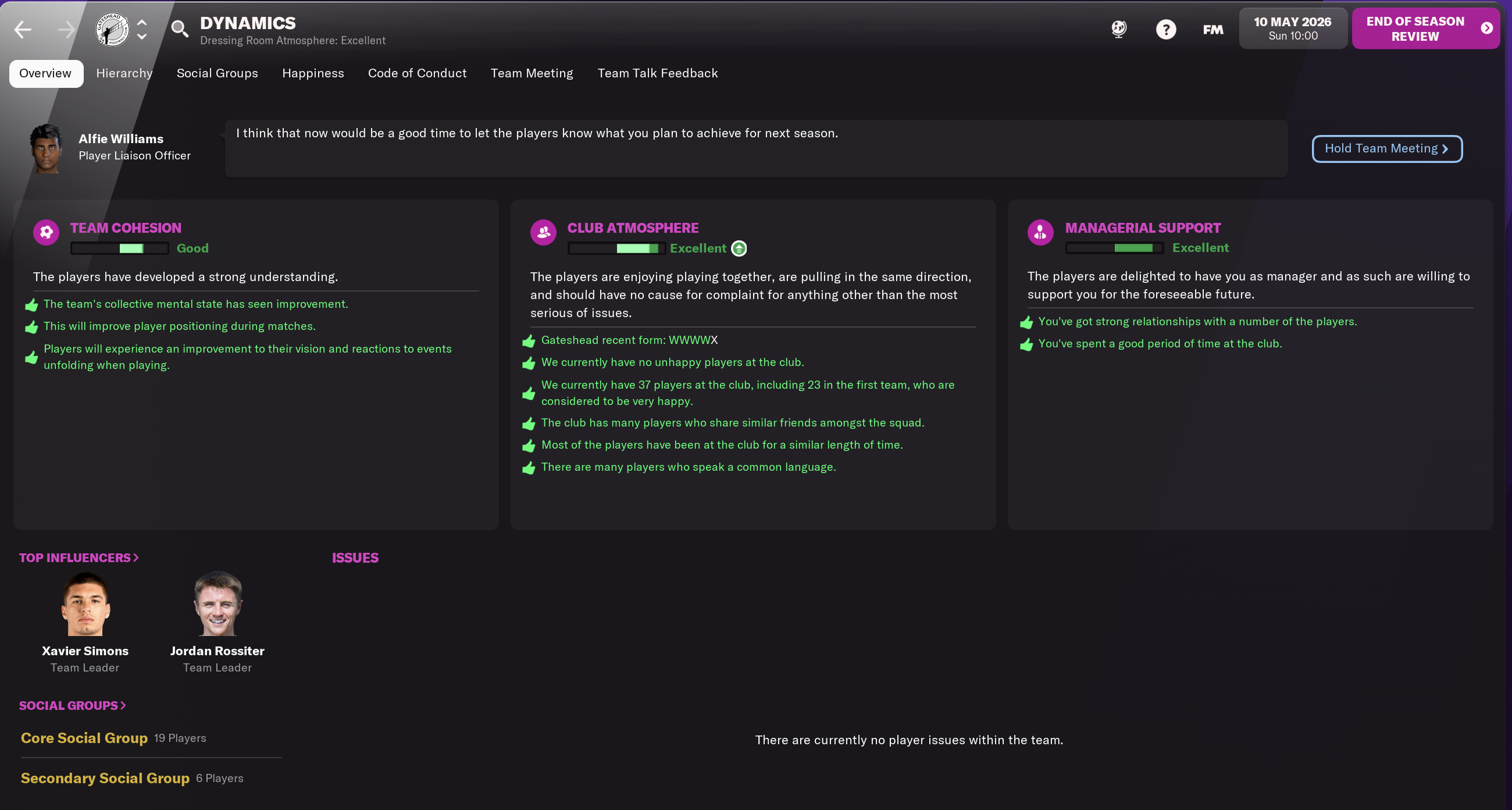 It is also very important to get as few groups as possible, with a numerous and tight core social group like this.

Building for the Future
Now let's have a look at the young players with high potential in the squad.
We have a lot of players with potential, next season Luis Alberto, Medved and Burkhardt will be joining our team on a permanent basis. I will also extend Camara's loan.

The Coaching Staff
All training categories have 3.4 to 4 ⭐️ stars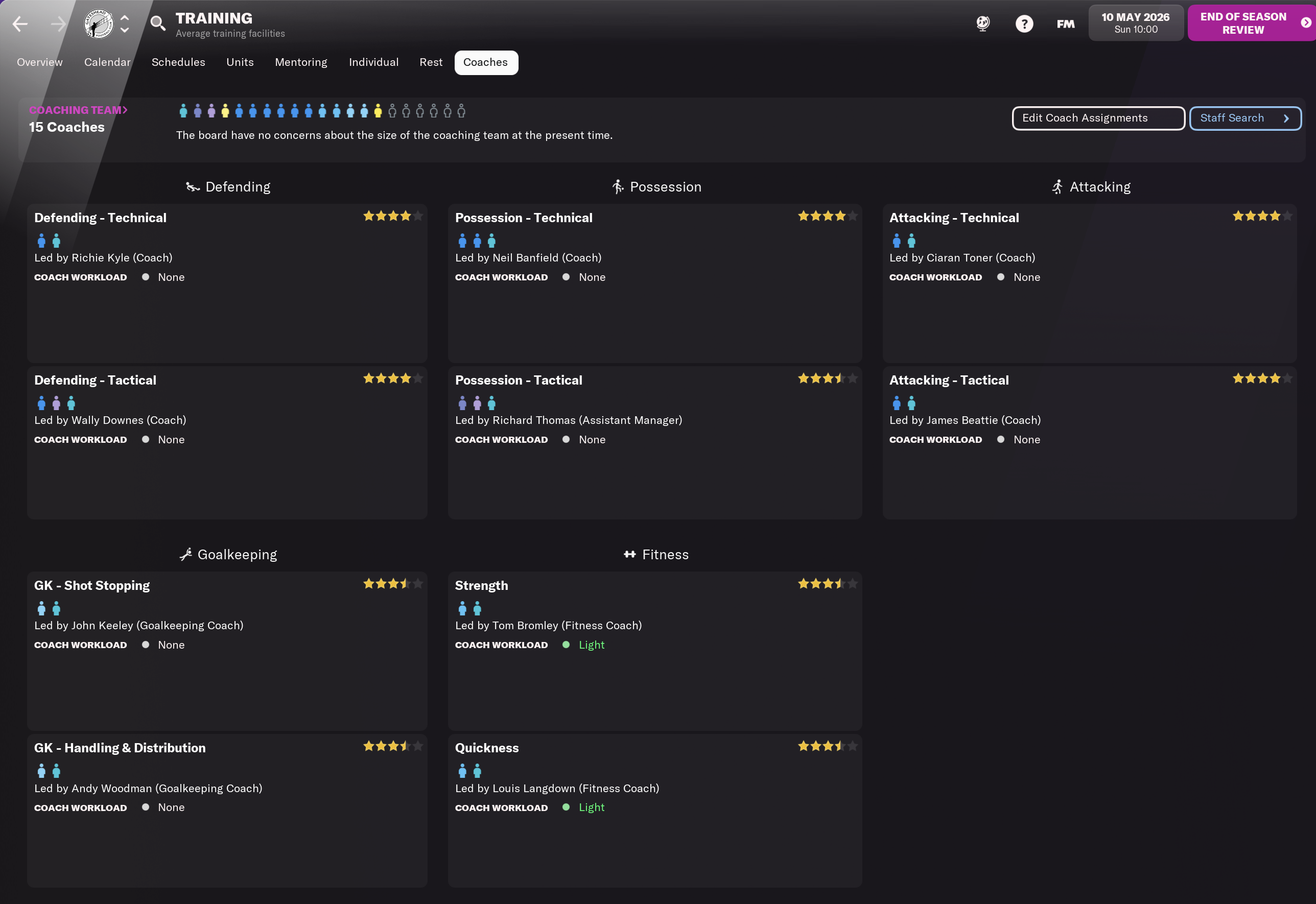 Thanks for joining me on this save and for reading this post, see you on the next one managing in the Premier League! 😃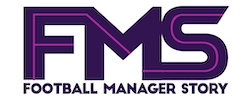 Subscribe to our Newsletter