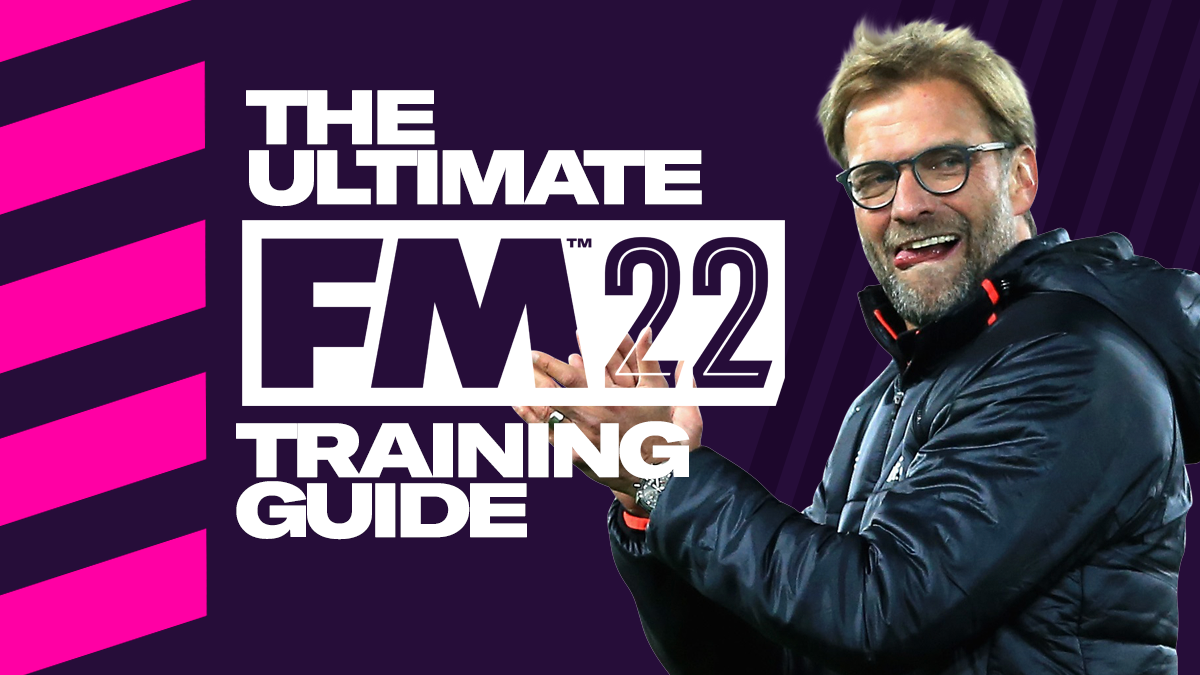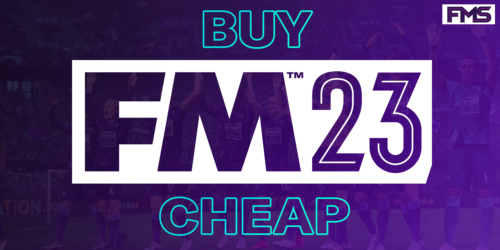 Hey guys and welcome our  Football Manager 2022 training guide, including our FM22 Training Schedules.
Go on, put your hand up, you leave your training to your Assistant Manager, don't you? Well, STOP!!! This guide covers everything, how to structure your schedules and why you should never leave training to your staff.
You can download all the FM22 training schedules discussed at the end, but if you want to learn more, read the entire guide and watch the videos to gain more insight.
There are plenty of different methods to training, and there is not one 'fix all' approach, but this is a system which has been worked on since FM20 and there has been great success.
One huge tip for developing players, especially wonderkids is: playing matches is the most important element to development.
Many others have different approaches to training in Football Manager and mine may not be perfect but it works for me, and has done for multiple saves in different countries.
Regardless of how many times SI discuss them, there is still confusion and myths surrounding the green circles and star ratings, so let's address role familiarity.
Don't forget you can buy FM22 through us and by supporting our content you receive an exclusive 30% discount, making the game £27.74. Click the link below to find out more.

Football Manager 2022 Training Guide – Myths
Players need individual training for role familiarity

Individual training is used for one thing, and one thing only, it decides which attributes a player develops. That's it.
In the below video, a centre-back was transformed into a winger, but in order to round out his game we used finishing training to improve composure. It doesn't mean he can play as a forward.
The roles in which a player shows in their profile is completely down to their attributes and how your coaching rates them. Not role familiarity.
However, you do have Positional familiarity and this will improve through a player being used in this position. Same with the video above, the Newgen 'Jagacic' only became natural as a winger, by playing as a winger. It's that simple.
Training only impacts player development

While player development is a huge part of training your performance on the pitch can suffer too. Include adequate match preparation to ensure the team is familiar with your tactic and work on attacking movement plus defensive shape to better your chances of success.
Are you using a Gegenpress system but failing to win possession back quickly? Teamwork match preparation directly targets pressing play on the pitch so could be the answer.
Training is best left to my Assistant Manager

No, no, no, no, no. Your staff is important and can get you 80% the way, but that last 20%, the elements which will take your Wonderkid newgens to the next level comes from being hands on.
Your Assistant Manager does a cracking job of general training and week-to-week development but he includes no match preparation and team bonding.
He will never include match reviews, or work on things like Defensive Shape, Attacking Movement, Match Tactics or Teamwork in the build up to any game. Being hands on with development will in turn help you max out your team cohesion and tactical tactical familiarity.
FM 2022 Training Guide – 4 Step Process
I follow a simple four step process at the start of every save and will use this structure to explain training in FM22, you can then download all of our FM22 training schedules at the end.
Step 1: Rest/Training Intensity
I start by adjusting the rest/training intensity which is accessed from 'training' > 'rest'. Each player follows the team training intensity as default and it should be left this way but the intensity scheduling itself needs tweaking.
This is pictured below and dictates how hard a player will train dependant on their overall condition.
Overall condition is represented by a little heart

and when this gets too low it can lead to injury. The default settings are OK but I prefer to work my players hard when condition is high. Double intensity when they are fully fit, normal when a little fatigues.
Then just 'half intensity' when they are tired, and no pitch or gym work when the hearts have gone red. 

Step 2: Hire & assign Coaches correctly
Before we touch on the specific FM 2022 training schedules, one of your jobs on Day One of your new job or season is to make sure you have the best coaches you can. Also, make sure you are maxing out the amount of coaches you can employ.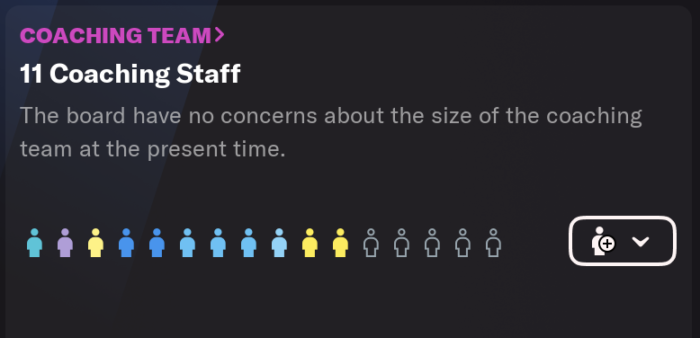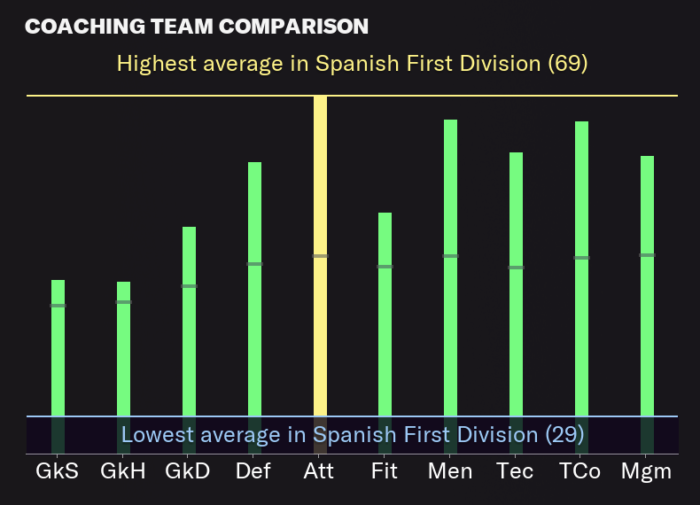 If you are not sure what area to target, check the team comparison and see how your staff compares to the rest of the league. Low down in the goalkeeper section, hire a goalkeeping coach. If Attacking is low, approaching coaches with a high rating for attacking.
By default, coaches are assigned too many responsibilites which lowers their star rating in the assigned categories. Look to assign your best coach for each category to maximise those star ratings and only one category per coach (this will not always be possible.)
Then utilise a 'floating coach' to train all categories because this will lighten the workload. Always remember, we need high star ratings and low workload for this to work.
The theory is quite simple. If you have 20 players and two coaches, it's hard for them to give them adequate attention. If you have four coaches for the same amount of players, they can be more hands on.
---
Find the best FM 2021 Coaches here including each categories key attributes.
---
Note: When hiring coaches look for good personalities and high Determination, likewise your Assistant Manager. Coaches can pass on their personality to players so this is very important.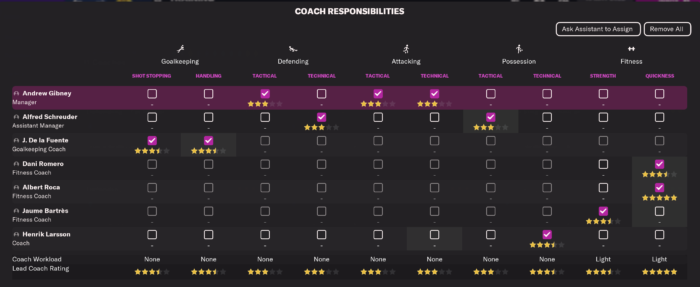 Step 3: Setup individual training in FM22
Now jump into training > individual and start assigning appropriate role training and focus (focus is not as important) for each player. This is vital for two reasons, a) role training dictates a players appropriate unit and b) many of the schedules directly train the role you select, failure to select a role and fail to train.
You should select the relevant position (because that trains positional familiarity), then a role which targets the most suitable attributes you want to improve.
Some roles target many attributes and will take longer to see improvement, like the box to box midfielder, other roles are select and accelerate the growth of a few attributes while neglecting broad development. You can see the attributes trained for each role when selected.
You should then set each players 'focus' to an area you need improvement, you can use this to train areas they may be lacking and won't be covered by the positional training selected.
Step 4: Load all schedules and assign to the calendar
OK this is the complicated part but luckily we have done all the work so you can just download and import.
FM 2022 Training Schedules
We have seven different FM22 Training Schedules to sort your training for the whole season. Covering all eventualities.
Pre-Season: We will cover in a separate post
Saturday Match & Sunday Match: When you only have one fixture in the week.
Tues & Sat/Wed & Sat Matches: For the busy weeks you have two fixtures.
Wed & Sat/Wed & Sun Matches: For the busy weeks you have two fixtures.
Thu & Sun Matches: Version 1 is when you play on Sunday the week before, V2 is for when your previous game is the Saturday.
Week Off: International breaks or weeks without games
---
Find the best FM22 players:
---
When To Use Each FM22 Training Schedules
Check out our pre-season guide to help prepare best for the new season. There should be five weeks for the preseason, there is a schedule for each week. In week one, you only play one game, on the Saturday.
Then week's two, three and four, the schedule is to play two games (Wednesday and Saturday), then the Week five schedule is for one game. Usually the start of the campaign.


Each week builds up the fitness, gearing towards being 100% for the new season. It is also very heavy in letting your team become familiar with your tactics and bed in new signings.
Note: Players may complain of too much quickness training, do not worry this will not last long and gets results.
Main Training – How To Structure The Month
Rather than change up the focus of each week, success has been found running these schedules every week for a whole campaign. They cover pretty much everything from Attack & Defence, and remember, even in defensive training drills, the attacker are still working out and vice versa.

Set-pieces are involved in every week, both the delivery of them all, and a focus on Attacking Corners. If you have your corners set up – we suggest trying out these routines – you will see the benefit from training them consistently.
In both the Saturday and Sunday schedule, you have the option of changing one or two slots to suit your team and the style you play. There is no point 'Attacking Wings' if you play through the middle. Maybe go Patient or Overlaps.
Then with the 'Defending Engaged' you can switch this to 'Aerial Defence' if you feel you are weak in those areas. The training is quite fluid when you only have one fixture, so you can style it for your tactic.
Tip: During no match weeks use the one match version of  'One For All' schedule and adapt.
FM22 Training Schedules: Two Match Weeks
This is quite easy to schedule, if you reach Europe, or are playing in the English lower leagues, you'll find the games stack up, so we've provided schedules for when your team will be playing, be it Tuesday/Saturday or Wednesday/Sunday etc. The focus of these is to keep the team fresh, but work on tactics, teamwork and development.
Added: There are now two schedules for when you play on a Thursday and a Sunday (Europa League). The first one is for when the week before your fixture was on the Sunday, so there is little training on the Monday.
Then V2 is for when you play Saturday, Thursday, Sunday, so there is normal training on the Monday.
Big Match Training Schedule
If you have a cup final, or a game which could go to penalties, keep the training schedules all the same, but instead of training "Set Piece Delivery', we recommend training Penalties. Just to give your team an extra edge ahead of the big game.
You should now download every schedule mentioned above from the 'download' image below and be careful to follow the instructions, it can be fiddly. Once downloaded and imported into your game you can assign each schedule on the calendar to look something like this: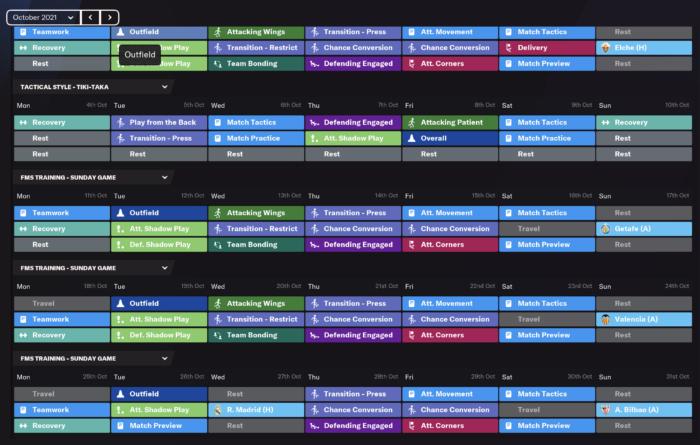 Troubleshooting
Too much or not enough quickness/strength training
This should not be an issue once the season kicks off but can crop up in weeks 3-5 of pre-season. Do not panic, this will be resolved with the full season schedules.
Do note however, some schedules lack physical training due to a high amount of matches, if players want more quickness or strength training chances are its a short term issue and can be corrected by adding one 'physical' training card to the following week.
Player unit not getting enough attention
This should not happen if you follow the guide above but below is a quick fix.
Training units are selected based on the roles you set within individual training. You have three training units; Goalkeeping, Defensive and Attacking. If numerous players complain about a lack of attention chances are they all belong to the same training unit. If they're from the Defensive unit schedule more 'Defence' training, if from the 'Attacking' unit schedule more 'attack' training.
General Complaints about Training
There are various complaints about training which can actually have nothing to do with your schedules. Always check your coaching assignments workload and make sure no single category is showing a high workload. When coaches are overworked training in said category and therefore unit suffers, simply set more coaches responsible for the category in question and hey presto!
FM22 Training Schedules Download

How To Install
Use the download button above then extract the file using WinRAR for Windows or Archiver for Mac and extract to the file location below:
\Documents\Sports Interactive\Football Manager 2021\schedules
Mac users put file in this folder: Users/YOUR Mac USERNAME/Documents/Sports Interactive/Football Manager 2021/schedules. To access your files on Mac open 'Finder', click 'Go' from the menubar, press and hold the 'alt' key to show 'library' in your menu, while still holding 'alt' click it, then go to 'Application Support' > 'Sports Interactive' > 'Football Manager 2021'
Load each individual schedule into Football Manager 2021
Training > Schedules > Select Schedules Dropdown > Custom Schedules > Import Schedule > Find schedules folder & load one by one > Once Opened Click Save – This needs repeating for every schedule
Pull each appropriate FM22 training schedule into your calender
Training > Calendar > Drop downs per each week (Use the guide above for which schedules to use when)
---
Every year we test countless tactics and review the very best. For FM22 these systems will be ranked and listed within our tactics index linked below.

---
That concludes our guide to training in Football Manager 2022, if there are any questions jump in the comments below but please make sure you have followed the instructions carefully before typing.
For more insight into training on FM 2022, check out RDF Tactics, Bust the Net and Fox in the Box's videos.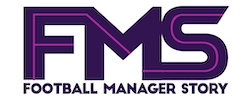 Subscribe to our Newsletter