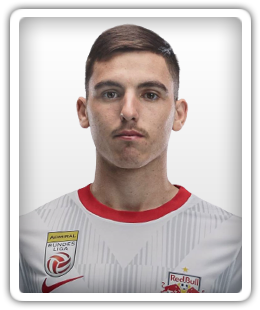 Oscar Gloukh FM23 Wonderkid
Age: 18
Position: midfielder (left, right, center), attacking midfielder (left, right, center), striker

Roles: Advanced playmaker, attacking midfielder, shadow striker, enganche, trequartista

Club: RB Salzburg
Nationality: Israel
Value: €9.6-29M
Hidden Potential: 126 / -9 (150-180)
Oscar Gloukh is an exceptional footballer who has consistently showcased his remarkable skills on the field. Gloukh's journey began in his early years, where he honed his skills in Maccabi Tel Aviv youth teams. His dedication to the sport quickly became evident as he progressed through the ranks. Known for his versatility, Gloukh has proven himself in various positions, from midfield to forward, making him an invaluable asset for any team.
Oscar Gloukh FM23 Wonderkid profile in 2022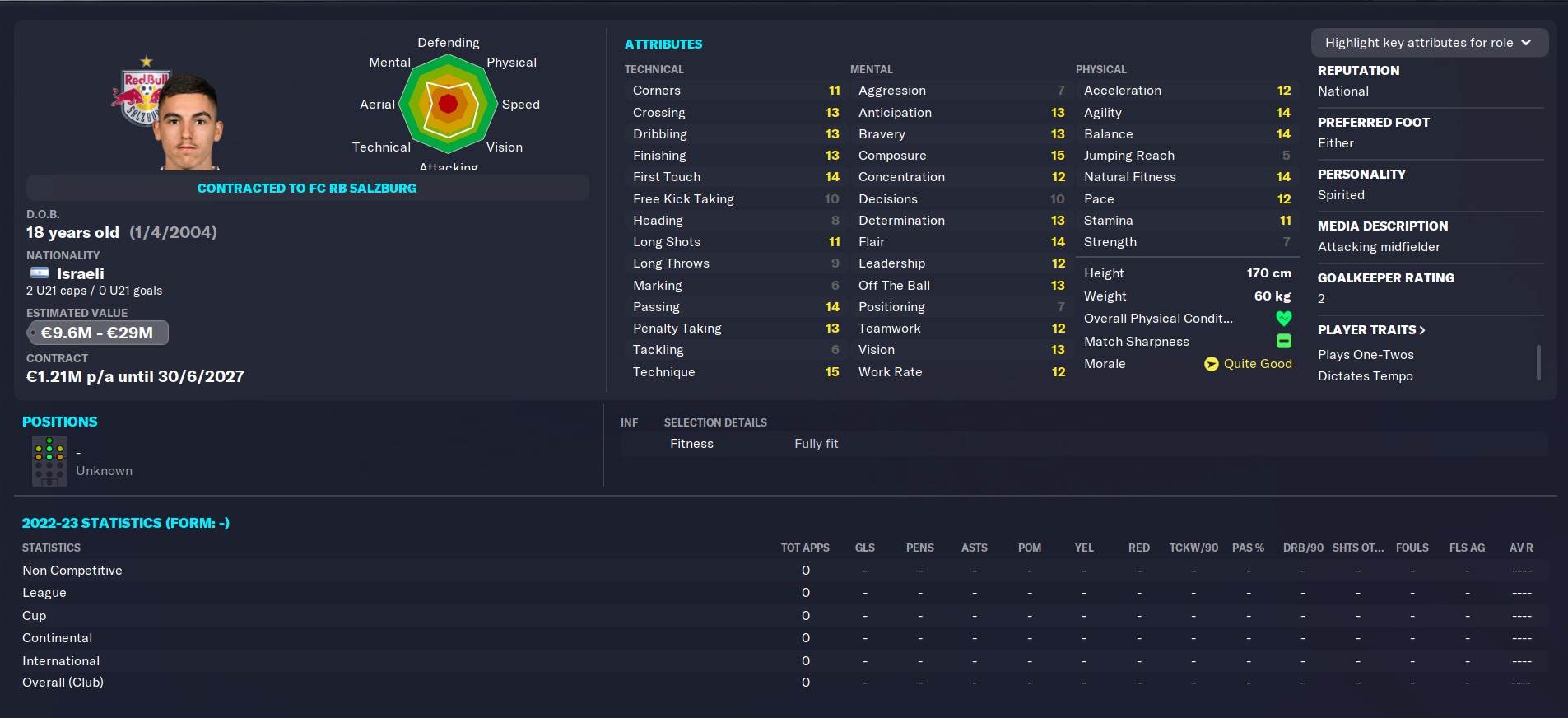 Oscar is well-balanced and the researchers make a good work on his endgame profile. In all three categories of attributes he has 10+. But defending skills are quite low and he has some lack of decision making.
One of Gloukh's standout qualities is his exceptional ball control and dribbling skills. His ability to maneuver through tight spaces while maintaining possession has often left defenders in his wake. Additionally, his vision on the field and precise passing make him a natural playmaker, setting up scoring opportunities for his teammates.
Oscar Gloukh FM23 Wonderkid coach report in 2022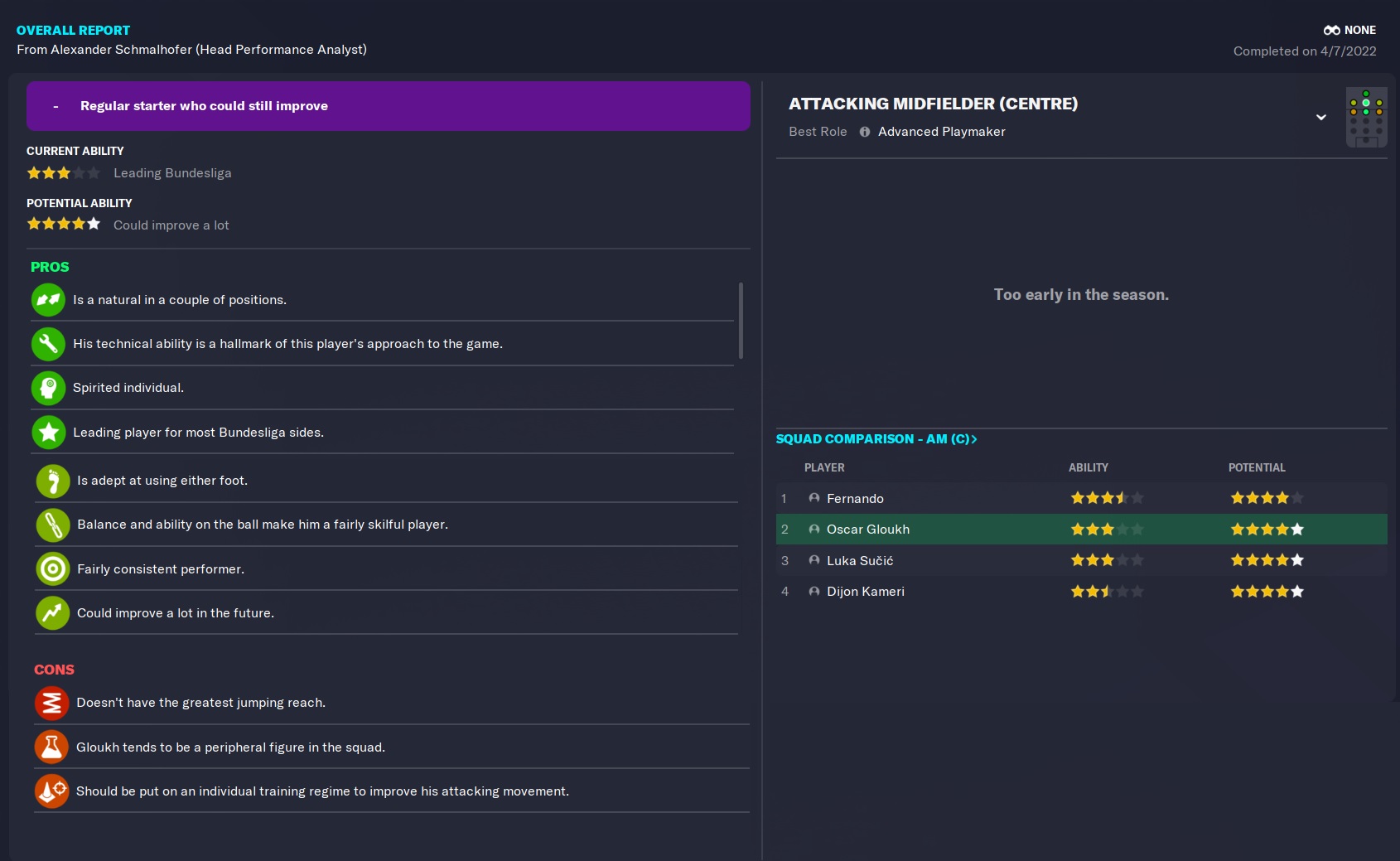 Despite young age, Gloukh is already one of the strongest players in the Austrian top-team with the top squad in the league. He has a good personality and decent consistency. Schmalhofer also added to his pros either feet, great technique and agility. As for weakness, Oscar is not that guy, who will be the soul of the company and he definitely can't play in the air. 
Oscar Gloukh FM 23 Wonderkid PSG scout report in 2022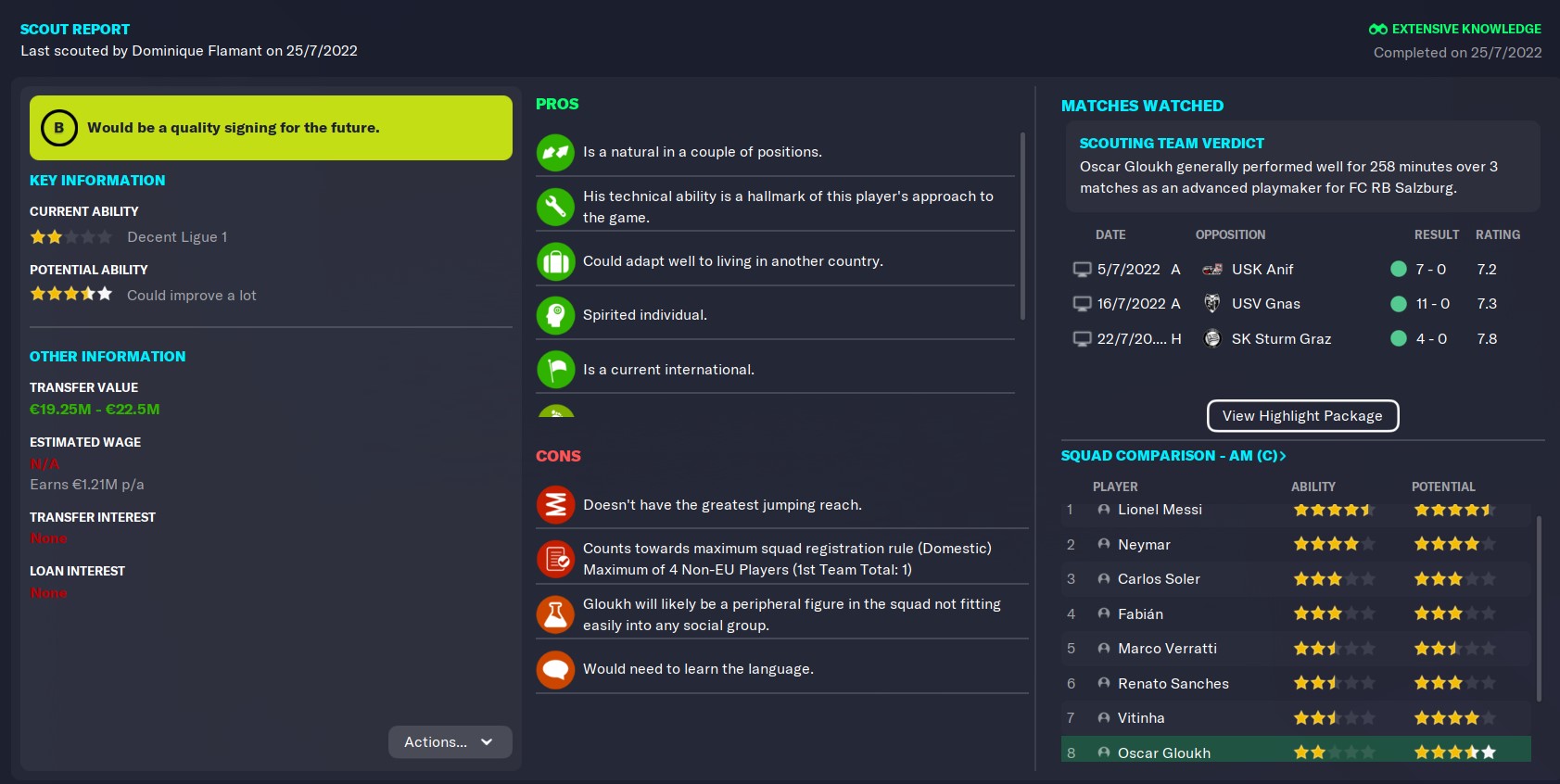 PSG scout thinks that Israeli talent will be a good purchase in the future and with time can replace Messi or Neymar. Sounds crazy, but remember about his high PA, if he takes max points then he definitely can be closer to these two great players. Flamant highlights a major pros for Gloukh – his adaptability. As for his hidden skills, the major strong side here is important matches, Oscar feels very comfortable in them and has a good number in that attribute. Also, he has no troubles with injuries at all, but sometimes football is football. 
Oscar Gloukh Agent Demand to PSG at the Save Start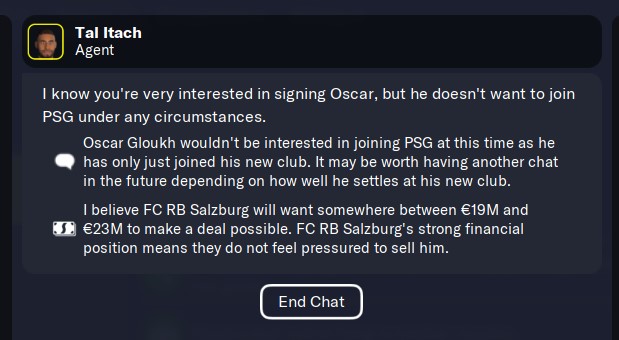 Often story here, but Gloukh didn't want to come to PSG because he signed a new contract not so long ago. But you can try to buy him for €19-23M at the end of summer or in autumn. 
Wonderkid Oscar Gloukh FM 2023 profile aged 23 in the year 2027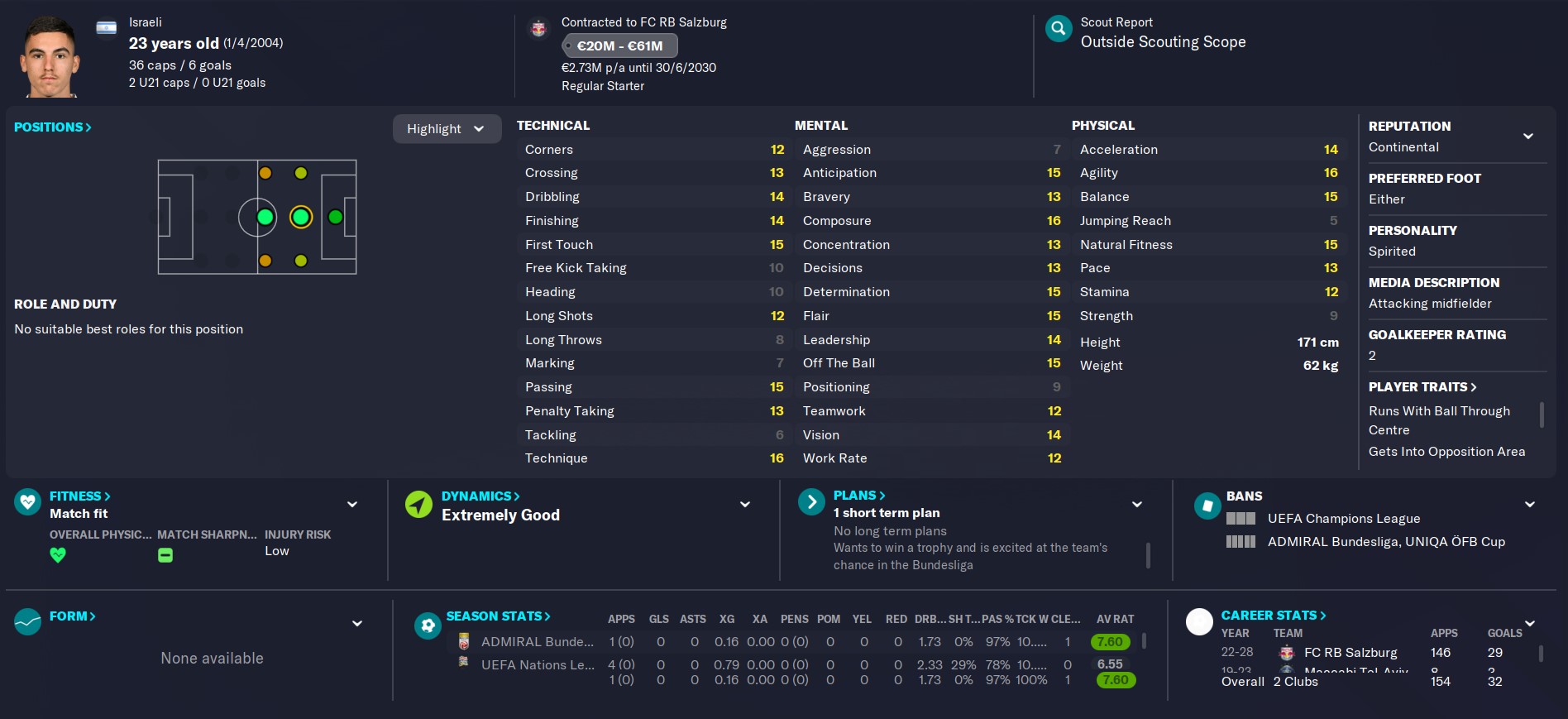 Gloukh boosts his skills for the past five years, but he is not going anywhere for RB and I think he is not doing his best for proper growth. 
Oscar Gloukh FM 2023 Wonderkid career history until 2027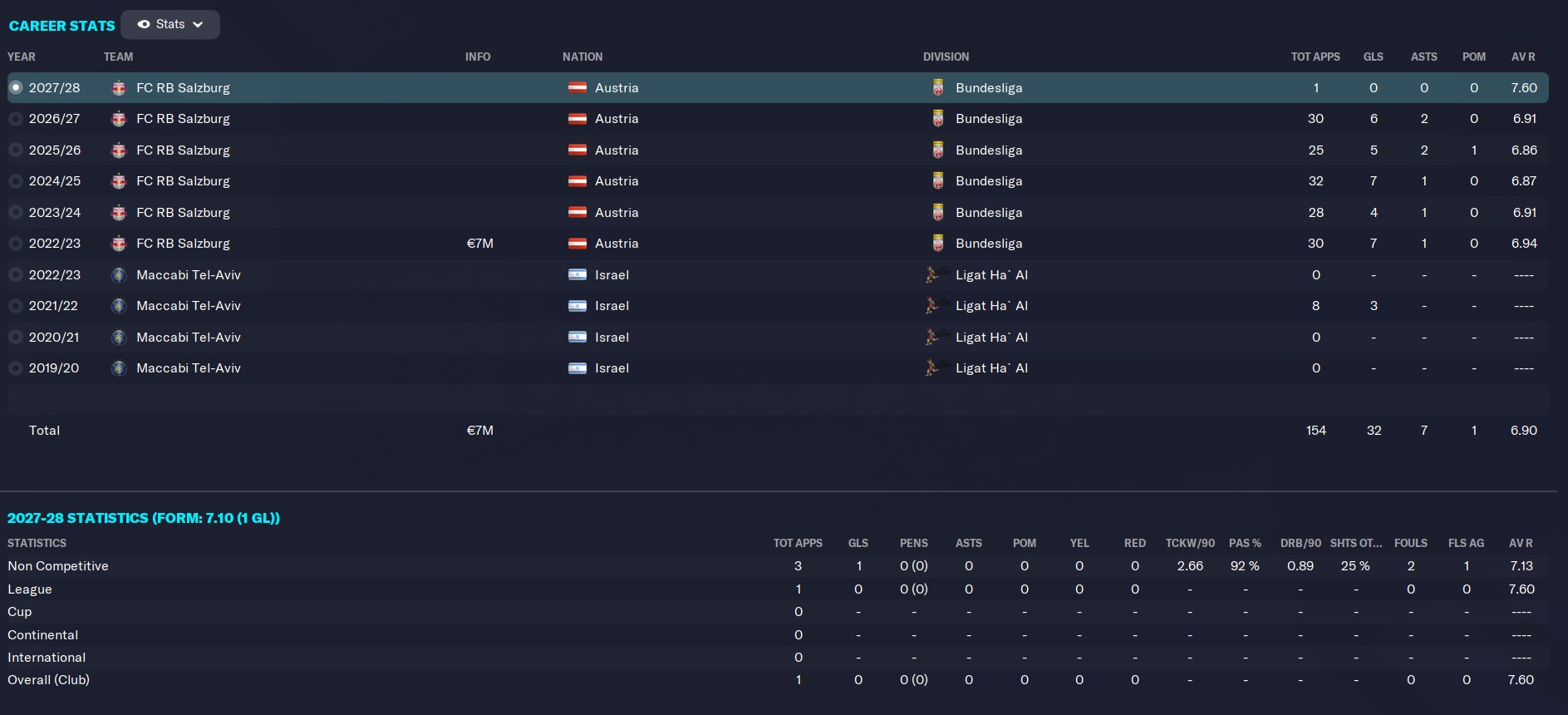 In this save Oscar is still in RB, but i see him in Arsenal and there he shows good play and results. 
Oscar Gloukh Football Manager 2023 Wonderkid FMS Summary
Pros:
Spirited personality

Good important matches & consistency

Great technique

Can play on a lot of positions
Cons:
Jumping

Cohesion with team
Conclusion
Oscar Gloukh is one of the most promising players of Israel in recent years. His career began to boost with transfer to RB Salzburg. But the asking price is growing too and now you can't buy him for a cheap price. As for me, this is a major problem now. In summary, this is a great young talent for your attack and midfield. He is a creative, agile and smart player that is definitely worth giving a shot.
For all the best Football Manager 2023 wonderkids click here, from cheap bargains to worldclass prospects.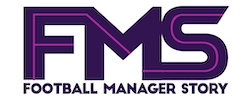 Subscribe to our Newsletter