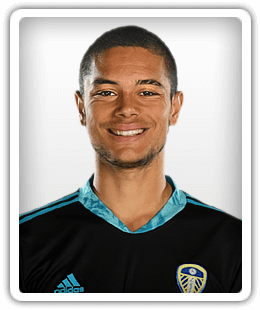 Elia Caprile FM23 Wonderkid
Age: 20
Position: GK

Roles: Sweeper keeper, goalkeeper

Club: Bari 
Nationality: Italia
Value: €1.1 – 3.4M
Hidden Potential: 129 / 159
Elia Caprile is an Italian goalkeeper who gained attention for his skills and potential. Born on August 25, 2001, in Bari (Italy) Caprile is considered one of the emerging talents in Italian football.
Caprile started his youth career at the Chievo youth academy, where his talent for goalkeeping quickly became apparent. After that, he had a two year trip to England, where Elia played in Leeds youth teams. His dedication, agility, and quick reflexes caught the eye of scouts and coaches, leading to his progression through the ranks of the club's youth teams.
His journey in professional football took a significant step when he started to play in senior football, when was on loan in Italian team Pro Patria. As a young goalkeeper, Caprile has showcased a strong command of his penalty area, excellent shot-stopping abilities, and the composure required to handle high-pressure situations. His performances have often belied his age, earning him praise from fans, coaches, and experts alike.
The trajectory of Caprile's IRL career continued to rise, in July 2023, he joined Napoli. However, he was promptly loaned to Empoli, another top-flight side, for a single season.
Elia Caprile FM23 Wonderkid profile in 2022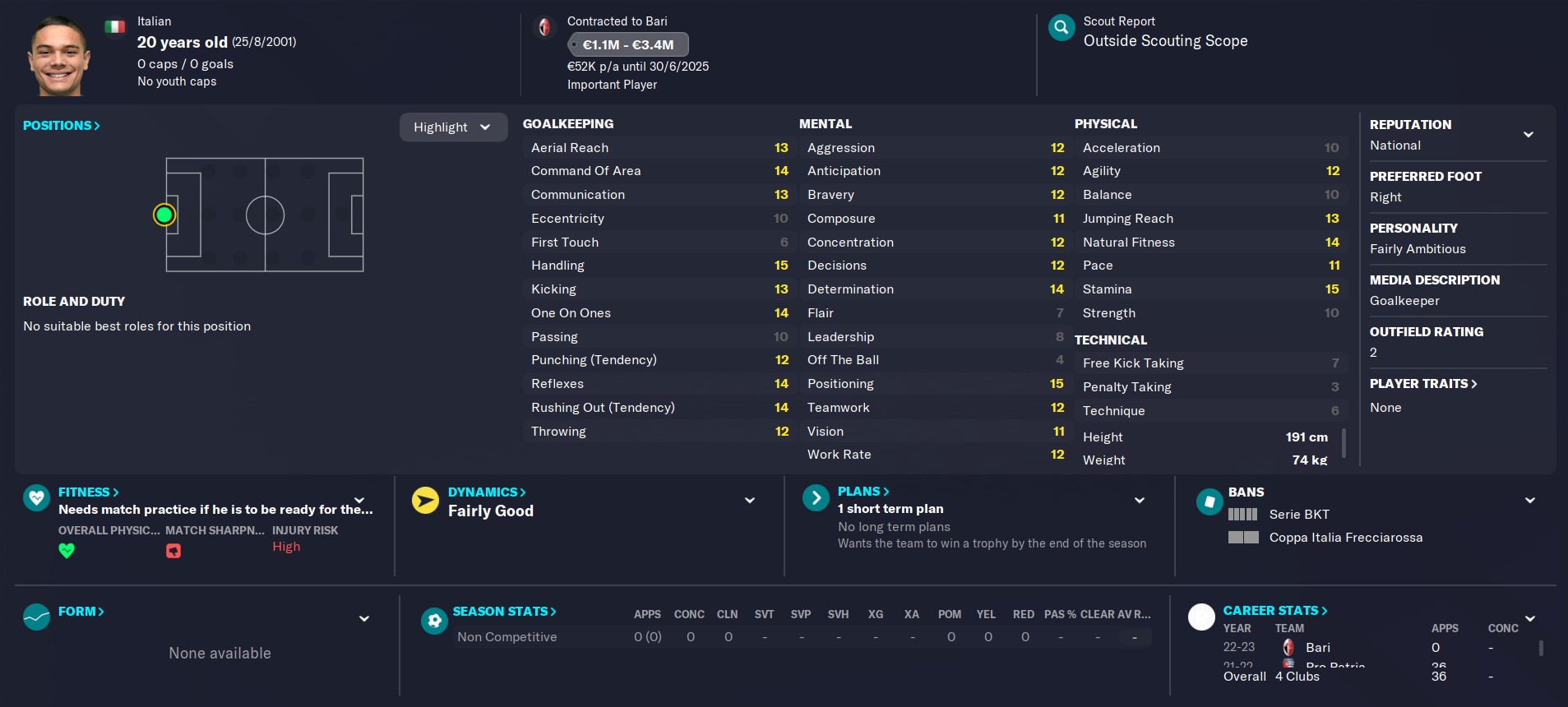 Caprile is a good goalkeeper right now, he has almost 130 CA, that is a decent level for mid-table teams in the top leagues. Let's start from his strong sides: his goalkeeping skills at 12-14 range, Caprile has great positioning. His handling and kicking attributes are noteworthy. This skills is crucial in launching quick counter-attacks or initiating plays from the back. Reflexes on a high starting level too, but there is a little problem with punching the ball and rushing out. Sometimes Elia can do strange things, when he comes out of the penalty area. 
As for his mental traits, they need to grow with time. Caprile is a very young goalkeeper with an emerging mentality. And the last here is physics. 191 cm tall, with good stamina and natural fitness. Major weakness here is lack of agility and speed. But you can boost them with training, the goalkeeper has a couple dozen of potential points.
Elia Caprile FM23 Wonderkid coach report in 2022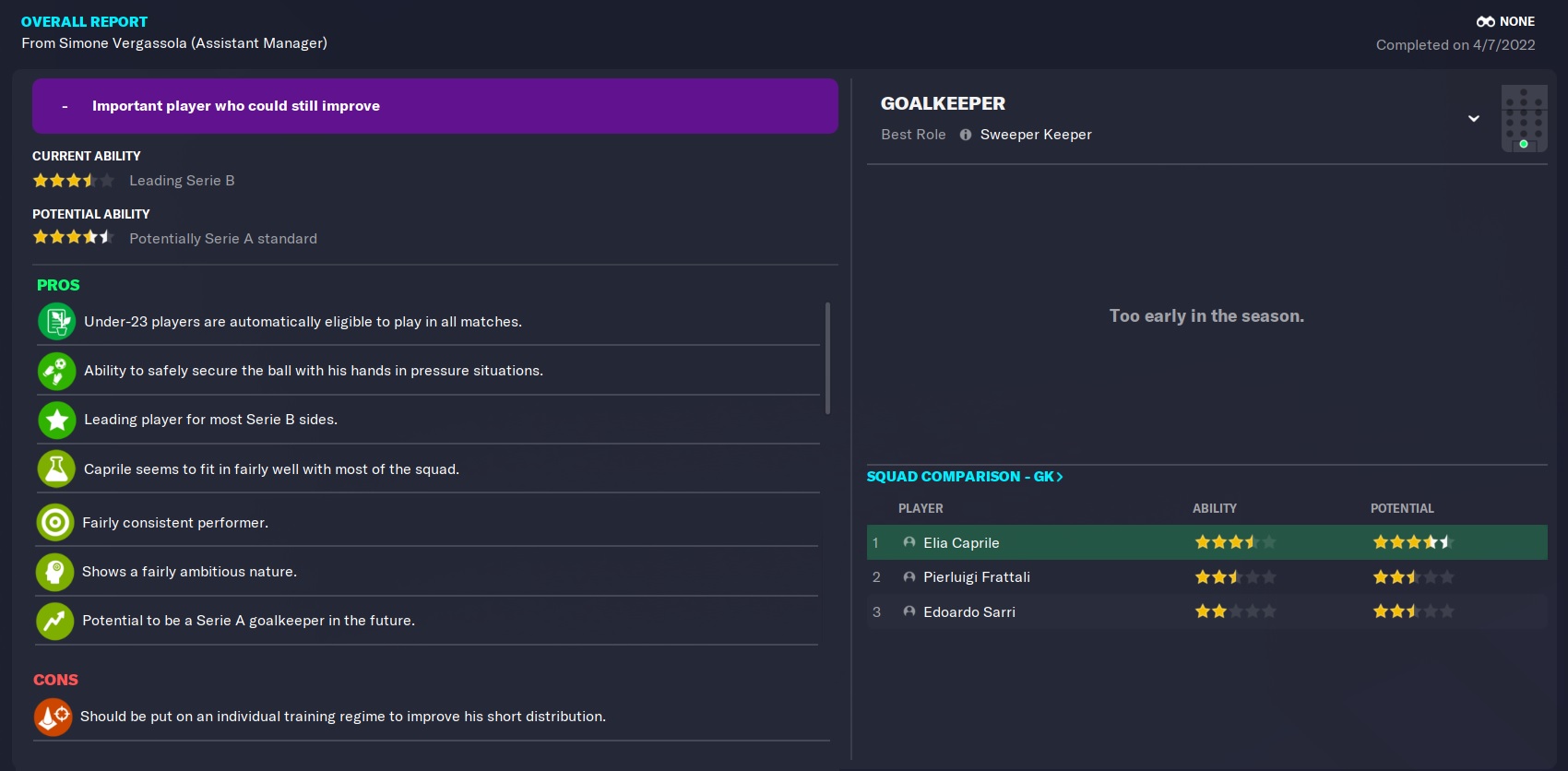 Bari is a humble club and it's obvious that young talent is better than all GK in the squad. Main Caprile pros on assistant manager opinion is consistency and handling. Simone Vergasolla thinks that Elia almost has no cons.
Elia Caprile FM 23 Wonderkid PSG scout report in 2022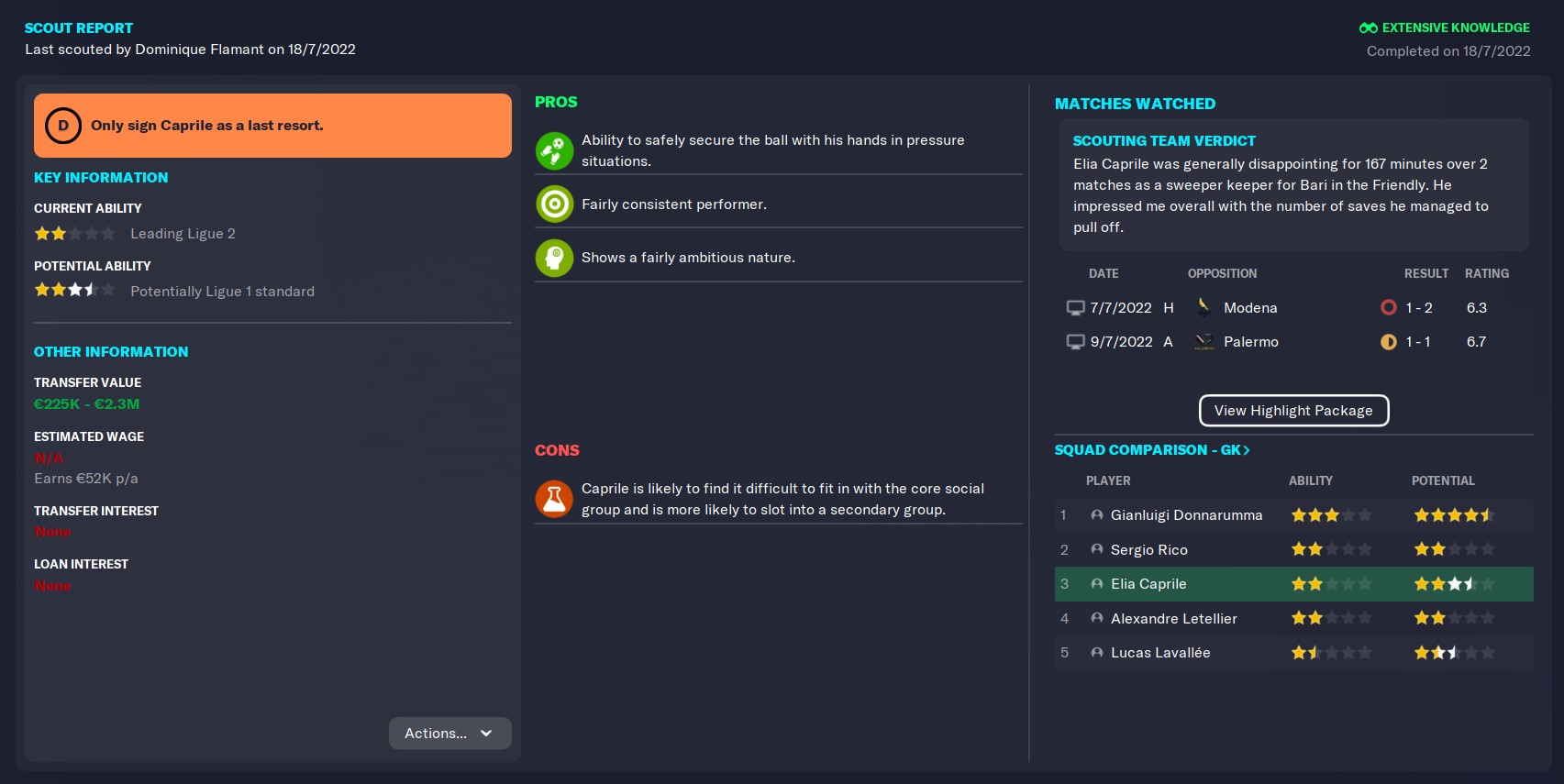 PSG has one of the best in the world GK, and in the club thinks that Elia can't play at that level. But he definitely can be the second best goalkeeper in the squad. I will lift the veil and tell, that Caprile has decent hidden skills, good play in the important matches and low injury proneness. 
Elia Caprile Agent Demand to PSG at the Save Start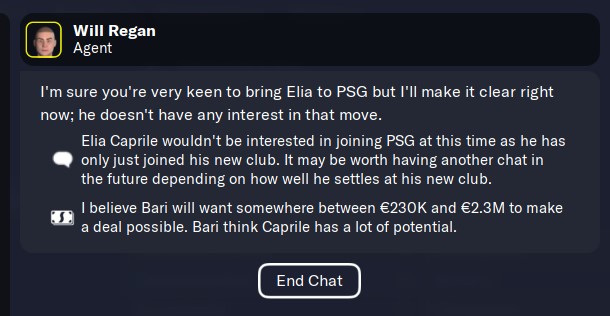 Standard situation here. The player just signed a new contract with Bari and doesn't want to go. But you may try to convince him even at the end of the summer transfer window. If you can't, try it in fall or during the winter transfer window. In the worst case, Elia will cost you €5M or something. For a decent young goalkeeper it's nothing.
Wonderkid Elia Caprile FM 2023 profile aged 25 in the year 2027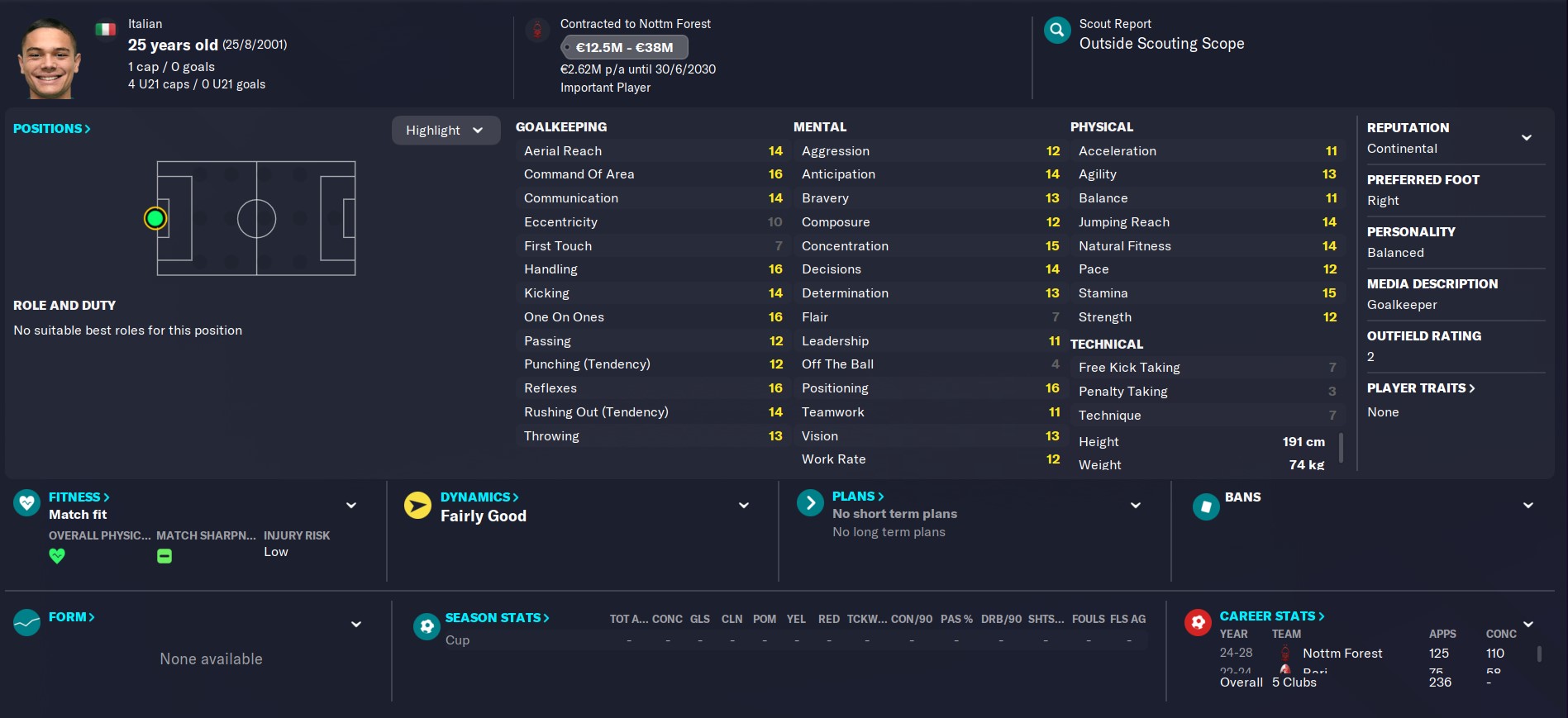 For five years in the game Caprile changed his personality from fairly ambitious to balanced. Of course, his attributes grow a little and you can see his true level of skills now. 
Elia Caprile FM 2023 Wonderkid career history until 2027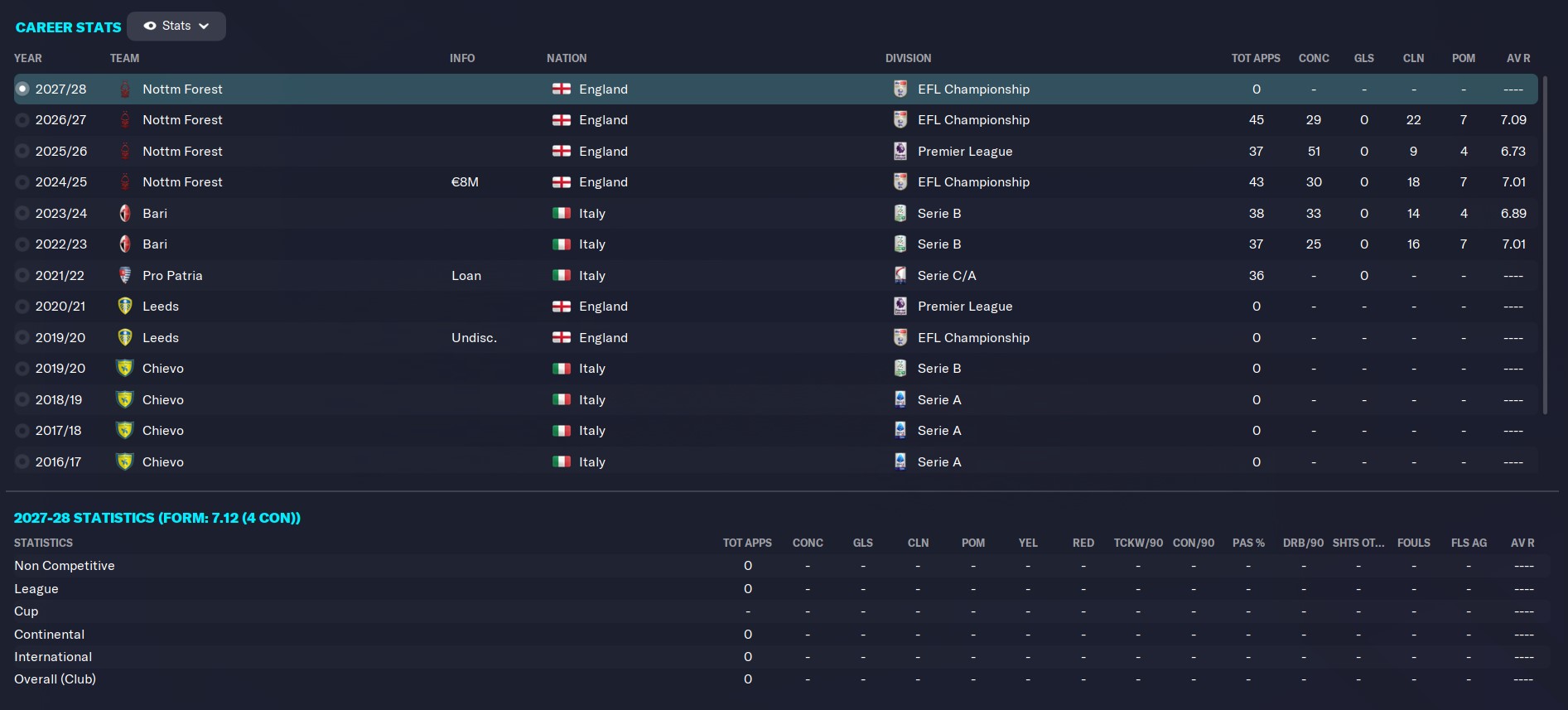 Elia Caprile Football Manager 2023 Wonderkid FMS Summary
PROS
Low price

Great GK skills

Good play in important matches

Good consistency skill

Low injury proneness
CONS
His PA maybe not so high for his age
Conclusion
Elia Caprile will be a great choice for the first goalkeeper for top five league teams. Even if you will play for PSG or Manchester City, he can be an impact sub or cup goalkeeper. Elia has a lot of strong sides and Bari can sell him for a cheap price. Believe, this will be a good deal in your transfer history.
For all the best Football Manager 2023 wonderkids click here, from cheap bargains to worldclass prospects.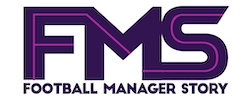 Subscribe to our Newsletter