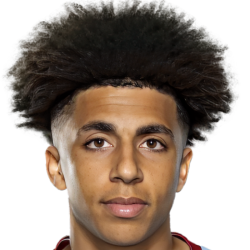 Rico Lewis FM23 Wonderkid
Age: 17
Position: defender (right,left), wing-back (right), defensive midfielder, midfielder (center)

Roles: wing-back, full-back, complete wing-back, inverted wing-back

Club: Manchester City
Nationality: England
Value: €19.5 – 25 million
Hidden Potential: 128 / -8 (130-160)
Rico Lewis is a Manchester City homegrown player. The 18-year-old IRL already played 11 matches for the senior team and get call to England national team U21. 
Rico Lewis FM23 Wonderkid profile in 2022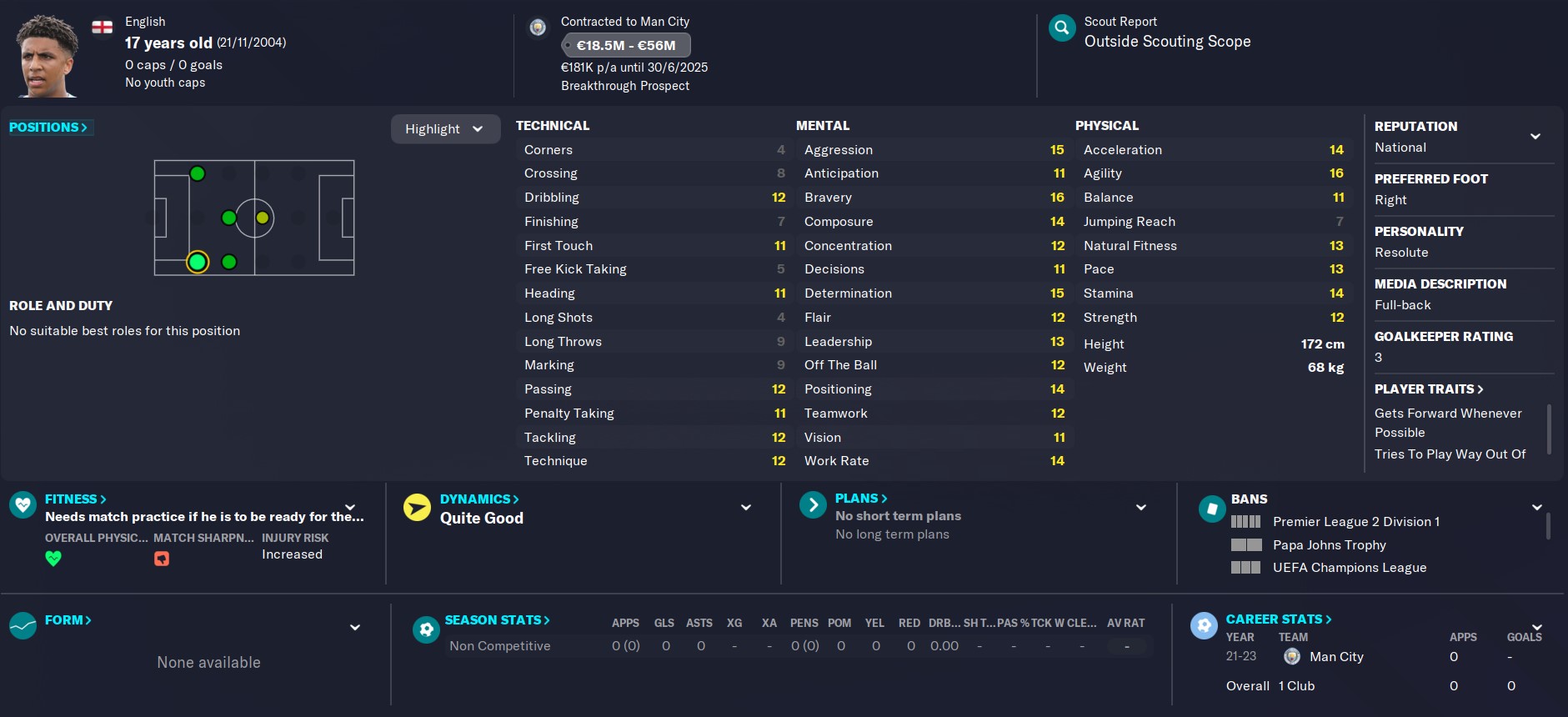 Let's start from the strong sides of this wonderkid. For his age mental skills are great, especially positioning. Also, physical skills are good too, high speed and agility is a deadly weapon for a wing-back. Stamina will make this player good at fighting for balls in defense. But there are questions for skills, like weak crossing, Lewis now more likely is an attack defender, and this attribute is important for him. Also quite low marking, especially for EPL games. A football manager who use Lewis in the first squad, for example you start at Manchester City, is at risk.
But in the future, maybe this player will be useful for the team. Less important, but need to mention, that Lewis is not a player for set pieces. If you don't have another candidate, you can use him only for long throws with his 9 in that attribute. Rico also has a surprise in hidden skills. His consistency, big matches attribute and injury proneness is random and will change with every new save. Send a scout and research him closely. Last thing, that you need to know before buy this player, his potential ability is -8, no the FM language. Lewis has a range of points that he can get. It may be a 30, or 5, 10. It depends from his mentality and progress. 
Rico Lewis FM23 Wonderkid coach report in 2022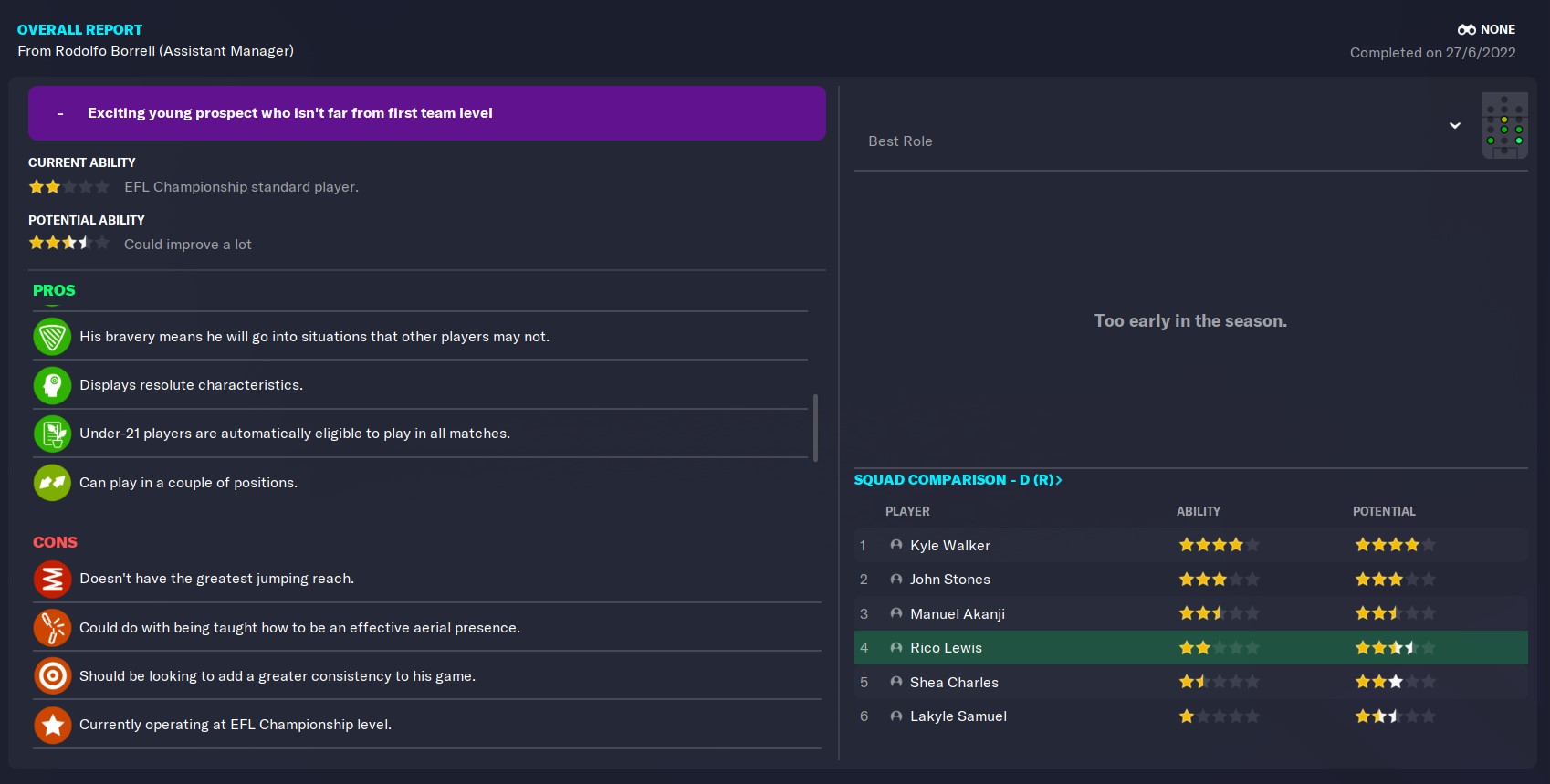 As I mentioned before, in this save Lewis received a weak consistency. But the coach's opinion of Rico is decent at all. He admits powerful personality, and it's really great at all, mental traits like bravery. Obviously, with his height jumping reach will be poor.
Rico Lewis FM 23 Wonderkid Liverpool scout report in 2022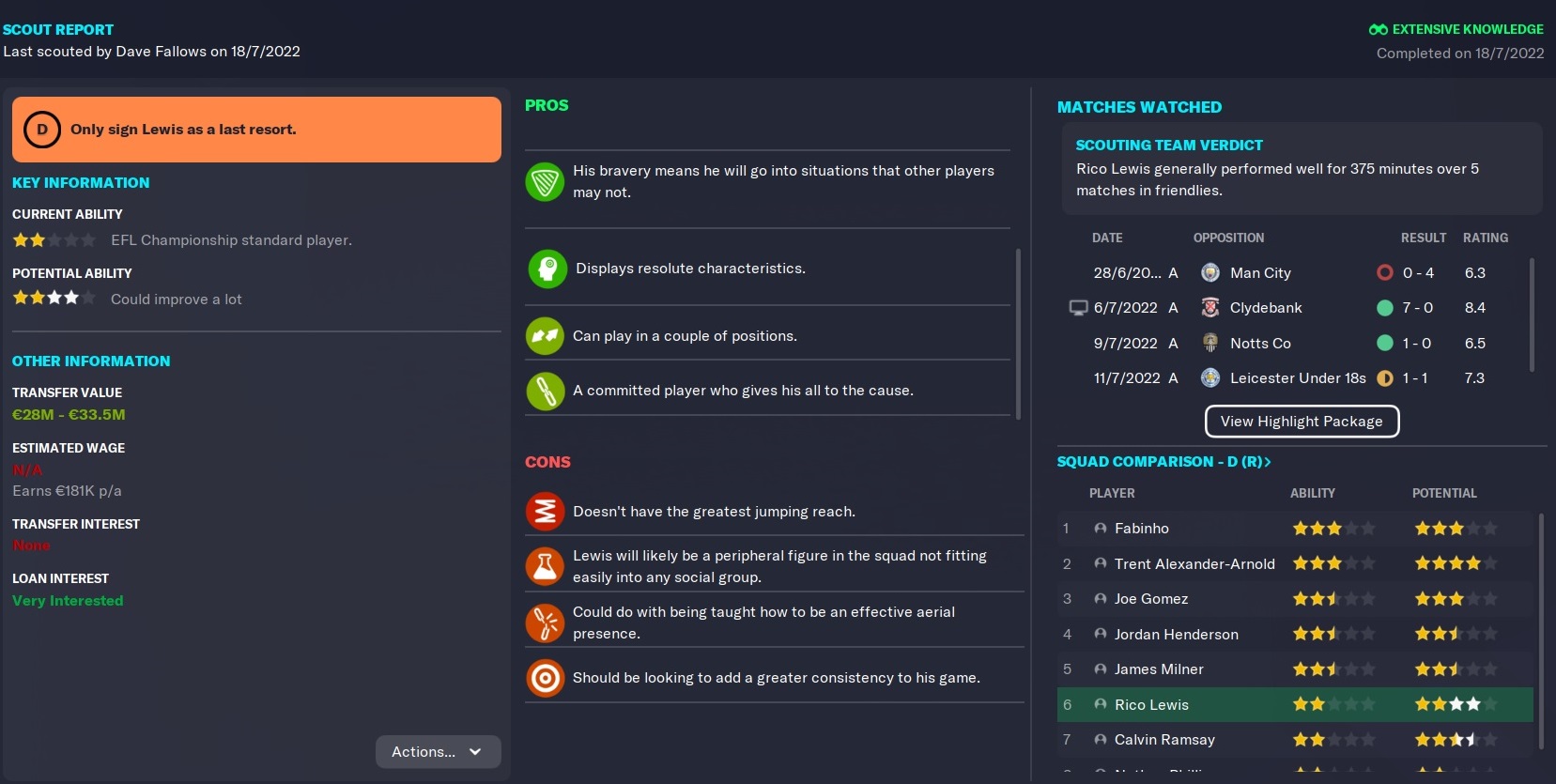 Scout from Liverpool think that Lewis is a bad player right now. His report is quite similar to the coach from MC, but also Fallow admit, that Rico is ready to give all he got to the cause.
Rico Lewis Agent Demand to Liverpool at the Save Start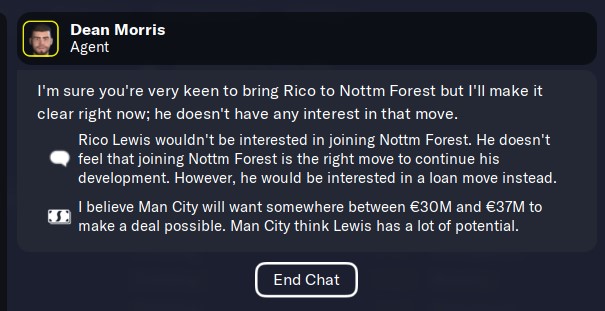 Man City wants €30-37M for player and Rico doesn't want to go at the moment. But if you make a bid for a top club, price may be higher. Especially, if your club will be a rival to Manchester City. Then they will ask for a €100+ million.
Wonderkid Rico Lewis FM 2023 profile aged 22 in the year 2027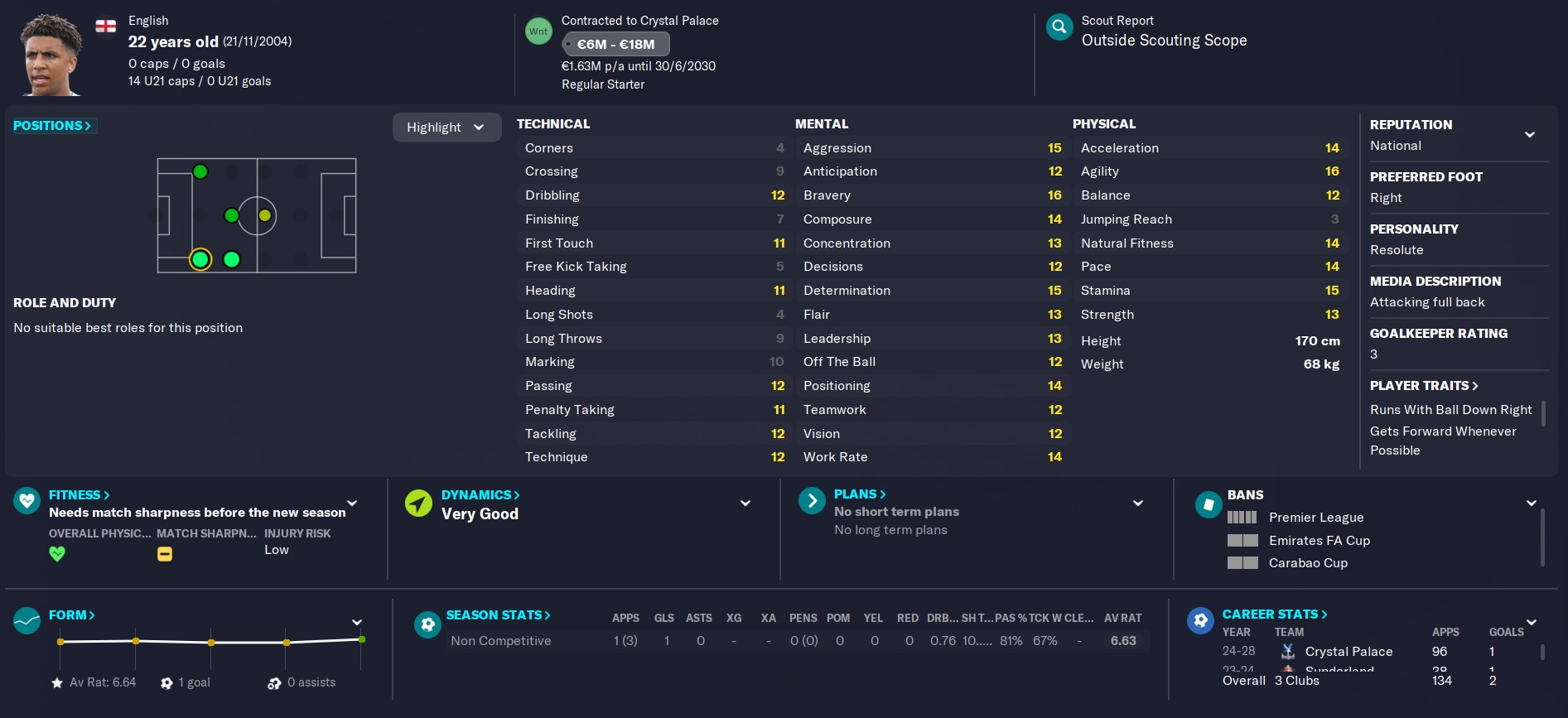 In this case Rico just has bad luck. His skills for five years grow a little. Lewis at save start has a great current ability and his progression may cause troubles like this. Maybe, in other save him grow better, who knows.
Rico Lewis FM 2023 Wonderkid career history until 2027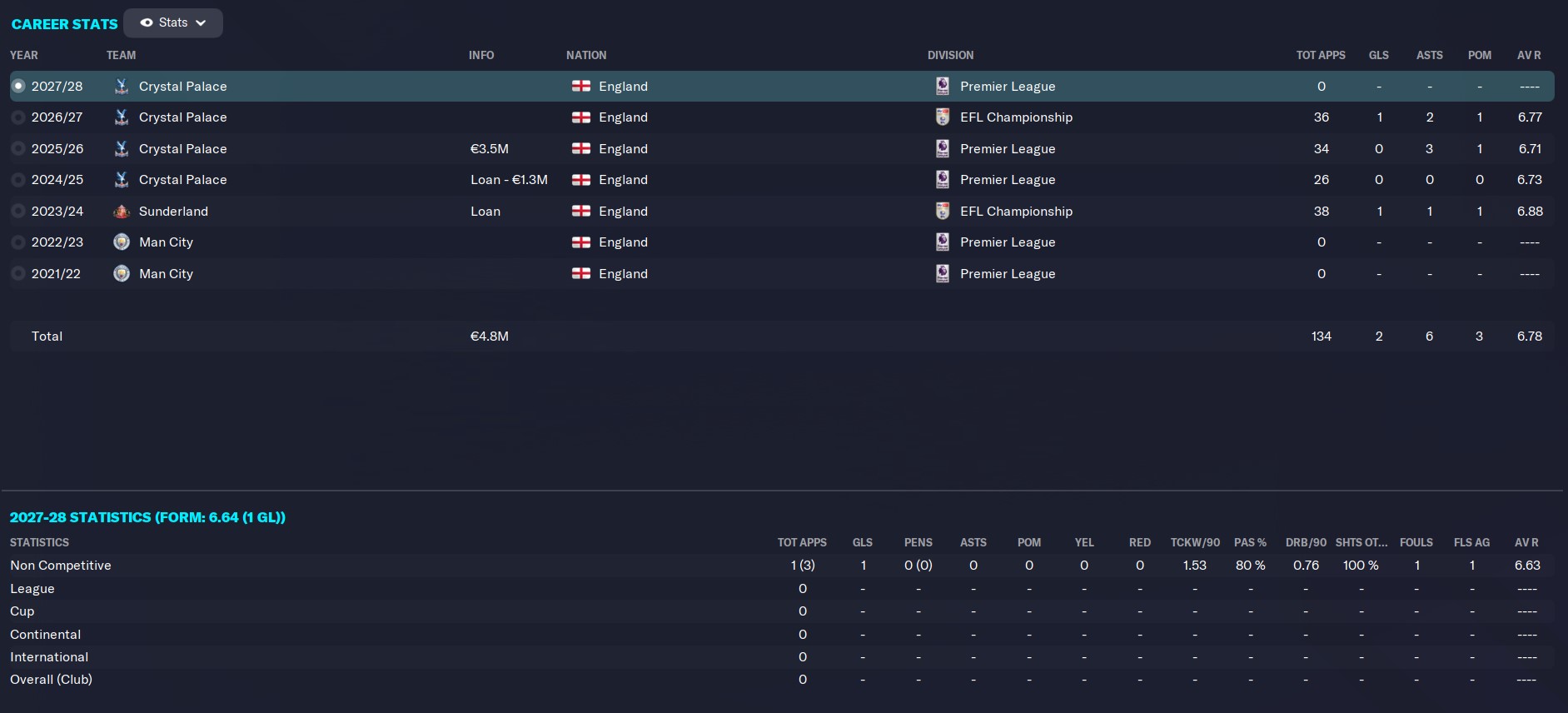 Rico Lewis Football Manager 2023 Wonderkid FMS Summary
PROS
Resolute personality

Mental skills

High current ability
CONS
Non fixed potential ability, that is not so high if compare it with current ability

Random hidden skills, that is important for player (consistency, big matches, injury proneness) 

High price

Low crossing and marking at the begging
Conclusion
I wouldn't recommend Lewis if you manage a top-team. Maybe, for teams like Crystal Palace it will be a decent first squad member, but not for Manchester City. But, if you can raise him properly, maybe you will get a better result, than AI. Scout him first, if the report is good, buy and send to loan for a couple years, then use him as a sub and watch how he play. In any case, you will need a lot of time.
For all the best Football Manager 2023 wonderkids click here, from cheap bargains to worldclass prospects.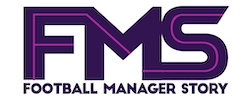 Subscribe to our Newsletter