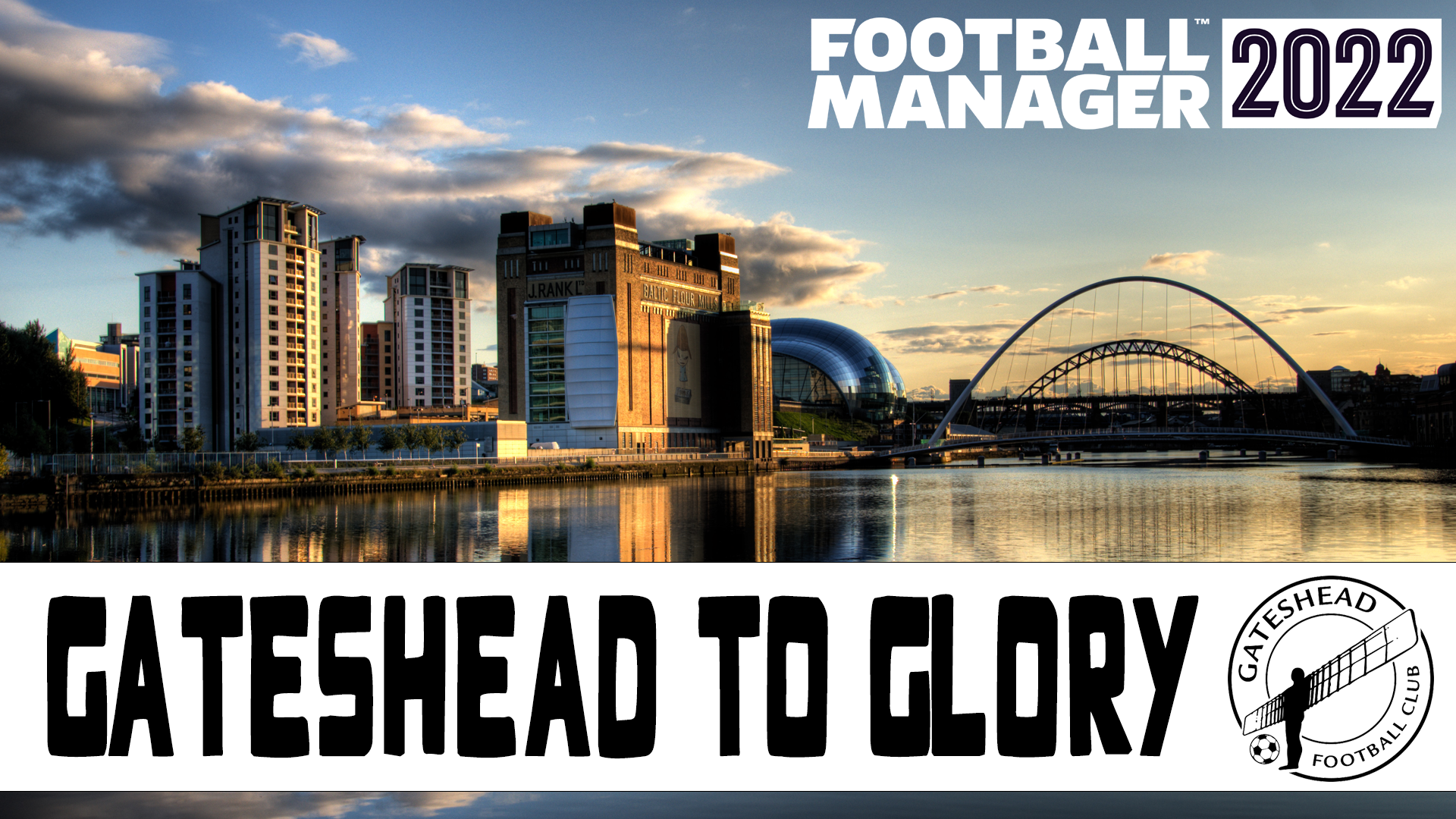 After the great first and second seasons of Gateshead to Glory, in which we won the Vanarama National League North and the Vanarama National League without losing any matches, and winning the FA Trophy Final twice, it's time to face the next step up, the Sky Bet League 2.
If you haven't read the previous posts, here a quick recap.
My presentation as Gateshead's manager.
Won the Vanarama League North without loosing any games, with 112 points in 42 matches.
Won the FA Trophy.
Reached the FA Cup 1st round.
Won the Vanarama National League without loosing any games with 122 points in 46 matches.
Won the FA Trophy
Reached the 2nd round in the FA Cup.
The Club
At the beginning of the season the media predicted that we were going to finished in 14th position.
We got a determined squad, a regional reputation and a professional status.
The stadium has a capacity of 11.800.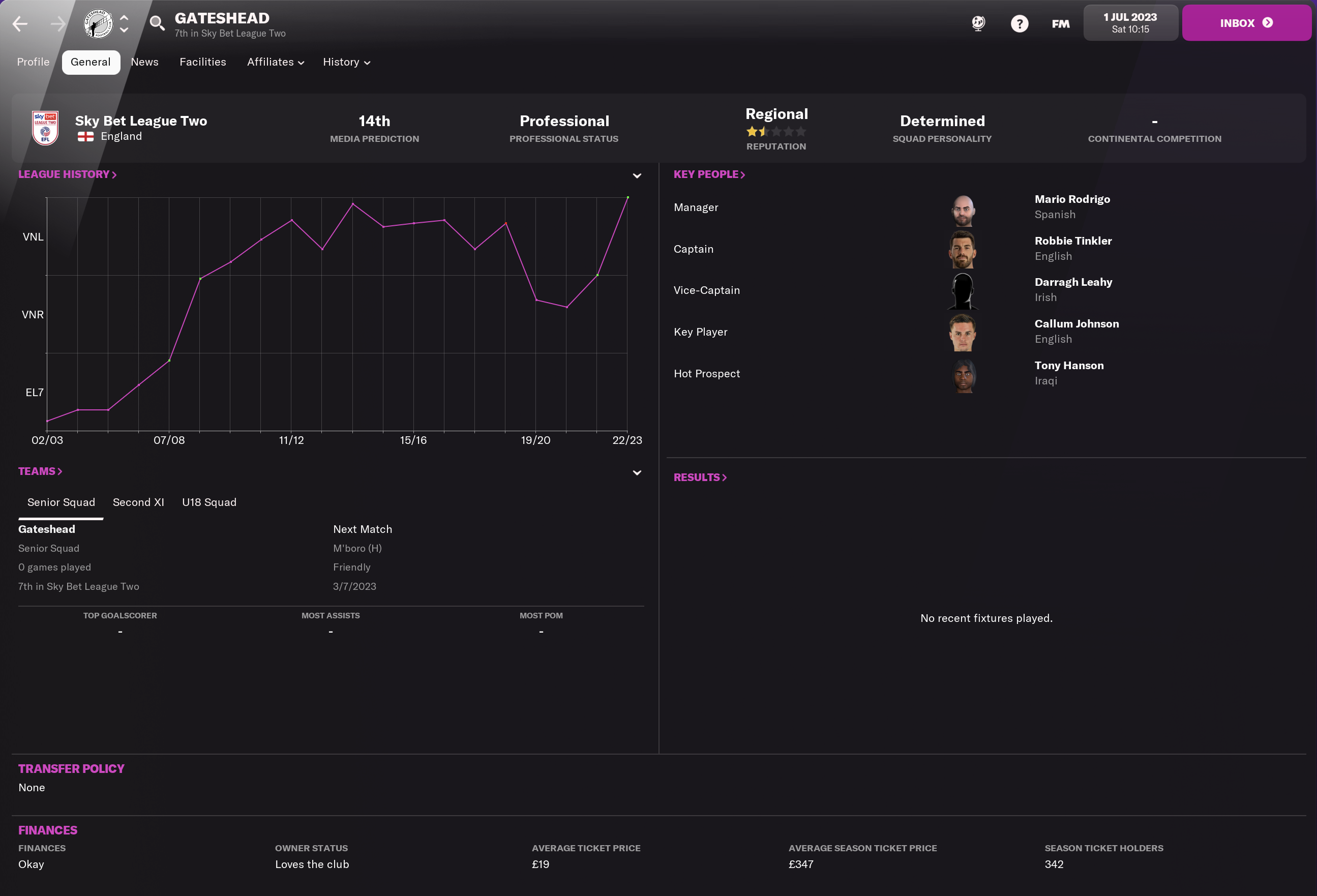 Great news.
After only two seasons managing the Tynesiders I'm already considered a club's favoured personnel.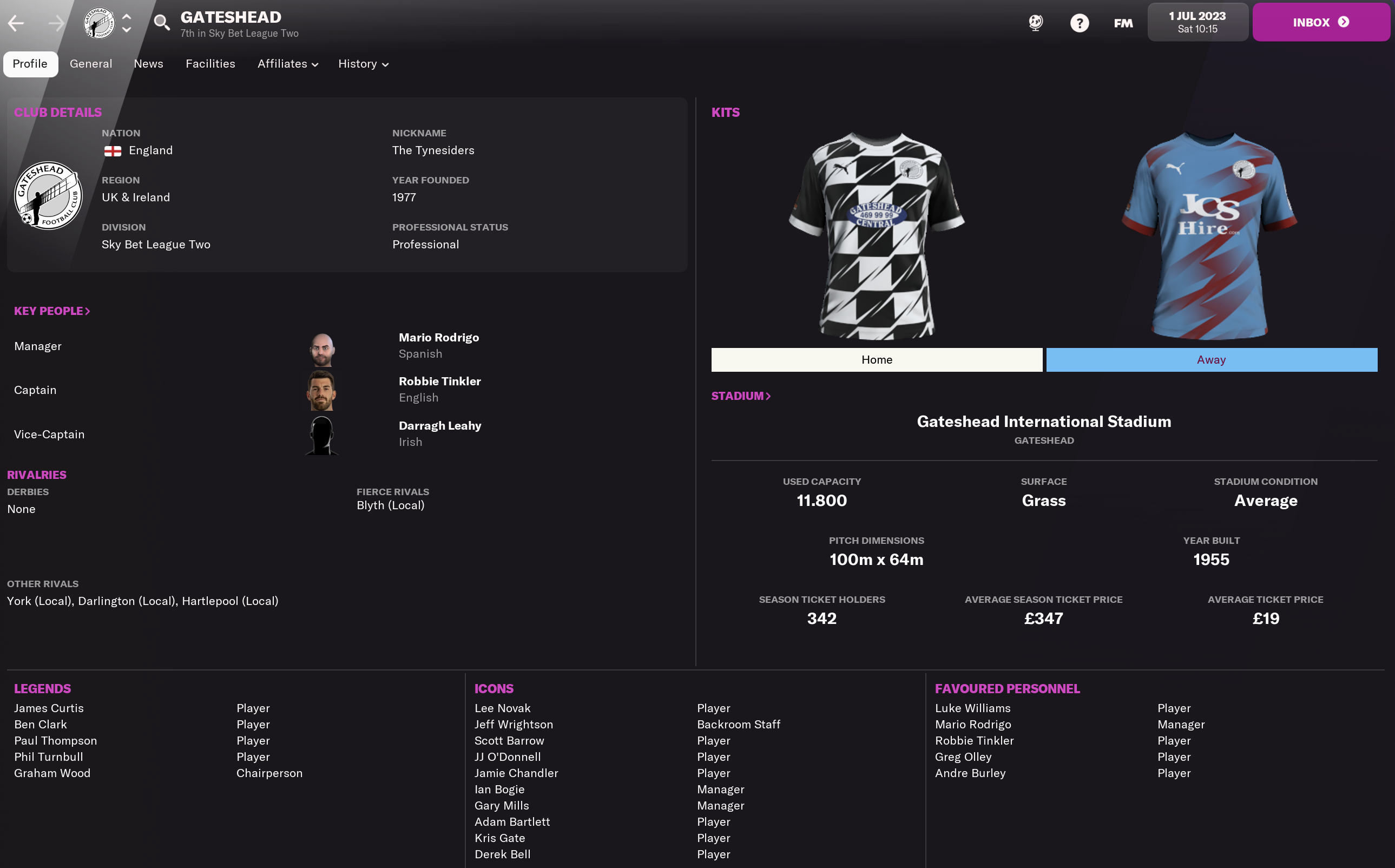 The Facilities
Gateshead has adequate corporate, training and youth facilities.
The academy coaching and youth recruitment are average.
I will be investing in facilities as soon as I start making some serious cash.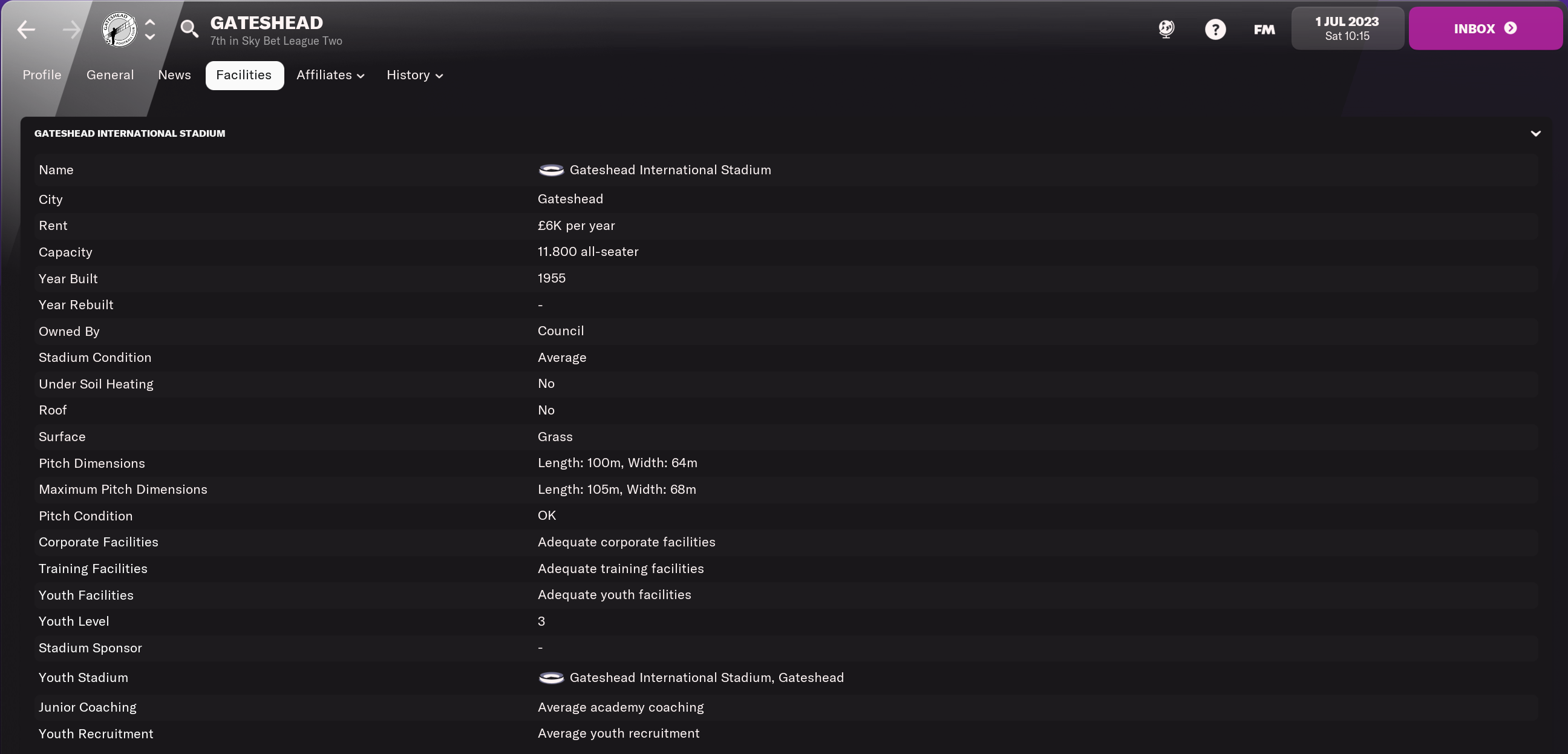 Pre Season Odds
With odds of 11-2,  we are predicted to finish in 4th position, which is quite promising since we are newly promoted.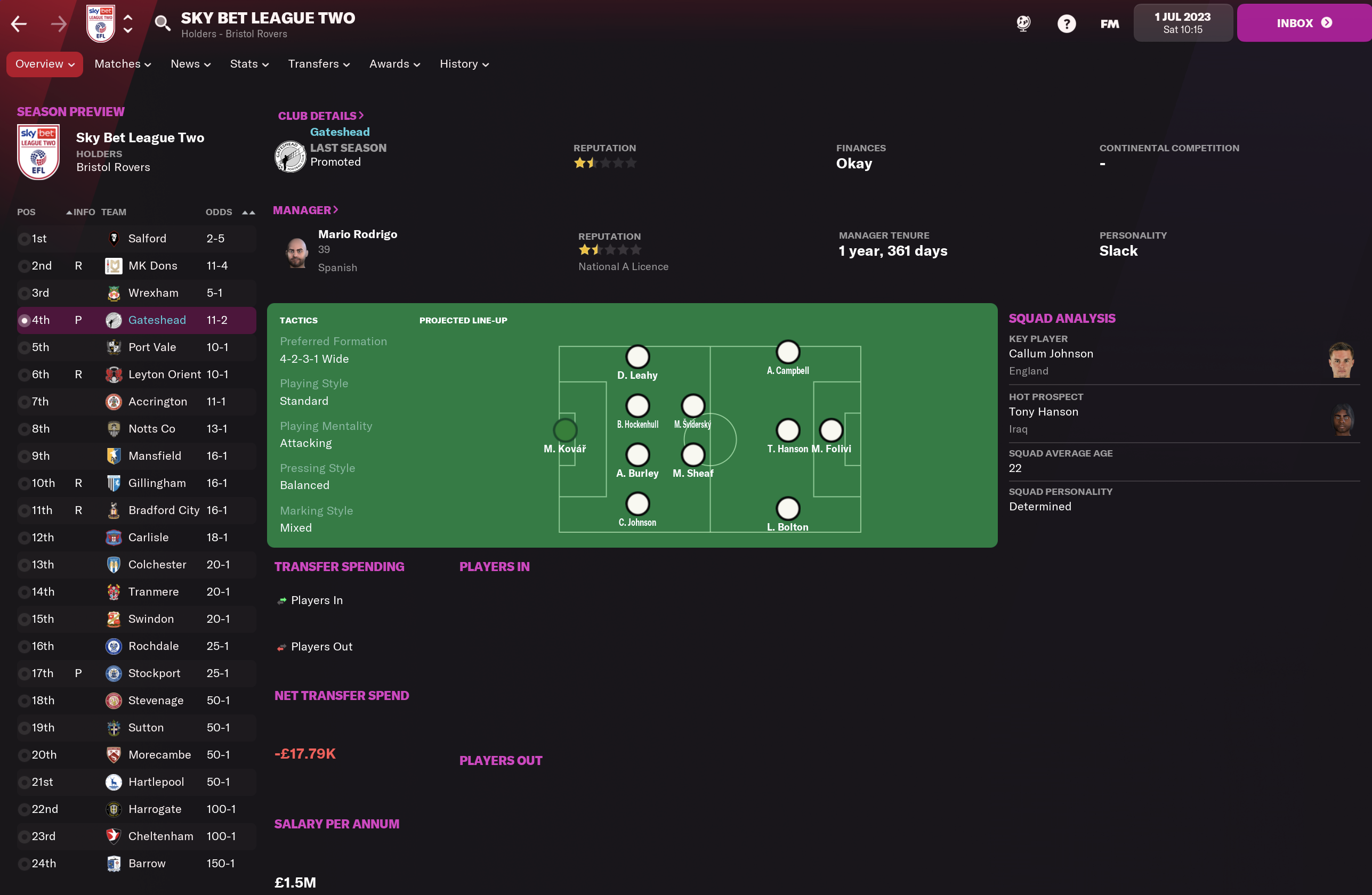 Club Vision and Board Expectations
The board expected us to finish the league in a mid table position, to qualify for the 2nd round of the FA Cup and to display a competitive performance in the Carabao Cup.
The yearly wage budget at the beginning of the season was 1.514.136 GBP.
The transfer budget was 12.000 GBP.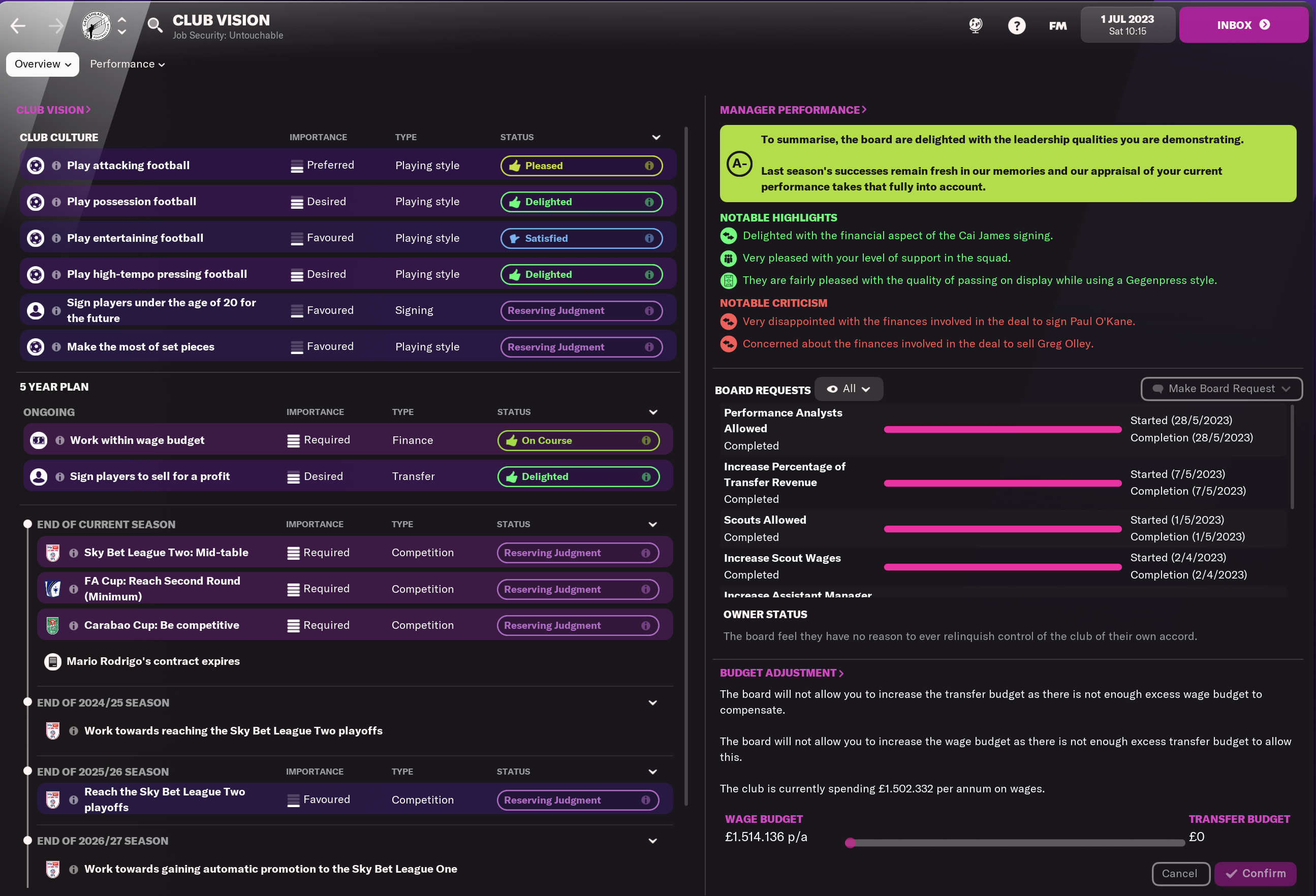 The Staff Room
I managed to bring some new staff, now things are starting to look better with 3.5 stars ⭐️ in most training categories.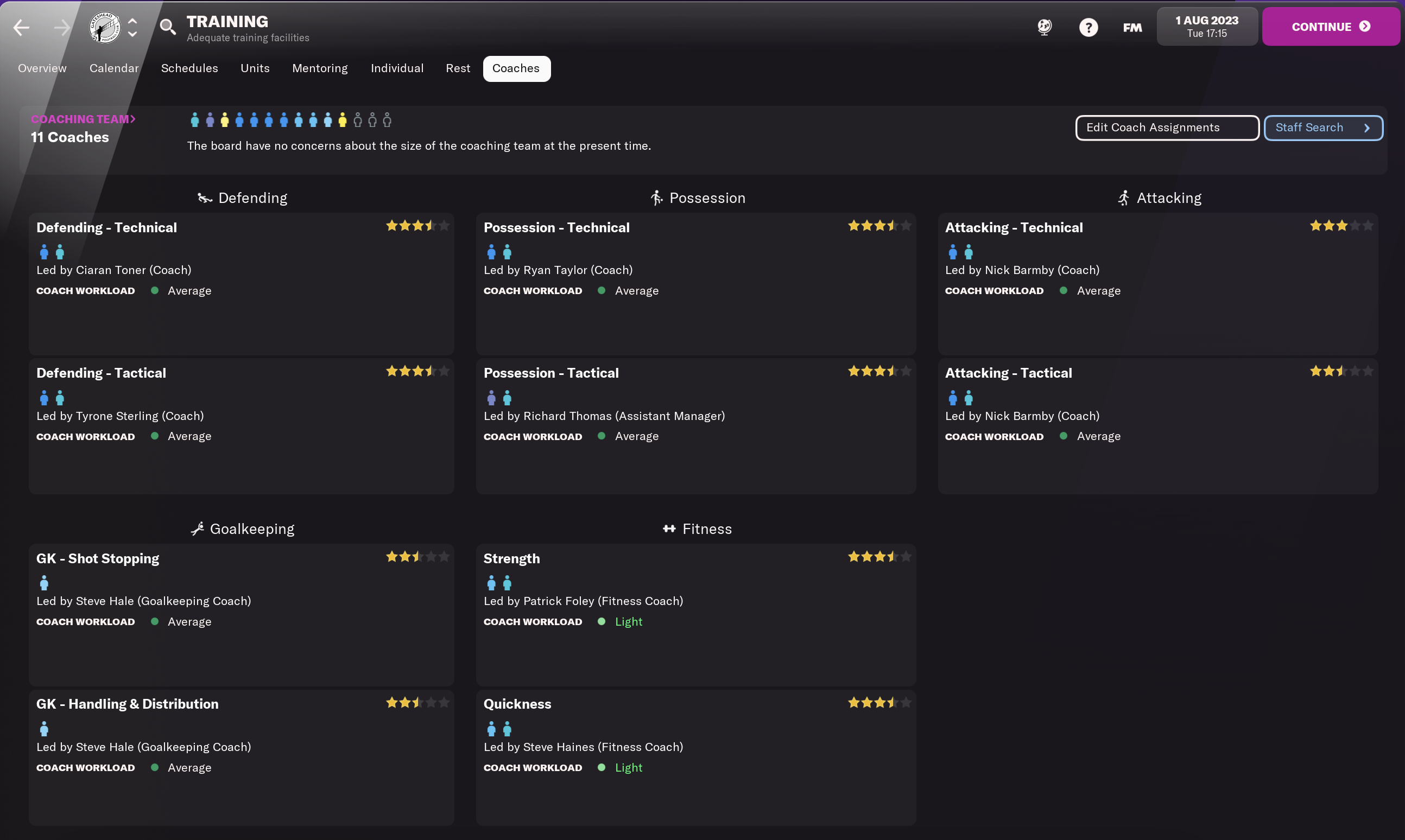 The Squad Dynamics
Again, this is something so important, if you want to have a great season, you got to get all those green lines as high as possible.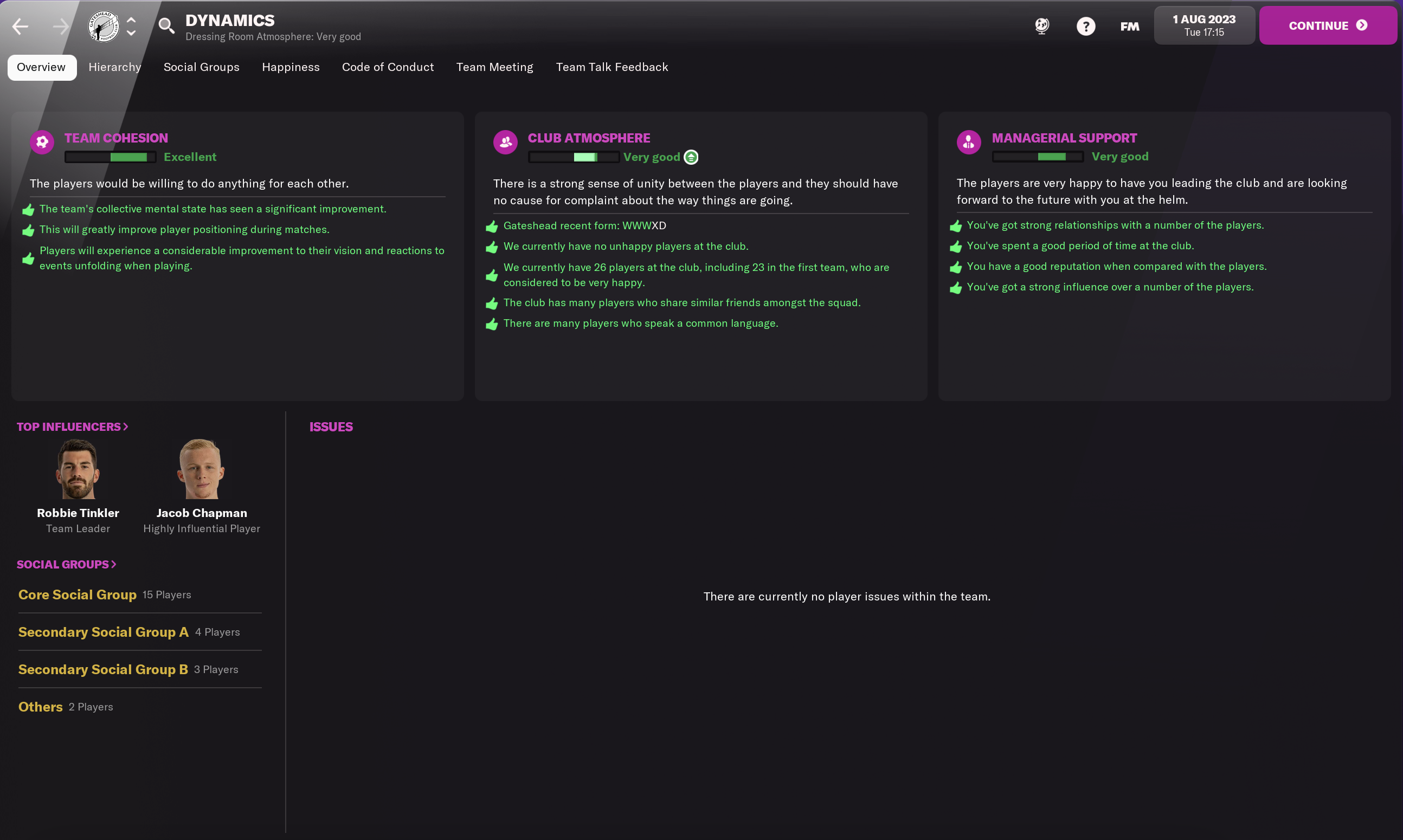 The Tactic
During this season I used my 4-2-3-1 lower league attacking tactic which was successful in the last two seasons.

The Transfers
For this season I signed on loan some very promising youngsters from Man City, Bayern Leverkusen, SEP(Palmeiras) and Borussia M'gladbach. They will make an impact in the first team straight away, unfortunately, I doubt I will be able to buy them, though they have optional fees agreed.
As I usually do, I also signed more very young(U 18) players from all around UK.

Building for the Future
Now let's have a look at the young players with high potential in the squad.
My gola is for Gateshead to become a rich status club 🤑  by selling some of them as I did with other promising youngsters in all my previous FM editions saves.
My main strategy to grow a club and make lots of profits in the lower leagues, is to buy under 18 players from the UK and Ireland for around under 250K(in 3 year instalments) and later on sell them for around 10 million GBP up front, plus a 50% of a future sell after having them for a couple of seasons in the club's main squad or out on loan.
I will create a guide on this strategy in the near future.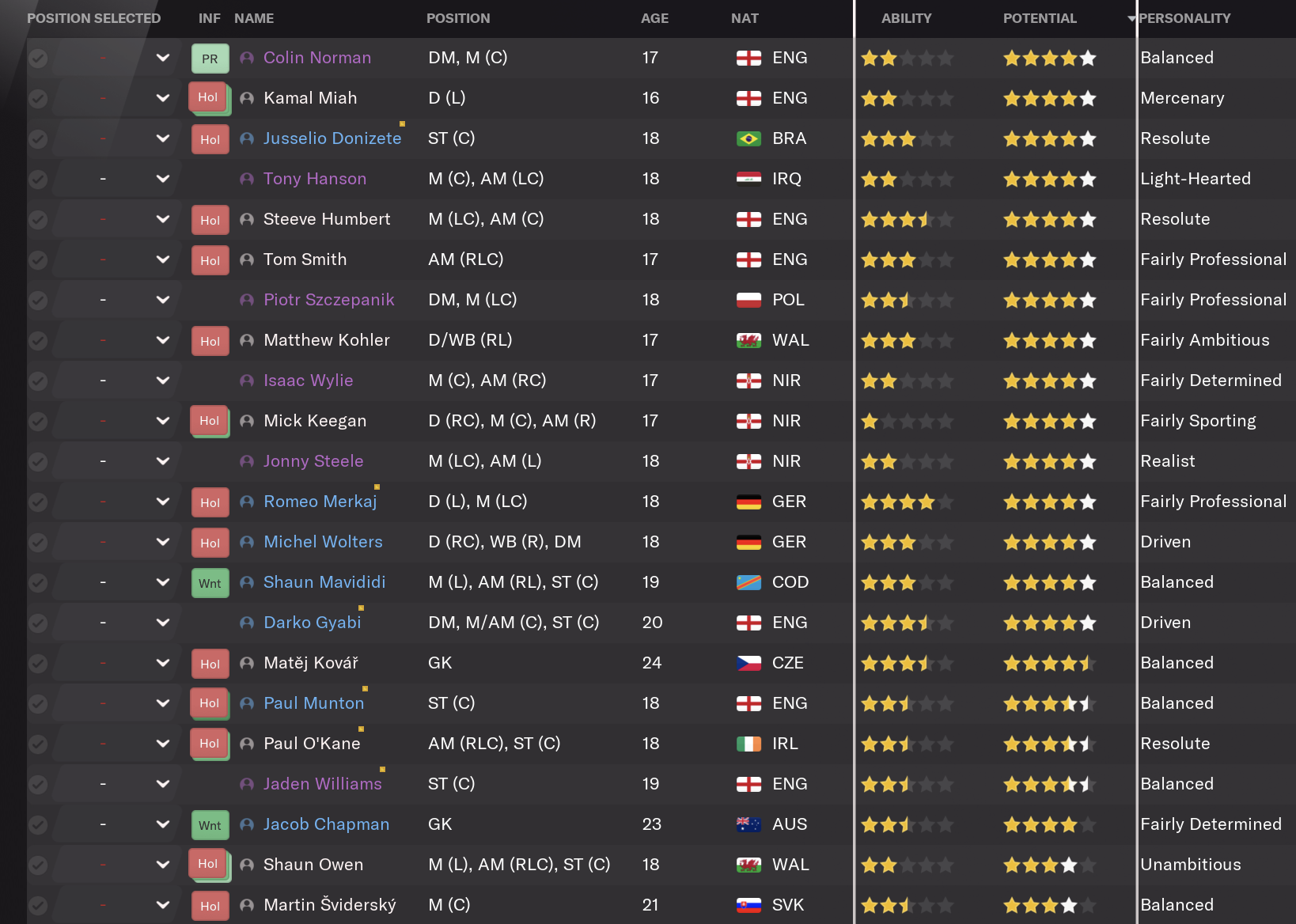 The Squad
This is how the Tynesiders squad looked at the end of the season, lots of great players.
Many of them were rated at a League One or League Two level  by my Assistant Manager.
Right full back, Callum Johnson, was rated as a League One player.
Goalkeeper Matej Kovar and defender Andre Burley were rated as leading League Two players by my assistant manager.
Kovar, according my AM, has SkyBet Championship league player potential.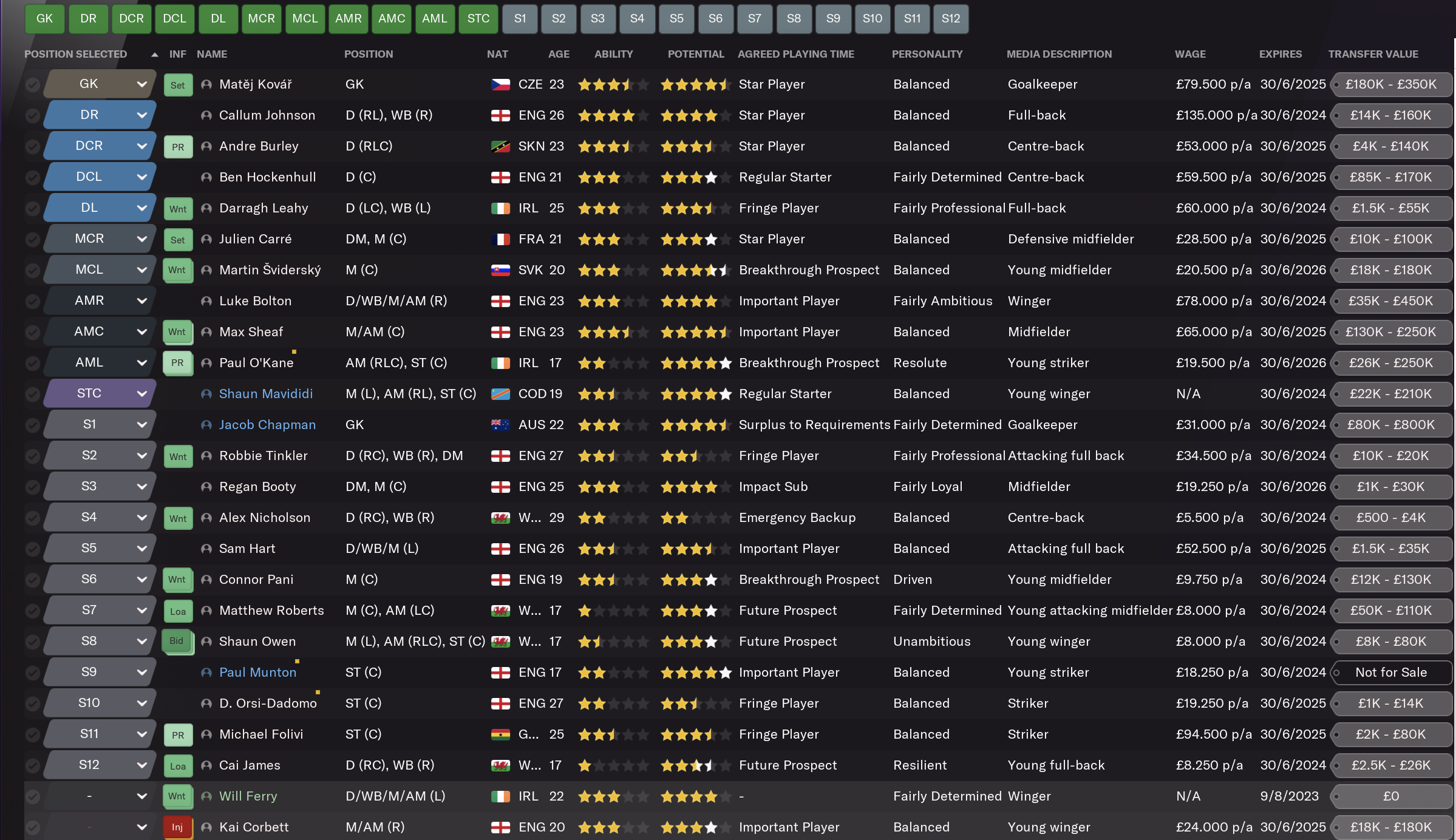 The Carabao Cup
The board asked me to be competitive in this competition. We did well, but Premier League team Sheffield eliminated us 0-2.

The FA Cup
The board expected me to make it to the second round.
We made it to the 3rd round, and got knocked out in a tight match by Championship team Blackburn, which made it to the play offs in their league by the end of the season.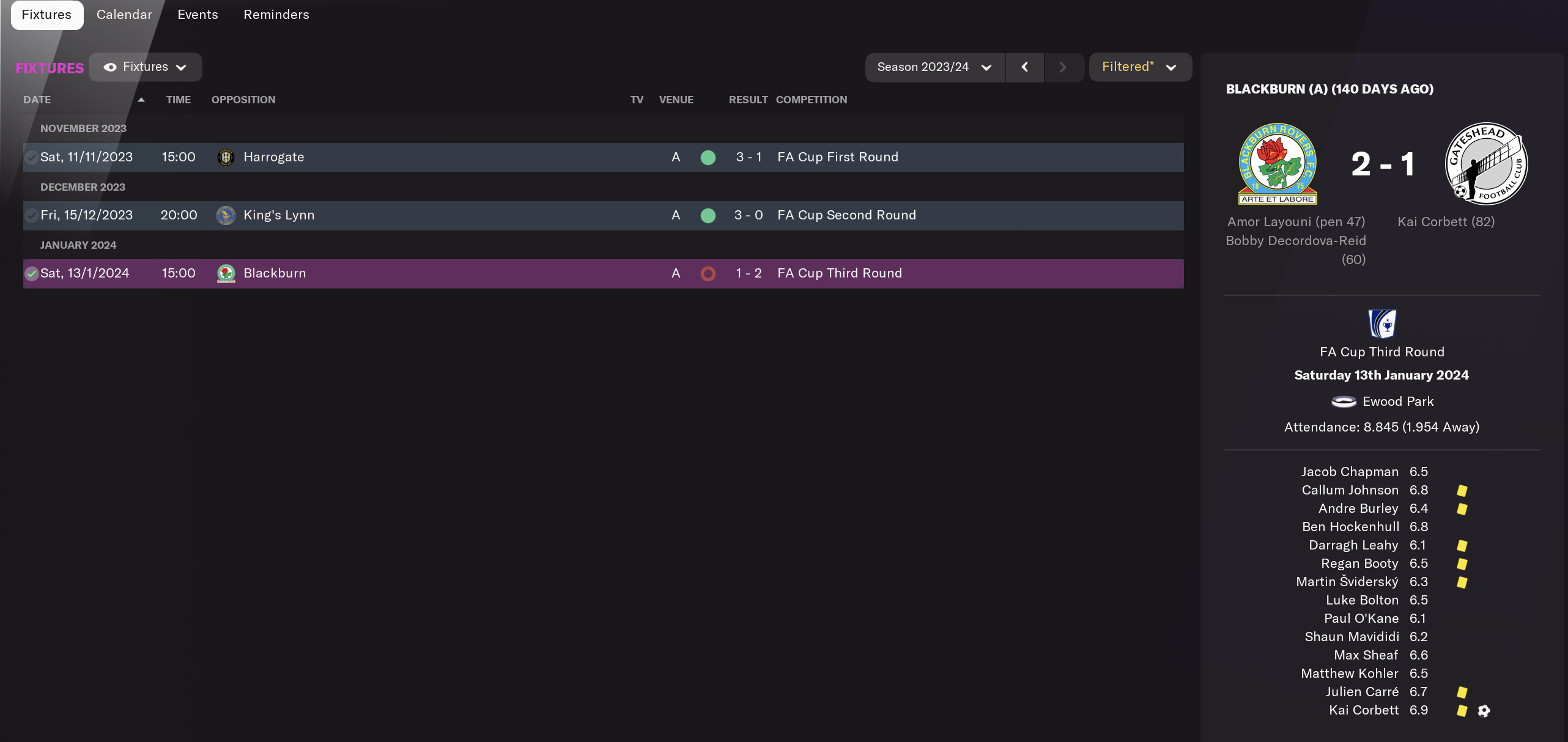 Papa John's Trophy
In this cup we did well.
We eliminated Sky League One team, Sunderland and then loss in 3rd round against Manchester United under 23s.
They had a great team for this low level competition, with players worth over 20 million GBP such as Shoretire, Jurado and Hannibal.

Sky League Two Fixtures
Once more we did incredibly great over performing the initial expectations set on us.
We won the league, once again. Three seasons in, but for the first time, we were defeated 5 times out of 46 matches.
The Sky Bet League Two Table
101 points with a 64 goal difference, 17 points ahead of runners up MK Dons.

End of League Two Squad and Player Performance
All first 11 team players ended up having an average rating over 7 points.
Right back Callum Johnson and defender Ben Hockenhull were the best ones.
Young signings Kohler, Smith and Humbert look like they are going to be sold for a big number number in the near future💰 💴

End of the Season
The Odds Table
I was very happy that by the end of the season we got a better squad. This was due by the players I signed and the constant evolution of the many young players we have in our first team or on loans in other squads. At the beginning of the season we were in the 4th position in the odds table(11-2), we finished in 3rd place with a 7-2.
My aim next season will be to win the Sky Bet League One and make it as far as possible in the FA Cup.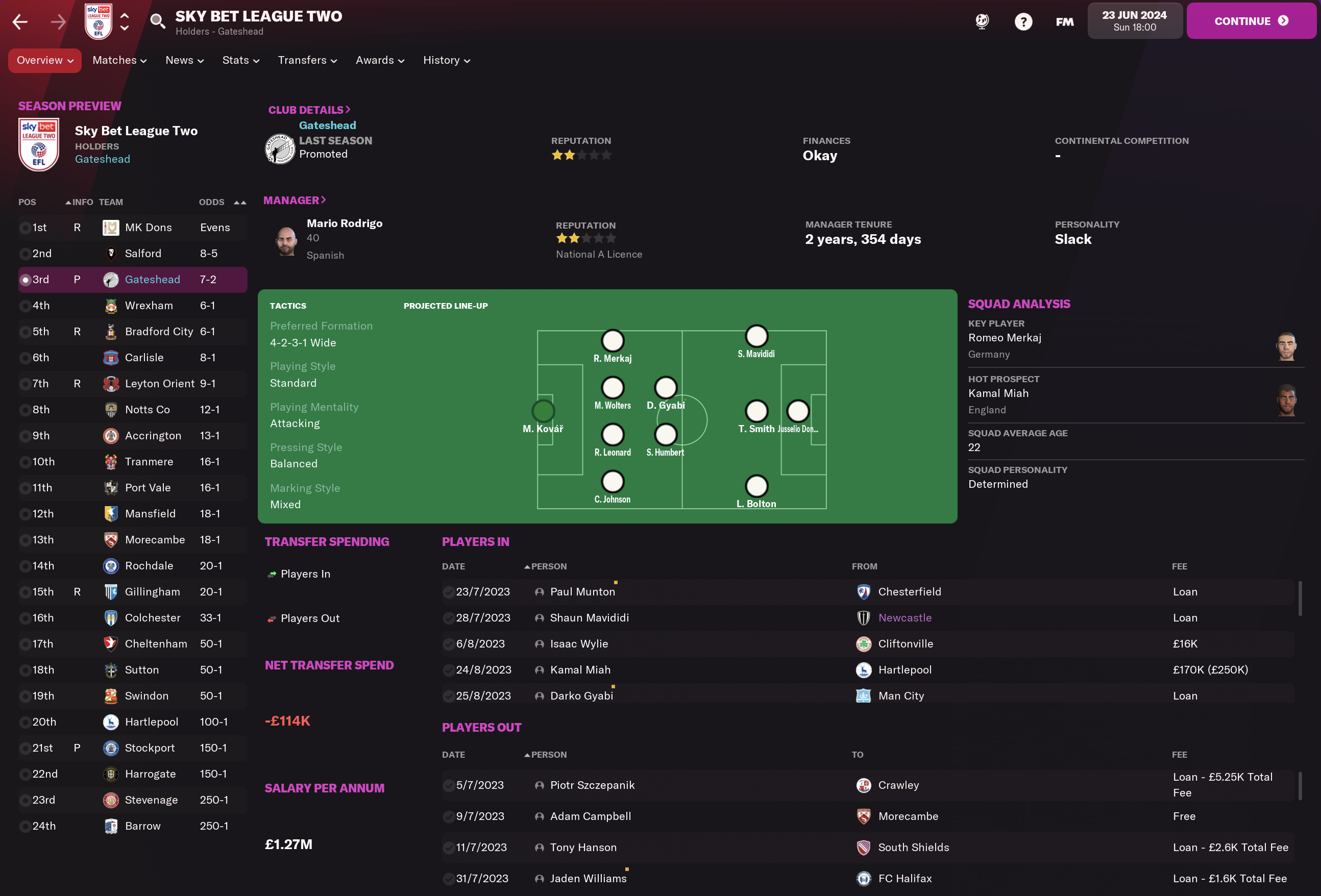 Squad Dynamics
I will never get tired of stating this, you have to get this section ok, if not, it doesn't matter how much money you have, how good are your players, which tactic or training schedule you use, if this is not ok, you will «struggle» to say the least.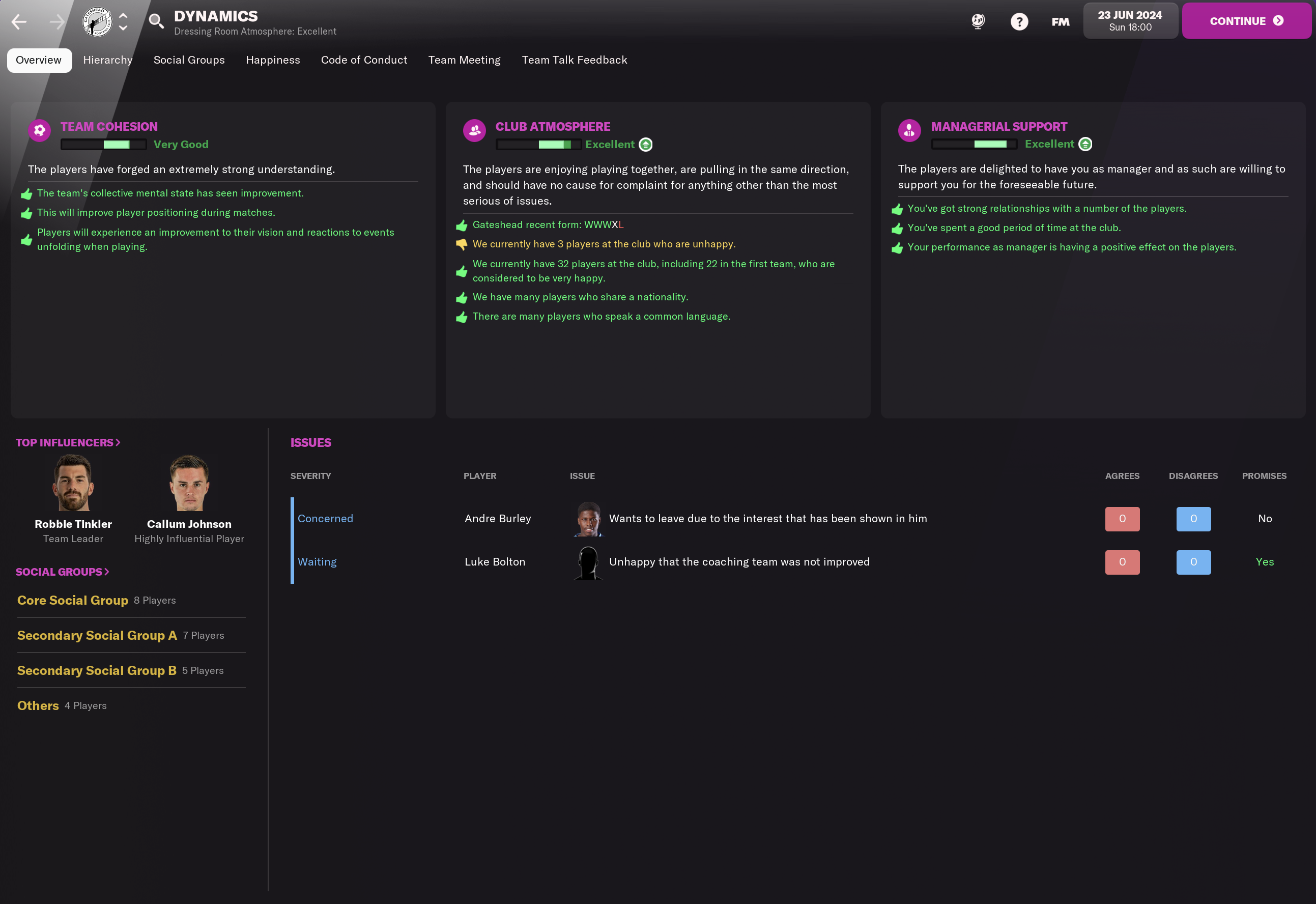 The Finances
Looking into the next season, though our overall balance is a bit on the red side, our squad is worth at least 2 million GBP.
So it's all good.
I find it necessary to point out that neither the club owner or the board have injected one penny during this three years with 3 promotions in a row.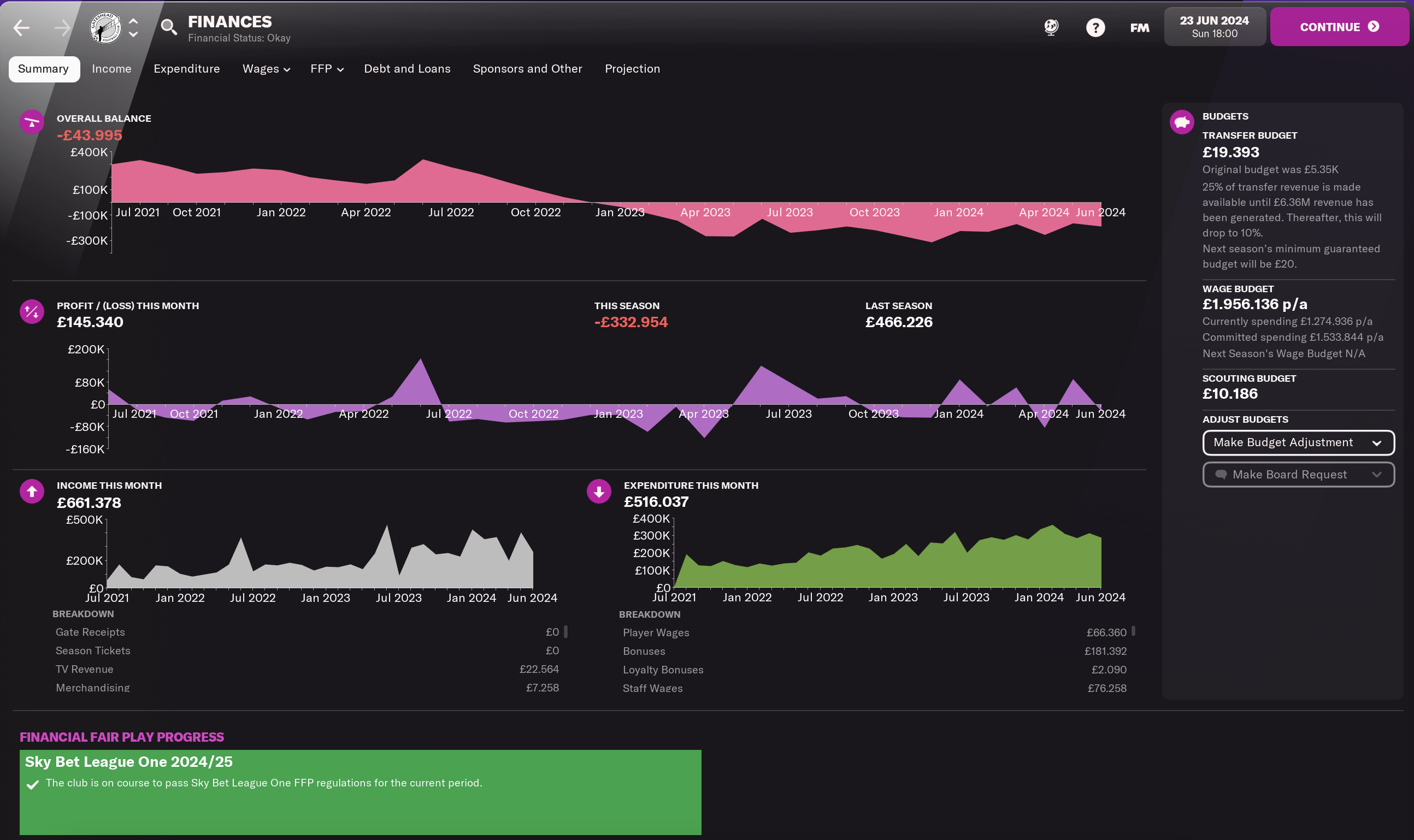 Thanks for joining me on this save and read this post, see you on the next one managing in League One!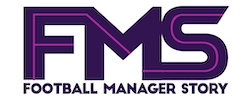 Subscribe to our Newsletter