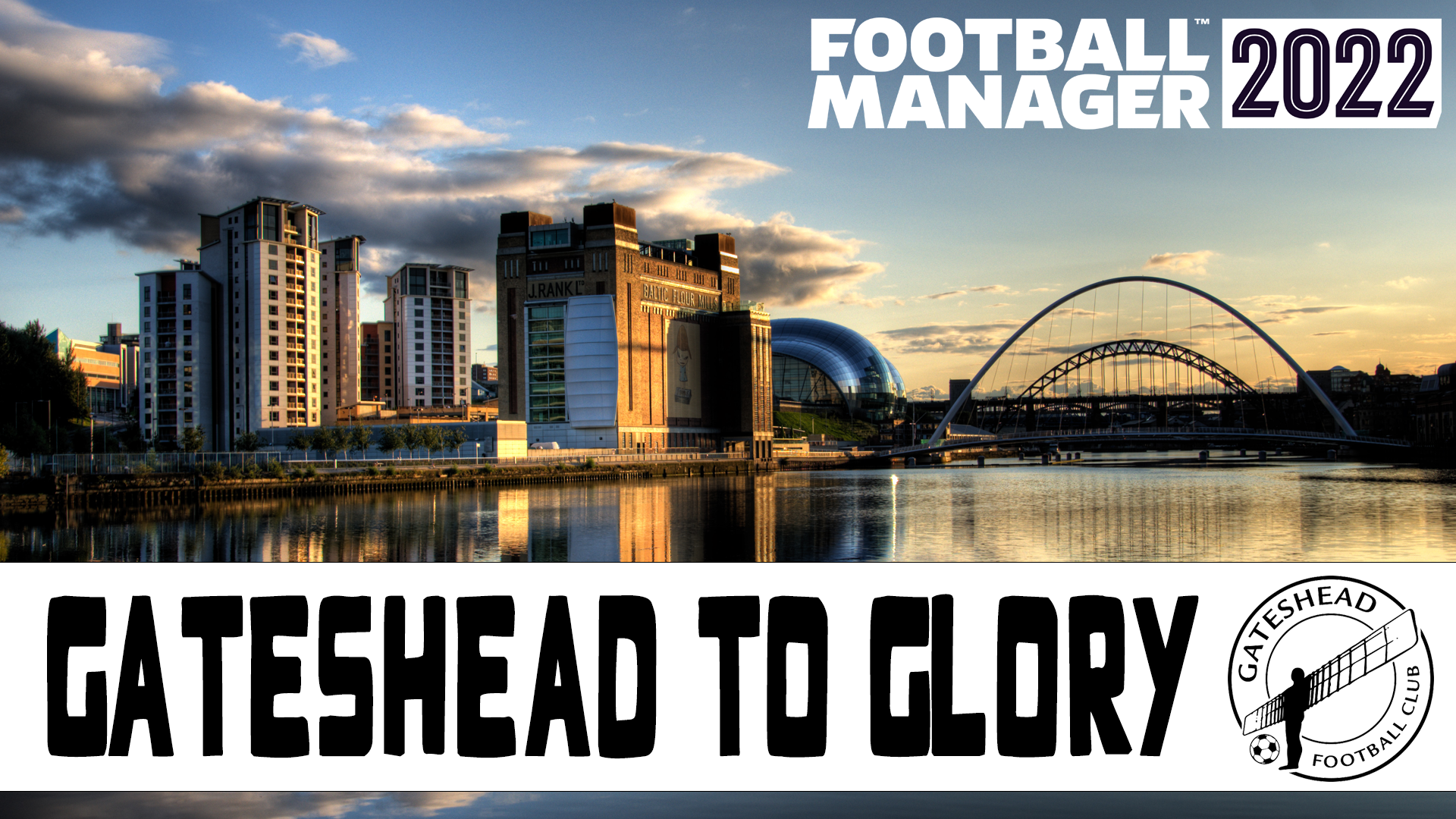 Welcome to a new episode of my FM 2022 story managing Gateshead from Vanarama National North to Glory.
After five back to back promotions from the Vanarama National North League, and three seasons in the Premier League, it is time for our debut in the European Champions League.
If you haven't read the previous posts, here is a quick recap:
Introduction: My presentation as Gateshead's manager.
Season 1:  We won the FA Trophy and the Vanarama League North without loosing any games, with 112 points in 42 matches.
Season 2: We lifted the FA Trophy Cup and the Vanarama National League without loosing any games with 122 points in 46 matches.
Season 3: We won the Sky Bet League ,2 seventeen points ahead of second placed team MK Dons.
Season 4:  We Won the Sky Bet League 1 and the Papa John's trophy.
Season 5: Won the Sky Bet Championship League.
Season 6: I avoided relegation in the first season in the Premier League.
Season 7: We finished in 5th position in our second season in the Premier League, qualifying for the Europa League.
Season 8: Gateshead finished 4th in the EPL(qualify for ECL), reached the Europa League semi finals(we lost against Valencia) and won the Carabao Cup.
Pre Season League Odds
Even tough last season we finished 4th in the EPL, in this table at the beginning of the season, we were placed in the 11th position.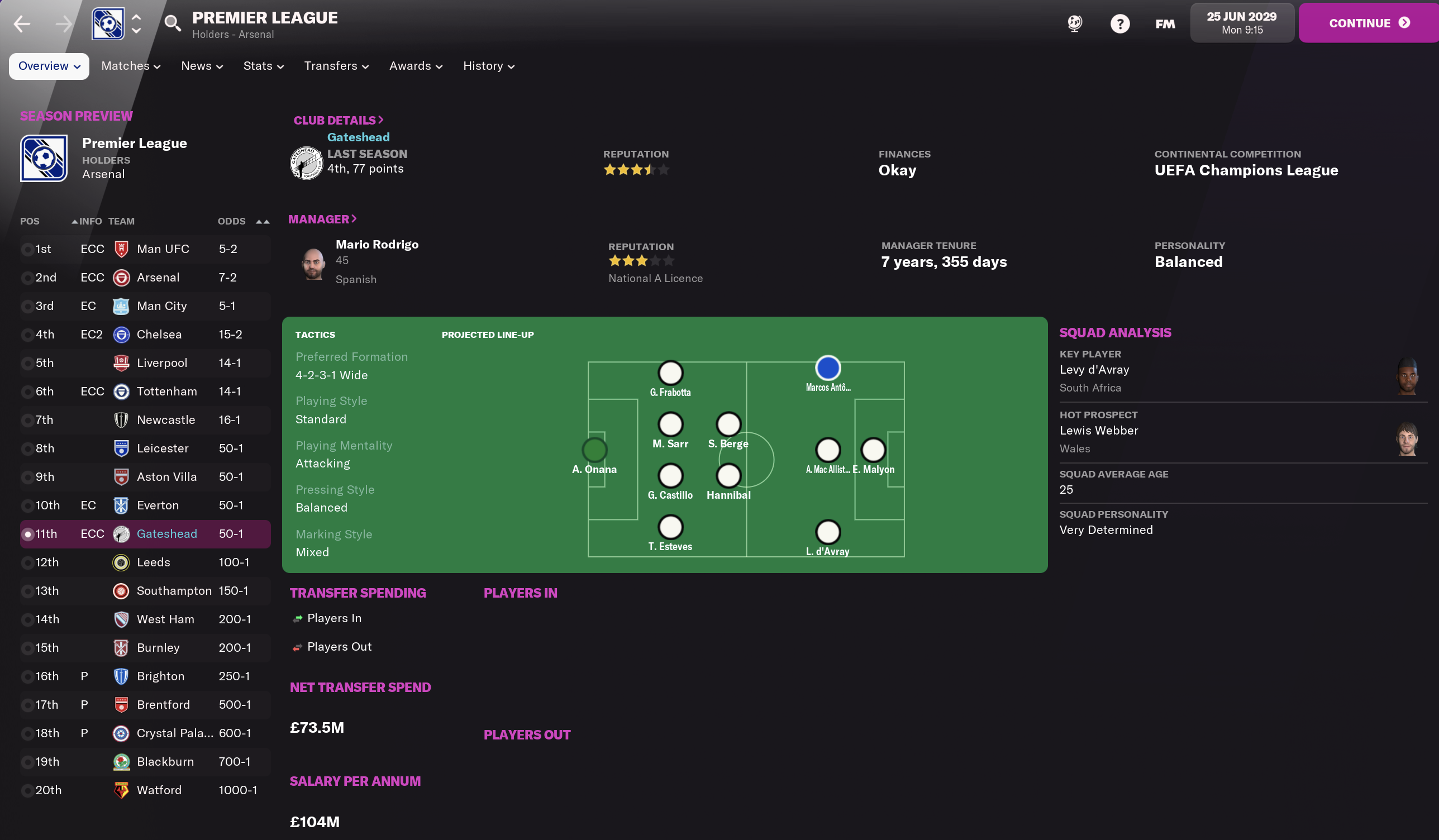 Pre Season Matches
Defeating Arsenal and Liverpool in the pre season, gave me a hint of the things to come 😉

Premier League Fixtures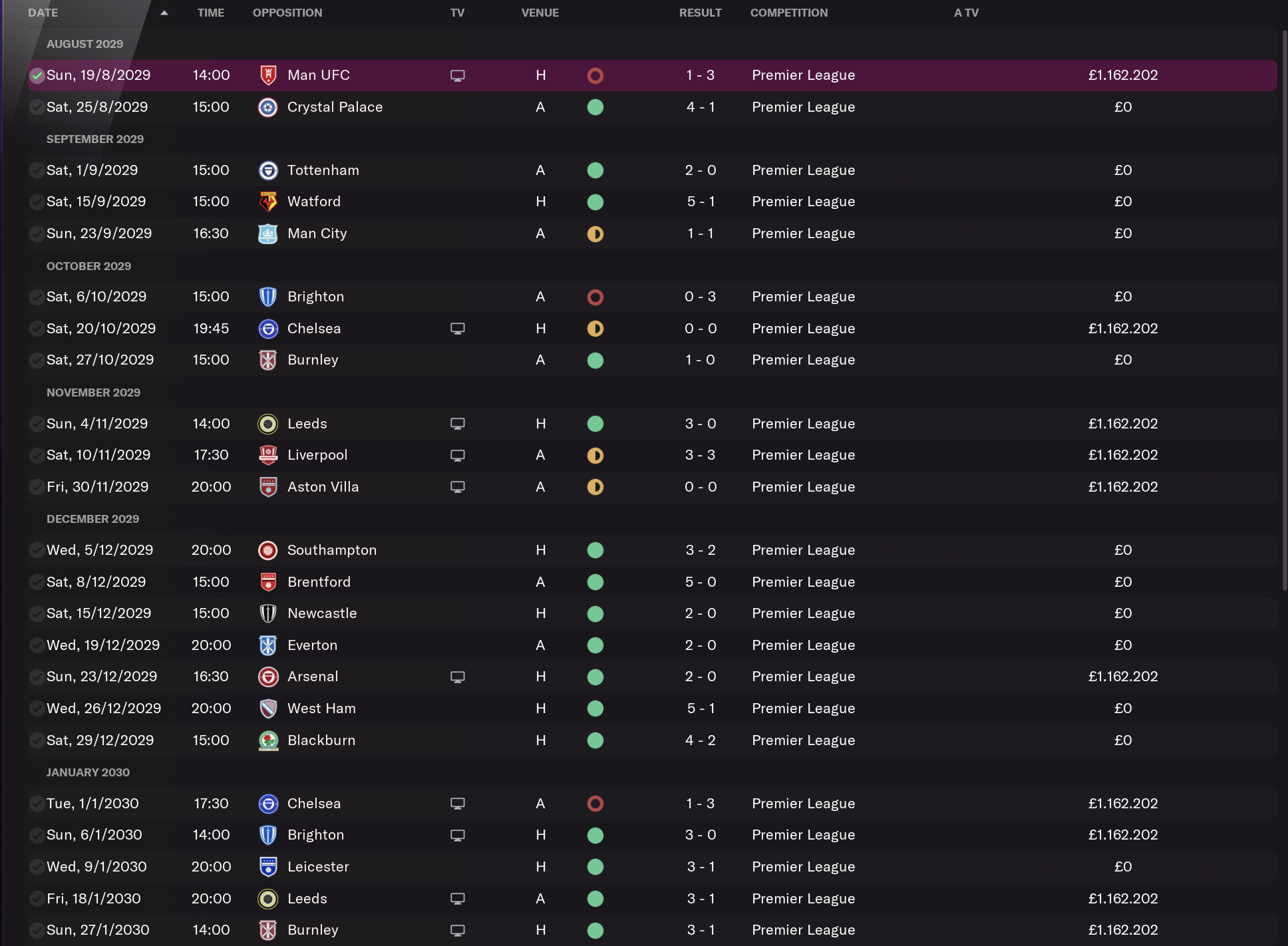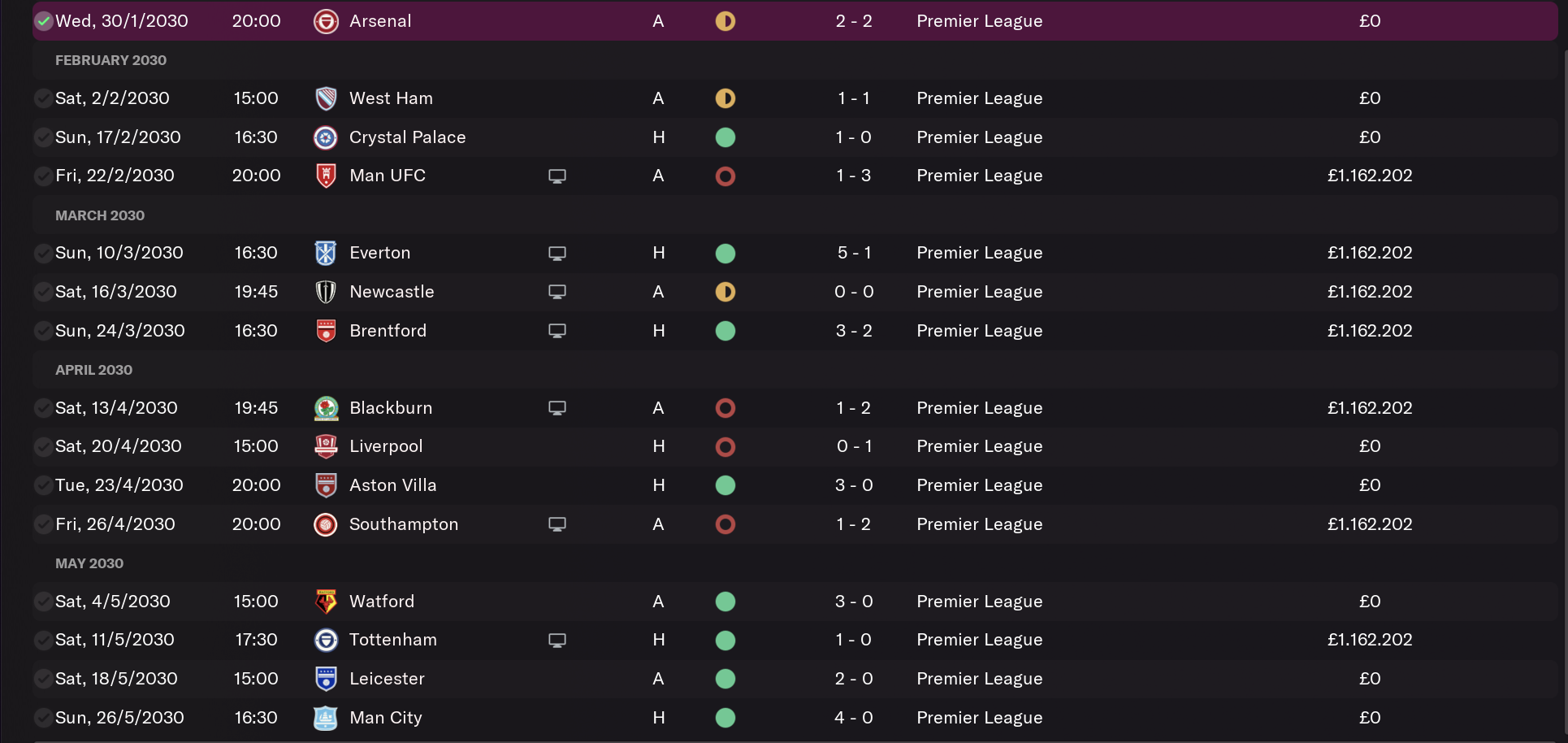 End of League Odds
By the end of the season we were placed in fifth position.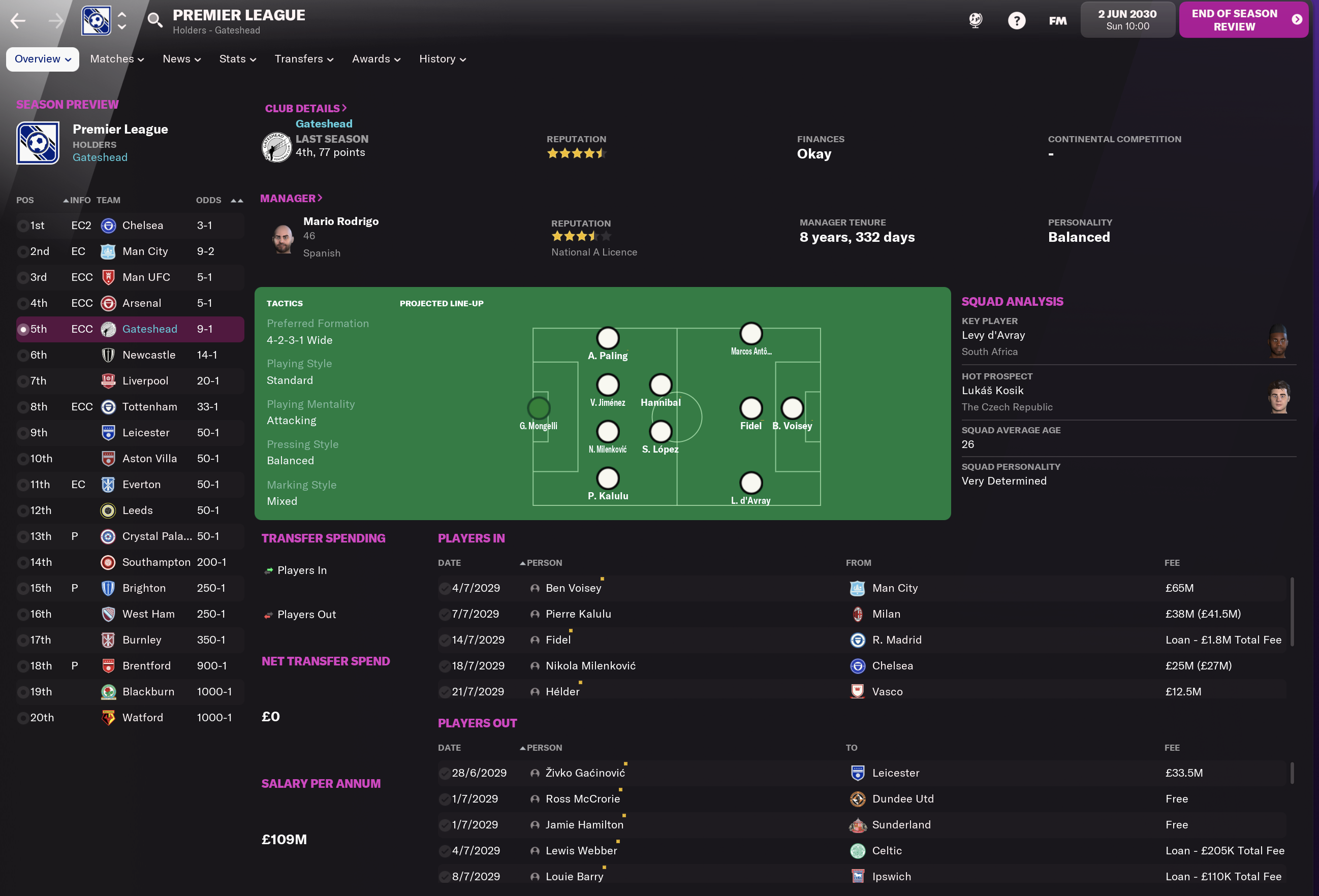 The Premier League Final Table
After the previous season 4th place I was expecting an improvement, but not as high.
Though everyone at the club is supper happy about winning the league, I must admit that with 79 points we would have not make it in seven out of the eight seasons gone in this save so far.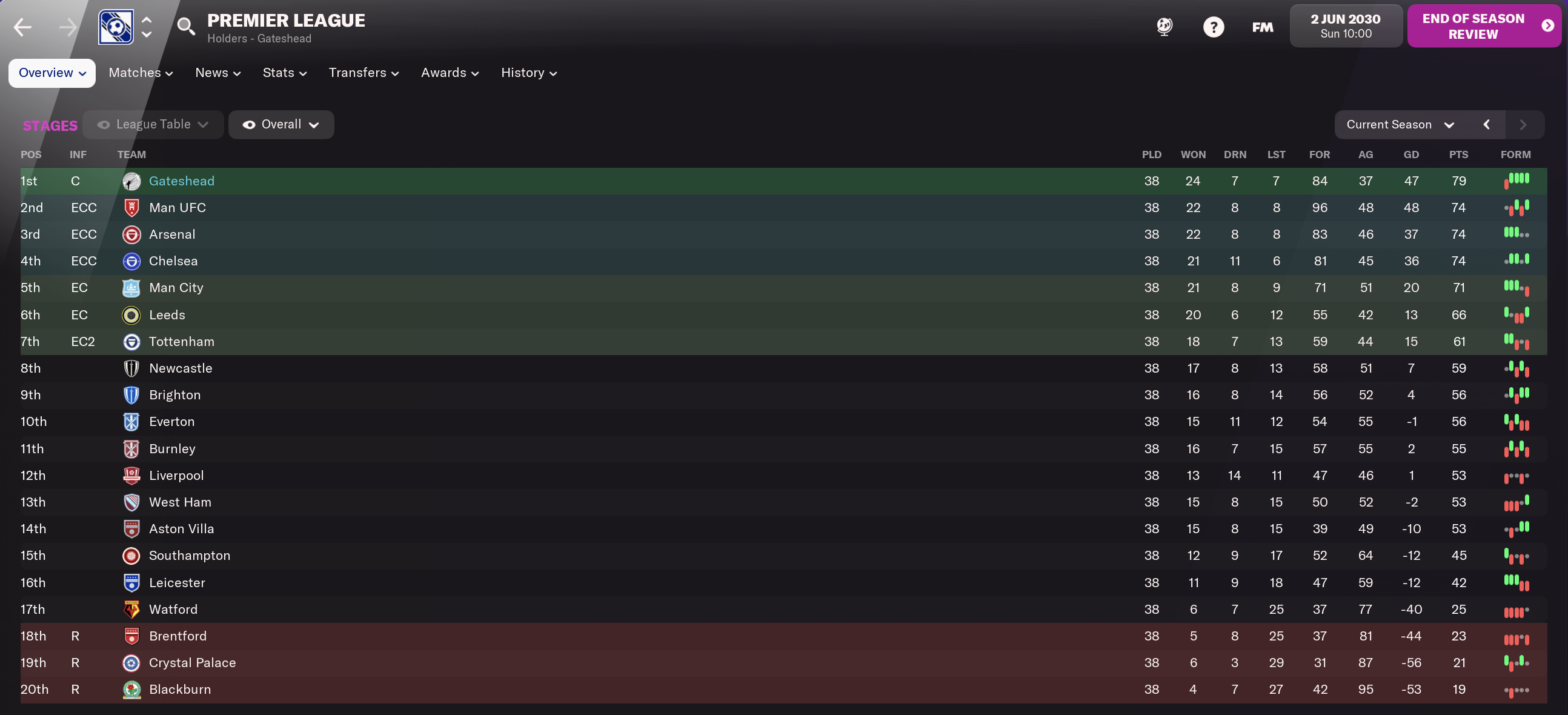 The FA Cup
Unfortunately we were knocked out in an very tight match against Everton in the FA Cup 4th round.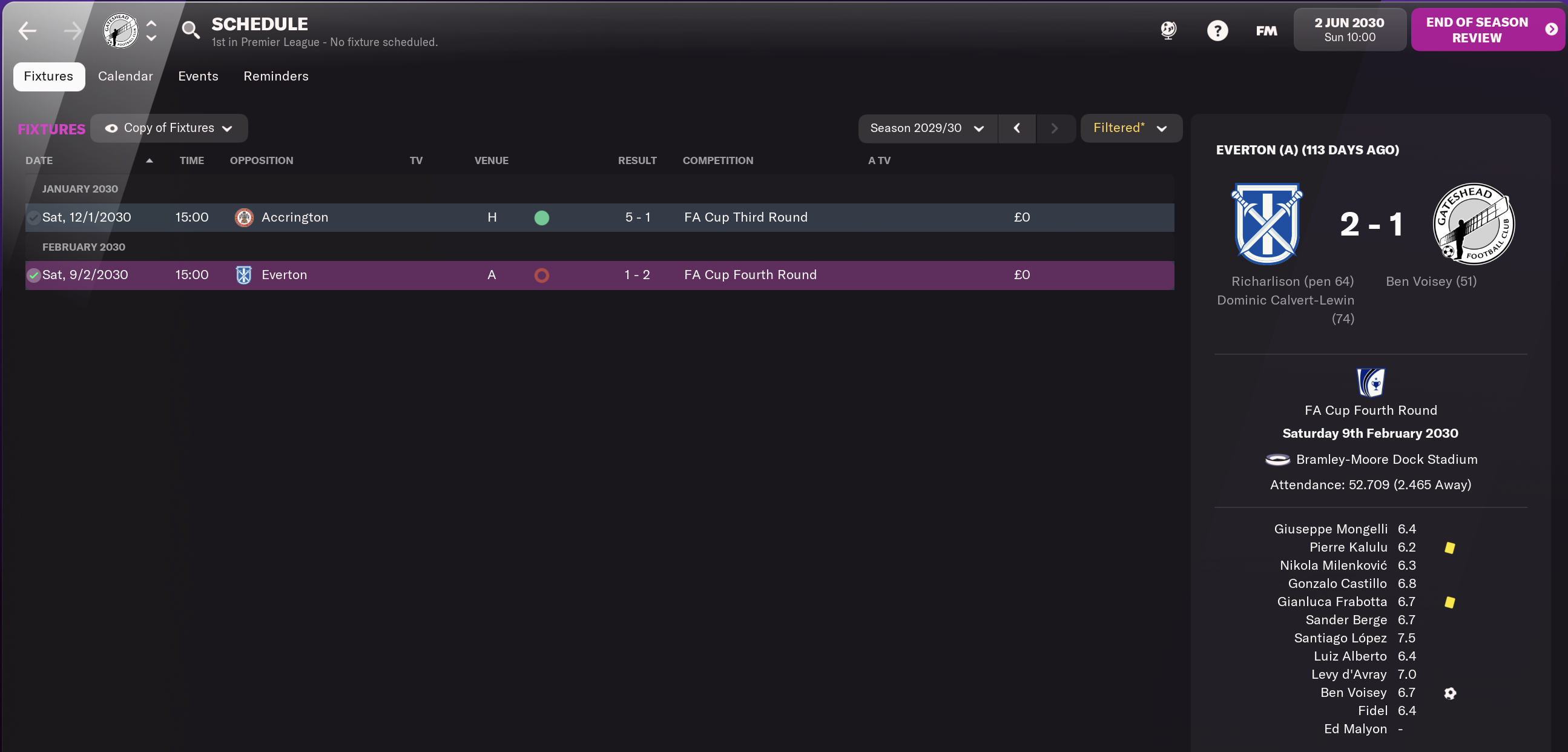 The Carabao Cup
We got a tough draw against Man United in the Carabao Cup, unfortunately we failed too much in the penalty shootout and got eliminated in the competition we won in the previous season.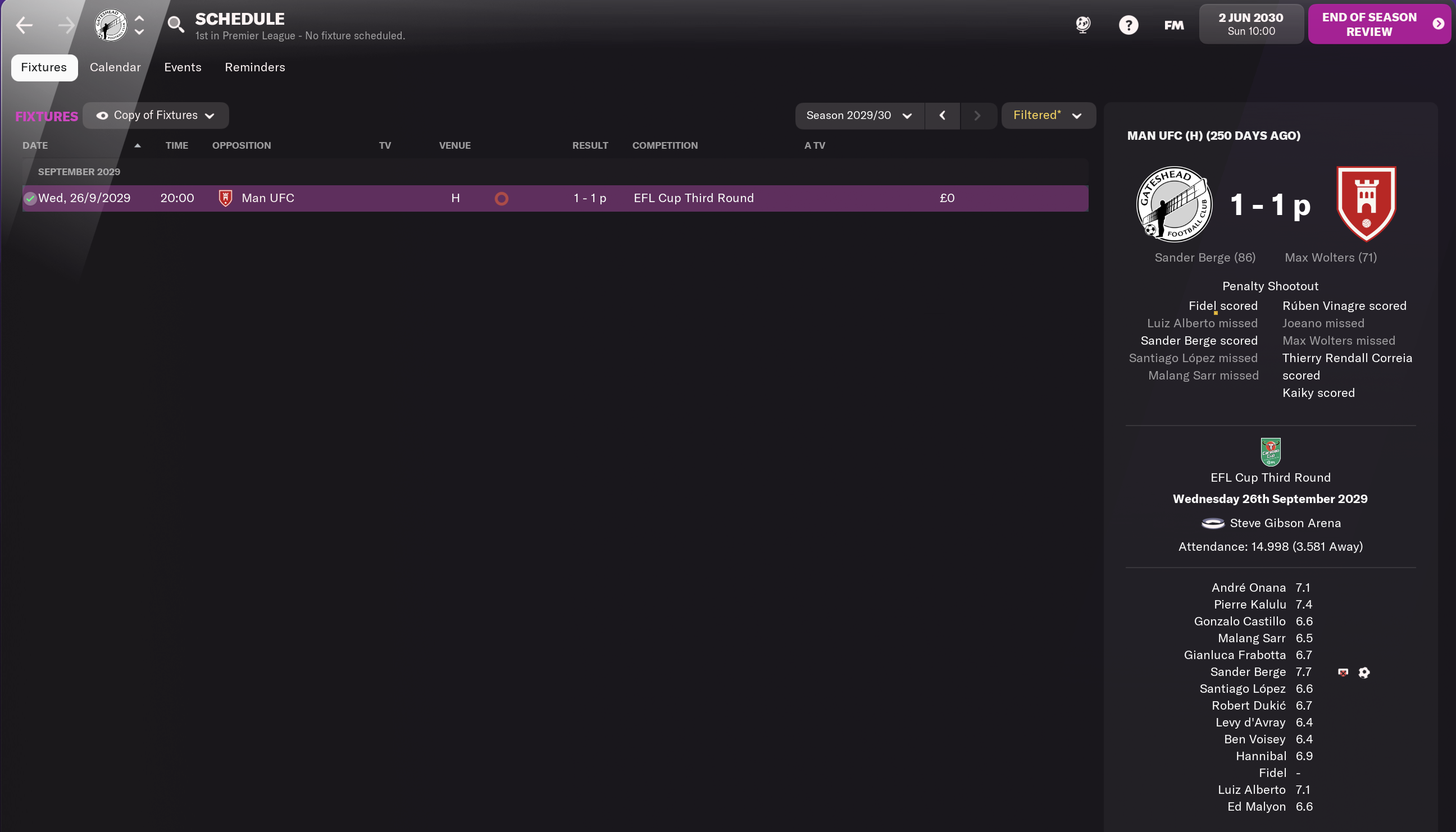 The Champions League
What can I say, this was not expected at all as it was our debut in the ECL.
We were handle a not too tough group, but in the next rounds we eliminated Manchester United, almighty Bayern Munich, English champions Arsenal, and multi billionaire Paris Saint Germain in a thrilling final on extended time!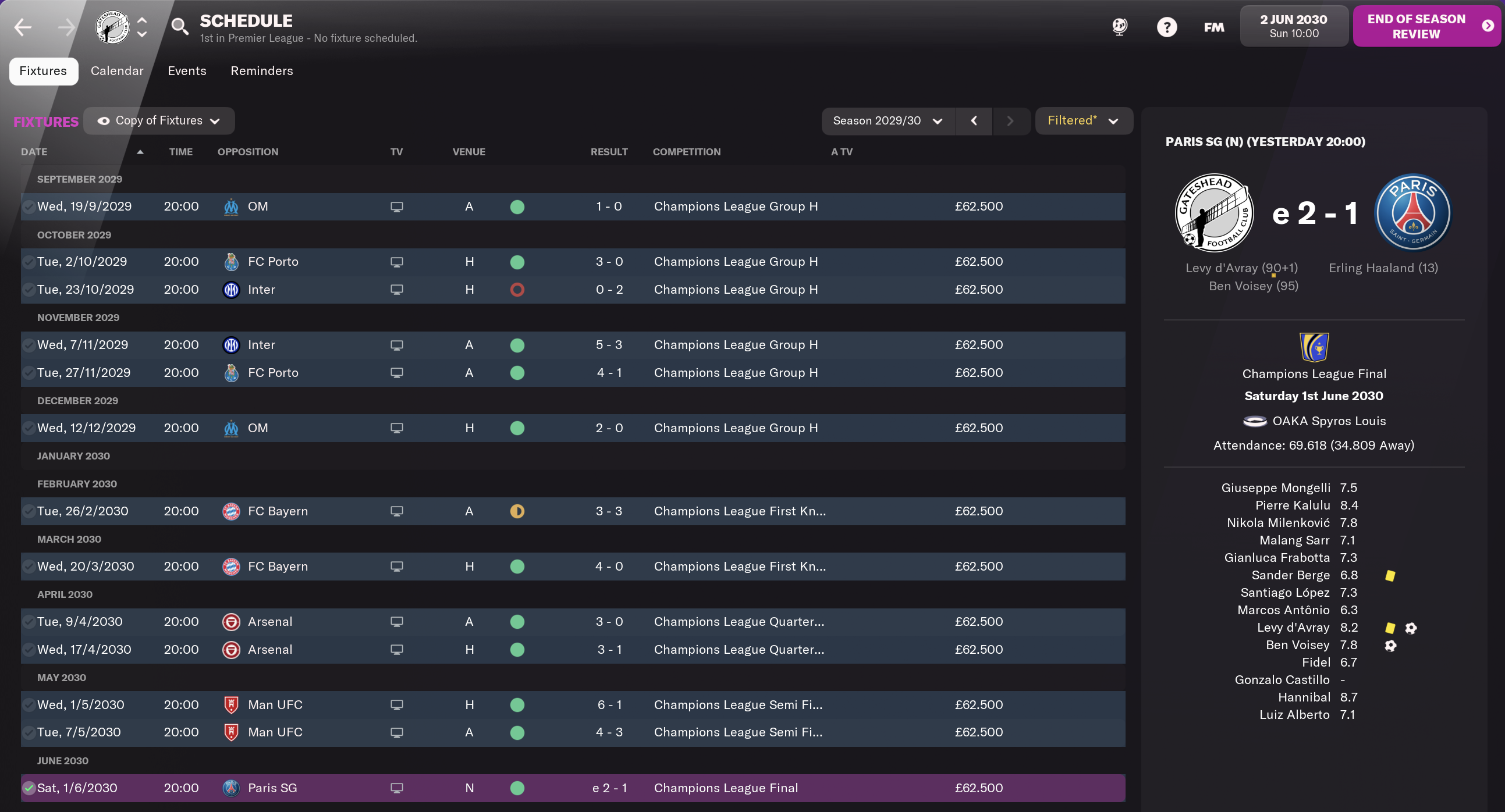 Premier League Player Performance
Great individual performances from first team players and the subs. All of them, except for Sub keeper Onana, with an average rating above 7 .
Ben Voisey was our topp goalscorer with 32 in 41 games. Winger Marcos Antonio gave 16 assists.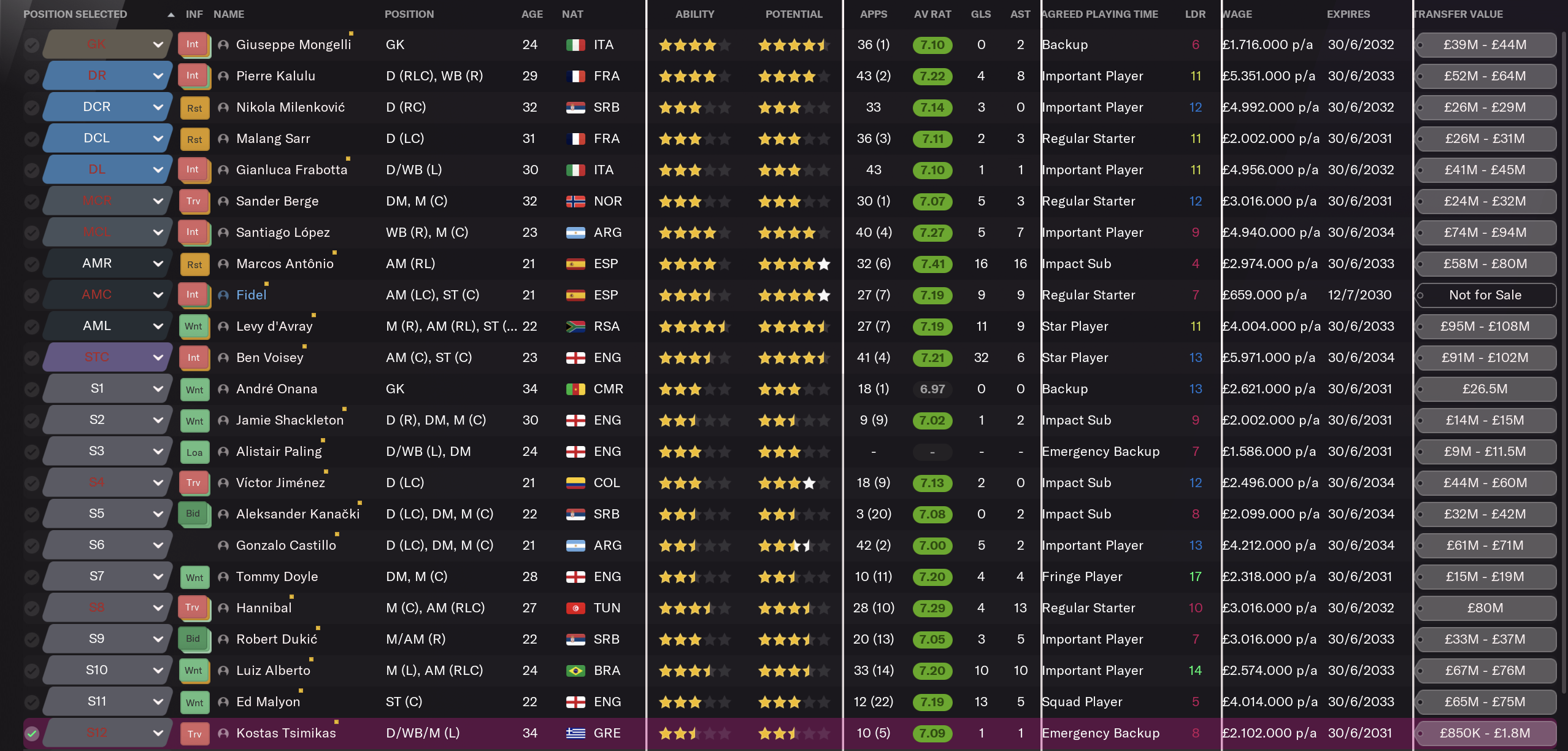 The First 11 Players
Sweeper keeper on defend duty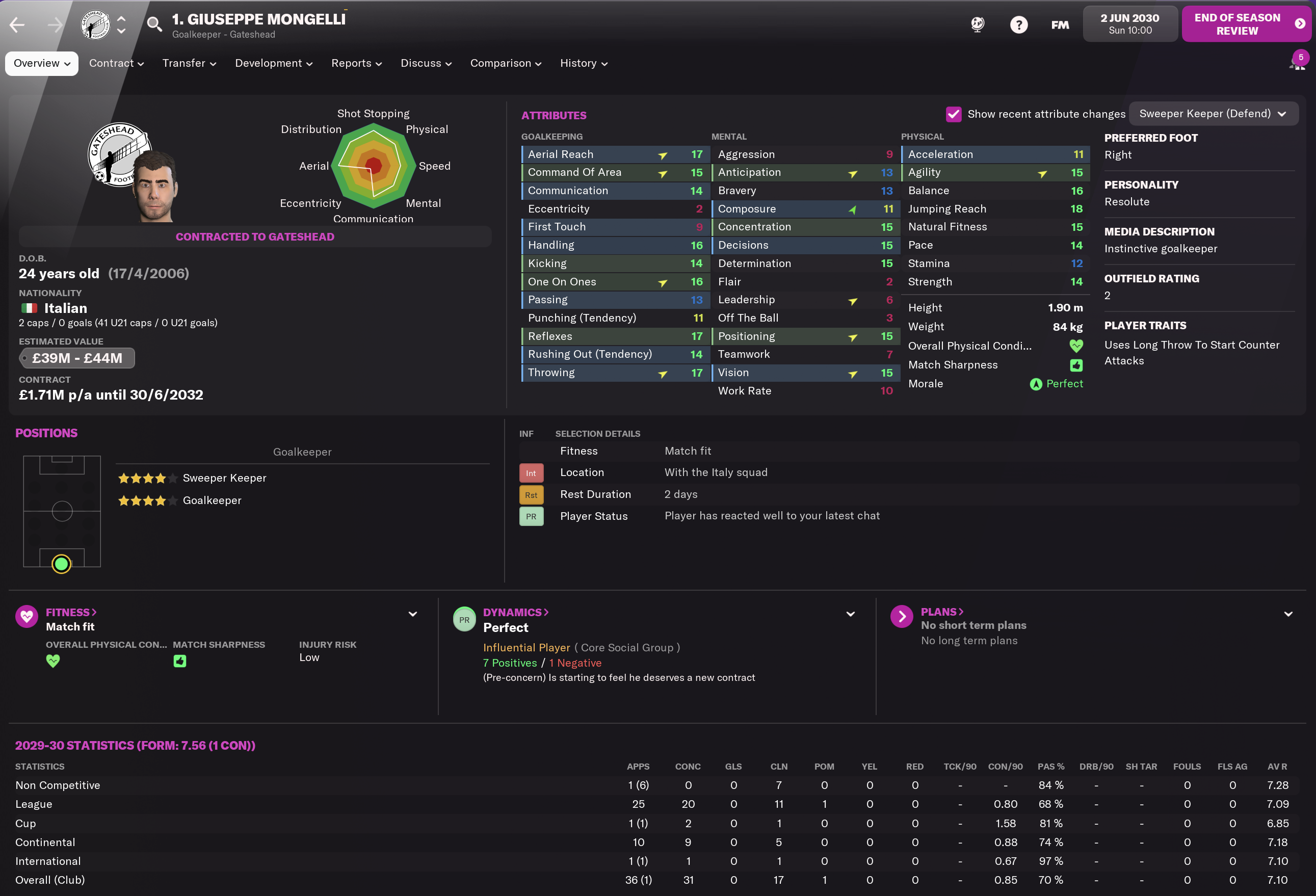 Right wing back on attack duty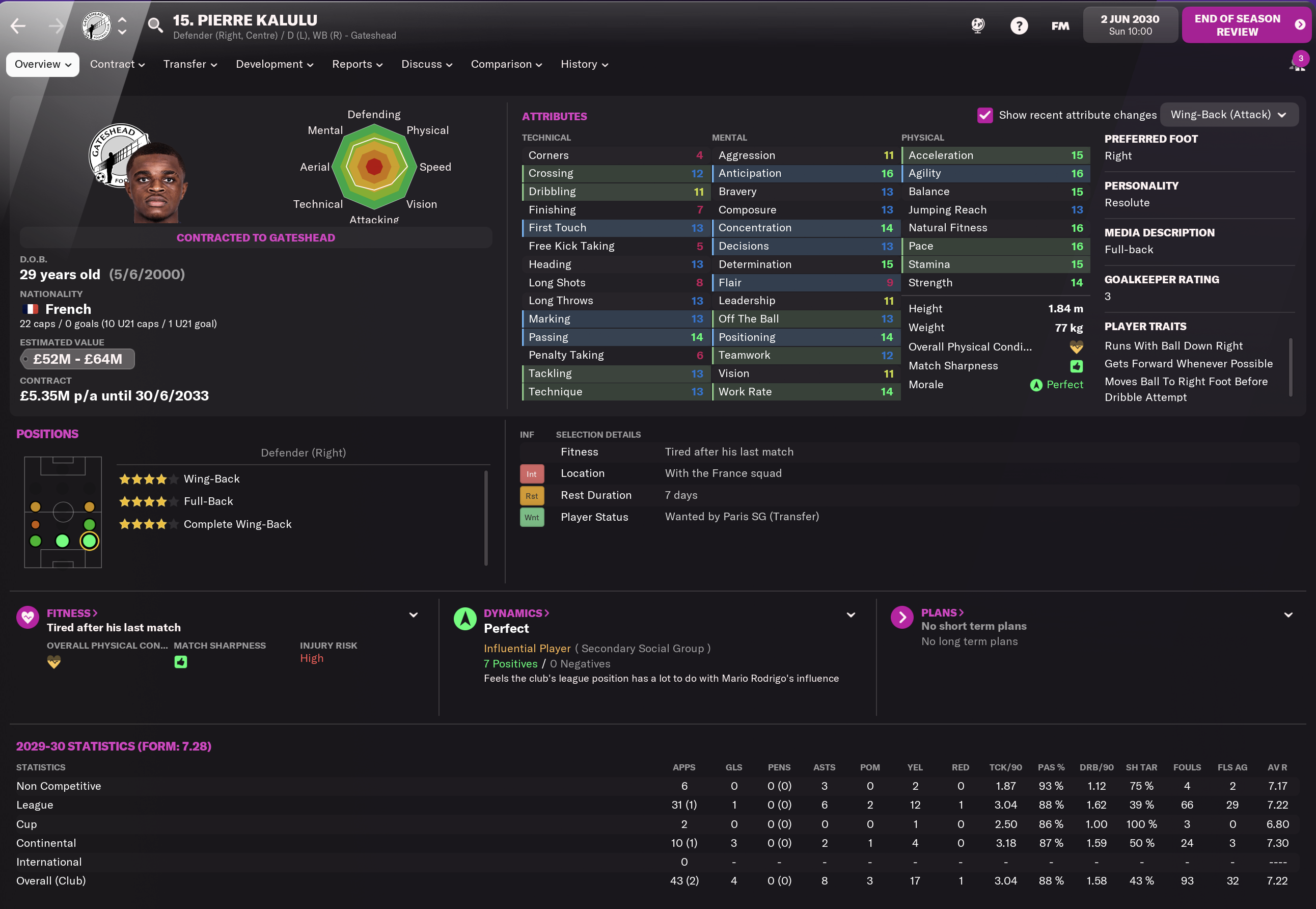 Left full back on support duty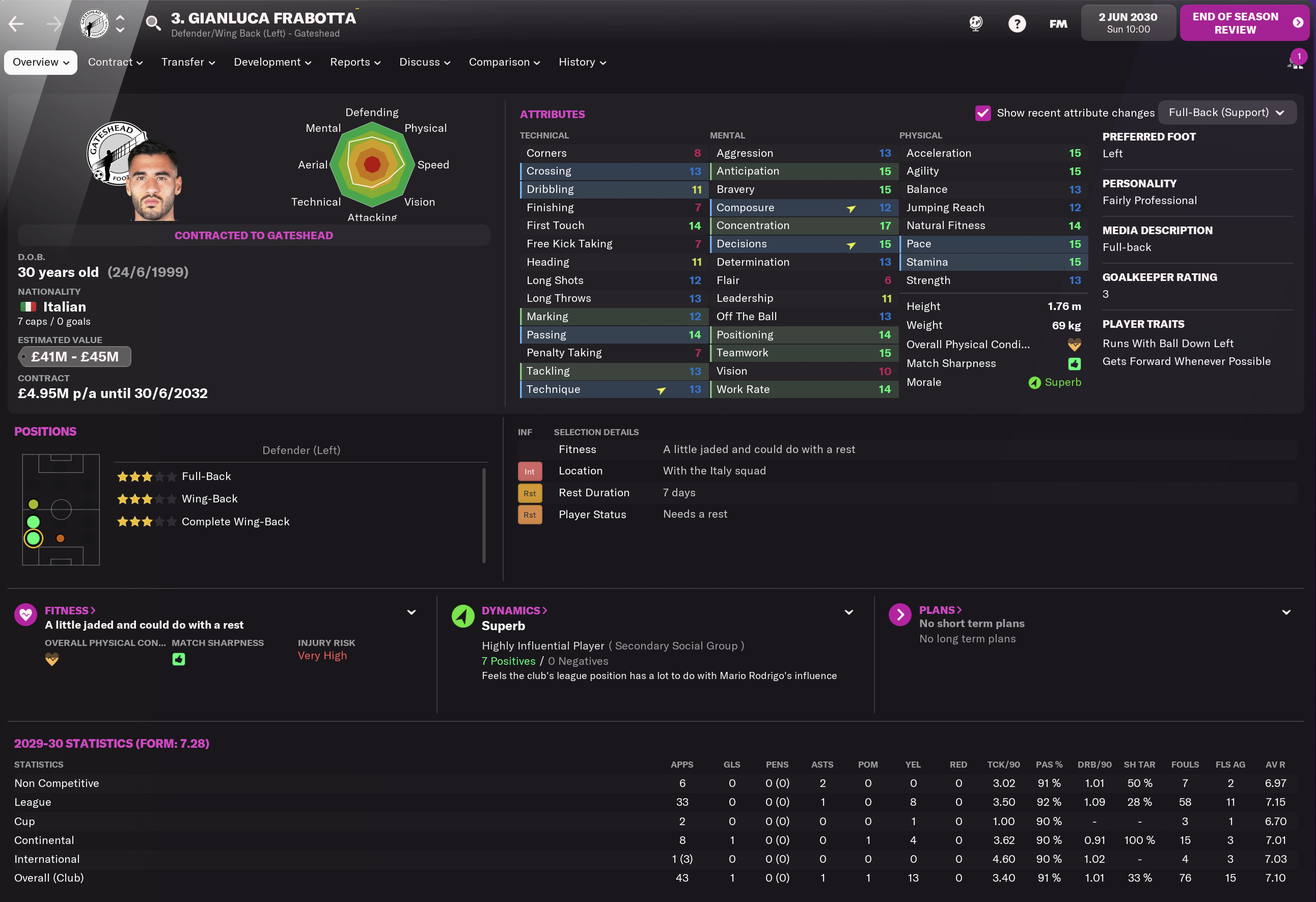 Central defender on defend duty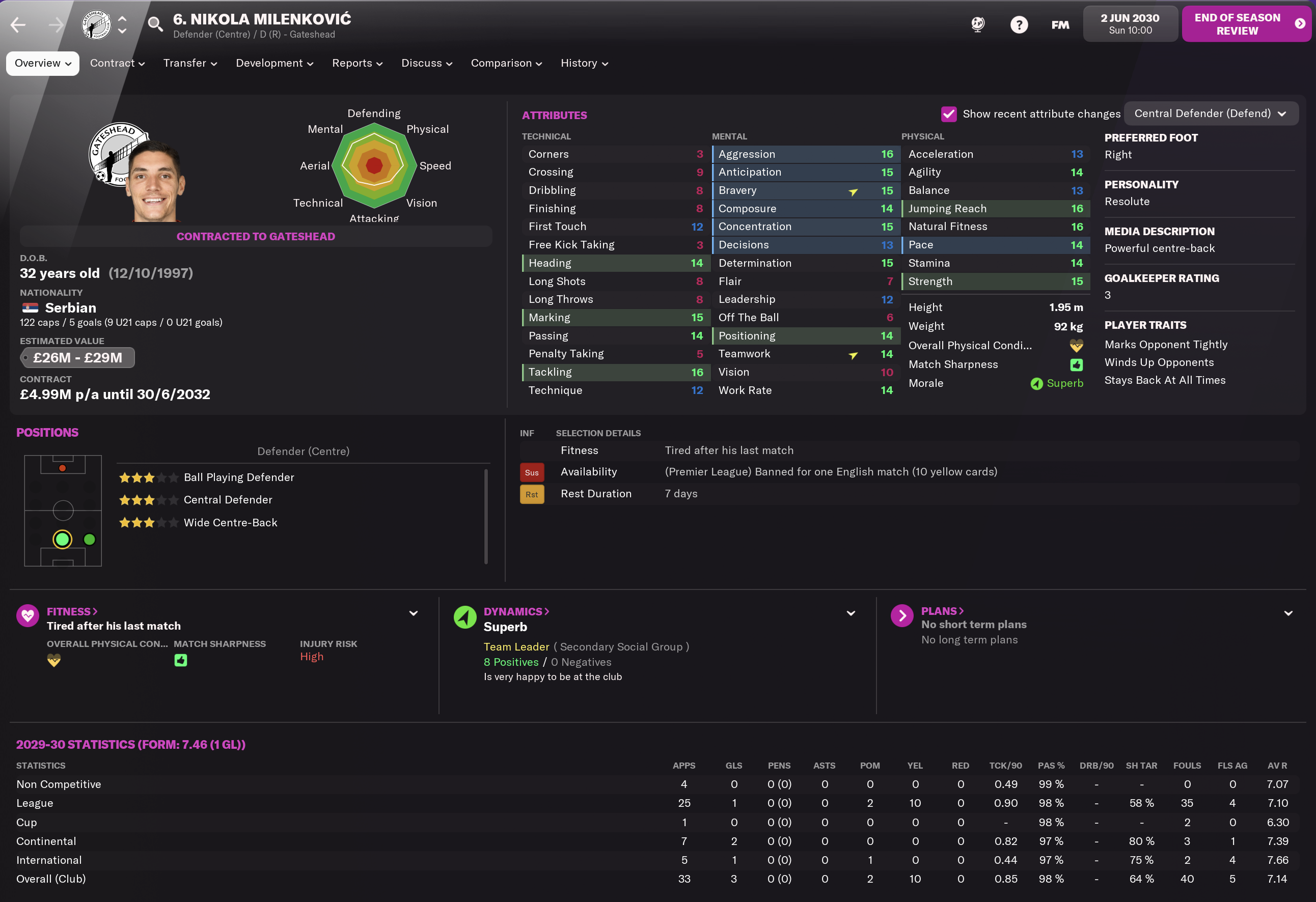 Central defender on defend duty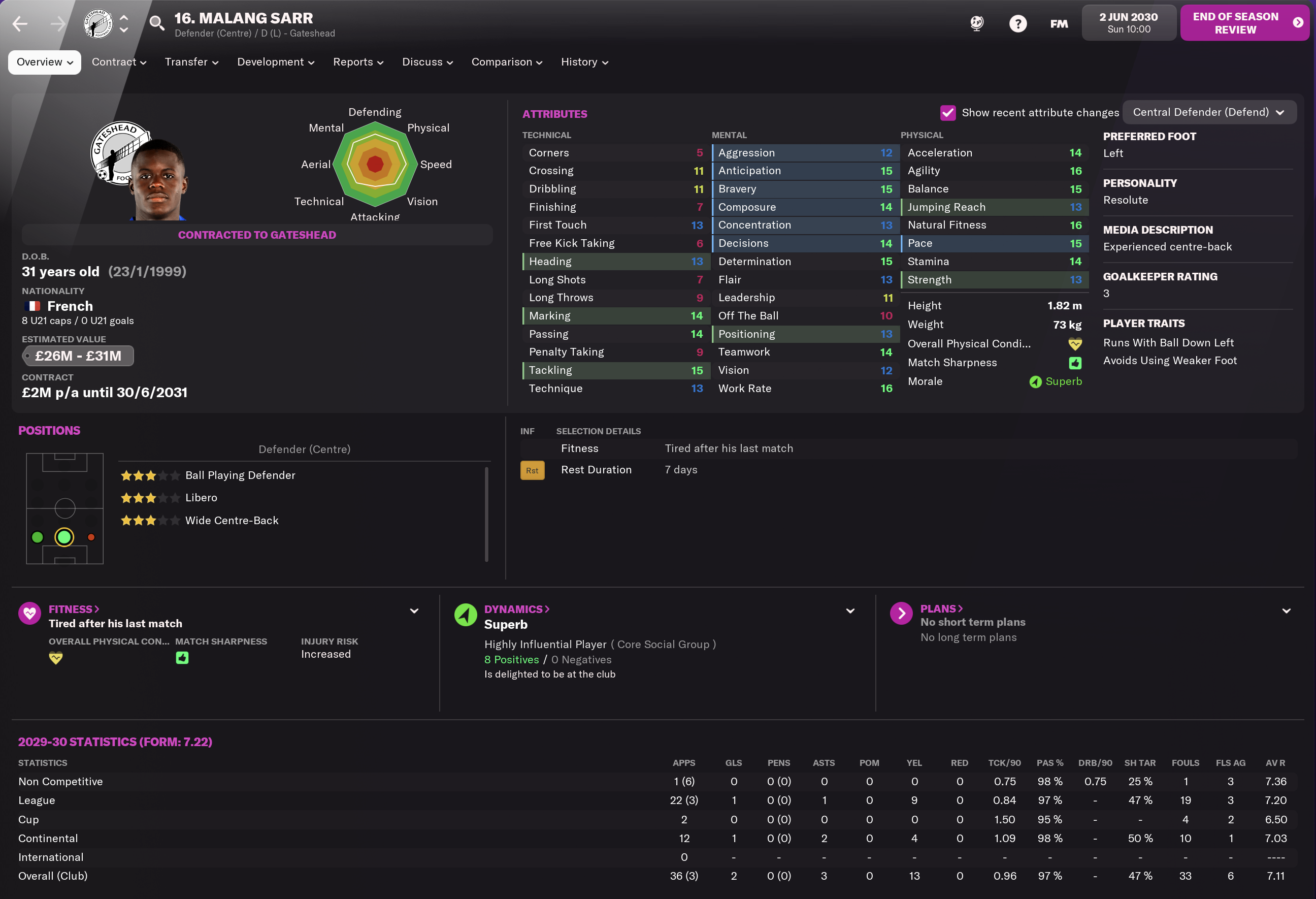 Central midfielder on defend duty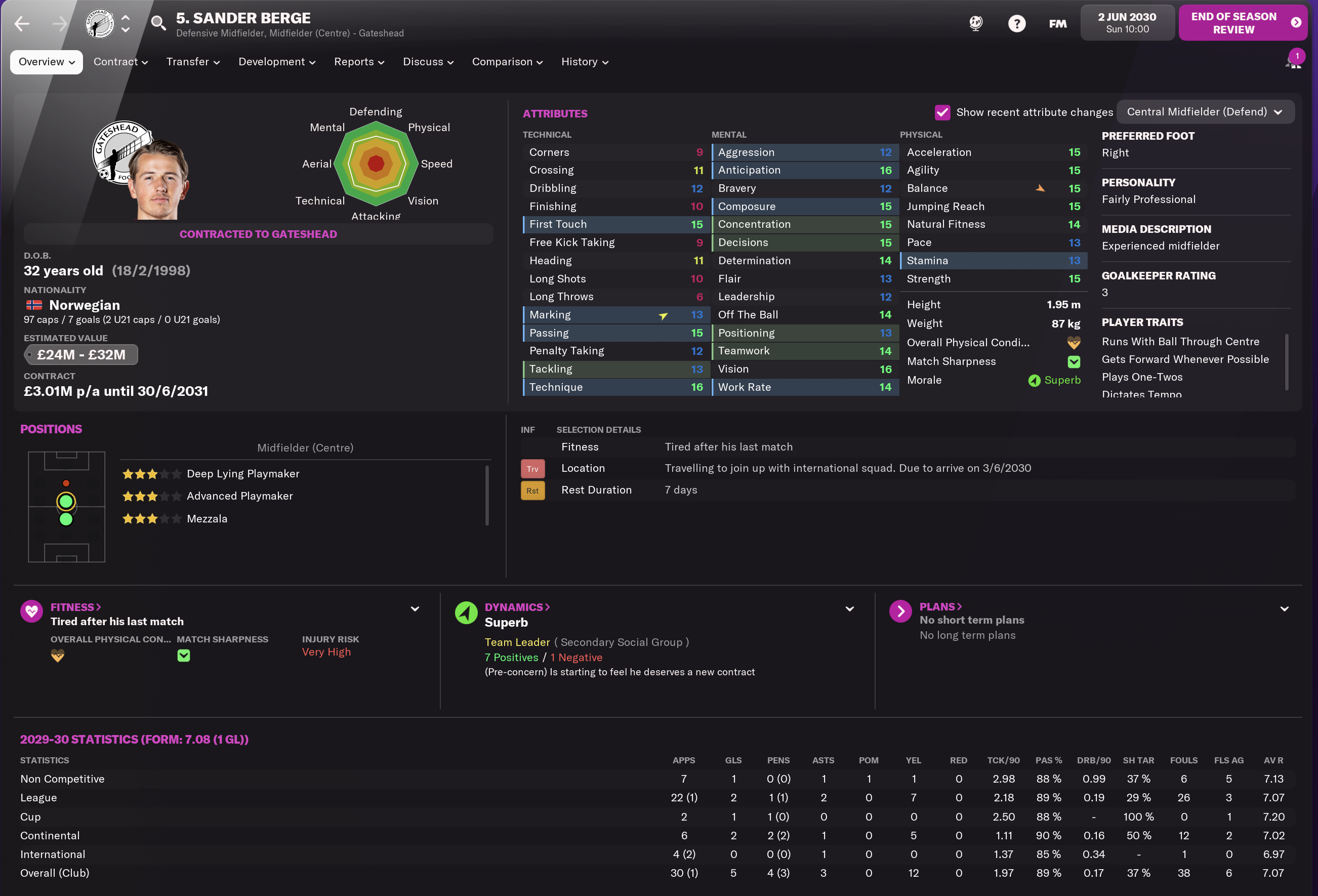 Box to box midfielder on support duty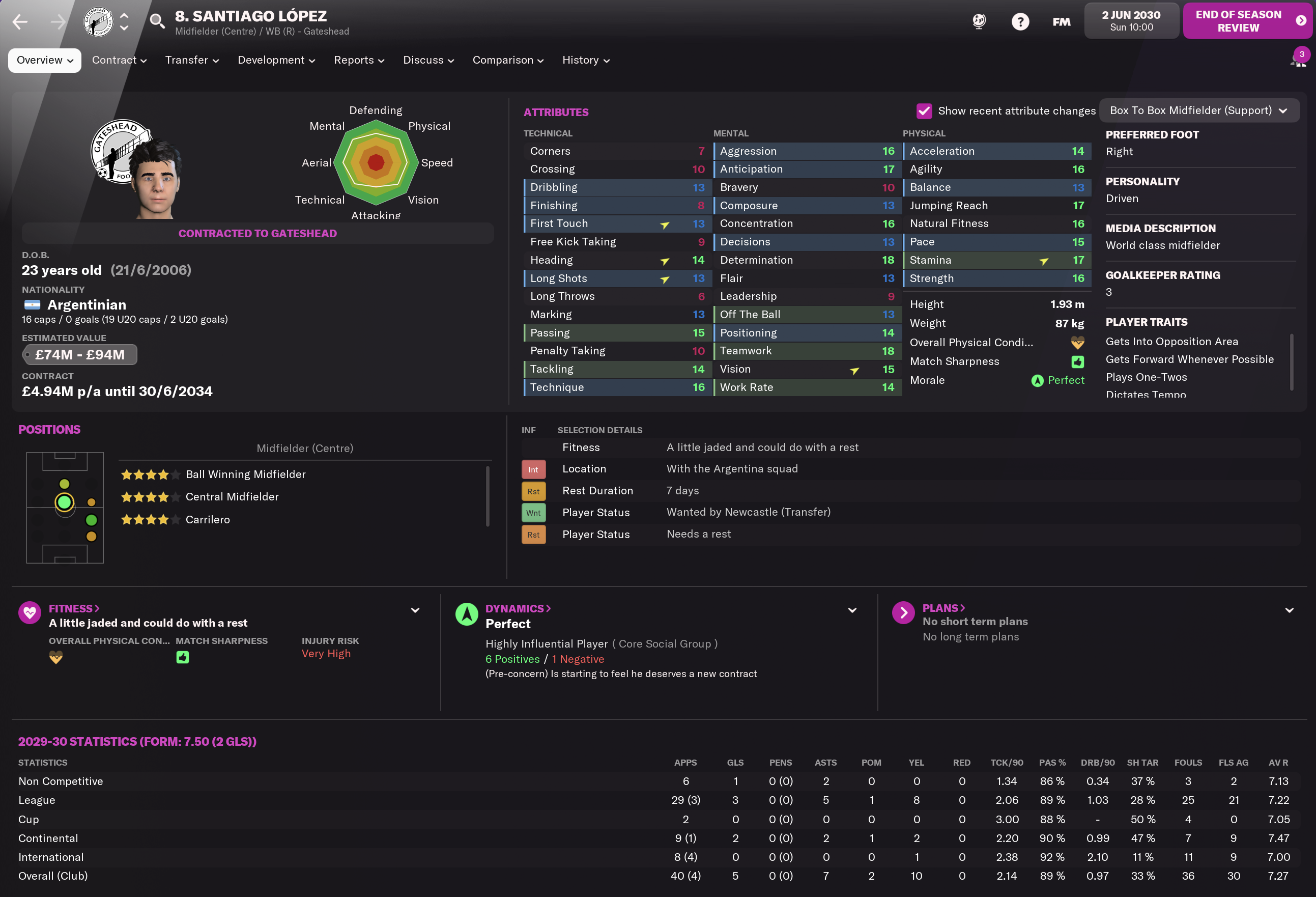 Right winger on support duty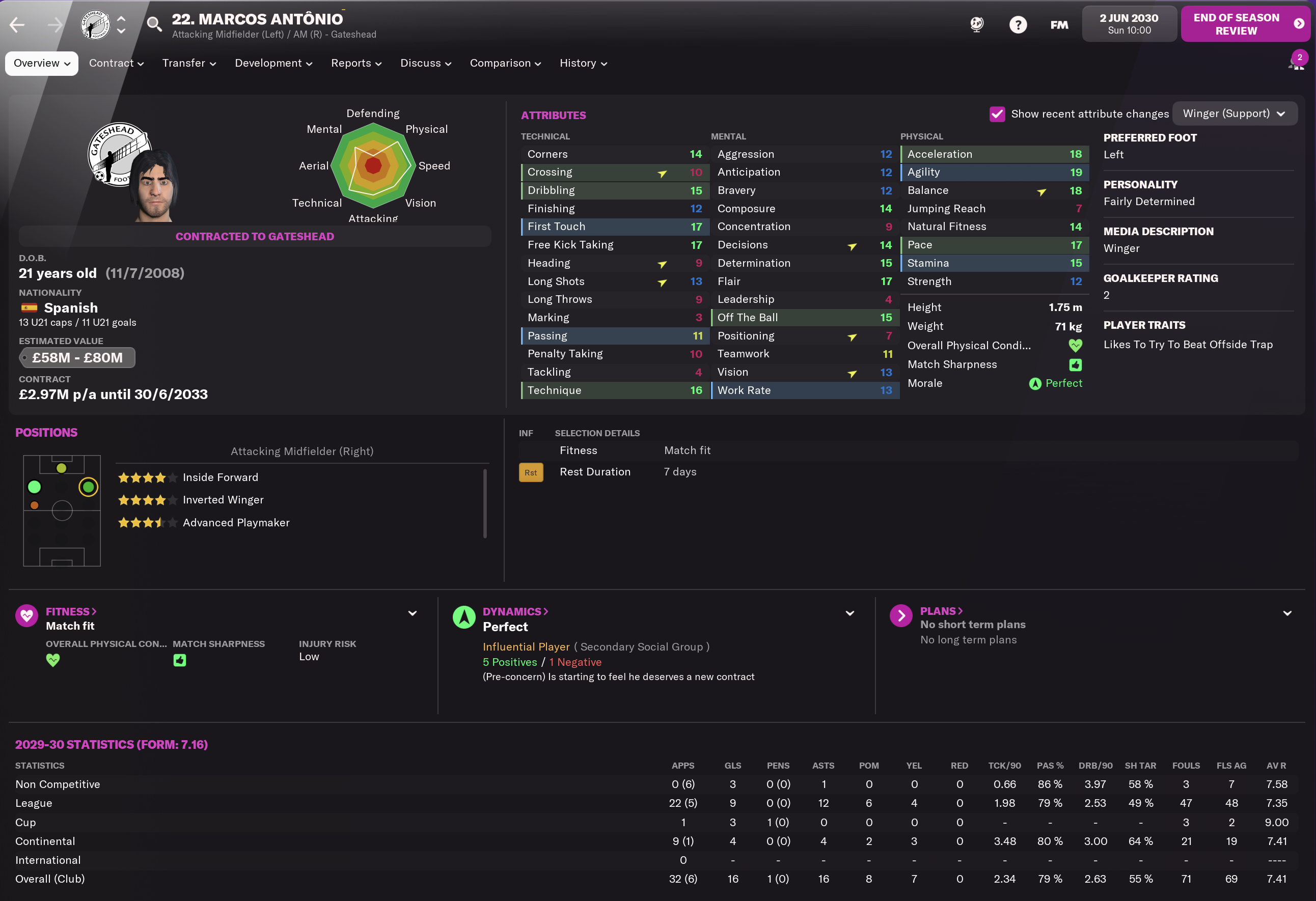 Advanced playmaker on support duty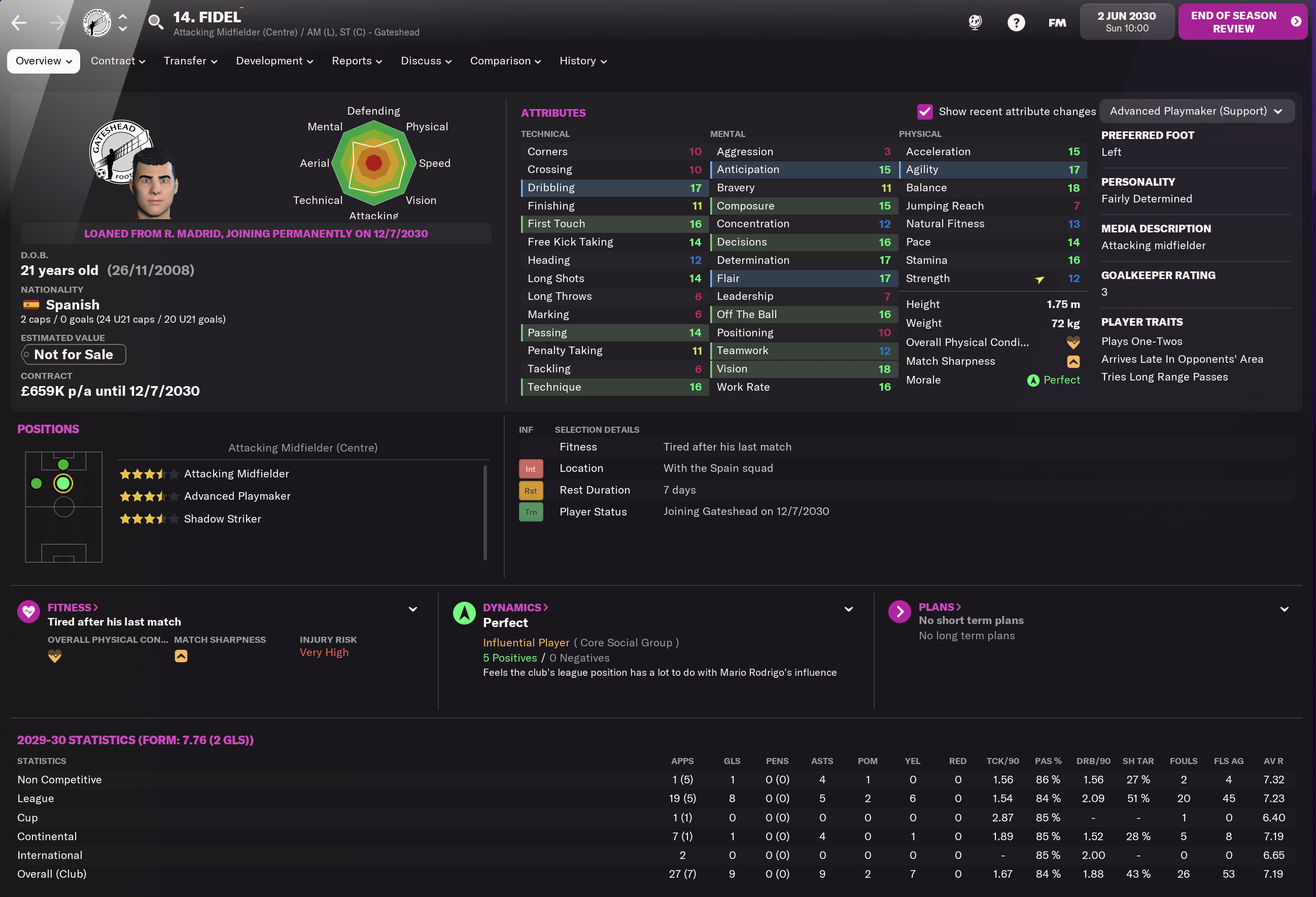 Inverted winger on attack duty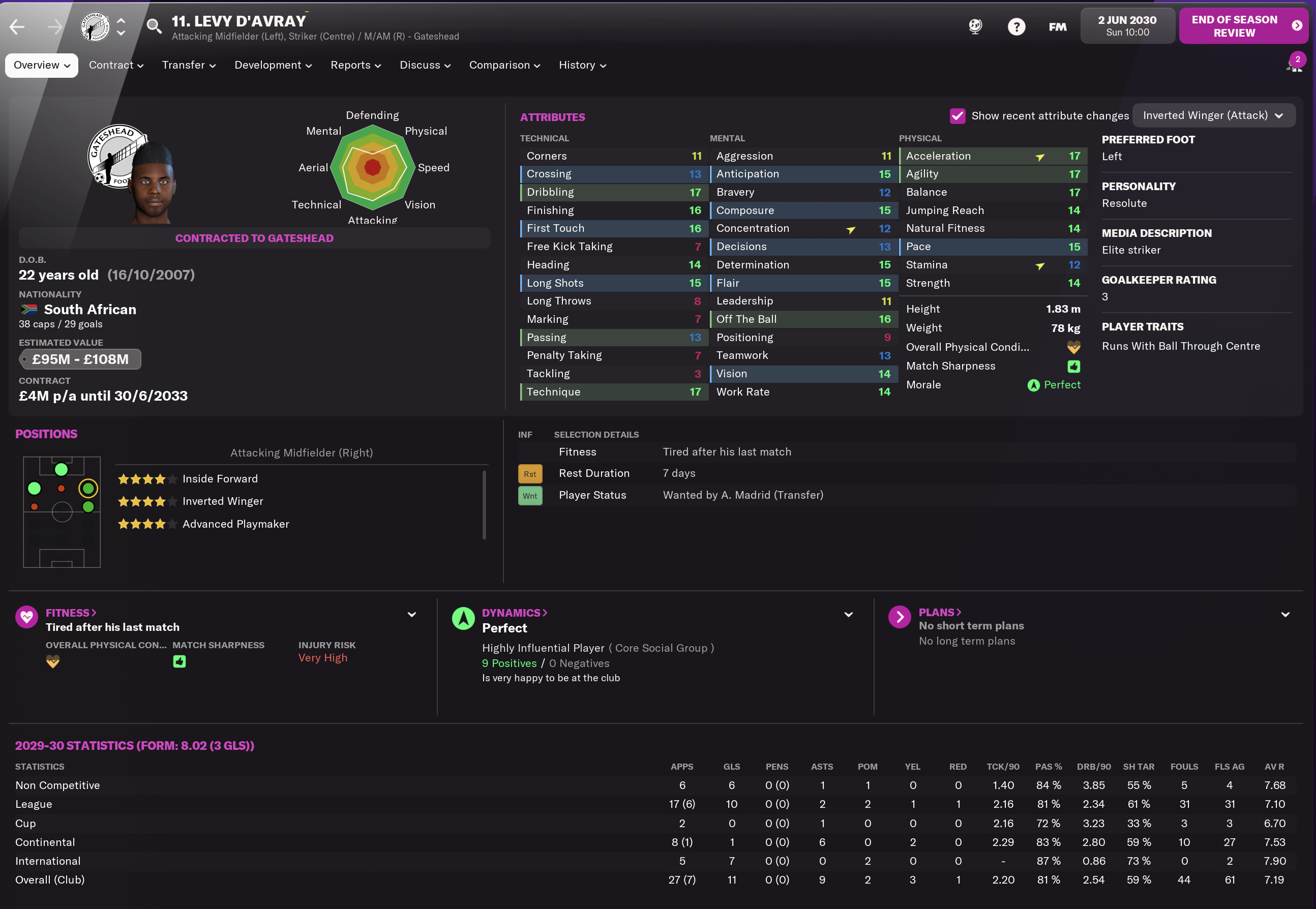 Advanced forward on attack duty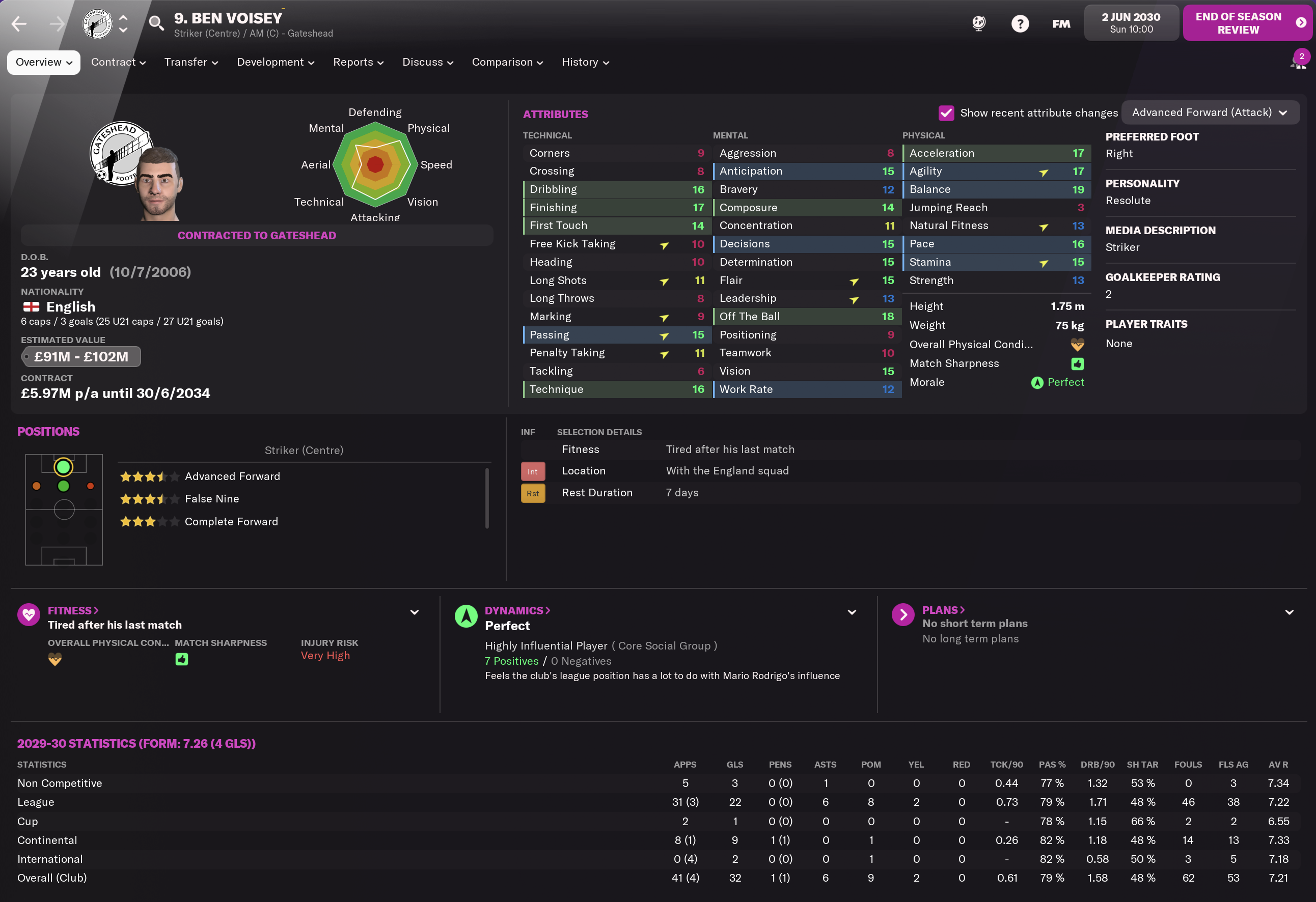 Subs
Goalkeeper on defend duty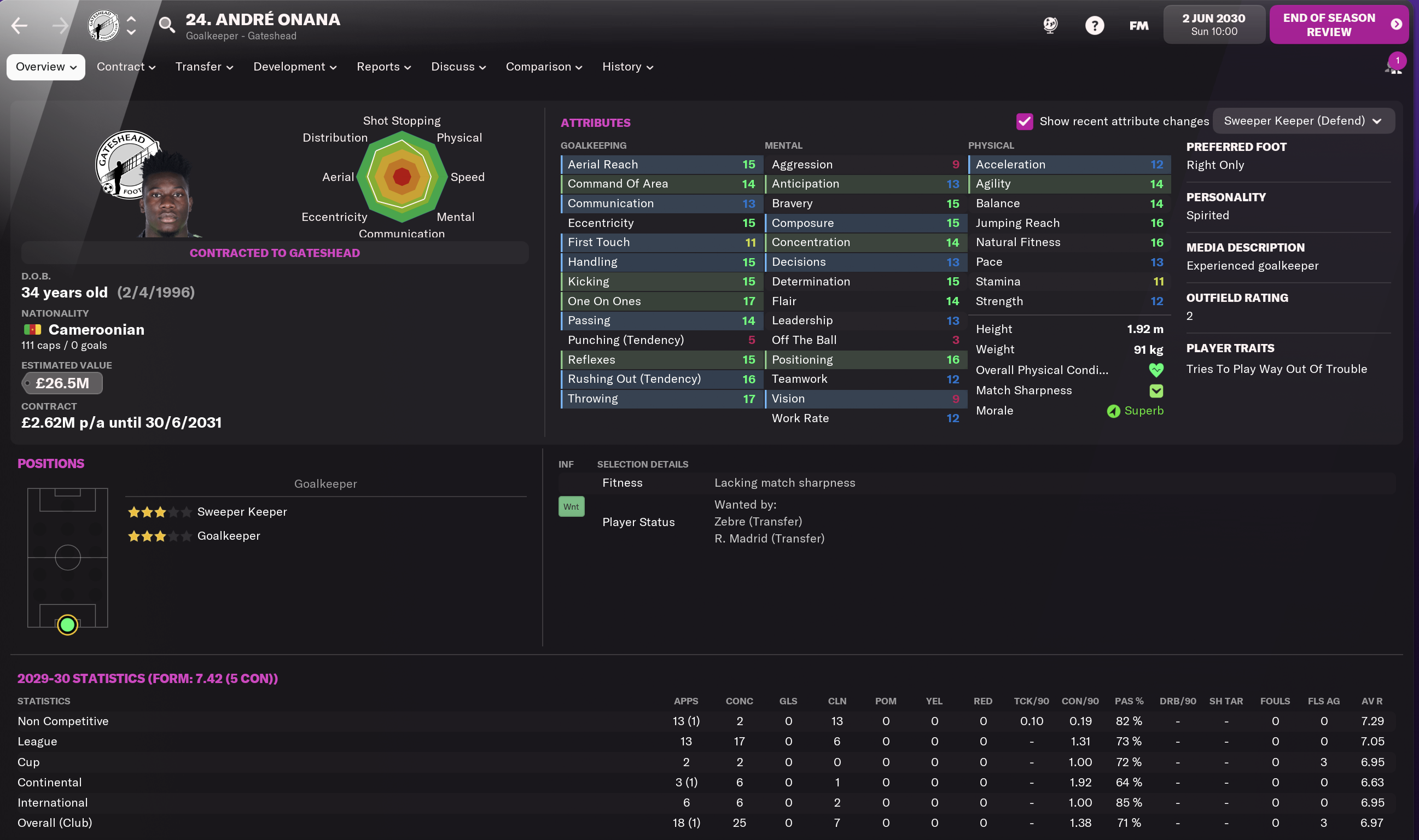 Right wingback on attack duty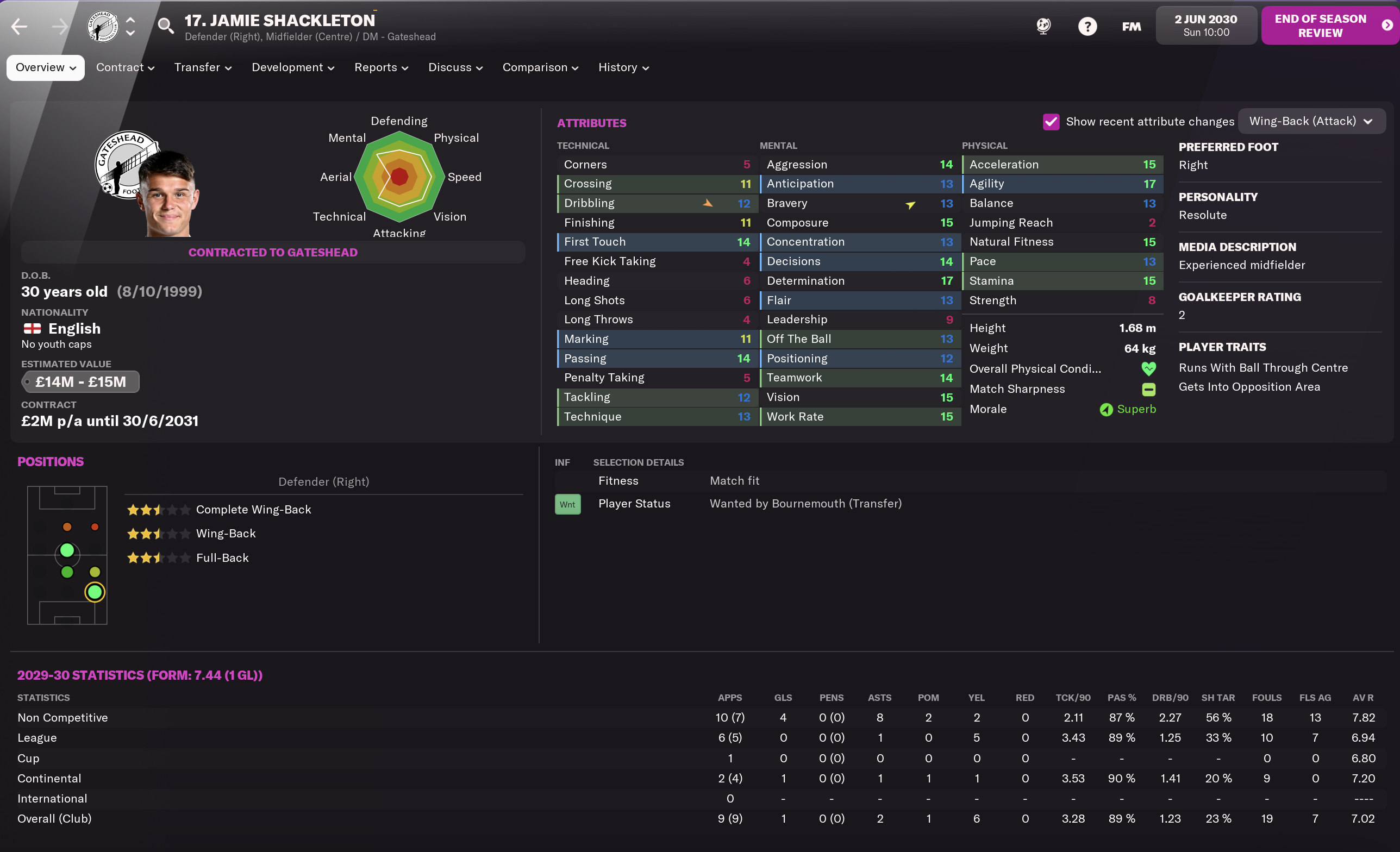 Left full back on support duty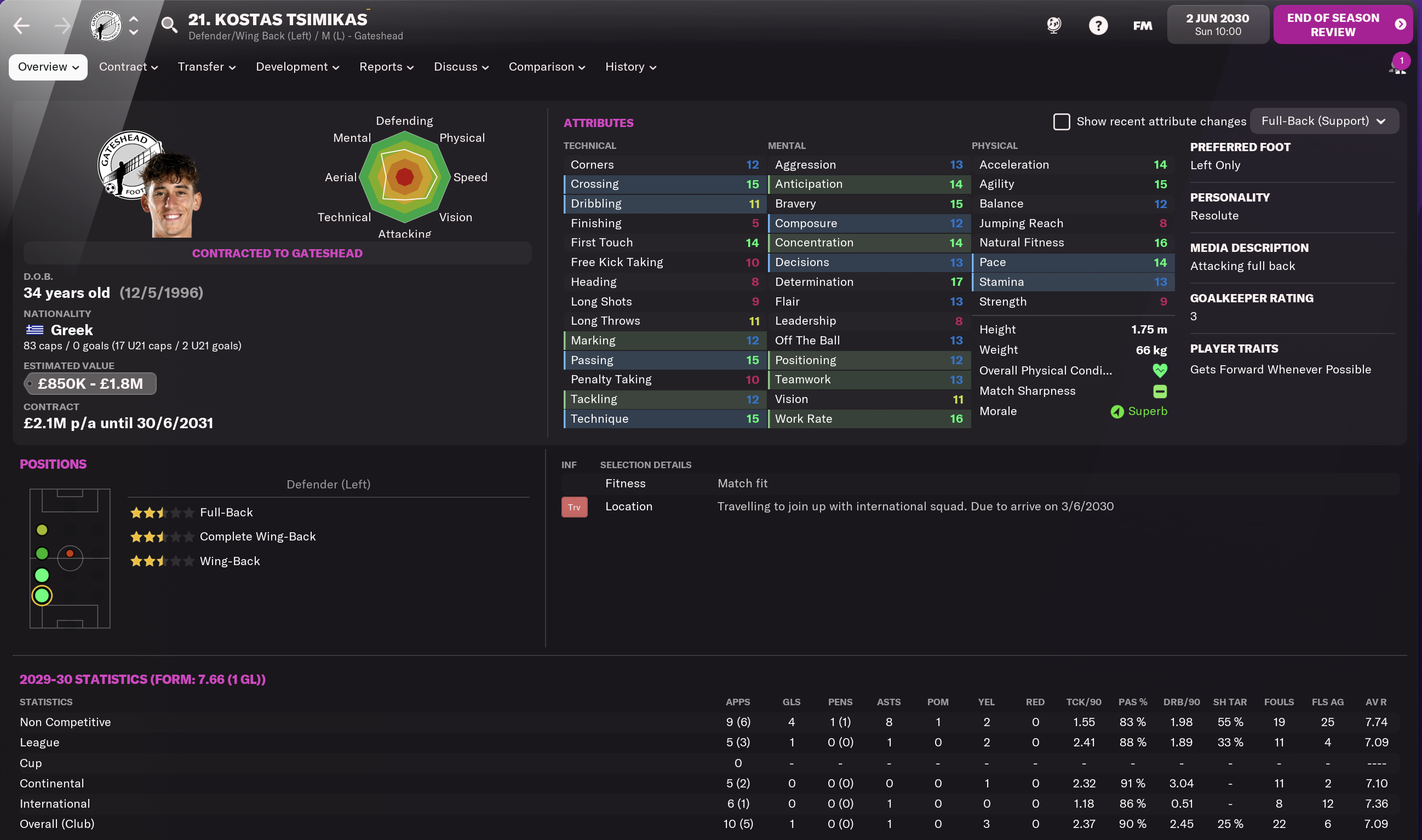 Central defender on defend duty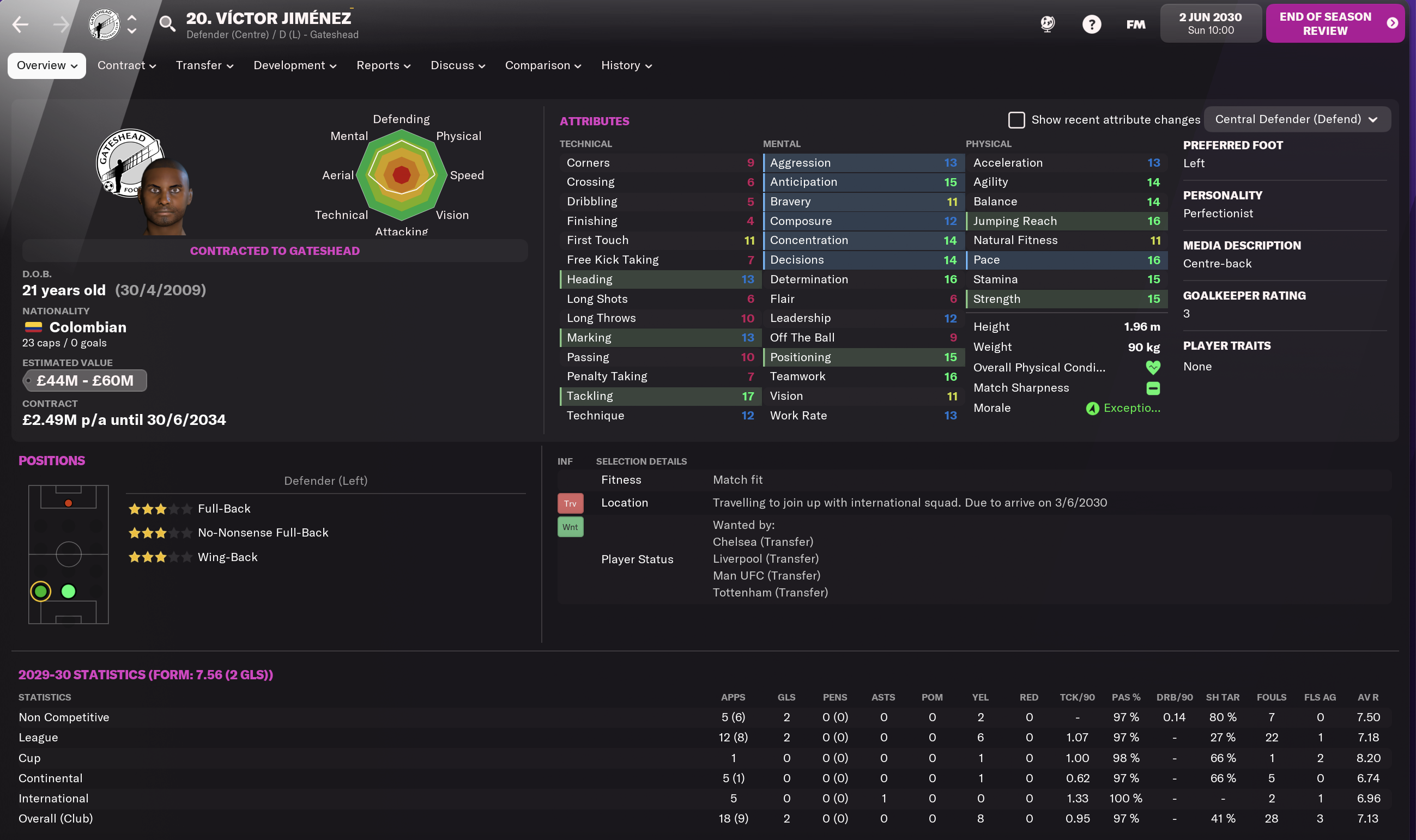 Central defender on defend duty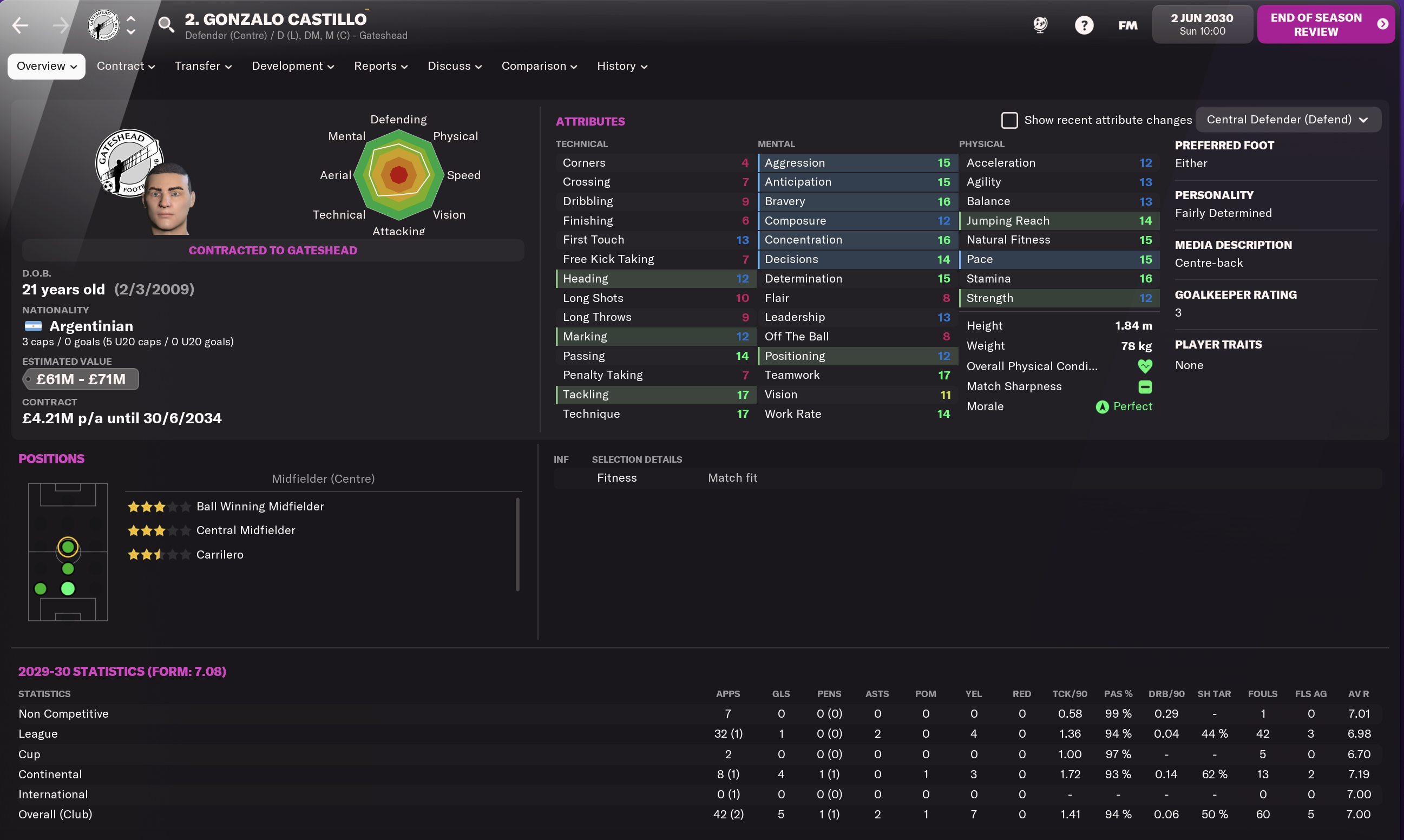 Central midfielder on defend duty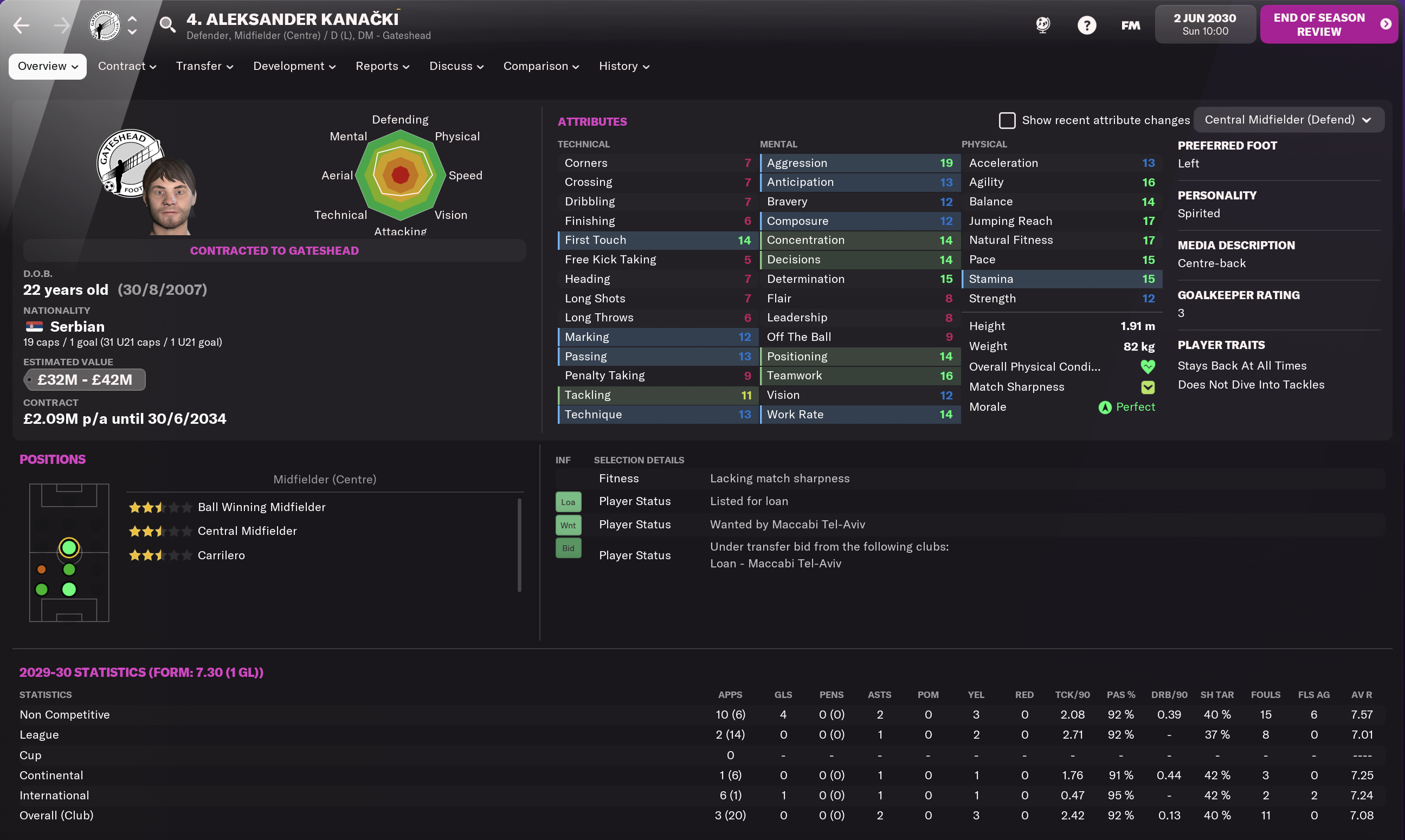 Box to box midfielder on support duty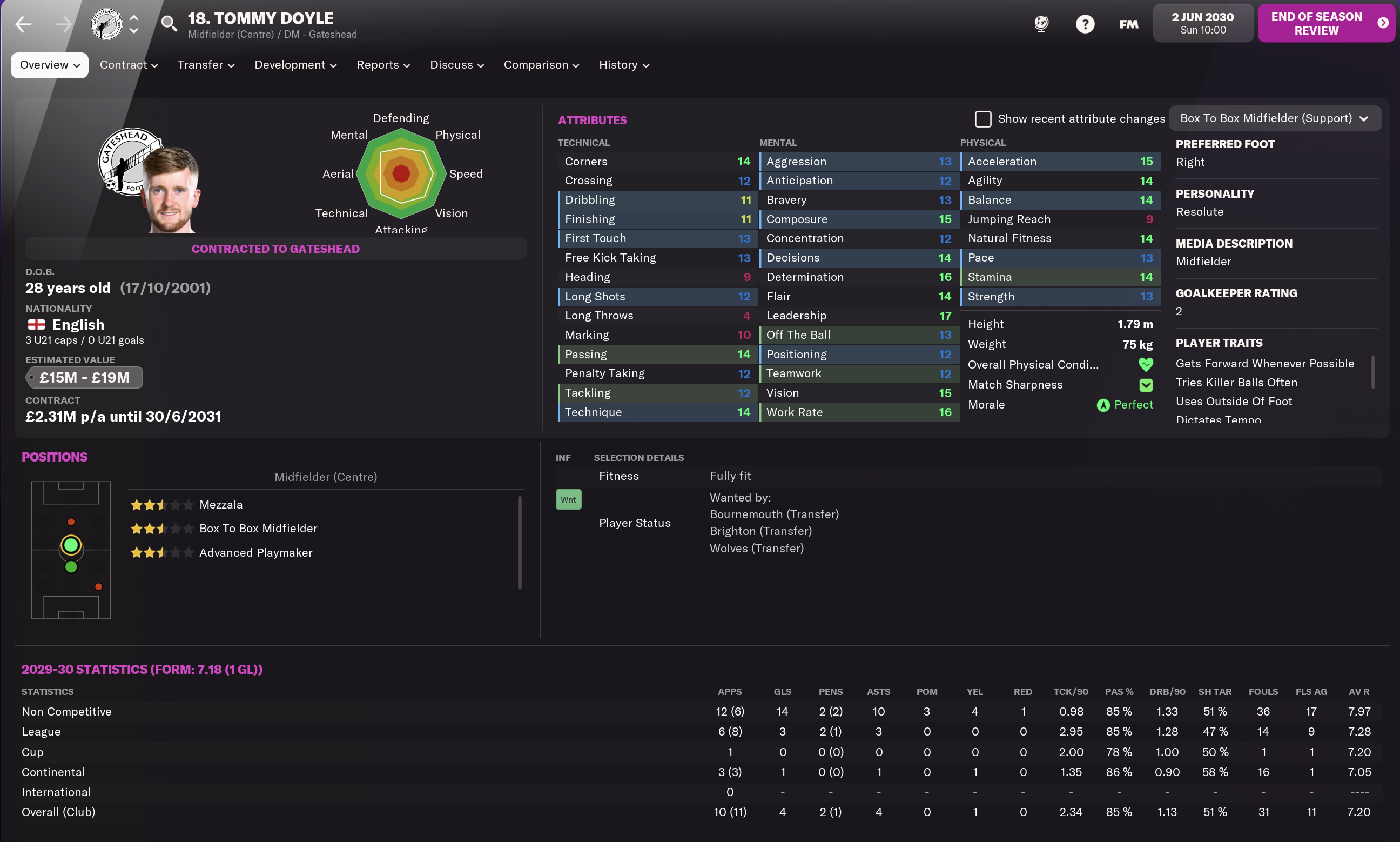 Right winger on support duty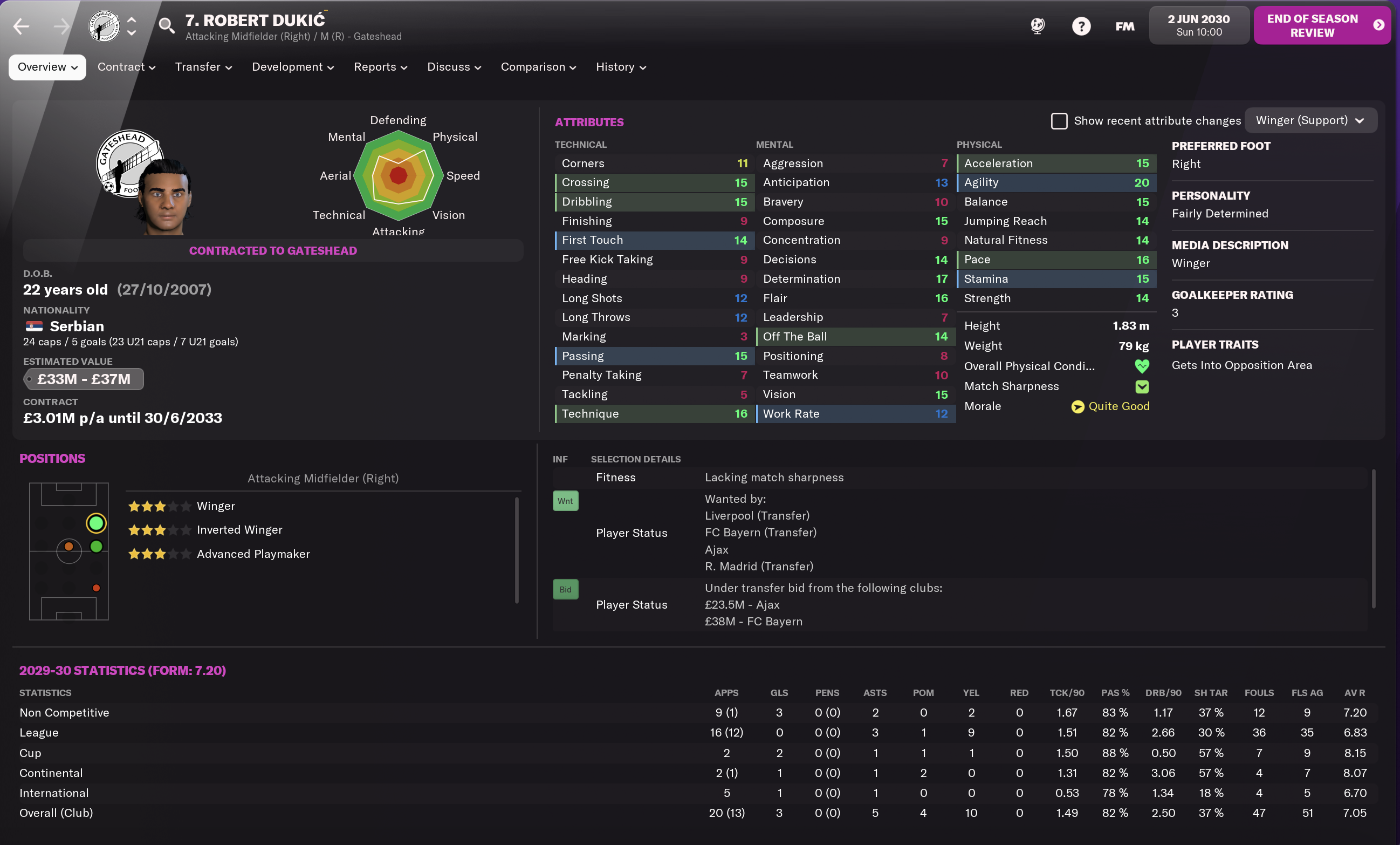 Advanced playmaker on support duty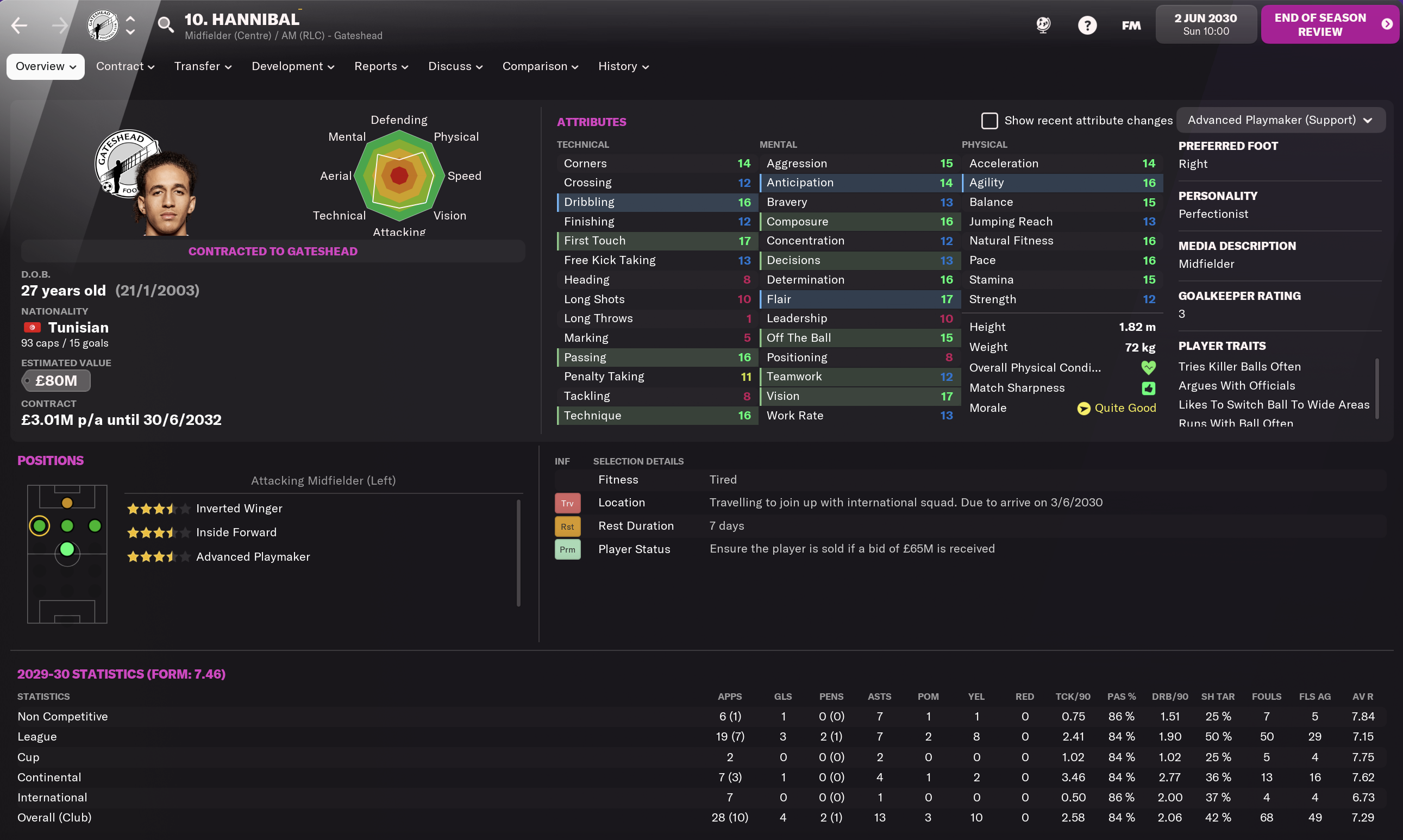 Left inverted winger on attack duty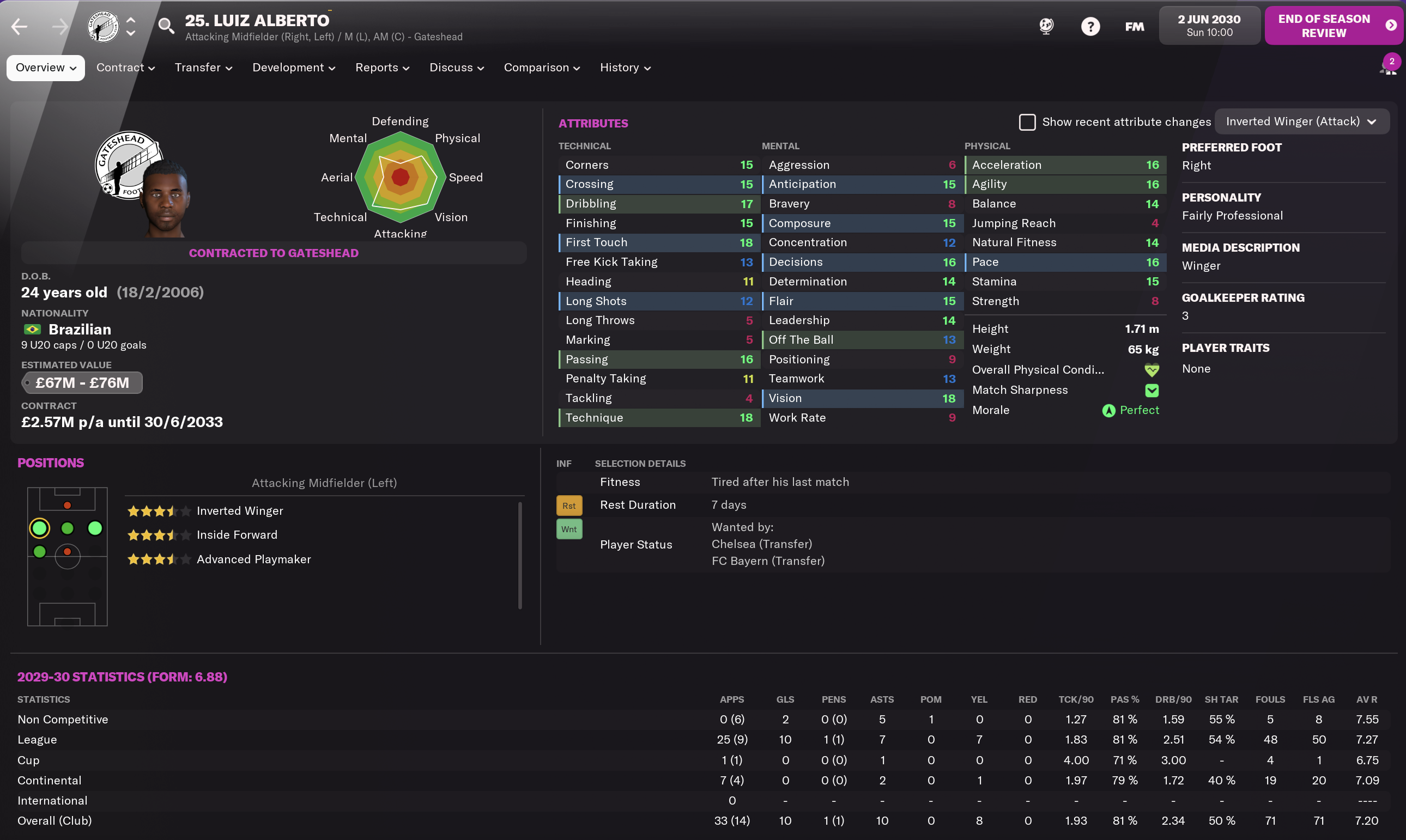 Advanced forward on attack duty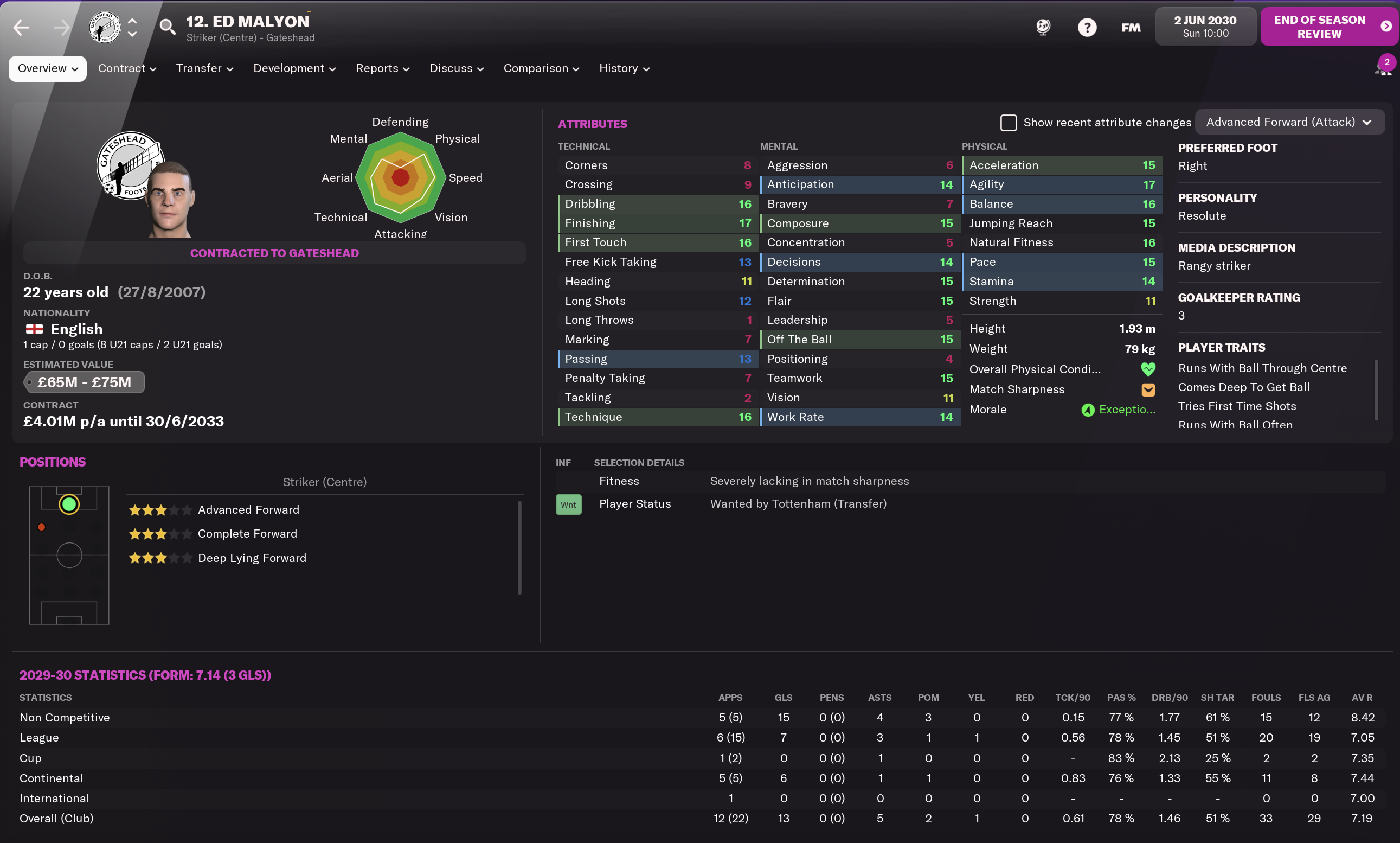 The Transfers
I was in need of some fresh cash so I decided to sell Gacinovic for GBP 33.5M to Leicester and Alexis Mac Allister to Atletico Madrid for GBP40M, the highest fee paid in the Tynesiders history!👌😁
Players out:  GBP  99.5M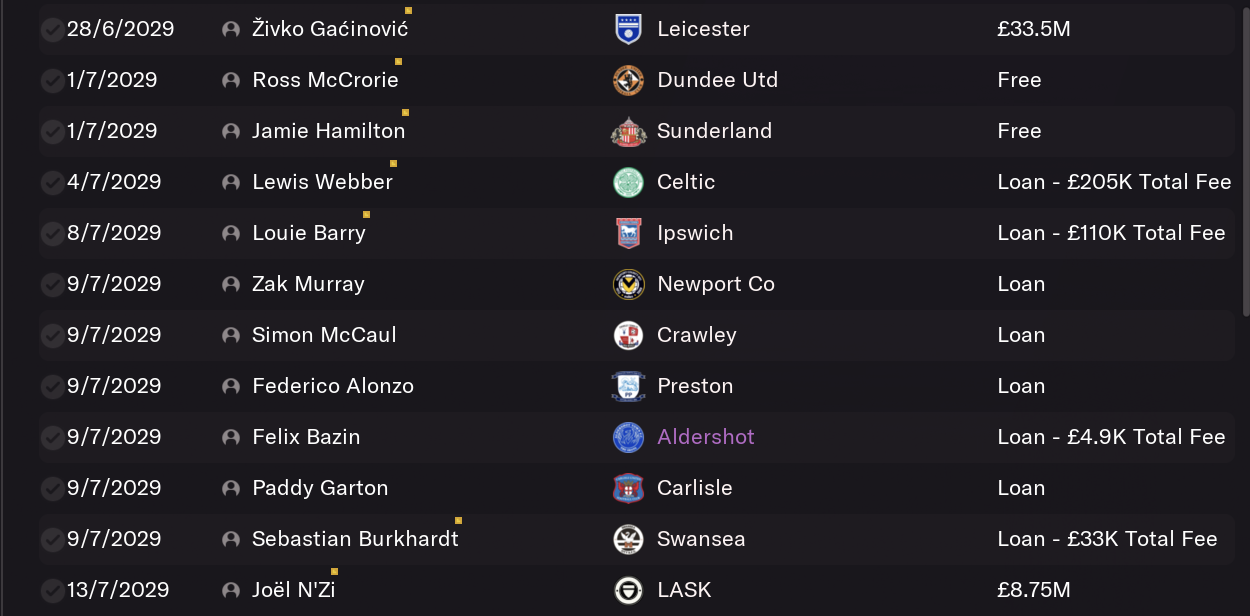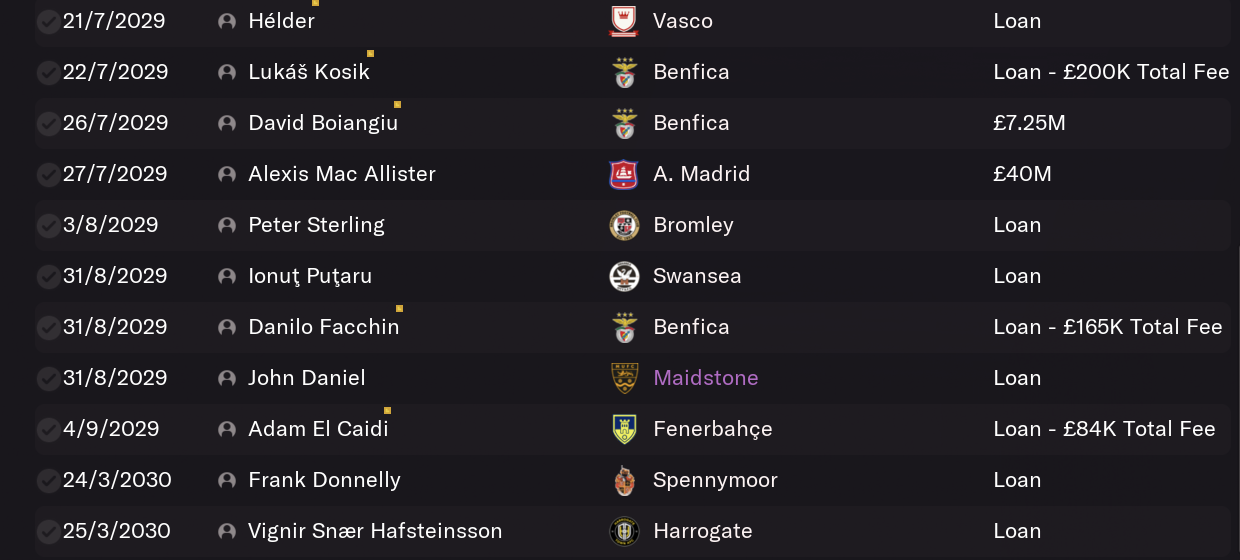 ======================================================
=========================================================================================
Players in:   GBP 232.5M
Bear in mind that the players I sold, were paid mostly in cash, while most of the players I brought in, are being payed in installments.
For our debut in the ECL I signed three first eleven defenders. Two full backs, Kalulu from Milan and Frabotta from Leeds, plus central defender Milencovic from Chelsea.
To play as box to box midfielder I spent GBP 50M for Santiago Lopez from Southampton.
The fifth first team player I signed was striker Voisey, who was on loan with us last season with an optional fee of GBP 65M, the highest fee ever payed by Gateshead.
I also bought three new wonderkids as I always like to build for the future.


The Club
At the beginning of the season the media predicted that we were going to finished in 8th position, we finished 1st!. 😁
The squad personality is very determined, as I always want my teams to be mentally very strong.
This season Gateshead jumped from a national reputation to a worldwide one. We are the 11th club with the highest reputation, outstanding improvement as nine seasons ago the Tynesiders were playing in the Vanarama National League!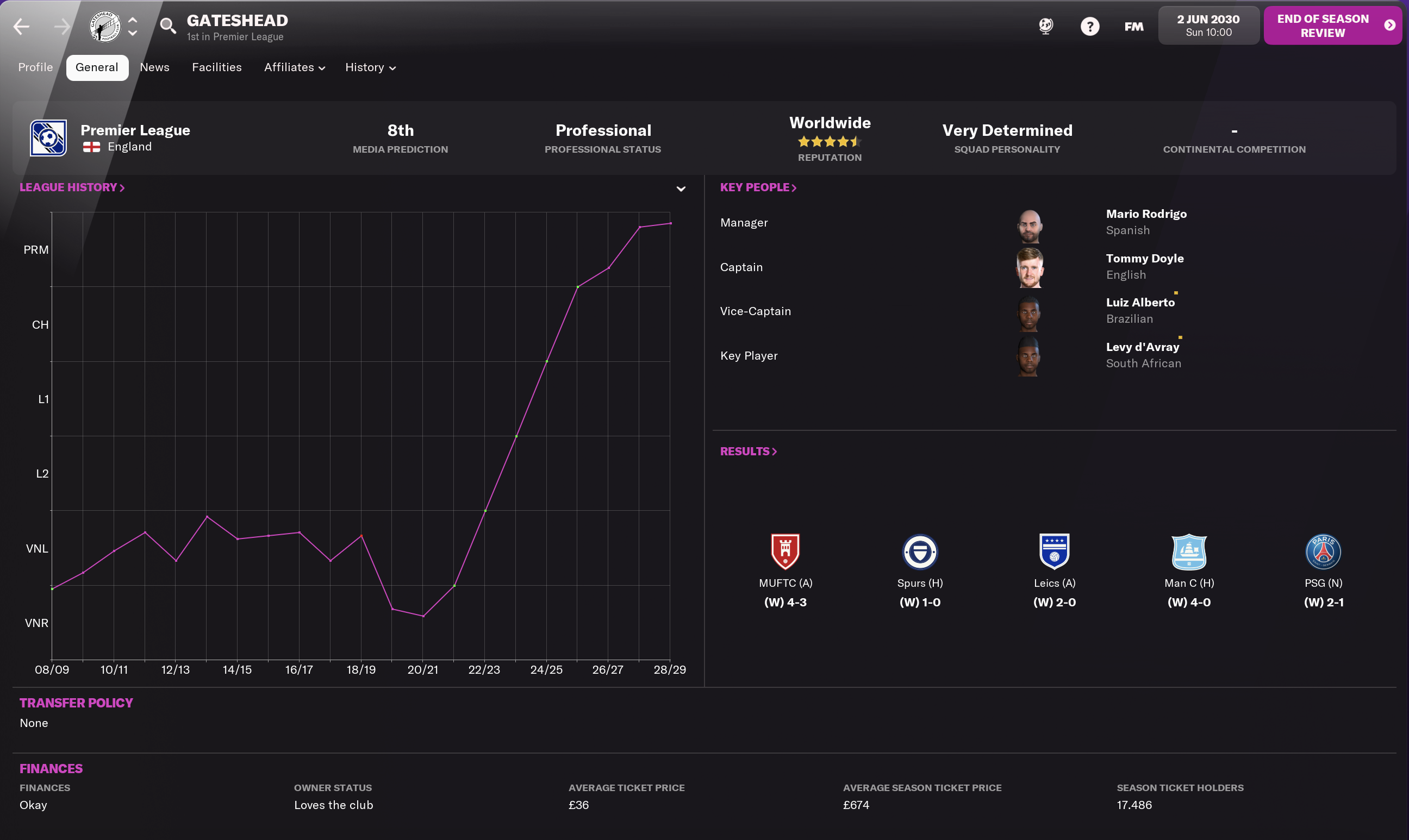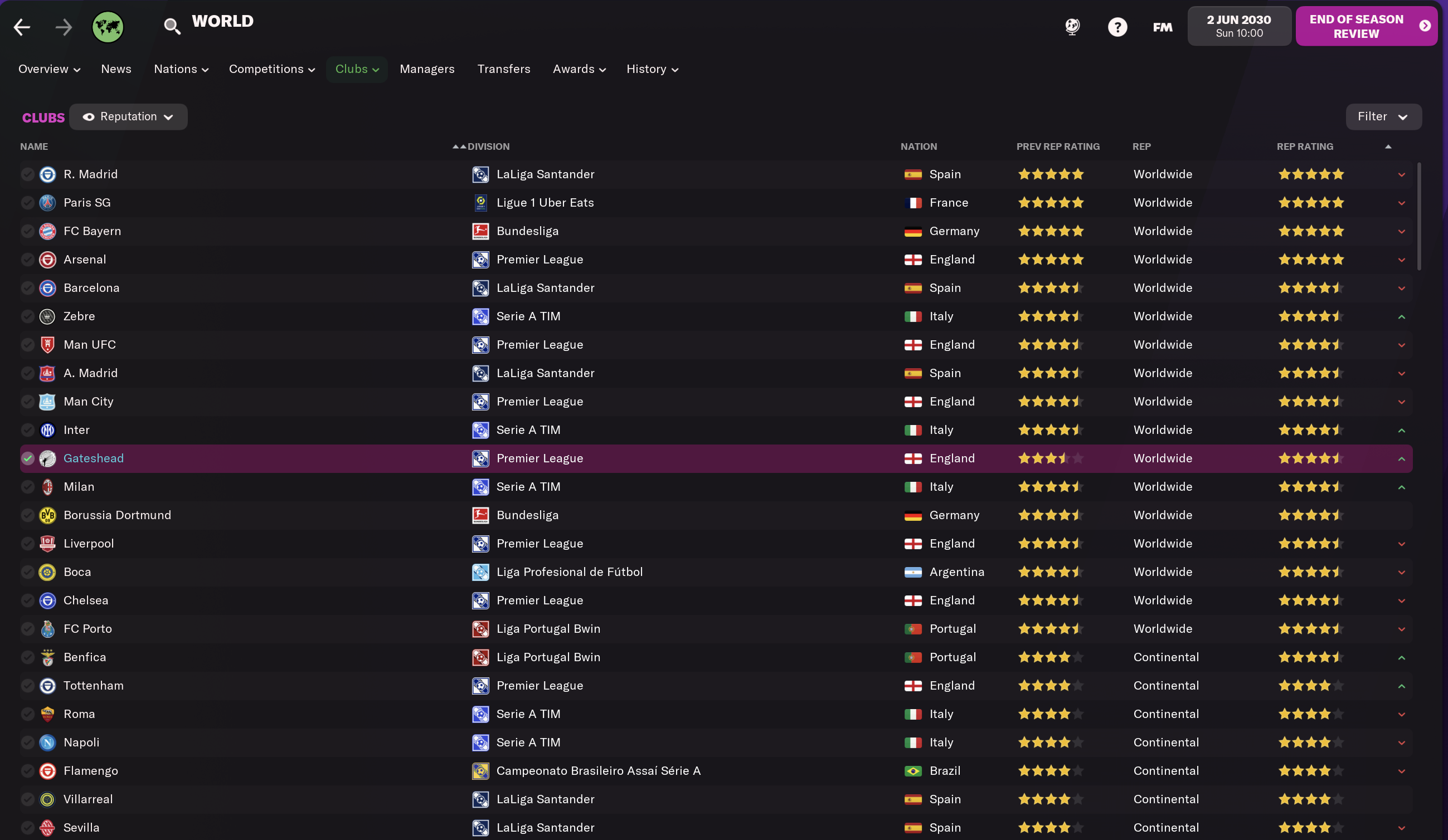 I am considered a club legend since since my forth season at the club. 😀👍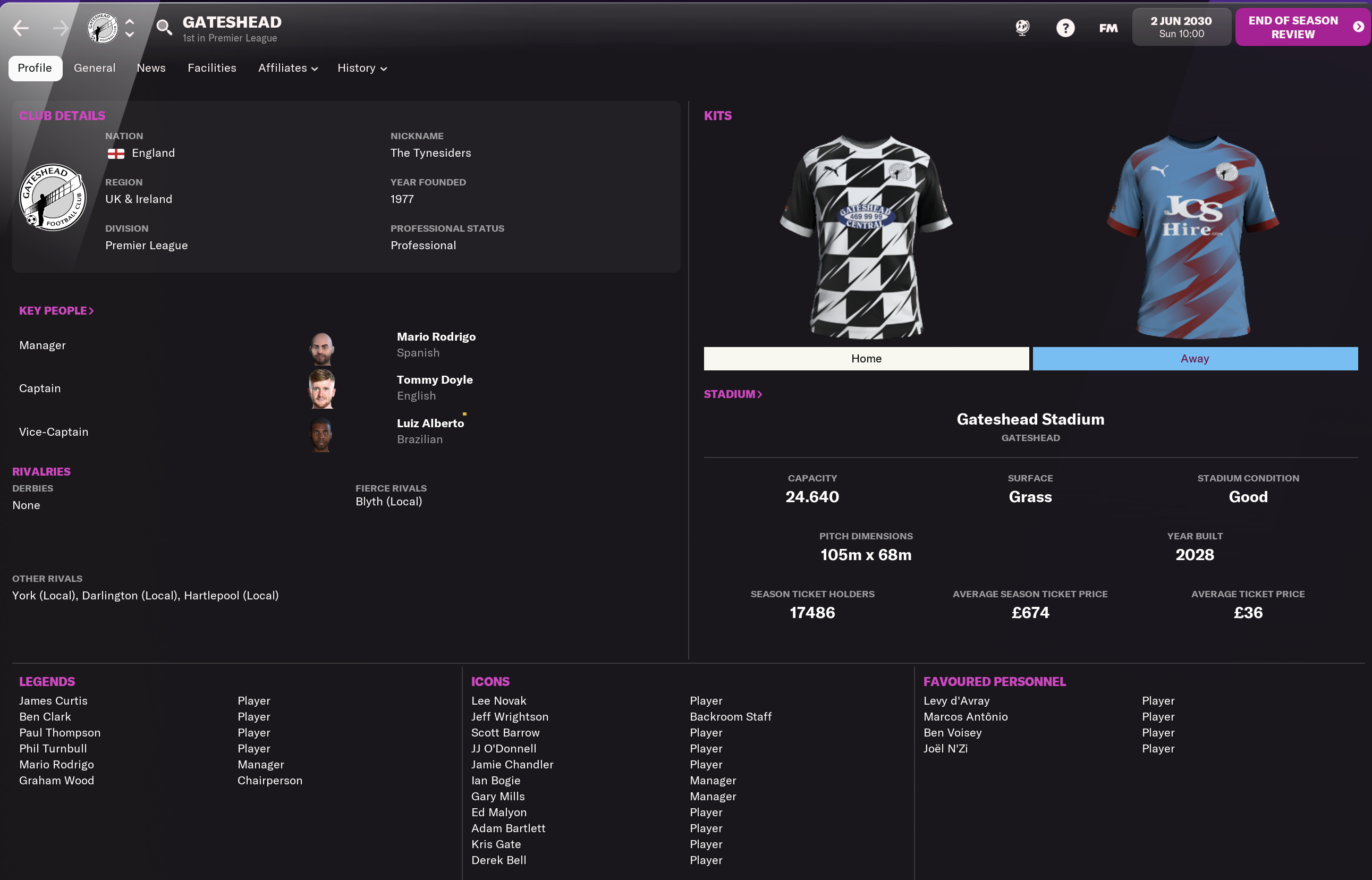 The Facilities
Gateshead training facilities has been improved to excellent level as the youth ones.
The junior coaching academy remains "good".
Our youth recruitment is exceptional.
The Gateshead's stadium has been expanded, now it holds capacity for 24.640 seated fans! 😁👍
My goal is to upgrade all facilities up to state of the art quality level, if FM 2023 isn't release first.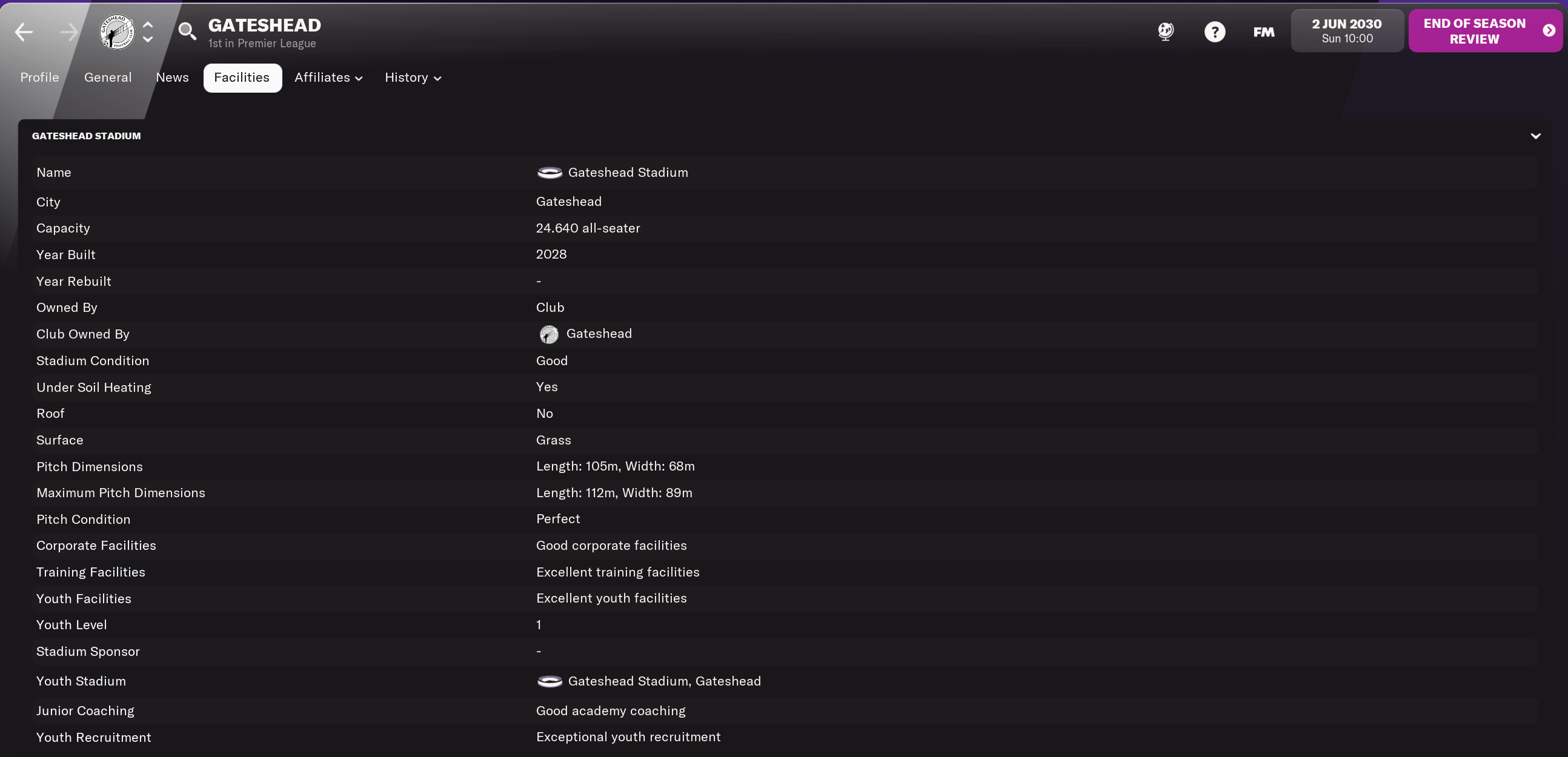 End of League Finances
The overall balance is GBP 1.6M.
But I already accepted an offer for GBP 28M for Dukic from Bayern Munich.
I guess I will have to sell one or two more players to bring some more stars.
The transfer budget is GBP48.5M and the yearly wage budget is GBP 116.6M
Neither the owner or chairman have injected one penny since I took over the club's management 9 seasons ago 😡
The Tactic
During this season I used my wide 4-2-3-1 lower league attacking tactic, which was successful in the last eight seasons.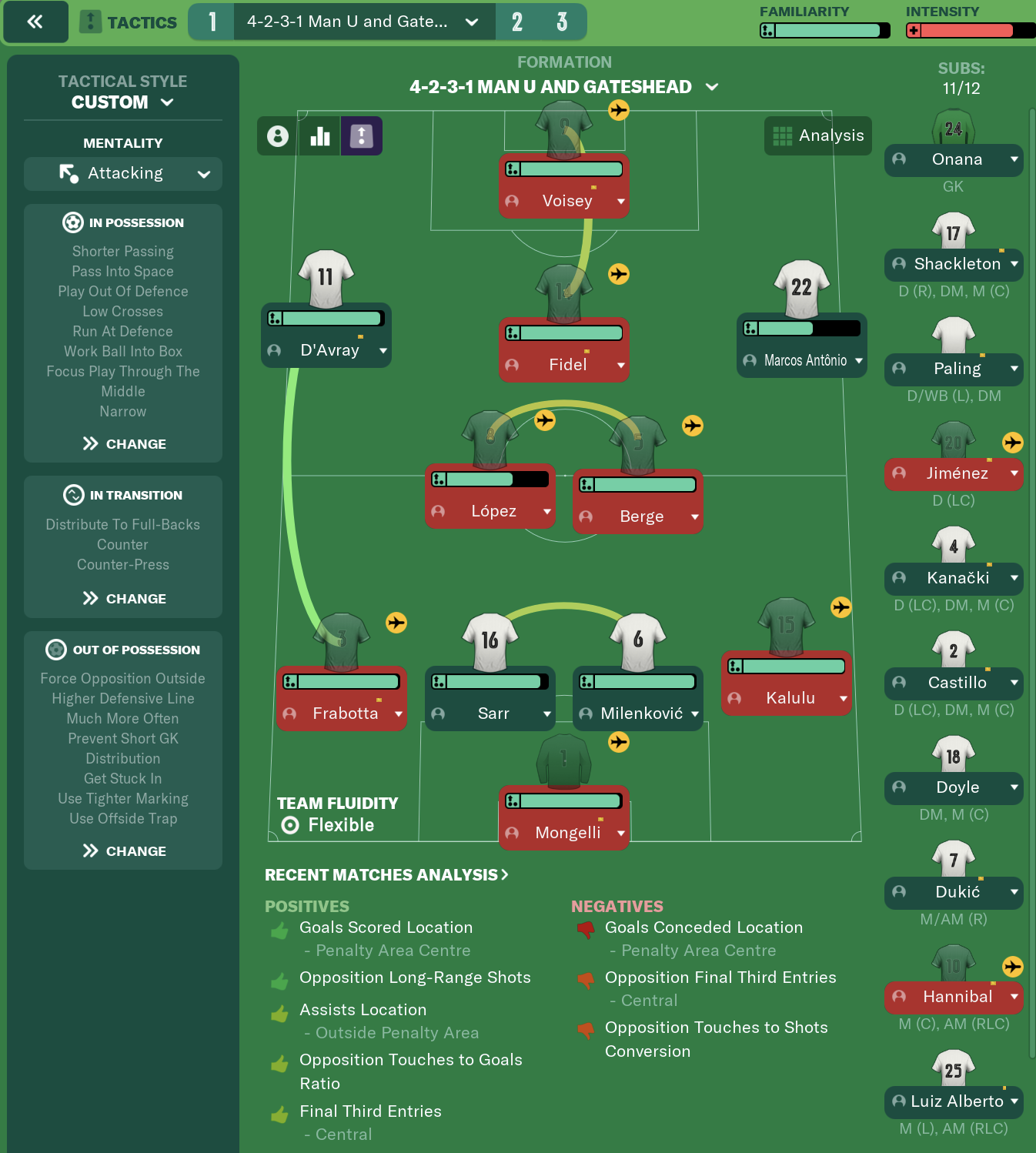 Squad Dynamics
The dynamics are great and I only have two big tight core social groups full of positive influential players.
Dynamics are a very important part of the game and it's a must to have them right.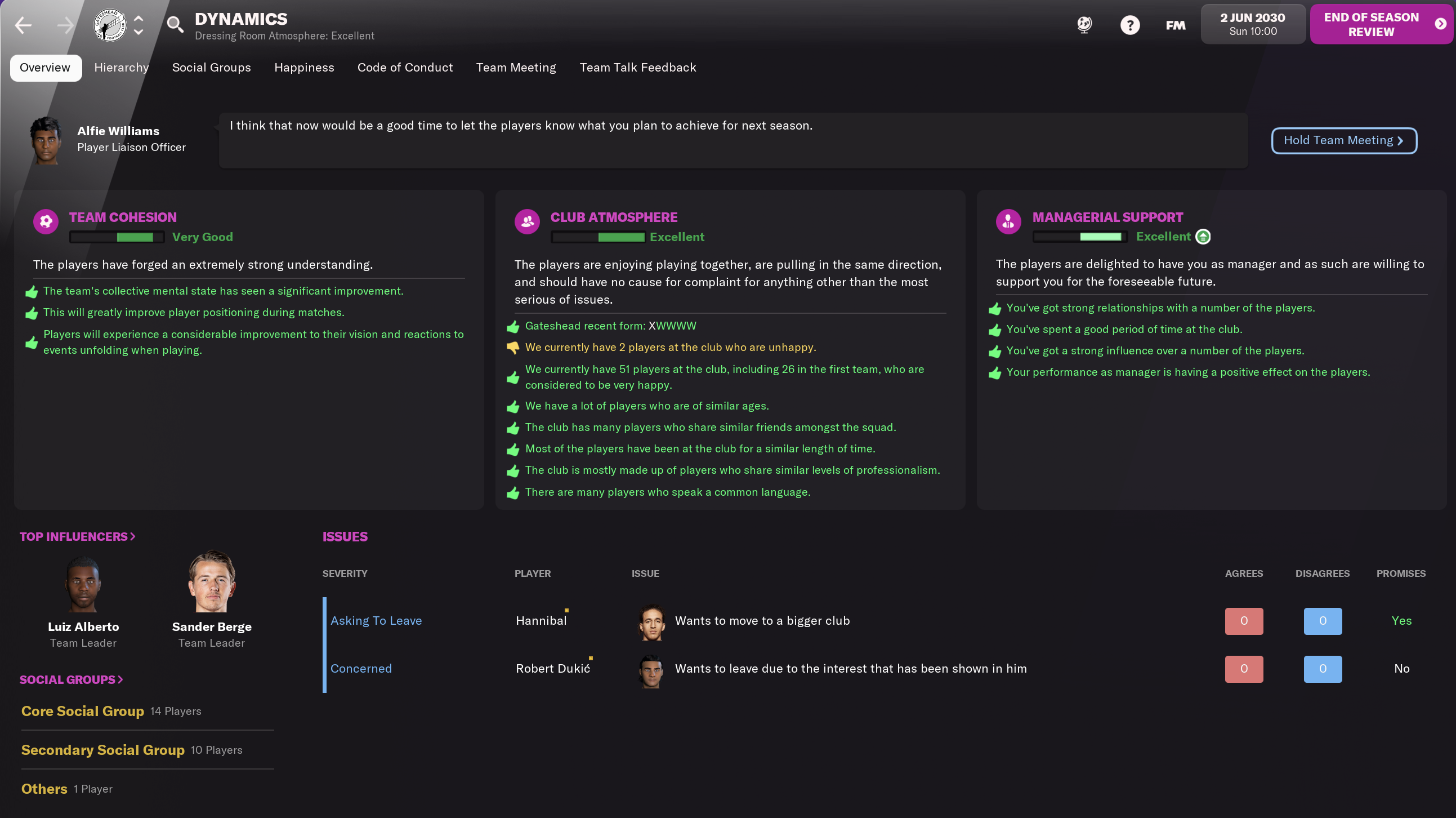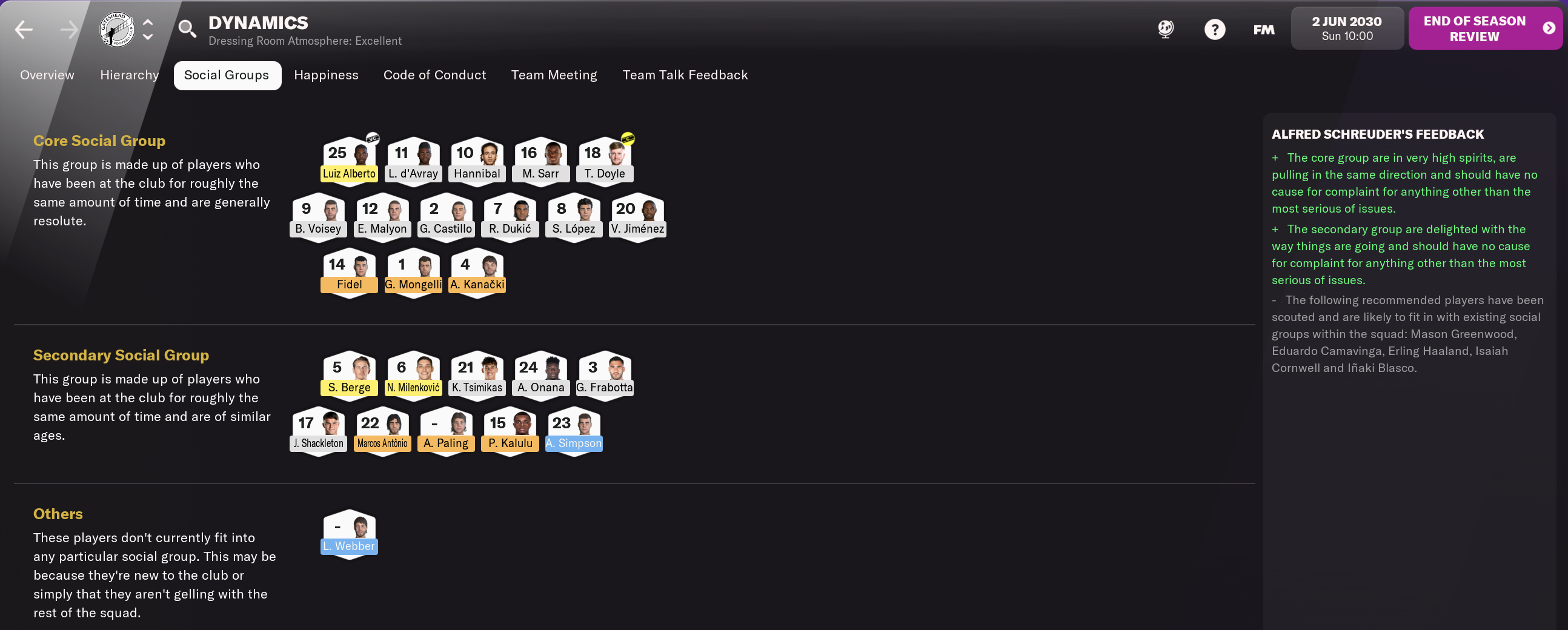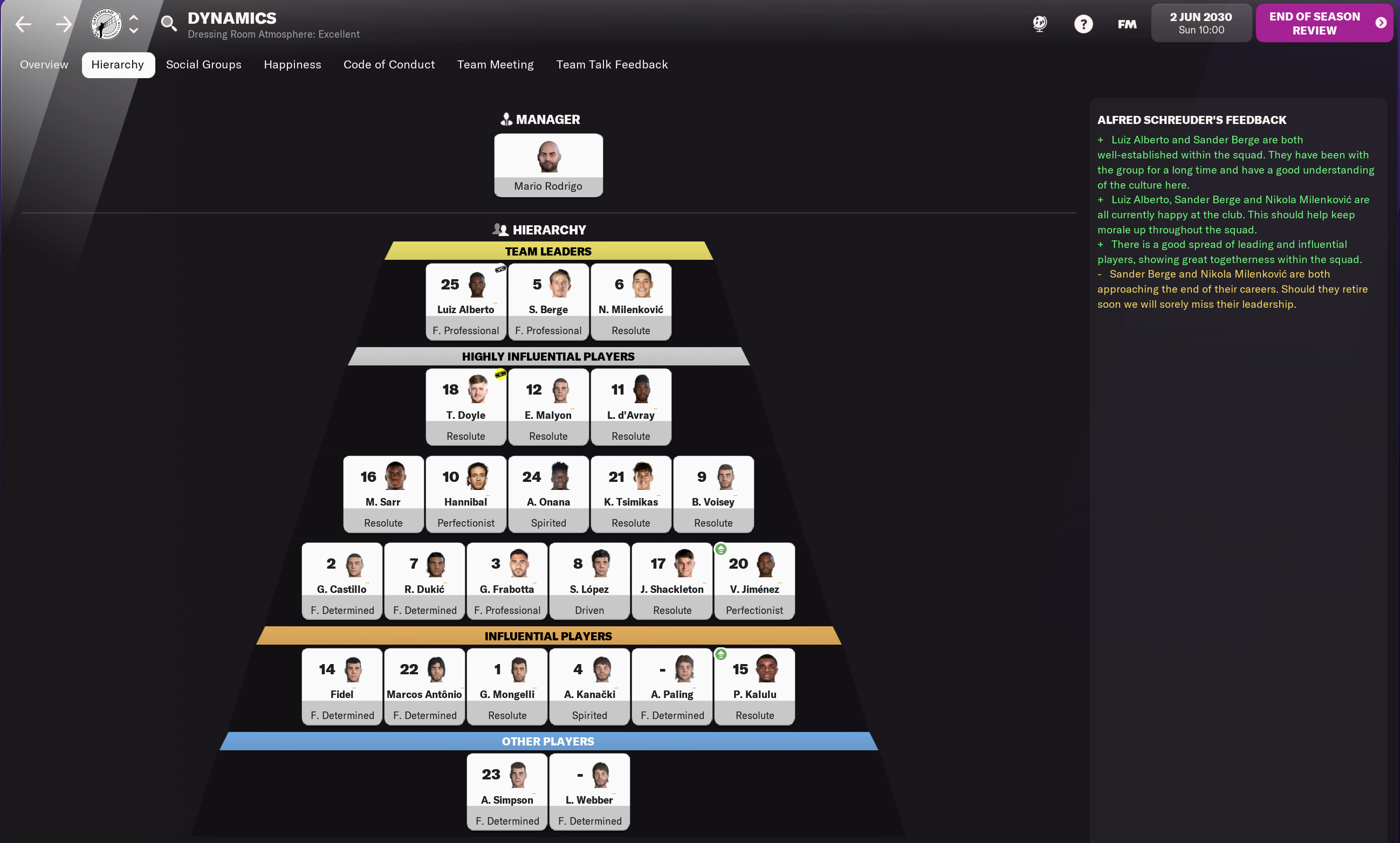 Building for the Future
Gateshead now has a lot of young potential elite players, may of them, already with first team current ability. Several first team defenders are over thirty one years old, good that I have incredible talents coming into the squad.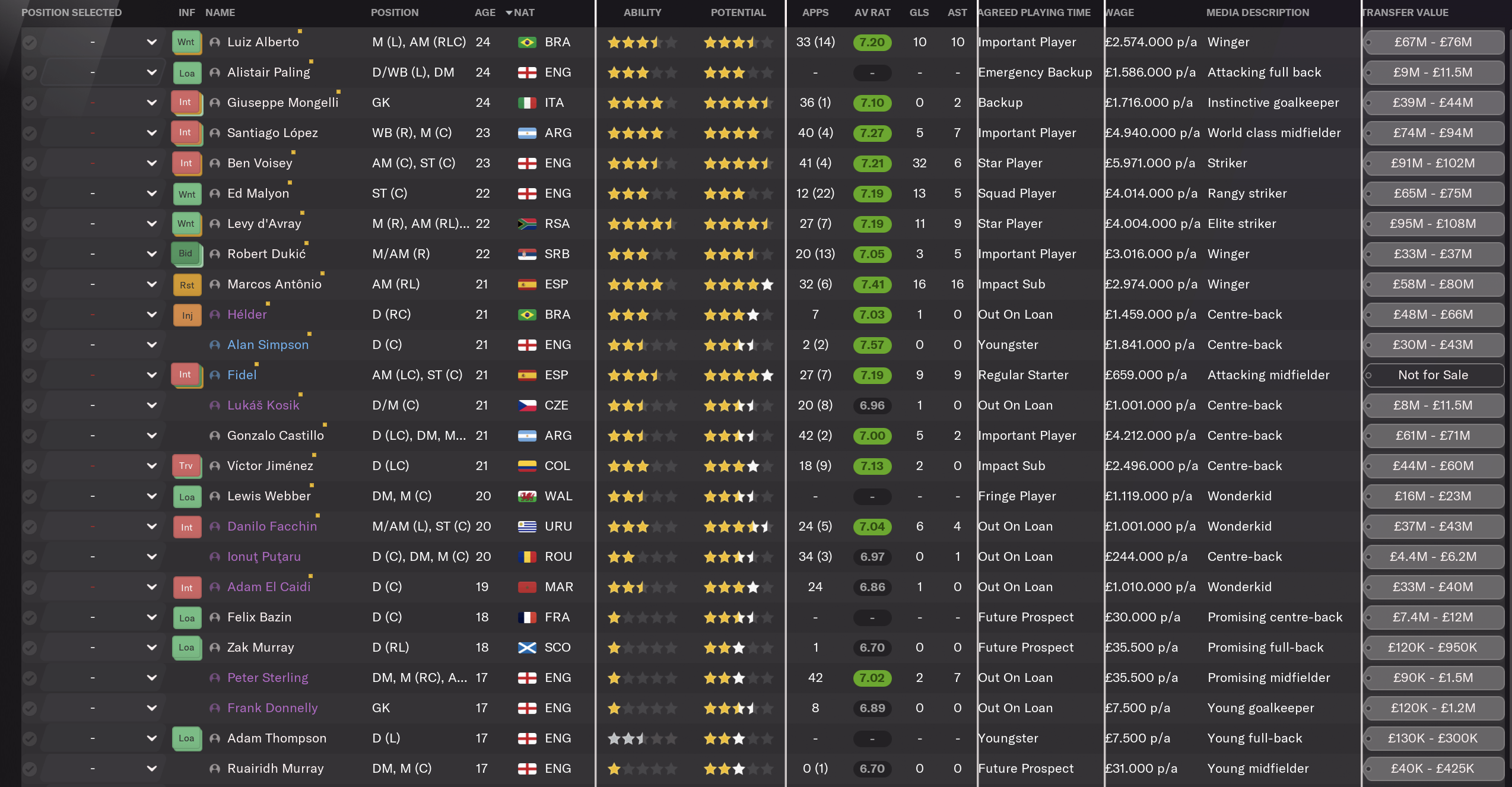 The Coaching Staff
The coaching team by now is a world class one. Most training categories have 4.5 or 5 stars ⭐️.
 The Training Schedule
As in the last eight seasons I trained the players with Andrew Gibney's schedules.
You can check Andrew's Youtube channel here.

The Club Vision for Next Season
I will have an GBP 48.5M yearly wage budget and a GBP 116.6 transfer one.
Our stadium is being expanded to host our ever increasing fanbase.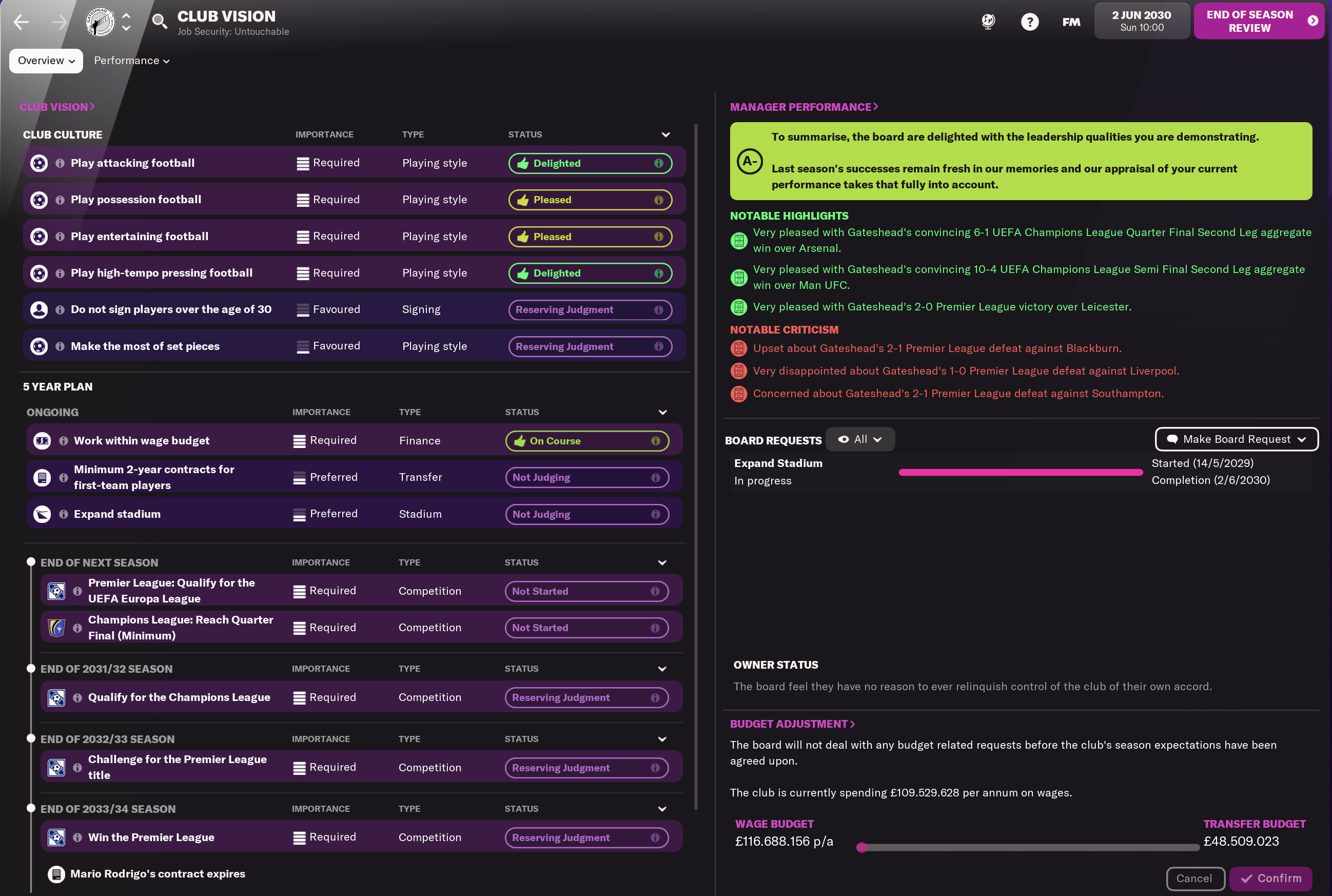 As it is already mid September I'm not sure if this will be the last post of this Football Manager story as the FM 2023 release is coming closer.
But, I still need to win the FA Cup and the World Clubs Cup, so that may be a motivation to continue.
I hope you are enjoying my story and that it may inspire you on your own saves! 😃 🙏👌
See you next season.(or in FM 2023)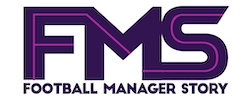 Subscribe to our Newsletter