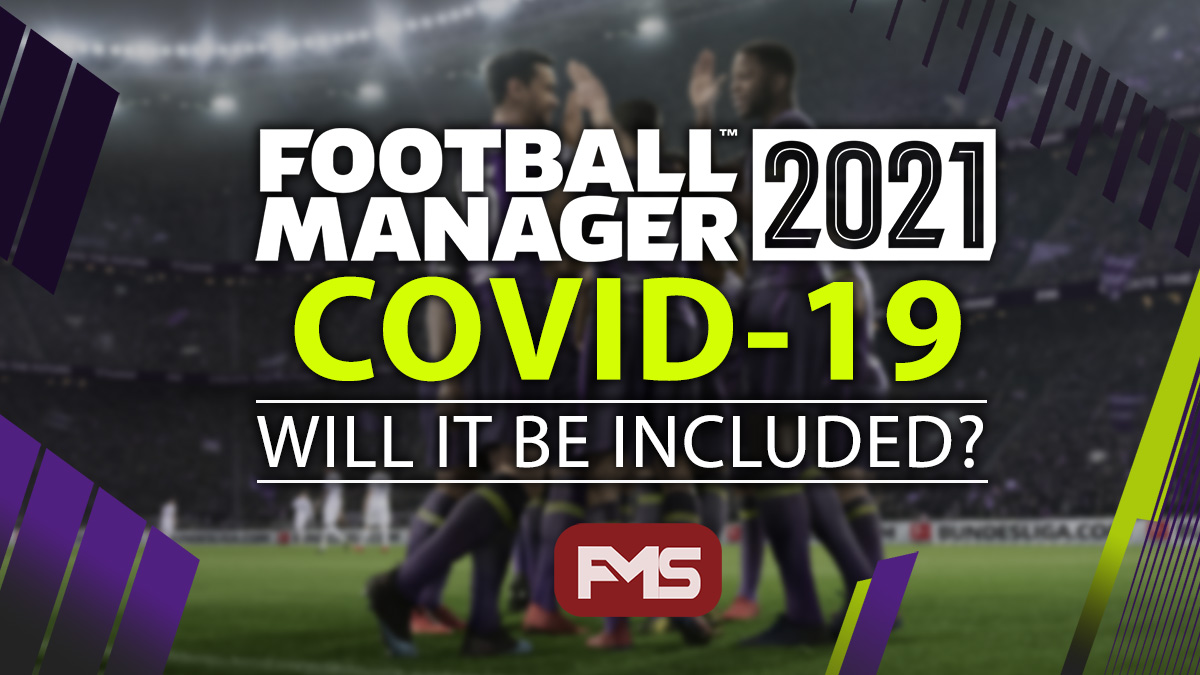 Today Miles Jacobson addressed the big question; will COVID-19 be in Football Manager 2021? As fans of the game will know, COVID19 was not added to FM20 as Sports Interactive consider FM an escape and felt the virus had caused enough ill feeling in real life.
But to exclude the Pandemic from FM 2021 would prove a more complicated decision going against Football Manager's aim of producing a realistic, true to life game.
So, will COVID-19 be in FM21? Well yes and no…
Will COVID-19 Be In Football Manager 2021?
As mentioned Football Manager is loved by many for the countless hours of escapism but also its unrivalled level of realism. The two facts do not fall hand in hand leading Sports Interactive to make a split decision on COVID19's inclusion in FM 2021.
So, how will the Pandemic be represented in Football Manager 2021 and how can Sports Interactive hit a balance between realism and escapism?
Finances
Miles Jacobson confirmed the financial implications on clubs seen in real life will be represented in FM21. Finances will be tighter and budgets smaller. While superstars and Wonderkids will retain their value, FM21 will see more 'loan to buy' offers while the value of 'mid-range' players will decrease.
Clubs in real financial trouble will try to move players on on a more regular basis, but as money comes back into the game the transfer system will adapt and grow back to some form of normal.
Essentially FM 2021 will accurately reflect todays Transfer and financial market…however!
 Will Supporters Be Aloud In Stadiums?
Yes, supporters will be allowed in Stadiums from day one in Football Manager 2021. This should expedite the rise back to normality in the above mentioned financial and transfer status.
Will FM21 Season Start Dates Reflect COVID-19?
Lets quote Miles Jacobson on this:
With the leagues, we have adjusted the football calendar where appropriate. In many cases, the usual 'start dates' are out of the window, but they soon revert to normal. In certain leagues (those that have already finished by the time the game is released) we've made the decision to start at the beginning of next season..
An example of leagues starting a season late are the MLS which generally reaches its climax as Football Manager is released.
The date your save starts may also change with the start date of your chosen playable league. Pre-seaosn has been confirmed as 5-6 weeks long rather the usual 12 weeks. An example we can all relate to the Championship in England which usually kicks off in August, this will now start in September for FM21.
Will Transfer Windows Change In FM21?
Yes, the transfer window will reflect that of its real life counterpart before reverting back to 'normal' in season two.
Will Substitutions Change For FM 2021?
Substitutions will also change to match real life and the Pandemic for season one. If a league allows 5 subs as opposed to 3 during COVID this will be accurately reflected in FM21 before returning to the old normal in season two.
What Won't Be Changed For Football Manager 2021?
Fans will be in stadiums and this will be reflected graphically also. You will not be seeing posts being cleaned mid-match nor any other subtle reminders of the crappy times we live in. To quote Miles again;
To be really clear, Covid 19 will not appear as an "illness" in FM21.
---
If you'd like to read about the FM 2021 new features in detail click here. Or to pre-order FM21 with early BETA access and the cheapest price, click the image below.

---
Now You Decide
One feature which has not been finalised is COVID-19's affect on gestures in Football Manager 2021. This system was devised pre-pandemic and as such, things like hand shakes were acceptable at the time but may not be now.
Sports Interactive have asked you to vote, do you want 'normal gestures or 'COVID-19' gestures in FM21? Cast your vote on Twitter:
So in case you didn't see my earlier tweet, this poll, which will be live for 7 days starting from now, is explained at https://t.co/3oVmRppHew and is in regards to the newly added in-game gestures for #FM21
Please read before voting!

Your vote matters.

— Miles Jacobson (@milesSI) October 20, 2020
Thats all folks, what do we think? In a nutshell I think SI have accurately represented the financial and transfer market while leaving out the nasty reminders. A nice mix of realism and escapism if you ask me.

Subscribe to our Newsletter