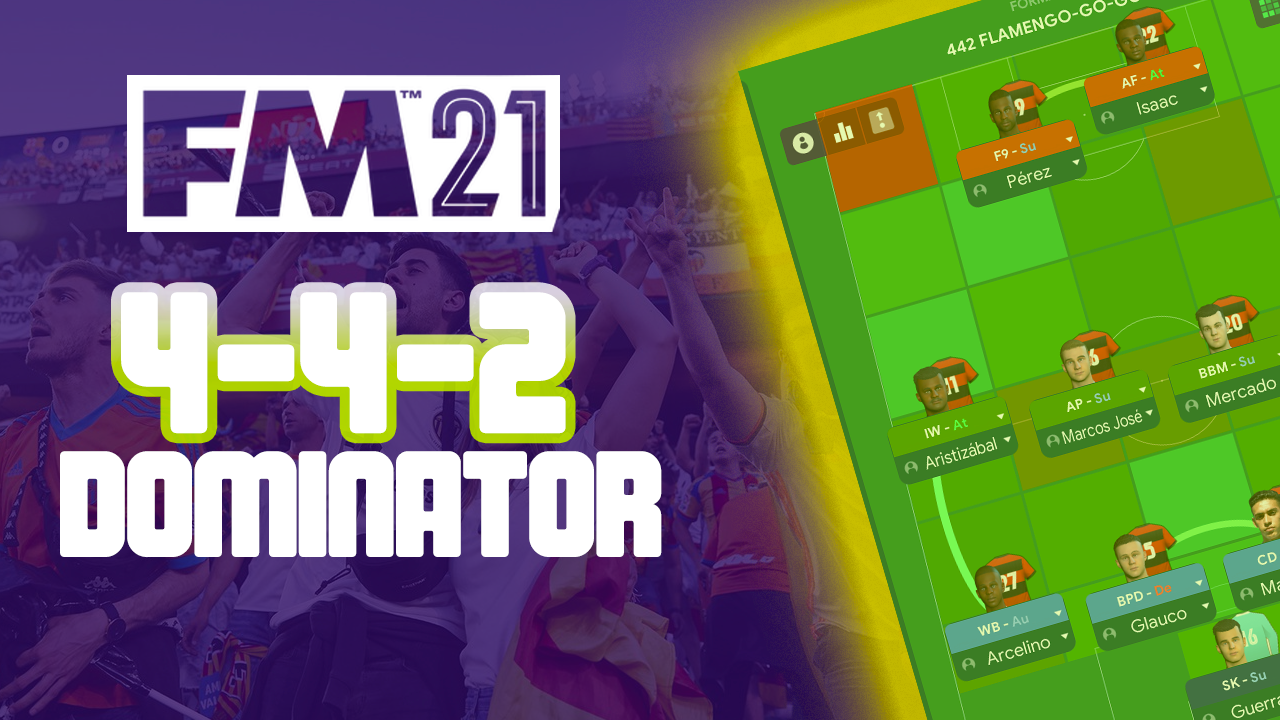 Football Manager 2021 may be drawing to a close, but it doesn't mean there still isn't space to test the Best FM2021 Tactics and this possession based 4-4-2 does the trick.
Before the FM22 Beta drops, this system, with short passing, standard tempo and no gengenpress could not just be the last system to go under the microscope on FM21, but due to how it works, it will be the first we test in the new game engine.
This is the formation which sealed the Brazilian title and Copa Libertadores with Flamengo as part of my Hexágono series on YouTube.
And has then gone on to lift another two league titles and another Continental trophy, but we needed more.
We ran a six team simulation in the Premier League, Ligue 1 and La Liga, and you will find the results below, which are not to be missed.
Best FM2021 Tactics Patch 21.4 – Formation
Rather than the normal counter, counter press, fast-paced and high pressing system, the reason why this should work on the FM22 Match Engine is the difference in style.
Playing a possession based 4-4-2, it is a system which works vertically and allows for the movement of the players to create openings for each other, but preaches patience, while still looking to attack when the opportunity arises.
Down the left, you have the combination of the wing-back playing behind an Inverted Winger. As the pace is lower, the left-back is able to get further forward and there is space from the defender to whip in crosses.
They are supported by the Advanced Playmaker and the False 9. At times it may look like a 4-5-1, but the movement of the players pulls the defenders out of position, creating pockets of space.
Playing down the right, things are more traditional, the full-back on support backs up the Winger on attack, and the Box to Box midfielder works hard to cover all the gaps defensively, but also chase up behind the Advanced Forward.
Although a simple 4-4-2 shape without the ball, the two different styles on each flank help create opportunities all over the front-line.
As always player suitability, training and tactical familiarity is vital but we will go over that in detail further down.
Note: Do not try and copy this tactic, there are many specific player instructions and important custom set pieces. If you do not download this best FM2021 tactic, it will not work.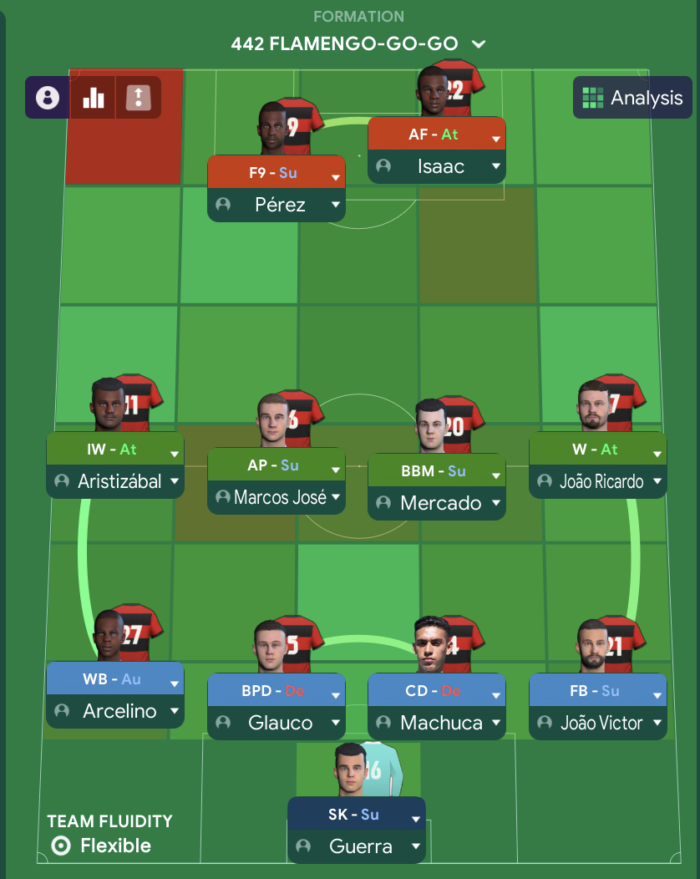 Best Football Manager 2021 Tactics – Instructions
In possession this is a narrow formation. Using the slower tempo, we don't want the players to drift too far away from each other. The shorter passing works better if players are close by. When they look to attack we use 'Pass Into Space' to get the ball in front of the players, encouraging through balls.
Sometimes playing a possession based 4-4-2 you don't want to Counter-Press as your central midfielders will chase the ball and be pulled out of shape. Sometimes, in big games, using Regroup can help stay compact, until you feel you have the better of the game.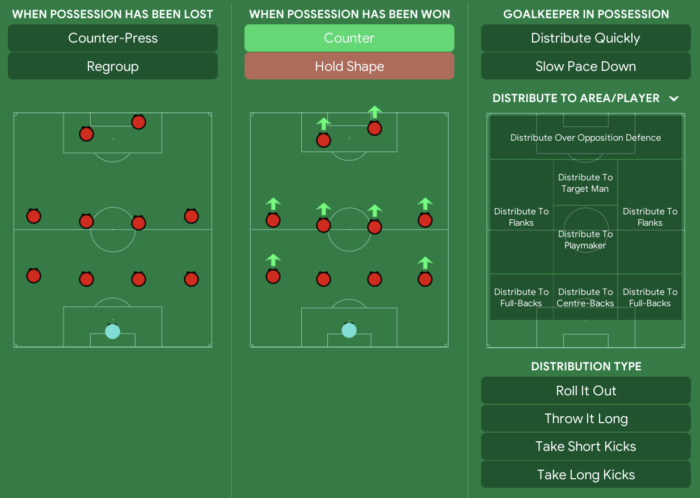 Out of possession we use a much higher line of engagement and a more urgent press. The defensive line is high, one notch below max which works well against balls over the top.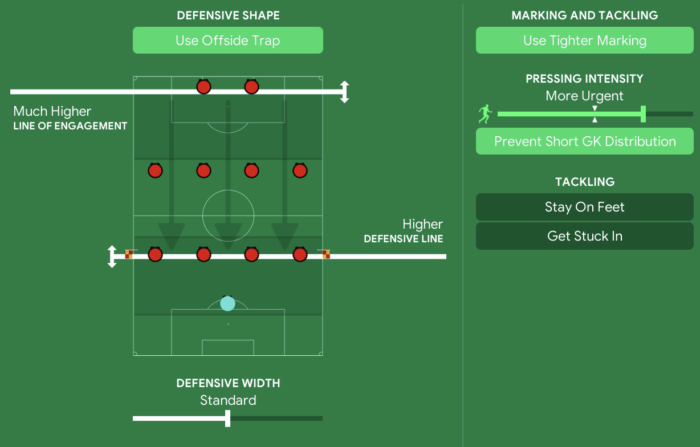 Player suitability is vital so please read the next section.
Best FM 2021 Tactics – Player Roles
GK – Sweeper Keeper (support) – Just your standard Keeper but one v one ability should be preferred.
CD – Central Defenders (defend) – Passing is preferred as you play out from the back, but aerial presence is far more important. Also look for Defenders with Bravery, Jumping and Heading to aid with your Set-Pieces. In this formation it adapted from two CD(d)s to a BPD(s) due to signing a player with 17 passing.
DL – Wing Back (auto) – The left sided Defender should be well rounded. You want him to get forward and have the ability to throw in a cross or two, but passing, positioning, work rate and stamina are more important.
DR – Full Back (support) – Seemingly the less offensive full back but do not be deceived, DR will get forward and look to cross the ball from deeper positions. You should look for speed, work rate and general technical ability.
CM – Advanced Playmaker (support) – The Advanced Playmaker worked very well in this role. Looking to get open and conduct play like a DLP, but willing to break forward and be an option on the edge of the box. You want a passer with Vision and good Composure and Decisions.
CM – Box To Box midfielder (support) – Someone who can do it all. You need fitness and pace, but also the ability to pass, shoot and dribble.
MR – Winger (Attack) – Luckily at Flamengo, Joao Ricardo could do everything and was 6'5", but look for someone quick, has ability to dribble and good Off The Ball. Crossing a bonus.
ML – Inverted Winger (attack) – You want a player who can dribble and have great OTB and Decisions. Being able to use both feet makes them very dangerous, plus, they must be able to finish.
ST – False 9 (support) – This is the role which brings it all together. Dribbling and Passing, with good vision. You want this forward to drop deep, but be able to see a pass. Agility, First Touch and Anticipation too. Flair and OTB will help.
ST – Advanced forward (attack) – The main goal threat, speed and dribbling ability are a must. A clinical finisher will do well. Composure, Anticipation and OTB help, but Dribbling, First Touch and Finishing are key.
The tactic has also worked with the AP switching to a DLP and the BBM being used as a Mezzala, if you find these suit your players better.
Training
Training is vital to success in Football Manager 2021. Do not leave this to your Assistant Manager because he fails to schedule match preparation. Match prep is the best way to improve the way your team performs within a possession based 4-4-2 system.
We have written a guide and included my FM 2021 training schedules here. I would recommend using them.
Best FM21 Tactics Results & Table
This worked wonders in my career with Flamengo, winning everything in South America and dominating the league, yet, it was in the test with Valencia in Spain that something remarkable happened.
They won the league.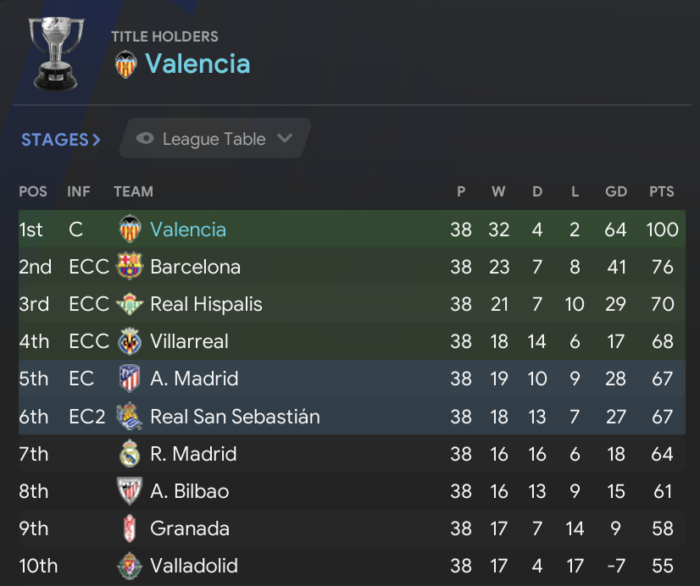 Going unbeaten until April will give any team a chance at the title. Valencia only lost two games the whole season.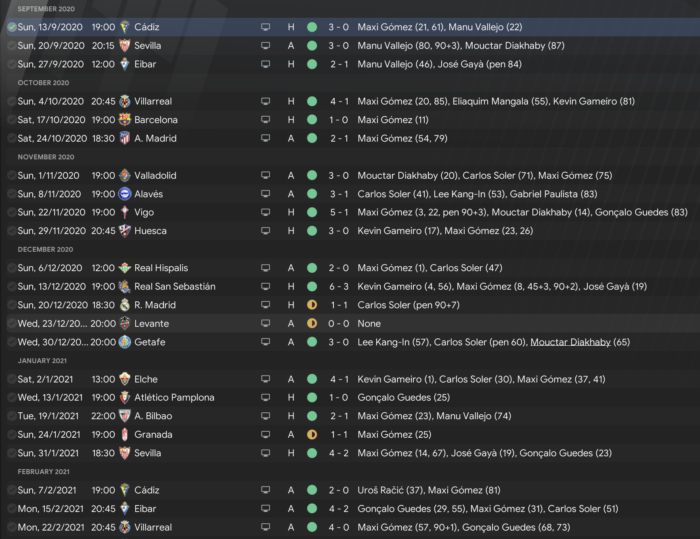 ---
Find the best FM 2021 players:
---
Best FM2021 Tactics: Download Possession Based 4-4-2 Flamengo-go-go
If you would like to give the tactic a try, follow the instructions below.

1. Click the download link above and download the file.
2. For Windows put the downloaded file in this folder: Documents/Sports Interactive/Football Manager 2021/tactics. If the "shortlists" folder doesn't exist you will have to create it. Windows users skip to step 2, Mac users read below.
Mac users put file in this folder: Users/YOUR Mac USERNAME/Documents/Sports Interactive/Football Manager 2021/tactics. To access your files on Mac open 'Finder', click 'Go' from the menubar, press and hold the 'alt' key to show 'library' in your menu, while still holding 'alt' click it, then go to 'Application Support' > 'Sports Interactive' > 'Football Manager 2021'
3. Now load the game as normal and enter the tactics screen.
4. In the tactics screen, click the tactic you currently have loaded then select 'load' from the drop-down menu
5. Select the tactic and click load.
---
Every year we test countless tactics and review the very best. For FM21 these systems will be ranked and listed within our tactics index linked below.

---
Thanks for reading, any social shares would be much appreciated. Follow us on social media for future posts in the series. Please feel free to leave a comment I'd love to hear how you get on. Likewise any questions.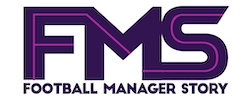 Subscribe to our Newsletter