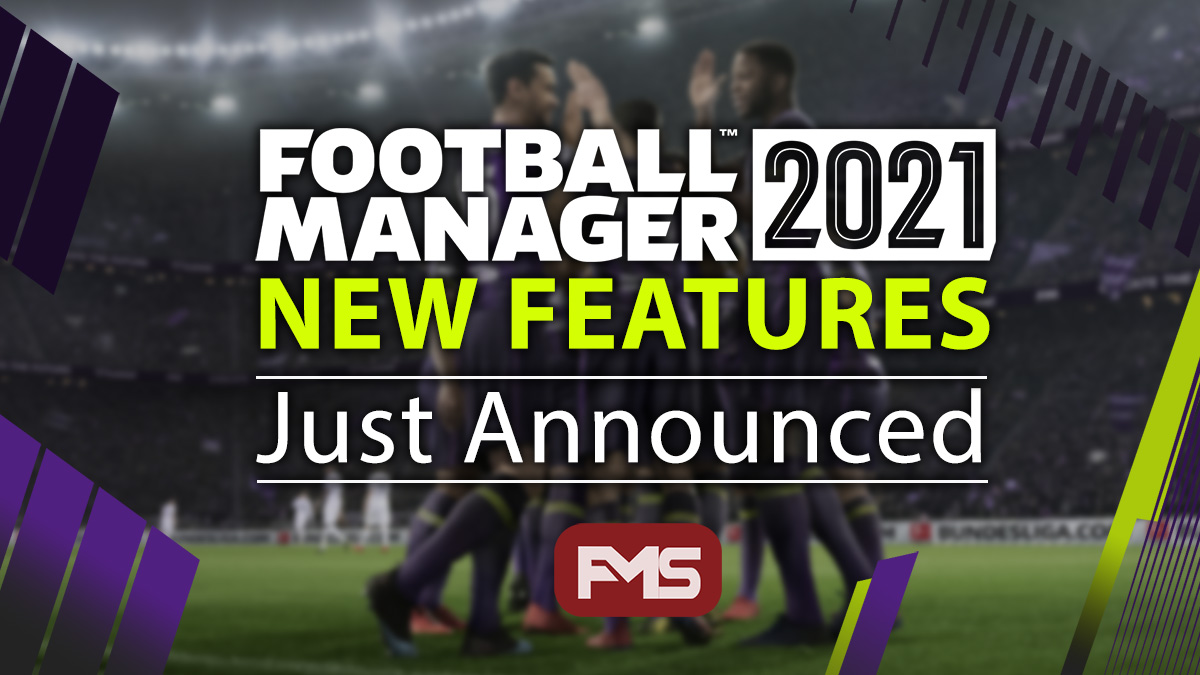 This post shares all the FM 2021 new features and FM21 screenshots. Sports Interactive announced Football Manager 2021 will be released 24th November and available in BETA form roughly 2 weeks prior, but what do we have to look forward to?
Want to see what Football Manager 2021 looks, feels and plays like? Read on and be sure to check back as our FM21 new features post will be updated regularly.
15th October Update – Headline Features video
FM 2021 New Features & Screenshots – Updated 15th October
On Monday the 12th October Sports Interactive released their first FM 2021 new features preview video to wet our appetite. Three days on and a more detailed video has gone live…but what has changed?
Little Features Will Make A Big Difference
TV Broadcast Style Goal Alerts
As part of the revamped matchday experience and interface SI have updated the goal alerts with a fresh new look.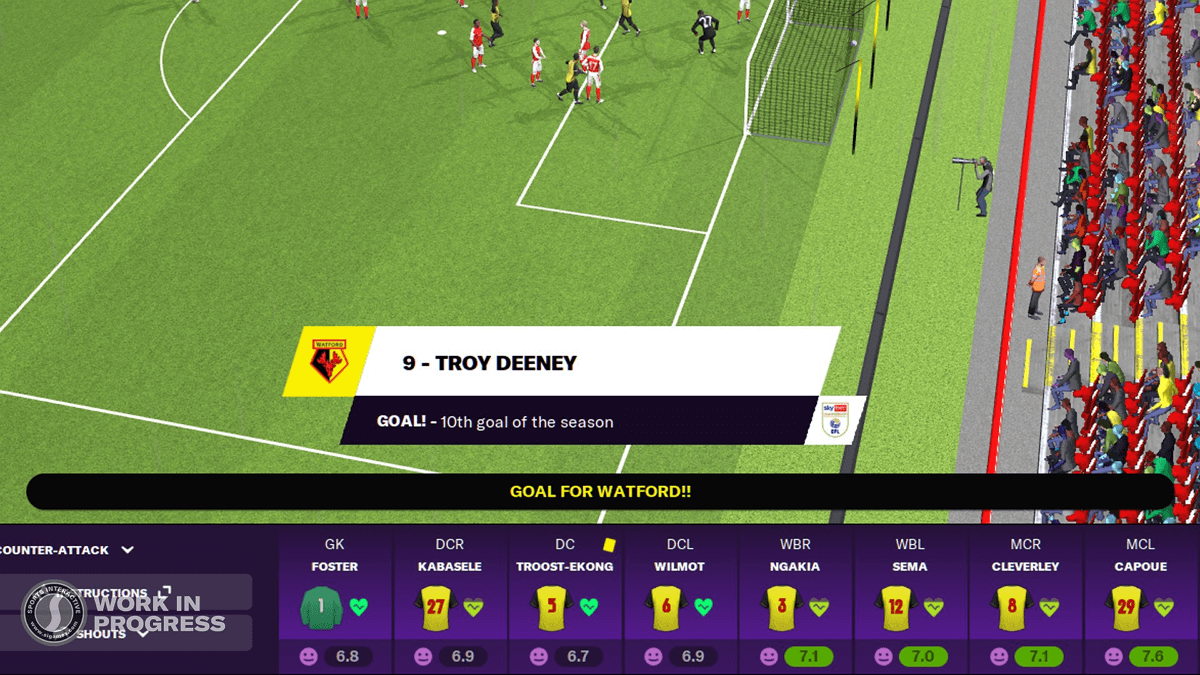 New Player Role Animations
There are now animations for every role, so you know exactly what you're asking your players to do when building a tactic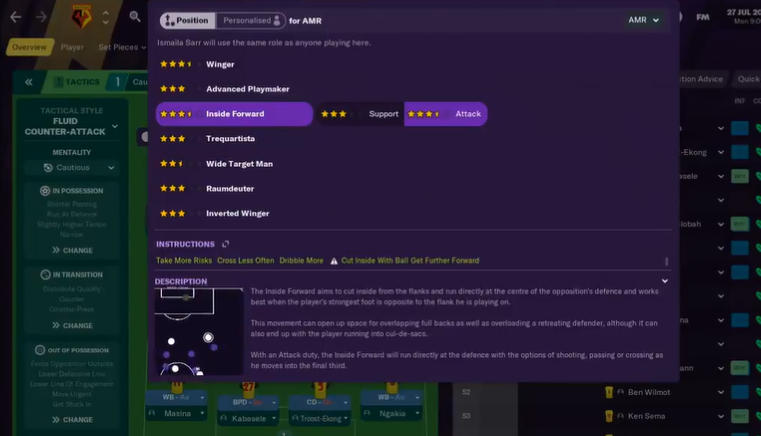 I've been asked many times in the last few weeks whether we've improved role descriptions.

We've gone one louder than that…

There are now animations for every role, so you know exactly what you're asking your players to do when building a tactic #FM21Features pic.twitter.com/wNJwL8PZwr

— Miles Jacobson (@milesSI) October 29, 2020
Defensive Width Definition
Defensive width has been re-thought for FM21 with refined descriptions and a better placement, just above your defensive depth. This handy new feature should help you understand the benefits and repercussions of each setting.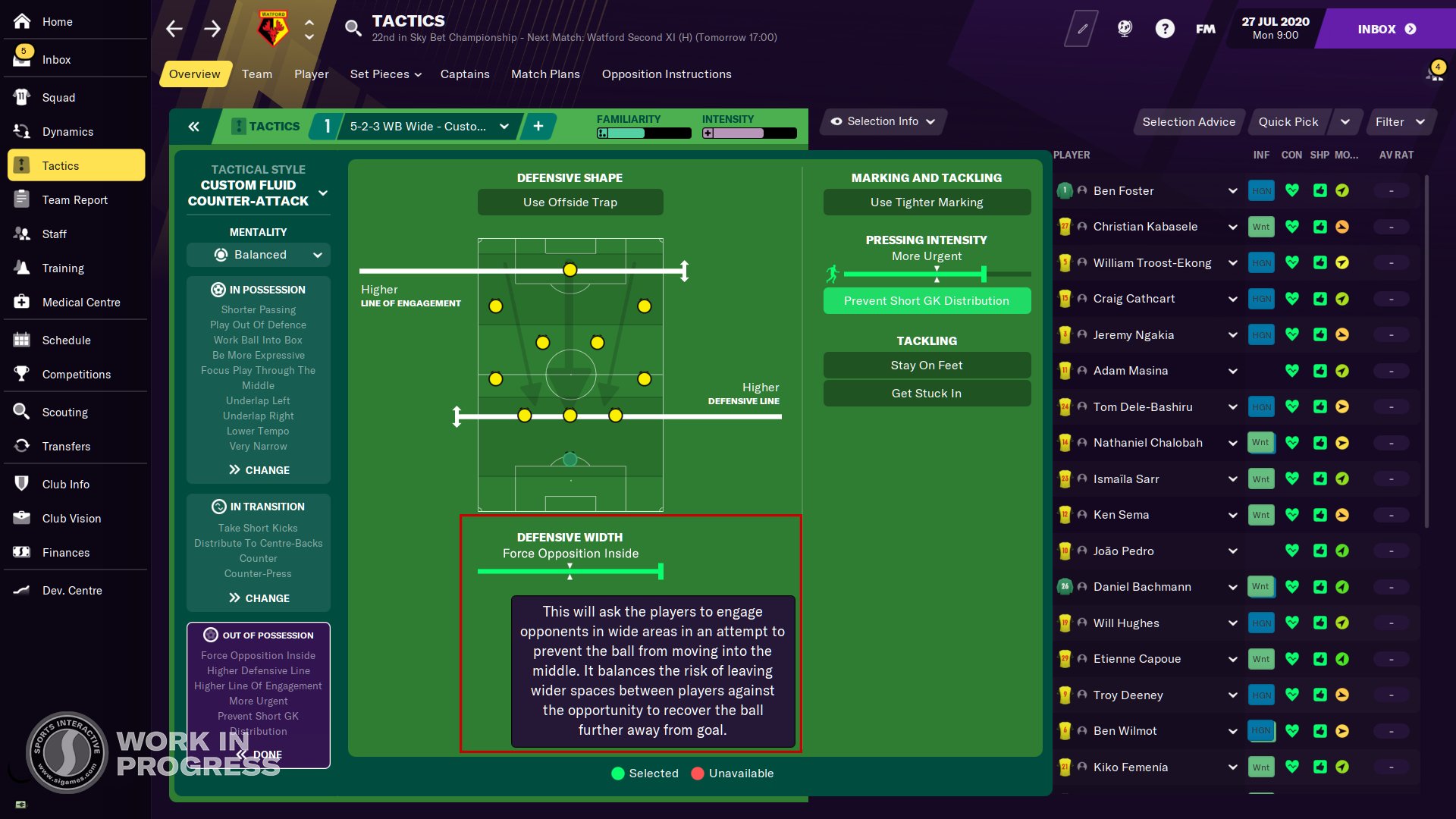 New Squad View: Player Playing Time Pathway
A new squad view for FM 2021 is playing time pathway, used to better visualise what game time you have guaranteed each player and how this will change each season.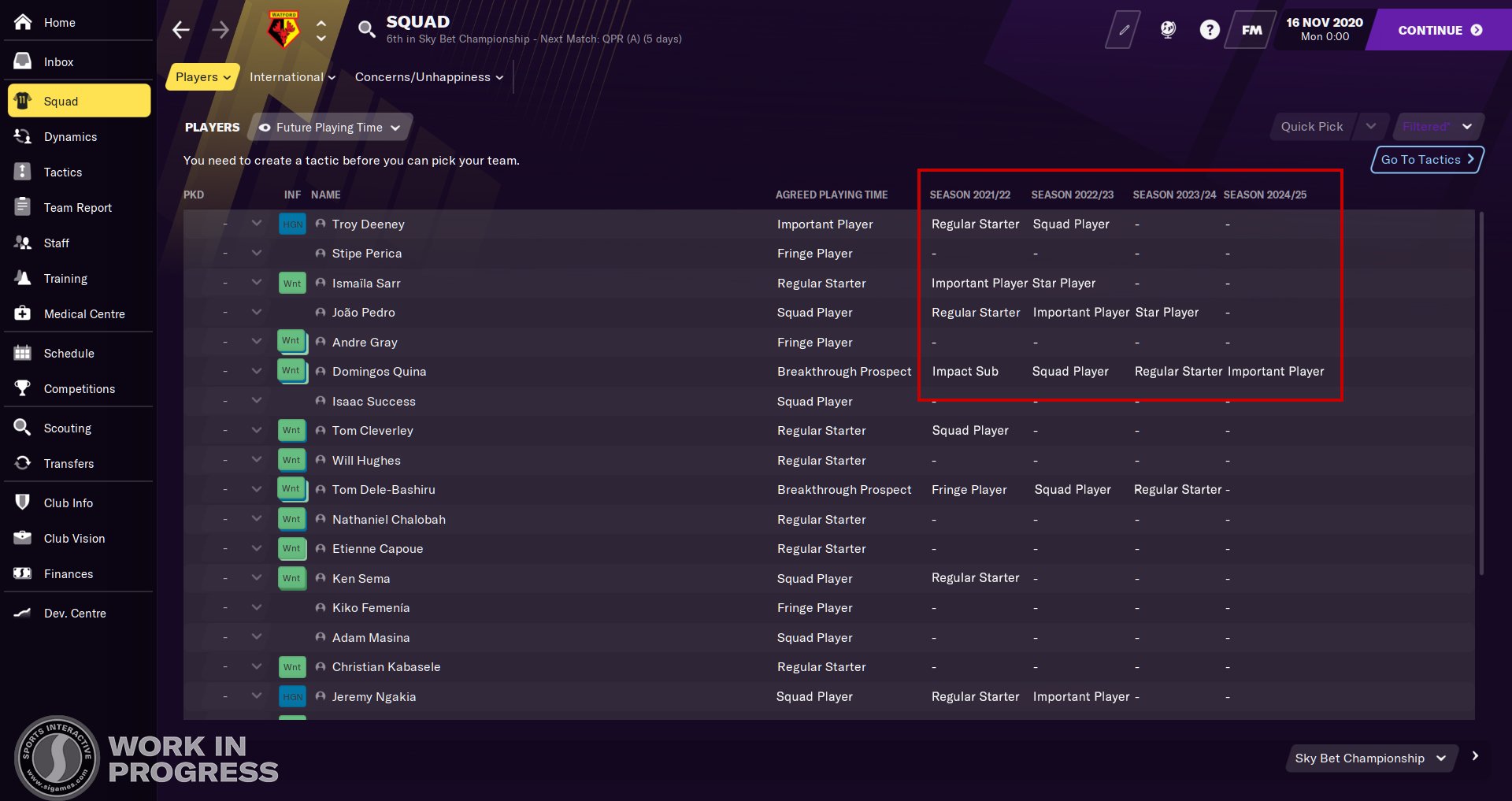 New Signing Training
You can now assign training, traits and set piece duties to new signings from the news feed. No more clicking a trillion times after 24 Wonderkids sign on.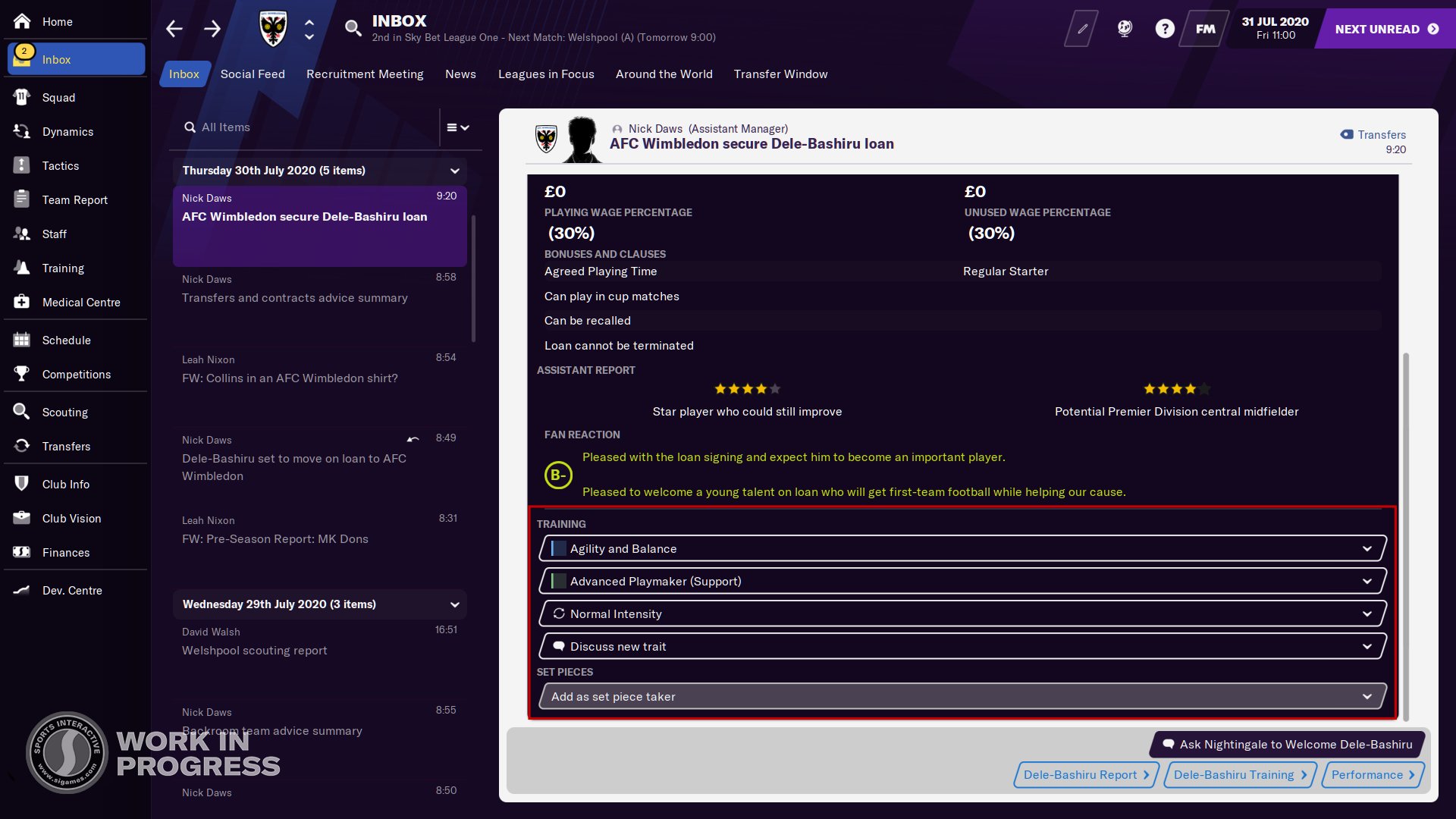 Penalty Shoot-out body language
You now have more tools to aid the selection of spot kick takers in FM 2021. Before entering a shootout you'll now be able to see your player's body language, allowing you to get into the mind's of your potential takers before selecting that all-important order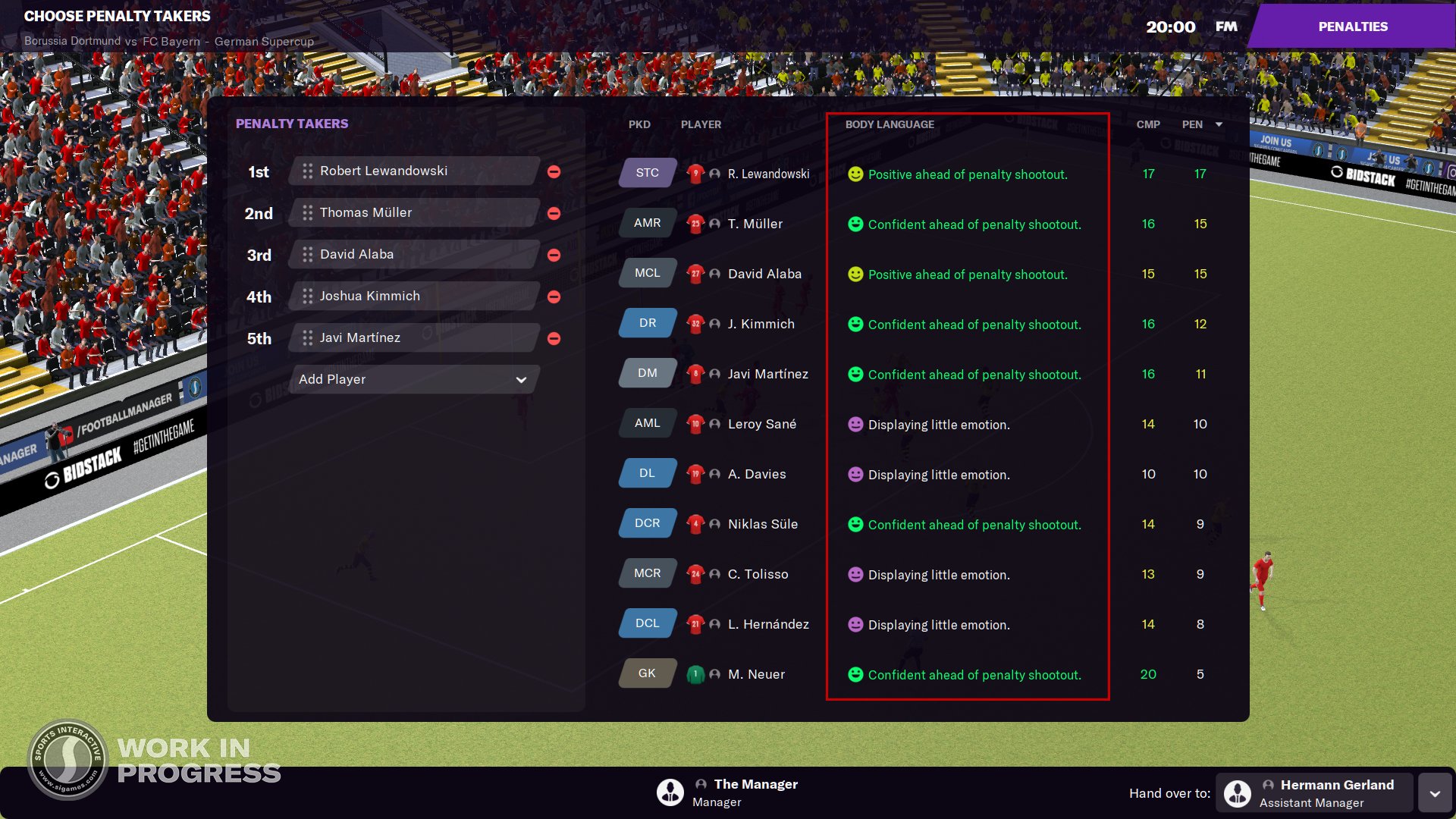 FM 2021 Newgen Faces To Be Upgraded
Football Manager 2021 Newgens are receiving a graphical upgrade. this has been coming for many years and coincides with the enhanced Manager creation graphics.
You've had a couple of manager models so, what about Newgens?

Because I'm feeling generous, here you are… #FM21Features pic.twitter.com/mcVMjK9DpB

— Miles Jacobson (@milesSI) October 21, 2020
FM 2021 New Features: Interactions
What you say and how you say it has completely changed in FM 2021. Not only have press conferences and the conversation systems been completely re-designed but so has the way we speak.
The team at Sports Interactive have given us the capacity to be more human. Take the screenshot below where we smile warmly before praising the squad.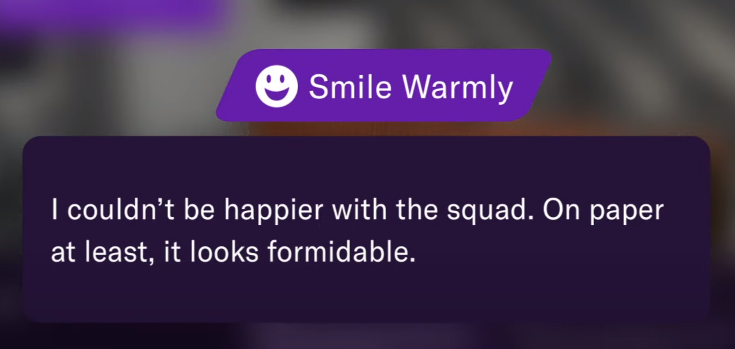 Quick Chats
New to Football Manager 2021 are quick chats which are informal conversations and stretch beyond players at your club to remote players.
Gestures To Replace The Old Tone System
For FM 2021 Gestures will replace the tone system which has been around for years allowing us to be far more expressive. Gestures can be used in any scenario from informal chats to weekly press conferences.
New signings for example could be greeted with a wide armed greeting, warm smile and when getting strict you can wag the finger or bang the table…no Fergie hair dryer I am afraid. The full range of gestures shared to date are below:
No reactions
Outstretched arms
Smile warmly
Open arms
Wag finger
Bang Table
Shake head (with folded arms)

Beware gestures will shape your personality in Football Manager 2021 plus how your players and the media view you.
FM21 New Features: Matchday
One of the most exciting FM 2021 new features is matchday experience. This feels like a spectacle thanks to pre-match build up and a new post match experience bringing us closer to the game.
Pre-game
Pre-game is all about utilising your backroom staff advise, something I struggled to utilise in FM20.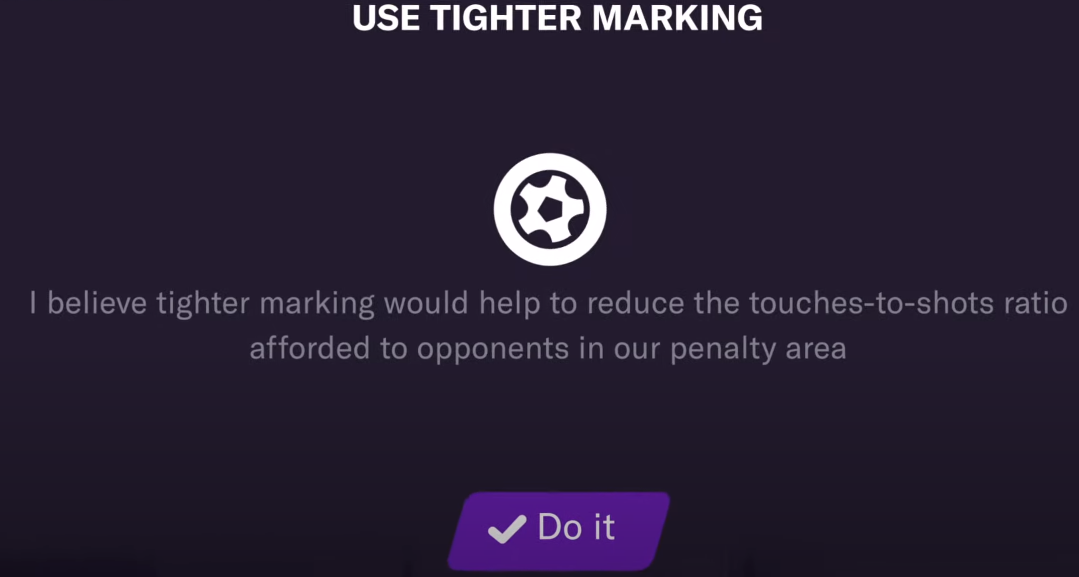 Don't forget you can buy FM21 through us and by supporting our content you receive an exclusive 33% discount, making the game £26.99 below.

Tactical insights, team sheets and opposition reports maintain the same, handy analysis from FM20 but include new features including more prominent and relevant backroom advice.
Below we can see the team sheet with your staff reactions to team news and any recommended opposition instructions.
The new look matchday experience seems to communicate opposition changes better. With the transition away from click and play tactics we have seen in recent years your backroom staff could play a major role.

Matchday User Interface Re-modelled
The match UI has been completely re-modelled and modernised for FM 2021. With graphical improvements from player models, to the animation system and new lighting.
The Matchday experience has a full screen feel, taking away much of the clutter to fully immerse you in what counts.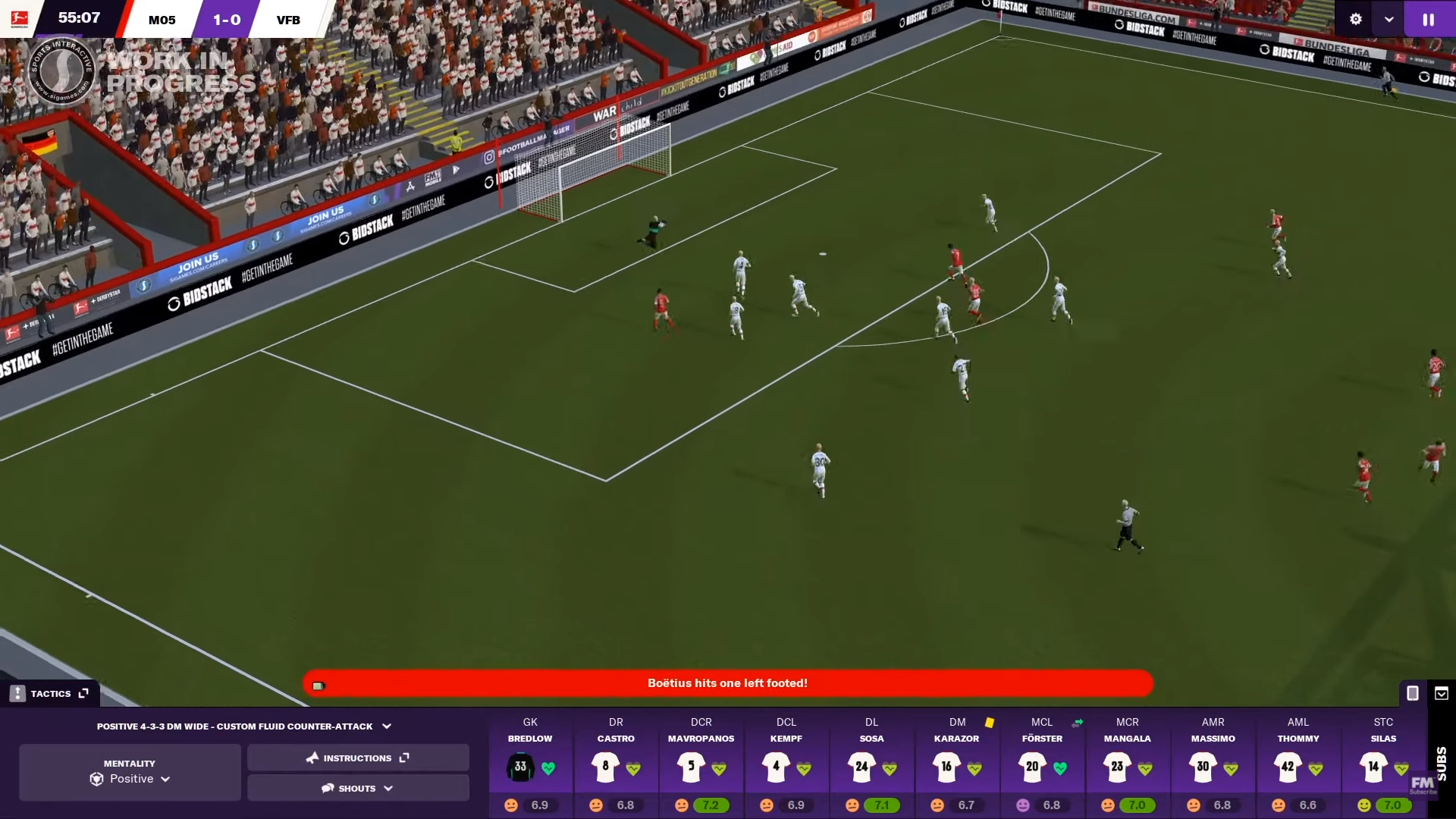 The tactics tab shown above is our favourite feature. This includes each players rating, body language, position, booking status and fitness in an easy to digest format.
Everything you need to know before making a change can now be viewed from the match screen. We also appreciate the ability to minimise this screen with one click, opening the match engine up to full screen mode and taking away the need for a cluttered tile system.
---
We have written numerous blogs delving into the detail of each headline feature:
---
Sports Interactive Introduce Their Own XG System
Sports Interactive have confirmed the inclusion of their own XG system. Expected goals are statistics which take luck out of the equation showing you how well your team performed in a more intelligent, precise package.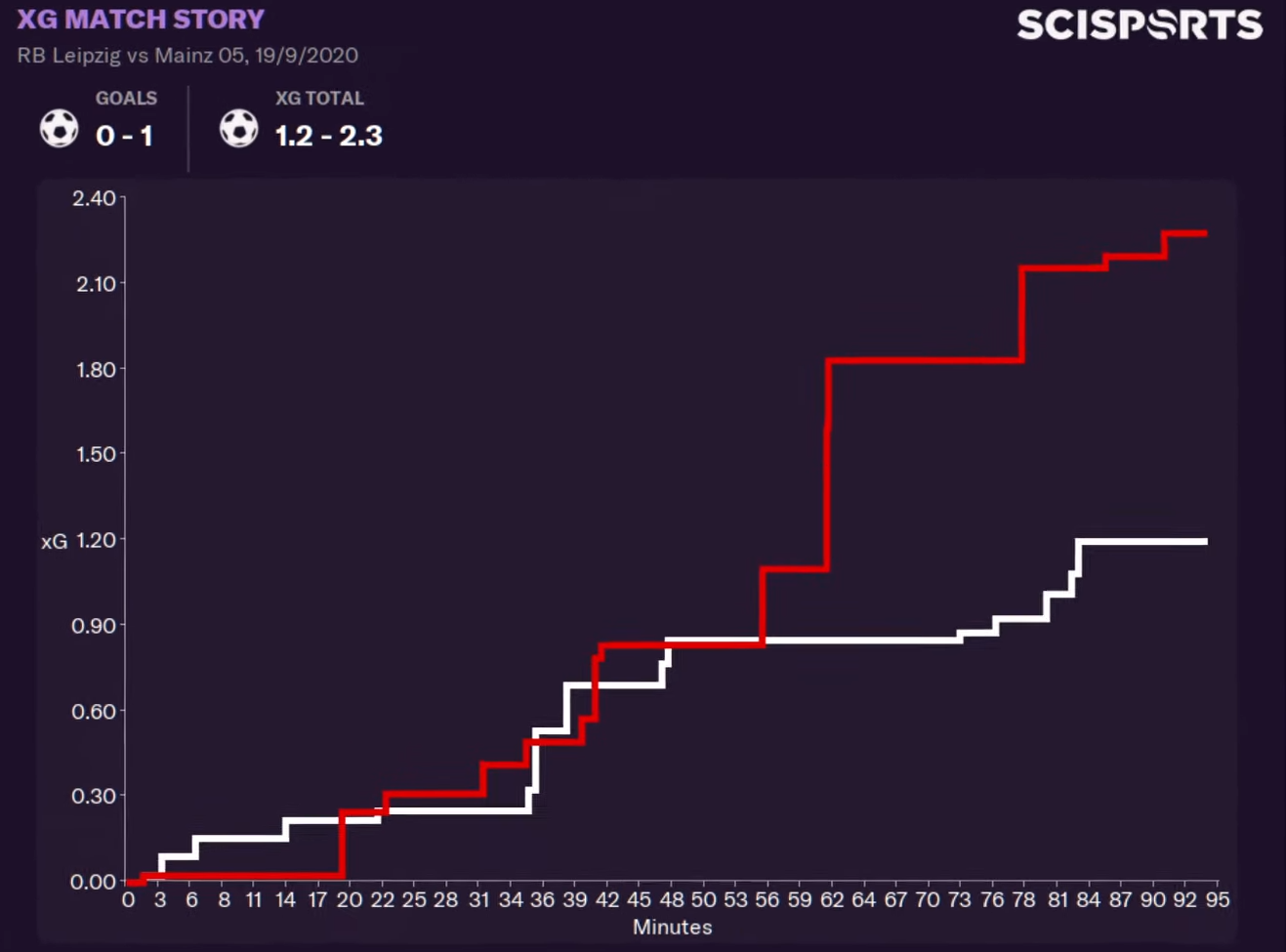 Every shot will be compared to historical data of the same nature and circumstance to bring you a numerical rating for each chance. These ratings demonstrate how many goals your team/players should, or should not have scored.
Below Watford scored 3 goals but their expected goals rating of 2.21 suggests their performance was worth nearer two.
We also like the fact each shot is assigned a colour coded XG rating, fully visualised on screen. You can find out more about xG with a full explanation of the system from the author of 'The Expected Goals Philosphy' right here.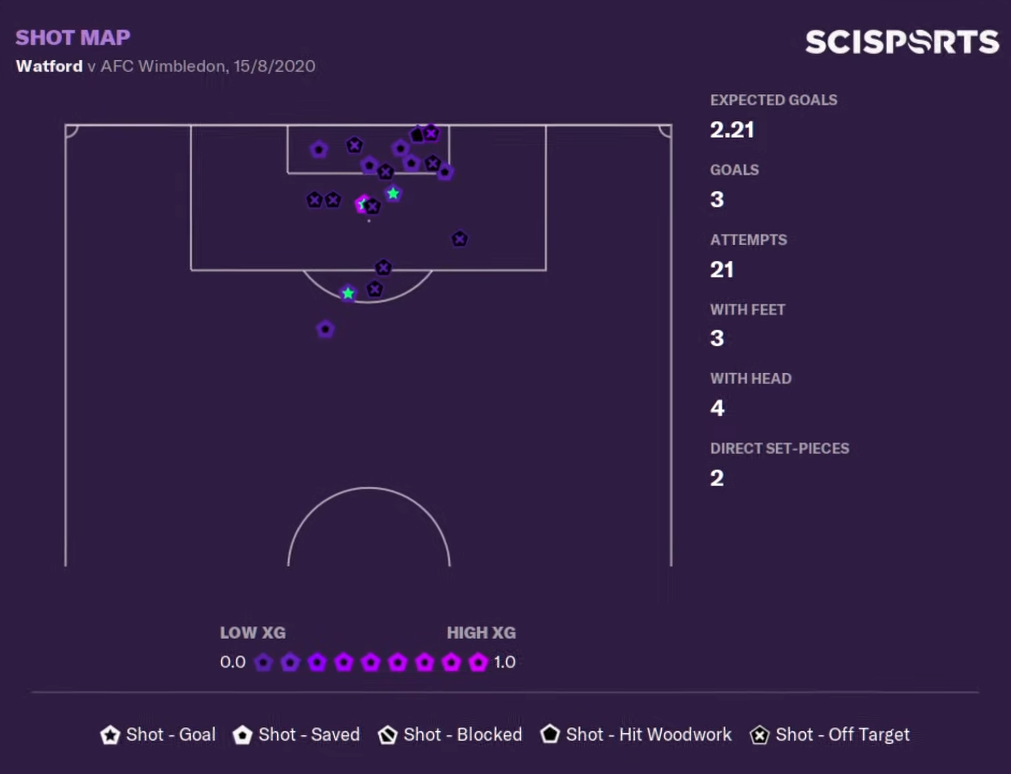 FM21 New Features – Recruitment
In recruitment we have a new staff role, new meetings and new squad interactions all within a fresh true to life transfer landscape.
Before the start of every window you are invited to a meeting with your clubs top decision makers; the Managing Director, Director of Football, Assistant Manager and Chief Scout.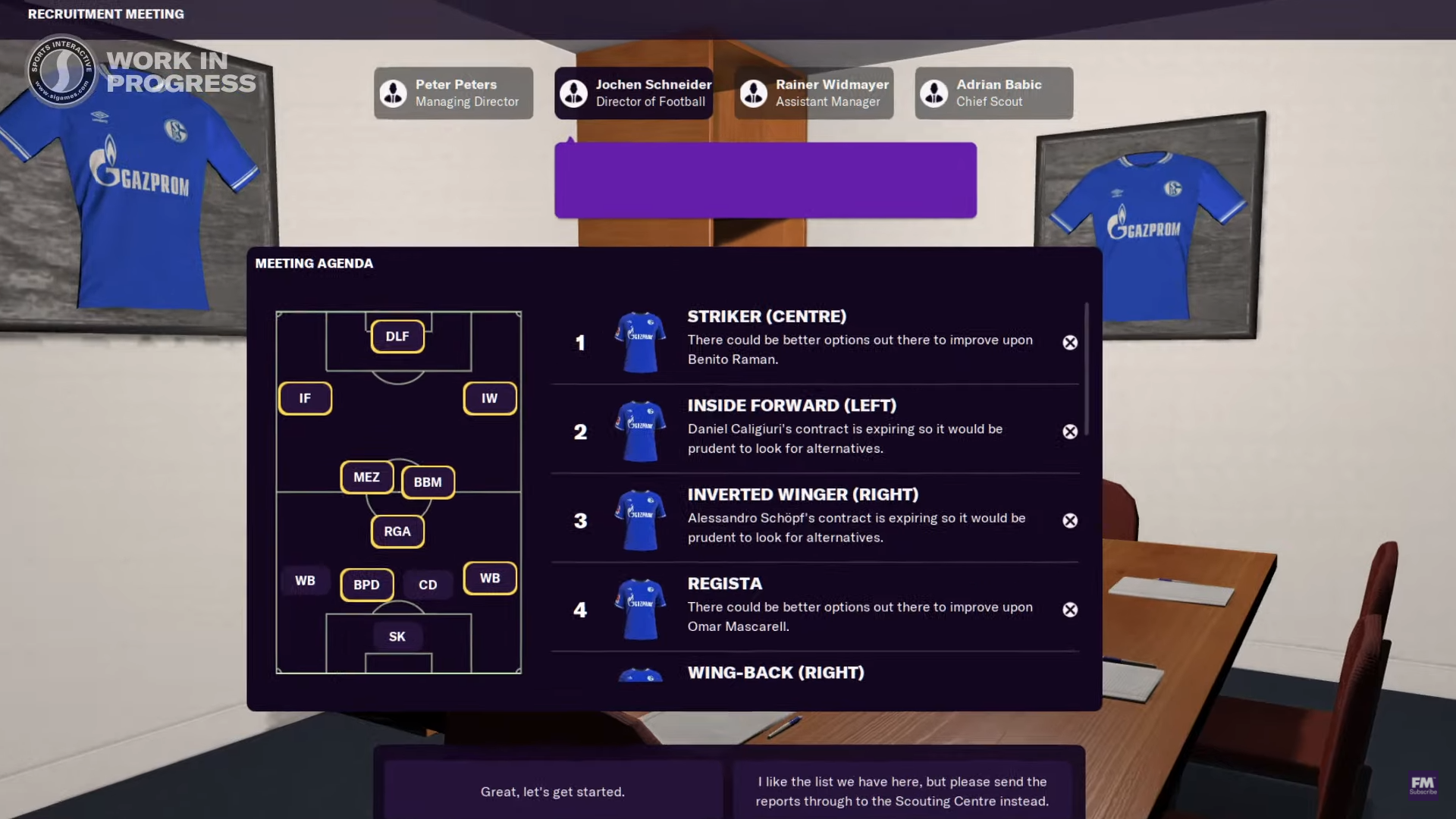 Here you can take advice from your staff on positions which may need strengthening plus set your own targets and create assignments for your scouts.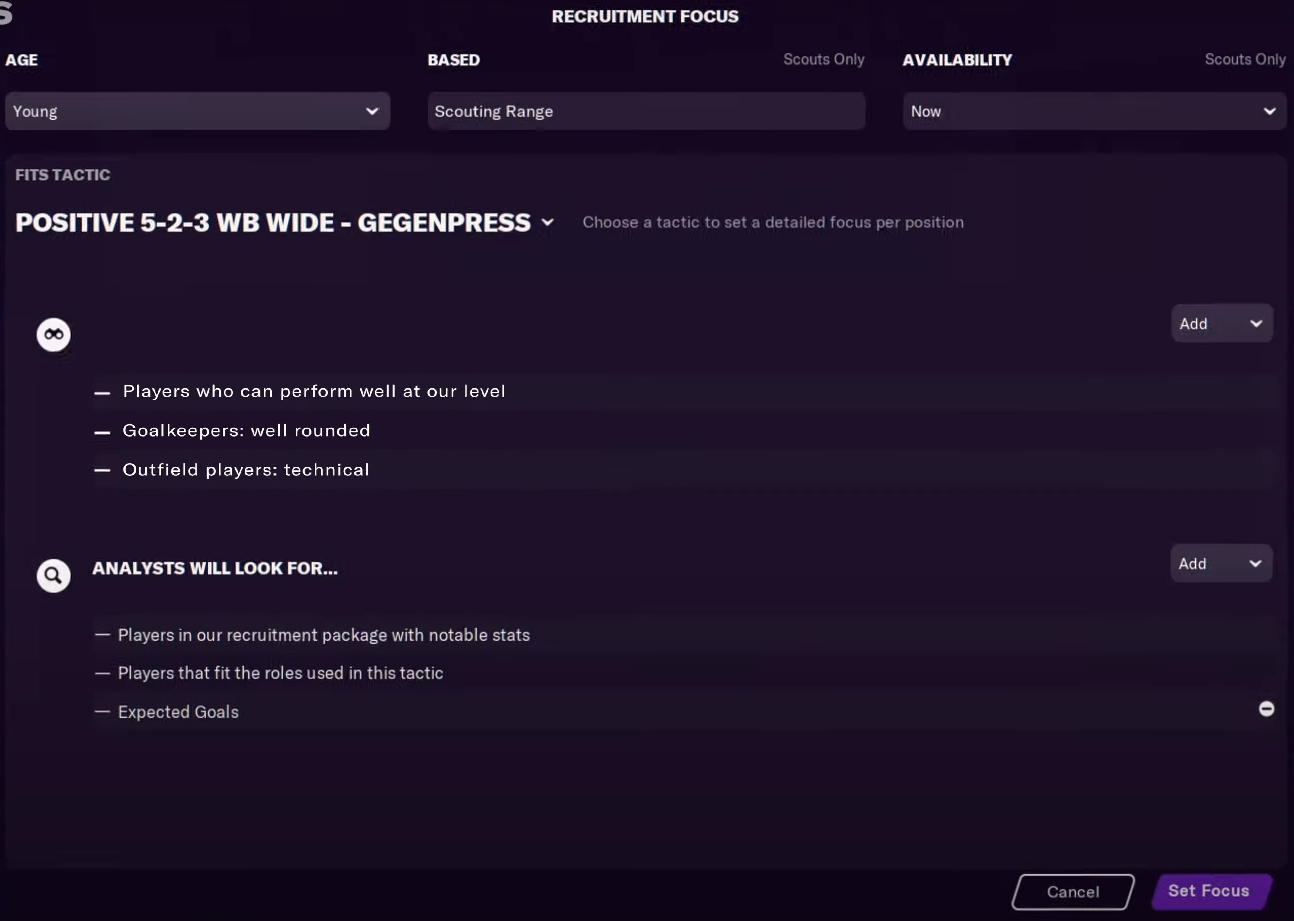 We now have more options to narrow down scout searches and fine tune our targets; On top of position you can request players type (ie intelligent) level and even request your analysts search for specific statistics such as key passes.
SI have also included the option to speed track certain assignments by asking backroom staff to prioritise a search.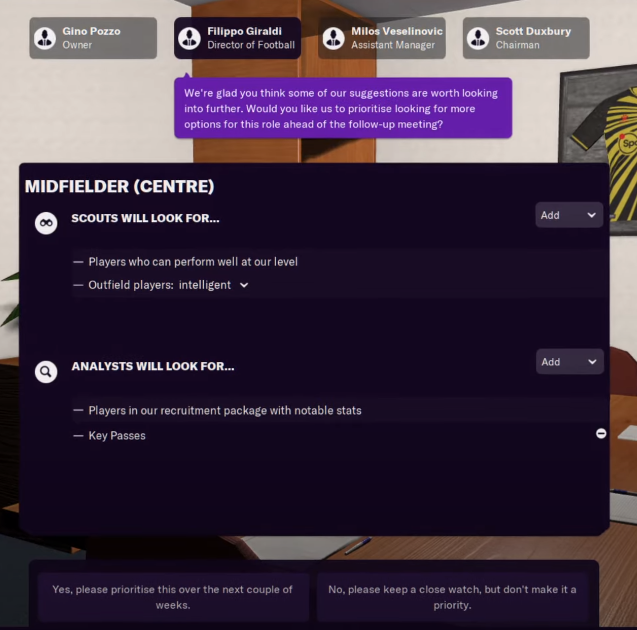 FM21 New Features – End Of Season Experience
FM 2021 lets you relive your season success like never before whether it be trophy laden or avoiding relegation.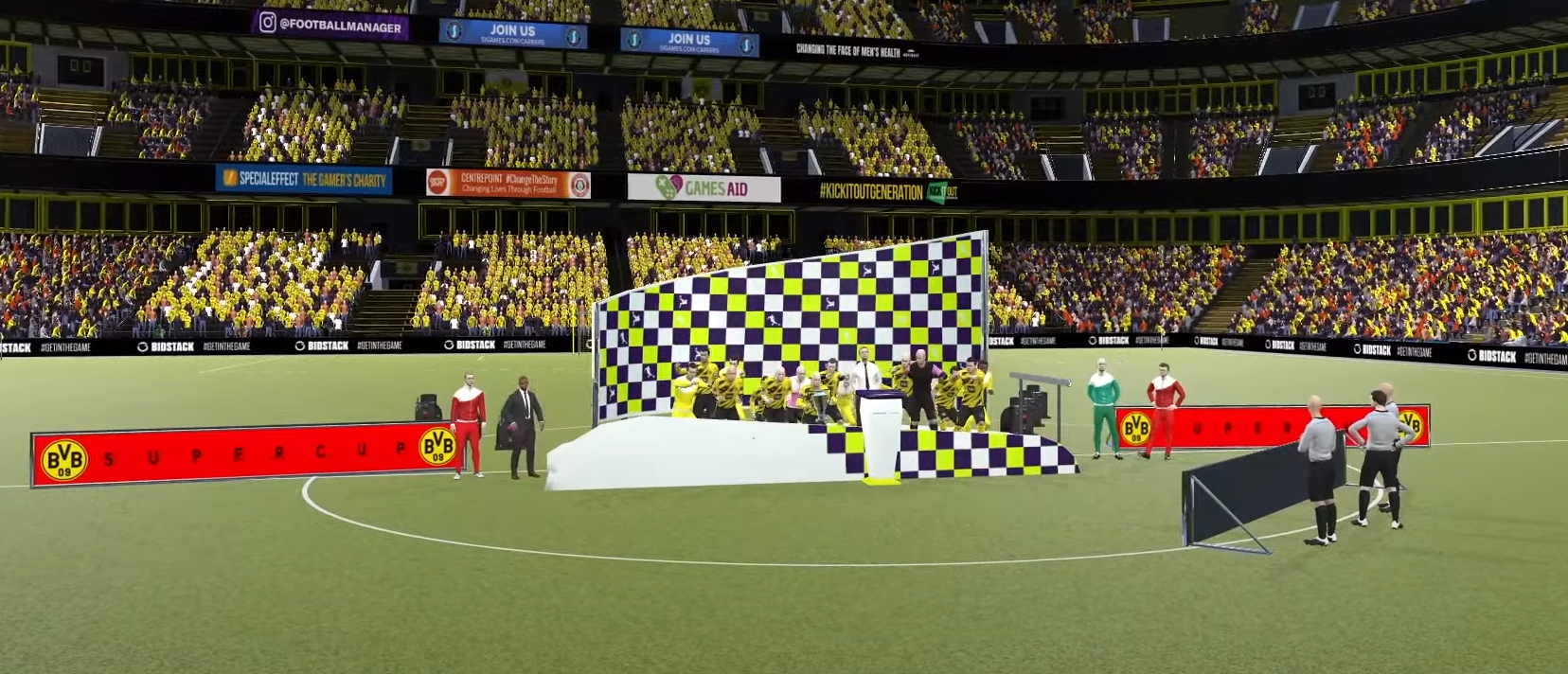 New Trophy Ceremony Improved Graphics
Not only will these celebrations look better on the pitch with improved graphics but there will be more media hype too.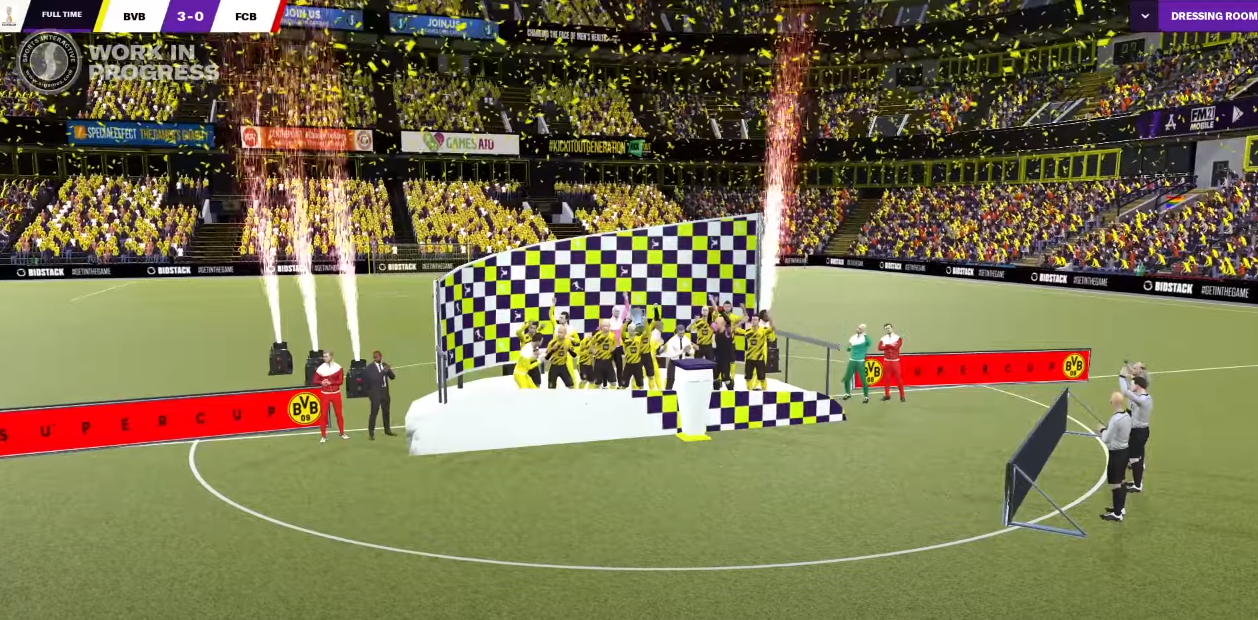 Season Review Presentation
At the end of every season we will get a yearly review presentation taking us through highlights on and off the pitch. We're yet to see exactly what is new about these presentations but more details have been promised.
New Look Interface
Football Manager 2021 has received a face lift, this years game seems much cleaner and crisper than FM20 with brand new icons and images. Even player fitness and sharpness have been upgraded.

Perfect Your Tactic
We are yet to see the detail but Football Manager 2021 promises more tactical control and backroom advice. The tagline 'tweak perfect your tactics' seems prominent and full of promise.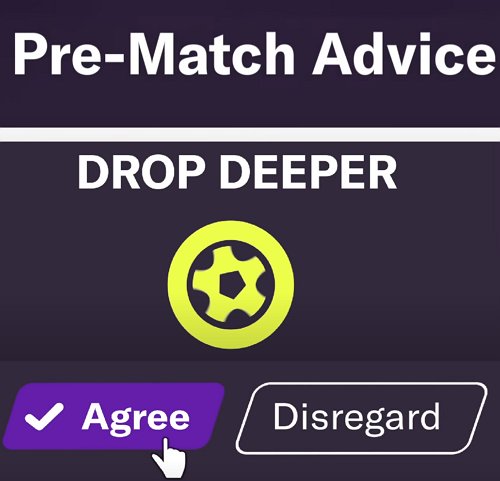 Ask Agent About Availability
Transfer options and interface has remained the same for a few years now but recieves an upgrade in FM21. You can now ask a players agent about his availability. We assume this simply unearths a players interest in a move. It will be interesting to see how agent personalities come into this though.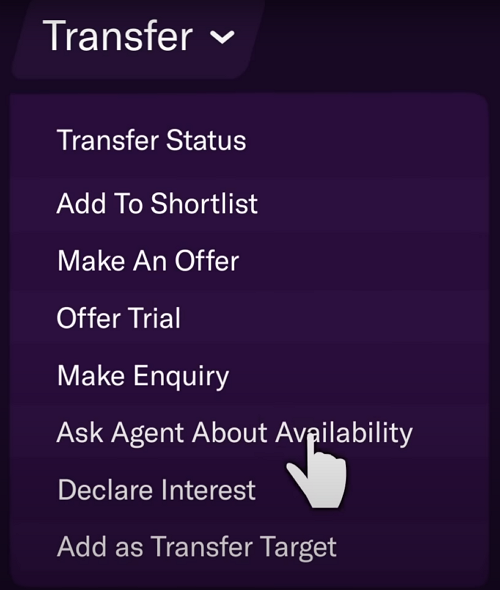 Handle The Media
Media handling has some new features in Football Manager 2021, each journalist seems to have body language we should take into account when answering questions.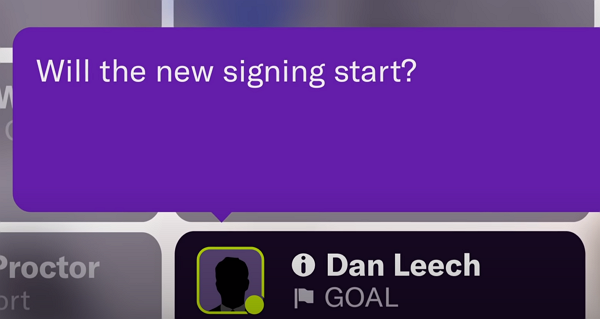 Motivate Your Players
Man management has been revamped in player chats which now feature new body language options. Below we have 'opened our arms widely towards the player', improving his body language before then praising his training.


FM 2021 New Features: More Statistics + XG Added
Thats right, Football Manager have finally listened and implemented XG for FM21. XG stands for expected goals which is a numerical representation of the goals a team/player could have scored based on the easiness of the chance, not their conversion rate. It is arguably a more precise way of rating a players performance taking luck out of the equation.
Brentford's owner is the man behind this modern approach to Football statistics which saw the Bee's recognise players like Watkins, Maupay and Andre Gray ahead of the market.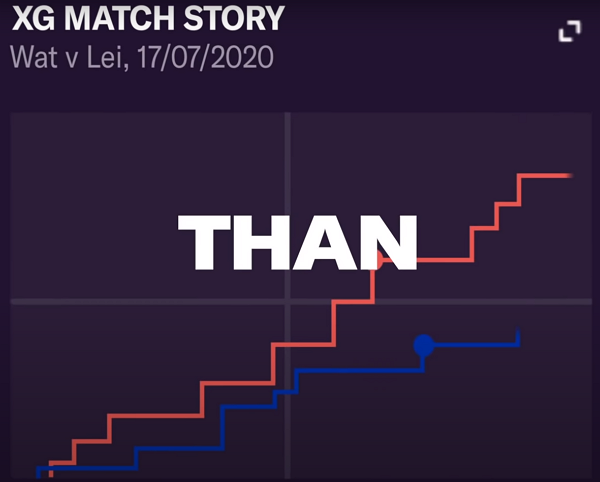 What do you think to the FM 2021 new features and what more can we expect from FM21? Don't forget you can buy the game from us for the cheapest price, just £25.99 right here.

Subscribe to our Newsletter