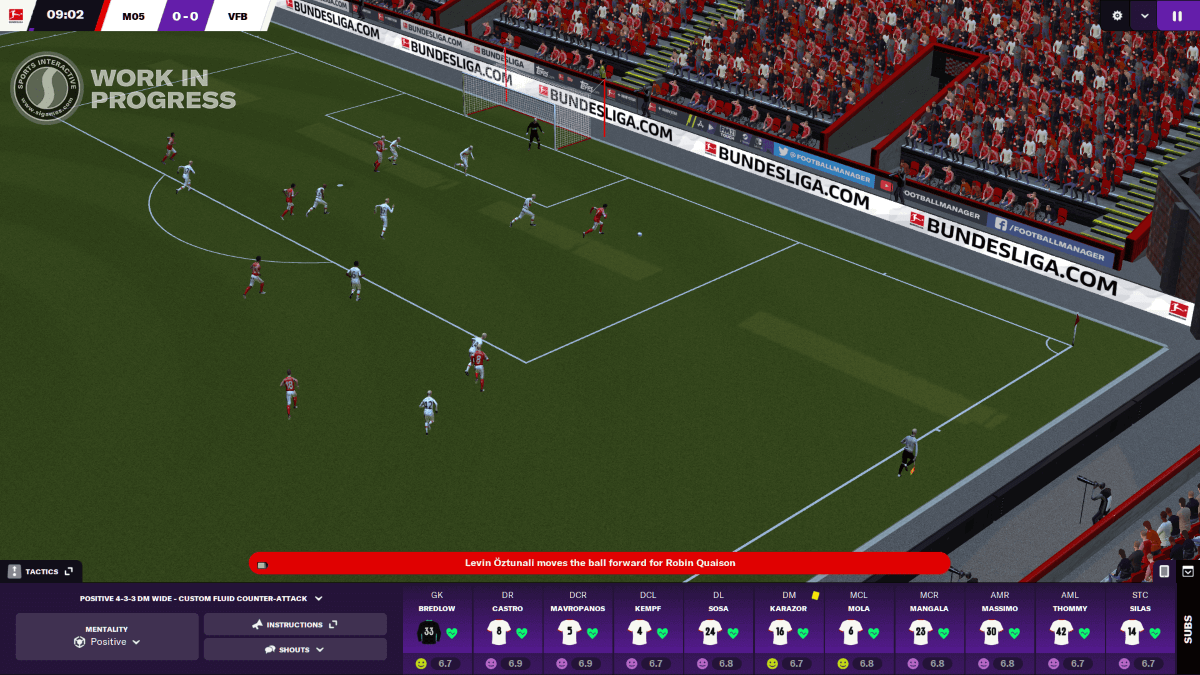 Hey guys and welcome to a more detailed look at the FM21 new features and how your matchday experience may change for FM 2021.
With BETA release just weeks away the new feature hype has hit overdrive including video reveals and blogs. The Football Manager 2021 feature blogs are essentially a sales pitch but you want to know what has actually changed for Football Manager 2021, thats where we come in.
How Has Matchday Changed In FM21?
The key changes to matchday experience are centred around xG statistics which is an exciting new system for FM21. There are of course some great graphical improvements and a revamped look but much of the rest could be labelled enhancements.
For example; backroom advice has been improved to be more insightful, something we felt had become stale of late. Pre and post-match has a more broadcast feel but again this is not exactly new, just a front end re-design.
A welcome 'enhancement' comes to player animation, allowing for smoother, more realistic movement. FM21 also includes additional pitch side quirks such as TV camera crews.
For those screaming at me for news of the match engine and if its been 'fixed'. The quote below suggests future announcements will address this but, in reality, we will have to wait for release.
We're not talking, today, about the changes to the match AI. Of course, there are lots of improvements there, but we'll show some of those off with videos before release.
Pre-match Build-up
Pre-match begins with a tactical meeting, similar to last year other than the fresh new look. One thing that has changed however is the submission of final team sheets.
You can now set these for the one match or long term, in the past any changes made would be kept going forward.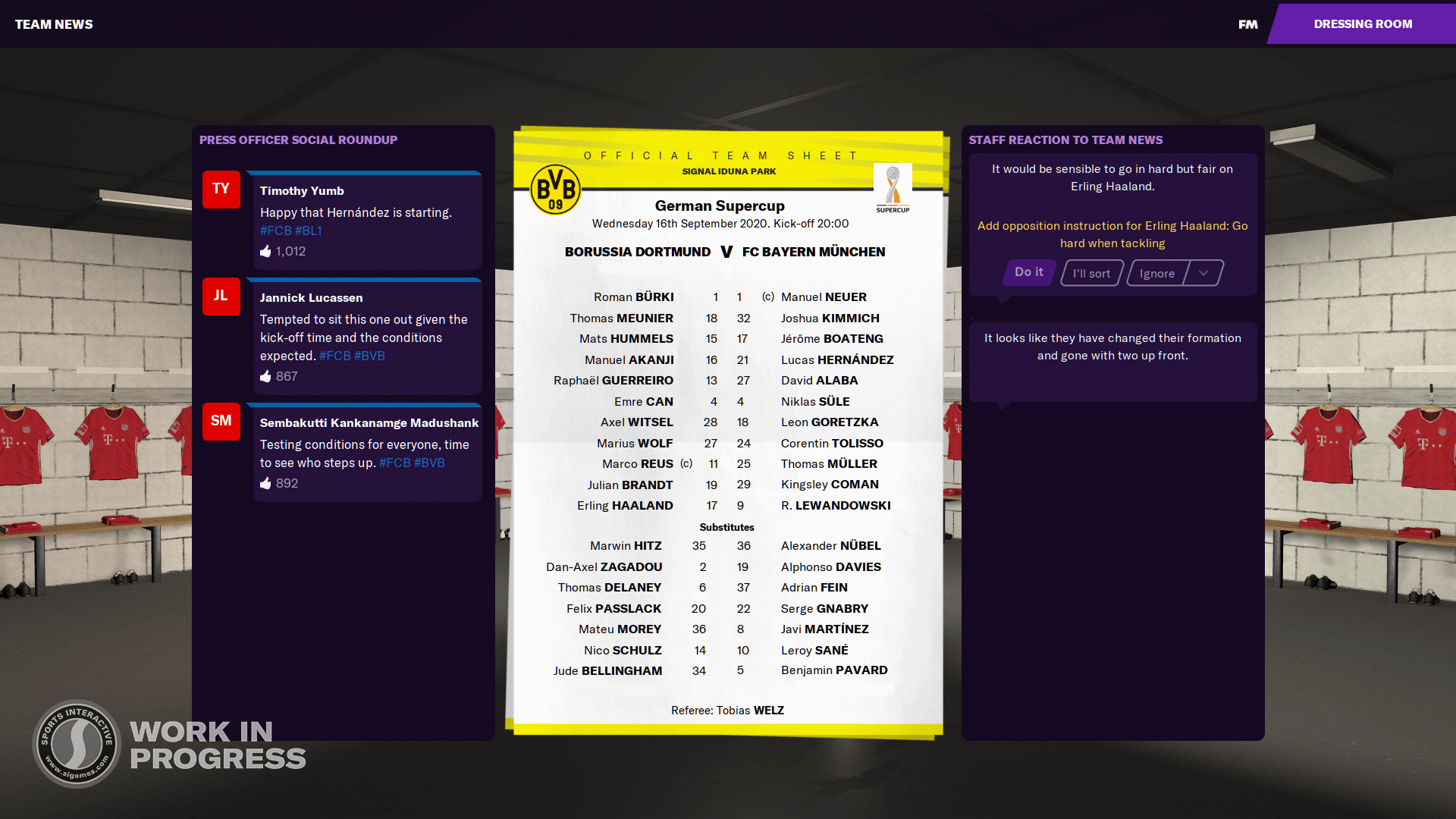 Upon entering the ground on matchday you will be presented with a final team sheet for both teams. While we cannot make changes any opposition differences in line-up will be highlighted with suggestions for tactical amendments.
Team-talks
We have already covered changes to Interaction (read here) but how do these affect team talks?
Gestures are more expressive and motivational for team talks. You can point your finger while scolding a players first half display for example or throw a water bottle across the room at full-time.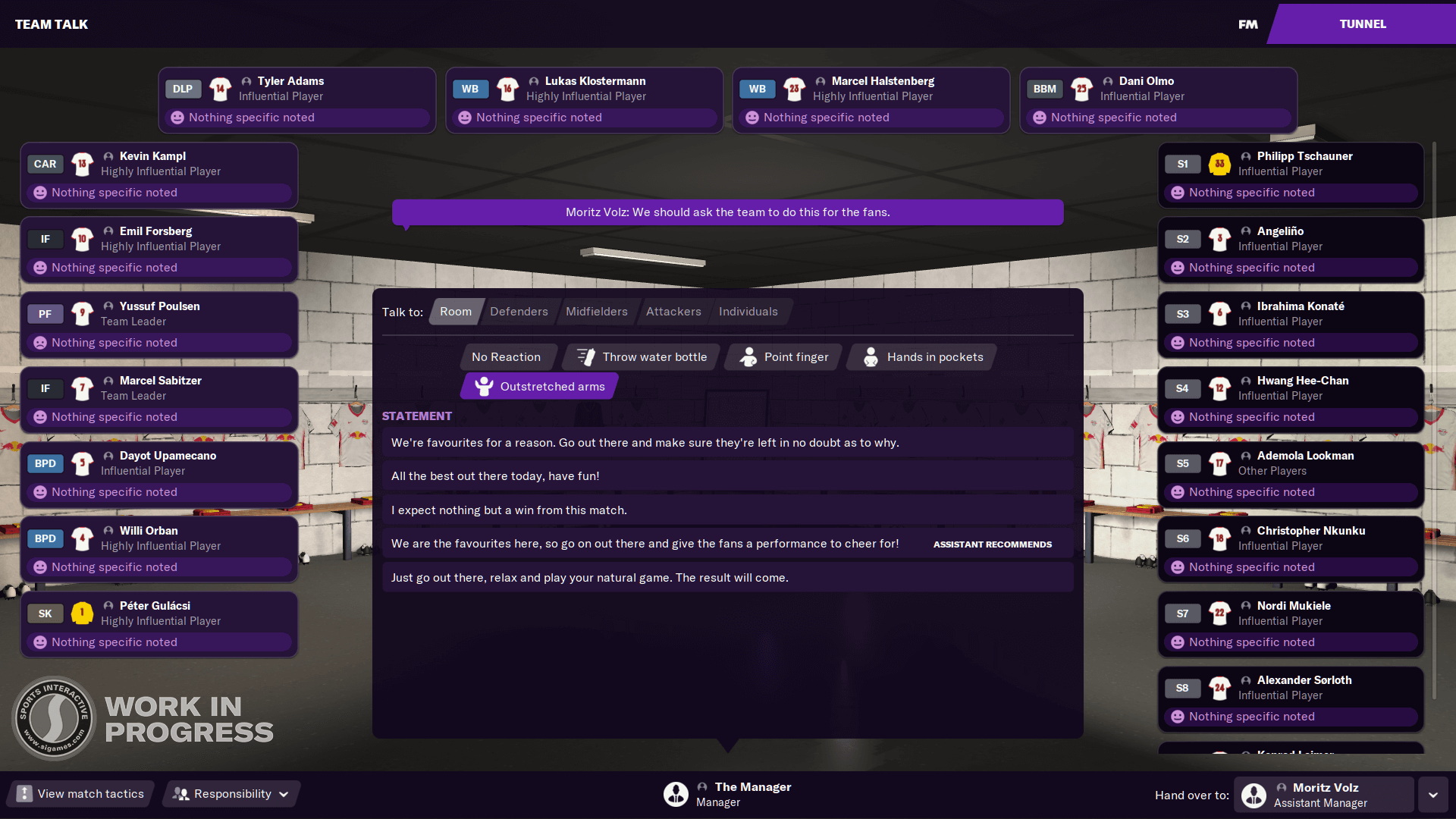 SI have confirmed we can still hand team talks over to the Assistant Manager, phew!
Extra-time team talks are now held on the pitch, not quite sure how this will affect us, the gamer other than aesthetically. One change we do welcome is an additional team-talk before penalty shoot-outs which seems realistic.
This penalty shoot-out team talk includes your players body language, a welcome aid in selecting those who can handle the pressure.
---
If you'd like to read about the FM 2021 new features in detail click here. Or to pre-order FM21 with early BETA access and the cheapest price, click the image below.

---
Broadcast Interviews
We now have pre-match broadcast interviews for those games featured on TV. This may be followed by a post-match interview but to be frank, its another fiddly Interaction to send the AM to for me.
In-match Presentation
Graphics have been completely revamped for matchday taking inspiration from modern broadcast media. From the team line-ups you can see form, Manager names and league table.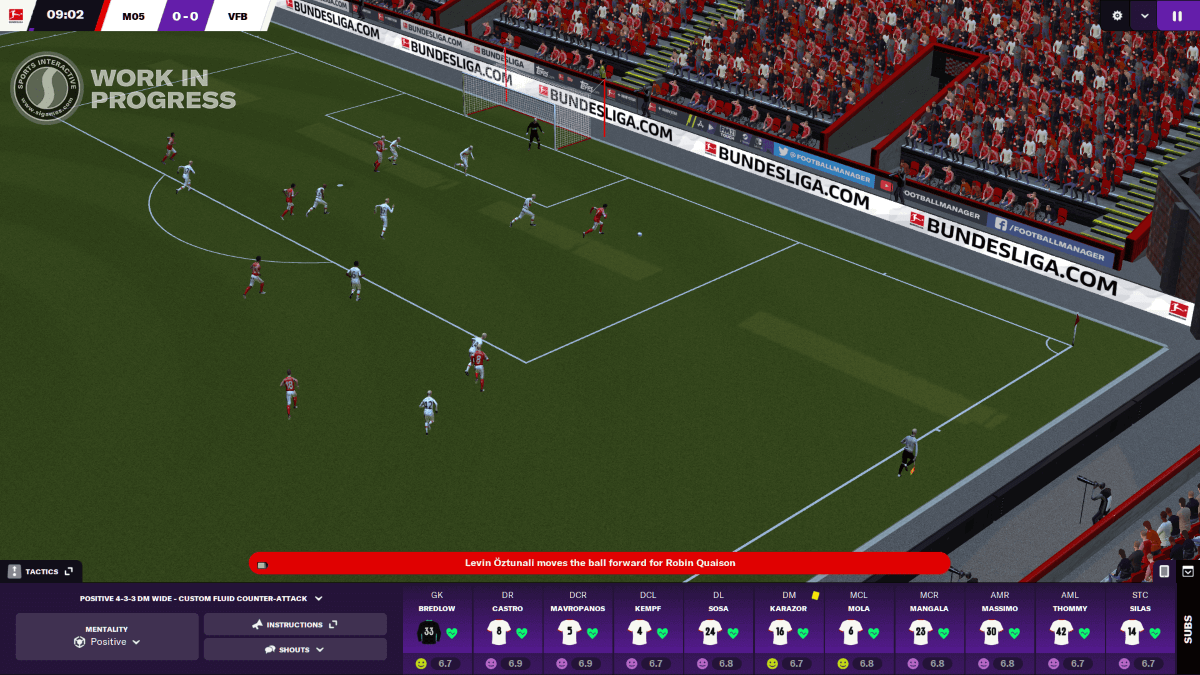 The new user interface has been designed to replicate managing from the dugout. The usual top screen options to make quick changes to tactics, instructions, mentality and formation transition to the bottom left corner.
Your starting XI is now displayed across the bottom in formation order including each players condition, body language and match ratings. You can also change your players role, individual instructions and use touchline shouts all by clicking their icon.
We do of course still have the usual match stats, live scores, tables and formation screens available through a 'show me' button but the need for these 'windows' is greatly decreased for FM21.
A cracking new feature is the introduction of opposition player roles provided by your data analyst (should he be capable.) This was not available with the default game and skin previously in match.
This 'dugout view' can be minimised to expand a full match view with one simple click.
VAR calls are better communicated in FM 2021 also. Should VAR be called upon it will be displayed on the stadium screen and in the match caption including information on what specifically is being reviewed.
---
Want to know how COVID-19 will be represented in Football Manager 2021? Find out here
---
Animation & Graphic Improvements
Graphics have been greatly improved for FM21 and this extends to matchday. Lighting has received a facelift to better represent the weather and time of day through enhanced shadowing.
Lighting improvements have also upgraded the manager model and Newgen faces.
Animation is much better for FM21 especially for player models. With revamped work to blending, player movement is smooth and more lifelike. In previous editions players would appear to slide across animations, this should now be fixed.
New to matchday is pitch side furniture, no not armchairs! I am referring to new camera types from jib, to seated and steadie cams. There is more variety and depth in the dugout too.
XG And Post-match Reaction
With a number of new statistics yet to be announced, the headline has to be XG or 'expected goals'.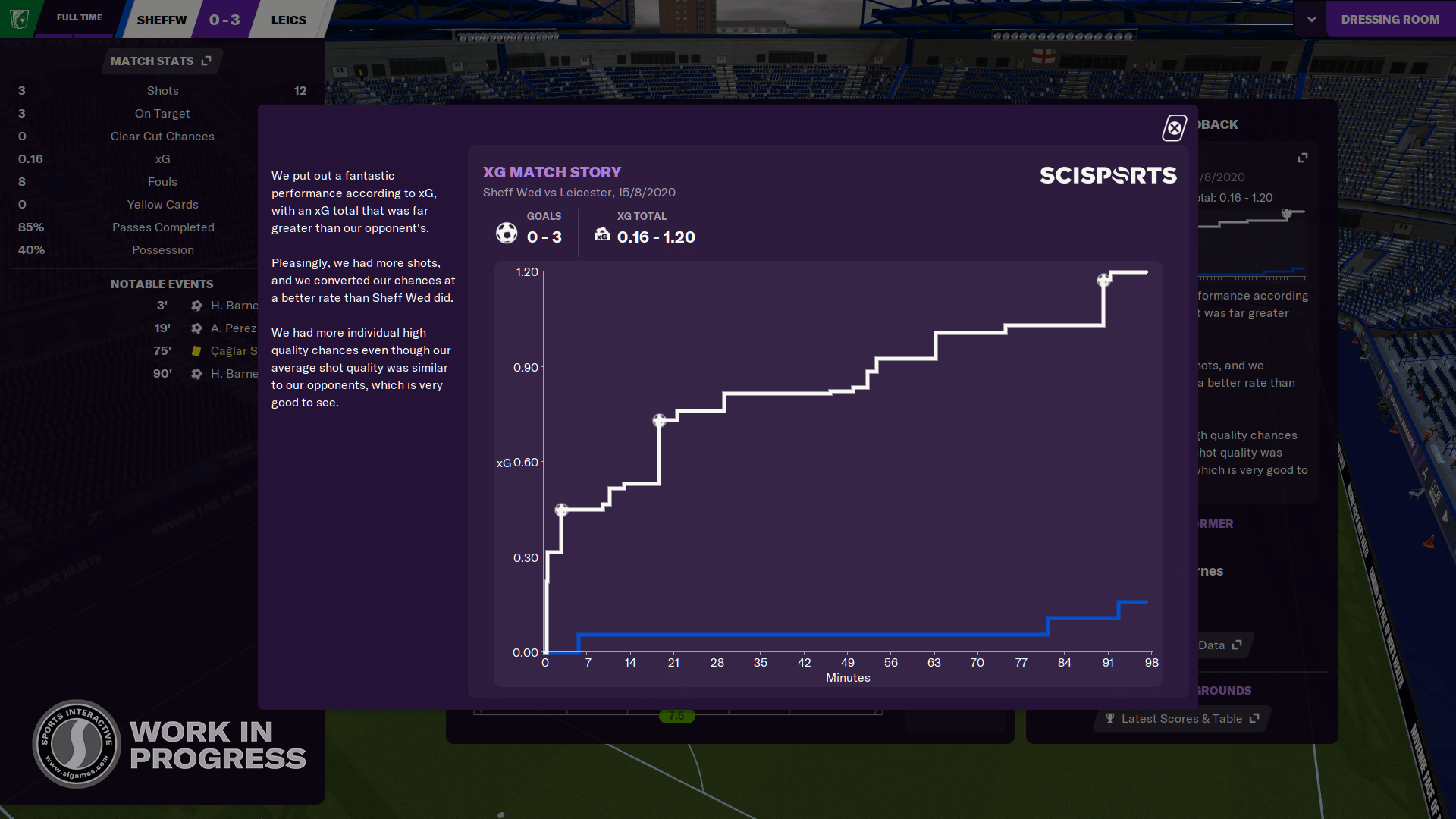 xG has become more mainstream in recent years and known as a more intelligent, intuitive way of analysing performance. Sports Interactive has worked with SciSports to bring their xG system tailor made for FM.
Football Manager's expected goals model considers shooting distance, angle, opposition positioning and speed of shot to determine the rating.
This rating is a numerical representation of a goal being scored for each shot taken. Many gamers complain about excessive shots with few converted, xG should show just how good these opportunities really were.
I personally can see this creating more controversy than SI realise unless of course the match engine has finally been fixed. XG will be available in the half-time review, and full-time summary. This includes the story of how each teams xG has fluctuated through the course of a game.
---
We have written numerous blogs delving into the detail of each headline feature:
---
What do you think to the FM 2021 new features and changes to Interaction guys?
I really like the inclusion of xG and appreciate the step forward graphically but like the rest of the community, await news of the match engine.

Subscribe to our Newsletter