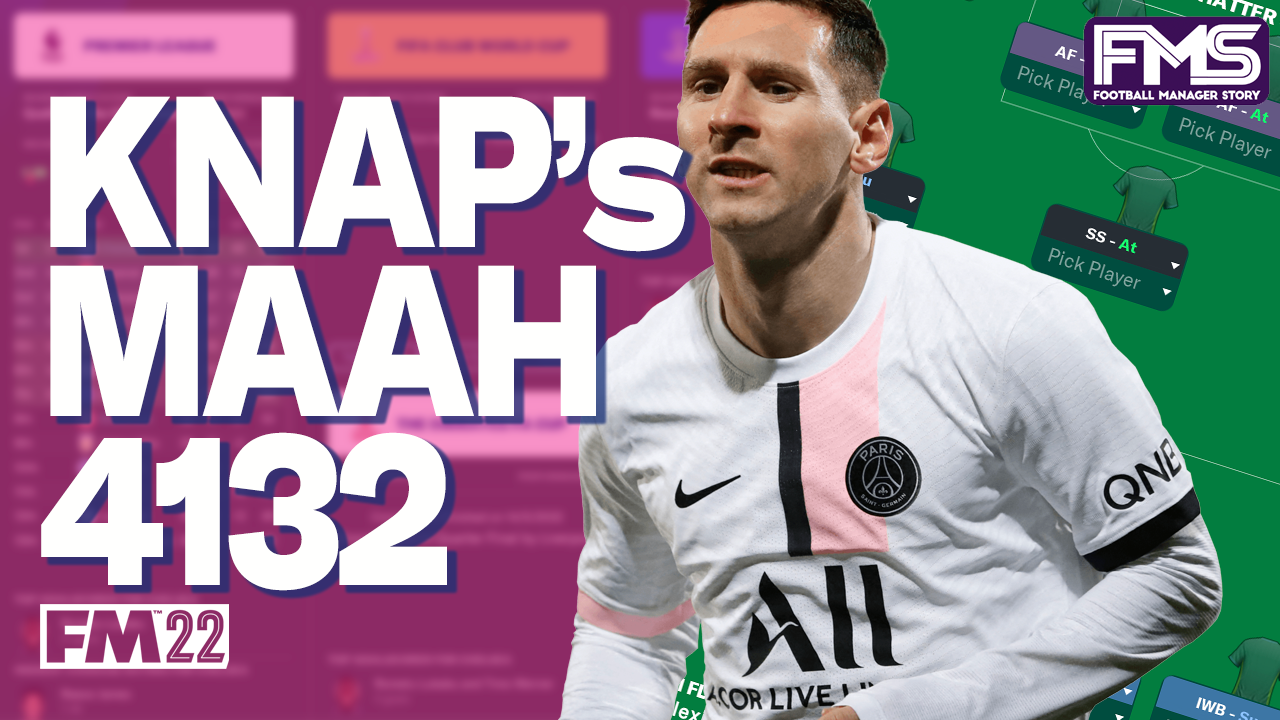 This week we will be testing Knap Mad As A Hatter 4-1-3-2 system on FM22 v22.3 and comparing it to the best FM22 tactics.
Here at FMS we will be testing and creating the best FM22 tactics throughout the year. Not only will we be creating, featuring and testing our own tactics, but will will also test the best from the FM Community.
Knap is easily one of the best know FM22 tactics creators, and his tactics are used worldwide, but how will they stand up to testing.
The FM22 Tactic

MAAH is a 4-1-3-2 tactic. It is played on an Positive Mentality and utilises a very attacking front line, with two Advanced Forwards and a Shadow Striker.
The midfield looks slightly exposed with just the Deep Lying Playmaker on support, however, the two Inverted Wing-Backs will fill the gaps usually where you'd find midfielders. Width is provided by the high Wingers on support.
Knap Mad As A Hatter 4-1-3-2 Instructions

Using IWBs and then having the Overlap instruction is a usual Knap trick. In game it allows the wing-backs to still stay wide at times, rather than being too narrow.
Passing into space will look to hit the forwards and wingers and having 'Run At Defence' ticked is asking those five forwards to expose the defence and create space.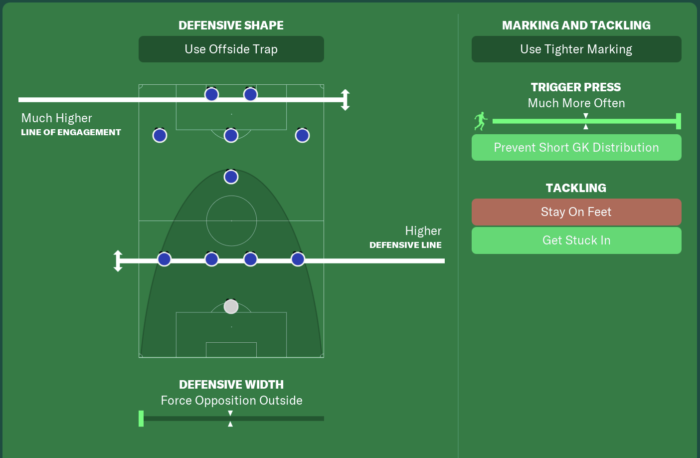 Utilising the front five, the Much Higher Line of Engagement will put a lot of pressure on the defence, especially as a Gengenpress system with much higher pressing.
Player Instructions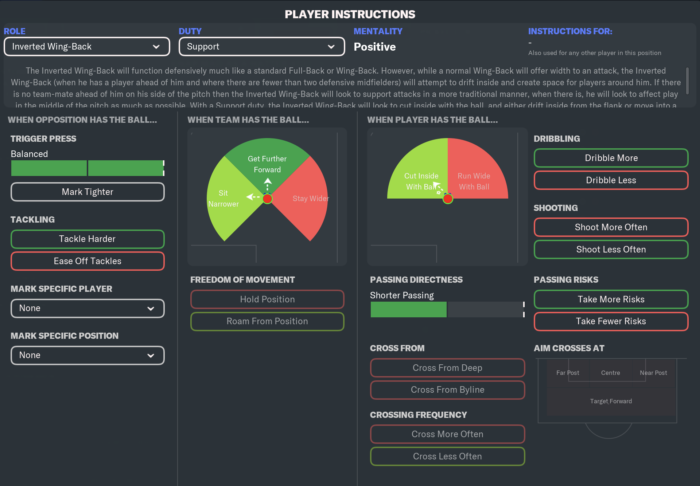 The IWB is instruction heavy. Pressing, Tackling Harder, Dribbing More, Shooting Less, Taking More Risks and Getting Further Forward. It is the same for both sides.
Testing
With all of our FM22 Tactics Tests we will run the season through with four teams: Chelsea, Brentford, Sheffield United and Peterborough.
This gives a good selection of favourites and lower level teams and they will be judged on Points, % of games won and goal difference. There is no point awarding success on trophies as you can win the league with 2 defeats or 7 defeats and cups are too random.
Results: Knap Mad As A Hatter 4-1-3-2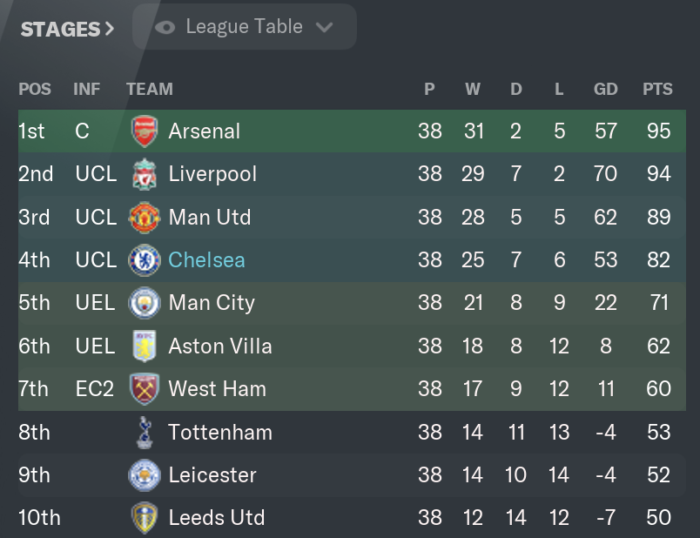 Chelsea finished quite a distance from the top and seven points behind third. Scoring 82 points is fine, but not spectacular.
Yet, with 110 goals, they scored 17 goals more than anyone else. It was the defence which let it down, with 57 conceded – a midtable performance.
Brentford fell short of expectations, down in 12th place, but 69 goals put them ahead of the chasing pack in fifth. Again, defensively it was a disaster, the third most conceded.

Romelu Lukaku destroyed the league with 36 goals, and the second highest average rating in the league.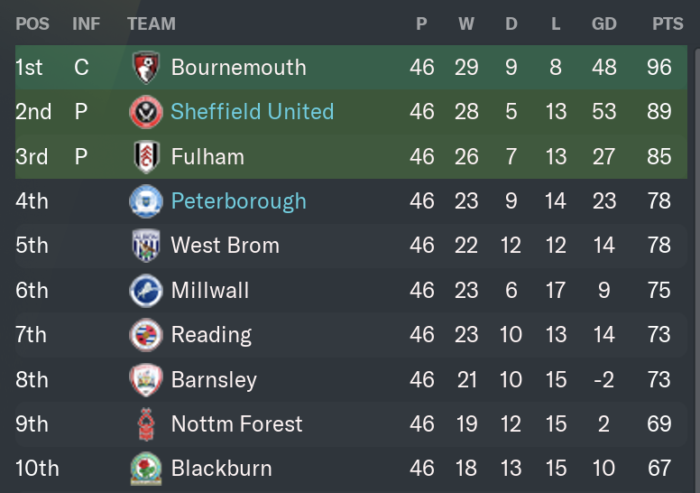 It isn't often Sheffield United don't win the Championship, but they still won promotion on 89 points. However, it was Peterborough who stood out with this system, finishing a ridiculous FOURTH.
Both teams topped the goal scoring charts with the Blades ending on 108 goals, and Posh with 103. What makes the results even more surprising is that Peterborough conceded the second most with 80, only Luton leaked more goals and they were relegated.

In the playoffs, Posh reach the final and took on Fulham. You can only wonder what would have happened if Jorge Grant hadn't choose violence after just four minutes.
FMS Score
This tactic scores 87.9 on our testing system, which places it middle of the pack. The teams won 292 points, which is around mid-table.  Where this tactic stands out is the goals scored, with 390 the highest we have seen in testing.
If you want a high-scoring tactic and don't mind conceding, this is definitely for you, but avoid if you want stability. It is a lot of fun though.
Download Knap MAAH below

We will be testing and checking out loads of the best Football Manager 2022 tactics in the coming weeks, if you like what you see, check out the FMS FM21 tactics index below

If you try this tactic, please let us know in the comments or on social media. What went well? Anything would you change? Which players do you think would be perfect for it?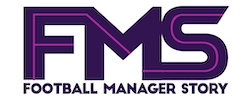 Subscribe to our Newsletter