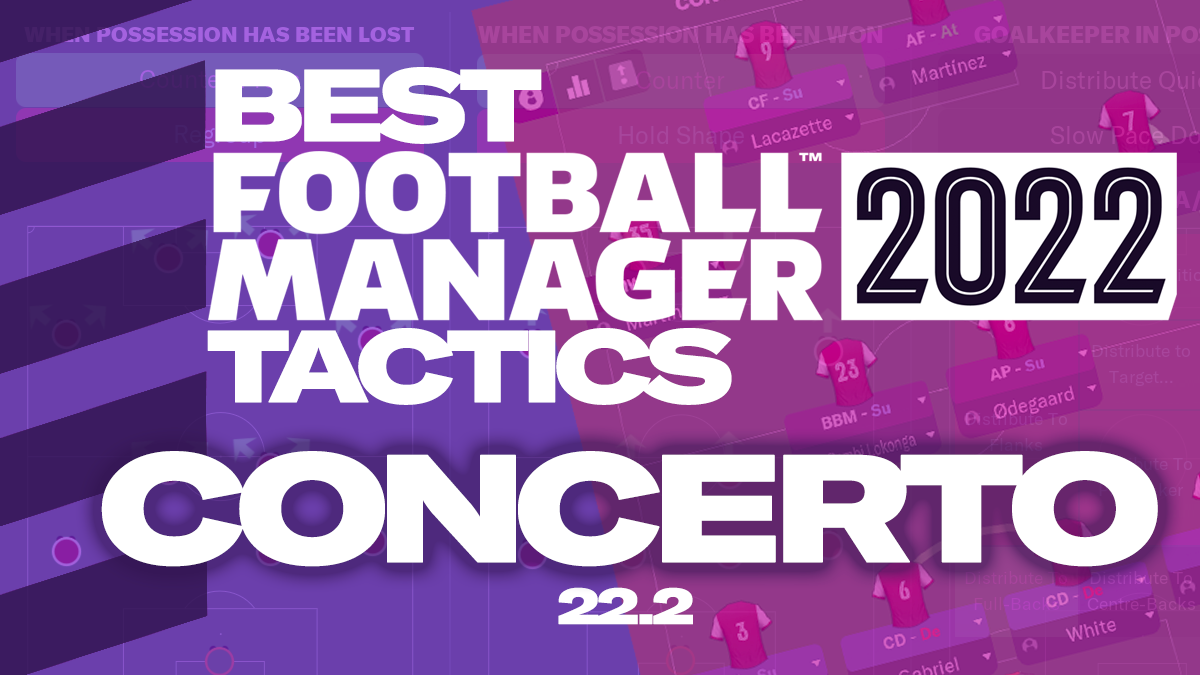 During the build up to Football Manager 2022, SI declared 'gegenpress' to be dead, so would the 'Concerto' still keep its place as one of the Best FM22 tactics? You are about to find out.
The Concerto is back for FM 2022, and it is as effective as ever. We've played through a season as Arsenal in the Premier League, plus put it through our unique testing system to make sure it works for the 22.2 patch of Football Manager 22.
note: the creator of this Concerto tactic is Darren Smith who first used it in FM 2021. Darren runs a great FM Youtube channel called False 9 FM, you should check his amazing content over there.
Changes to the Match Engine in FM22 has meant this is no longer as dominant at keeping possession, but this is down to the game and the issues which were flagged in the Beta, rather than the 4-2-4 tactic. Arsenal still finished sixth with 51% of the ball, but in the bottom three for passes completed.
In FM 2022, to make much more passes than the opposition, you need to play on Cautious or Balanced and play a much lower tempo – as seen in RDF's Manchester City recreation.
Best FM22 Tactics: Concerto Formation
Key to this system if the two distinct combination triangles down each wing. On the right, the width from the attacking wing-back and winger causes an overload. The Advanced Playmaker is there to pick a pass to either wide man and the runs from the Advanced Forward.
On the left, you have runs inside from the Inverted winger being picked out from the AP, the movement from the Complete Forward creates space in behind and the IW can pick out the AF over the top. It is beautiful to watch.
Movement from the CF can create a 4-2-3-1 shape in essence, with the defenders following him into the midfield and the IW and AF can run into the space created.
With the Full Back on support down the left, the Box-to-Box midfielder and the AP being on support, combined with the Tight Marking instructions, Concerto is defensively solid too. Winning possession back 40 times more than any other team in the Premier League.
As always player suitability, training and tactical familiarity is vital but we will go over that in detail further down.
Note: Do not try and copy this tactic, there are many specific player instructions and important custom set pieces. If you do not download this best FM2022 tactic, it will not work.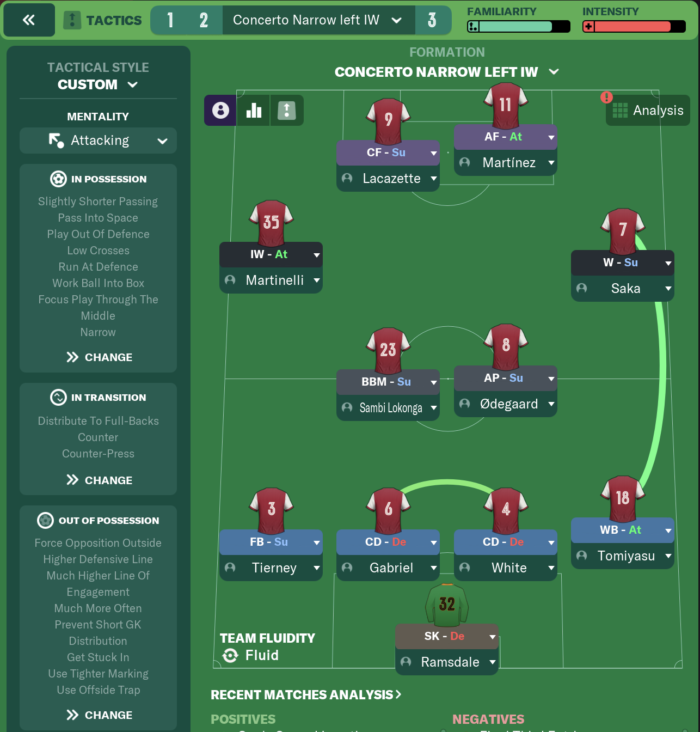 Best Football Manager 2022 Tactics – Instructions
With play focussed through the middle, a narrow width and shorter passing Concerto should feel secure and compact, winning back possession with ease while creating space in wide areas.
Running at the defence causes havoc in the opposition back line, especially combined with moving the ball quickly and passing into space.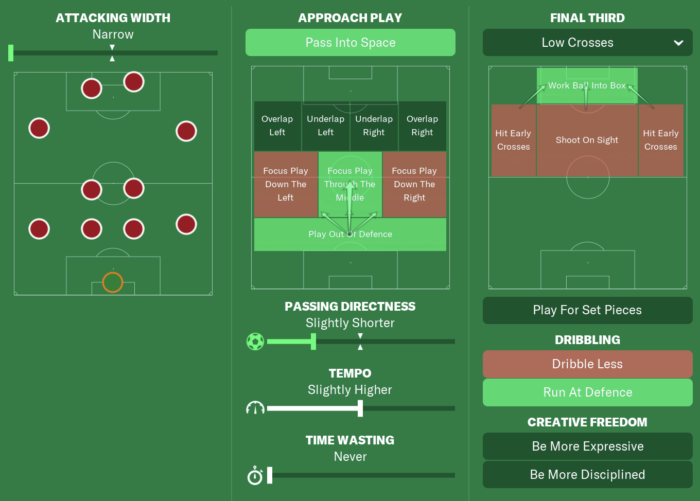 The pressing, counter and counter-press have not changed.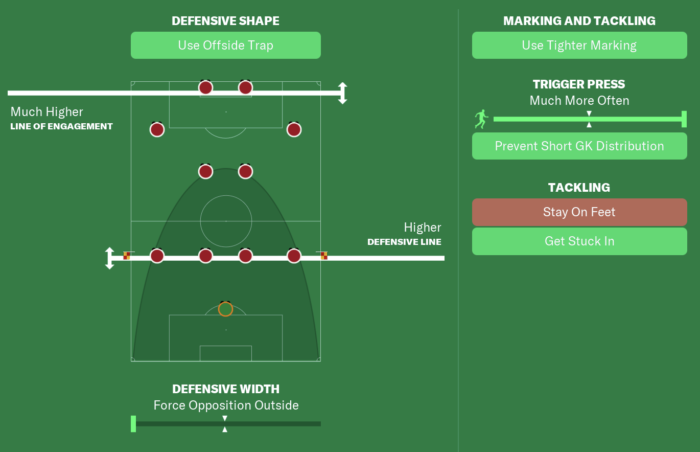 Out of possession we use a much higher line of engagement and extremely urgent press. Depsite SI claiming this would have a huge impact on your test, our testing on the 'gengenpress' has proved otherwise.
The defensive line is high, one notch below max which works well against balls over the top which seem rare now the width is narrow.
Get stuck in is active and while it can cause yellow and red cards, you should manage this mid-match, requesting booked players to ease off tackles.
Best FM 2022 Tactics: Concerto – Player Roles
GK – Sweeper Keeper (d) – Just your standard keeper, but make sure he has a high value for One on Ones.
CD – Central Defenders (d) – Passing is preferred as you play out from the back, but aerial presence is far more important. Also look for Defenders with speed to cope with balls over the top. Ben White and Gabriel played in our Arsenal save and they have over 13 for Acceleration and Pace.
DR – Wing Back (a) – He should be well rounded and athletic. He will overlap the winger often reaching the by-line so great crossing and dribbling ability will be rewarded. Tomiyasu finished with nine assists in our season.
DL – Full Back (s) – The more defensive of the two full-backs, but he will still get forward, look to cross the ball and shoot from range. You should look for speed, work rate and general technical ability. Kieran Tierney was perfect and would be ideal if you wanted to switch the focus to the left with the IW moving to the right and the left-back becoming the WBa.
CM – Advanced Playmaker (s) – The AP can transform Concerto from a central position. Look for a passing maestro with good long shot ability and dribbling. Martin Odegaard finished with 100 key passes, which is great considering how playing through the middle has been impacted.
CM – Box-to-Box midfielder (s) – The more defensive minded midfielder is instructed to take fewer risks and generally play it safe but you should look for an all-rounder.
AMR – Winger (s) – The winger is on support to add balance and allow your marauding wing back a decoy to overlap. He is instructed to roam from position so can drift into pockets of space. you need a fast, capable dribbler and one capable of crossing would be ideal.
AMR is instructed to mark DL within player instructions, if up against advanced wing backs this must be changed to man mark WBL. If played from AMR he must be right footed or at least capable on his right if used from the left side
AML – Inverted Winger (a) – The IW is instructed to take more risks and sit narrow. With an attack duty he will dribble past opponents and look to be the creative force out wide. You need speed and dribbling ability above all else, but finishing is a big bonus. Gabriel Martinelli lead the team in 17 assists from this position.
As above AML is instructed to man mark DR which needs changing to WBR when appropriate. The Inverted Winger must be right footed but if used from AML must be left footed.
ST – Advanced Forward (a) – The main goal threat, speed and dribbling ability are a must. A clinical finisher with composure is crucial. Off the Ball and Anticipation will help the forward react to the balls in behind from the AP/IW.
ST – Complete Forward (s) – Here we are looking for Off The Ball movement. Decisions, Passing and Vision are key. Lautaro Martinez was our big January signing and finished with 10 goals in 14 games. With 12 for passing and vision, he could be better here, but still proved a goal threat.
---
Every year we test countless tactics and review the very best. For FM22 these systems will be ranked and listed within our tactics index linked below. You can see how the Concerto compares to our other tests by clicking the image below.

---
IMPORTANT – When to tweak Best FM22 tactics: Concerto
In Football Manager 2022, tweaking your tactic in-game has become more important than ever. We have added a flat 4-4-2 version which offers more defensive stability for those sticky away days, this is aptly named "Concerto B-flat'.
You can download 'Concerto B-flat' from this post and it should be used away from home when facing a 4-3-3 (using DMC and AMR/AML) or 4-4-2 formations.
As a general rule of thumb use B-flat away from home when you fear an upset or being overpowered by better opposition.
We have also included a system for wasting time in the last 10-15 minutes when you are ahead. As fatigue drops in FM22, the need to shut the game down is as important as ever.
If chasing a goal late in the game you can pump balls into the box, shoot on site, change the Winger to attack duty and CF to an AF. I also set the advanced playmaker to attack. Making substitutions in attack and midfield can also help also.
Training
Training is vital to success in Football Manager 2022. Do not leave this to your Assistant Manager because he fails to schedule match preparation. Match prep is the best way to improve the way your team performs within a system.
We have written a guide and included our FM22 training schedules here.
Best FM22 Tactics Results
In any other season this system and team had a chance to win the Premier League in year one. Huge results against Manchester City and United put Arsenal in contention.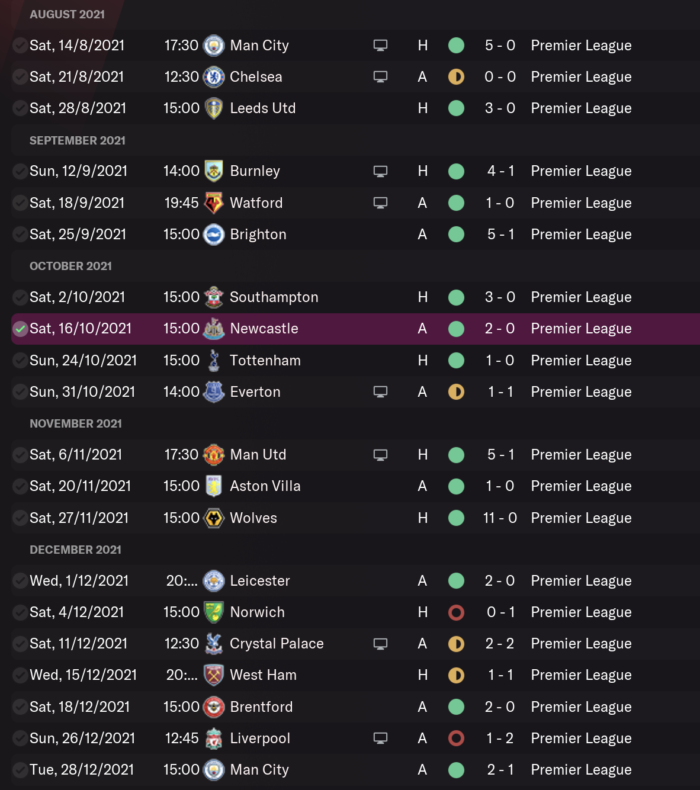 Mistakes were made. You can see in January, using the Concerto Flat-B 4-4-2 it achieved great results against Leeds and Burnley, which could be tough away games. Attacking away at Southampton proved costly. As did the return game at Old Trafford. That gave United the gap they needed and too much to overcome at the end of the season.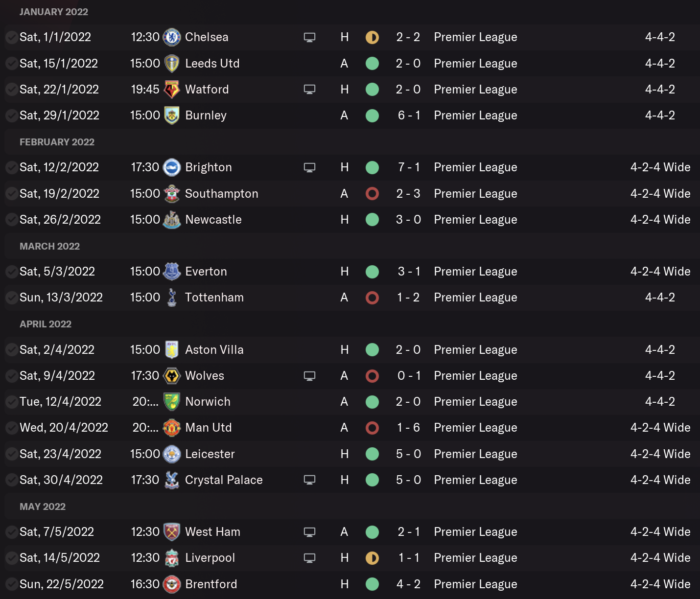 You can see above when I switched to Concerto B-flat, its listed in the 'formation' column as 4-4-2 while Concerto default is listed as 4-2-4.
Best FM22 Tactics: Concerto – Table
Injuries played their part in the run in, with Pierre-Emerick Aubameyang suffering a hip injury which saw him miss three months. He had provided 13 goals and six assists in the league and his loss made us dip into the transfer market.
102 goals saw us top the goalscoring charts, with the second most shots on goal. Arsenal also finished with the highest xG – 15 more than any other team. Second in tackles won behind Southampton helped us finish fourth for clean sheets with 18.
All in all, a very good season. Perhaps some better decisions with the tough away games could have bridged the six-point gap. We'll never know.
---
Find the best FM 2022 players:
---
Download Best FM22 Tactics: Concerto
If you would like to give the tactic a try, follow the instructions below. Please download both systems and decide which suits your team.

1. Click the download link above and download the zip file.
2. For Windows put the downloaded file in this folder: Documents/Sports Interactive/Football Manager 2021/tactics. If the "shortlists" folder doesn't exist you will have to create it. Windows users skip to step 2, Mac users read below.
Mac users put file in this folder: Users/YOUR Mac USERNAME/Documents/Sports Interactive/Football Manager 2021/tactics. To access your files on Mac open 'Finder', click 'Go' from the menubar, press and hold the 'alt' key to show 'library' in your menu, while still holding 'alt' click it, then go to 'Application Support' > 'Sports Interactive' > 'Football Manager 2021'
3. Now load the game as normal and enter the tactics screen.
4. In the tactics screen, click the tactic you currently have loaded then select 'load' from the drop-down menu
5. Select the tactic and click load.Thanks for reading, any social shares would be much appreciated. Follow us on social media for future posts in the series. Please feel free to leave a comment I'd love to hear how you get on. Likewise any questions.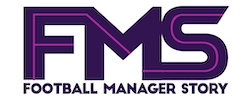 Subscribe to our Newsletter