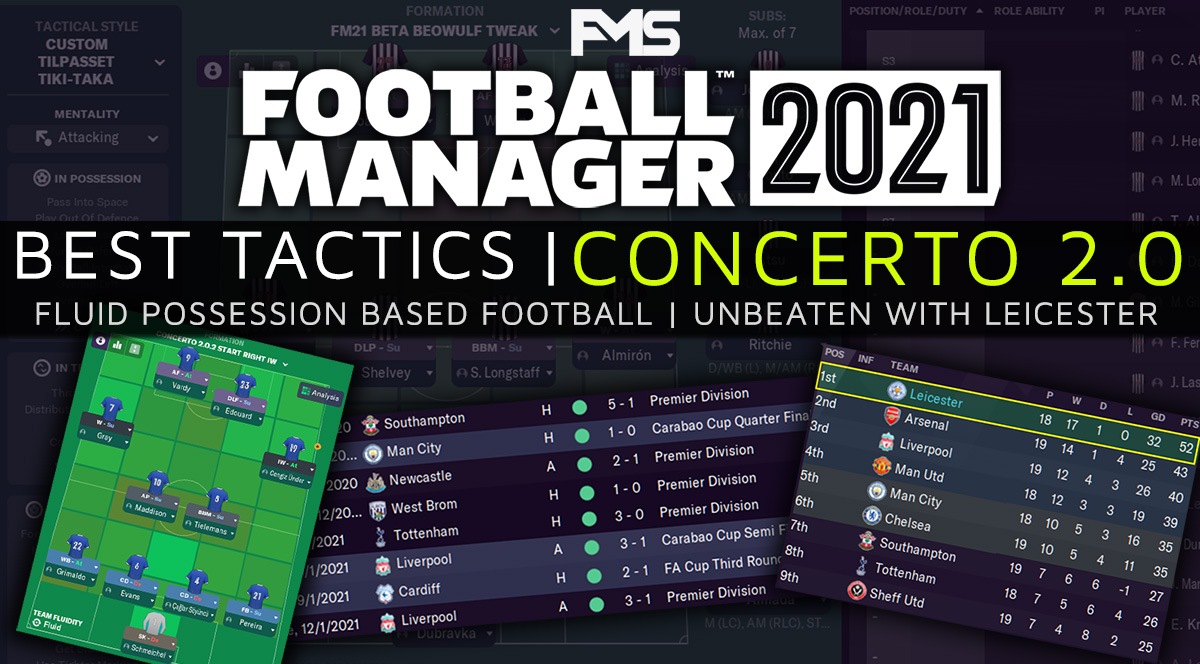 Welcome to another review from our best FM2021 Tactics series and the return of Concerto. Created for FM20 Concerto 2.0 is a possession based system built on intricate passing play, attacking intent and Defensive stability, achieving great results at every level.
Concerto was designed to be an FM 2021 lower league tactic and worked well for League Two outfit, Harrogate Town. I also found success with Leicester City drawing just one game and going unbeaten in all competitions.
If you enjoy the potency of a 4-4-2 and interplay of the 4-2-3-1 Concerto 2.0 is the system for you. Unlike most overpowered, exploit tactics this is best watched in extended highlights mode and features some unique set piece plays.
Best FM2021 Tactics – Formation
Some FM21 tactics are one dimensional exploiting the long, lofted ball in behind which can grow tiresome. Concerto breaks the mould utilising intricate play, purposeful attacks and a focus on ball retention. It can (and will) go route one but only if this is the best approach to goal.
One Advanced forward sits high while the second drops deep to link up play in a 4-2-4 formation. The latter acts as an AMC introducing the benefits of a 4-2-3-1 pulling Defenders out of position in a hybrid approach.
To find balance out wide AMR cuts inside, attacking the space while AML hugs the touchline and supports play. The right sided full back supports play offering defensive stability while the left Wing Back attacks, often overlapping.
Defensive stability also comes from the Box to Box Midfielder who shuttles vertically so the Advanced Playmaker can create and attack with more intent. Yes Concerto is an attacking system but player instructions add balance.
As always player suitability, training and tactical familiarity is vital but we will go over that in detail further down.
Note: Do not try and copy this tactic, there are many specific player instructions and important custom set pieces. If you do not download this best FM2021 tactic, it will not work.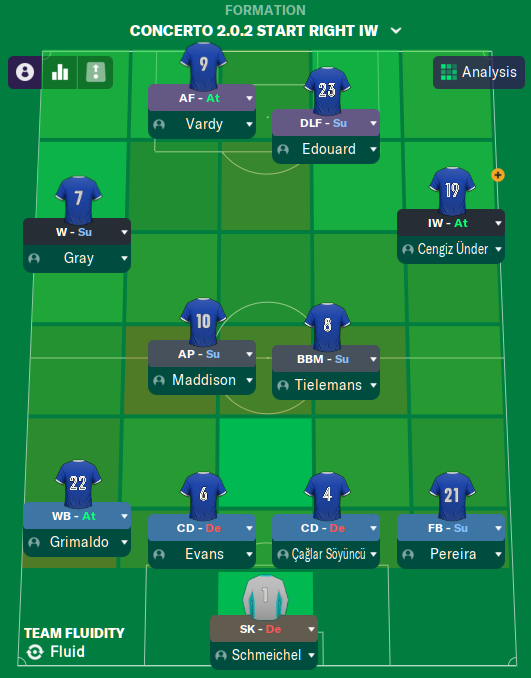 Concerto 2.0 Gameplay & Guide Video
Best Football Manager 2021 Tactics – Instructions
The pass more direct instruction can be misleading, because individual player instructions of 'pass shorter' for all Defenders and Midfielders help retain possession. Achieving a hybrid approach of short, Tiki Taka style while not discriminating against long ball opportunities.
We look to run at the defence, move the ball quickly and pass into space. I did test 'look for the overlap' and 'focus play down the wings' but found both limiting. The overlap held up play while wide attacks lacked penetration.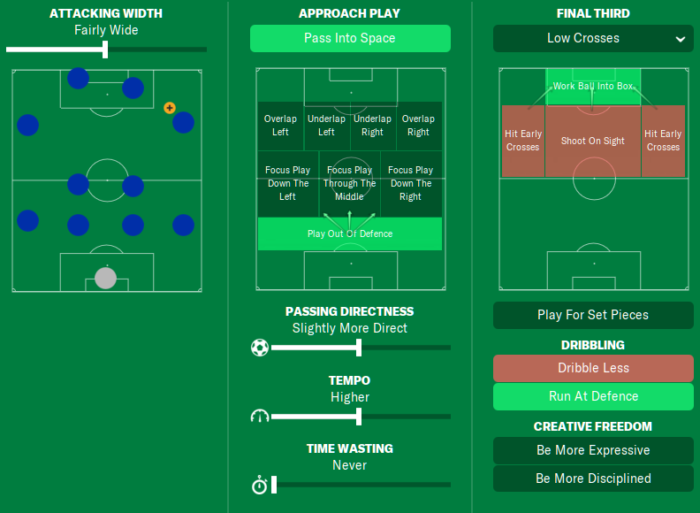 This is clearly a pressing system with counter and counter-press in use both of which are evident in game.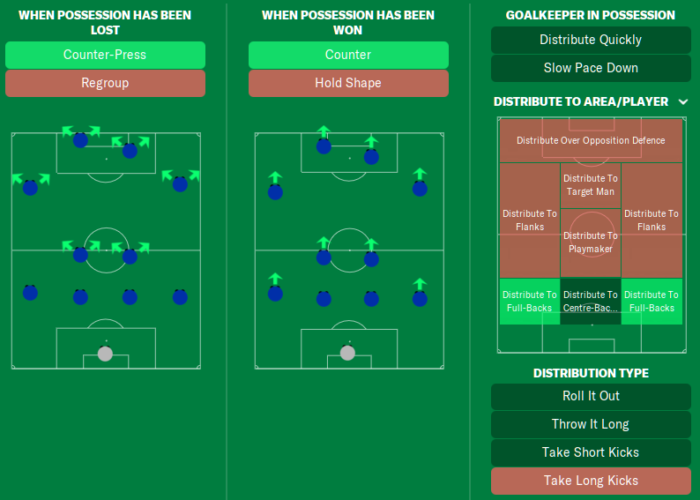 Out of possession we use a much higher line of engagement and extremely urgent press. The defensive line is high, one notch below max which works well against balls over the top.
Get stuck in is active and while it can cause yellow and red cards, you should manage this mid-match, requesting booked players to ease off tackles.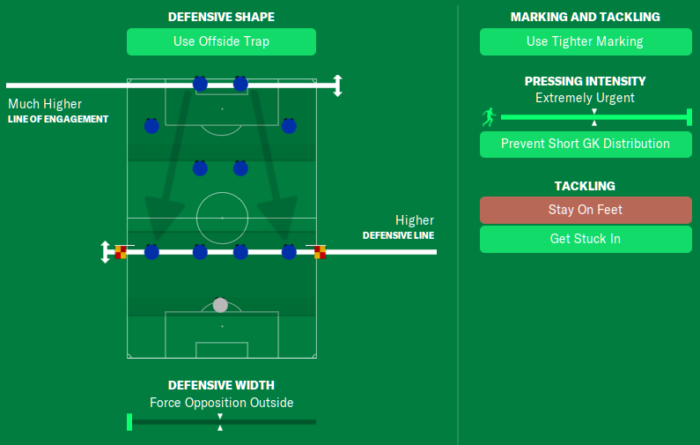 IMPORTANT NOTE *
You can choose from two versions of Concerto; the default features an Inverted Winger on the right and second on the left. Each role follows suit to mirror the default system because every role is vital for balance.
Do not try and move roles manually, use the tactic download because set pieces and player instructions change also.
Player suitability is vital so please read the next section and note the necessary changes to AMR and AML player instructions.
Best FM 2021 Tactics – Player Roles
GK – sweeper keeper (defend) – Just your standard Keeper but one v one ability should be preferred.
CD – central defenders (defend) – Passing is preferred as you play out from the back, but aerial presence is far more important. Also look for Defenders with speed to quell that ball in behind, Soyuncu and Fofana are good examples topping the average ratings.
DR – full back (support) – Seemingly the less offensive full back but do not be deceived, DR will get forward, look to cross the ball and shoot from range. You should look for speed, work rate and general technical ability. Pereira was superb.
DL – wing back (attack) – The left sided Defender should be well rounded and Athletic, more of a WBL due to his advanced position. He will overlap the Winger often reaching the by-line so great crossing and dribbling ability will be rewarded. Grimaldo was brilliant in my save but Digne would be a perfect example.
CM – advanced playmaker (support) – The Advanced Playmaker can transform Concerto from a central position. Look for a passing maestro with good long shot ability and dribbling. Maddison was amazing but Tielemans a little lacking. It would seem a natural AMC suits this role best.
CM – box to box midfielder (support) – The more defensive minded midfielder is instructed to take fewer risks and generally play it safe but you should look for an all rounder.
AMR – inverted winger (attack) – The inverted winger is instructed to take more risks and sit narrow. With an attack duty he will dribble past opponents and look to be the creative force out wide. You need speed and dribbling ability above all else, but finishing is a big bonus. Cengiz Under was brilliant.
AMR is instructed to mark DL within player instructions, if up against advanced wing backs this must be changed to man mark WBL. If played from AMR he must be left footed or right footed if used from the left.
AML – winger (support) – The Winger is on support to add balance and allow your marauding Wing Back a decoy to overlap. He is instructed to roam from position so can drift into pockets of space. you need a fast, capable dribbler and one capable of crossing.
As above AML is instructed to man mark DR which needs changing to WBR when appropriate. The Winger must be left footed but if used from AMR must be right footed.
ST – advanced forward (attack) – The main goal threat, speed and dribbling ability is a must. A clinical finisher will do well and Jamie Vardy was brilliant for me. While Concerto uses the ball in behind less often it is still a source of goals so speed and off the ball movement are important.
ST – deep lying forward (support) – The link between midfield and attack the deep lying forward will fall into pockets of space and should posses good passing and technique. A secondary Striker he should be more of an AMC but speed will help and good finishing is still required. Edouard and Iheanacho were great for me.
IMPORTANT – When to tweak
I used attacking mentality for all matches, even away to Liverpool but a defensive approach is required to see games out.
Download this time wasting tactic for the last 10 minutes of tight games.
If chasing a goal late in the game you can pump balls into the box, shoot on site, change the Winger to attack duty and deep lying forward to advanced forward. I also set the advanced forward to attack. Making substitutions in attack and midfield can help also.
Aside from tactics it is vital you rotate the team, this is to prevent fatigue and more importantly throw the AI.
Training
Training is vital to success in Football Manager 2021. Do not leave this to your Assistant Manager because he fails to schedule match preparation. Match prep is the best way to improve the way your team performs within a system.
I have written a guide and included my FM 2021 training schedules here. I would recommend using them.
Best FM21 Tactics Results & Table
Results speak for themselves as Leicester remained unbeaten drawing just once. We beat Liverpool twice at Anfield, Chelsea away 4-2 and Man city twice also.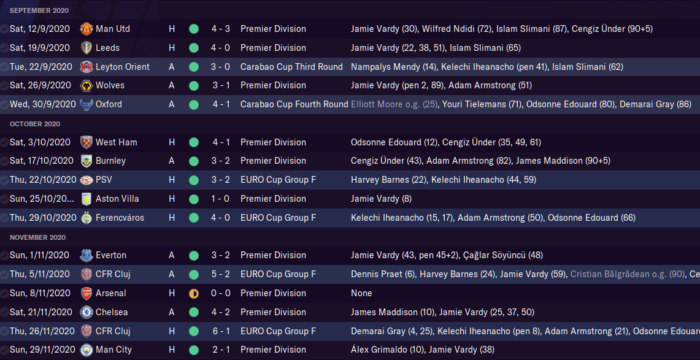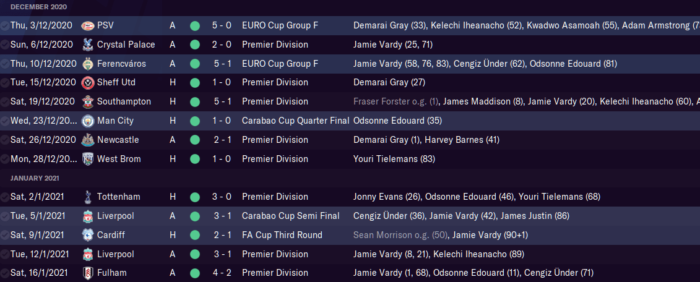 Top by 9 points with a game in hand and hitting our stride, we have the League Cup final to come and Europa League knockouts.

Most notable performers are in Defence, Jonny Evans got 7.36 average rating and Soyuncu topped the Premier League charts with 7.46. Maddison hit 4 goals and 6 assists proving his worth as the Advanced Playmaker.
The goals were evenly distributed with Under scoring 9, Gray 6, Edouard 8, Iheanacho 9 and Armstrong 7. Vardy was of course the standout scoring 26 goals but I'd expect any fast Striker to perform well in the Advanced Forward role.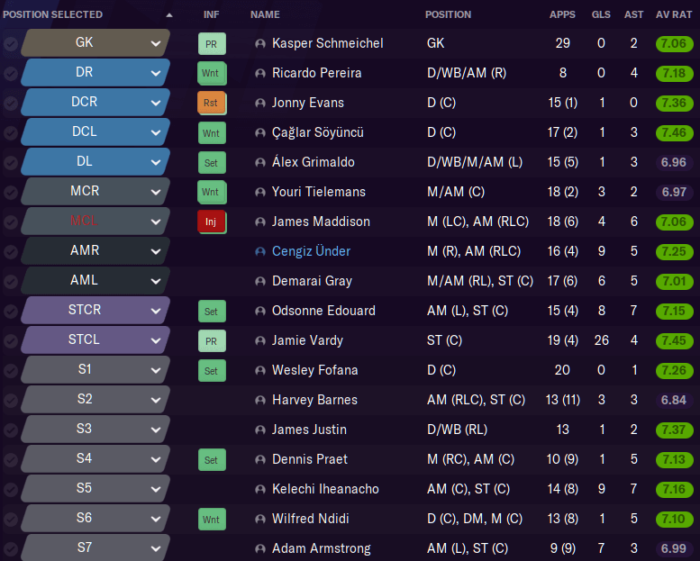 I tested Concerto in League Two with Harrogate Town failing to win just twice against Bradford and Tottenham in the cup. The system found strength in defence as tactical familiarity improved and goals were easy to come by. My standout results were 3-1 against Aston Villa, 7-2 v Rochdale and 5-1 against Salford.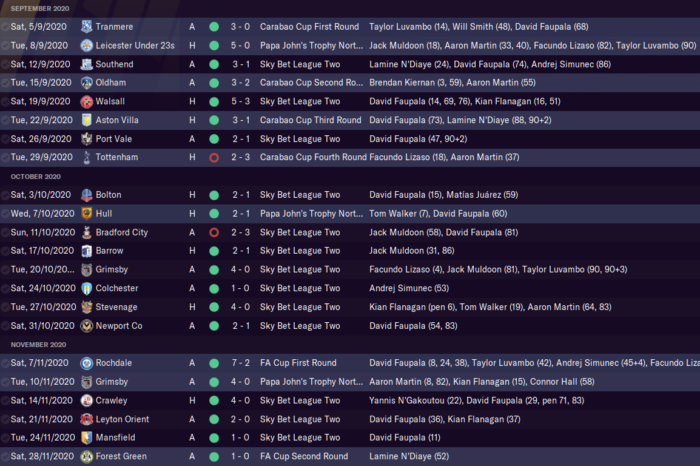 The league table don't lie as we sit top of the lot by 14 points with a game in hand.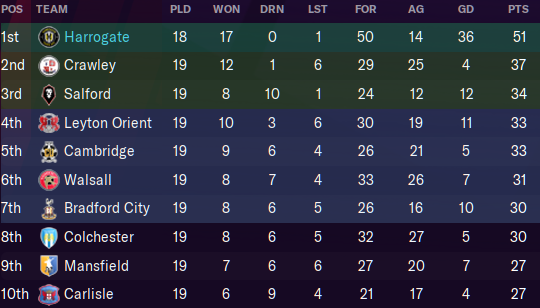 ---
Find the best FM 2021 players:
---
Best FM2021 Tactics: Top Tips
Concerto has been tested for patch 21.1. We cannot predict whether this will work on later patches.
There are two systems dependant on which side your inverted winger is best used. Note the strikers, midfielders and wing backs change also, you can download both versions below.
If you deploy AMR as inverted winger he must be left footed, if deployed from AML he must be right footed.
Instruct any players who are booked to 'ease off tackles'.
Change to 'See The Game Out' (download here) to see a game out.
If struggling to score, make substitutions to the frontline or midfield, this worked a treat for me.
It is vital you rotate the team to prevent fatigue and more importantly throw the AI.
As with any tactic it needs loading at the start of pre-season, tactical familiarity is vital in FM21.
I asked my Assistant to take care of team talks but took control of training myself. Opposition instructions should not be set.
You need fast forwards and the best wingers at your disposal for this to work.
Be aware you need a decent size squad. Two players per position to allow for injuries and bans if you are in Europe.
Download this tactic, do not try and copy it. There are many individual player instructions and set pieces are vital.
---
Try our best FM 2021 wonderkids, 500+ prospects fully rated with value buys highlighted here.

---
Best FM2021 Tactics: Download
If you would like to give the tactic a try, follow the instructions below. Please download both systems and decide which suits your team:

Download Concerto 2.0 with Inverted Winger AML
Download Concerto 2.0 with Inverted Winger AMR
1. Click the download link above and download the file.
2. For Windows put the downloaded file in this folder: Documents/Sports Interactive/Football Manager 2021/tactics. If the "shortlists" folder doesn't exist you will have to create it. Windows users skip to step 2, Mac users read below.
Mac users put file in this folder: Users/YOUR Mac USERNAME/Documents/Sports Interactive/Football Manager 2021/tactics. To access your files on Mac open 'Finder', click 'Go' from the menubar, press and hold the 'alt' key to show 'library' in your menu, while still holding 'alt' click it, then go to 'Application Support' > 'Sports Interactive' > 'Football Manager 2021'
3. Now load the game as normal and enter the tactics screen.
4. In the tactics screen, click the tactic you currently have loaded then select 'load' from the drop-down menu
5. Select the tactic and click load.
---
Every year we test countless tactics and review the very best. For FM21 these systems will be ranked and listed within our tactics index linked below.

---
Thanks for reading, any social shares would be much appreciated. Follow us on social media for future posts in the series. Please feel free to leave a comment I'd love to hear how you get on. Likewise any questions.

Subscribe to our Newsletter