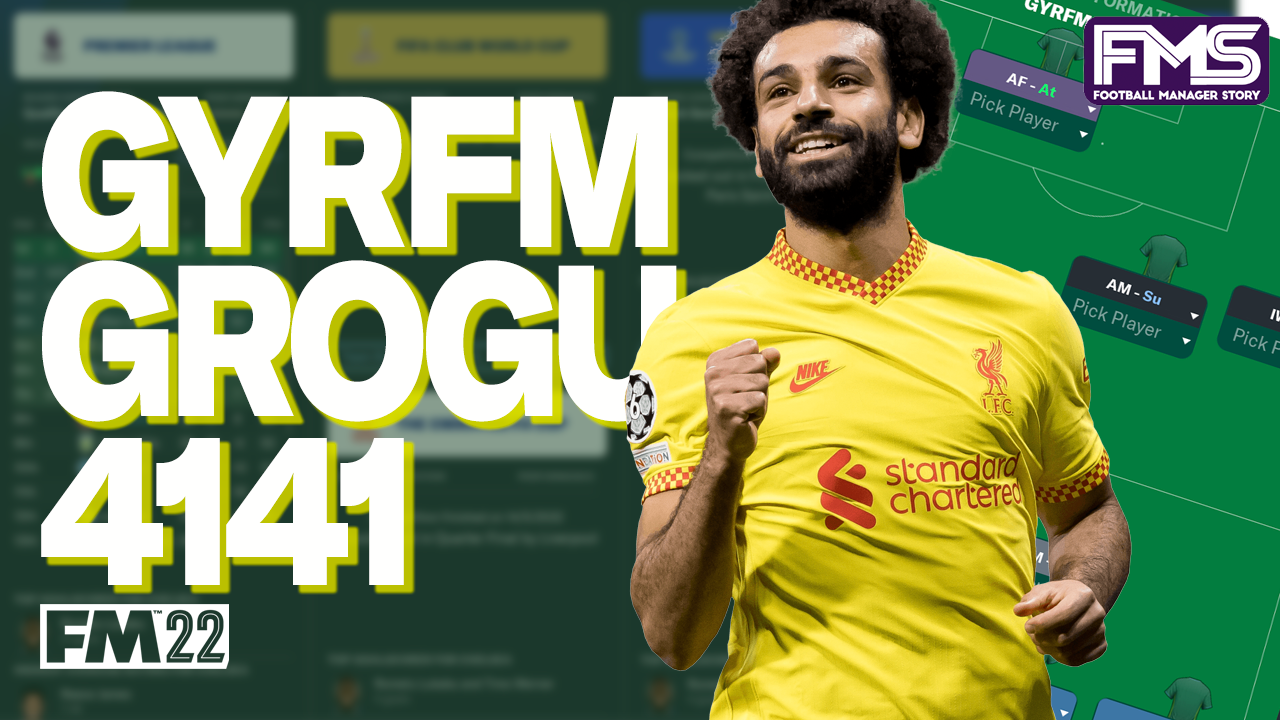 This week we will be testing GYRFM's Grogu 4-1-4-1 asymmetric system on FM22 v22.3 and comparing it to the best FM22 tactics.
Here at FMS we will be testing and creating the best FM22 tactics throughout the year. Not only will we be creating, featuring and testing our own tactics – like this high powered 4-4-2, but will will also test the best from the FM Community.
GYRFM (Gareth) has made a name for himself, creating some of the best tactics seen on FM21 and he is constantly featured on Hood Gaming's channel with each superb system he creates.
He has also dipped into the world of PvP and his tactical nouse have seen him be very very successful.
DEBUTANT!@GYRFM_ coming in hot with his first Playoffs appearance.

The Big man has had a strong showing in other tournaments, can he make an Impact this weekend?#FMPlayoffs #FM22 pic.twitter.com/pHHK7N12J7

— The FM Playoffs (@FMPlayoffs) February 1, 2022
You can also see him on Twitch, which is different from your normal save. Watch him step-by-step put together a new formation.
The FM22 Tactic

Grogu is an asymmetric formation. You could call it a 4-1-4-1, 4-4-1-1, whatever you call it, it's deadly.
Down the left you have the Complete Wing-Back and Inverted Winger, on the right, the Full-Back on Attack and higher Inverted Winger and then a Defensive Midfielder, Box-to-Box Midfielder and Attacking Midfielder. With an Advanced Forward up top.
The AF is moved to the left of the attack, with the IWR and AM filling the right channel in attack.
The B2B runs the left half space, combining with the IWL. You can see where the players fill the gaps and there are options across the midfield to provide support and chances.
GYRFM Grogu 4-1-4-1 Bane Instructions

The tactic plays wide, with Standard passing and an Extremely High tempo. The team are told to play the ball out of Defence, Run at the Defence and Be More Expressive.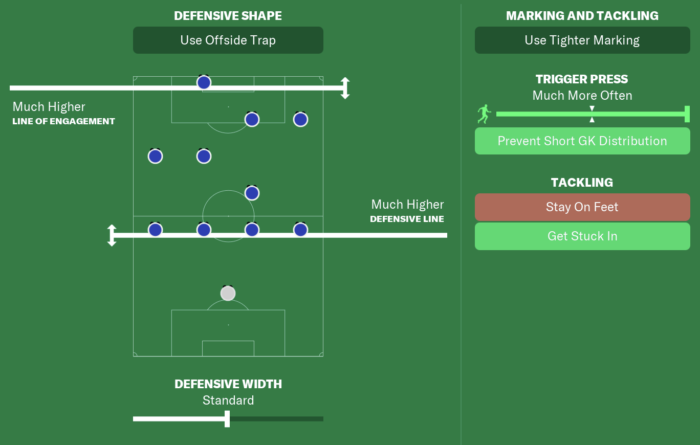 Out of possession, it's using a Much Higher Line of Engagement, and a Much Higher Defensive Line. The team are getting stuck in and pressing 'Much More Often'.
Testing
With all of our FM22 Tactics Tests we will run the season through with four teams: Chelsea, Brentford, Sheffield United and Peterborough.
This gives a good selection of favourites and lower level teams and they will be judged on Points, % of games won and goal difference. There is no point awarding success on trophies as you can win the league with 2 defeats or 7 defeats and cups are too random.
Results: GYRFM Grogu 4-1-4-1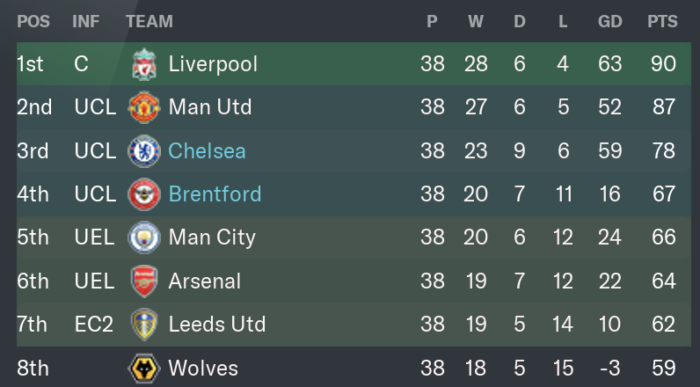 Chelsea were definitely off the pace in the Premier League. Although they only lost six games, compared to Liverpool's four. It was the draws which let it down. Five victories fewer than the Champions.
Brentford very much enjoyed their season playing the Grogu system. 20 wins and 11 defeats, qualifying for the Champions League.
With 91 goals, Chelsea topped the charts, six more than LFC, and also boasted the third best defensive record. Only three teams scored more than Brentford. Defensively they shipped 54, putting them middle of the pack.

Just 25 goals for Romelu Lukaku is far from his best return in the Premier League. Reece James was excellent with 7.53 average rating and Mason Mount had more assists than anyone else.
Over in the Championship the GYRFM Grogo 4-1-4-1 struggled, especially in the Steel City.
Sheffield United missed out on automatic promotion, four points behind Bournemouth. The 12 defeats quite poor for one of the division's best clubs.
Peterborough were very good though. Predicted in a relegation fight, they came ninth. Winning 20 games is very good for the Posh squad.
Sheff United were top scorers with 87 and Peterborough, with 76, were fifth, but shipped 73 goals. The 47 goals conceded by the Blades was the fourth best and helped them reach the Playoff Final.

It wasn't meant to be, losing 1-0 to Bournemouth through a 24th minute Gary Cahill goal.
FMS Score
This tactic scores 89.4 on our testing system. 300 team points has it just outside the top five (at the time of writing). 324 goals scored is somewhat middle of the road, just under two goals per game. With 206 goals, it's in the top five defensively too.
If you are looking for a solid system, which is strong defensively, but scores goals and just causes confusion in defence. Grogu is for you.
Download GYRFM Grogu 4-1-4-1 below

We will be testing and checking out loads of the best Football Manager 2022 tactics in the coming weeks, if you like what you see, check out the FMS FM21 tactics index below

If you try this tactic, please let us know in the comments or on social media. What went well? Anything would you change? Which players do you think would be perfect for it?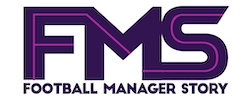 Subscribe to our Newsletter