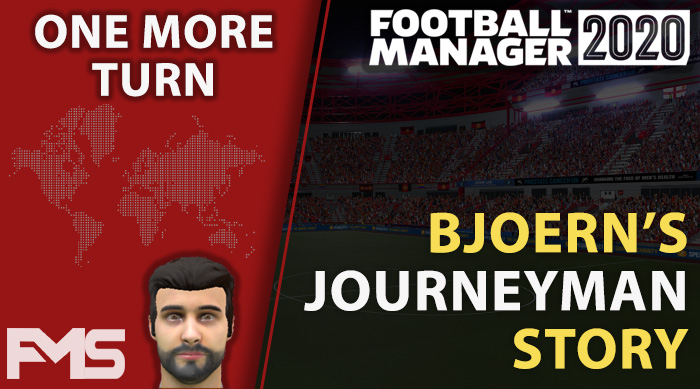 Gabriel's Diary
St. Petersburg, Russia, June 1st, 2052 — When I arrived in Madrid, I had big boots to fill. Domenico Tedesco had been the unchallenged boss at Estadio Santiago Bernabeu for 7 seasons. Even better, he had won La Liga 6 times in a row between 2044 and 2049. He had finished the 2047/48 season unbeaten. On top of the 6 league titles he had won 2 Copa del Rey and 4 Supercopa Espana titles. This man was a living club legend. Everyone was gutted, when he had a single title-less season in 2049/50 and resigned from the manager position. The president even told me they would never ever have fired him that summer.
But here I was – internationally experienced, having won titles on my own. I felt I was ready for Real when I signed the contract. Sports magazine Marca ran an interview with the parting Tedesco and asked him about his successor. He summarized me as "experienced manager, never managed a club that huge, must learn that finishing 2nd is not an option at Real". What an a**hole! But he was right. The board nearly fired me last year when we only were 2nd in the league and only won the Euro League rather than the Champions League. We must prove ourselves in every competition. Failure is not acceptable.
With this in mind, we're going out on the pitch in St. Petersburg today. Once more, we're injury-ridden. But there are no backup players at Real. We will still field a strong team. Bayern or us. I cannot wait to find out.
The Biggest Club in the Universe
Welcome back! After winning the Bundesliga with Leverkusen and failing to retain the title in the year after, Gabriel Ameobi decided to switch jobs once more. Fearing to remain stuck as "best of the rest" with Leverkusen, I decided that the chance for winning titles in Spain's capital would be higher and signed a three year contract with Real Madrid. They had just lost their long-term manager and wanted someone to rejuvenate the squad. And a rejuvenation was thoroughly needed. The Real Madrid squad had an average age of 29 years, with most of the best first-team players being 31 years or older and earning wages way above 1 million EUR per month. Now, even with Real's hefty wage budget of 31 million EUR/month and a transfer budget of 150 million, it was apparent that revamping the squad would take more than a single summer break. We could not simply sell everyone and hope to remain competitive. And I was pretty sure I would not keep this job for long if we failed to impress on the pitch.
Nevertheless, I sold some older players in the summer of 2050 and brought in younger replacements. For those, I looked at the league I knew best: the German Bundesliga.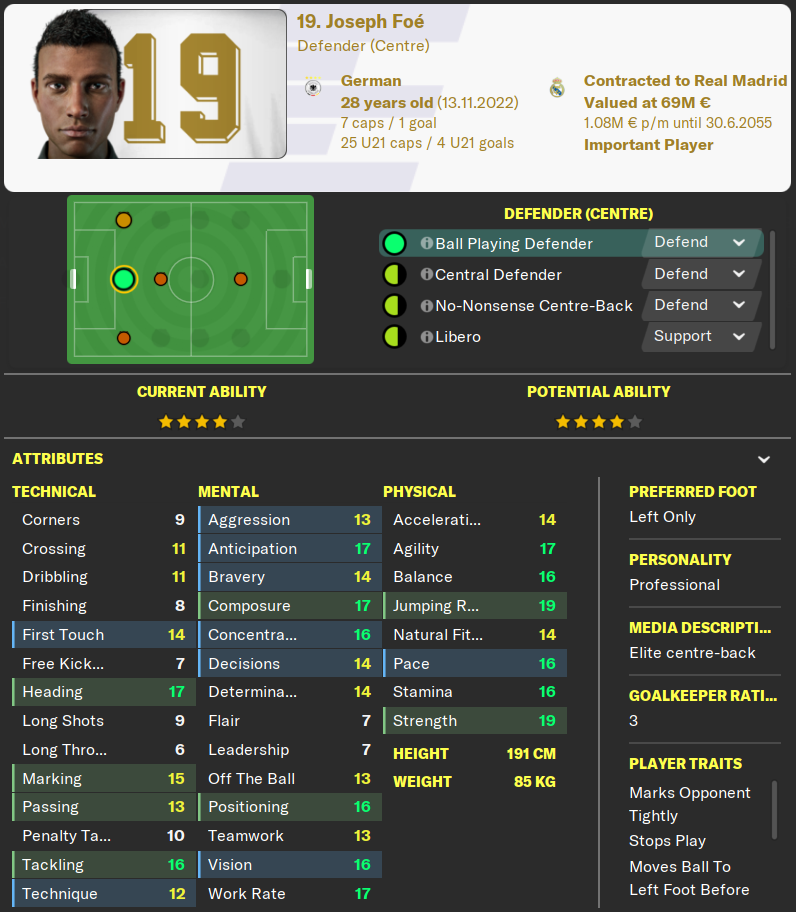 Joseph Foe (80 million EUR) had been a trusted central defender at Leverkusen. He still has a couple of years at the top level ahead of him and will fit immediately into Real's defense lineup.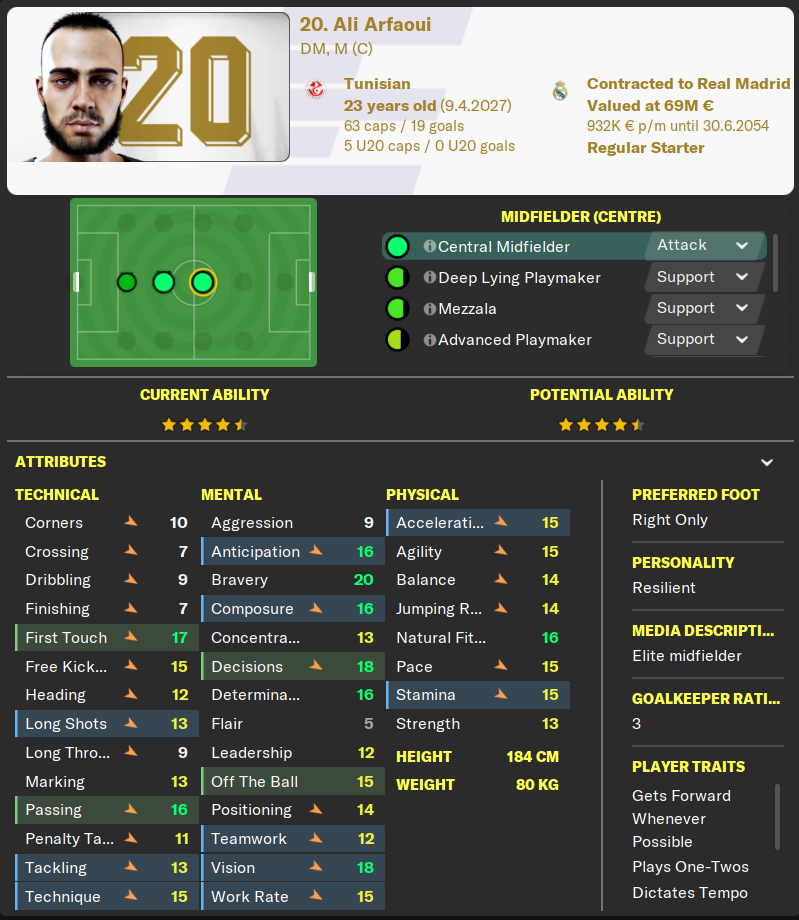 Ali Arfaoui looked a promising youngster at Leverkusen and joins me for 92 million EUR to play a Mezzala role in Real's first team.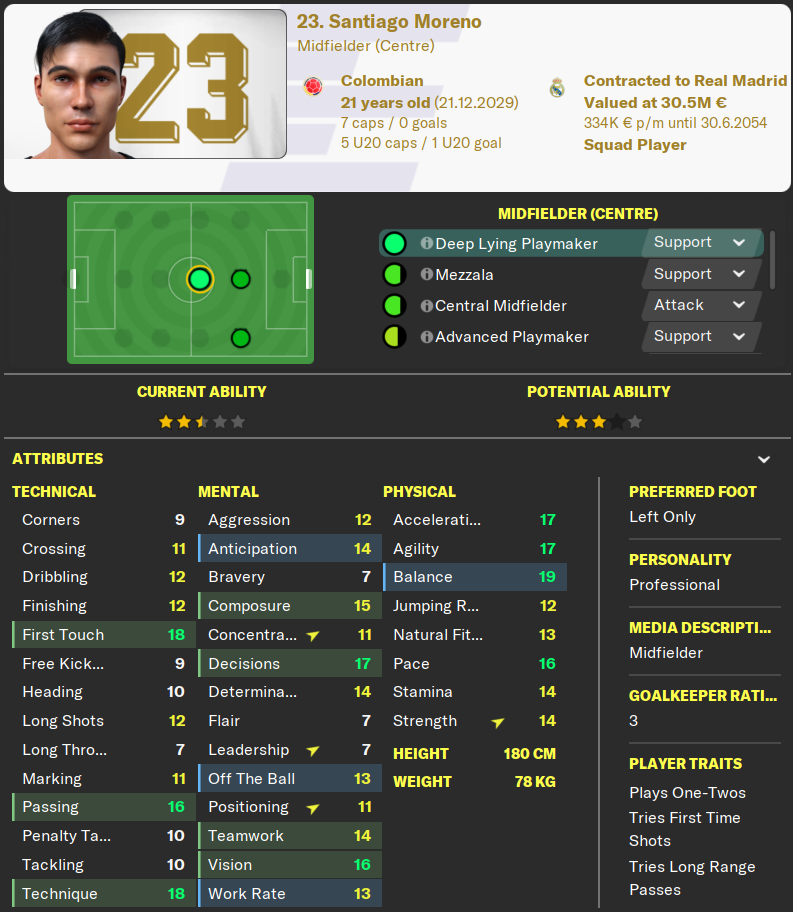 Santiago Moreno is still developing and I'm hoping that the 39 million EUR investment will help us have a decent playmaker 2-3 years from now when our current one is closing in on retirement age.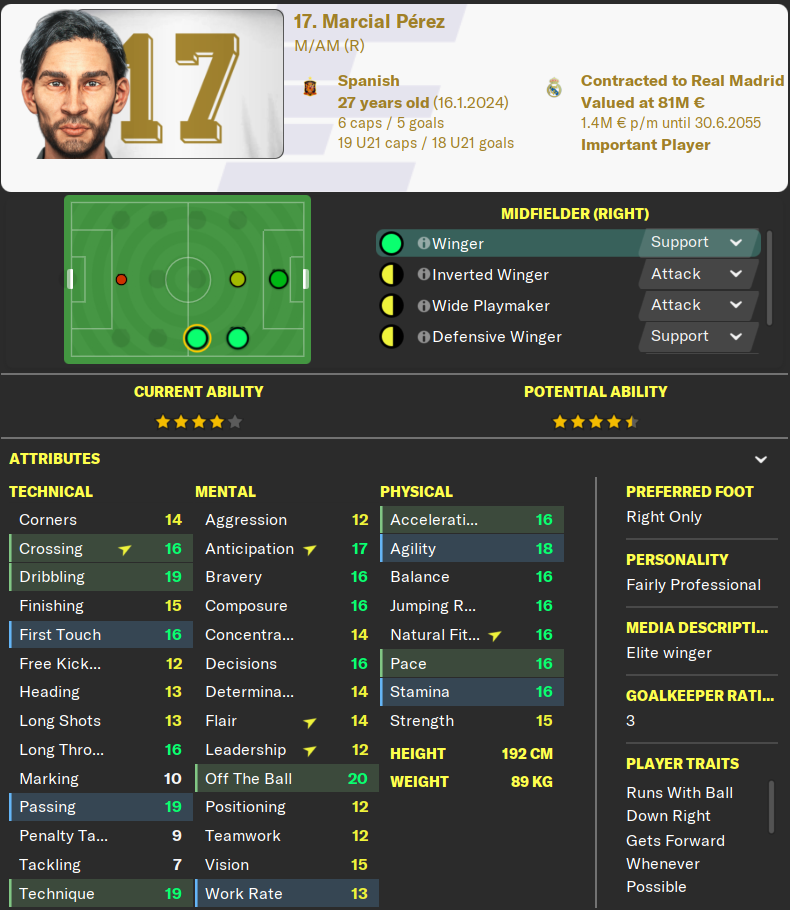 Another high-value signing comes in for 99 million from Werder Bremen: Marcial Perez did a decent job on their right wing the last couple of years. I'll probably use him on the wing or as an attacking midfielder going forward.
You're reading it right — I bumped my former team Leverkusen's budget a bit by spending a total of 250 million EUR on players from them. To be fair, they also paid 71 million for my attacking midfielder Wolfgang Wolf who had made it clear upon my arrival that he wanted to leave (and his signing freed enough budget for me to sign my dream player Perez). In total, Real spent 500 million on transfers during the 2050/51 season and raked in 164 million in transfer profits. And this would not be my final foray into rejuvenating the squad.
Real in 2050/51
So how did we do? The board were obviously expecting us to compete for a top finish in all competitions.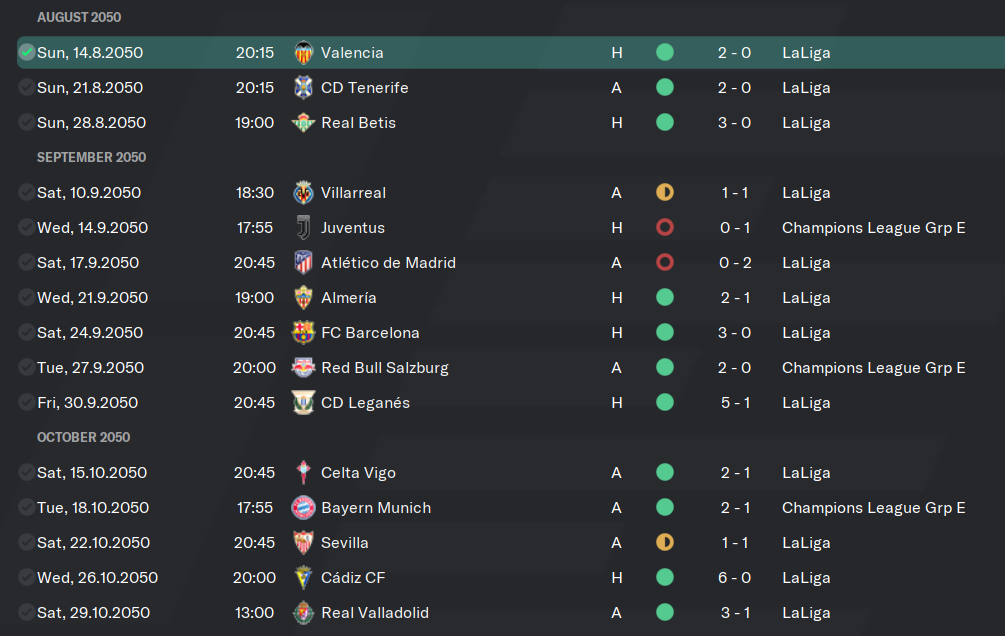 We kicked off well in La Liga, only losing to Atletico in our first three months. The Champions League drew us into a group with Bayern Munich, Juventus, and RB Salzburg. We got a surprise loss against Juventus, but then bet Salzburg and Bayern showing we were competitive.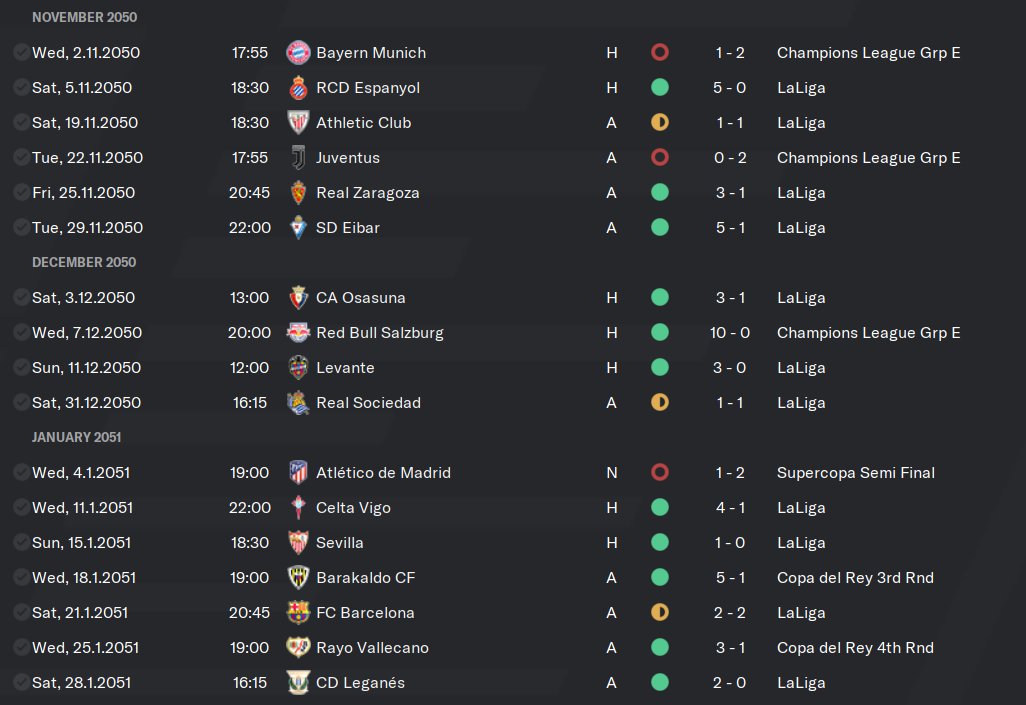 In November we were shocked by Bayern and Juventus and lost ground in the CL. Even our 10-0 in the final match against Salzburg did not save us as Juventus had the same amount of points and we had lost twice against them. Hence, we dropped into the Euro League knockouts and the board were not amused. We did better in La Liga, getting most of the points we wanted. Another 1-2 loss against Atletico in the Supercopa semi-final made clear who our main competitors were.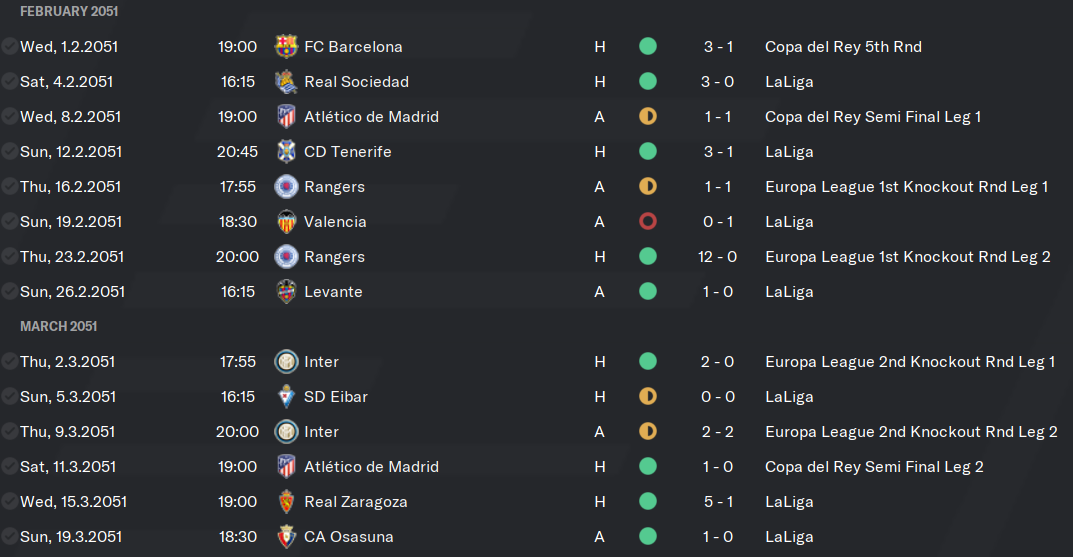 The Copa del Rey quarterfinals gave us Barcelona and we went ahead to beat them. This set us up for a semifinal against Atletico. I was afraid of that, but eventually we finally bet them in the return leg and qualified for the cup final! At the same time, we were also progressing in Europe. An alarming 1-1 at Rangers was followed by a 12-0 thumping, followed by a rather standard set of matches against Inter. At the same time we were losing ground in La Liga. An unnecessary loss against Valencia and a surprise 0-0 at Eibar cost us points while Atletico were marching on.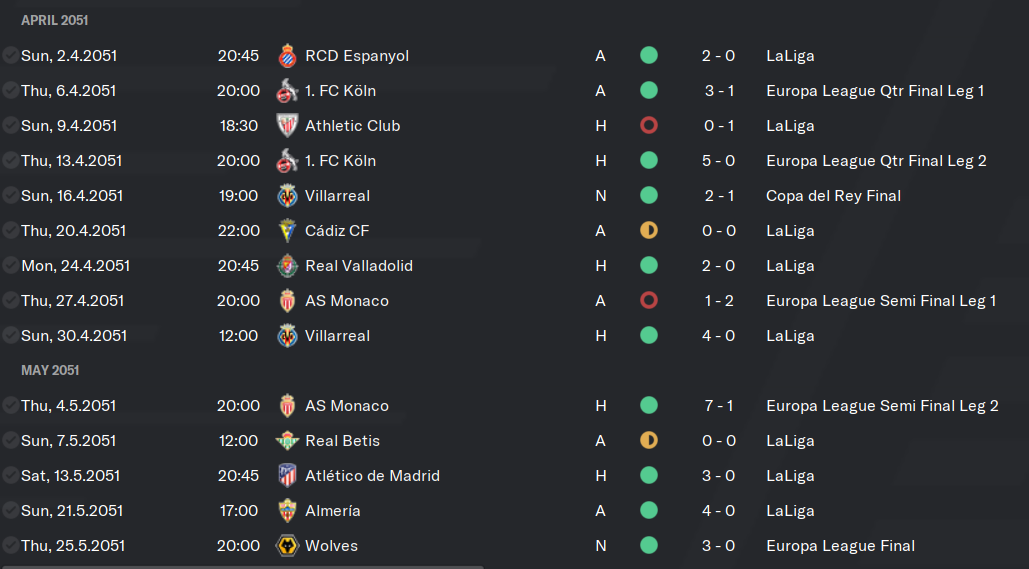 April and May 2051 were slightly successful. After beating Barcelona and Atletico, we felt we deserved to win the Copa del Rey final against Villareal, and we did. In the Euro League, we smashed 1. FC Koeln in the quarter finals before losing our first semifinal leg at Monaco. But fear not, we came back at home and bet them 7-1, giving us a place in the final, where we went on to unceremoniously beat Wolves with 3-0. Meanwhile in La Liga, we lost another few points by losing against Bilbao and drawing against minnows Cadiz. We finished the league campaign in the second spot, 6 points behind champions Atletico.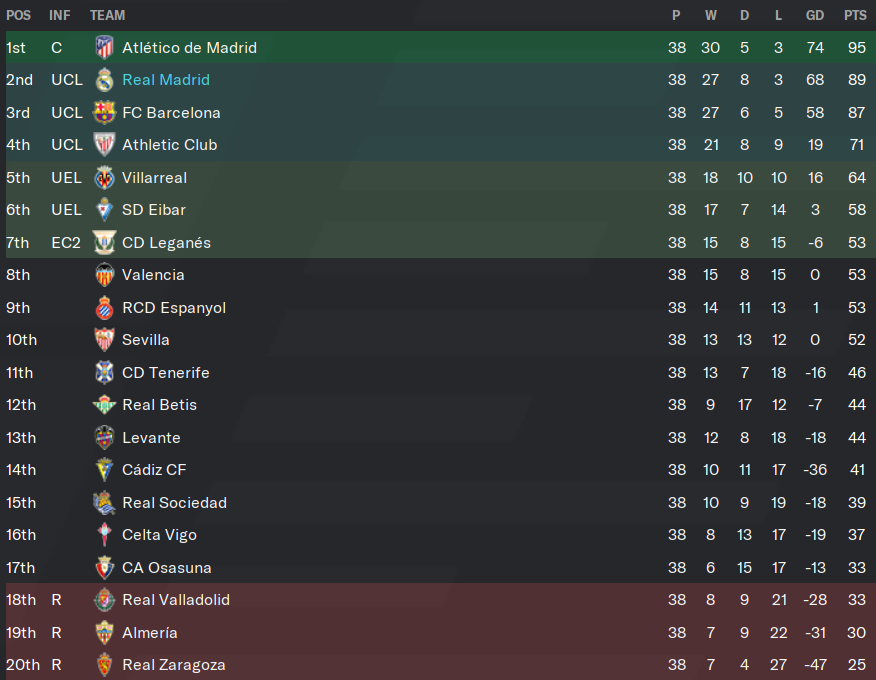 On the positive side, we won titles this year. The Copa del Rey and the Euro League are better than nothing. On the other hand, the board made it clear that dropping out of the Champions League and not winning La Liga wasn't making them happy. So overall, this was a rather mediocre season by Real Madrid standards.
Project Rejuvenation: Phase 2
Another few players left us after greatly serving the club and were replaced with younger players that we could develop into world class actors. Way fewer signings than last year, though — Real were running out of money after not grabbing a sufficient amount of Champions League prize money last year. (Note: when I say "running out of money" this just means that I only spent around 200 million in transfers this year. This is Real after all, not some random lower-league football club.)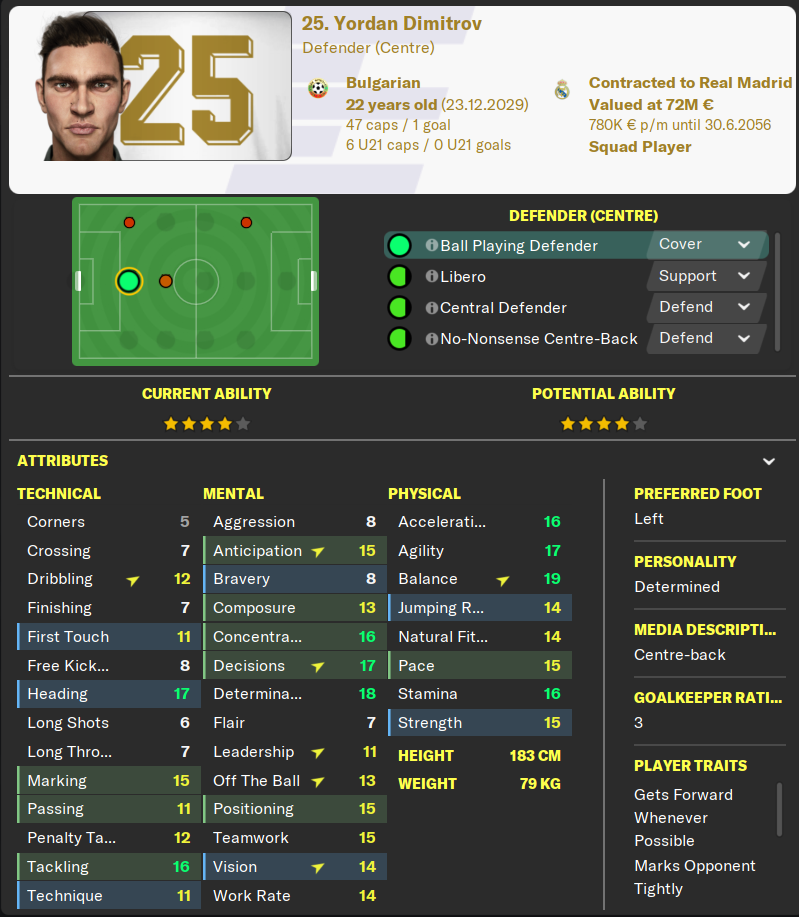 Bulgarian youngster Yordan Dimitrov joins our defense from Milan for 79 million EUR. He would be our 3rd central defender for the most part of the year, but at the end of the 2051/52 season was on par with the other two defenders and looking at a starting position more often than not.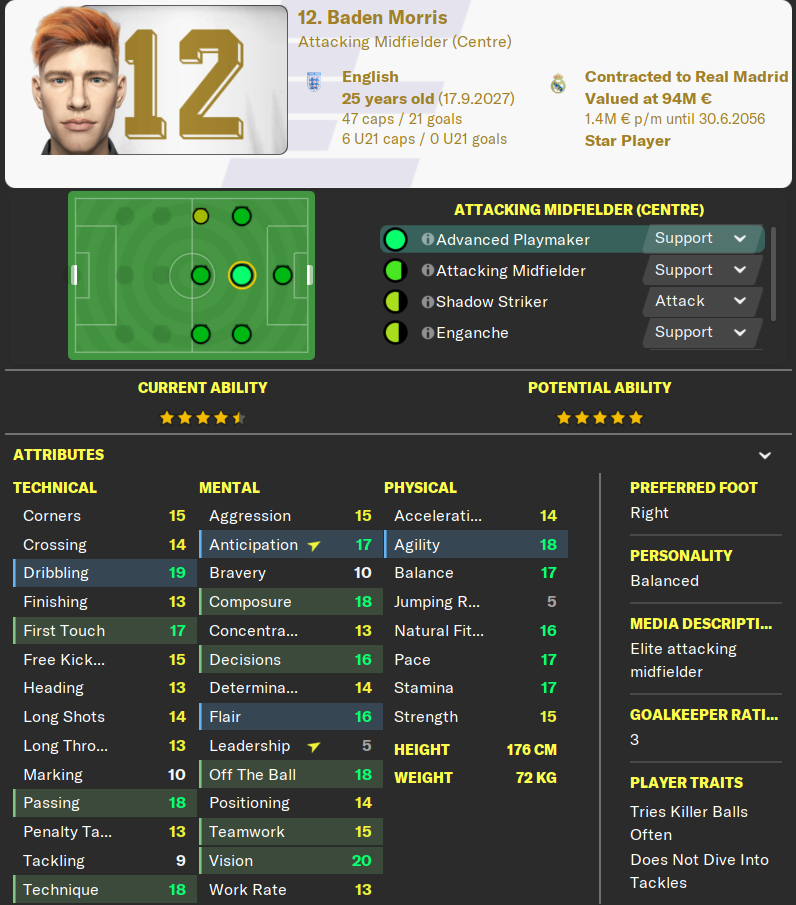 Englishman Baden Morris looks easily like the best attacking player I ever had in my Football Manager career. Manchester City had him transfer listed on request and we paid a hefty fee of 100 million for him. But he looks just so good, and his performances certainly met expectations. 16 assists and 16 goals in 36 La Liga matches earned him an average rating of 7.5.
Real in 2051/52
The big question was: Can we do better than last year? We would at least need to survive the Champions League group stage, and ideally also get our hands at the La Liga title.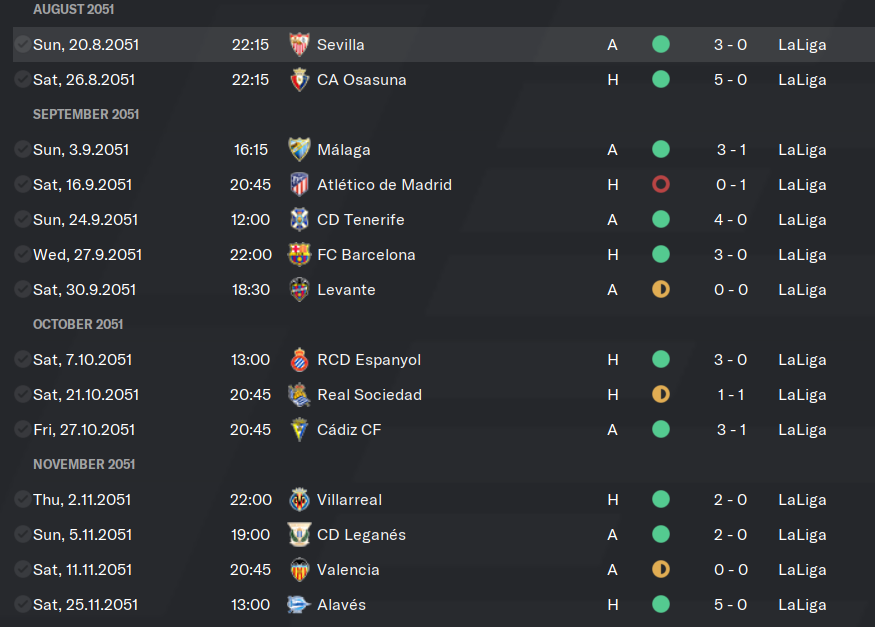 We started alright, winning 5 out of the first 6 matches and only narrowly losing against Atletico. We then started dropping points in weird draws against lower-ranked teams, but overall kept up with Atletico at the top of the table.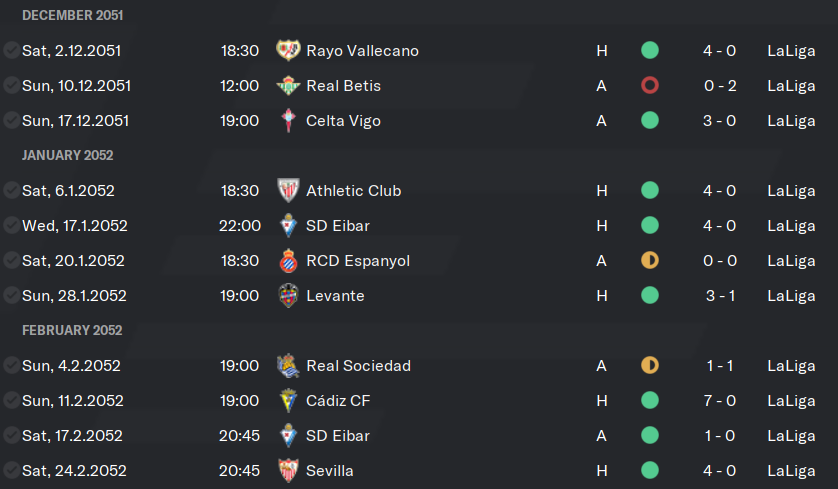 Winter saw us lose another match against Real Betis plus the occassional draw. On the positive side, we bet Bilbao, Eibar, and Cadiz, all of which had cost us points last year.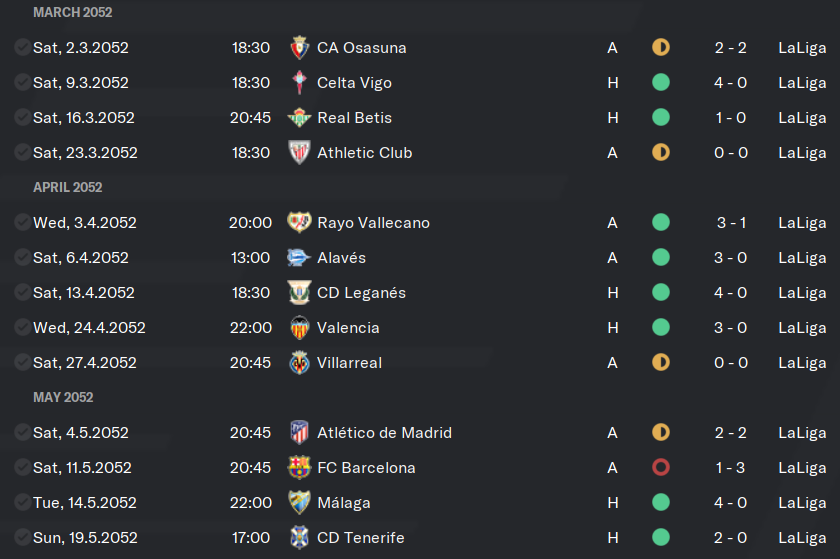 This set us up for an exciting final phase of the league. We avoided defeat until May and the away match at Atletico was destined to decide the outcome. We needed a win to avoid La Liga's special rules (at equal points, the results between the teams are considered before looking at goal difference), but only managed a draw. Then we lost the next week against Barcelona and I feared it was all over, but Atletico lost their match against Real Betis on that day, too. So we were still in the title fight, but unfortunately, after both Real and Atletico winning their final two matches, we ended up 2nd due to our results against Atletico.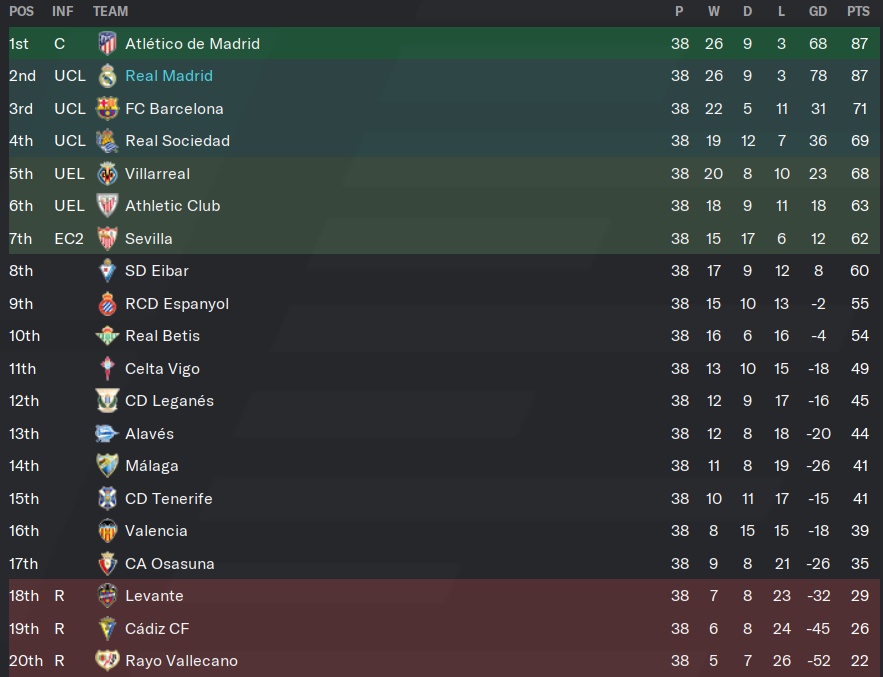 While closer than last year, the end result is the same. We must beat Atletico to stand a chance.
The cup competitions went better!
After last year's miss, we managed to beat Barcelona and Atletico in the Supercopa.

The Copa del Rey nearly saw us slip against 2nd division side Numancia in the quarter final, but we pushed through. Last year's finalists Villareal were dispatched in the semifinal and then we needed another extra time win to beat Valencia and secure our 2nd subsequent cup title.
Champions League 2051/52
We seriously needed improvement over last year. We got an easier group this time with Lazio, Moenchengladbach, and Everton.
We made it more difficult for us than necessary. The draws against Moenchengladbach and Everton were once more unnecessary and after losing to Lazio in game 5, there was a remote chance of us dropping into the Euro League again, if we did not beat Moenchengladbach at home. Luckily, we did beat them 3-0 and even won the group as the other results were even more inconsistent than ours.

We got the tightest draw of the knockout rounds when we drew last year's CL winners Manchester United. But we had found our form at this point and bet them 2-0 on aggregate.

The next two rounds were actually easier for us. We bet both Marseille and Milan without bigger issues. So although we had the shocking experience of losing out on La Liga by a narrow margin, we were set for even greater fame two weeks later. Could we beat Bayern Munich in the final and finish Gabriel Ameobi's hexagon achievement?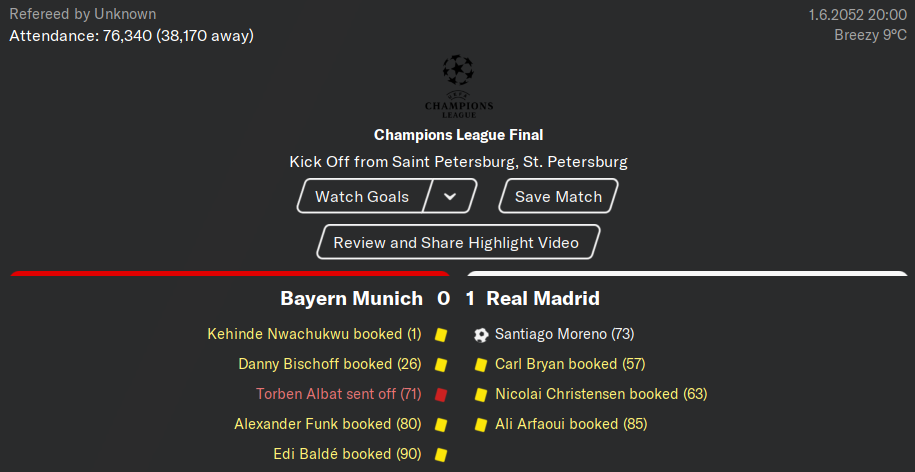 We could! This wasn't the most beautiful of all Champions League finals. Scoring chances were minimal, both teams mostly tried to avoid conceding. Santiago Moreno, who only was in the team as our main playmaker was injured, smashed in the goal of the day in the 73rd minute. Bayern were already a man down and could not mount a comeback. #scenes!
Hexagon Complete!
Wow! This is it. Gabriel's teams won all the Champions League titles. Besides the UEFA Champions League with Real Madrid,
After completing the match against Bayern I felt more tired or relieved rather than excited. This is no wonder: lots of spare time in the past 7 real-life months went into this save. To avoid complete FM fatigue, I am going to stop reviewing my progress in this save for now. I will try to summarize my Hexagon experience in another post a few weeks from now. In-game I'll move on and try out a few things. Not making any promises on blogging another save yet, but rest assured that my FM21 story is already planned for and will definitely be blogged again!

Subscribe to our Newsletter