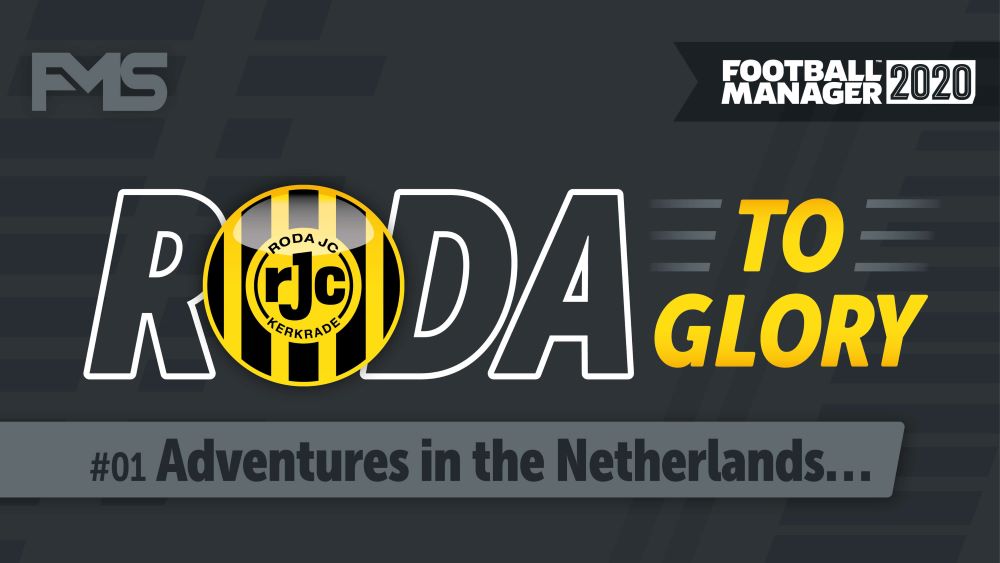 Ten seasons in, and whilst Roda JC are definitely moving up in the world, we don't have all that much to show for it. Three consecutive second-place finishes and a set of Dutch Cup runners-up medals are all we've collected since before any of our players were born. We're going to do our best to end the trophy drought this season.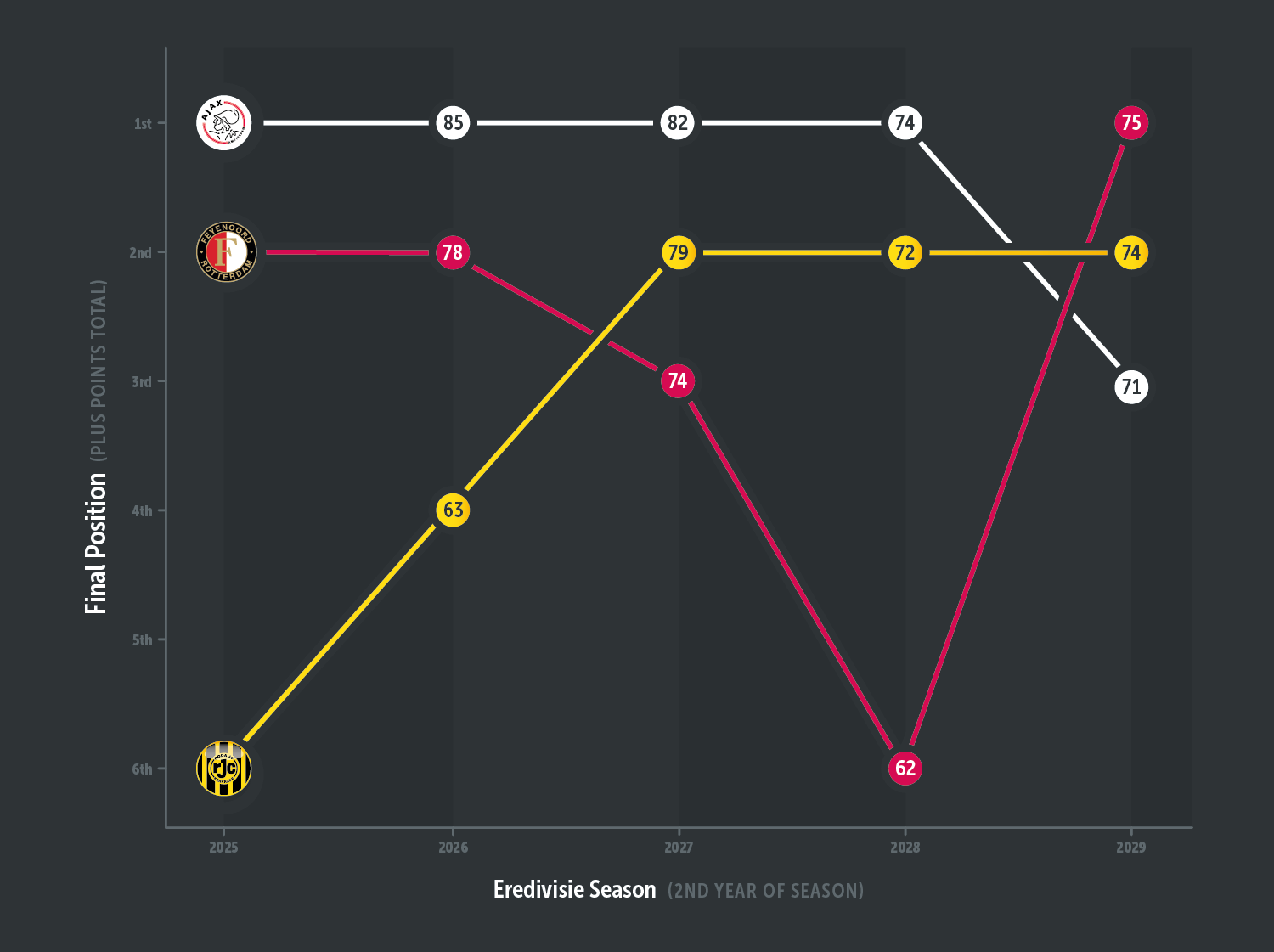 Before we can put things right, we need to understand what went wrong. This graphic shows the twists and turns of the title race over the past few campaigns. The points totals (inside each coloured circle) tell an interesting story: we've actually been dead unlucky. Our points total in 2027 would have been good enough to take the trophy in 2028 or 2029, but that's only so much comfort given the painful way that we fell away on both occasions.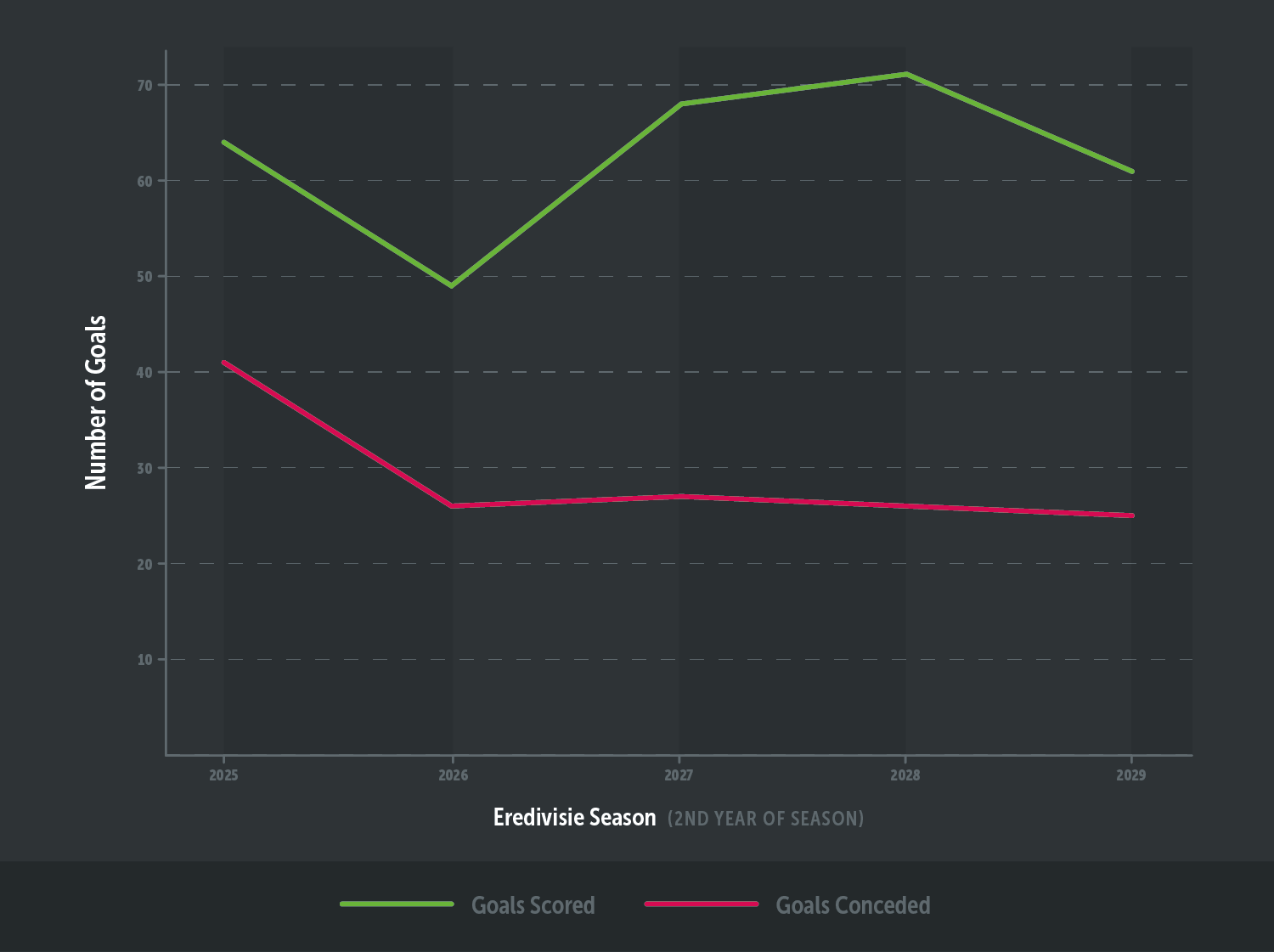 This tally of goals for and against covers the same period, and there's definitely a relationship between it and the league table. The first season that we conceded less that thirty goals was our first in the top 4, and from then on, we were able to climb higher by bagging more goals. But it also exposes a stark truth: we're solid at the back, but we need to score more goals to progress to the next level.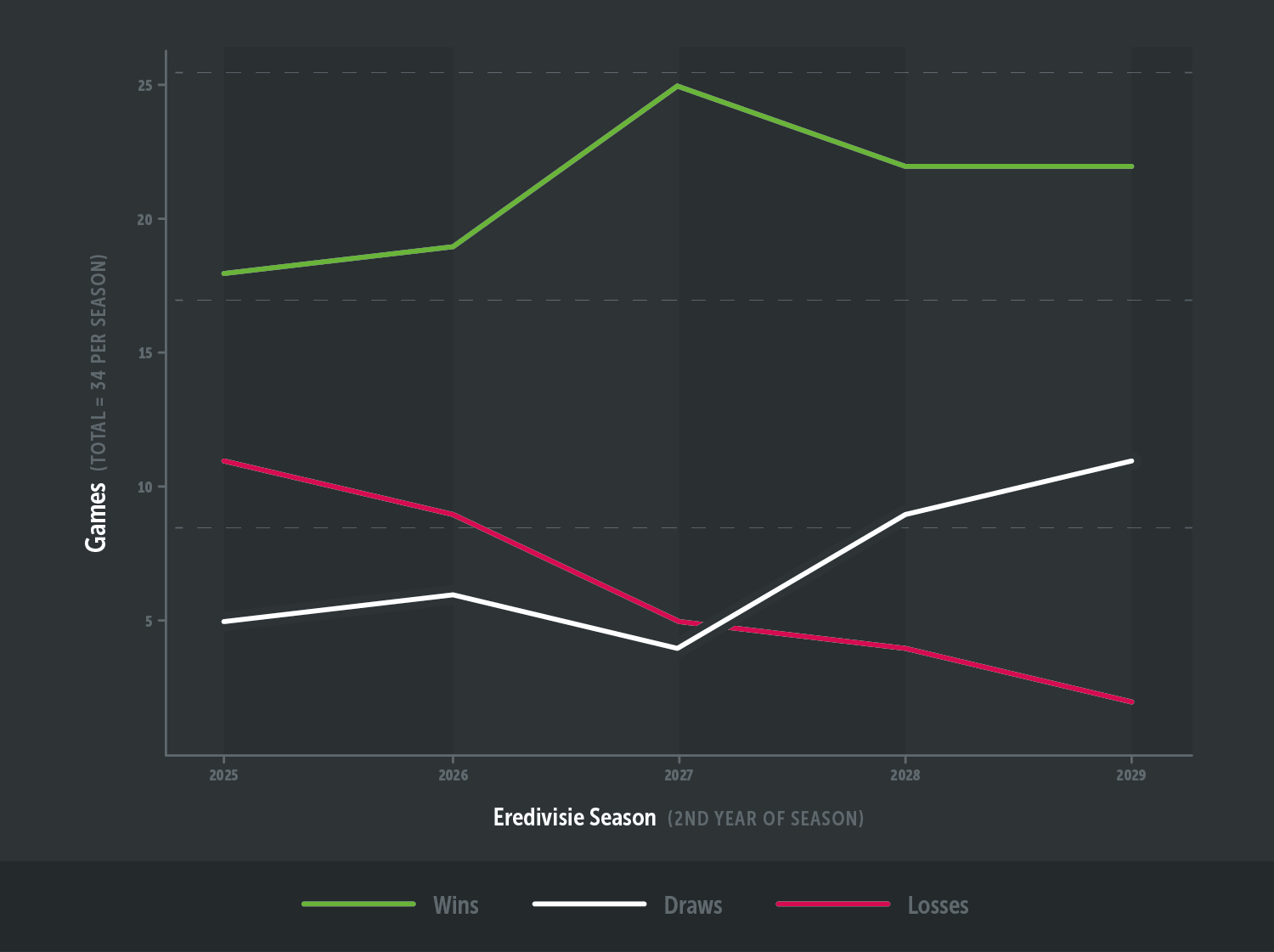 But goals for and against tell only part of the story, especially due to inflation from a record 9-0 win over Excelsior in 2028. Year-on-year, we're losing fewer games per campaign. This is great, but our downfall last season was that we drew too many games. Turning them into wins will be key if we're to replicate the (almost) runaway success of 2026-27.
'Win more games' seems like a very vague goal, but we can start to tackle the problem by looking at the games we drew last season. There were games against struggling sides who defended deep like Groningen, painful surrenders to last minute goals from mid-table regulars, and (as I mentioned in my last post) draws home and away to Ajax.
How we'll break down teams that defend for their lives
I thought that might get your attention. There's all sorts that we can do here in terms of reactive in-match tweaks to approach play, but I wanted to create an oven-ready version I could unleash at will on unwitting rivals. Meet Van Helsing …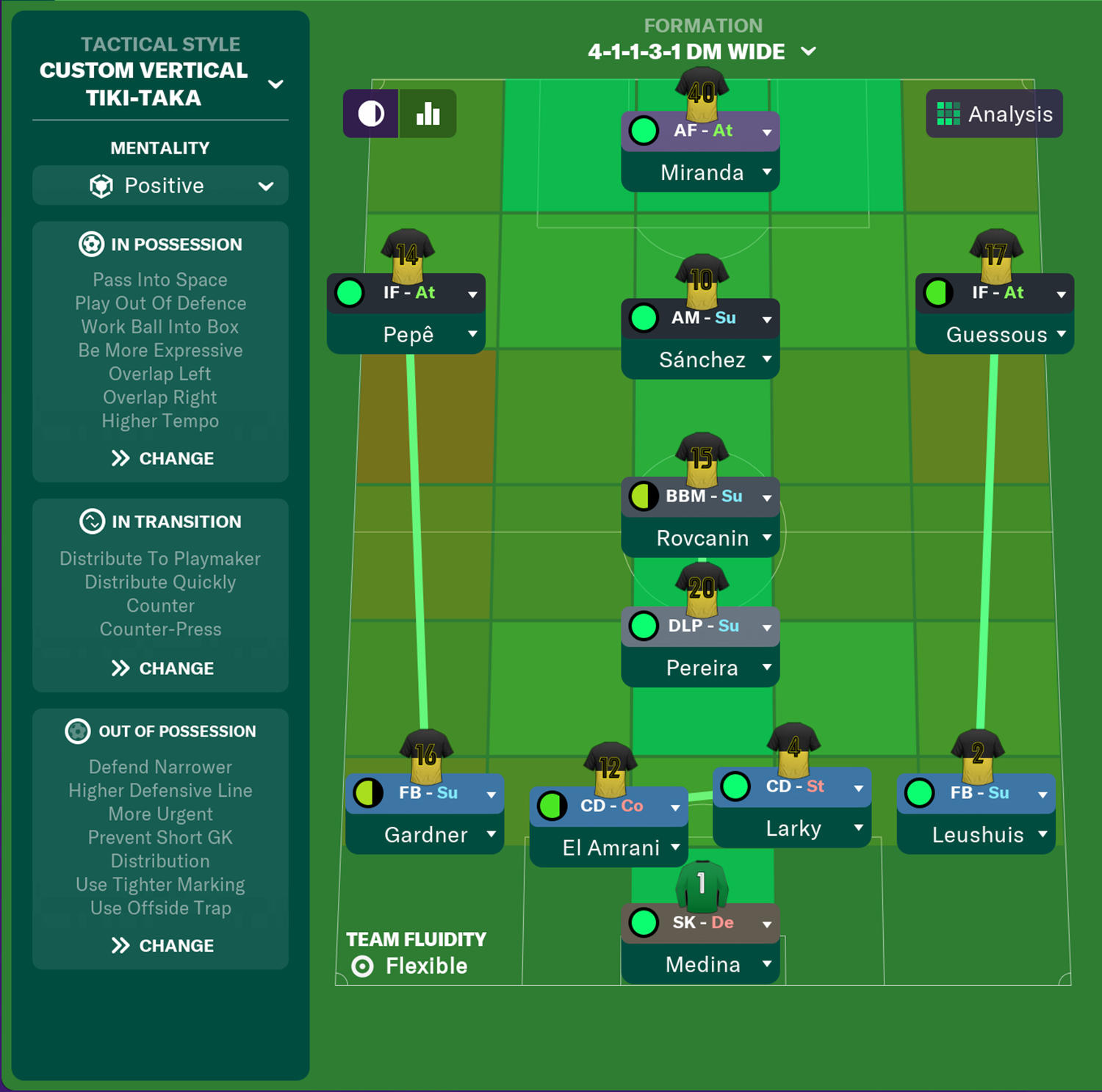 Its back four is similar to our standard Rodana formation, but with a higher line and more emphasis on the wingbacks to provide width. This setup's key threat is the dynamic box-to-box midfielder at its heart – this individual has to play 'either side' to help out his DM, and also break forward to back up his AM. It's a lot to ask of them, but it allows the front 4 to 'go for broke'. The AM is an extra body, tasked with causing carnage between the lines and get on the end of crosses. In a nutshell, Van Helsing is all about upping the intensity and getting extra danger men into the box.
How we can stop conceding late goals
My standard approach when holding a slender lead was kind of simple: make the full backs more defensive, pull the back line back, then aim to hit directly on the counter. It worked at a lower level, and wasn't so big a deal when I didn't mind the odd draw. But a title challenge demands a more mature approach, which inspired the creation of Takapulco …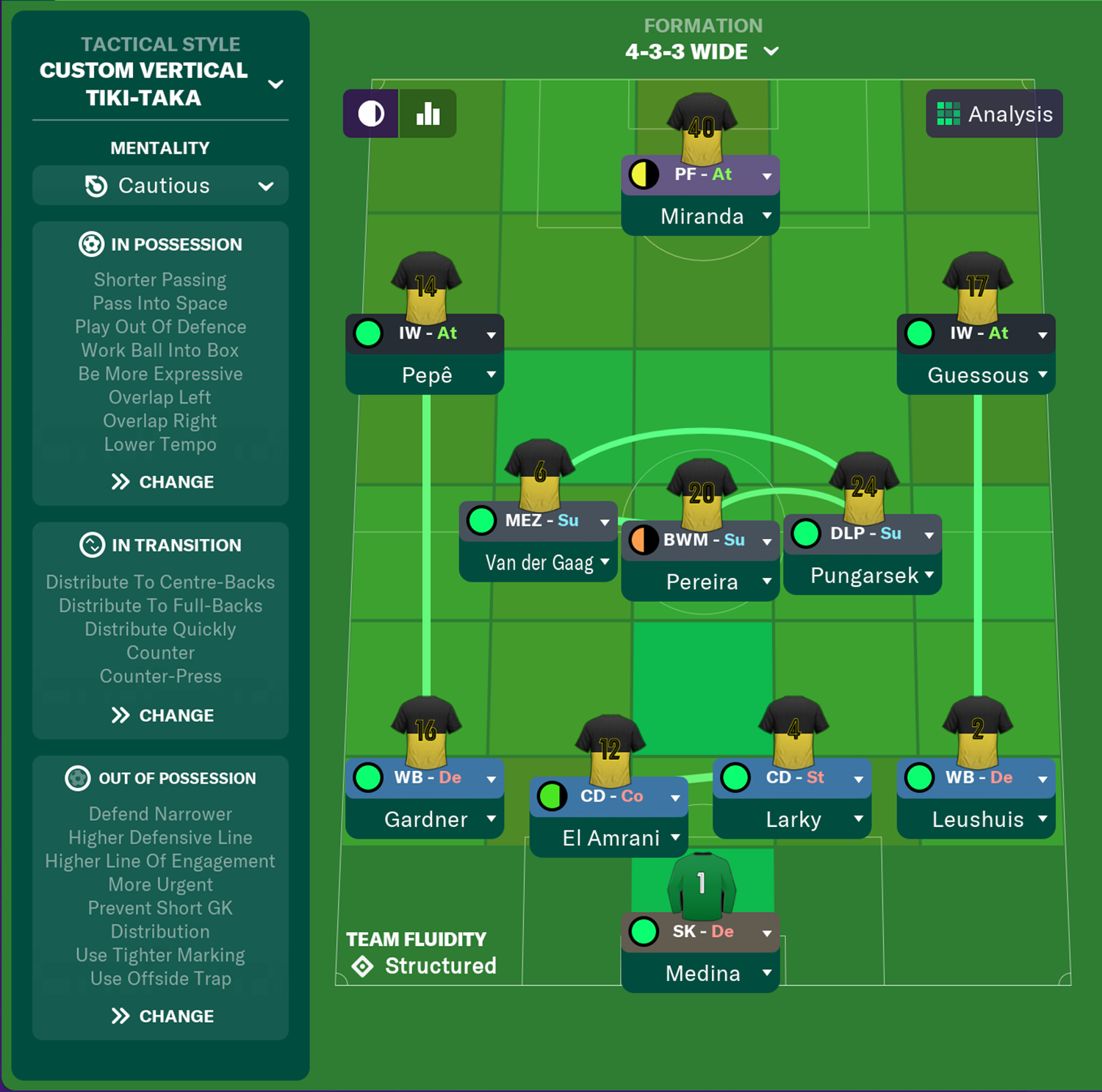 It subverts pretty much all of my previous approach. The defensive line stays high, with only slightly more discipline for the full backs. But the biggest difference is to mentality. Rather than keeping up the frenetic, direct style that's served us to well, Takapulco is about patience and control: keeping the ball moving in the midfield, following the most important cliche in football, that your opponent can't score whilst you've got the ball.
How we're going to win the Title
To take home the trophy, we're going to need to finish top of the pile. It won't be enough just to beat the relegation contenders and perennial mid table sides. We also need to get the better of the teams at the top. We'll be treating the four fixtures against Ajax and Feyenoord as cup finals – if we win more than half, I reckon we'll be in with a good chance of clinching the title.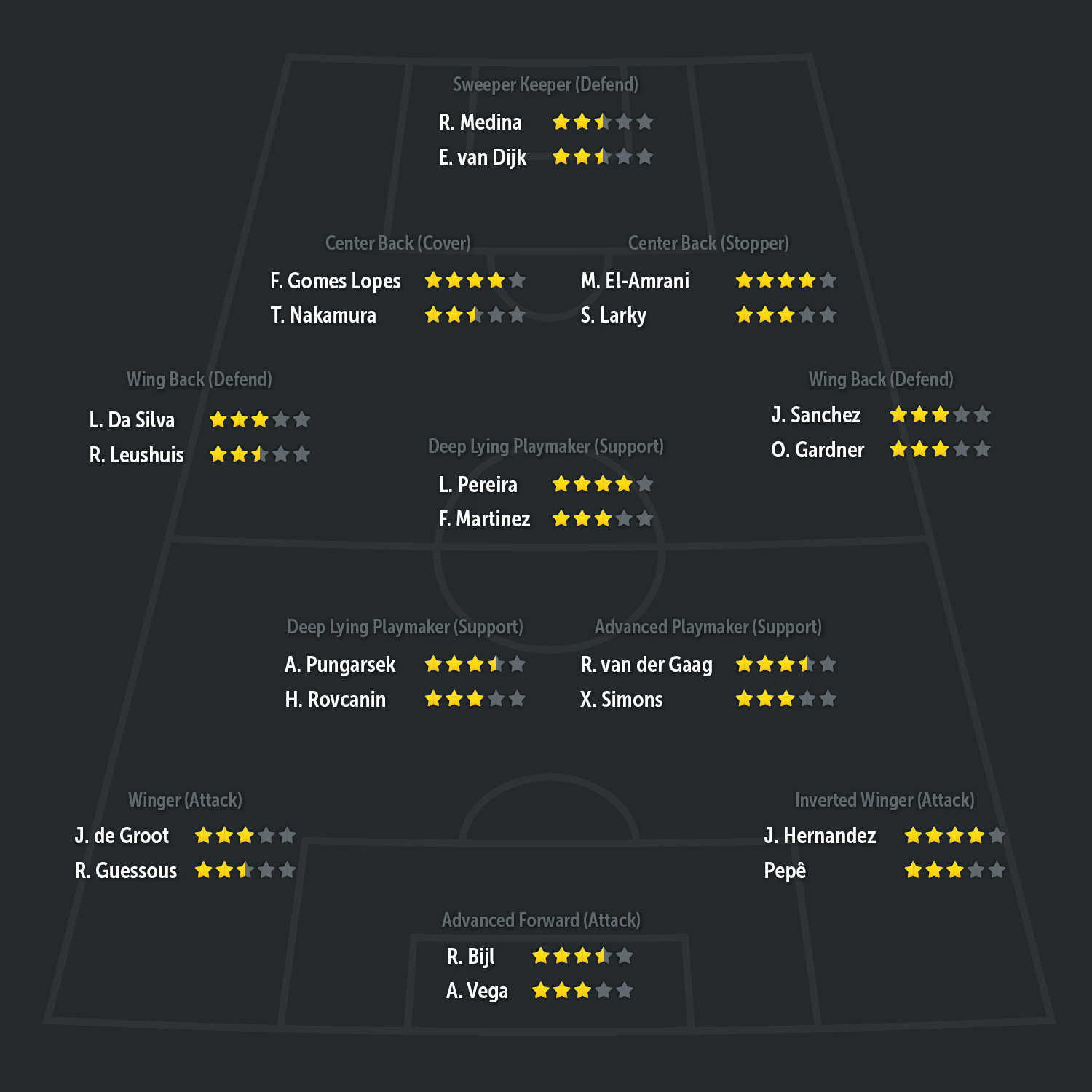 Consistency is going to be crucial. I'm also hoping to minimise the number of off days – those matches where your players hardly turn up or you drop points despite being the better team. The best solution I've found so far is to assemble two interchangeable XIs who'll play "one game on, one game off" so there's no chance of 'rusty' players messing up our rhythm, and everyone has chance to play their way into form. (We've actually been playing this way for 3 years already; the only change this season is that the League XI is slightly stronger, to give us the best possible chance of winning it).
Deep dive – meet the Koempels
I've always liked the idea of a deep-diving squad summary, so please indulge me as I introduce you to the lads who I'm hoping will make history in 2029/30. Flick through the sliders below to explore as much or as little about each of these characters as you like. Maybe let me know your favourites in the comments!
Goalkeepers: Ronaldo Medina & Eric van Dijk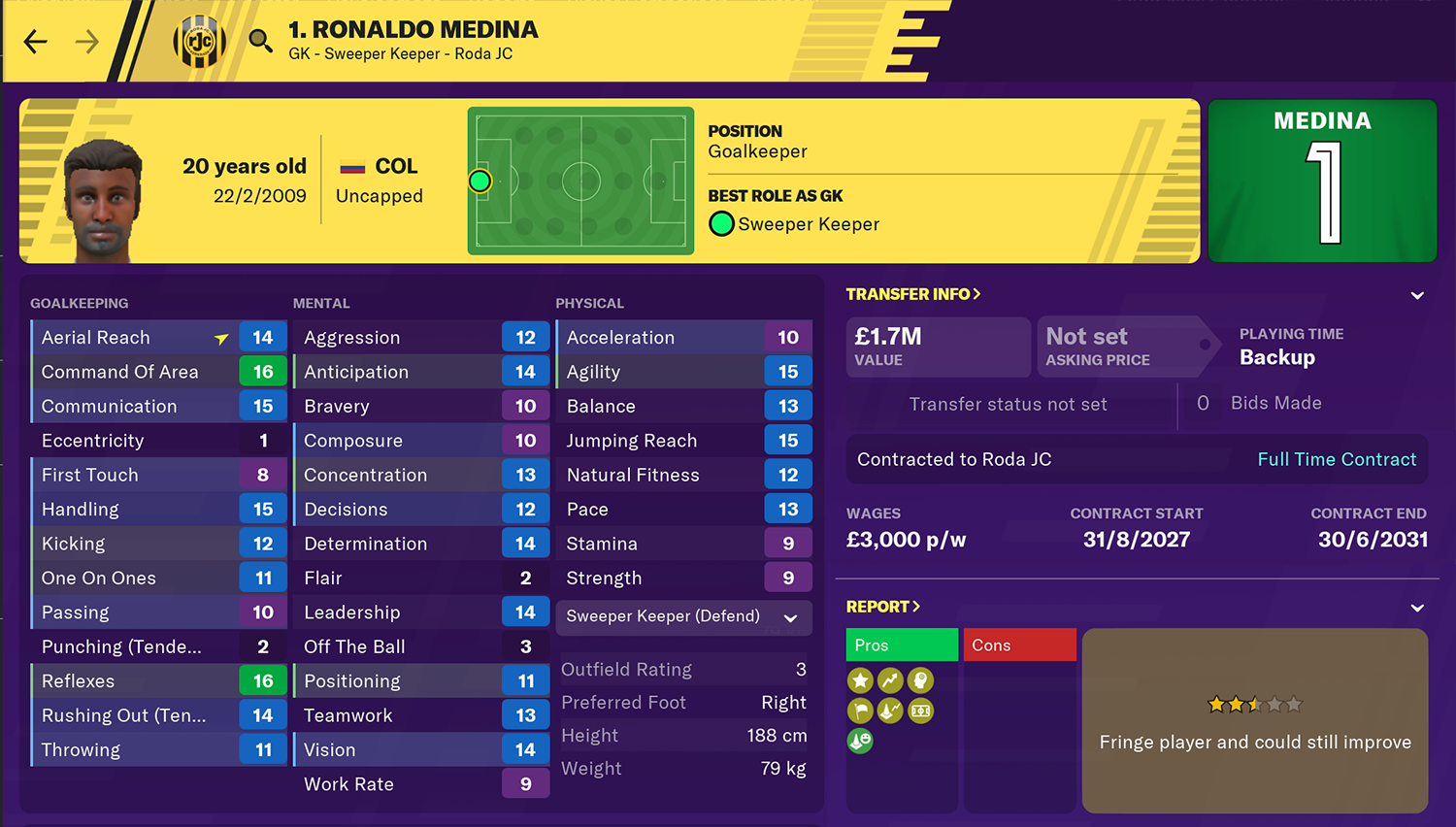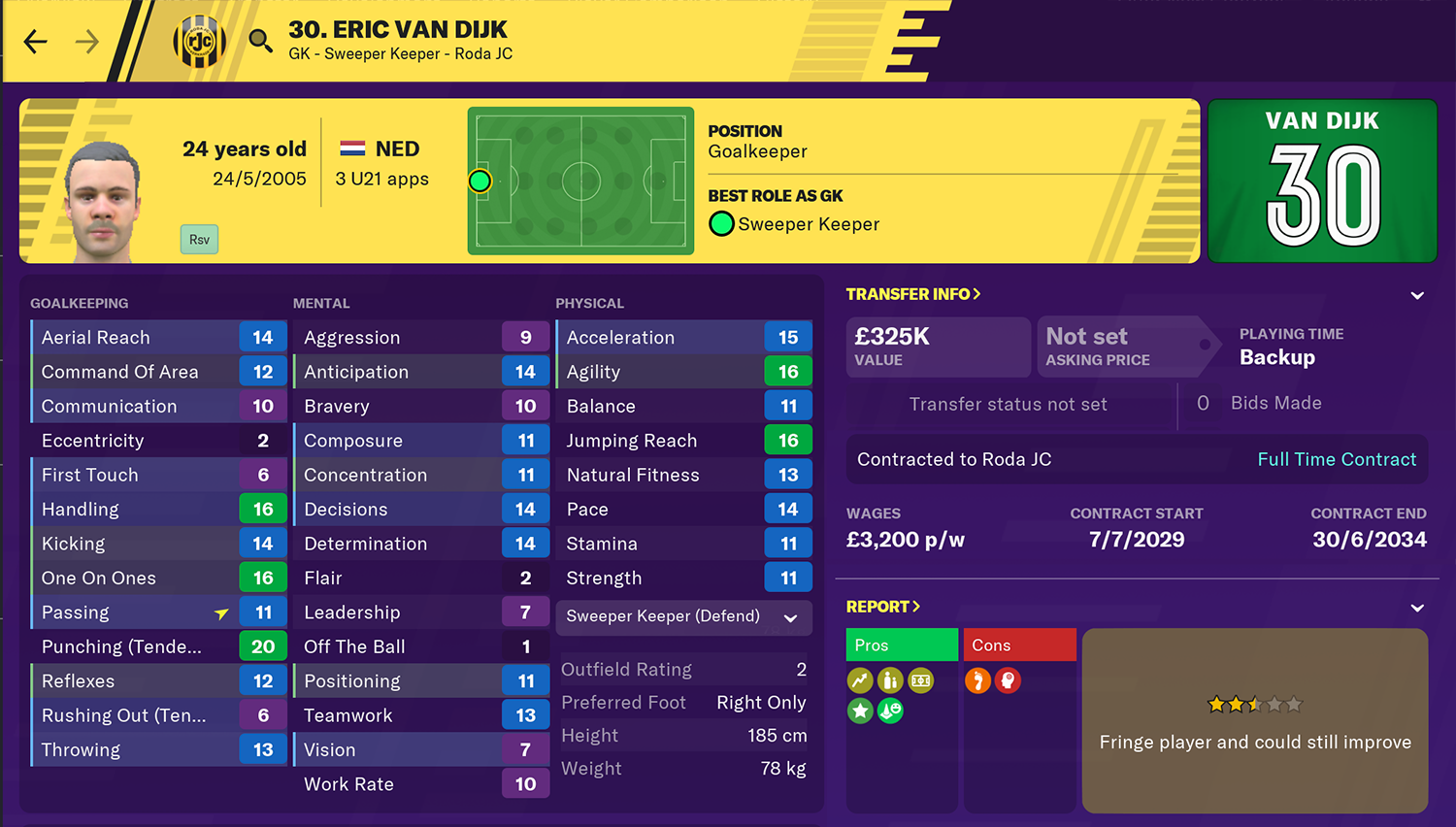 We've lacked a superstar 'keeper since David Ramos departed in 2028. Eric van Dijk (Free from De Graafschap, 2022) deputised well last season: I rotated between him and a Spanish wonderkid loanee, and he actually outperformed him in bigger games despite having poorer attributes.

 

This time around, he'll provide competition for Ronaldo Medina (£1.5M from Atlético Nacional, 2027) who conceded less than a goal a game at Kampioen Divisie winners Willem II last year. Although van Dijk's overall attributes are better (Medina's one-on-ones aren't great), I'm hoping the Colombian will be less error prone, given his lower punch tendency and higher concentration score.
Right Backs: Da Silva & Leushuis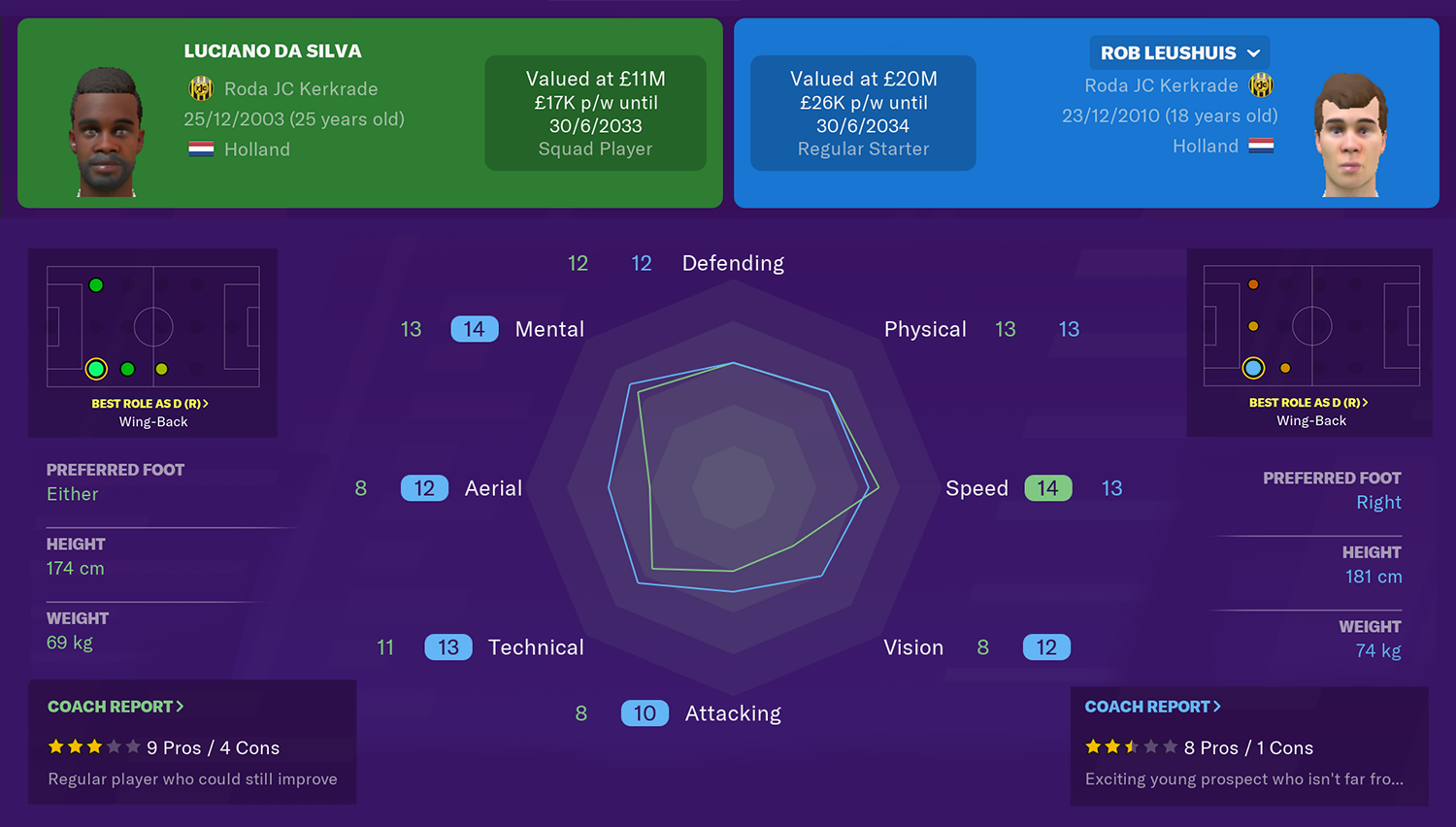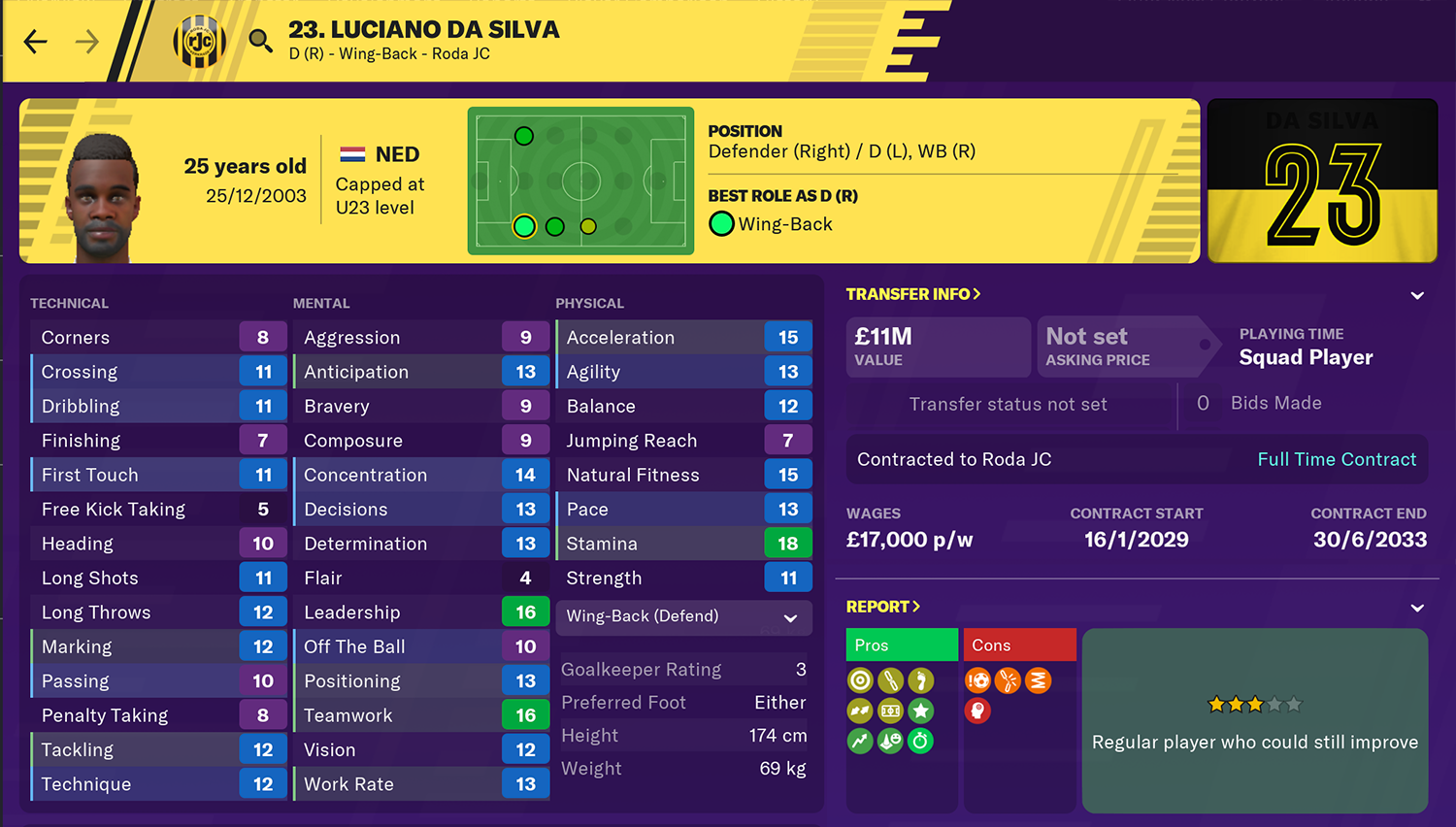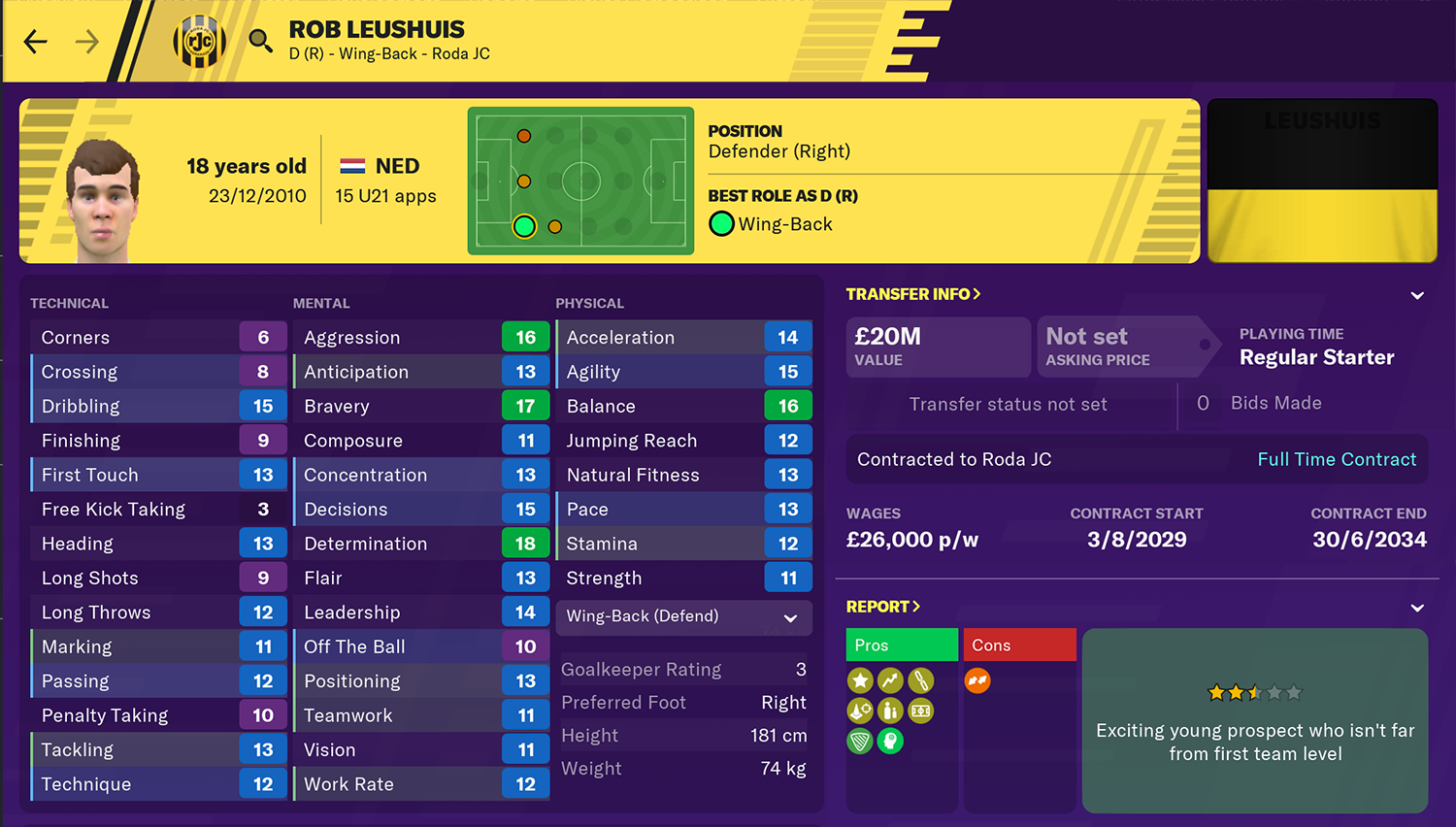 Right back has been a weak point recently: Luciano Da Silva (£37K from SEP, 2022) has developed well over the past 7 years, but a couple of last-minute defensive lapses cost us points last season. In his defence, he makes up for it in the final third, with a 'curls ball' trait that transcends his other attributes to help him deliver wicked crosses from deep.
His backup is a new signing: Rob Leushuis (£32M from Feyenoord). We might have paid over the odds for him, but he's young, Dutch, and has frightening potential. Hopefully regular minutes in the cup competitions will help him blossom – once he's improved his discipline by mastering the 'does not dive into tackles' trait, I'm hoping he'll become an undisputed starter.
Covering Centre Backs: Felipe Gomes Lopes & Nakamura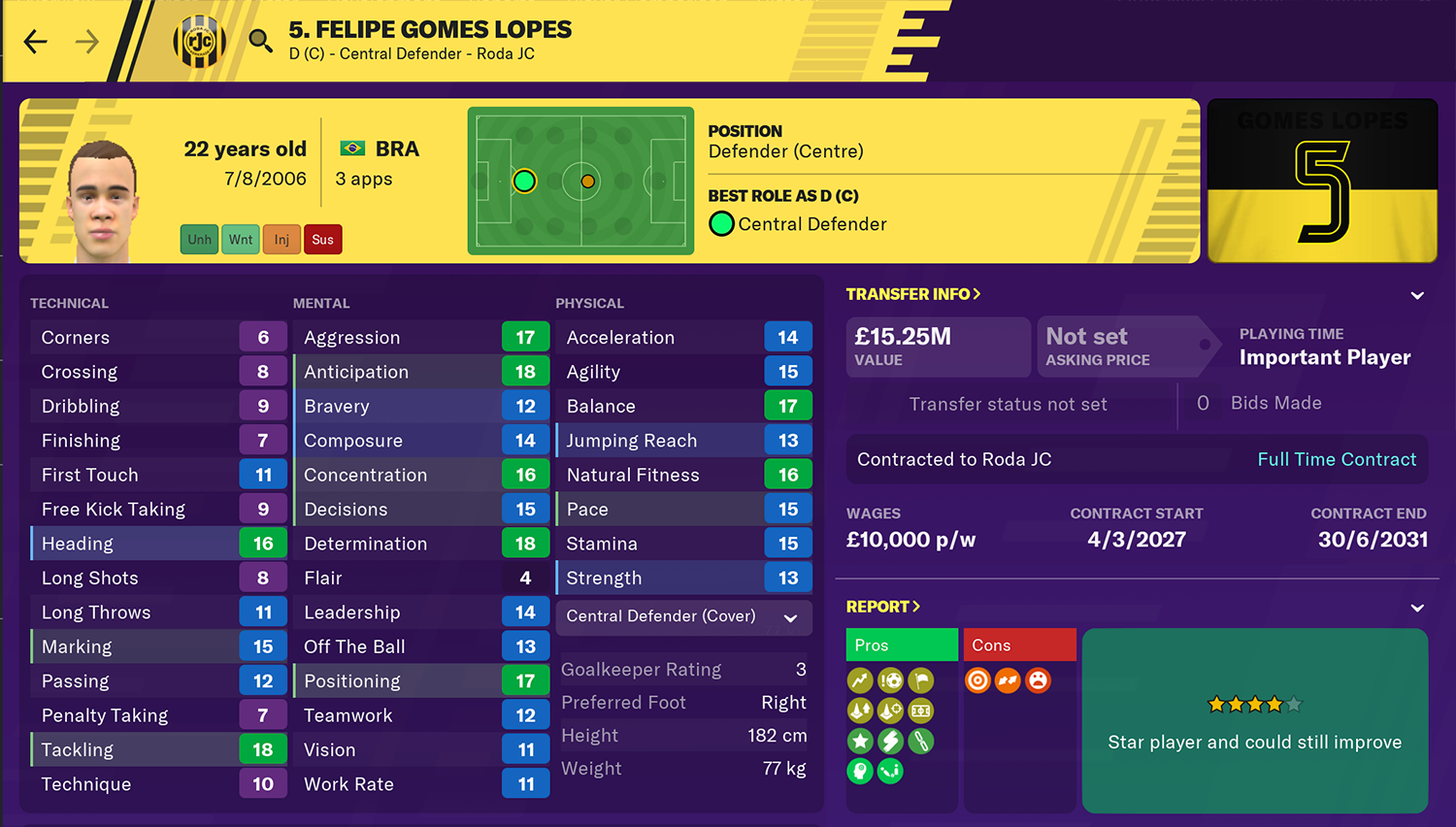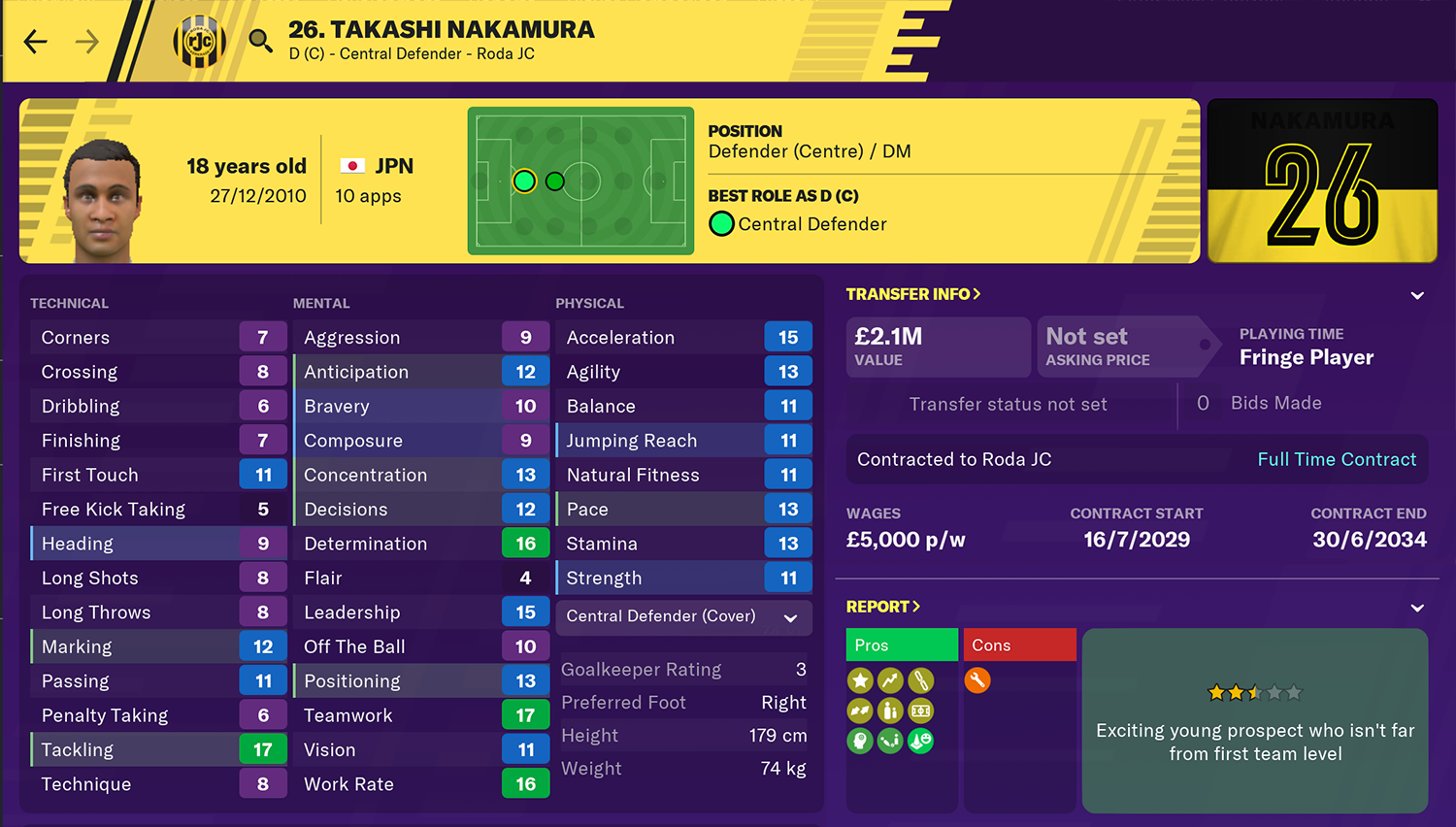 To be honest, Felipe Gomes Lopes (Free from CRI, 2025) is far too good for this team. He's unhappy about missing out on the title last season – apparently collapsing on the final day doesn't count as 'challenging' for the League – and refusing to sign a new deal, but I've kept him around for one last hurrah despite some tempting offers. Look at those attributes: he's just the kind of 'mentality monster' that you need when you're chasing trophies.
I'm hoping new signing Takashi Nakamura (£3.6M from Okayama FC) will be Lopes's medium- to long-term replacement. He's got the beginnings of the kind of mindset I love, and his physicals should mean he's already ready to face the Eredivisie's best attackers.
Stoppers: El Amrani & Larky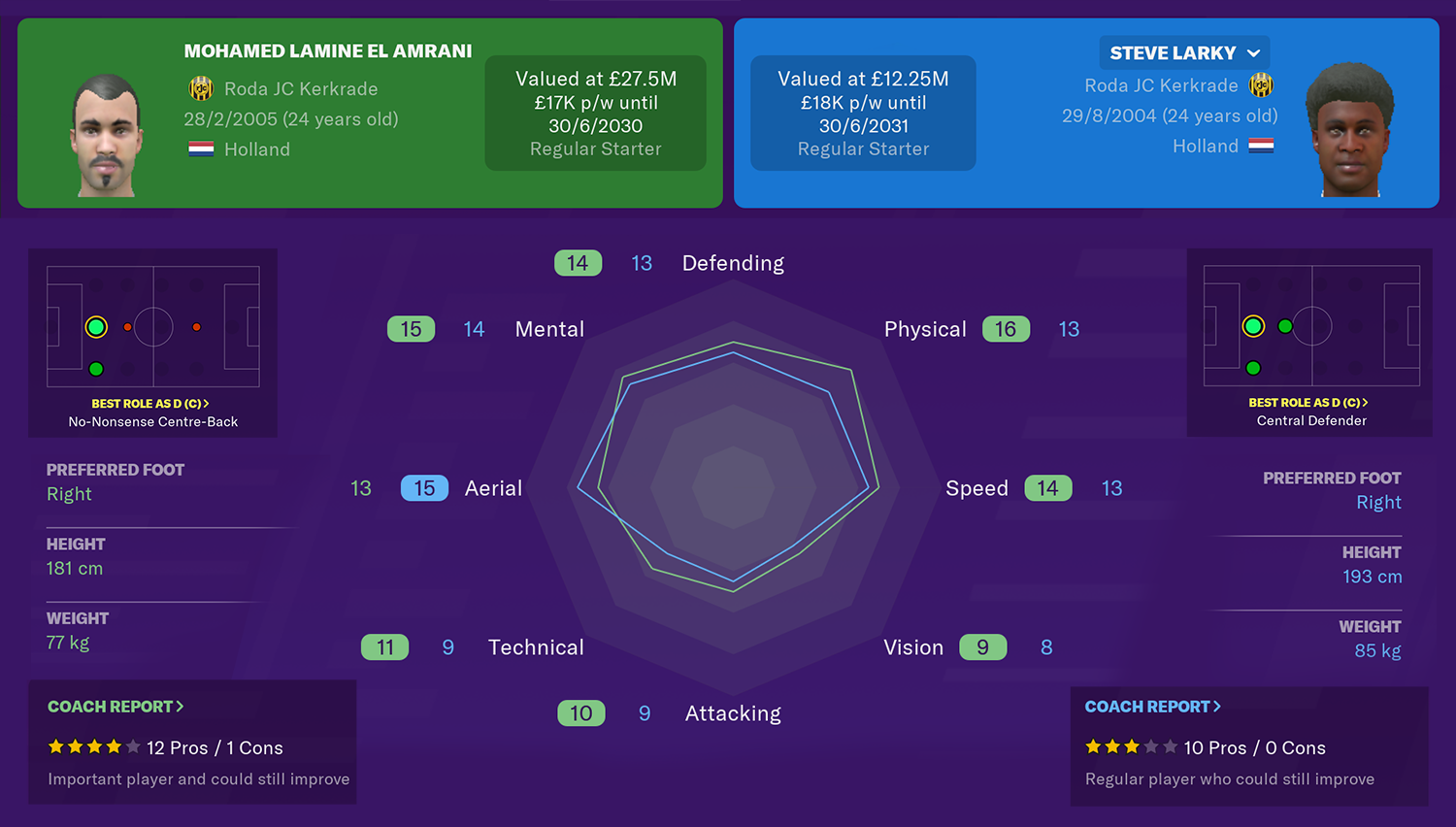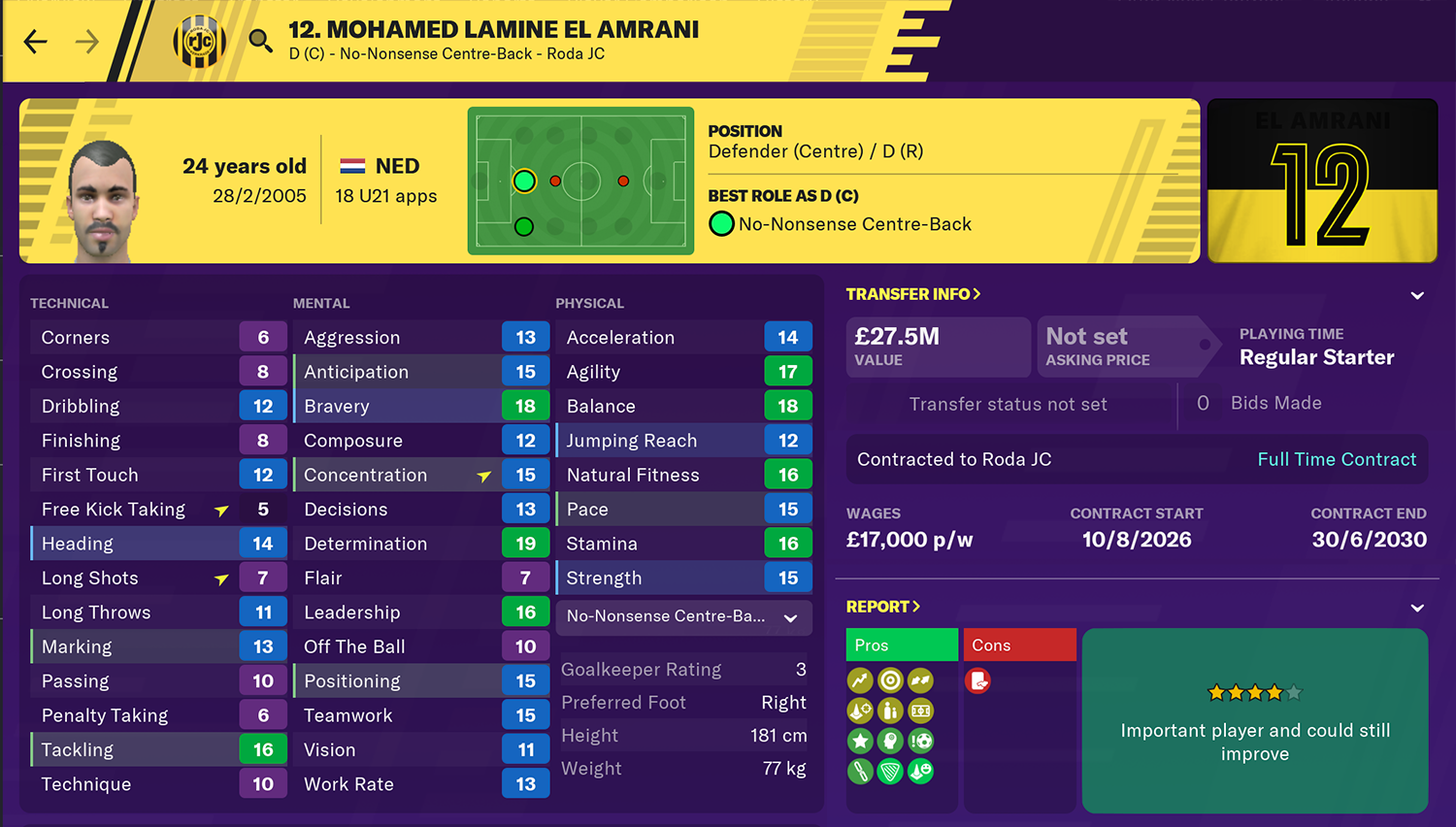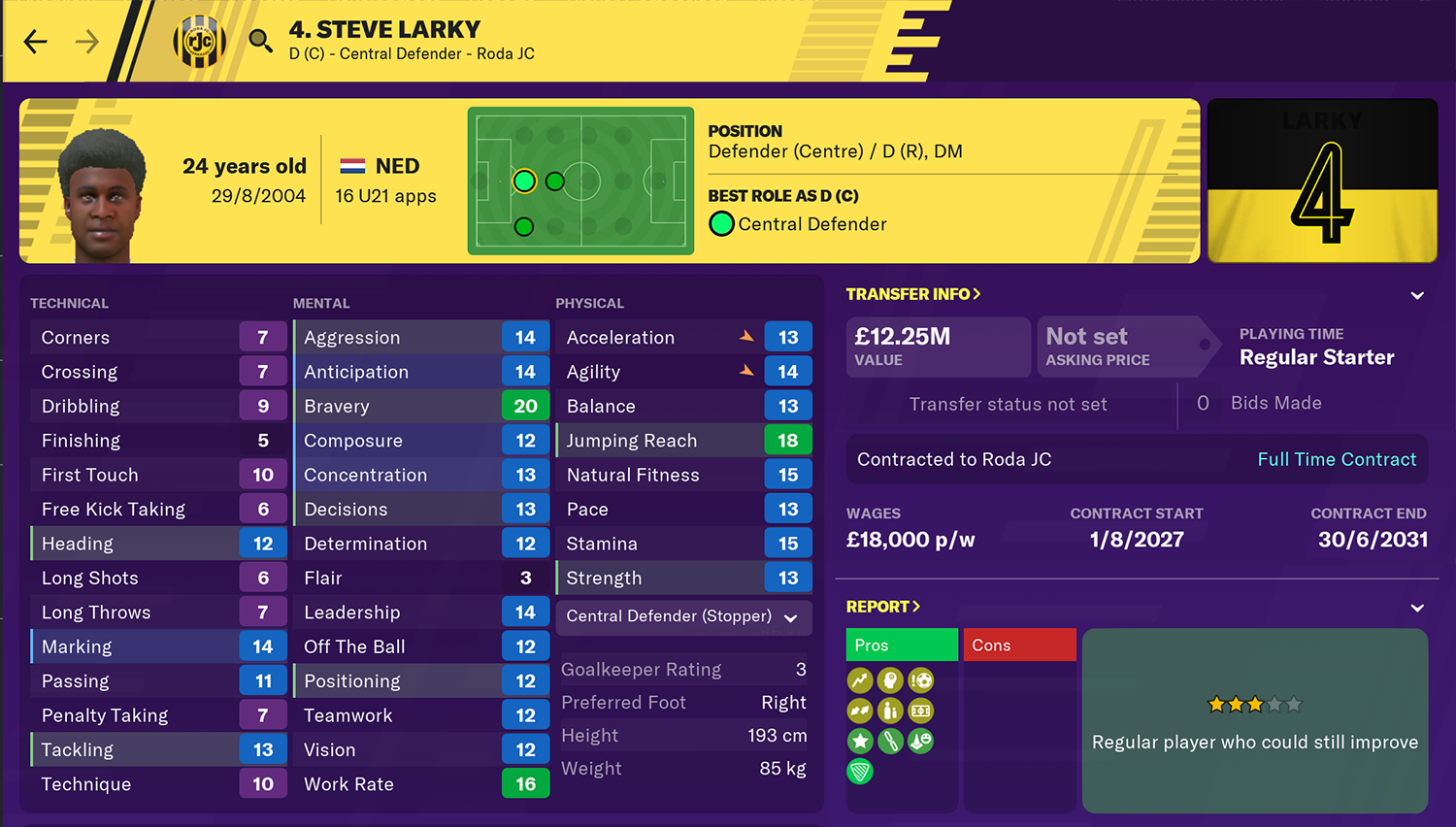 Mohamed Lamine El Amrani (£21M from Ajax, 2026) is our club captain and a defensive mainstay. I'd like him even more if he was a ball-playing defender, but that's just about my only complaint. He's fast, reads the game well and offers a physical presence. What more could you want from a defender?
El Amrani's deputy is fellow Dutchman Steve Larky (£12M from PSV Eindhoven, 2027). His all-round physicality lets him off the hook for a lack of pace, as does a system which sees him feature alongside a covering CB. My only other complaint is that Larky doesn't score too many goals for someone with his aerial ability.
Left Backs: Sánchez & Gardner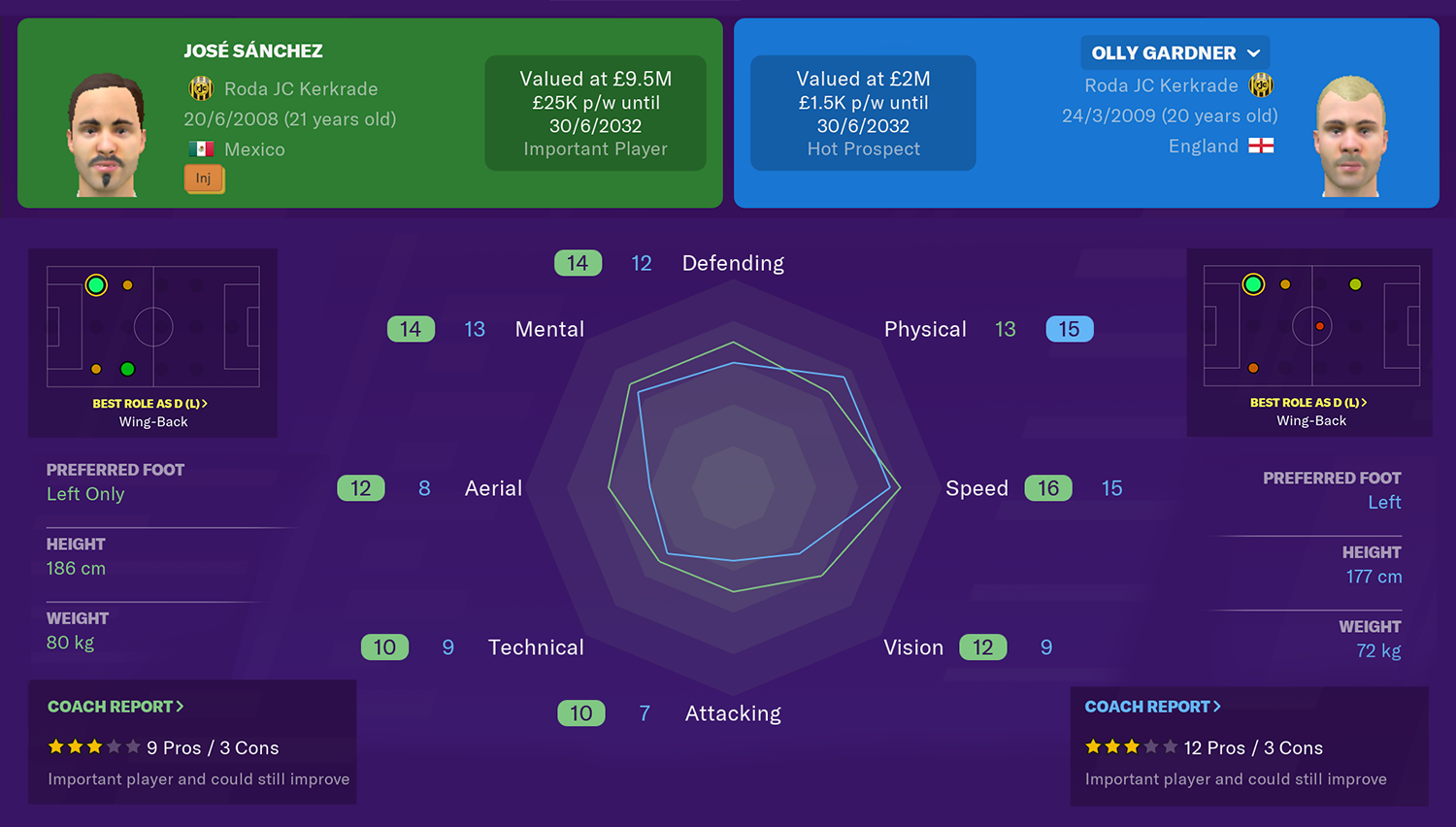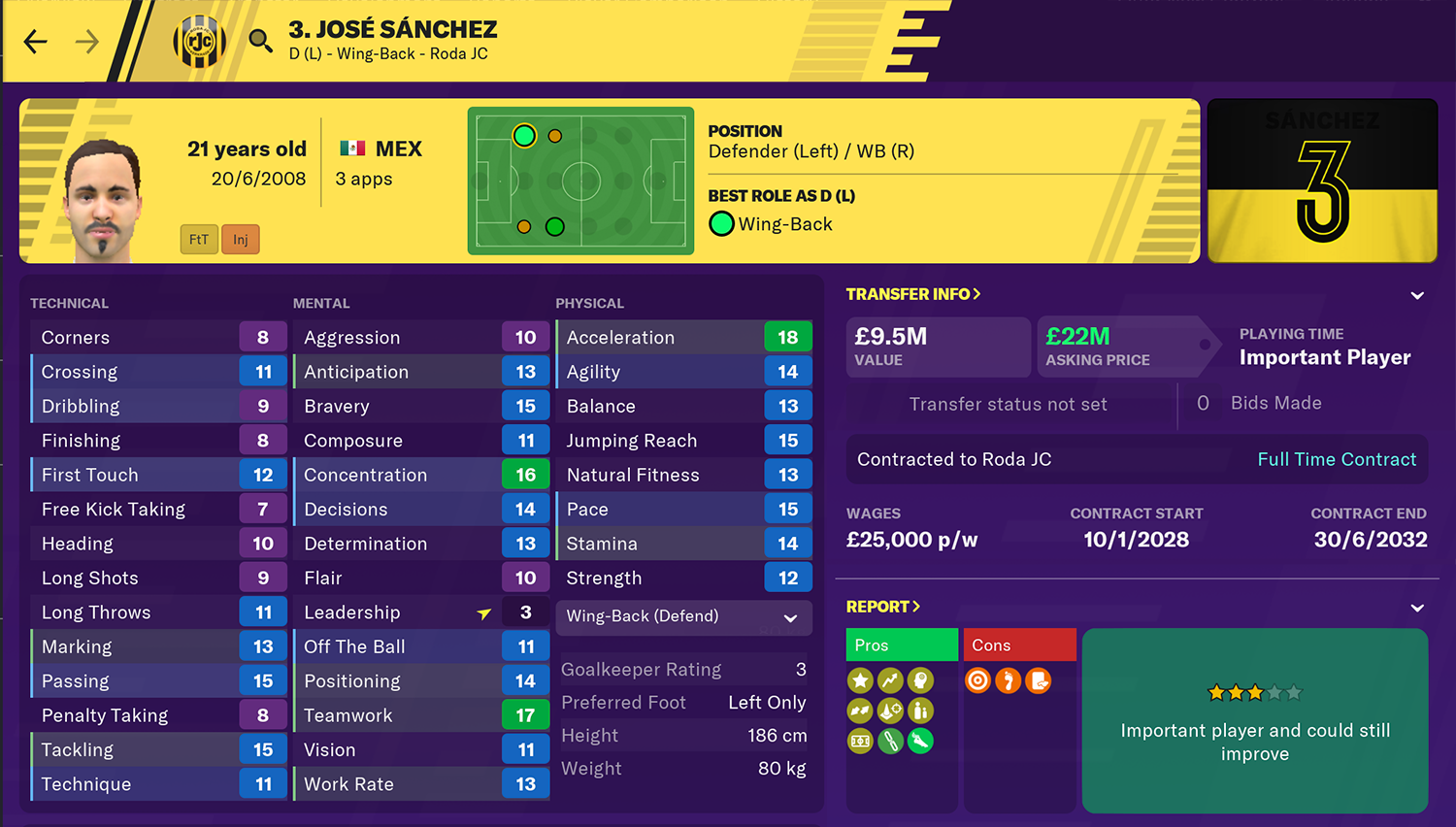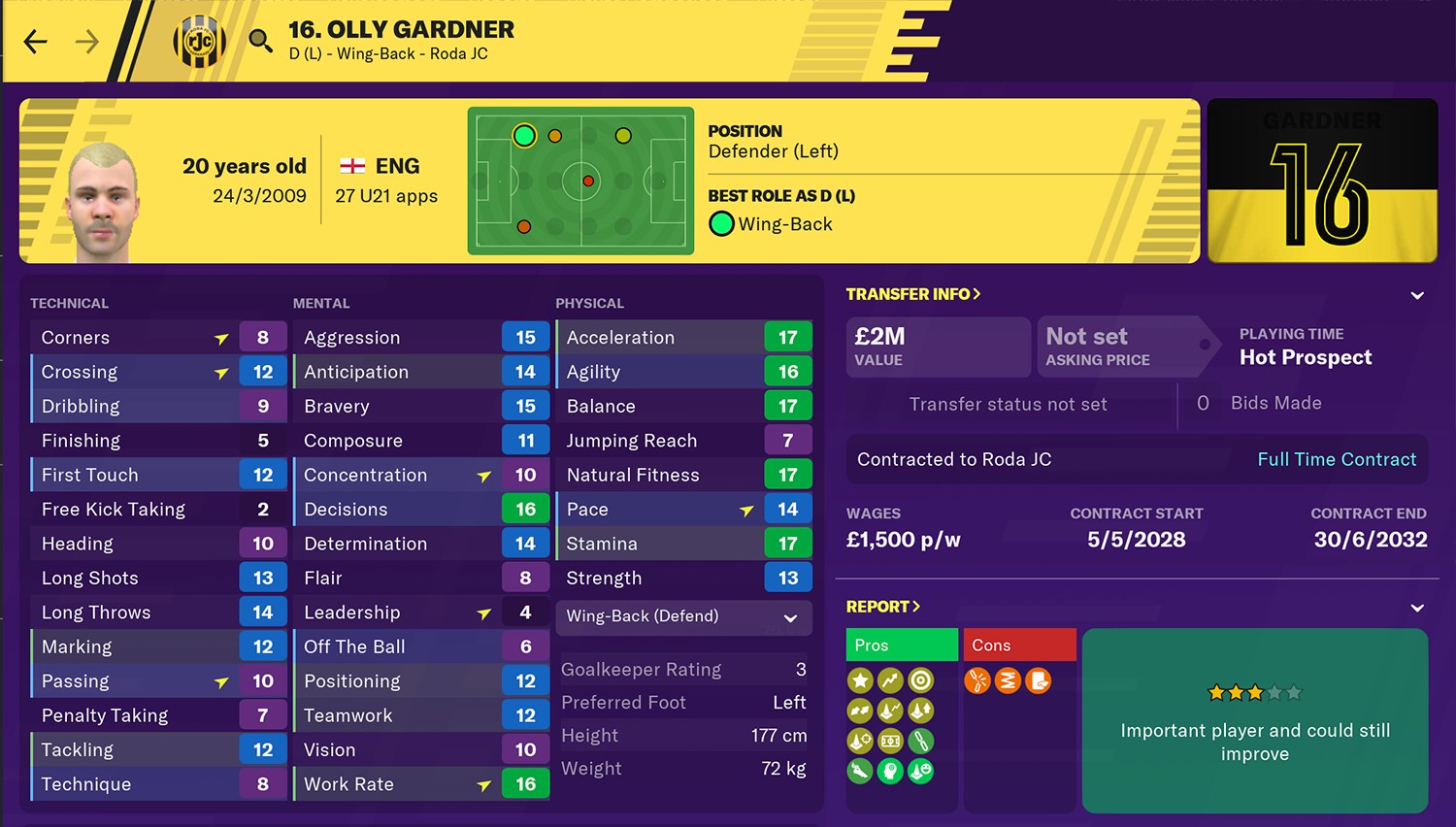 José Sánchez (£6M from América, 2028) arrived last January as a remedy for a problem position. Whilst his stats suggest he's a star, in reality he's been too error-prone to be the undisputed first choice I'd hoped he would be. We resisted offers for him this summer, but I don't think I trust the Mexican enough to rely on him in the long term.
Luckily, we've got home grown competition coming through! Olly Gardner (£800K from Leicester City, 2026) has spent a couple of years out on loan lower down the Eredivisie and looks ready for some first team game time. He's not on a level with Sánchez just yet, but hopefully he'll surpass him over the next couple of years and stay in Kerkrade to realise his potential with us.
Holding Midfielders: Pereira & Martínez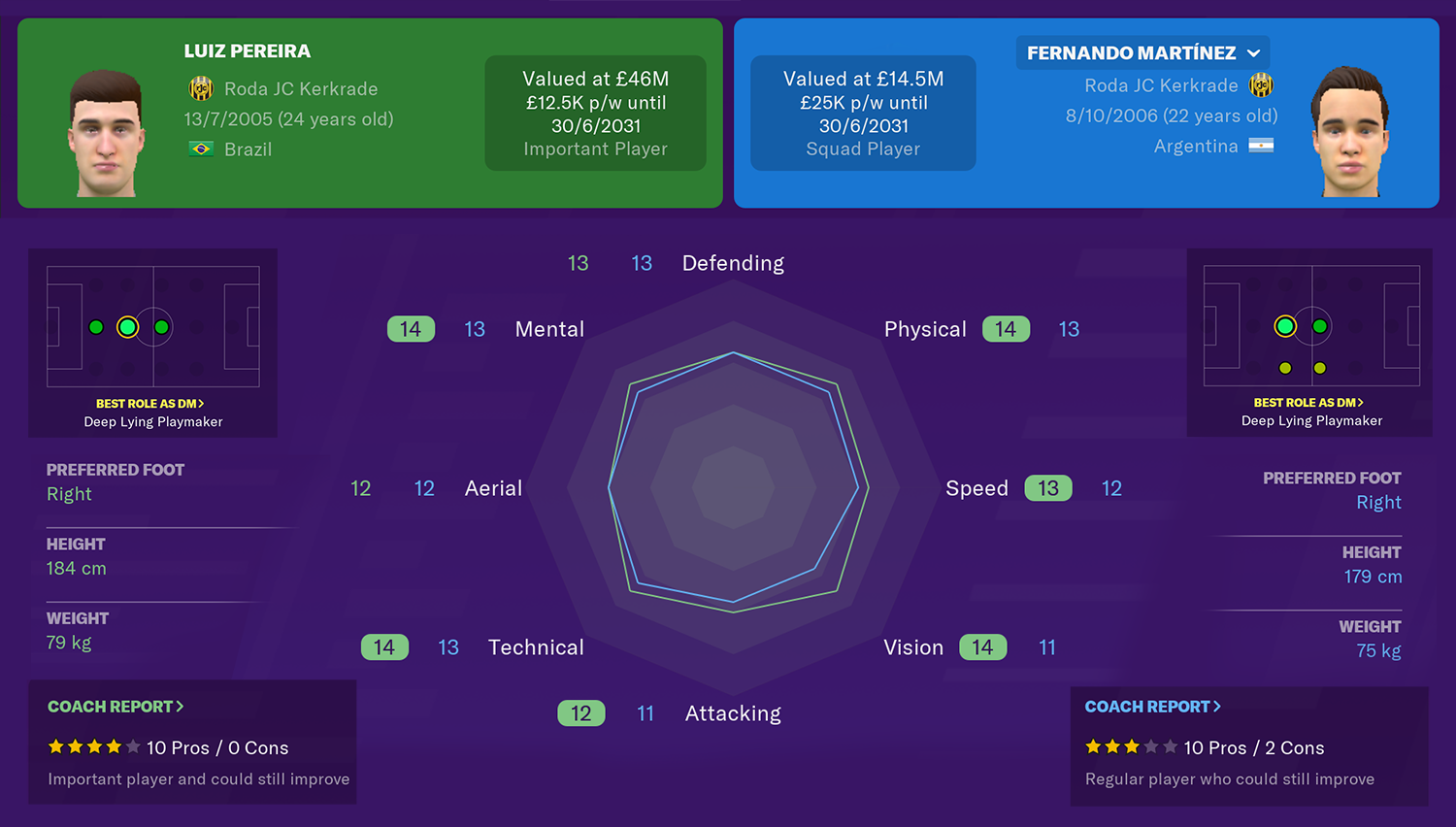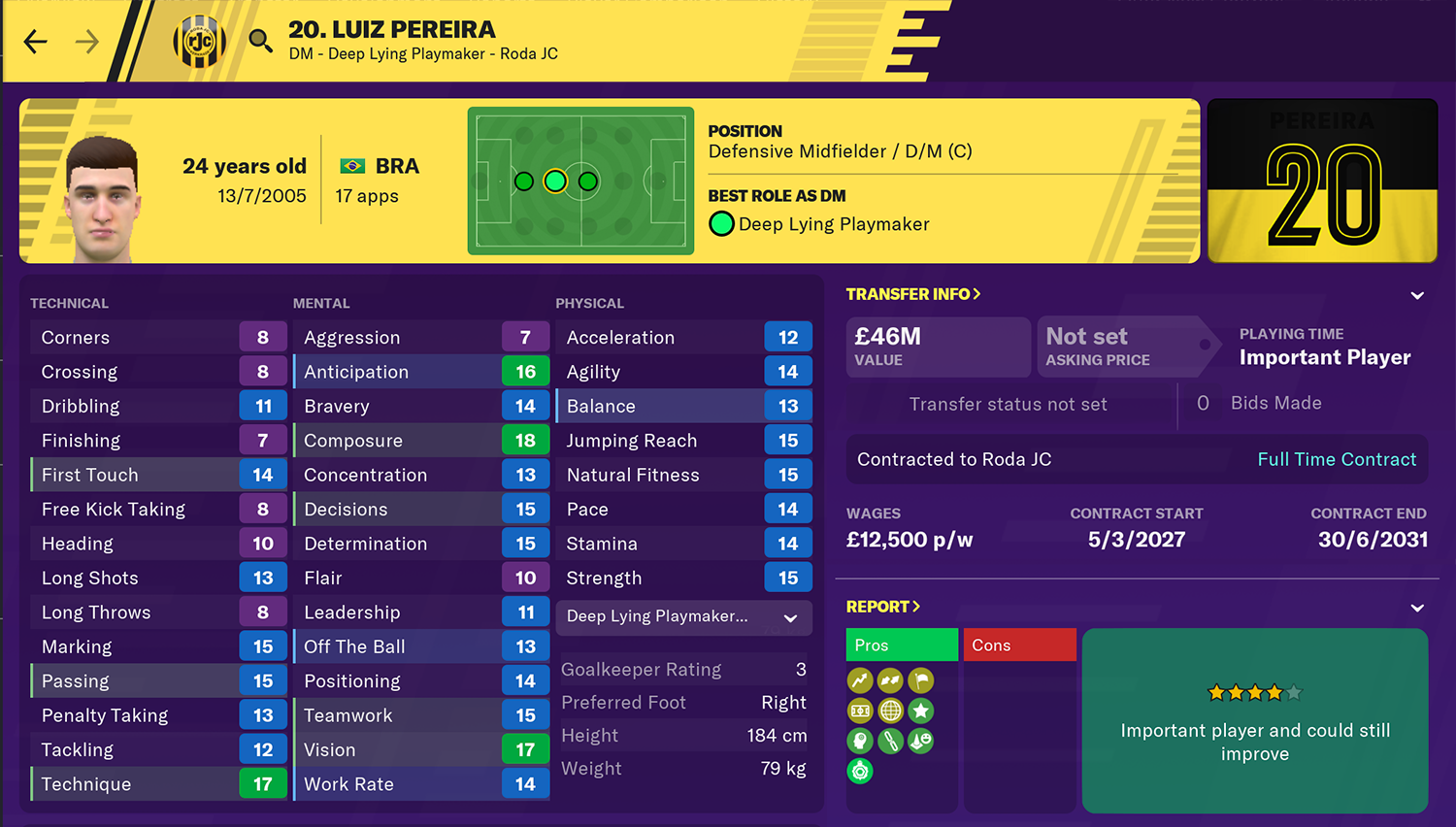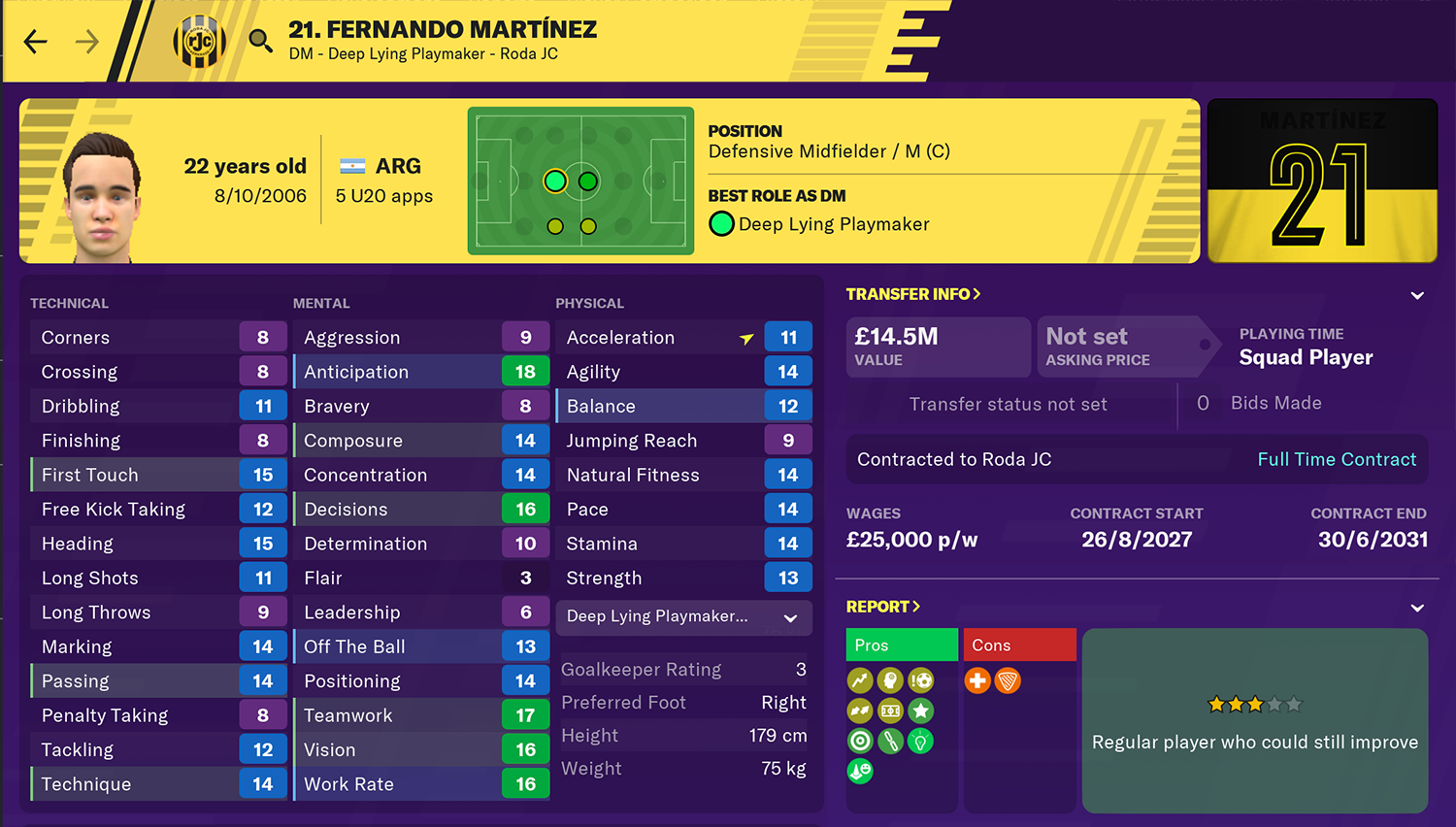 I've waxed lyrical about Luiz Pereira (£20K from COR, 2024) before. He's the heartbeat of the team, getting plenty of dirty work done behind the scenes and striding forward to instigate attacks. I can't fully explain it, but I suspect that decent technical attributes, great vision and traits to 'dictate tempo' and 'try long passes' are some of the secrets behind his success.
And we've got another one just like him coming through! What Fernando Martínez (£4.5M from Racing Club, 2026) lacks in physicality compared to Luiz, he makes up for with an enviable set of mental attributes. The biggest compliment I can pay him is that I've got no qualms about rotating him 'one game on – one game off' with the Brazilian.
Deep Lying Midfielders: Pungarsek & Rovcanin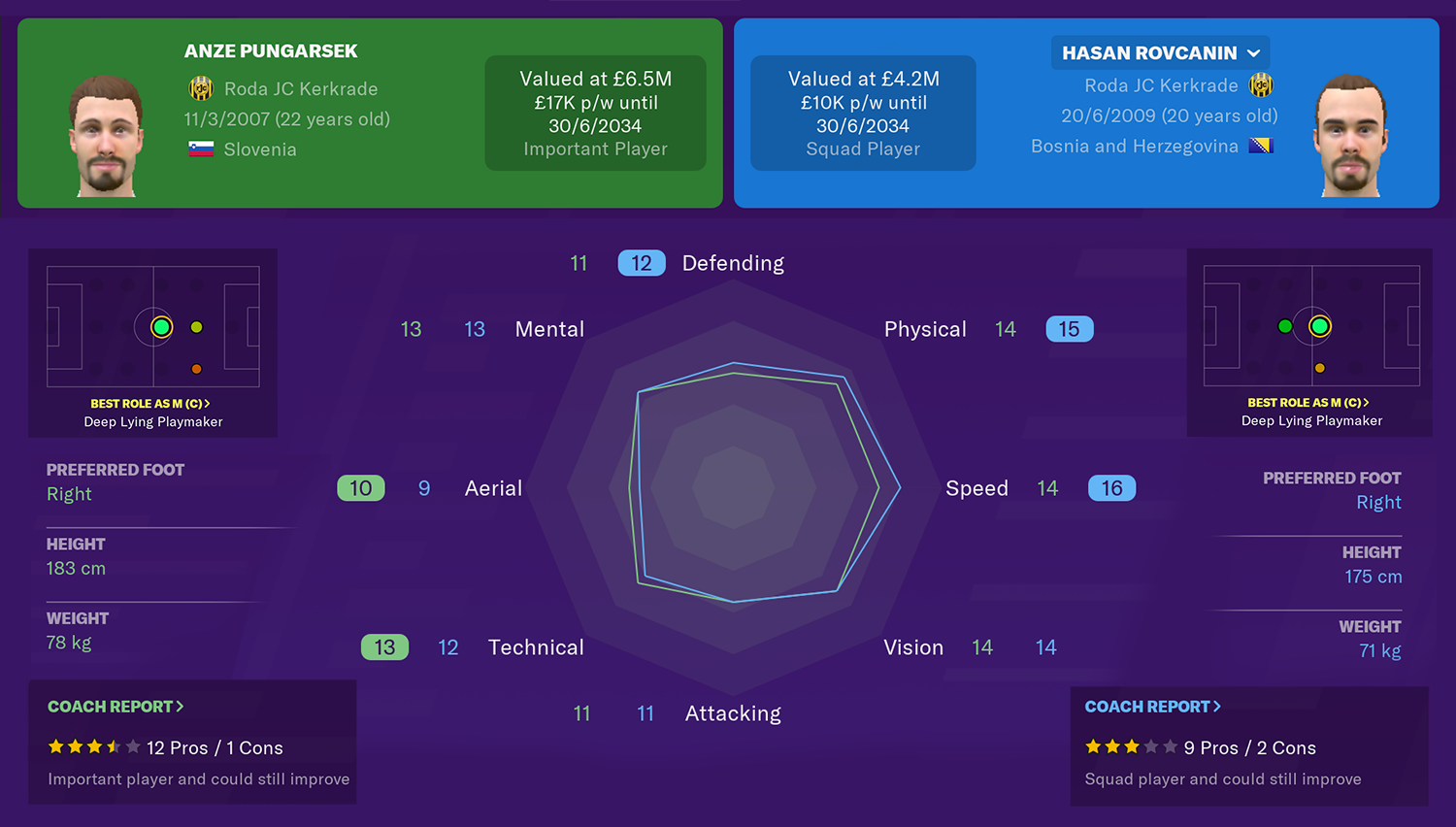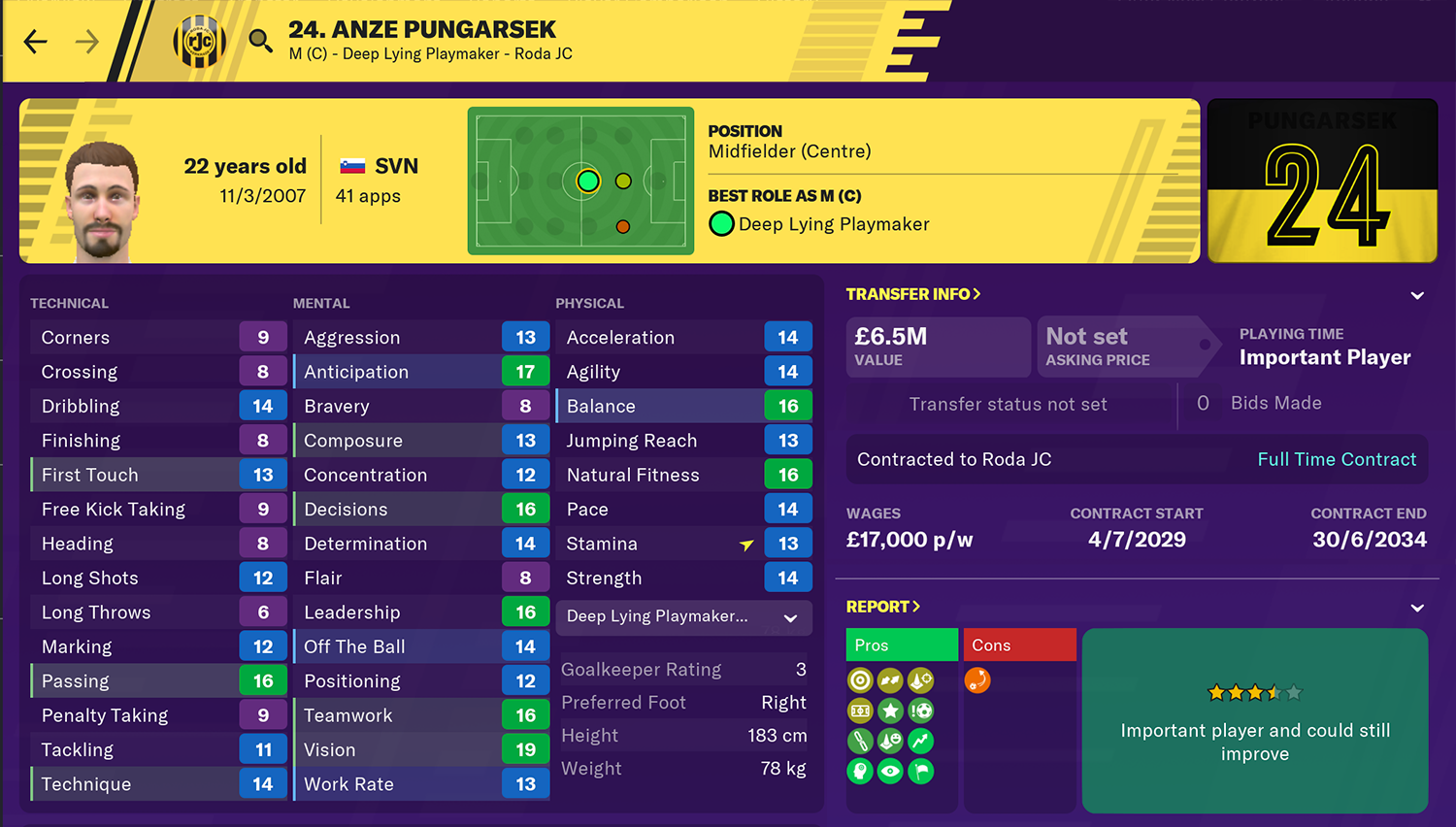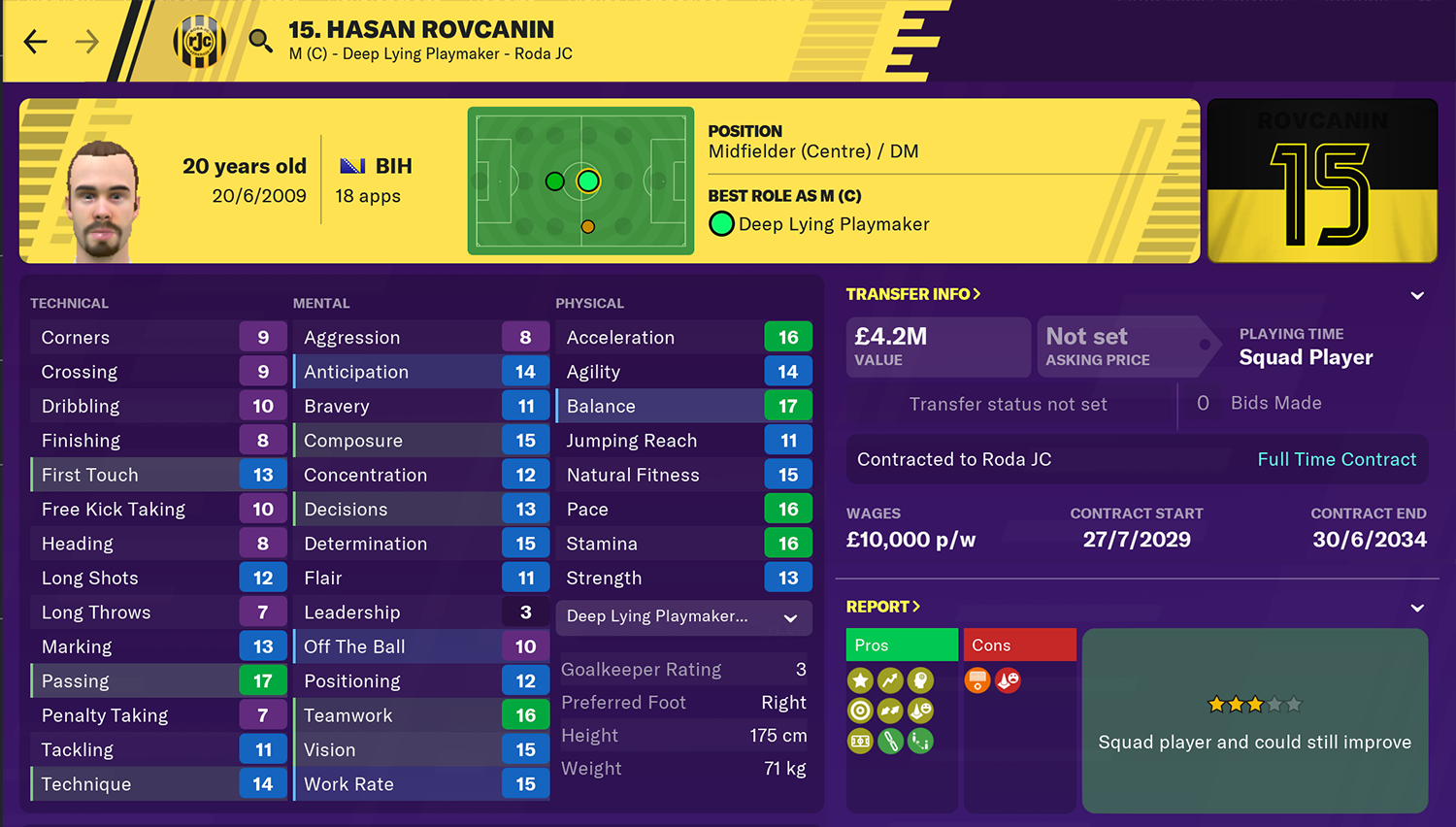 Anze Pungarsek (£950K from Olimpija, 2025) is one of our best players. He first fought his way into the team as an 18-year-old and has since made the more advanced of our two DLP roles his own. He's got the whole lot, from great mental attributes to impressive physicals. Although he mostly featured in European games last season, he proved he was capable of bagging more than his fair share of goals from the middle of the park
Pungarsek will be used in rotation with Hasan Rovcanin (£600K from Velez Mostar, 2026), who I've got very high hopes for. His outstanding physicals and never-say-die mindset should ensure his Slovenian teammate isn't missed when the duo swap places. He's only 20, so could be pulling the string for a few years yet!
Advanced Playmakers: Simons & van der Gaag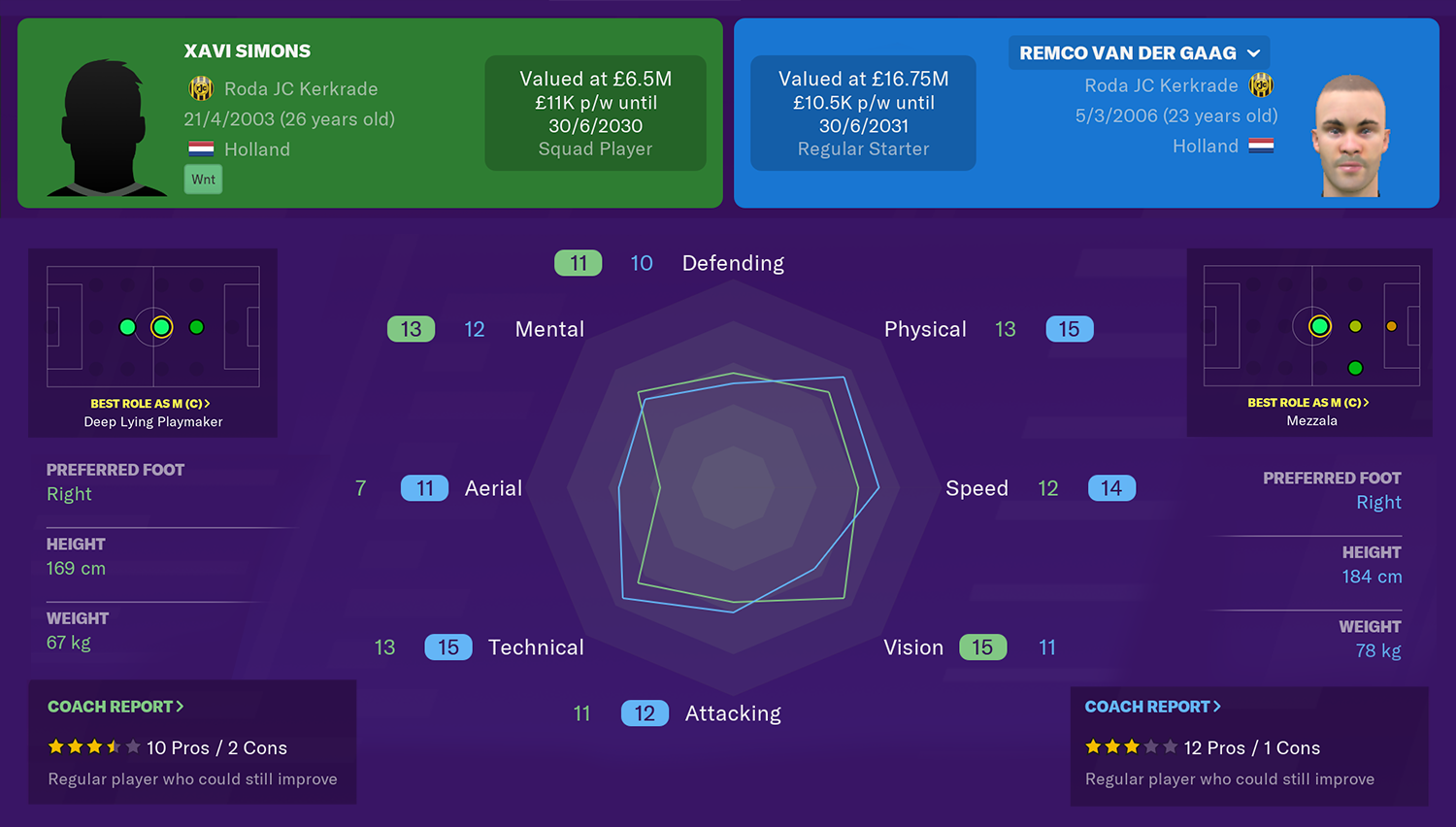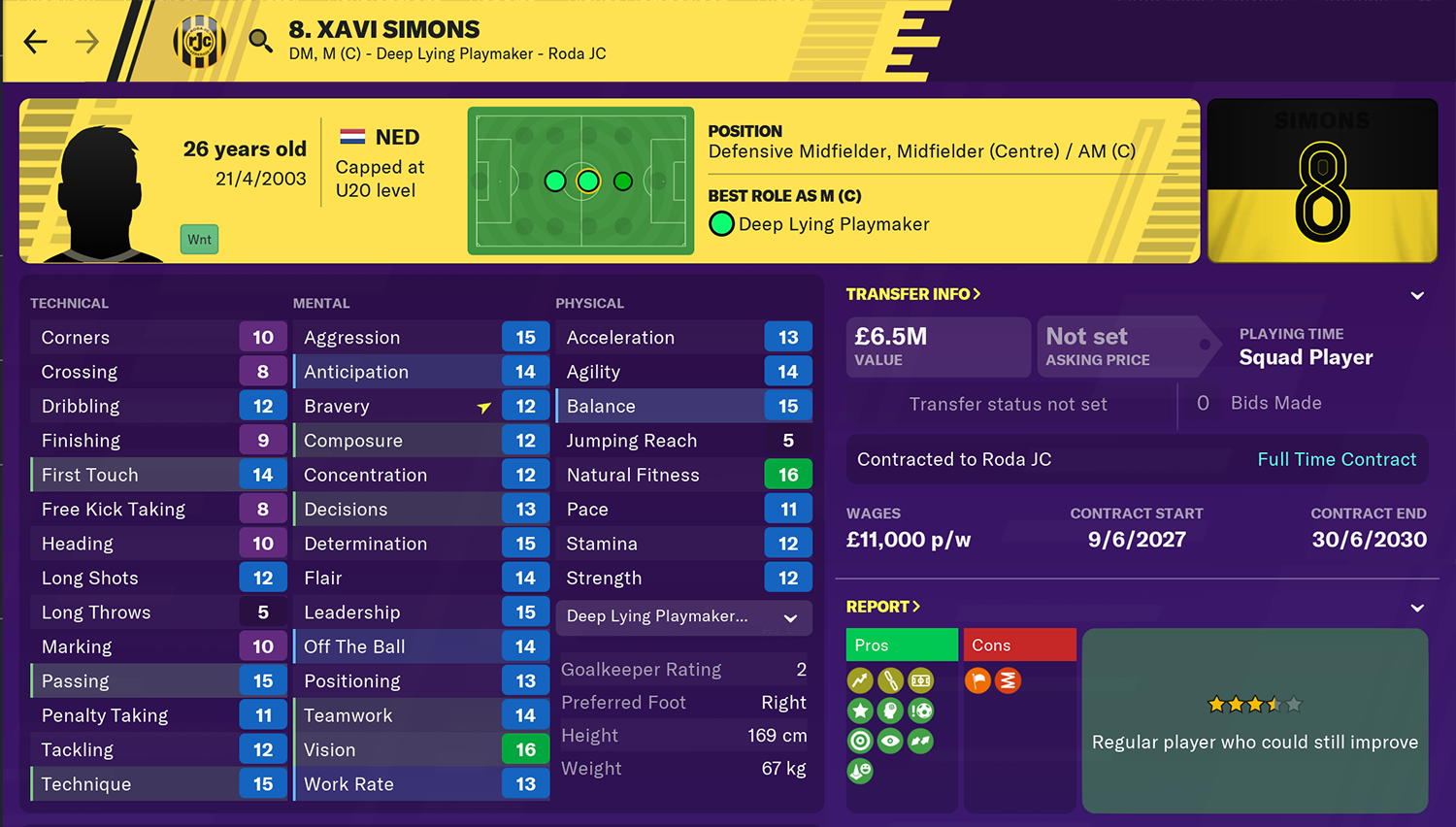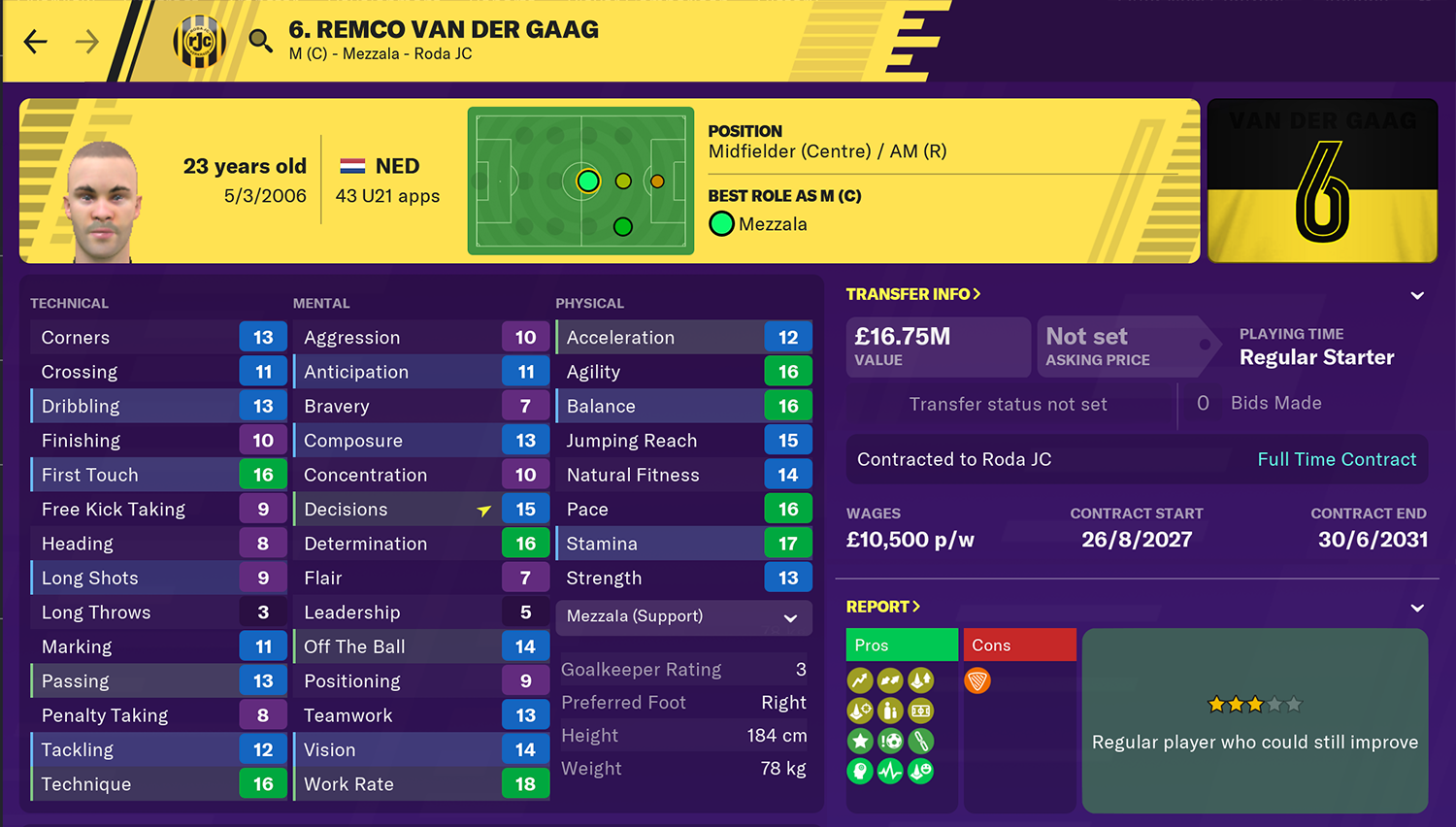 Remco van der Gaag (£26M from Ajax, 2027) hasn't been quite as excellent as I'd hoped since he arrived to fill the Mezzala / AP role. There's still time for him to come good, though, and I hope his outrageous technical ability will make up for his dearth of flair and help us to unlock stubborn defences.
In contrast, Xavi Simons (£6M from FC Twente, 2027) has been exceptional over the past couple of seasons. He caused real trouble when playing against us for Vincent Kompany's FC Twente side, and has gone on to fulfil the same dynamic, creative role for us. He won the Eredivisie's Player of the Year award last season. Whilst he's not the tallest, he somehow manages to plunder far more goal involvements than the rest of his midfield colleagues.
Right Wingers: de Groot & Guessous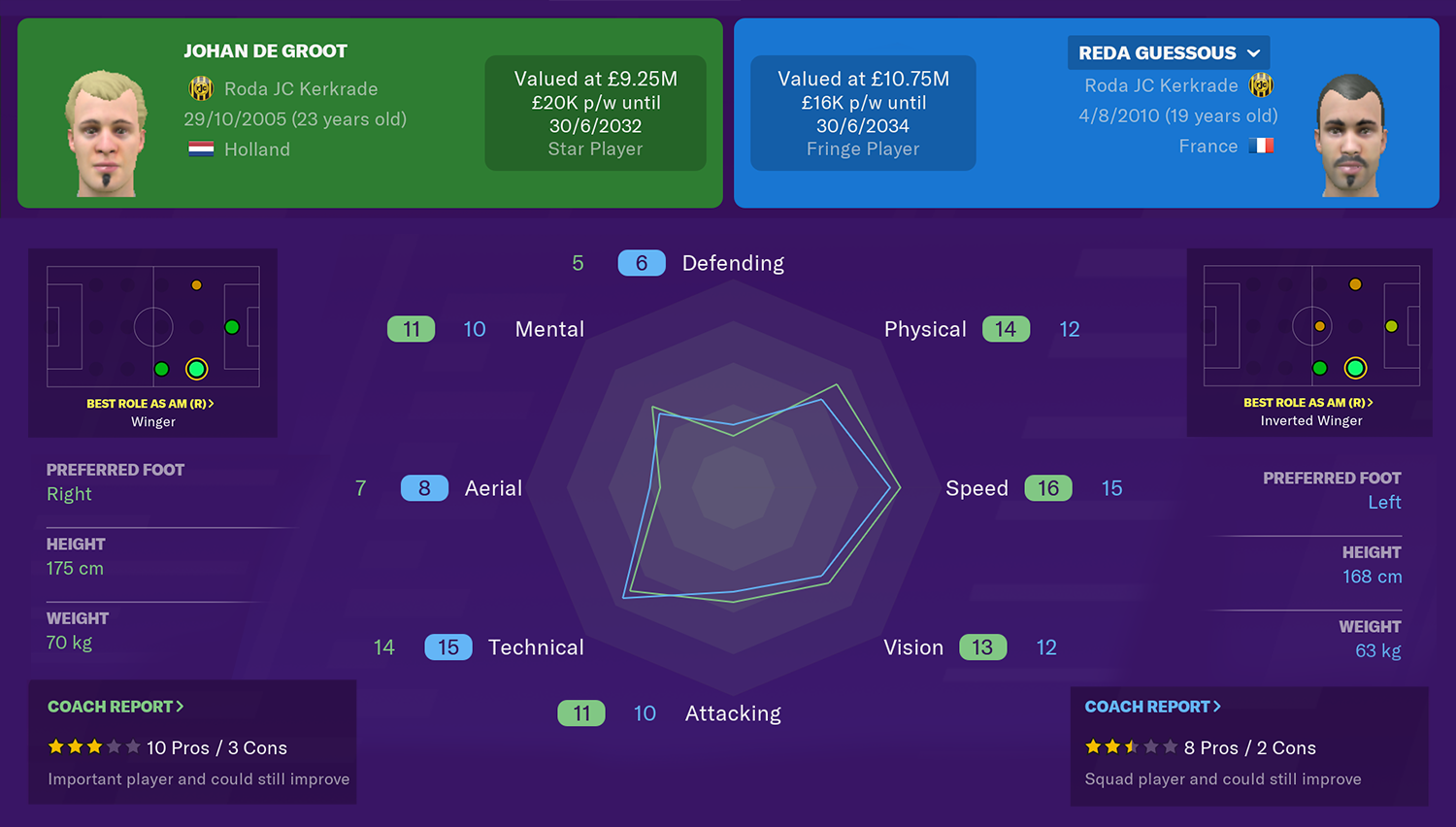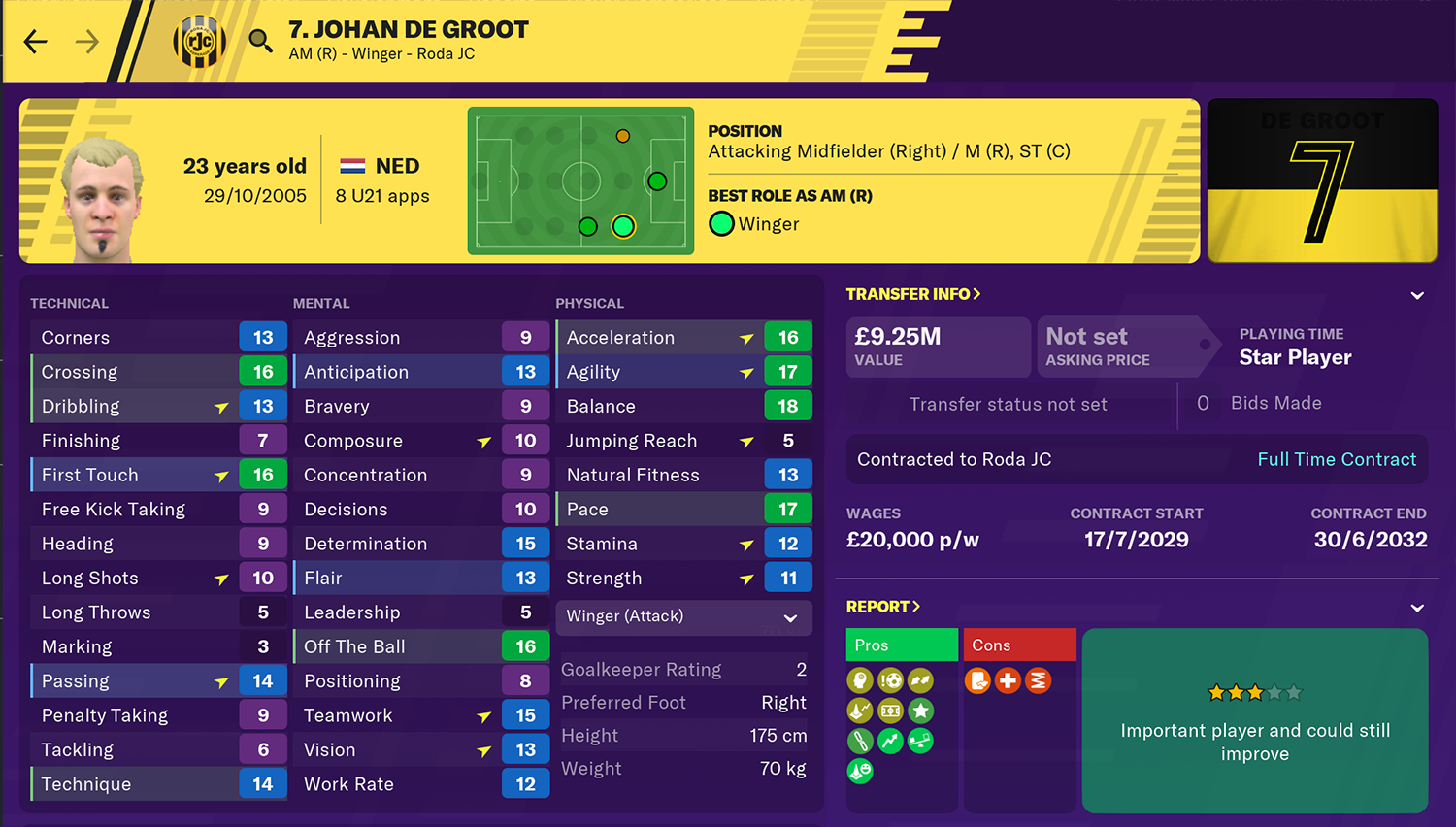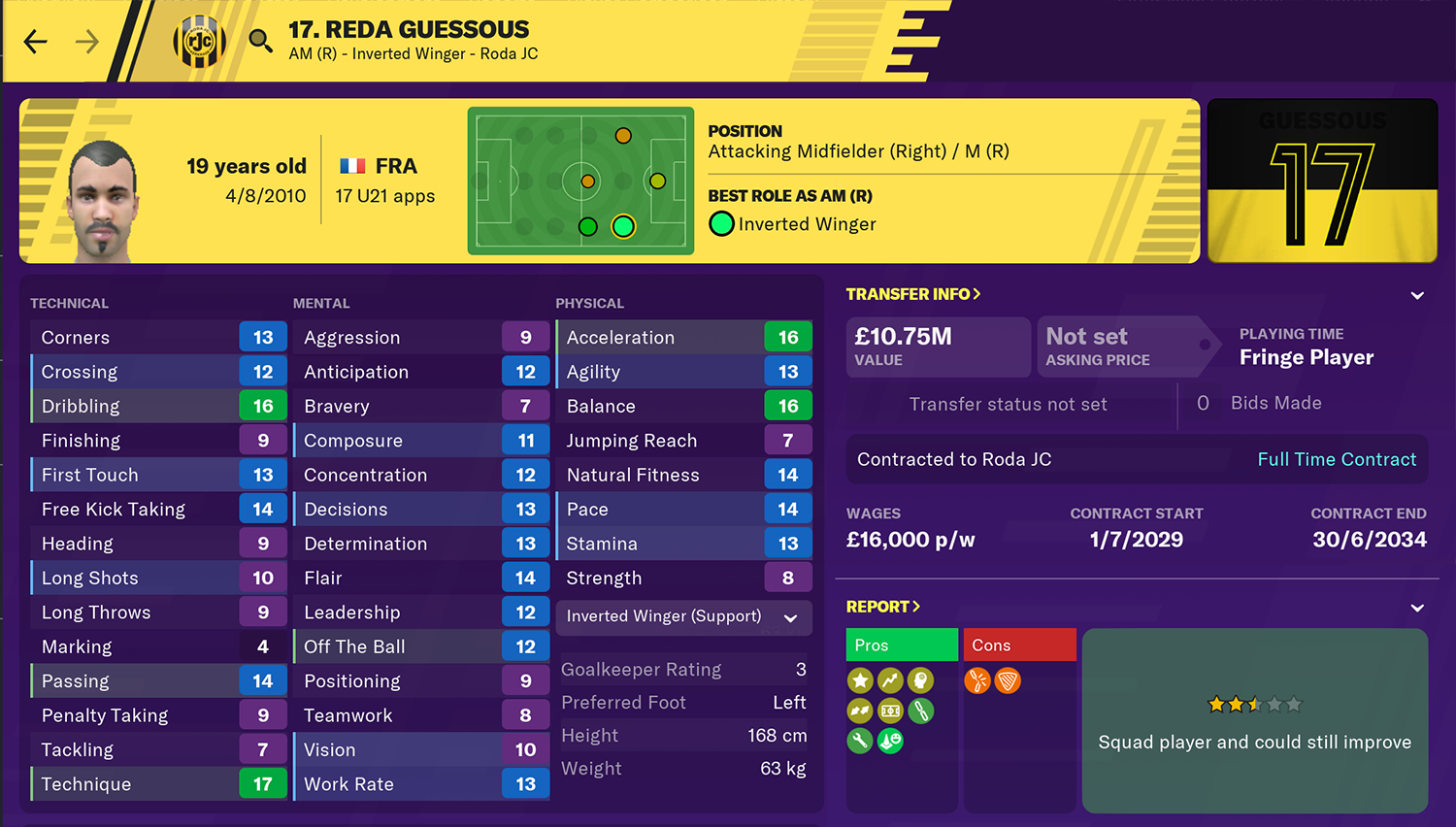 No, I can't believe that Johan de Groot (Free from ADO Den Haag, 2028) was available for nothing, either. We missed out on the Dutchman as a youngster and watched him closely as he became ADO's main man. We pounced when his contract ran down, and he's been brilliant so far. His injury record is a concern, but it hasn't stopped him from becoming one of the Eredivisie's top assist providers.
de Groot is a proper 'chalk on his boots' wide man. I usually prefer inside forwards like Reda Guessous (£16.75M from AS Monaco). The new signing cost more than I'd have liked for both his fee and wages given his age, but has the potential to be a superstar winger and can hit a decent free kick. I'm excited to see him put his pace and dribbling skills to the test against our rivals in the Champions League.
Left Wingers: Hernández & Pepê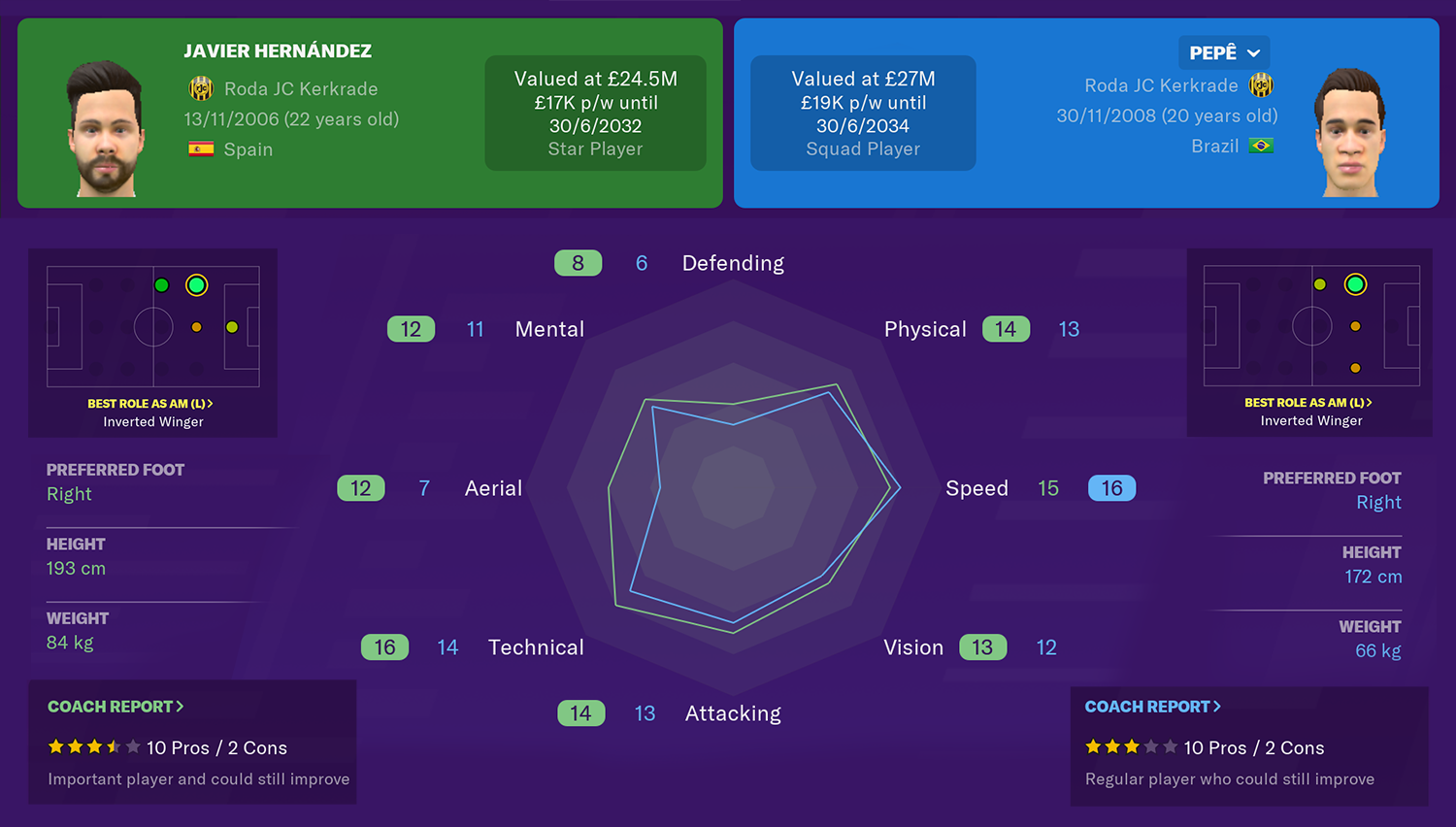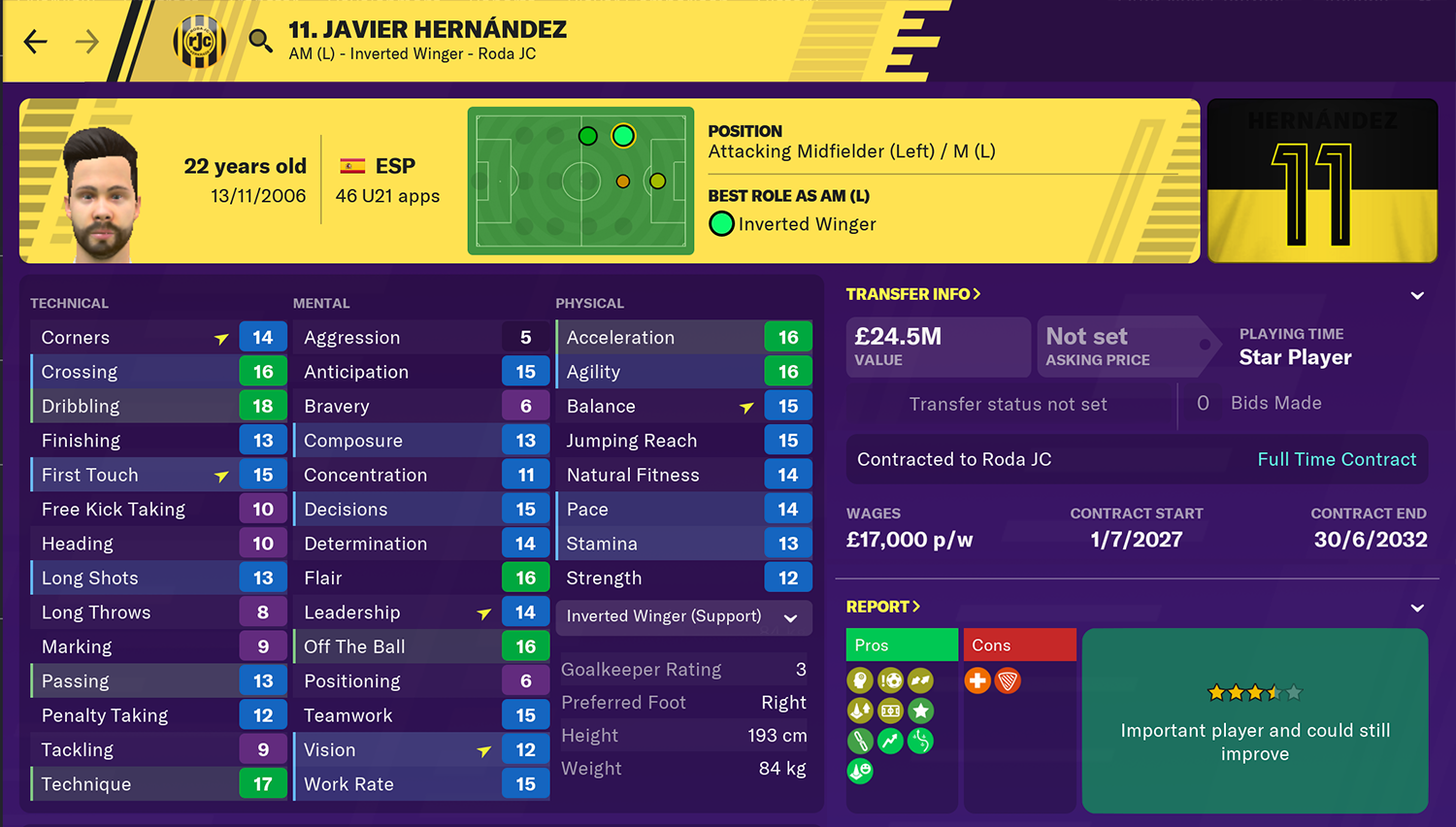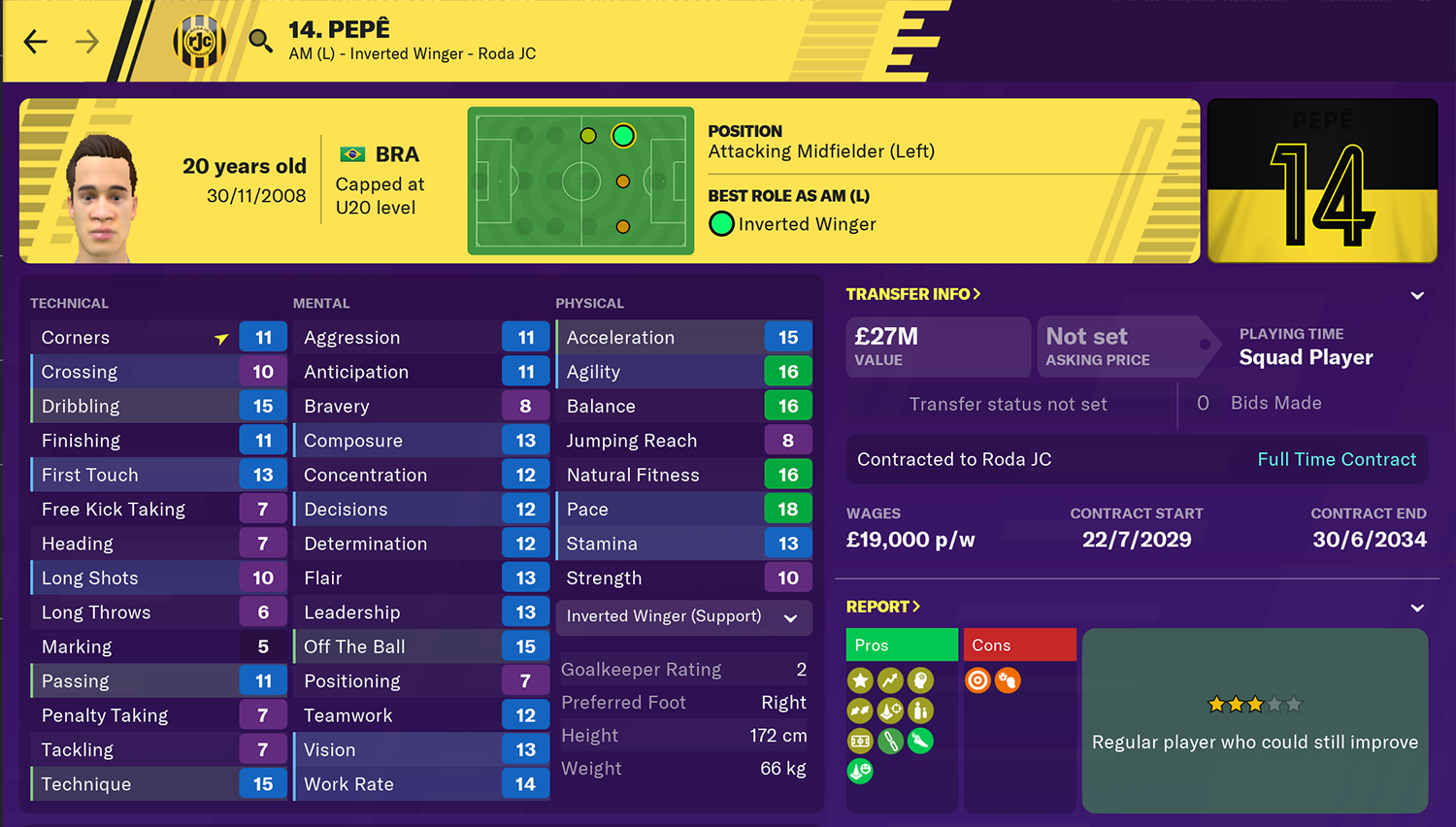 Javier Hernández (Free from Atlético Madrid, 2027) is another who I can't quite believe is plying his trade in the Eredivisie rather than one of Europe's big leagues. PSG have been sniffing around, but I'd be loath to part with a player who boasts his aerial prowess and goalscoring ability from a wide position.

 

His understudy was billed as the new Neymar, and goes by the name of Pepê (£77K from SAN, 2027). The young Brazilian became our youngest-ever scorer within a week of his arrival. He wriggles his way into dangerous positions for fun and – despite being built completely differently – is very similar to Hernández in that he racks up more goals than assists.
Lone Strikers: Bijl & Vega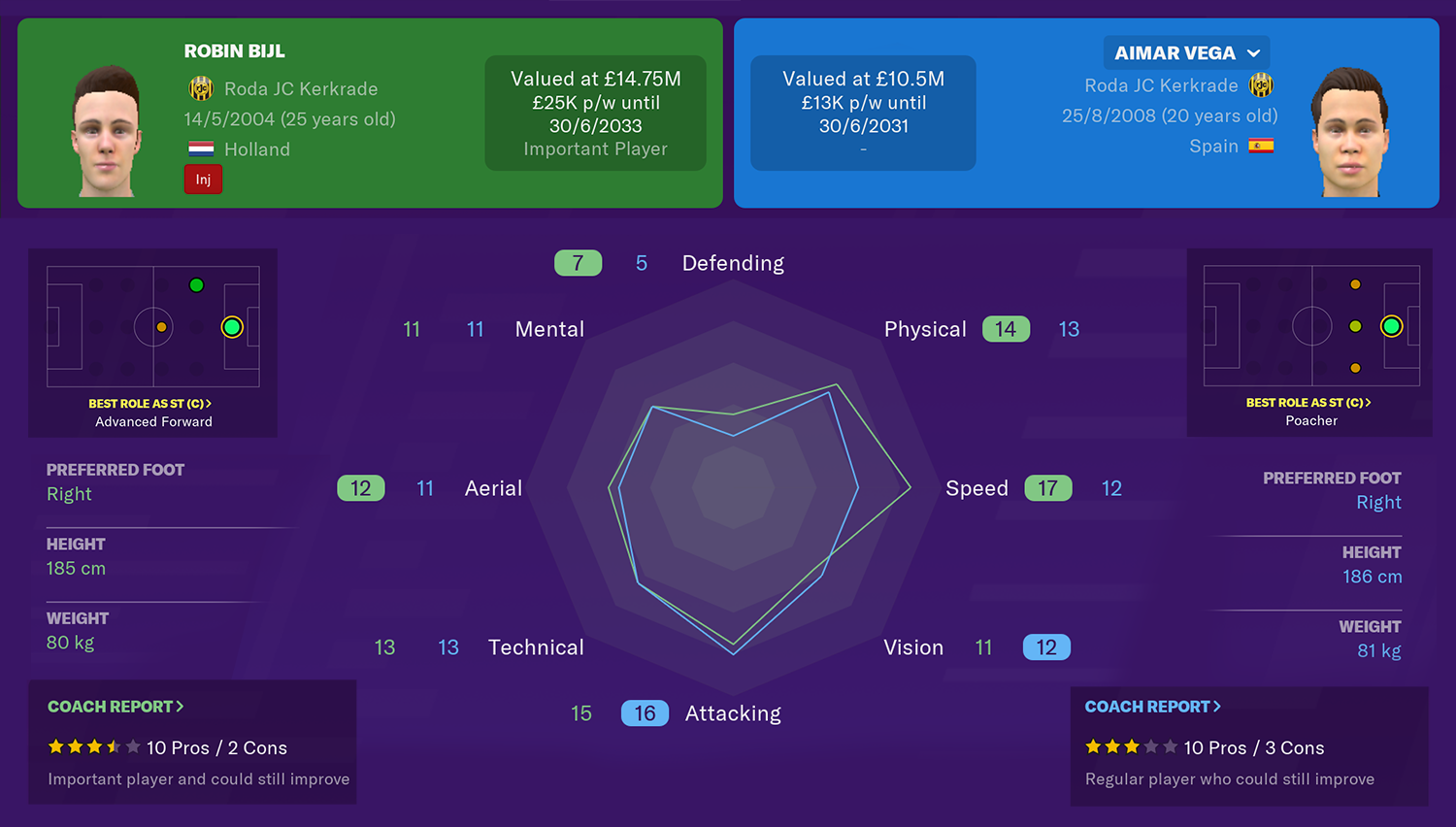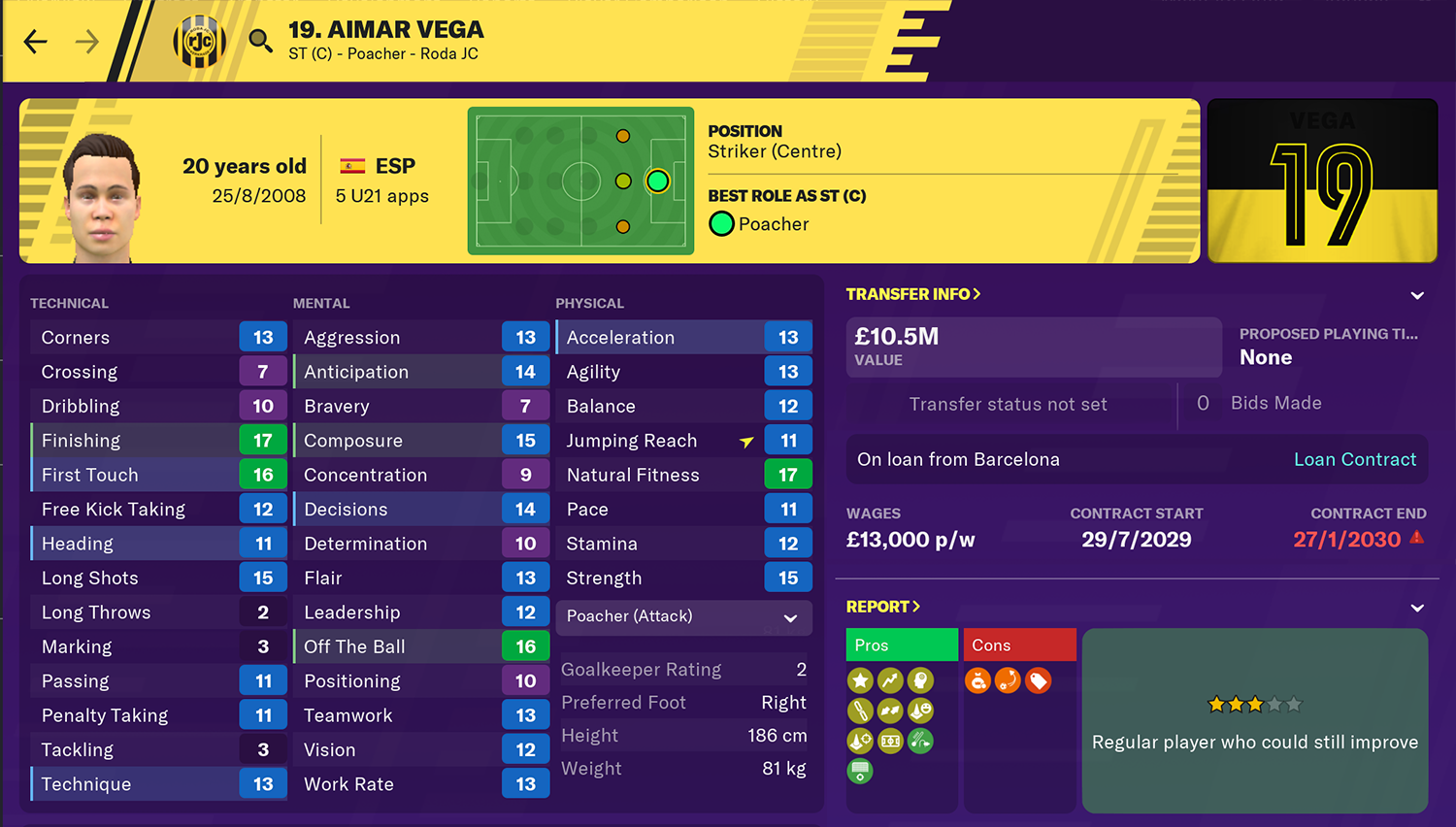 Robin Bijl (£19M from Vitesse, 2027) is our main man up front. Since his arrival, he's realised his potential to become probably the best forward in the Eredivisie. If it weren't for Josh Zirkzee, he'd have amassed plenty more Holland caps too. But I have concerns about him – despite notching at least 15 goals in his two full campaigns at Roda, his form has slumped in the second half of each. I also worry about the effect injuries might have on his all-important pace, especially since he's now fast-approaching the peak of his powers.
Aimar Vega (Loan, Barcelona) is a stopgap signing to replace the outgoing Ricard Cabral. Cabral did well in continental games, but always seemed lacklustre in his league outings. I chose to sell high and bring in a short-term replacement on a lower wage.
High Potential Youngsters: Sánchez & Miranda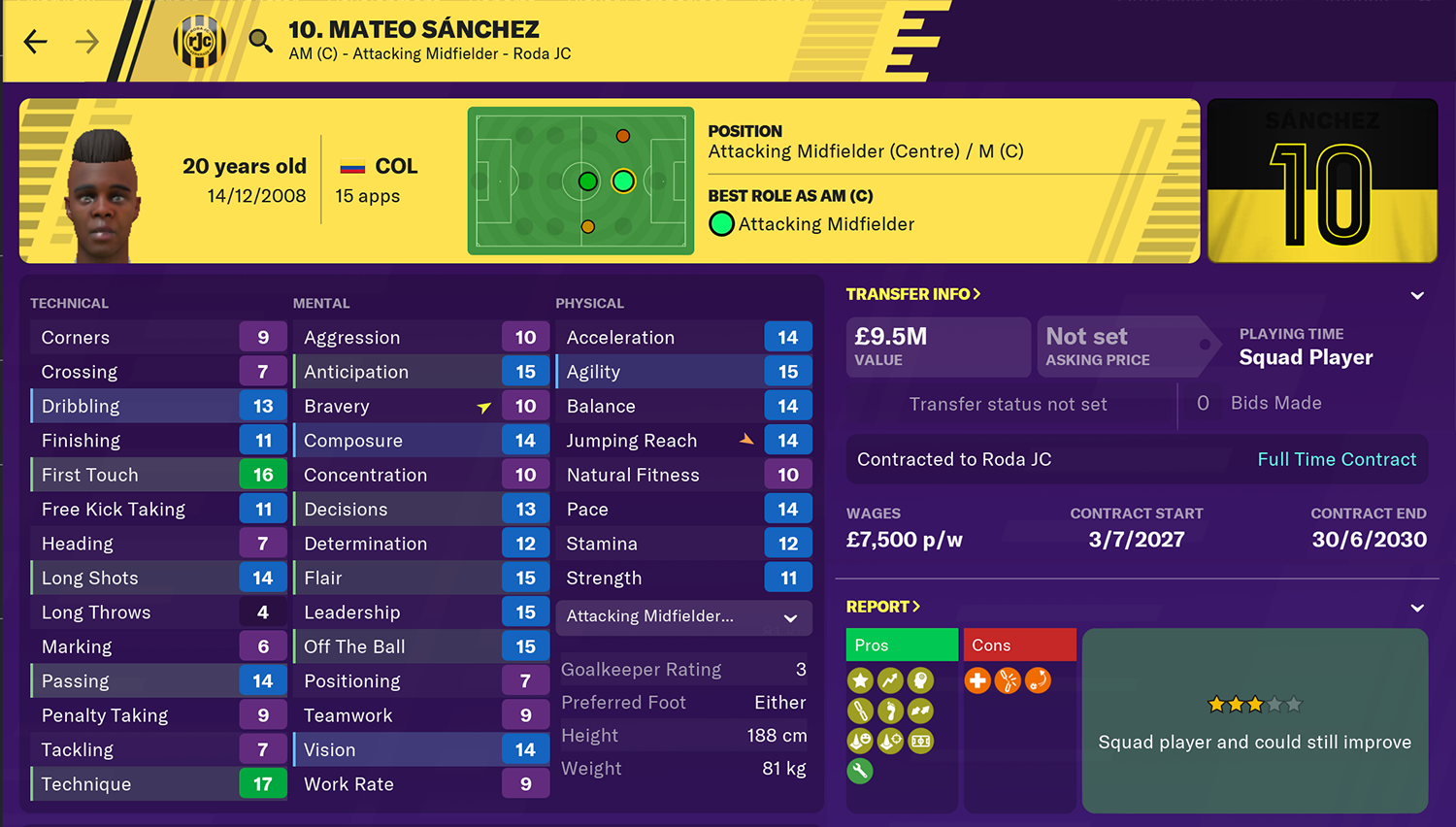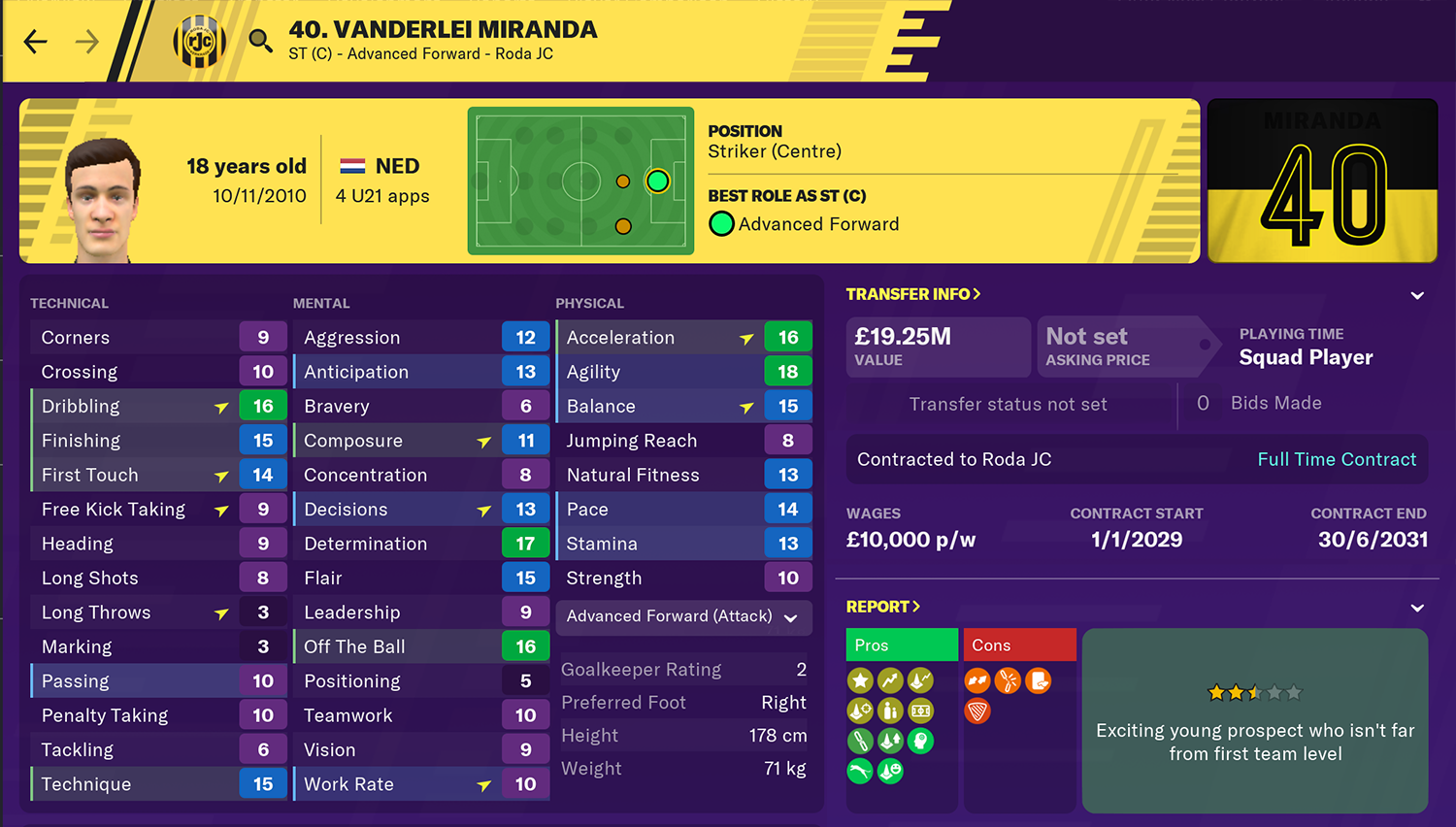 Mateo Sánchez (£1.9M, Atlético Nacional, 2026) has been around for a few years now and is yet to get close to realising his potential. He has the physical nature of a young Steven Gerrard, but his goal involvement numbers lack far behind what I'd expect from a number 10.
We love a wonderkid up front, don't we? Vanderlei Miranda (£40M, Ajax, 2028) cost a bundle but I'm hoping he'll be worth it in the long run. He's got pace to burn and top dribbling skills, plus we nabbed him from one of our biggest rivals, so what's not to like?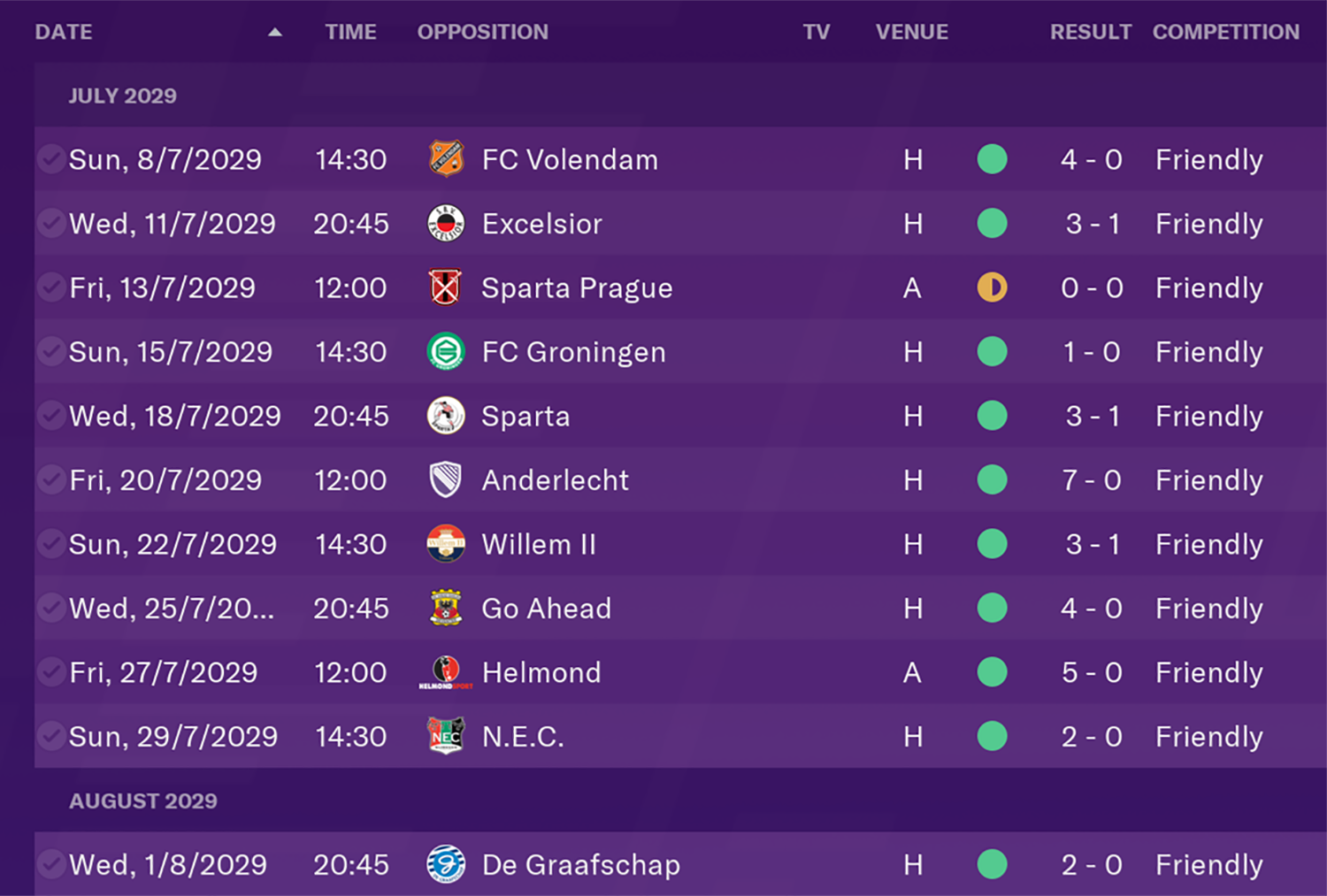 I promise I'll have some actual gameplay for you next time around, but in the meantime, I'll leave you with our bizarre preseason results. My assistant decided to schedule a load of extra games in addition to the brutal itinerary I'd already laid on. Still, it offered a great chance to test out our new tactics out against a wide range of opponents. Next time, we'll find out whether they're good enough to help us pick up the results we need in the Eredivisie…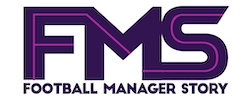 Subscribe to our Newsletter