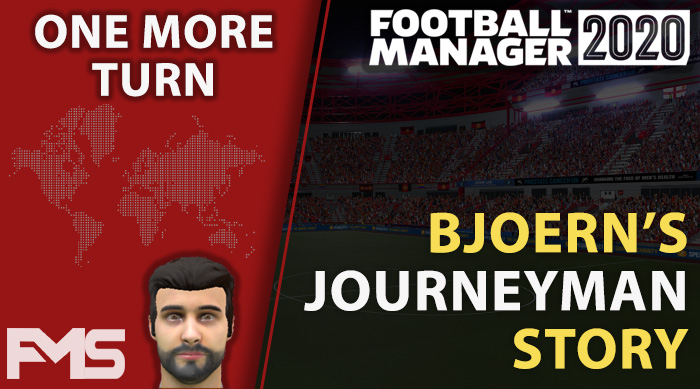 Gabriel's Diary
Duesseldorf, Germany, 12th August 2018  — Today I received a court order. Amelie filed divorce papers and got the judge to deny any contact to her or the kids. Stupid b*tch is playing tricks on me. Says I'm too much into alcohol since my injury. And constitute a danger to her and the family. What does she know? In the past three years I was treated and kicked like a dog. Verbally. And literally. Isn't it fair that I sometimes try to relax and enjoy myself? Get away from the reality that I've lost my career way too early. And from the fact that I don't do any work? I just don't see any sense in this anymore….
13th August 2018 — Wrote yesterday's entry while drunk. Slept a looong time. My life is in pieces. Probably, Amelie is right. I must find a way forward. Dedication. A purpose. Then I can maybe make up for the wrongs I did to her. For now, I'm just all alone.
It started with a Bang
In our last episode, CA Independiente had won every cup they could in the 2035/36 season, but fell short of defending the Argentinian Primera Division title due to an embarrassing 4-1 loss at San Lorenzo. I was sure that this was all Messi's fault. My new nemesis for the last two years. And then, just like this, he cancelled our relationship.

Having won the league and the Libertadores in his first real management job, Lio decided it was now time to take over the Argentinian national side. A job that I had also eyed when it came up, but hey, we're on a quest to win Champions Leagues. No distractions for me, please.
Now, with Messi gone, would we be able to get our revenge over San Lorenzo? I decided to worry about this later, because July (aka, our pre-season) held a couple of interesting matches for us. First, we'd meet Primera Division side Belgrano (runners-up in our Sudamericana triumph last season) in the Copa Argentina 6th round. Right after that, we'd have the Copa Libertadores 2nd round against FC Sao Paulo from Brazil. And to make things worse, right in between these two legs we were also to kick off our league campaign away at Boca Juniors. Not a slow start to the 2036/37 season at all!

Winning against Belgrano proved fairly straightforward, but we gave away the Boca match by resting our players because I was really worried about the Libertadores. That gave us the chance to play Sao Paulo and make a statement: Independiente were no pushovers in this competition.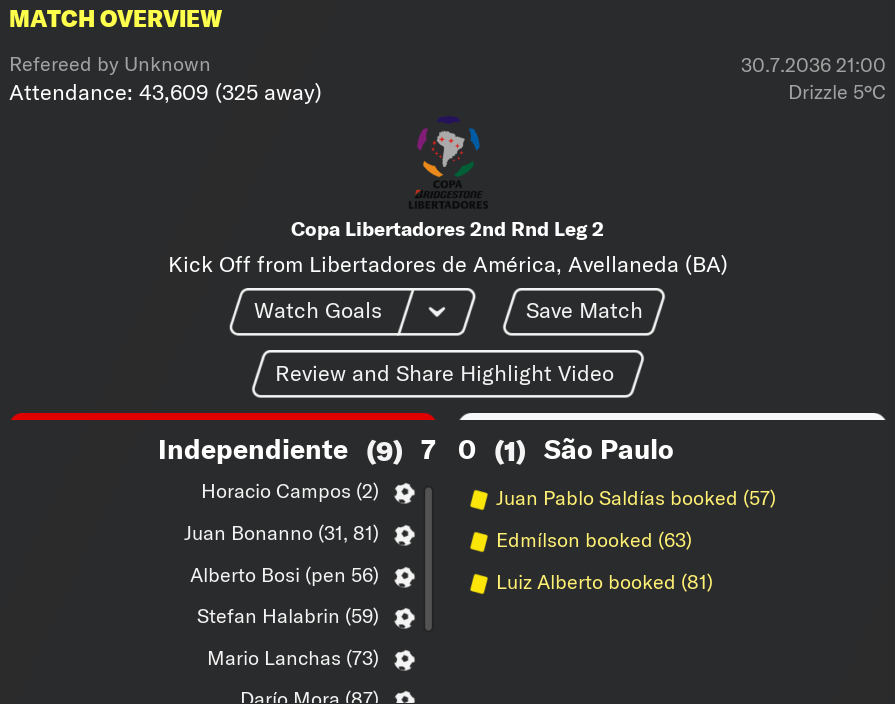 Having won 2-1 away, I wasn't sure about the second leg. Turns out I wouldn't need to worry. We sent them home with a 7-0, making it 9-1 on aggregate. I was hoping this would induce some respect in our future opposition.

Come August, our league form also improved with 5 wins, only Belgrano were able to give us a defeat in revenge for their early Copa Argentina exit. More interesting, we also played the Libertadores quarter finals against River Plate. I was less worried in this round and indeed, we bet them 4-1 on aggregate without bigger issues.

We also saw September from the top of the league, although we lost some steam towards the end when match congestion kicked in and we had to rotate a few players. Still good enough to beat Defensa y Justicia in the Copa Argentina, but that was followed by an embarrassing loss against Colon the weekend after.

October then gave us a challenge. We faced (Messi-less) San Lorenzo in the Libertadores semifinals. And while we did not lose 1-4 again as last year, they were still able to defeat us 1-0 in the first leg. Luckily, the team put on a much improved display in the return leg at home. We bet San Lorenzo 4-0 and thus qualified for the Libertadores final! Now who would we face? Another Brazilian side? Some remote contender from one of the smaller South American nations?

No! The 2036 Libertadores final would actually be a Buenos Aires derby and we were about to face Racing Club de Avellanda, originating from the same city as CA Independiente.
It felt a bit weird, playing the biggest match of the year somewhere squeezed into the first half of our season. But what can we do, battles need to be fought wherever and whenever they happen. And so we flew to Santiago de Chile, which hosted this year's final.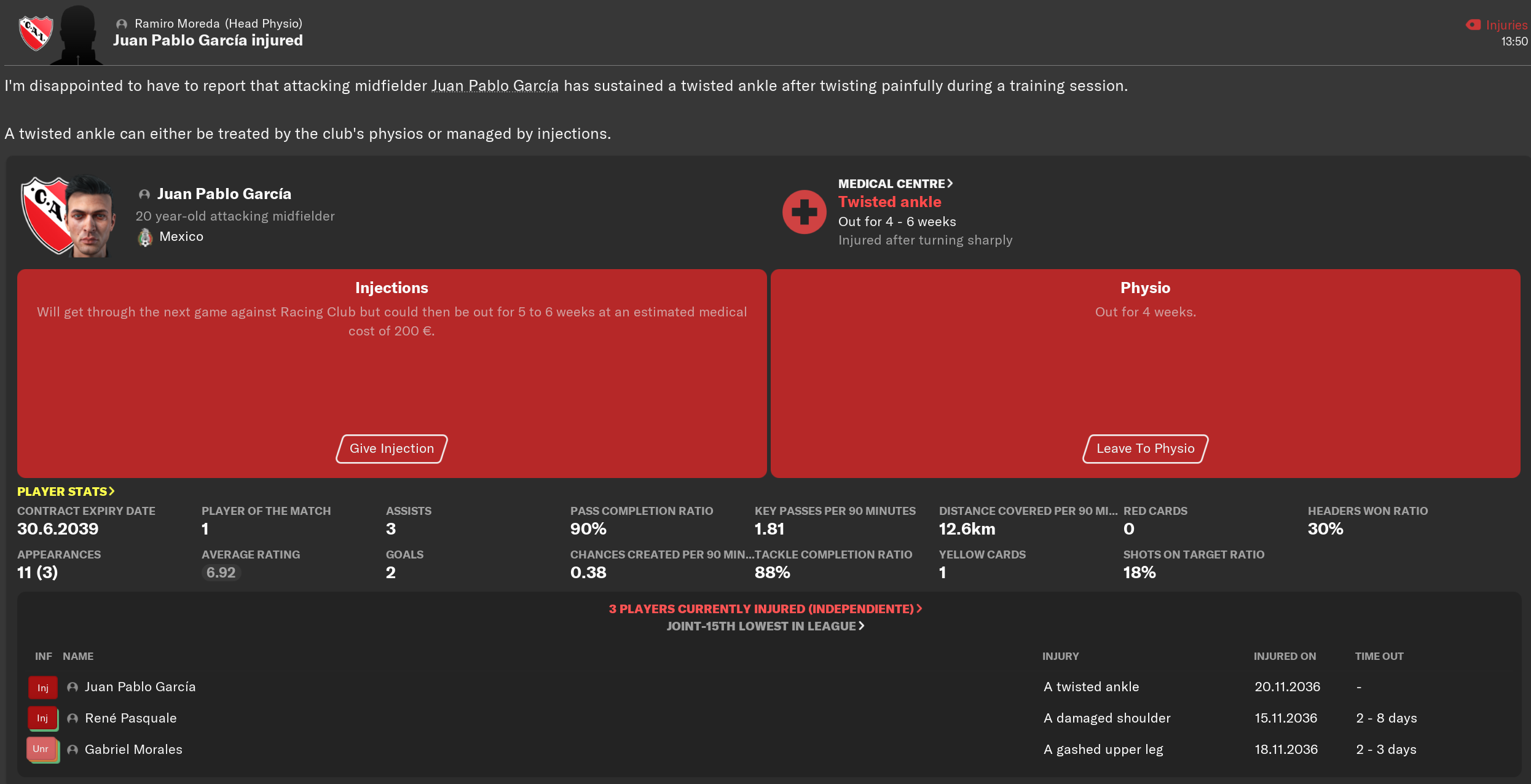 To make things worse, two days ahead of the final, our key playmaker JP Garcia injured himself, making our selection a bit more difficult. Would this cost us the title?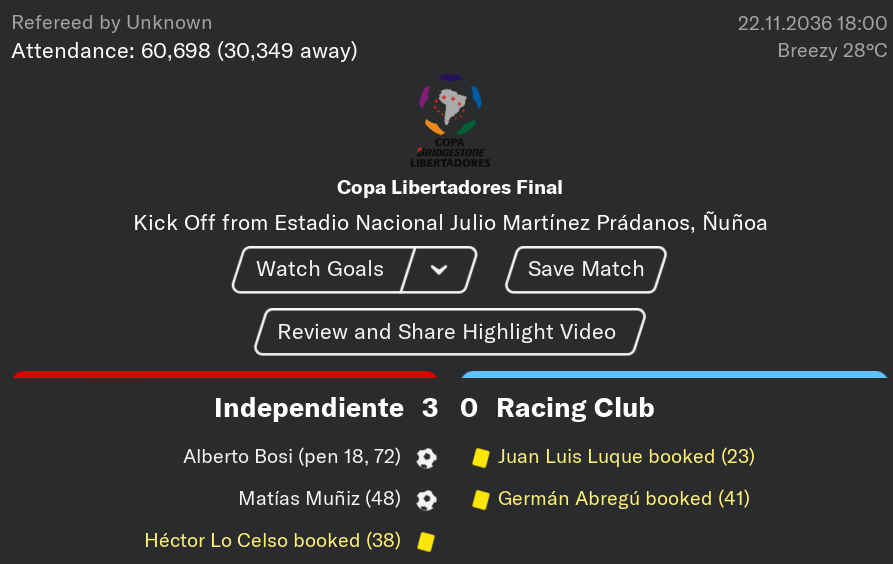 It did not. We dominated Racing and deservedly won 3-0 with two goals from shadow striker Alberto Bosi and one from our Lazio loanee Matias Muniz. That's it, Gabriel Ameobi won his 5th continental champions league. And not only that, Independiente fans were also ecstatic as this was the first Libertadores title for the club in 52 years! Imagine the joy and celebrations in the streets of Buenos Aires when the victors returned.

Just that we could not enjoy our win too much — there was a Copa Argentina final coming up in 4 days time. And we still wanted to win another Primera Division before Gabriel ultimately would leave for the colder and more lucrative pastures of Europe.

Luckily, the big teams had ignored this year's Copa and we faced rather minnow side Tigre. Another cup win for the record, followed by a league win against San Lorenzo. Perhaps their best times were over now?
Chasing the League Title
With the Libertadores in our hands, I now focussed on winning the league one more time. Boca Juniors were our fiercest competition (and able to muster more financial power in the transfer market).

December and January went well, although the draws against Rosario and Estudiantes weren't too convincing.

February held two more title chances for us. We won the Recopa Sudamericana against Belgrano, but had to concede a 0-1 defeat against San Lorenzo (once more) in the Supercopa Argentina. Luckily, we played them again in the league three days later and were able to win 2-0 there. The month ended with an absolutely important 2-1 win over Boca that helped keeping up with them in the league.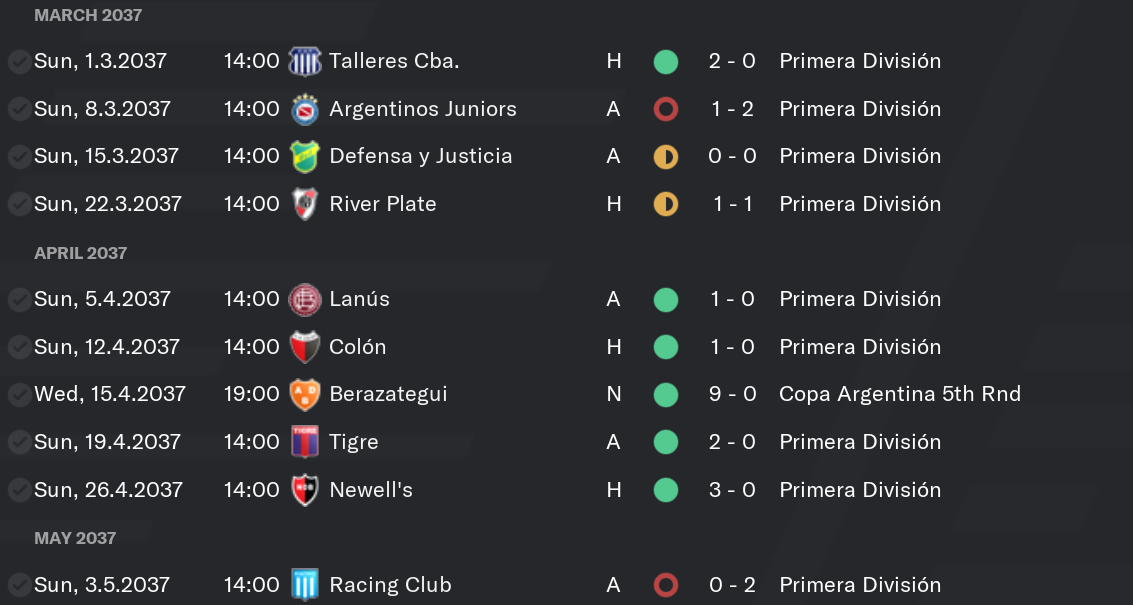 Our form slumped in March because our league matches once again interleaved with the Copa Libertadores group stage (not depicted here). We lost against Argentinos, drew embarrassingly against Defensa y Justicia, and then were lucky to draw at home against River Plate. We picked up speed in April, winning all five matches without conceding a goal. Our first match in May was away at Racing, who certainly wanted to give us a good kicking for the Copa Libertadores final. And so they did. We lost 0-2 and I was concerned about our title chances.

At this point it was us against Boca. Both standing at 73 points with 3 more matches to play. I was hoping for Racing to beat Boca, but feared our last match against 3rd-placed Belgrano. Anyway, if we wanted to be champions, we'd need to win those three matches.

Imagine my pain when we drew against Gimnasia in the next match. I was certain, Boca were on the winning path now. But our friends and rivals from Racing had also beaten Boca, so we were even one point ahead now! Both, Boca and us, won the next matches, so we went into the final match day with a one point lead. Win this and win the league — Alberto Bosi and Matias Muniz took my advise, we bet Belgrano and won our second league title in three years.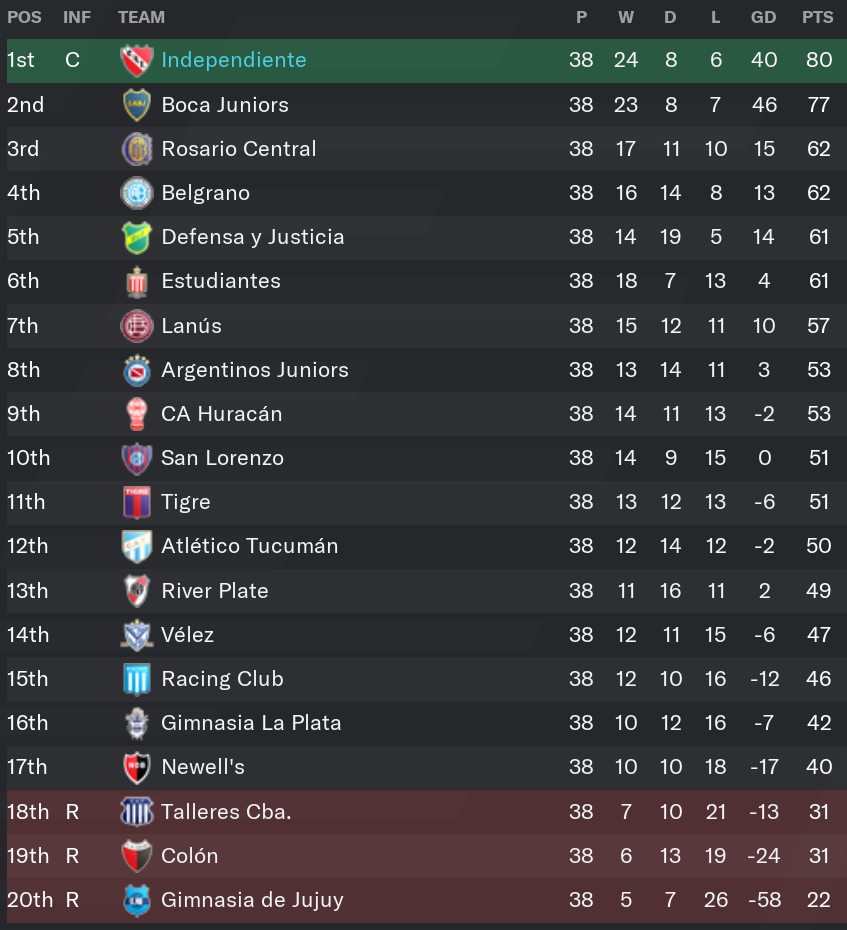 And now?

Side note: we also played the Copa Libertadores group stage and won the group against Mineiro, Lanus, and a team called The Strongest from Bolivia, who — quite surprisingly for their name — finished 4th.

Extra side note: We also qualified for the FIFA Club World Cup through the Libertadores triumph. We coasted past LAFC in the group stage, but then dropped out in an unlucky 1-2 defeat against Flamengo.
Good times in Argentina. I seriously enjoyed Independiente. We have won five out of six international champions league titles. The time is ripe for Gabriel Ameobi to return to Europe and prove his worth there. In contrast to our friend Lutterworth Fox, I am not planning to pick up a fallen giant and lead them to CL triumph. Instead, I know Gabriel's value and accordingly sent applications to Real, Barcelona, Liverpool, and AC Milan. Let's see who dares to hire me.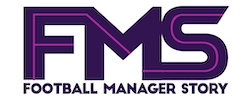 Subscribe to our Newsletter