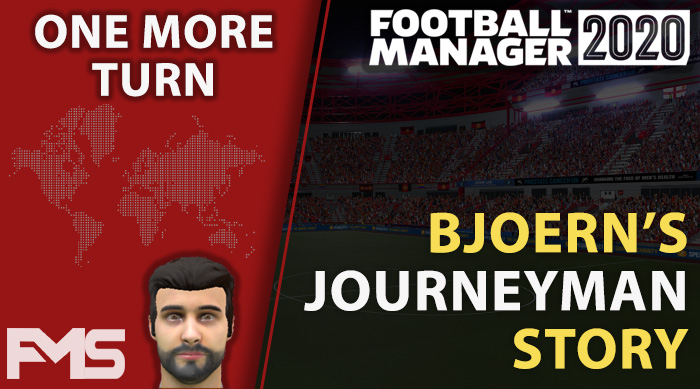 Gabriel's Diary
Dusseldorf, Germany, June 2016. — It's been more than five months that I spent in the hospital after the New Year's incident. The news have been tough at first: With all the broken bones and a major back injury, I would not go back to play professional football. Ever. That was unexpected as it came nearly ten years earlier than anticipated. My head and body already ached from the incident, but when they relayed the news to me, it felt as if another hammer went down straight on my head.
Amelie tried being there for me as much as she could. But there were also the kids to look after (they were soooo cute trying to visit me whenever they could!). So I had enough time for myself to ponder what to do now. And I just didn't find anything. These endless hours were empty as my head. I just felt useless.
Eventually, I found a physiotherapist that helped me. He smuggled vodka into the hospital for me, at a price of course. I hid it between the fruit juices. Either no one noticed, or they honestly didn't care. At least this way I could spend some of the emptiness sleeping. It calmed me down.
Today, I'm leaving the hospital. Amelie and the kids will be here to pick me up. Today is the first day of the rest of my life. I'm scared.
Last Year's Leftovers
We're back in Mexico for the 2033/34 season. Last year, we joined Tigres de UANL in the Mexican Premier League. We managed to win the Apertura in 2032, but fell short of winning anything more substantial. And we got a nemesis: Cruz Azul, who had managed to beat us in the 2032 US/Mexico Champions Cup as well as in the finals of the 2033 CONCACAF Champions League. On top of that I had discovered that we were running on a 20 million EUR annual deficit that would have to be met by player sales. I was torn between responsibility and strengthening the squad and only brought in two players in summer.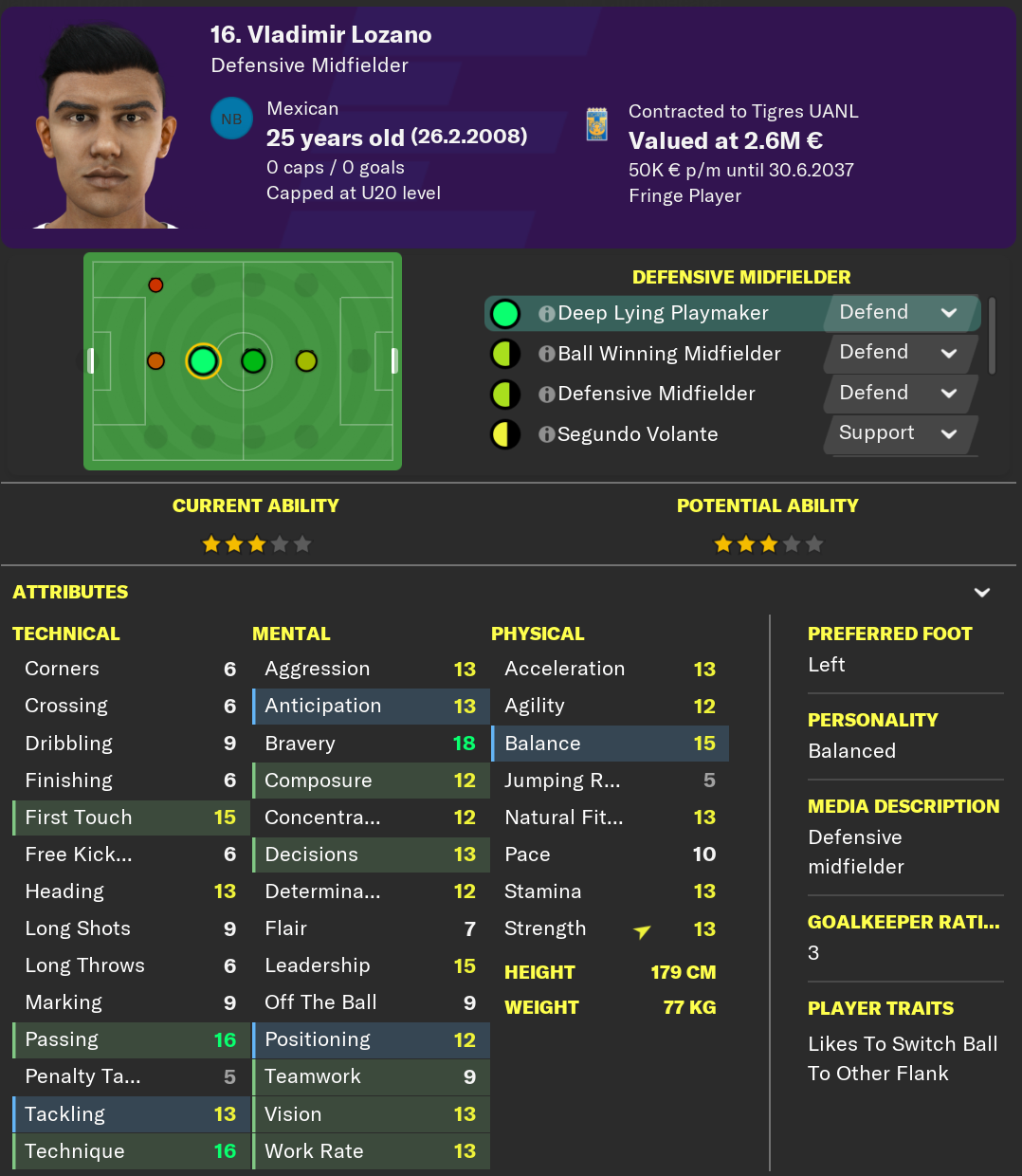 Vladimir Lozano joined us for 4 million to provide a reliable backup for the DM position. I likely overpaid a bit, but he turned out to do the backup job as good as I expected him to, if nothing more than that.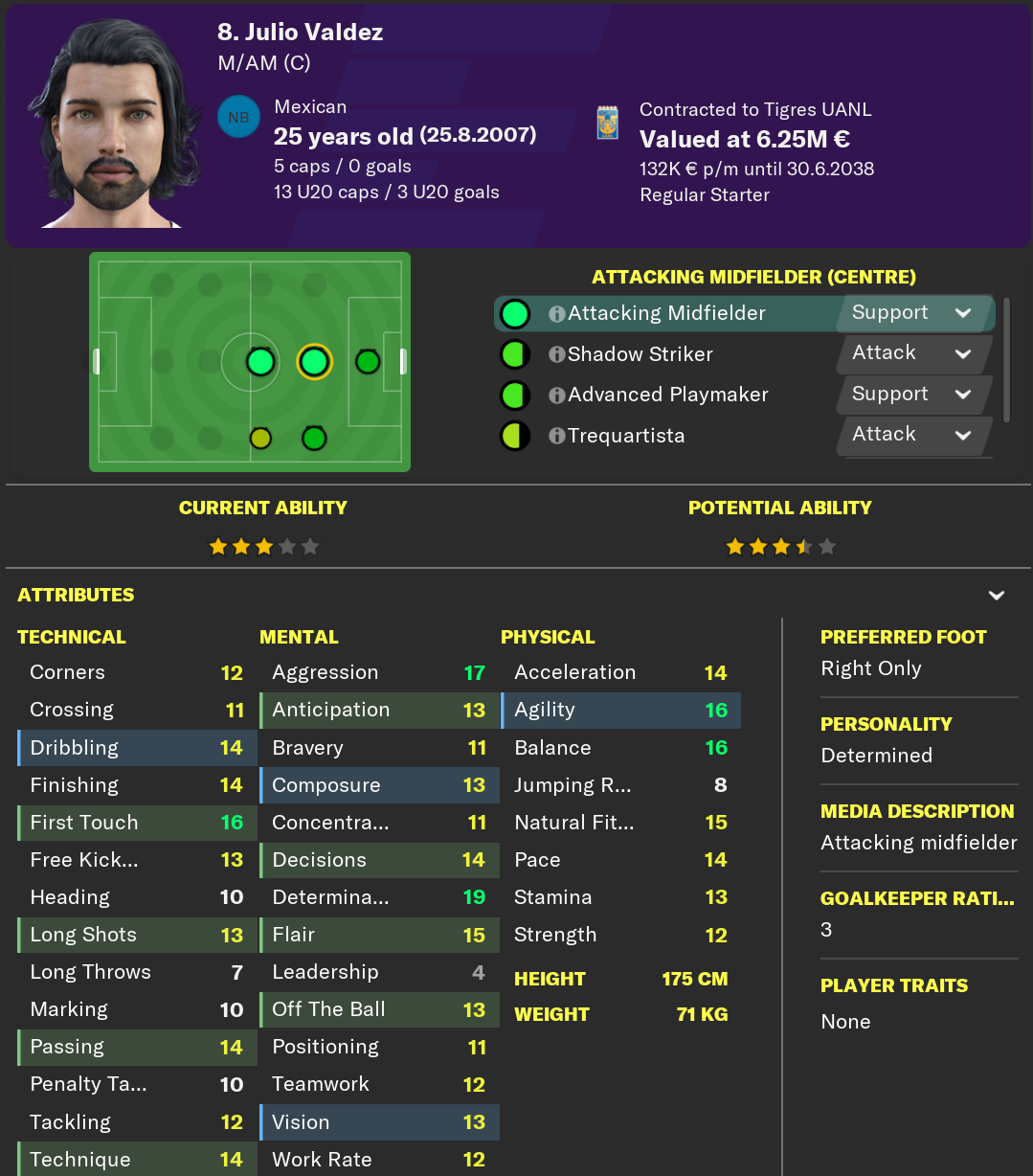 Close to the end of the window, we also ended up short in the attacking midfield when midfielder Baltodano was injured for 3 months. I decided to bring in Julio Valdez for 7.25 million EUR and he turned out to be way more than a replacement. He would go on to play most of our games and have a decisive influence on our performances.
With the team mostly left intact after last year, we entered the 2033 preseason. Cruz Azul had won the 2032/33 Clausura championship (we had dropped out in the quarterfinals). This meant, we would be facing them in the 2033 preseason to determine the Campeon de Campeones. I was less than excited about this early meetup because I was out of ideas for beating them. So, on a hot afternoon in mid-July we traveled to Dallas, Texas, to face our fate.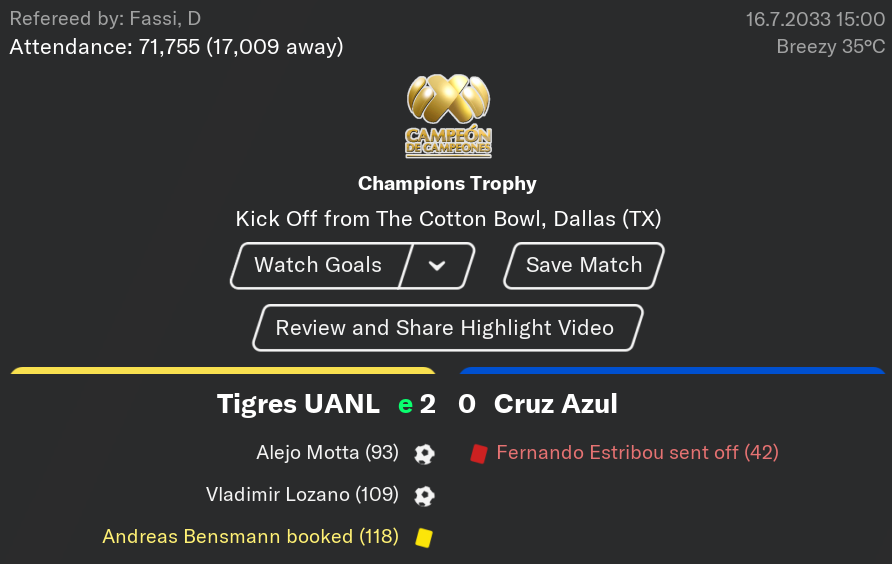 Cruz Azul managed to keep the 0-0 through regular playing time, even being a man down for the second half. But in extra time, Alejo Motta and recent acquisition Lozano managed to score and we finally had something to celebrate! These celebrations were extended a few weeks later, when we faced reigning MLS champions Seattle Sounders in the Mexico/US Campeones Cup. They did not know what hit them.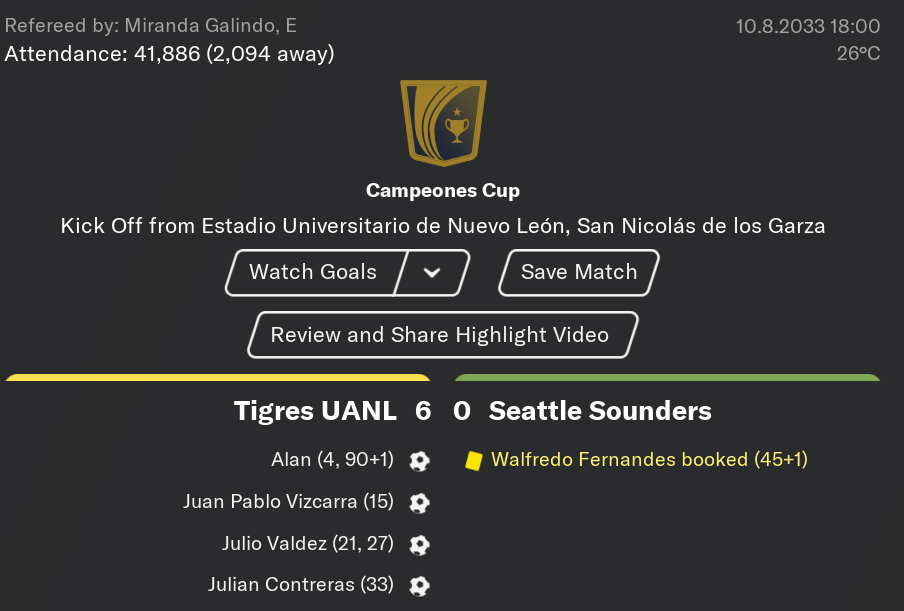 2033/34 Liga Bancomer MX
Other than that, we also played a regular season. August started off well with a 1-0 over title favourites Club America, followed by more or less expected wins.

We did well in September and early October as well, only losing unluckily against Club Necaxa (Let's ignore for a moment that Necaxa were sitting 15th at this time and this was one of the three wins they would see in this Apertura).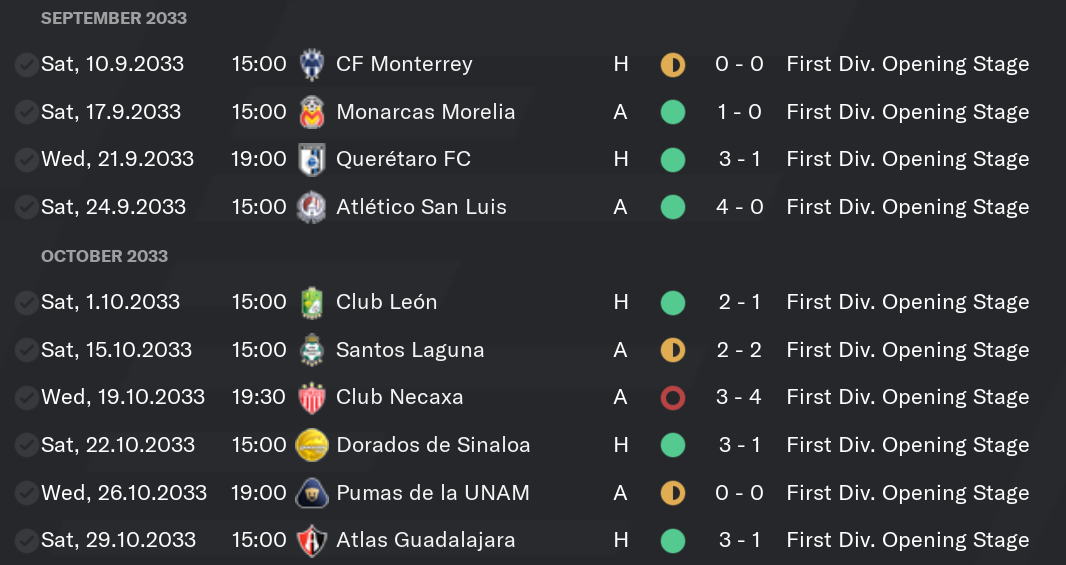 The 0-0 against Pumas de la UNAM was also very good as they were having a really decent run this Apertura.

Overall, we finished the 2033 Apertura 2nd behind Pumas and I was semi-optimistic for the playoffs. Especially, because Cruz Azul were not even part of those!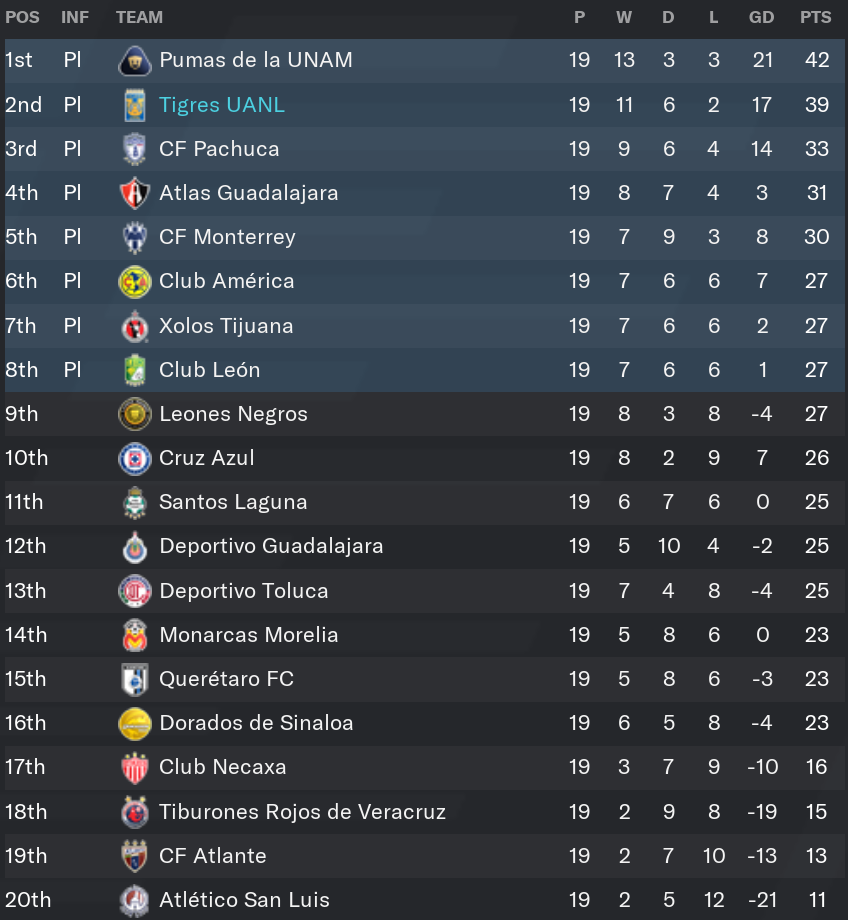 My optimism was entirely unjustified. We lost the quarter final first leg against Xolos Tijuana and in the second leg we were leading 4-2 close to the end, but then Xolos scored the 4-3, making them win the tie on away goals. Bummer.

The winter break saw some transfer activity with two of our older players leaving for China and raking in around 20 million EUR. We did not buy replacements but rather relied on bringing back young loan players. Especially one of them, Jose Valenzula, was just out on loan because we had more experience available. But now with a central defender spot open for grabs, he was more than ready to jump in.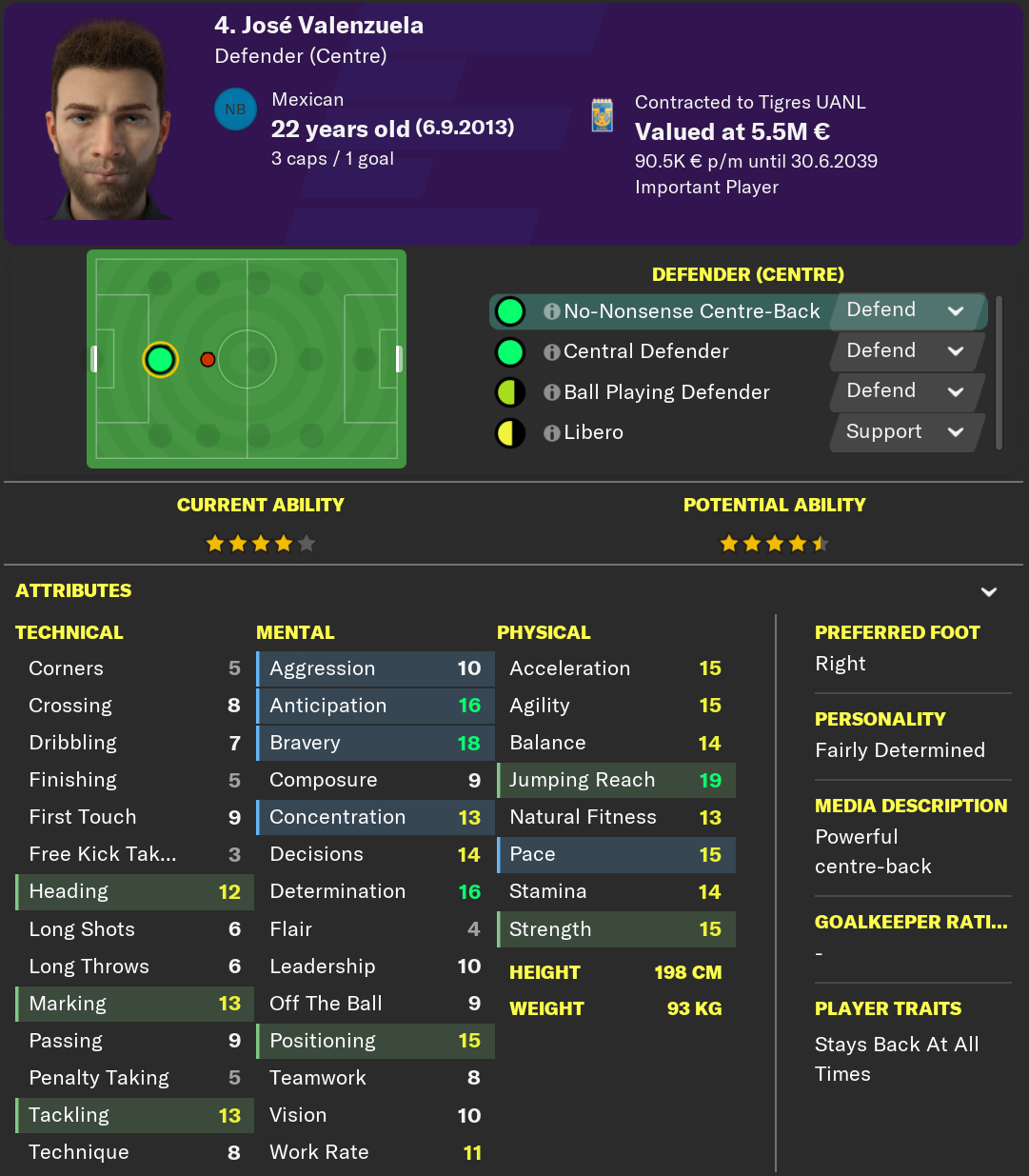 Clausura started on Dec 31st with a 2-2 against Club America. We went on with a mediocre January, losing to Tijuana again!

Form improved a bit through the next months. We bet Pumas and Cruz Azul, even won a Monterrey derby against CF Monterrey (they really weren't that good. But we had never even scored a goal against them under my reign so far).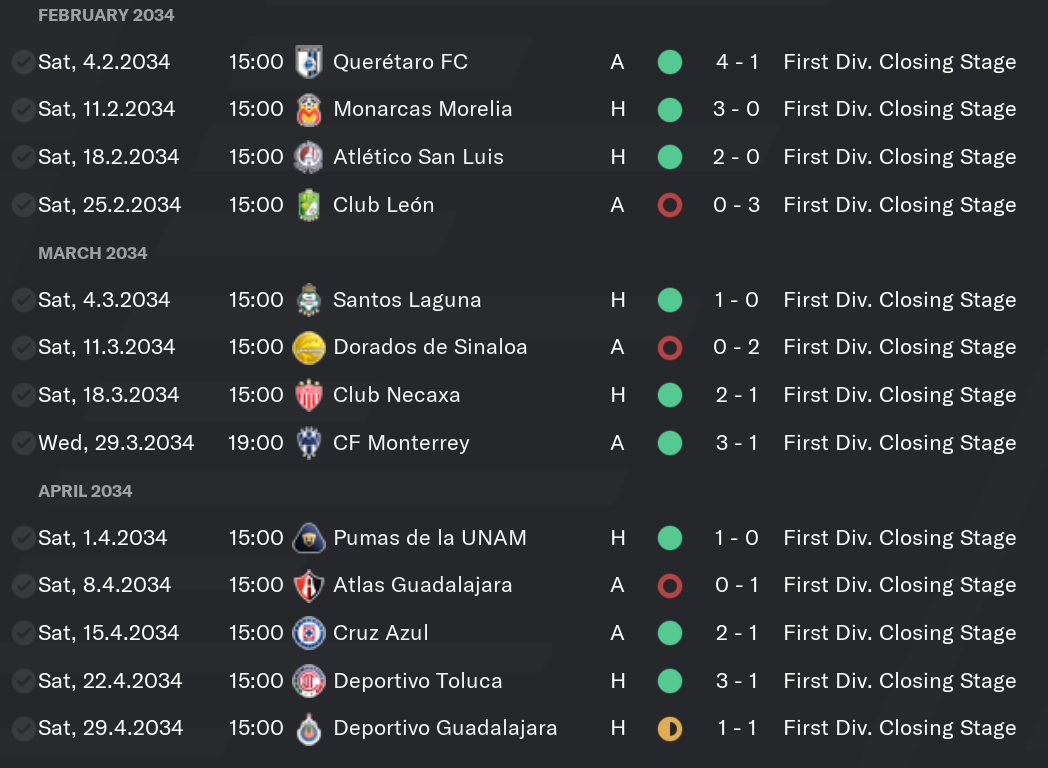 This time, our performance was good enough for us to even top the league at the end of the Clausura phase. Again, I was entering the playoffs with some optimism.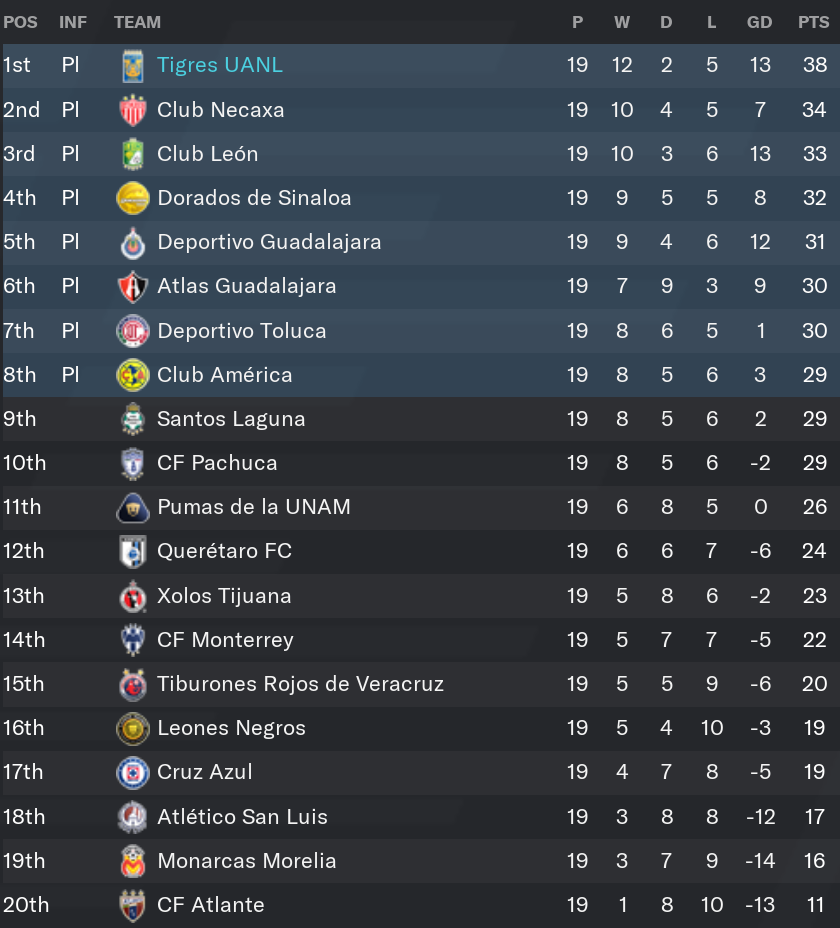 And it went well. We dispatched Club America in the quarter finals and also bet Deportivo Toluca with a late goal in the return leg of the semifinals.

This set us up against Deportivo Guadalajara and here our team was entirely exhausted from a long season. We did not score a single goal and Deportivo deservedly took the Clausura Championship title.

CONCACAF Champions League 2034
To understand where the exhaustion at the end of May came, let's look at our international appearances. CONCACAF Champions League kicked off in February and we were clear favourites against Aguila from El Salvador.

Having cleared this hurdle with some struggles, we then faced our friends, Xolos de Tijuana, in the quarter finals. This time, things went smoothly.

The semi-finals then put us against Olimpia from El Salvador. We thoroughly deserved to be favourites in this one as well and left no doubt about our deserved spot in the finals.

Surprise, surprise: the finals would be a re-run of last year's final. Cruz Azul had a terrible season in the league, but at least had managed to sneak into the finals here.

The final matches were played right at the end of the league season. We leaked defensively in the first leg, away at Cruz Azul. We went up, they went 2-1 up, we scored in stoppage time to at least come away with a draw.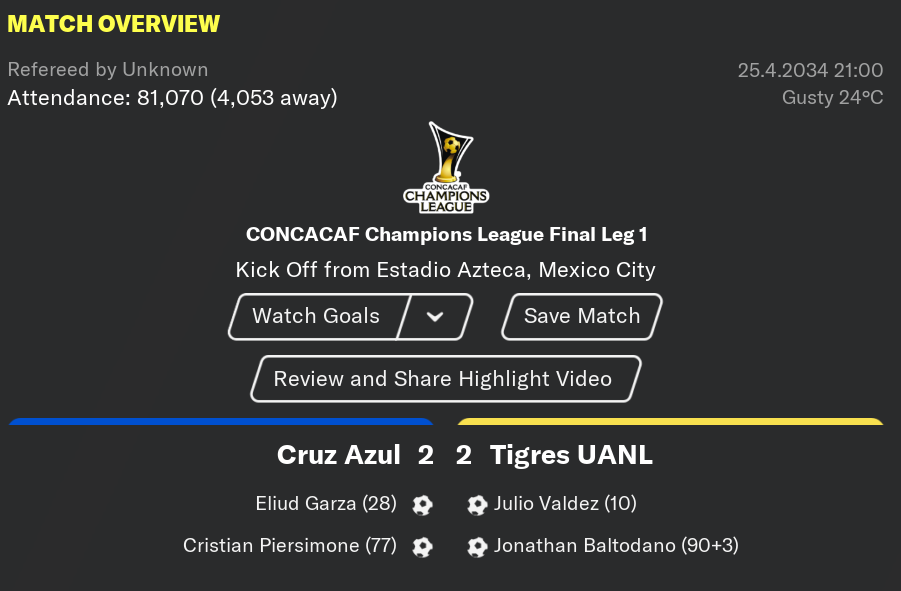 The return leg at home turned into a heart-attack scenario. We held them to 0-0 most of the game. Experienced striker Uriel Rondina had the chance to win this for us with a penalty, but he missed in the 53rd minute. But then the last 10 minutes of regular playing time arrived and Valdez, Cantu, and Britez put the final score to 3-0, meaning we were CONCACAF Champions League winners with a 5-2 aggregate score!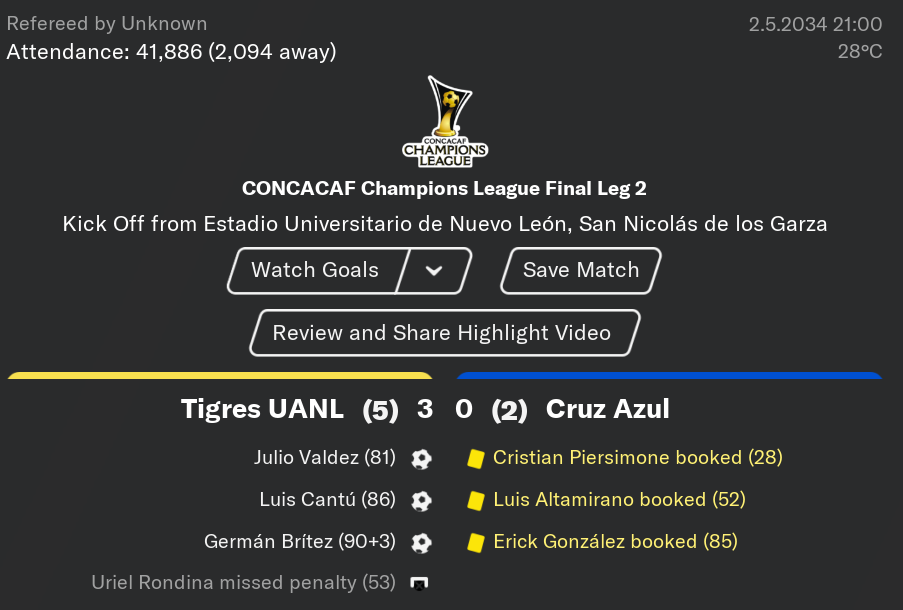 Scenes.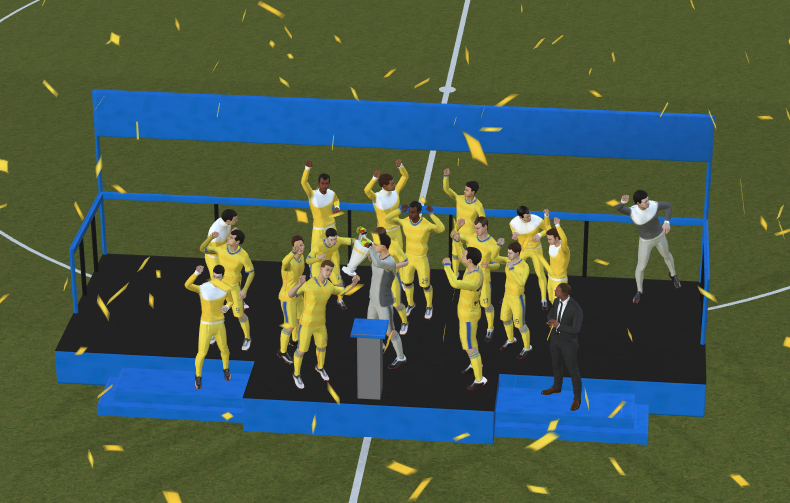 Outlook
And just like that our time in Mexico is over. Despite winning a few trophies, looking back we fell short in the league and I'd have loved us to become more dominant there. We were close, but by no means over the top here. Who knows, maybe one or two more seasons would have gotten us there. I can say for sure that I enjoyed Mexico much more than China before. It is a fun league with great players and a bunch of interesting competitions.
However, we are still on the hunt for the hexagon and we have two Champions Leagues left to win. My next step is going to be South America where I'll be trying to land a job in either Brazil or Argentina. Tune in next time to find out where I end up.

Subscribe to our Newsletter