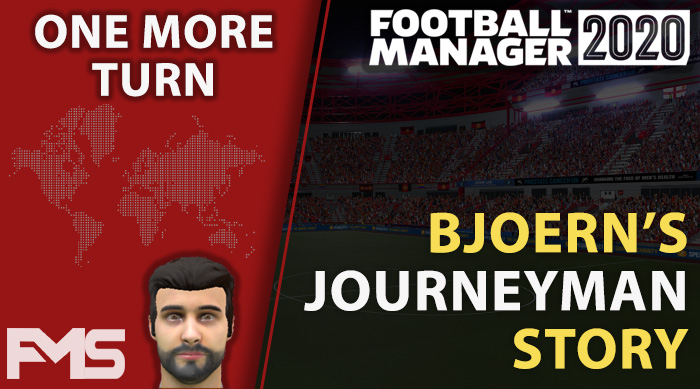 Gabriel's Diary
Duesseldorf, January 2nd 2016. — I wake up with a huge headache. I try opening my eyes, but I only see through the right. The left side of my head seems bandaged. I try to inspect my surroundings. I'm in a bed.This isn't home. The room is brightly lit, the windows show it's dark outside. Likely, a hospital? But why? What? How? … Where is Amelie?
I try crying for help, but my voice seems to be out of my control. After ages, the door opens. A nurse comes in and seems surprised. "Oh, you're awake! Can you hear me? Please move your hand if you do." — "I can even speak, mam!" (slowly, and my teeth seem to hurt as well) — "Great. Are you in pain?" — "Head hurts." — "I'll make sure to give you something. What's your name, sir?" — "Gabriel Ameobi. Where am I?" — "Right, sir. This is Duesseldorf St Martinus Hospital. You arrived here yesterday morning. Apparently, you were in a fight during New Year's Eve. Do you remember?" — "Me? In a fight? I don't remember anything." — "There was a lady with you when you came here. She was very upset and didn't want to leave you. But we eventually put her into a bed so she can get some rest." — "Amelie?" — "Yes, that's her name. I will wake her up and tell her the news."
Amelie comes running in a few minutes later. She's crying. After the sobbing quiets down she explains what happened: We had been celebrating New Year's with friends. On our way home we came across a gang of drunks. They recognized me and started shouting abuse. Apparently, they were still unhappy about my missed penalty against Dortmund. Amelie says, I wanted to talk to them. Then they started pushing me. Four of them kicked me while a fifth held me tight. They let go and my head hit the ground. A last kick and they ran away. The doctors say this was lucky as they have seen other injuries from these kinds of encounters."
So now I'm here. Unemployed footballer with serious head injuries, broken bones, undiagnosed pain in the back. Rehabilitation is going to take some time. I'm glad Amelie is here at least.
Splashing the Cash
In the last episode, I landed a job with Shandong Luneng in the Chinese Super League. After finishing 2nd in the league, we faced Champions League football in our second year.  As the board provided me another 87 million EUR in transfer budget, I figured, I'd try investing this money to gather the best possible squad for the trials and tribulations to come.

As you can see above, Shandong weren't exactly running a profit, even before I arrived in January 2030. With prize moneys being low even in continental competitions, Chinese football teams finance themselves largely from annual sponsorship income, board investments, and the occasional player sale. Still, finances are plentiful — so I went to find us some players.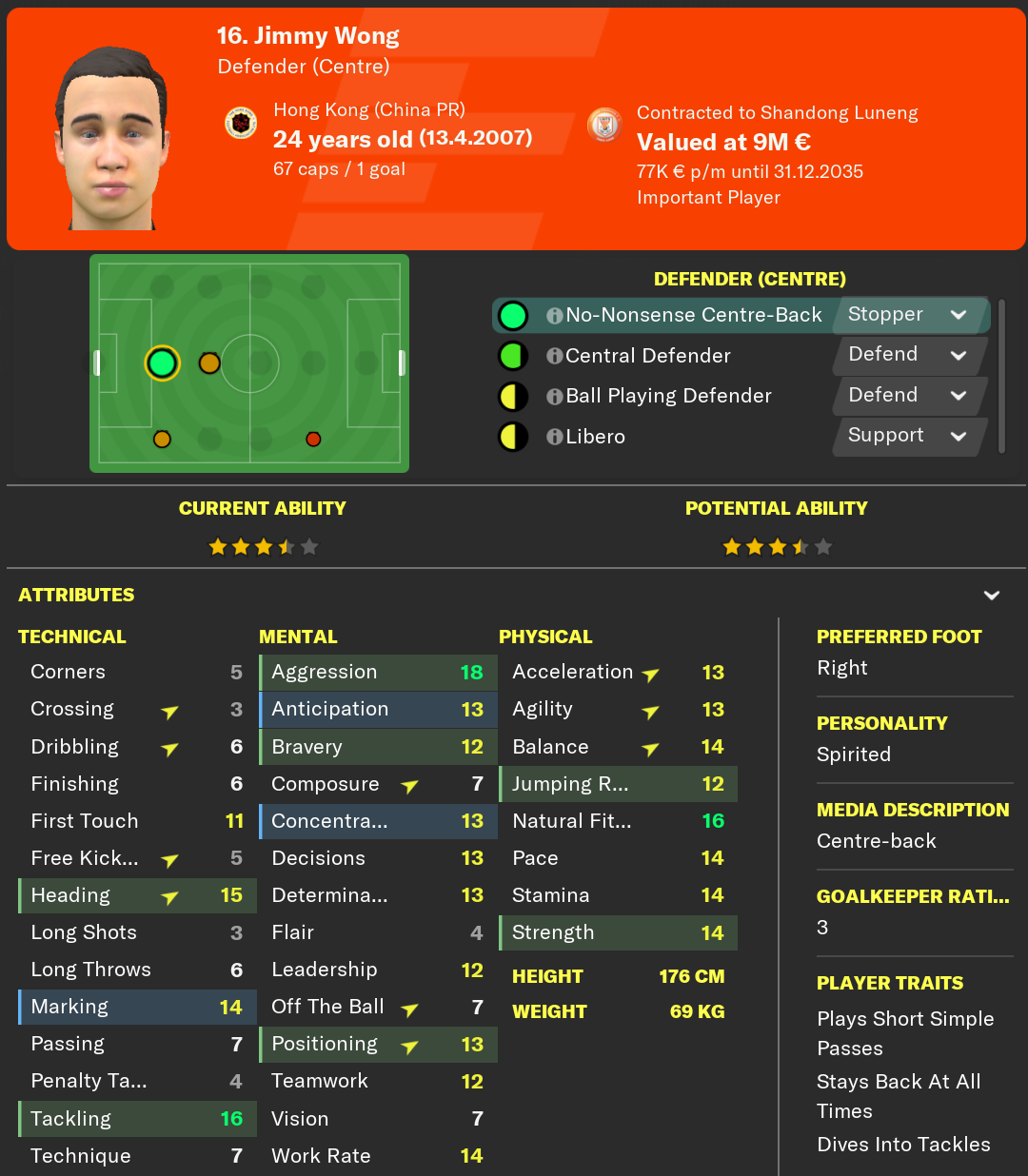 Jimmy Wong came in for 10 million from Wolverhampton Wanderers, where he had been playing in their U23. He is a great addition to the squad for his defensive capabilities. On top of that he is Hong-Kong-born, meaning that he can serve as an extra foreigner in the squad, not counting into the 4 player limit for non-Chinese nationals.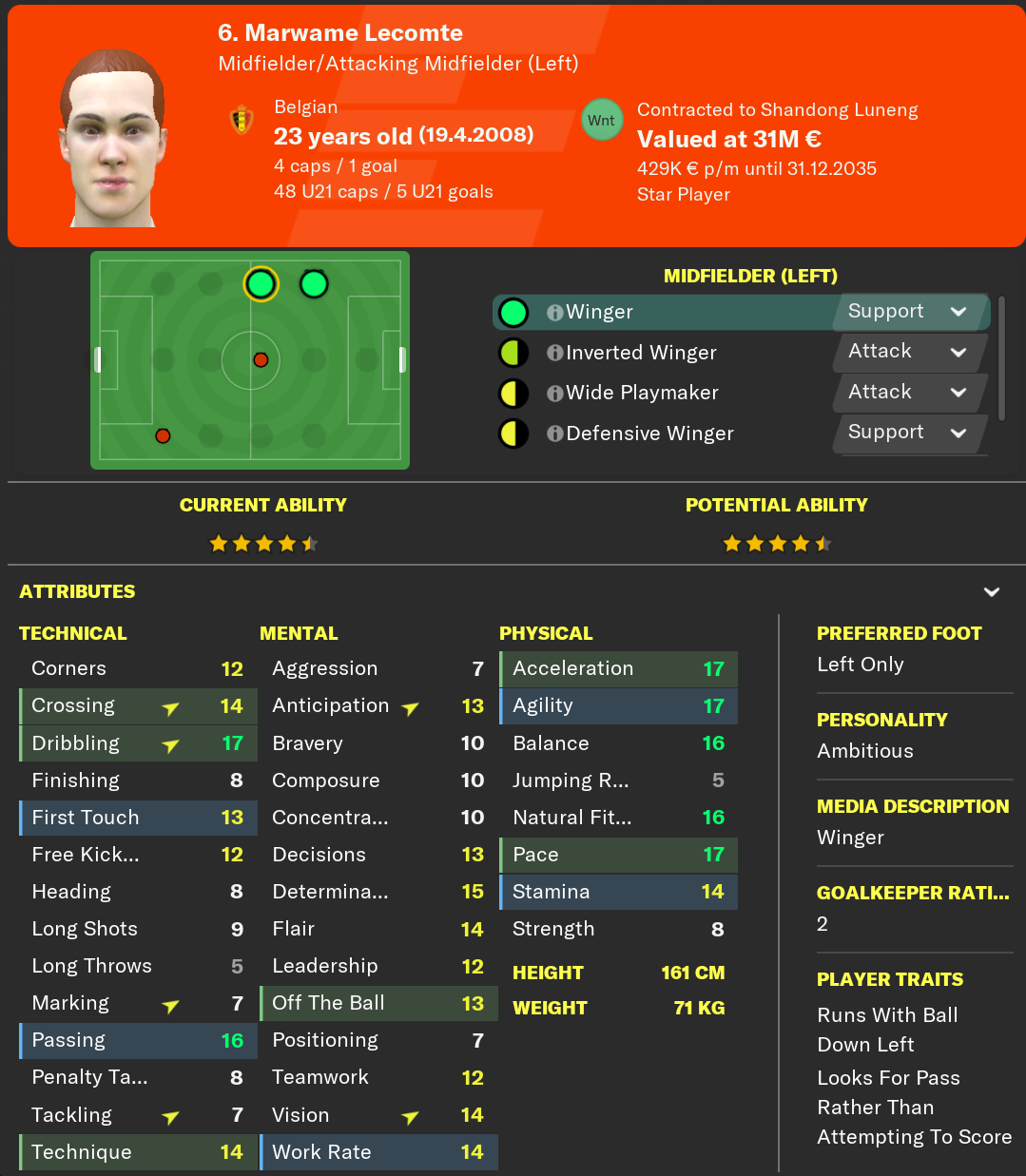 I felt the squad was lacking quality on the left wing, so I found Marwame Lecomte from Lazio and payed 25 million EUR for him.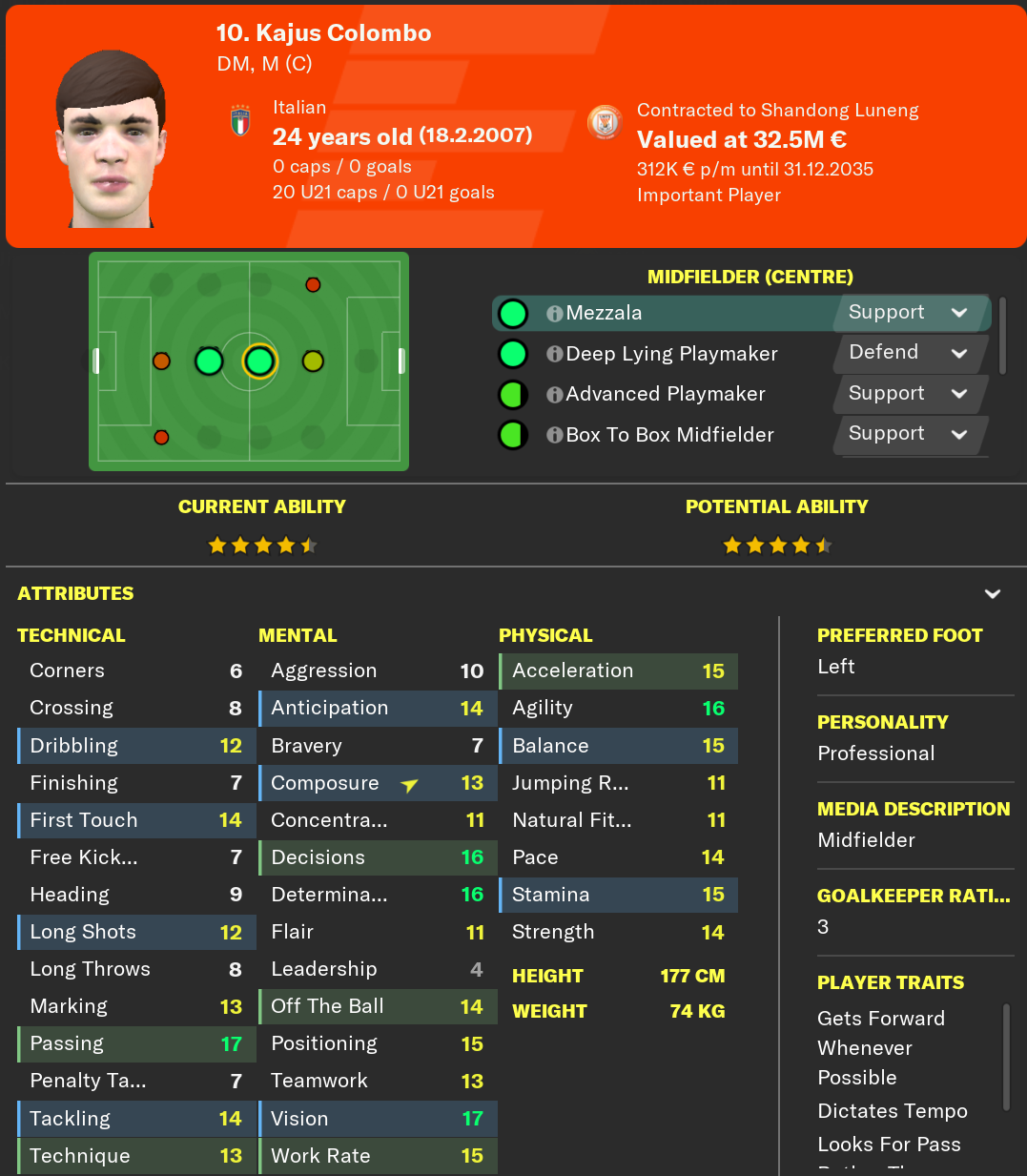 And we made a third high-value signing in Kajus Colombo, who came in for 22 million EUR from Inter Milan. Colombo was signed as a replacement for last year's Chinese Player of the Year, Diawara. Diawara was already 34 and I was afraid of him deteriorating soon. It took some time to find him a club, but eventually he went to PAOK Saloniki in the summer transfer window.
So, 22 + 25 + 10 = 47 million EUR spent for three foreign players, right? No, sir! Yet another fancy Chinese rule kicked in: foreign transfers cost a 100% tax, so we paid another 47 million in taxes for those three transfers and this is when we finally had spent all our money. The board was generous enough to keep our accounts positive through additional cash injections. Now let's see if irresponsible spending can buy you titles.
Chinese FA Cup

The money was certainly insufficient for a great cup win. We got a bit unlucky here — Jiangsu were on a good run of form (at this time even challenging for the league's top spot) and we were within some congested features, so I did not mind losing on extra time against them.
Chinese Super Leage
We did better in the league, though. Our initial match of the season got us set up against champions Beijing Guoan and we sent them home with a 3-1 victory.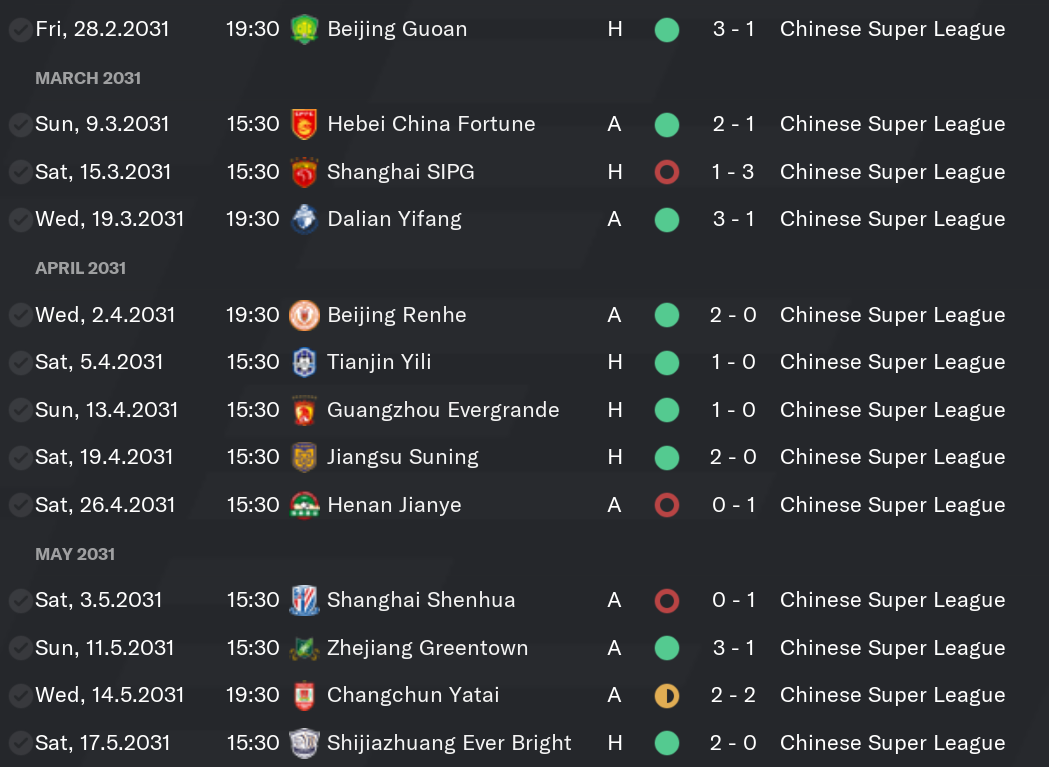 We continued in mostly good form until the June break, which saw us at the top of the league. However, there were at least four teams chasing us tightly.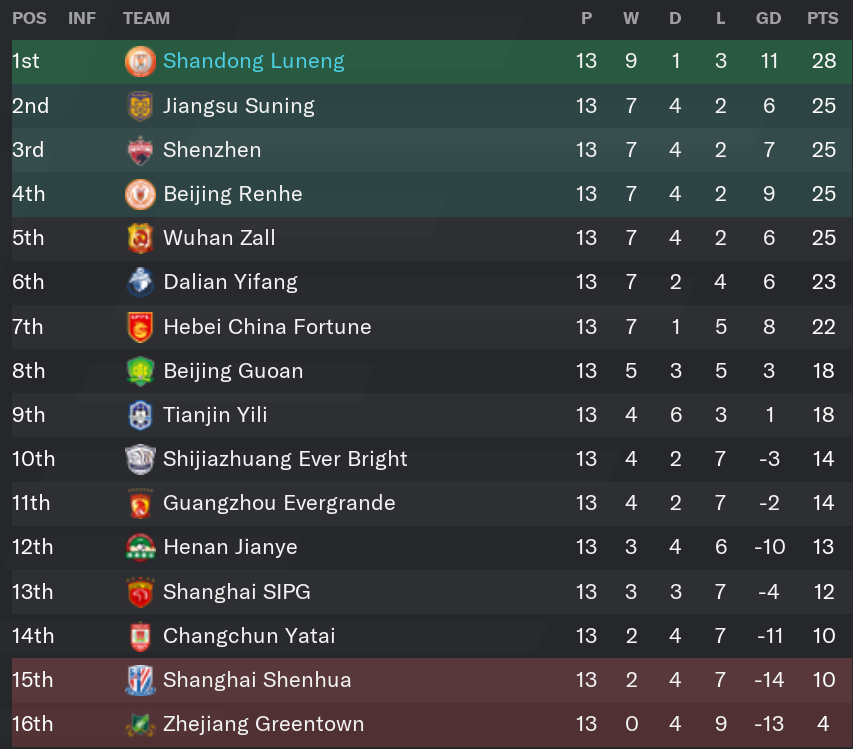 I would have loved us to to increase the gap come the 2nd half of the season. However, July saw some setback. We bet Shenzhen 4-0 to increase our distance. However, we then went to lose against Wuhan and Beijing Guoan and I was afraid to end up with a similar late summer slump as last year. But  this would not happen. We recovered ourselves soon enough and returned to winning.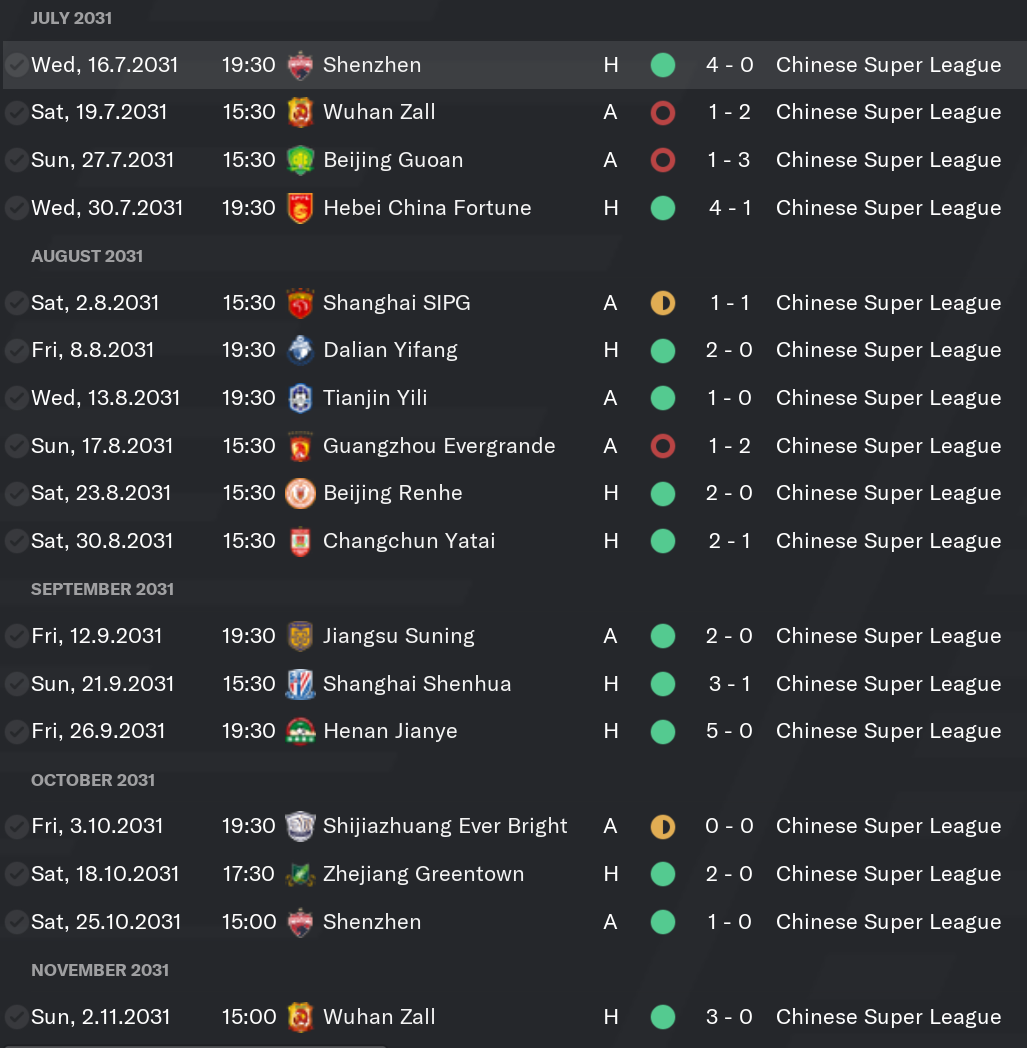 At the same time, our contenders from the first half of the season made way to more traditional powerhouses like Beijing and Dalian. However, their bloom came too late and we managed to not lose a single match after mid-August. As a result, Shendong claimed the 2031 Chinese Super League title with a comfortable lead over Dalian Lifang. This was the first league title in 8 years for Shandong and the first time in 8 years that the Chinese Champions were not Beijing Guoan!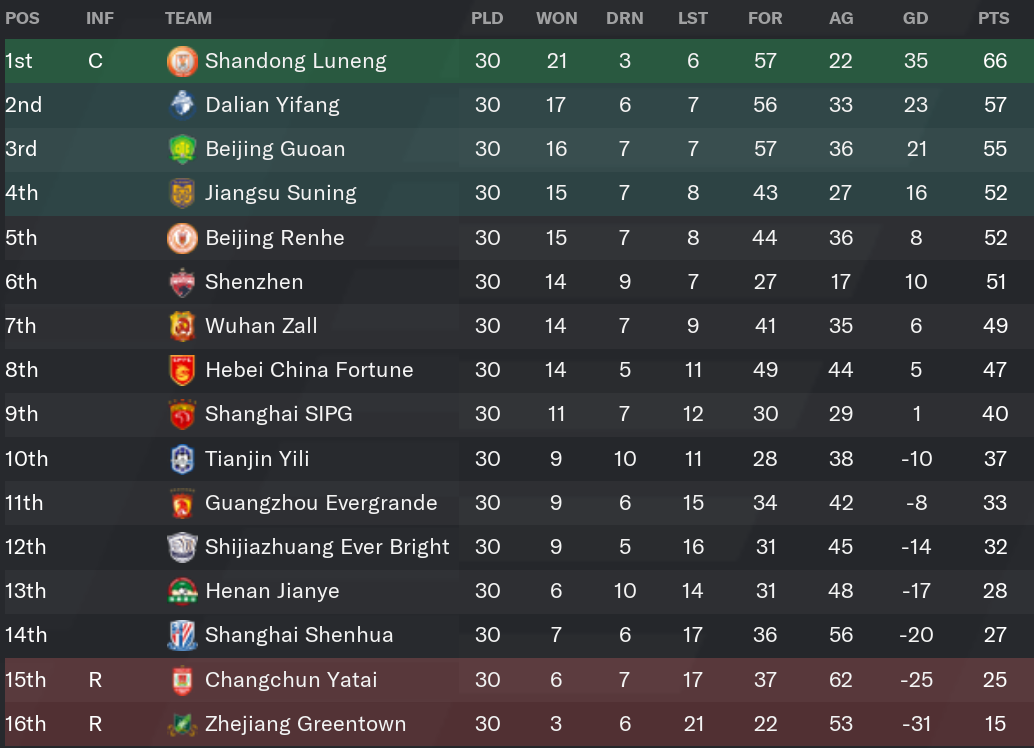 AFC Champions League
As we didn't win a title last year, we had to pass a qualifying stage before entering the CL group phase. This set us up for a single leg against Urawa Red Diamonds from Japan right in the middle of our pre-season. We managed to beat them 2-1 and that result looks tighter than it actually was.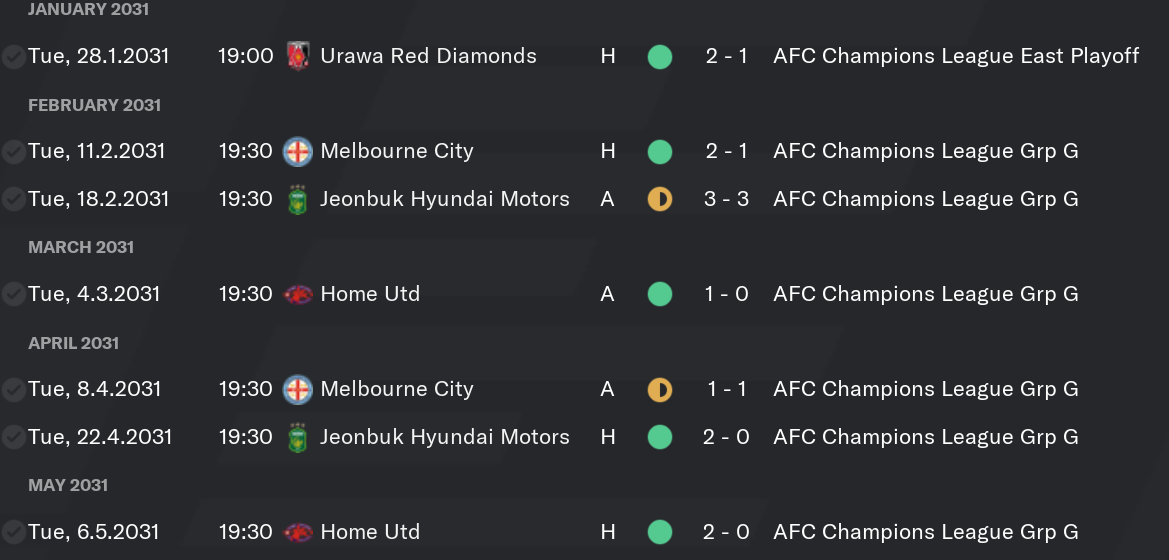 Once through that, we played our group matches against Melbourne City (Australia), Jeonbuk Hyundai (Korea), and Home United (Singapore). I was most afraid of the Jeonbuk matches, but all went well and we won the group and entered the knockouts.

Here we met Australian teams again and disposed off Brisbane Roar and Melbourne Victory. The quarter final home leg went so well (5-1!) that I was even able to rest my main squad for the return leg, which we then promptly lost 0-1.
This set us up for a semifinal against our eternal nemesis, Beijing Guoan (and when I say 'eternal' I actually mean 2 years!). We had both won and lost against them so far this season. While they had struggled early on in the season, they were doing very well at this time. Everything seemed possible.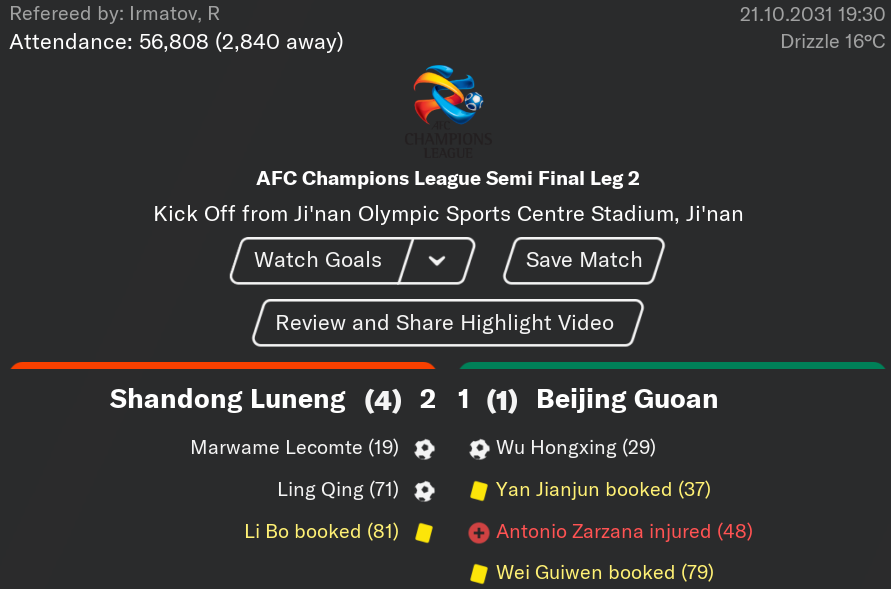 There is a difference between respecting your opponent (we did) and fearing them, though. We stuck with our standard approach of controlled attack and it turned out to be successful. We bet Beijing 2-0 away and 2-1 at home. We had made it. The finals of the AFC Champions League!
As some continents are weird, even the final is played in a home/away leg manner. We were to play Al-Ahli at home first before travelling to Saudi Arabia for the return leg.

After a dominant performance in the home match, we could have saved the trouble of travelling. But rules are rules, so we partied on our way there, lost a tight return leg, and then partied as good as we could on our flight back from Jeddah!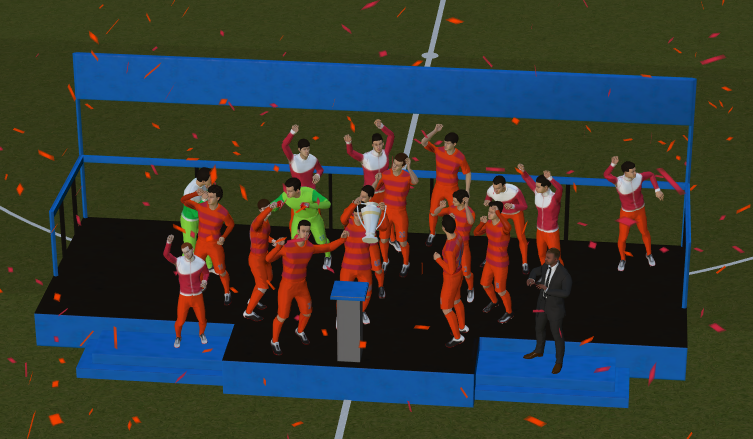 Moving on. Again.
For the third time we won a continental Champions League. And for the third time out of three we won it the first time we participated! Sounds good. However, instead of excitement I mostly feel relief right now. The China/Asia experience wasn't as fun as South Africa or Fiji before. It's difficult to pinpoint what my problem is, but I just didn't feel the excitement that I had in other countries.
In China I had all the money I could wish for, but I was limited in spending it due to heavy foreign player limitations. And the locals were neither good enough, nor expensive. And I overspent to win titles, which I'd normally not do outside a hexagon save. And I'm annoyed for having paid that much in taxes for the transfers. Sure, all of this is my fault, but I'm looking forward to moving on.
The next continent to conquer will be America, starting with an adventure in Mexico. Join me next time to see how I fared there.

Subscribe to our Newsletter