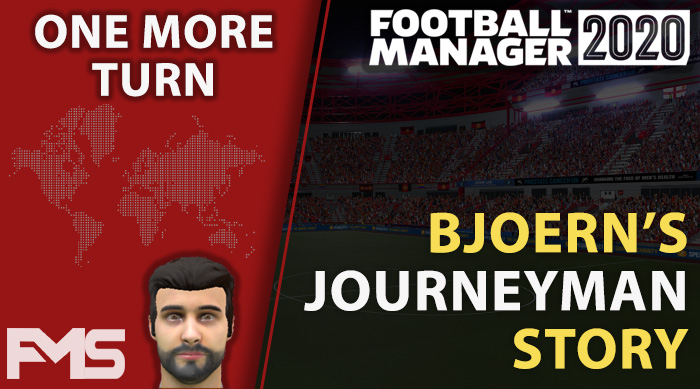 Gabriel's Diary
Leverkusen, Germany, May 21st, 2050 — Season review meeting with the board. This is going to get interesting…
Bayer Leverkusen 2049/50
Sascha Edlinger, General Manager: Hey Gabriel. Thanks for coming in once more before the summer break. The board would like to review the Bundesliga season with you. I'll let you do the talking initially.
Gabriel Ameobi: Thanks, Sascha. As you all know we had won the 2049 Bundesliga title. We had a great squad, so entering the 2049/50 season we didn't have to make major modifications to the team. Nevertheless, we had some transfer activity. Leftback Damian Gibas had reached an age where it was obvious that sooner or later we would need a replacement for him. Bringing in a great replacement cost money, so our best bet was to sell him now as he might not bring us any transfer income a few months or a year later. So Damian went to Middlesbrough for 34 million and we brought in Liverpool's left-back Juan Parra as replacement for 76 million EUR.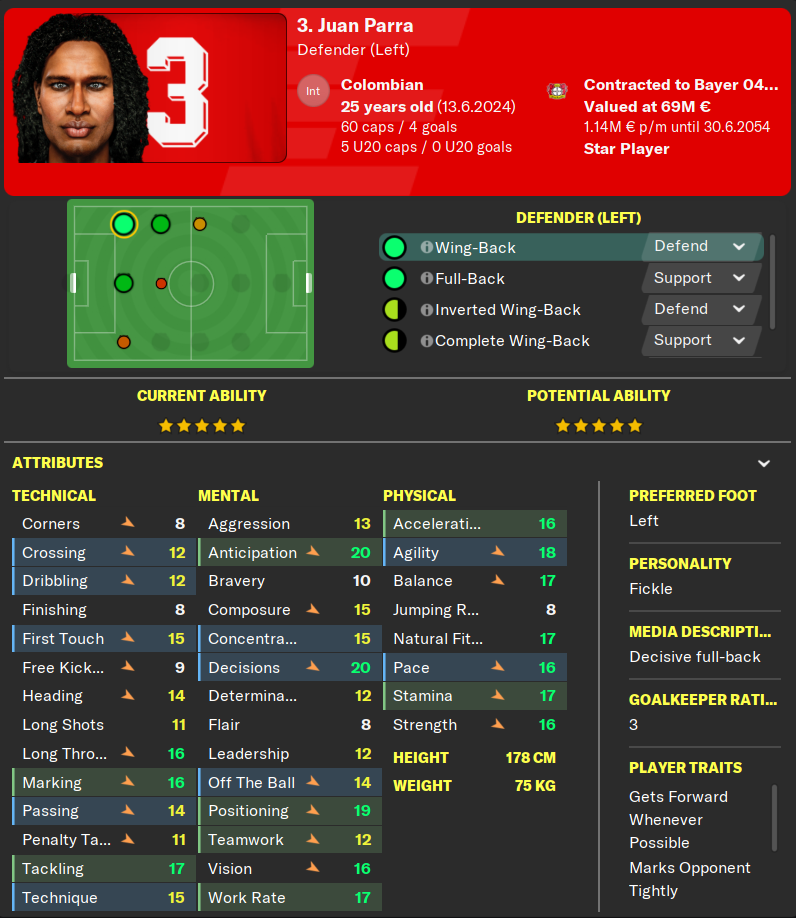 Juan's performances throughout the season (34 matches, 1 goal, 7 assists, avg rating 7.10) certainly justified the hefty fee.
That would have been our single major change. Unfortunately, goalkeeper Jarrod Kors approached me last summer and indicated he wanted to leave for a new challenge elsewhere. SD Eibar came in with a bet and Jarrod urgently wanted to join them. I was a little surprised that he wanted to trade the Bundesliga title fight for a mid-table La Liga team. But looking back at their season, he was surely right – Eibar have been the surprise package of the 2049/50 season in Spain and deservedly finished runners-up in La Liga. And Jarrod played all 38 La Liga matches for them. So, good for him.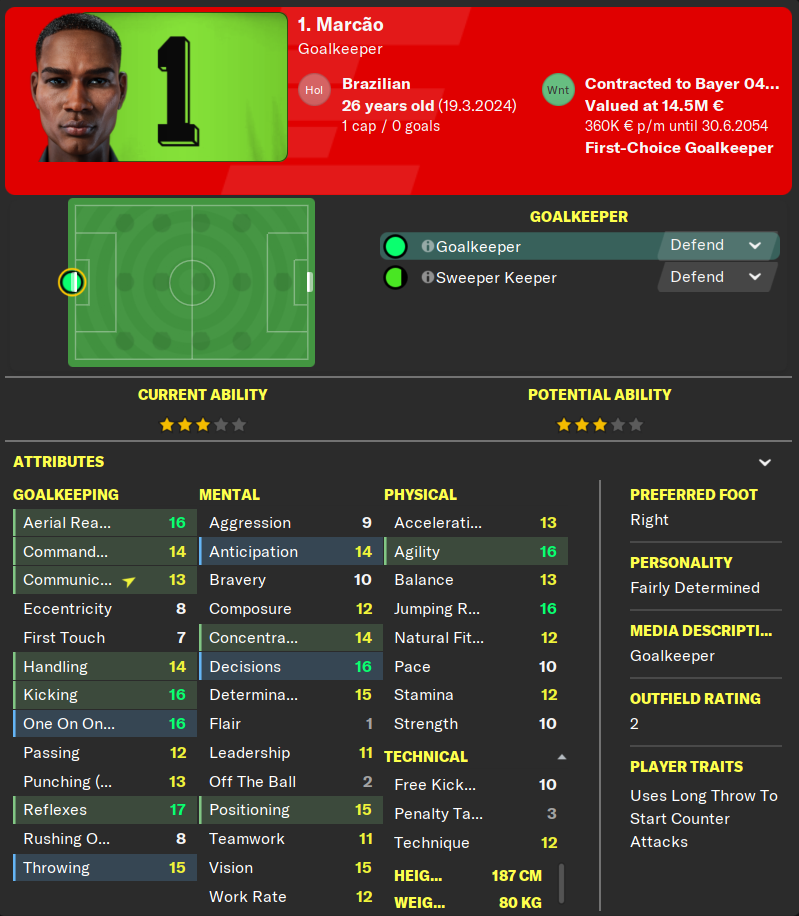 Replacing a German national goalkeeper wasn't easy. Luckily we found Marcao over at Leeds United and were able to secure his services for only 25 million EUR.
Sascha Edlinger: Did you forget to mention the Limbome transfer?
Gabriel: You like poking at the wound, Sascha! Well…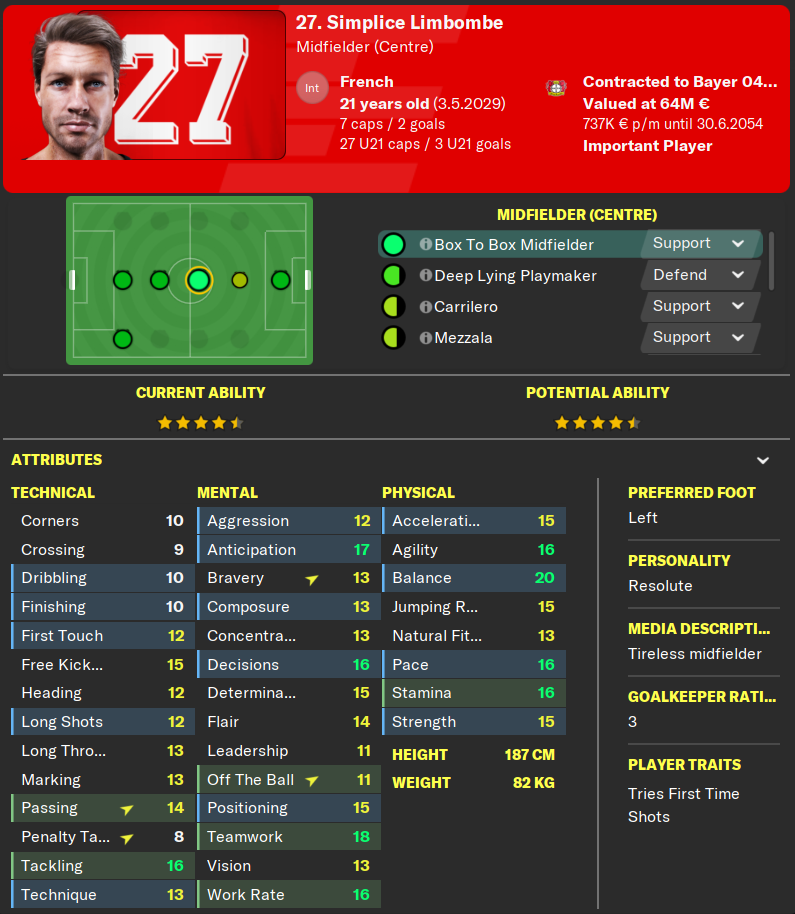 Moenchengladbach had gotten him from Sochaux in the summer of 2048. I saw him in the matches against us and liked him enough to send out our scouts. And we found a dark secret over in Gladbach: when they had him sign his contract, they agreed to a 20 million release fee. That was insane and must have been a mistake on their end. He was worth seriously more money already. So yeah, even though our midfield was fine last summer, we figured that he might give us a good option. And economically, this was a deal that was too good to not do it. So Simplice joined us.
Looking back, we should have been more careful there. He is a great player, but as a ball-winner he competed with Daouda Wamba. As a playmaker, Ali Arfaoui was ahead. And in the Mezzala position we had David Borja. So Simplice would have to either be a backup player and get grumpy eventually, or we had to rotate in midfield. We went for the rotation option and it did not do us too good. He jumped back and forth between the three midfield roles we were playing. And I don't blame him – he gave his best, but he never got the chance to settle for one role or the other. So in the end he made 19 games this year and his performances were more mediocre than any of us would have expected. Let's see what happens this summer – our best option might be to sell him on, unless one of the other starting midfielders leaves the club.
Sascha Edlinger: Thanks for being open here, Gabriel. Now let's talk about competitive performances.
Gabriel: Our first competitive match of the season was the German Supercup against cup winners Werder Bremen.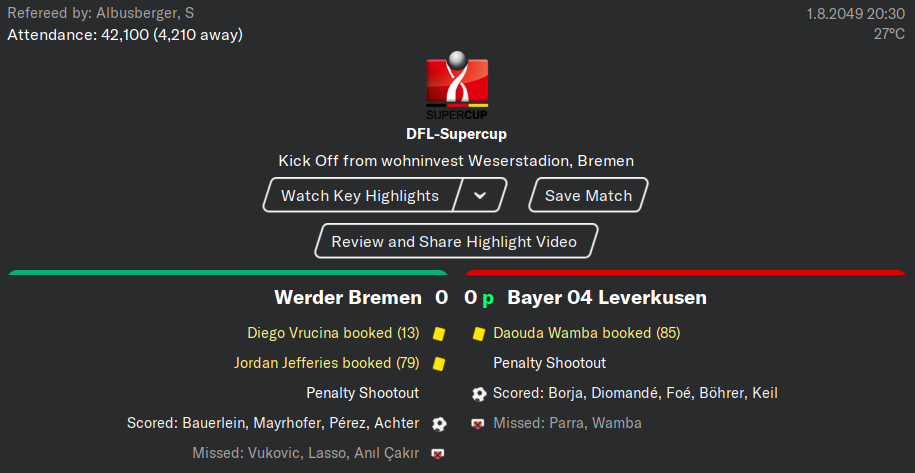 We struggled more than I had hoped for, but eventually were able to beat them on penalties. As we all like winning trophies, that was not a bad start to the year.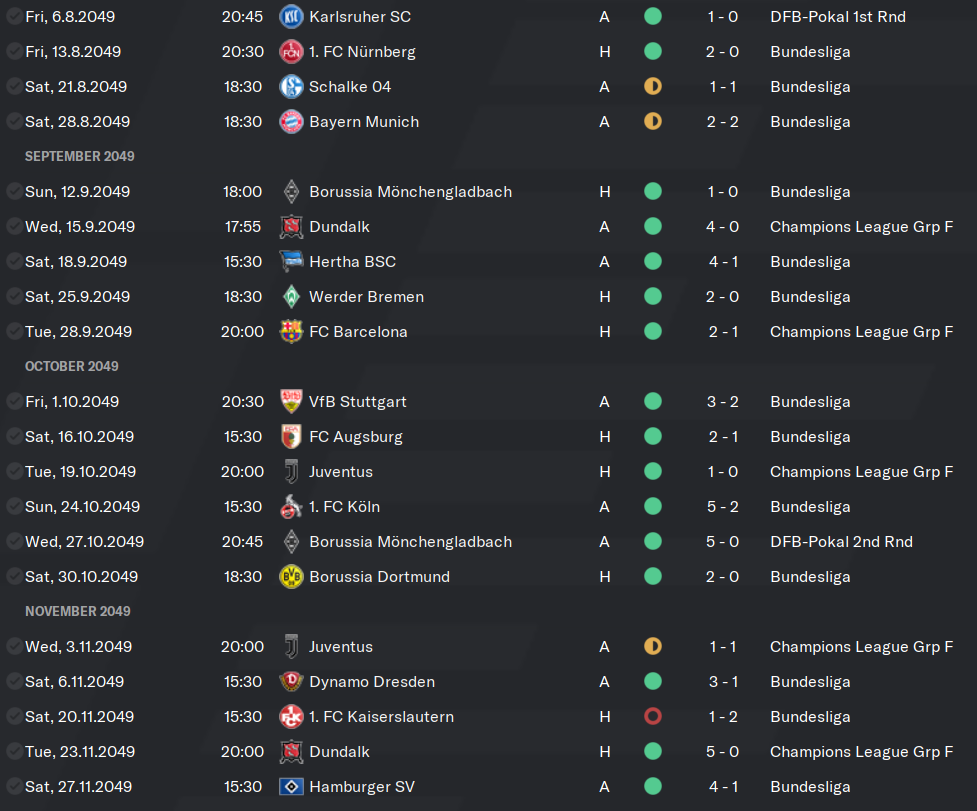 And we certainly took the euphoria from winning the Bundesliga and the Super Cup into the first months of the season. We only drew two Bundesliga matches against Schalke and Bayern early on, but then won everything until a terrible 1-2 against Kaiserslautern, which brought up memories of our last-day title loss two years earlier. But we were leading the Bundesliga table easily ahead of Bayern. In the cup, we got past Karlsruhe in the first round, and then humiliated Moenchengladbach with a 5-0 in the second round. And even our tight Champions League group with Juventus, Barcelona, and Dundalk saw us come out on top after beating Barca and Juventus at home. Things were great.

But maybe we had drawn too much of our luck already. In December we lost heavily against Barcelona. Which was still understandable, as we played our reserves and they had to desparately win in order to still get to the knockout rounds. But we also lost steam in the Bundesliga. Unnecessary losses against Dusseldorf, Schalke, and RB Leipzig. And when we lost against Bayern at home, we also handed the Bundesliga top position to them. We were certainly struggling with injuries at that time. Multiple first team starters were sidelined for 1-2 months around that time and we were not able to field our best team for quite a while. I was still disappointed with our bad run.

In February it looked like we'd recover. Coasting past Hertha into the DFB Pokal quarterfinal, no goal conceded for a whole month, and we even beat Manchester City away in the Champions League knockouts.

March was the breaking point of the season for me. We deservedly lost against Schalke in the DFB Pokal. And not winning against Augsburg and a subsequent loss to Dortmund meant we were trailing far behind Bayern in the Bundesliga. I think at this point it was clear, that we would not be able to catch up with them, unless they had a dramatic drop in their form. But we had reached the Champions League quarter finals again, so maybe we could try pushing on there?

I'm sure German fans were excited about an all-German quarterfinal pairing. I believe there were simpler opponents in the draw than Bayern Munich.

And my fears were justified. Bayern bet us 3-0 in the first leg and even though we put up a great fight in the return leg, we were not able to score anything. At that point in mid-April we were out of any title contention. I have to credit the team for going on to win 4 out of the remaining 5 matches in the Bundesliga, which sealed my third time as Bundesliga runners-up with Bayer 04.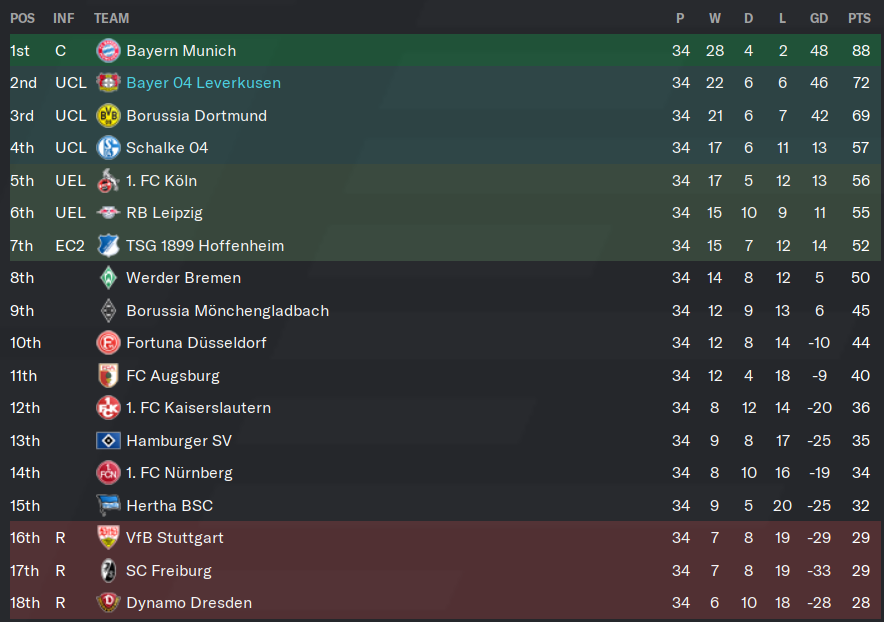 Sascha Edlinger: Thanks, Gabriel. I would like to point out that the board are happy with your work done here. Bayern, and even Dortmund and Schalke, are still way ahead of us financially. But due to the results you are bringing in, we are able to catch up. We hope you can continue your work here. Extrapolating, from the 4 years with you so far, I'm hoping for another title or a Champions League final within 1 or 2 seasons. So, let's hear about your plans for next year.
Gabriel: Sascha …
Sascha Edlinger: Yes?
Gabriel: …
Sascha Edlinger: Dude, I've worked with you for 4 years now. You're not a guy lost for words. What's up?
Gabriel: I am resigning.
Sascha Edlinger: YOU WHAT???
Gabriel: Trust me, this is hard for me, too.
Sascha Edlinger: Gabriel, this is totally unexpected. I can assure you that everyone in this room is happy with your work and we will support you in any way we can. Tell me, you're kidding, please!
Gabriel: Look, I'm 62 years old now. I've spent 31 years managing. I've managed and won titles on all continents. There's only one title missing to complete my career – the UEFA Champions League.
Sascha Edlinger: Gabriel, we understand you're ambitious. We love that. But you can be successful here!
Gabriel: Can I? Can we? This is Vizekusen, Sascha. I've proven that over and over in the last 4 years.
Sascha Edlinger: We won the Bundesliga last year!
Gabriel: And we lost out on it 3 out of 4 times! We lost a cup final. And a super cup final. I'm tired of spending the last weeks of the season watching other teams play the big games. Look, I see the progress here in Leverkusen and I'm proud of it. I see the sense for financial responsibility. The work ethic. That's great and I'm sure you will build on this. But a Champions League final in 1 or 2 years? Doubtful. Maybe in 5. And then we would not win it — remember, we're Vizekusen.
Sascha Edlinger: That sounds way more fatalistic than I'm used to.
Gabriel: Maybe it is. It turns out I got an offer that I simply cannot refuse.
Sascha Edlinger: Ah, now I see. Did Bayern call you again?
Gabriel: No. Turned them down twice, they won't come again.
Sascha Edlinger: So what's happening here then? Who would draw you away from this job? They must be big to afford your release clause!
Gabriel: Sascha, valued board members. Thank you all very much for allowing me to work here. It was a pleasure and I hope we will be parting on good terms. I want to make sure you're not getting this from the newspaper at some point in the next few days: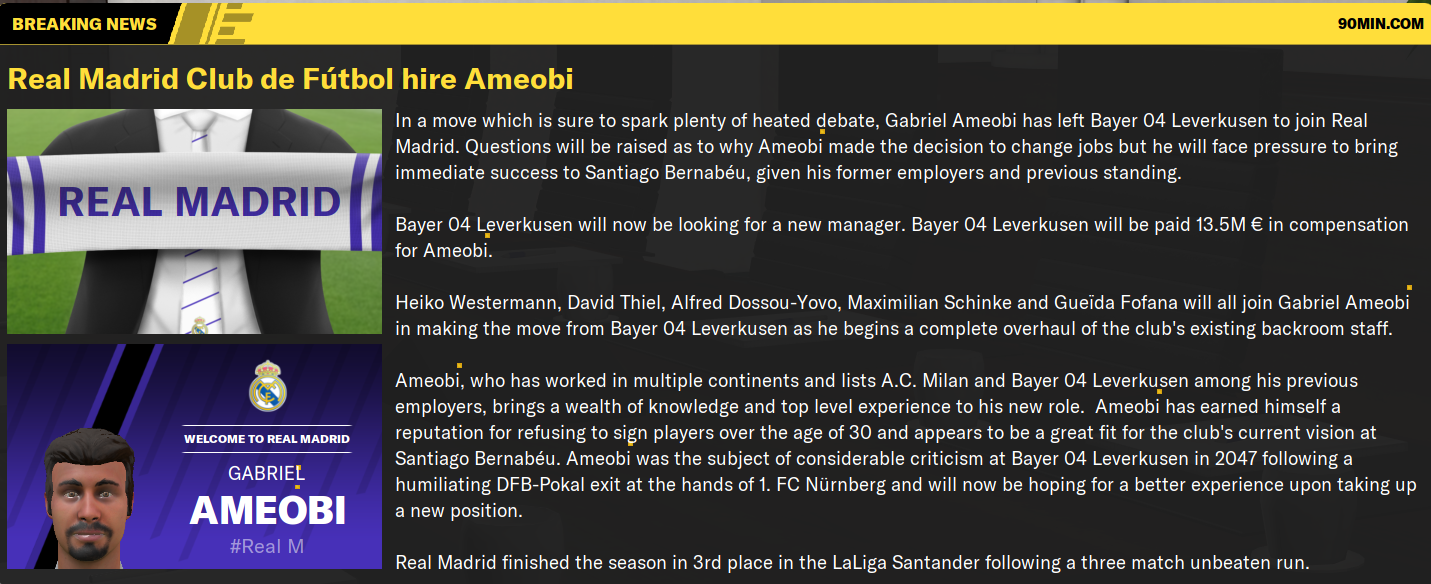 Subscribe to our Newsletter