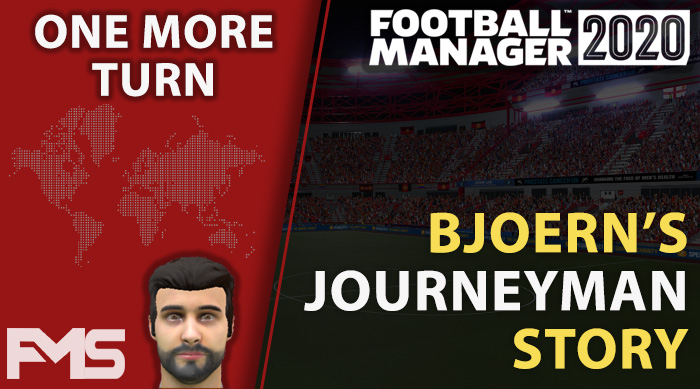 Gabriel's Diary
Moenchengladbach, May 2nd 2049 — I'm afraid, people in Moenchengladbach don't like me anymore. It's been a bit over 3 years now that I left Borussia for Leverkusen. They had three different managers in those three seasons and never managed to get back into Champions League places. One year after I left they were even so desperate to offer me a return. But no, I'm happy in Leverkusen. And now this – we seal our first Bundesliga title under my reign with a 3-2 away win in Moenchengladbach. The police officers guarding our bus on the way to the highway were more than a little nervous when we took of. People in the streets shouting at us. There might even have been a couple of beer bottles thrown. But we don't care. We are the champions!
Two more years
This is going to be another two season summary. Last time round, Gabriel had taken over Bayer Leverkusen and lost out to Dortmund in the Bundesliga as well as the Europa League. While this hurt for some time, you don't become Bundesliga runners-up for nothing, so we went with a load of optimism into the next year.
Bundesliga 2047/48
Dortmund had taken the title from our hands on the last day in 2047, but they were facing difficulties – new manager, new tactics. So we can be optimistic, right?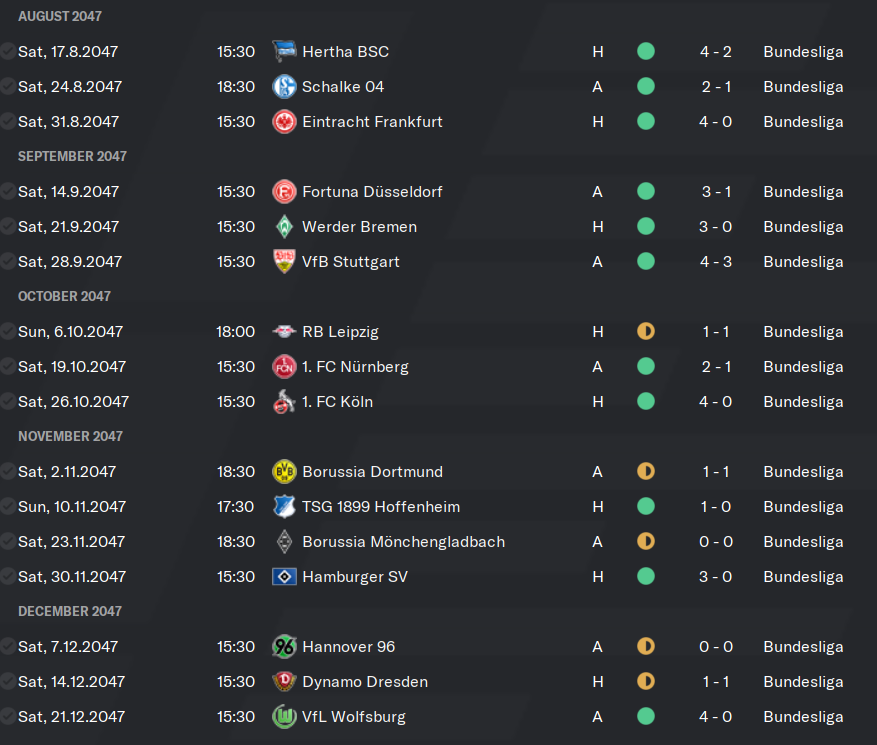 We did quite well and finished the year 2047 without a defeat. We would have topped the table, were it nor for the 5 draws in between. Especially the Hanover and Dresden results hurt us and made sure that come Christmas 2047 we were 2nd, one point behind Bayern who had recovered from last season's slump in form.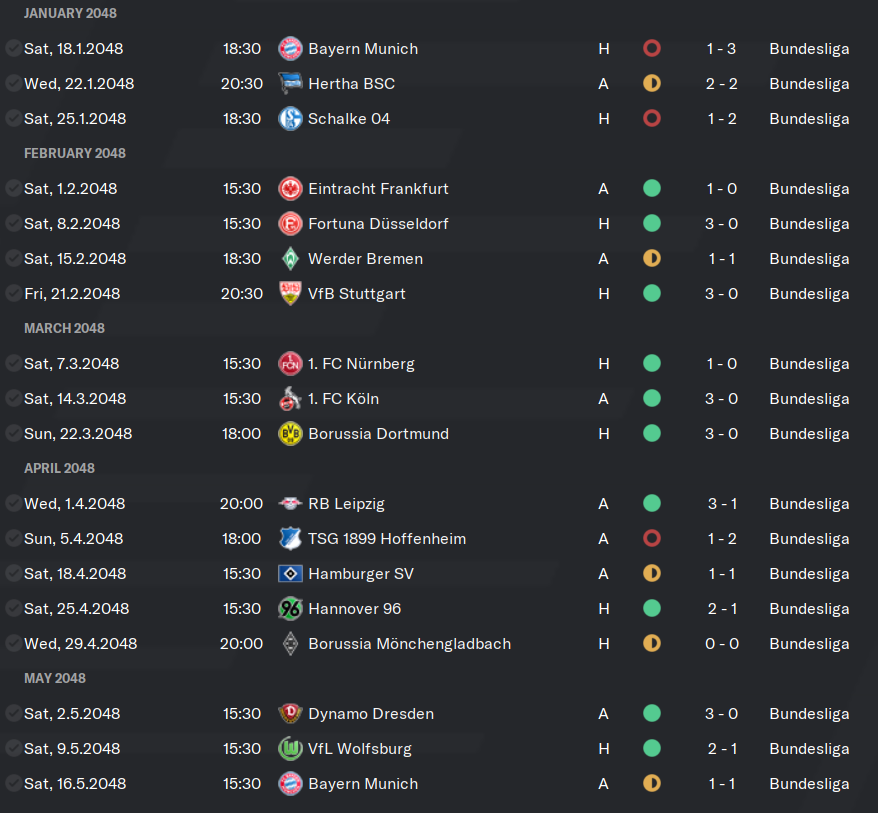 At this point we welcomed Bayern for the first match in 2048 and it would also be our first loss that season. We followed with a draw against Hertha and another loss against Schalke and voila – 5 points behind unbeatable Bayern Munich. Although we recovered in between, Bayern did not hand out any concessions and just kept on winning. When we then had another "difficult" few matches in April, we lost the title fight.

In the end, a substantial 10 points stood between us and the title winners. But we were at least lucky to keep Moenchengladbach at bay via a better goal difference. Looking at the results, we should have drawn fewer matches to remain competitive. Still, 2 full seasons in Leverkusen, 2 vice-championships. Not too shabby.
Champions League 2047/48
The Champions League draw was kind. Seeded in 2nd place, we would meet Man United, Marseilles, and Hungarian Videoton FC.

The group stage went extremely well. We got expected huge wins against Videoton, and were able to get enough points against the other two (including a dominant 3-0 win at Old Trafford), which ensured we won the group ahead of Manchester.

Our triumphant group performance led to a 1st knockout round match against Lyon, where we had to come back multiple times to get a 3-3 away. The 2nd leg went much smoother and we bet them 2-0 at home. When we then got drawn against Lazio in the quarter finals, I was indeed hoping to get past them and into the semifinals. But we delivered disgraceful performances in both legs and thus our Champions League adventures were over for this year. And Man United? — They went on to win the Champions League. This indicates we can at least compete at this level.
DFB Pokal 2047/48
A recurring topic of my time in Germany: my teams suck in the DFB Pokal.

This year was no different. Huge win against an amateur team in the first round, we already struggled against 2nd division side SC Freiburg in round 2. In round 3 we then had no chance and it hurt even more that we even dropped out against Moenchengladbach. Let's not lose any more words about this competiton.
Bundesliga 2048/49
Two attempts to win – twice the Vizekusen curse hit us and we finished runners up. Would this time be different?

Imagine my surprise when August started bumpy at best. A narrow, but deserved 1-0 win against Schalke was followed by an agonizing defeat in Duesseldorf: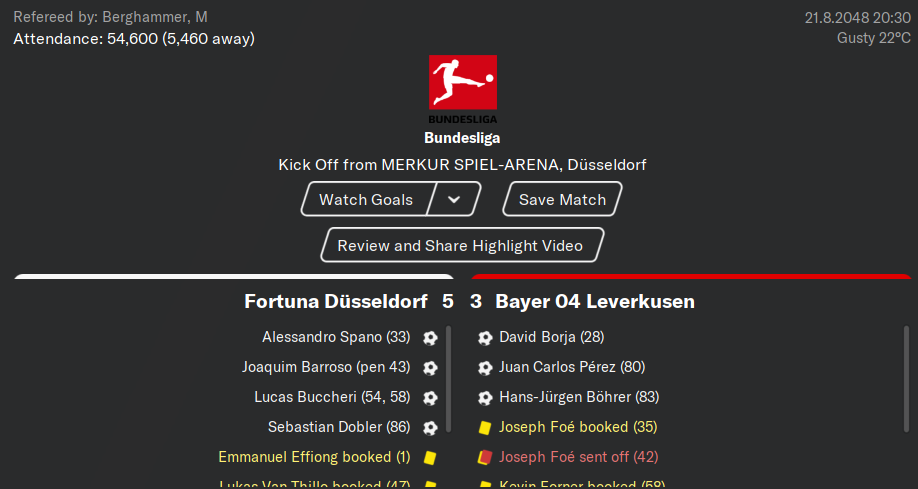 We went 1-0 up, they equalize. Then our CD Joseph Foe gets sent off and they score a penalty on top of that. 2-1 at halftime. They continue and are 4-1 up after 58 minutes. We manage to pull back in closing time. 4-2, 4-3, we even score the 4-4, but it gets called off because of an offsite position. And then they finish us off with the 5-3 and that was it. There may have been some shouting between me and the team after this match.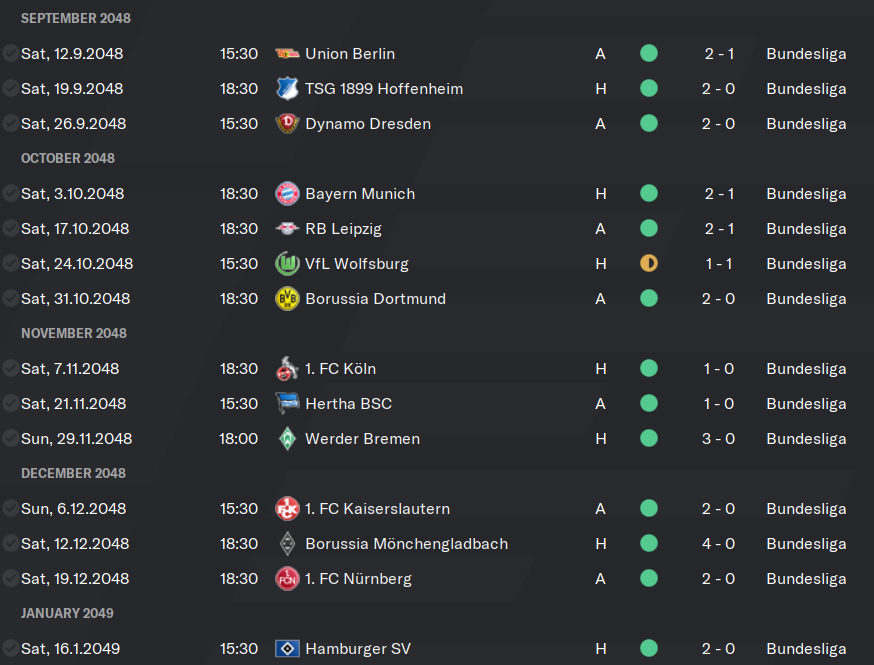 But we pull ourselves together and subsequently win 13 out of 14 matches and are on top of the table around season half time.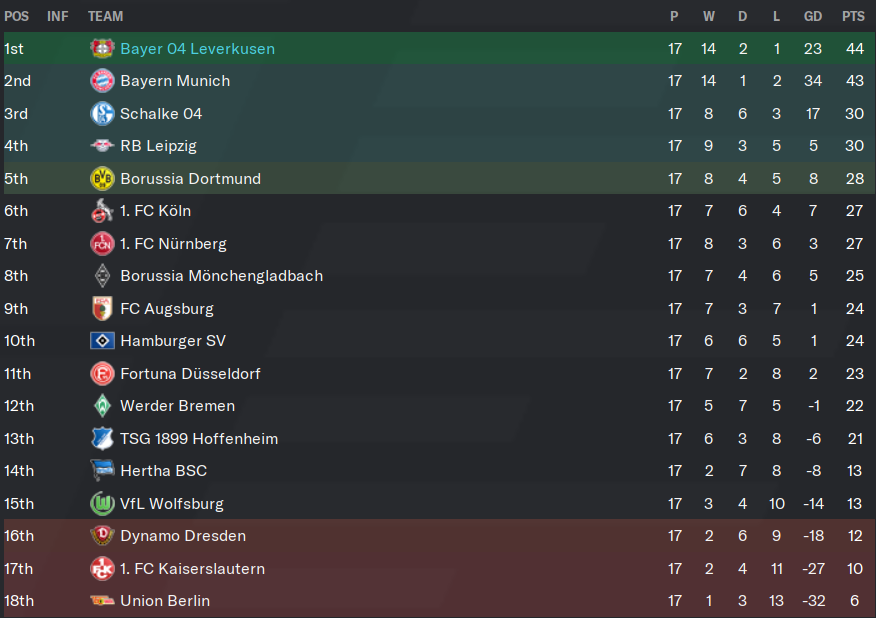 But we're not alone. Bayern have the quality to keep up with us and are merely one point behind.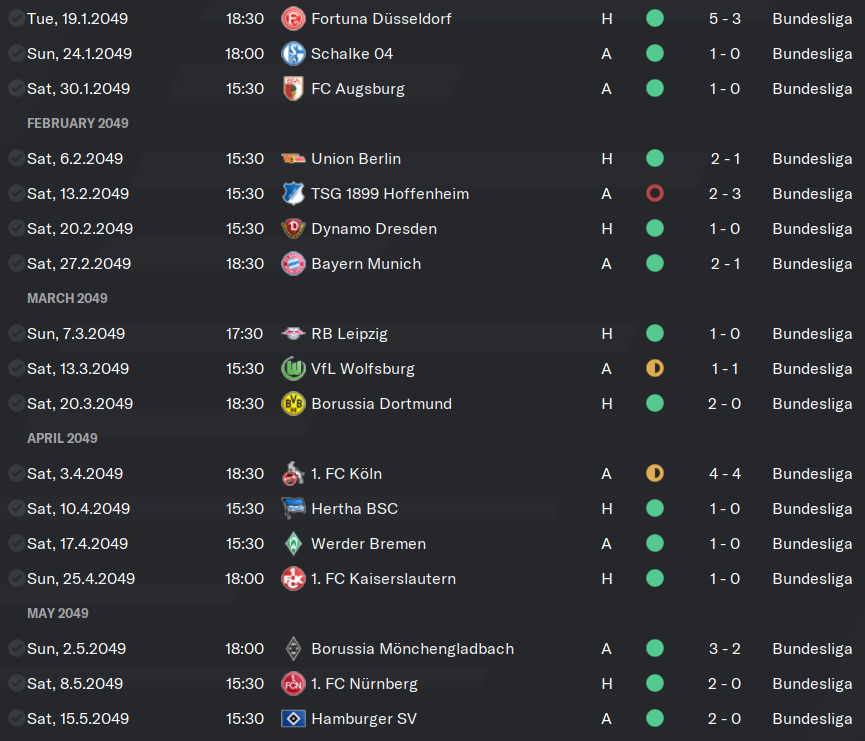 But this year we don't lose our steam in the second half. We return the favor to Dusseldorf by beating them 5-3 at home. And we lose a single other game against Hoffenheim. Our big step towards the title is the 2-1 away win in Munich end of February. And on May 2nd we're scheduled to meet Moenchengladbach. The evening before, Bayern get a surprise result in Cologne:

The table subsequently indicates that a win in Gladbach would seal our title (drawing isn't good enough – Bayern always have a terrific goal difference):

And so we go to Moenchengladbach. We're up 2-0 early on, but then the last 15 minutes turn into a dogfight. They get the 2-1, we make it 3-1, they get a 3-2 and we have to hold our breath for the final few minutes. But then it's over and Gabriel Ameobi's Bayer Leverkusen celebrate the club's second Bundesliga title ever.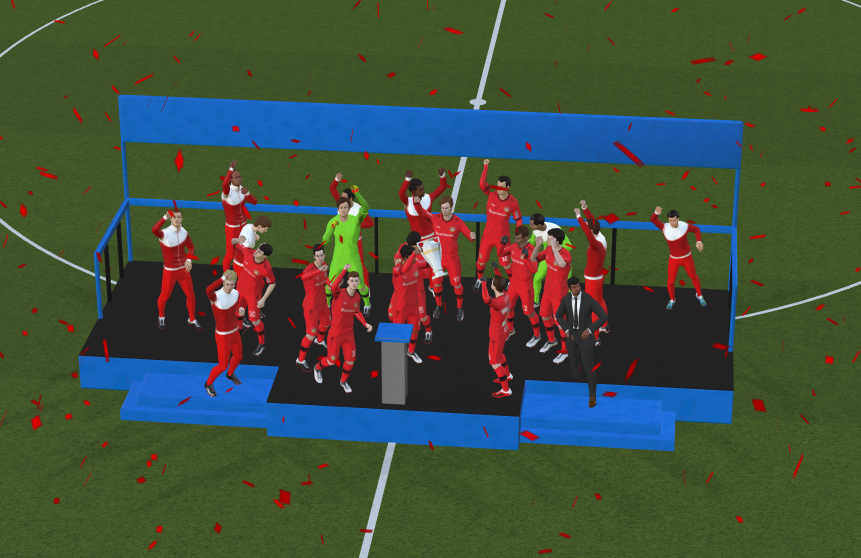 We go on to win the final two league matches and finish with the club's record point haul of 88 out of 102.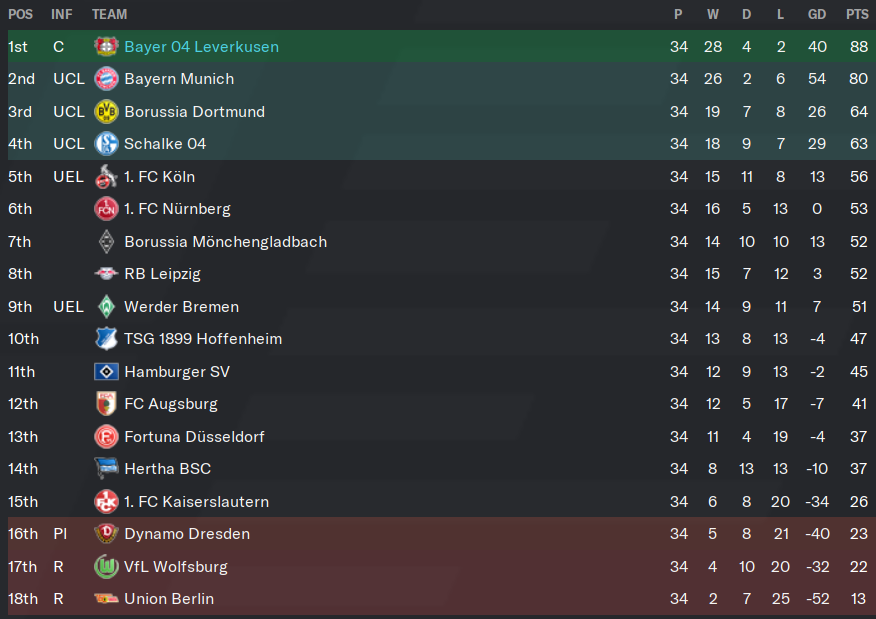 Champions League 2048/49
We played the CL again. This year's group put us up against Arsenal, RB Salzburg, and Zenit St. Petersburg.

In contrast to Man United last year, Arsenal didn't bother giving us any chance. We were clearly struggling in both matches against them. Still, we easily finished 2nd by beating the other two teams twice.

This gave us a knockout tie against Milan – and man, we seem to have trouble with Italian teams! Given our form in the league at the time, I anticipated a close, but definite win over Milan. It was not to be and our CL bet was over once again. (Our friends from Arsenal won it this year.)
DFB Pokal 2048/49
Our cup performance this year really was different!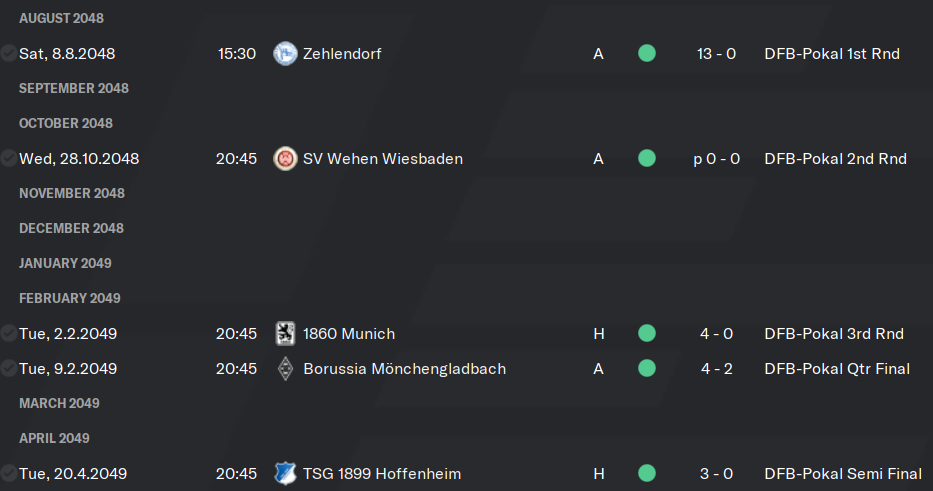 Huge win against amateurs. Then we struggled to score against 3rd division side Wehen Wiesbaden, but won on penalties. Then we put 1860 Munich as well as Moenchengladbach (again!) to the sword, and also Hoffenheim were unable to stop us. We had finally reached the DFB Pokal final, where we met Werder Bremen. We came into the final with the bold minds of having won the Bundesliga 3 weeks earlier. We had already beaten Werder twice this season. So, let's do the double, right?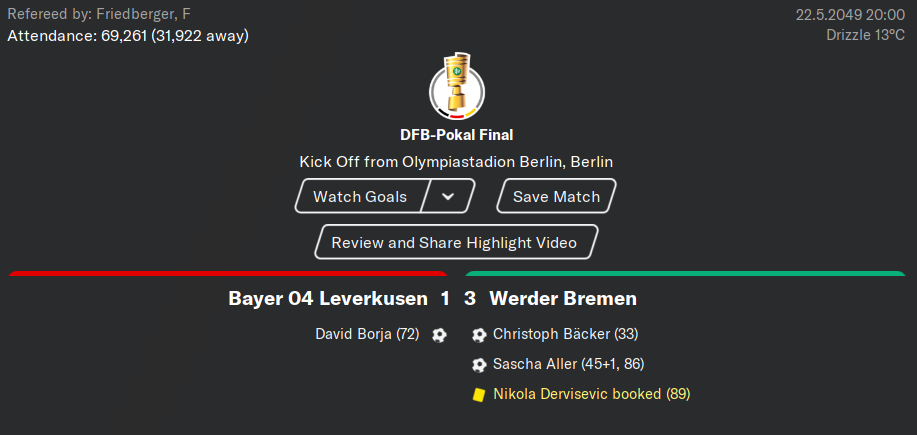 Werder had different things in mind. We deservedly lost this final.
Vizekusen is Not Over Yet!
We lost out on another title (and we also lost the German super cup against Bayern). The club DNA of missing out on important titles seems to still persist. However, we have a good team and two tactics that work well most of the time. I'm excited by some of the prospects we have in our team.
Suat Akbulut was already at Leverkusen when I joined. He's an awesome presence as a wingback on support backup captain. In the last two seasons he played 76 matches, delivering 21 assists across all competitions and getting an average rating of 7.2.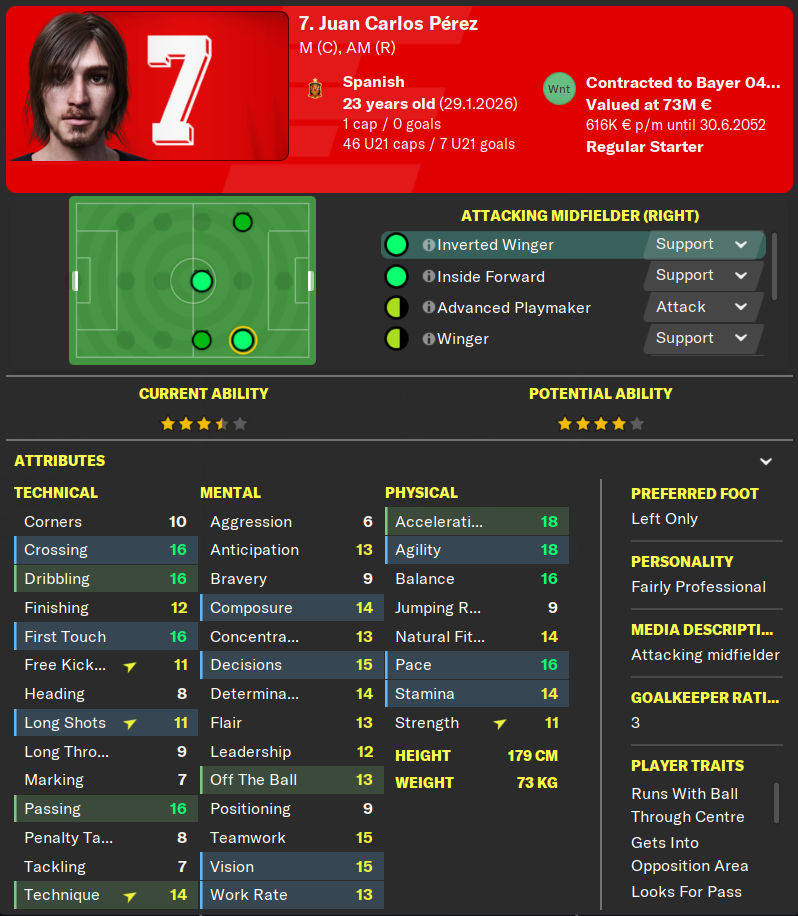 JC Perez came through Bayern Munich's youth system, but was already bought by Bayer 04 before I came in. He's sharing the right wing with Akbulut and a major goal threat. Played 66 matches in the last two years, scoring 28 goals from the right wing, average rating 7.3. He costs me some grey hair though. He has great passing, decision making, and vision. He has the "Looks for pass rather than goal" player trait, and still manages to cut inside on his own 50% of the time and just try shots from any position. But as long as he gets us the results, I don't mind too much and rather keep investing in scoring training, in order to increase his chances of success.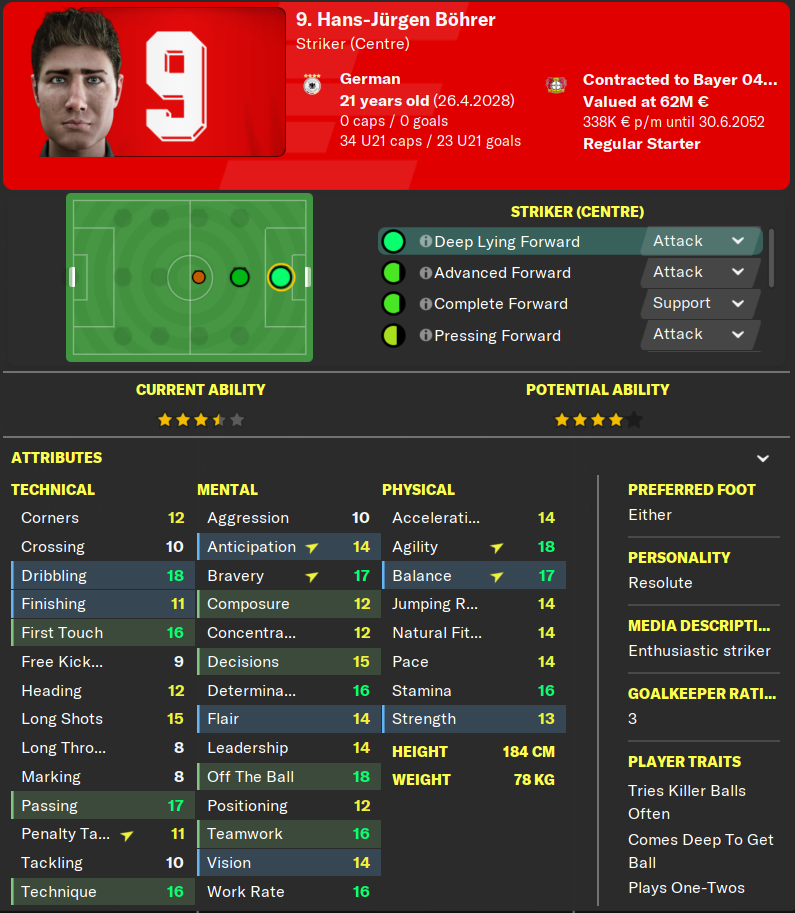 HJ Boehrer is another product of the Leverkusen youth academy. He spent my first season on loan at Wolfsburg, but has been a first-team regular in the past two seasons, scoring 28 goals and 9 assists in 56 matches at an average rating of 7.2. I'm training him to play as a False Nine, but that's still ongoing. I foresee him to be one of the major players in the next few years.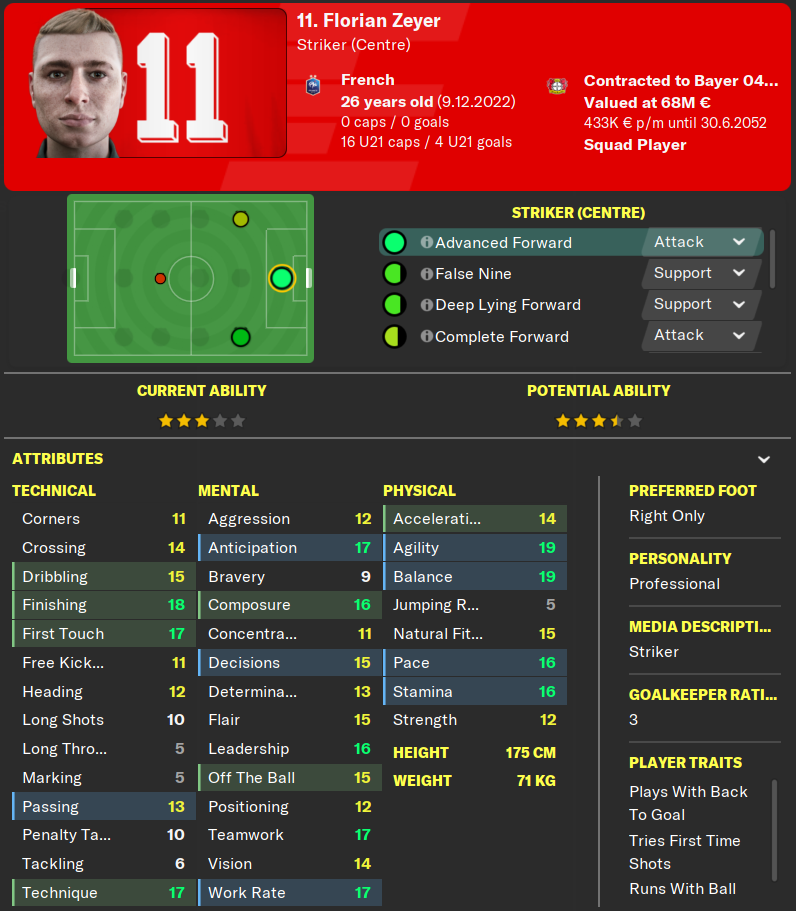 Florian Zeyer was an exciting youth prospect at Moenchengladbach. I paid them 60 million in the winter of 2047/48 to have a more experienced striker partner for Boehrer. So far he is struggling to keep this place against the strong competition in the striking department. He still managed 22 appearances and 13 goals in the 1.5 years he's been with us.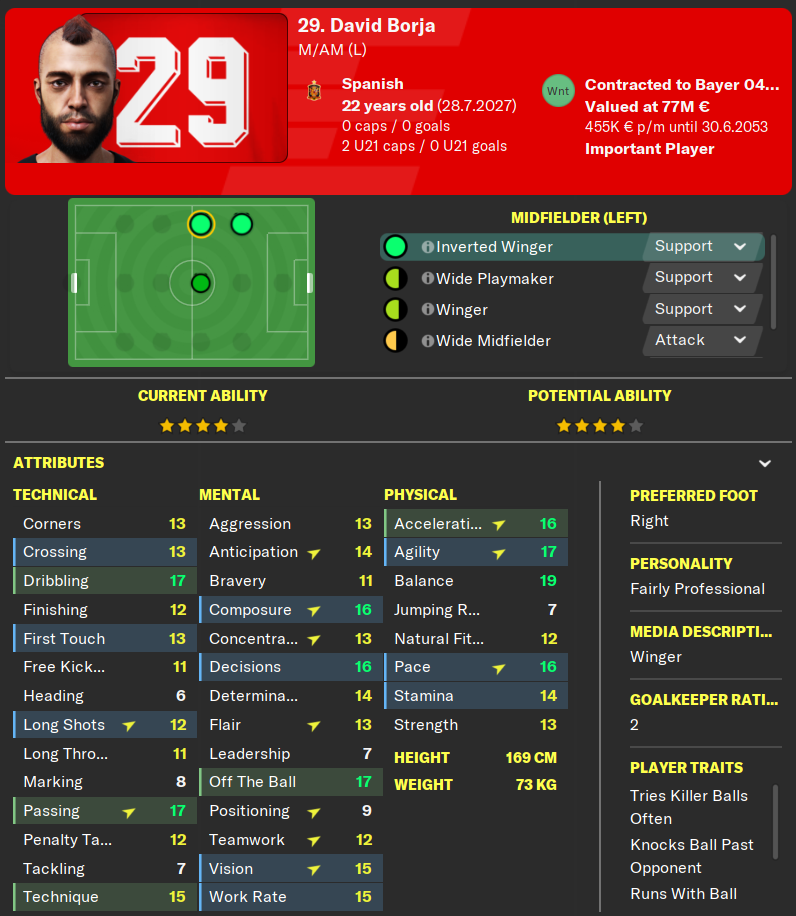 My main tactic doesn't have a winger on the left side, but I have a 2nd, more offensive tactic that needs a capable winger or inside forward on the left. I was therefore happy to find David Borja available on a free transfer (!) after his contract at CA Osasuna had ran out. He gives us the offensive option on the left, but can also help in our main tactic where I play him as a MEZ(a). He's with us for one year so far and gave us 17 appearances, 4 goals, and 4 assists. Retraining to Mezzala is still going on.
I have high hopes that the Bundesliga title is not our last success. Besides the prospects above, we have 2 capable players for every position, plus 2 or 3 young prospects that mainly play in the U19/2nd team, but can be pulled in for match experience in the Bundesliga if needed. If we consistently maintain or improve the squad, we should stay in hitting distance of the Bundesliga title and might even win the DFB Pokal one day. We were competitive in the Champions League, and with some luck we should be able to make the final at some point as well. I'm really positive about this Leverkusen side and hope to have more good news for you in the next episode!

Subscribe to our Newsletter