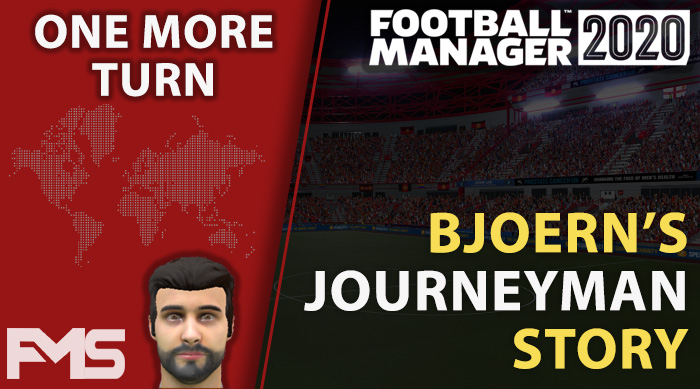 Gabriel's Diary
Leverkusen, August 2nd 2046. — The dawn of the 21st century was a wild time in Leverkusen. Managed by Christoph Daum, the Werkself managed to finish 2nd in the Bundesliga in 3 of his 4 years at helm between 1996 and 2000. Daum was still fairly young at the time (mid 40s) and had already successfully managed Cologne (Bundesliga runners-up 1989 and 1990), Stuttgart (Bundesliga winners in 1991), and Besiktas (Turkish Cup 1994, Turkish League 1995) before joining Bayer. However you felt about the Bundesliga at the time – Daum was the hot shit and with his track record destined to be one of Germany's top managers: he'd either take over Bayern or lead the national team to world cup glory one day.
Spoiler alert: he did not. Bayern were out of the question because Daum had a long-running and public feud with Bayern boss Uli Hoeness, dating back to when he was trying to beat Bayern to the Bundesliga title with Cologne. And Hoeness also was the most vocal critic of Daum taking the Germany post: he hinted in the media that Daum was taking cocaine, Daum denied and publicly agreed to take a test. The German public was mostly behind Daum and wanted Hoeness to (metaphorically) die in this battle of giants. Then the test came back positive. Daum lost the Leverkusen job. Lost the prospect of managing Germany. And even if he won a few more titles in Austria (Double with Austria Vienna in 2003) and Turkey (Turkish Champions in 2004 and 2005), he would never be as successful as in the 1990s. And instead of Daum, it was another Bayer Leverkusen legend, Rudi Voeller, who would take the Germany job and reach a surprising 2nd place in the 2002 World Cup.
The 1999/2000 season was what made Christoph Daum the tragic superhero of Bundesliga management. Bayern were struggling mentally after Manchester United had robbed them of the 1999 Champions League title literally in the last minute. And Leverkusen fielded a team of big names. Robert Kovac (brother of Niko). Michael Ballack. Bernd Schneider. Landon Donovan (too young to really play a role). Emerson. Ulf Kirsten.  When they took the Bundesliga pole position in spring of 2000, people were frantic for them to finally win the league. On the last day of the season, Leverkusen with 73 points where 3 points ahead of Bayern with 70. Their goal difference was worse, so they needed a draw away at farmers team SpVgg Unterhaching, who had already avoided relegation and didn't have anything worth fighting for in that match. The odds were clearly in their favor, what could go wrong? — Turns out: everything. Michael Ballack scored an own goal early on, the magic Leverkusen team failed to hit the goal, and Unterhaching put in another one to make it 2-0. Bayern won their match at the same time and were German champions once more.
It might have been this match that broke things in people's minds. And it got even more dramatic two years later in the 2001/02 season: topping the Bundesliga table for half of the season, only to lose the title to Dortmund in the last two matches. Reaching the DFB Pokal final, losing against Schalke. And beating Liverpool and Man United on the way to the Champions League final, only to lose it 1-2 against Real Madrid. And it was then, the term "Vizekusen" (or "Neverkusen" in English) was coined to refer to the team that always finished 2nd. They'd go on to record another seven runner-up finishes in the Bundesliga (2011, 2023, 2024, 2028, 2030, 2031, 2033) before finally winning the league in 2038. You cannot make any of this up. But I dearly hope these times are over.
Wrapping it Up in Leverkusen
Last time round we followed Gabriel Ameobi to his job interview at Bayer Leverkusen. The Moenchengladbach board wanted to pressurize him, so Gabriel took the hint and left. 3 weeks later, Bayer Leverkusen came calling and Gabriel jumped back into the Bundesliga shark tank. At the time there were 7 matches left in the Bundesliga, including one against Moenchengladbach themselves.

We were of course lucky that most of these matches were against lower-ranked teams. I tried building a new tactic and used 5 different approaches in these 7 matches. It turned out fine, although any of the 1-0 wins could have gone differently with some bad luck. And I didn't get my revenge against Moenchengladbach on the pitch.
However, our run made us finish 5th and qualify for the Europa League, whereas Moenchengladbach only made it into Euro Cup II. (And imagine the #scenes we'd have caused had we won the Freiburg match and qualified for the Champions League – but let's not get unrealistic too soon.)
A Brand New Start
The good thing about starting immediately in Leverkusen was that it gave me some time to analyze the squad and scout for potential replacements. The squad wasn't that bad, but some players were aging and some were just on a too high salary, so I had a busy summer transfer window, selling for 149 million EUR and getting in new players for 137 million. See, we even made a profit!

Some of those new signings would immediately make an impact to the team: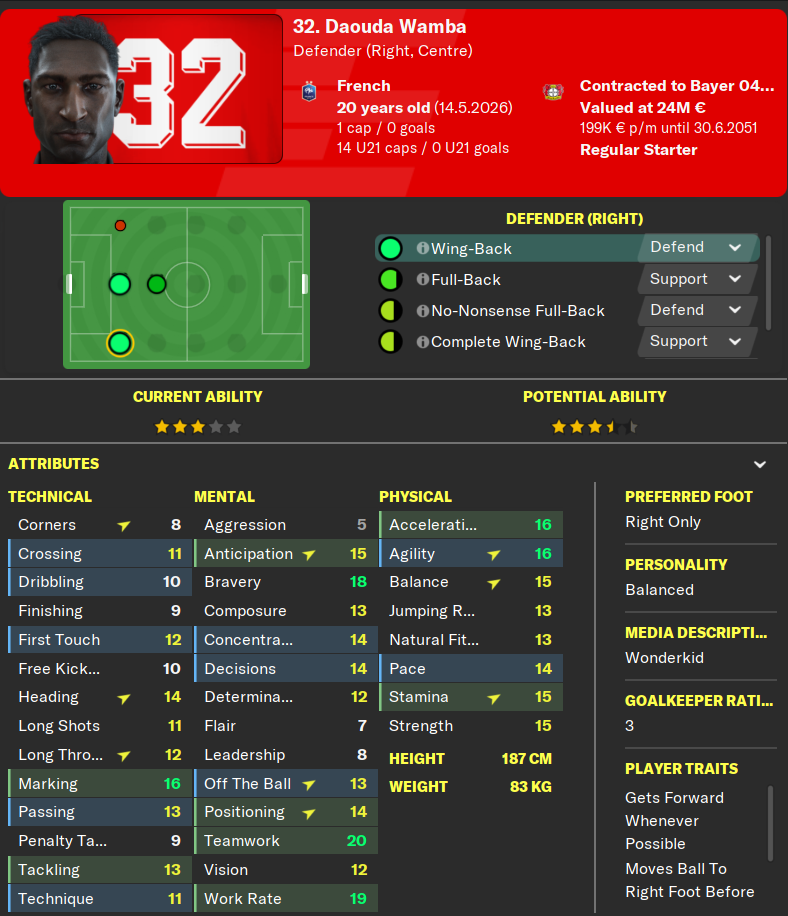 Daouda Wamba looked awesome for a 20 year old. While he was nominally a Wingback, I immediately started retraining him to help in defensive midfield as a Ball-Winning Midfielder. This retraining took most part of the season, but eventually even my assistant manager started auto-selecting him for the position.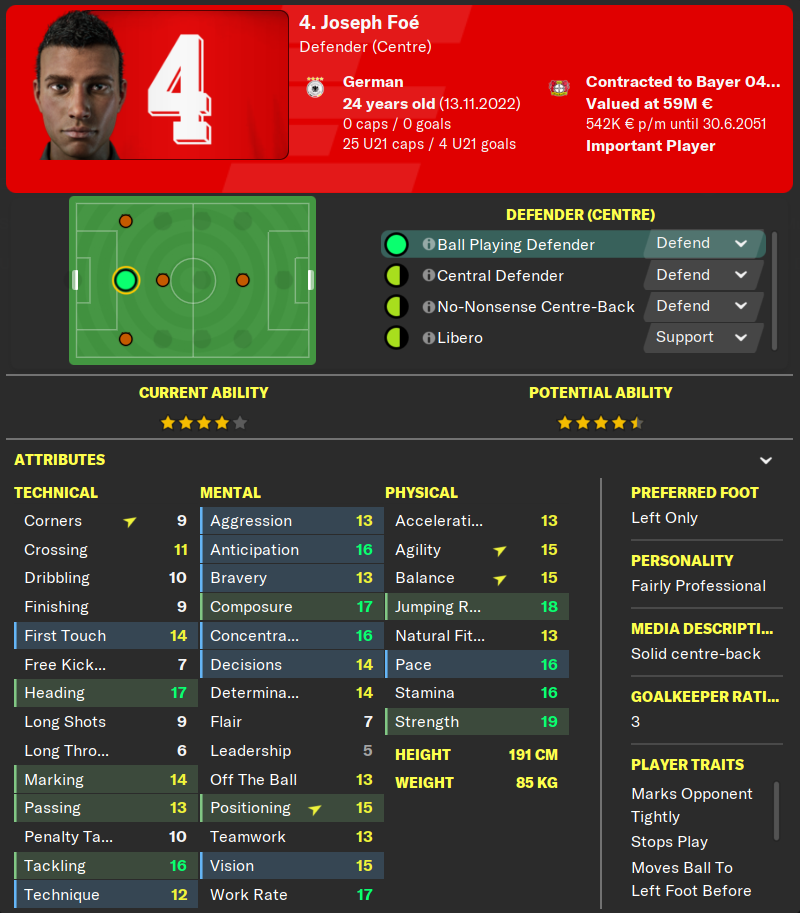 Defender Joseph Foe was transfer-listed by Schalke and I have no idea why. The 47 million EUR we paid were well invested: he played 38 matches across all competitions in his first year, averaging a 7.22 rating. He was a massive reason for the good form we showed most of the time. Plus he made the Leverkusen board happy as they really want German-based or German-born signings and he was the fig leave to cover for my other international signings.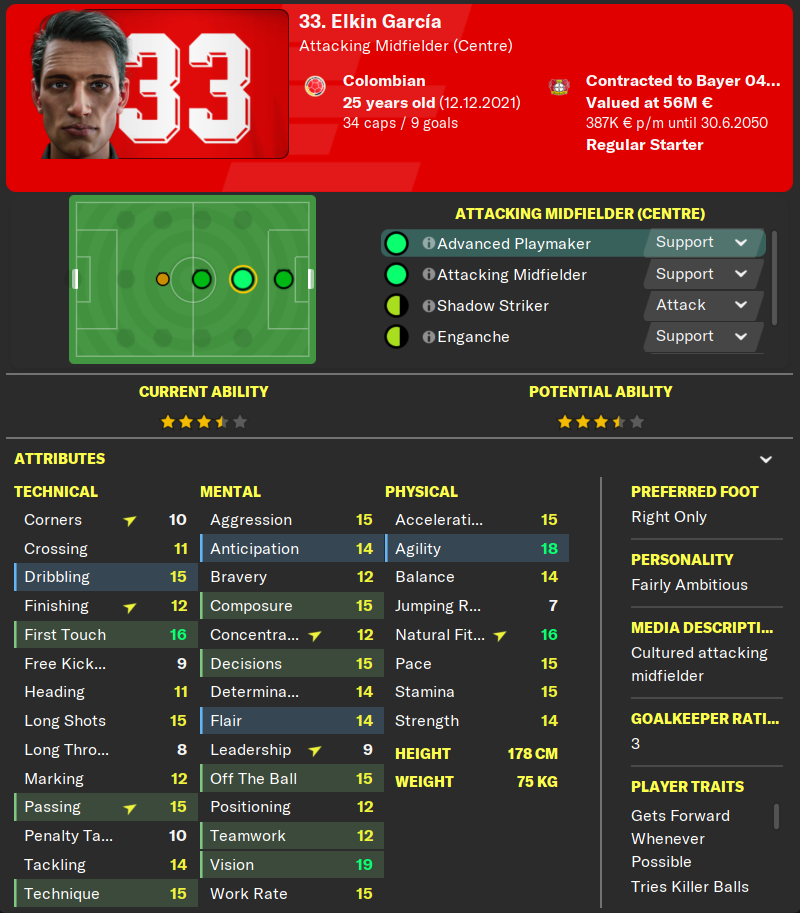 Elkin Garcia joined us on a free after his contract at Ajax ran out. Again, an awesome signing. He made 41 appearances as a Mezzala, scoring 8 goals and delivering 11 assists at an average rating of 7.31.
And then there was Laurent Diomande. He had been released from his contract by OGC Nice and no one bothered signing him. Initially, I just thought of him as a cheap backup option for our other strikers. But then my intended main poacher got injured in early August and Diomande had 3 months to claim the position for himself. He did, and eventually appeared in 41 matches, scoring 18 goals and assisting 6 for an average rating of 7.15. I had a huge grin on my face thinking of the price we paid when he scored a hattrick against Napoli, but more on that later.

We took some time growing together as a team and into our new tactic (an asymmetric 4-1-2-3). It didn't work out against Bayern early on and we had unexpected draws against Leipzig and Hoffenheim. On the other hand we showed a glimpse of hope when we defeated Antwerp 9-0 in our first Europa League match. However, after we lost 0-1 to Werder Bremen (who have emerged as a new force in the past 1 or 2 years, mostly because they have an extraordinary striker in their team), one of the players I just had sold this summer used the media to point out that people will be expecting more from me. Was I about to be sacked soon?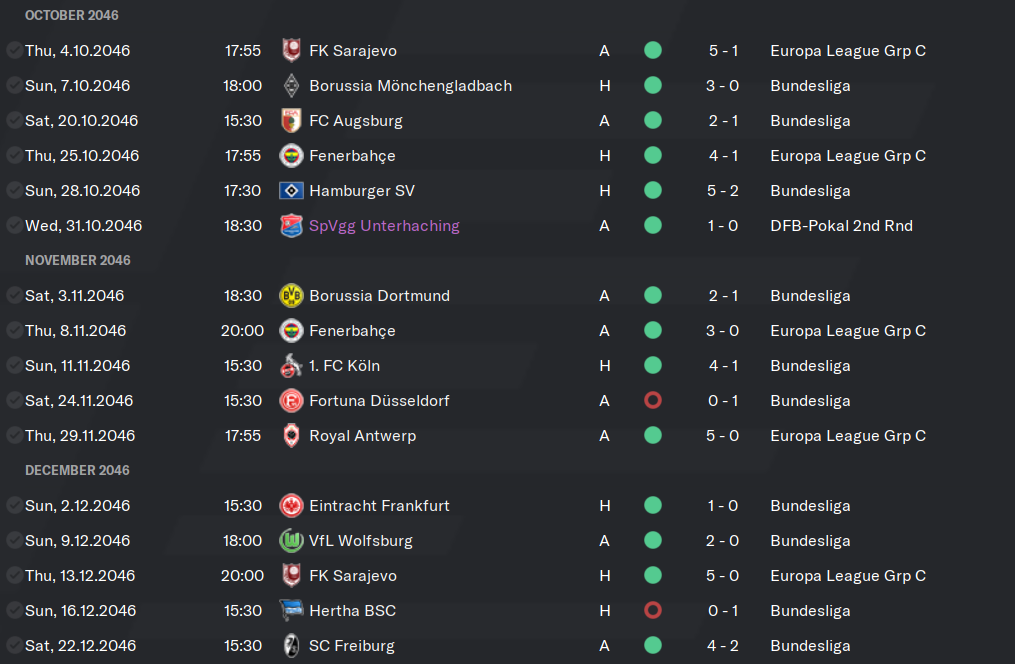 That question did not come up again. We went on an awesome winning streak, including being the first team to beat Dortmund this year on match day 11. The losses against Duesseldorf and Hertha were notable exceptions, but overall, we were doing well. We sat 3rd in the Bundesliga after Christmas, had easily won our Europa League group, and still had eyes on the DFB Pokal as well.

We kept going in the new year and even managed a 2-1 victory over Bayern to manifest our position as major contestants to Dortmund's title claim. I got worried when we lost against Nuernberg in the DFB Pokal and gave away the Bundesliga match against Hoffenheim on the next weekend as well. Especially, when we then met Nuernberg again and went 2-1 down early on and failed to hit the goal afterwards.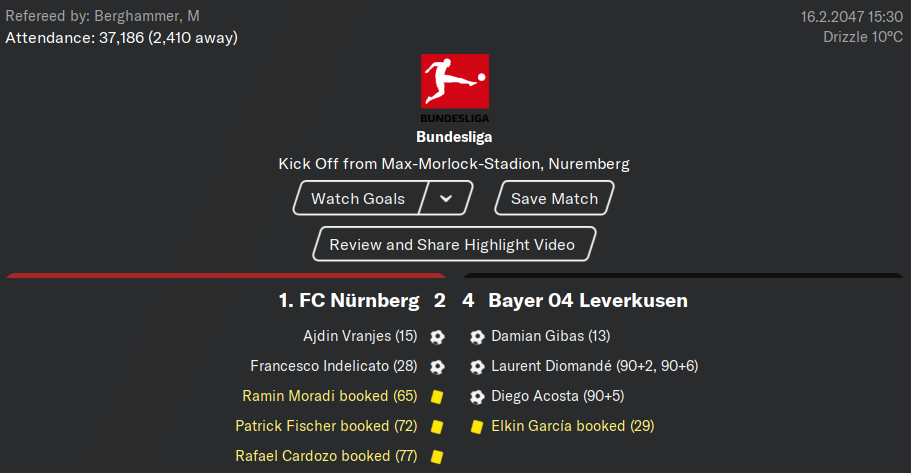 But fear not – we were the kings of injury time! 3 goals close to the final whistle turned the match and made us 4-2 victors. A great mentality boost for everyone.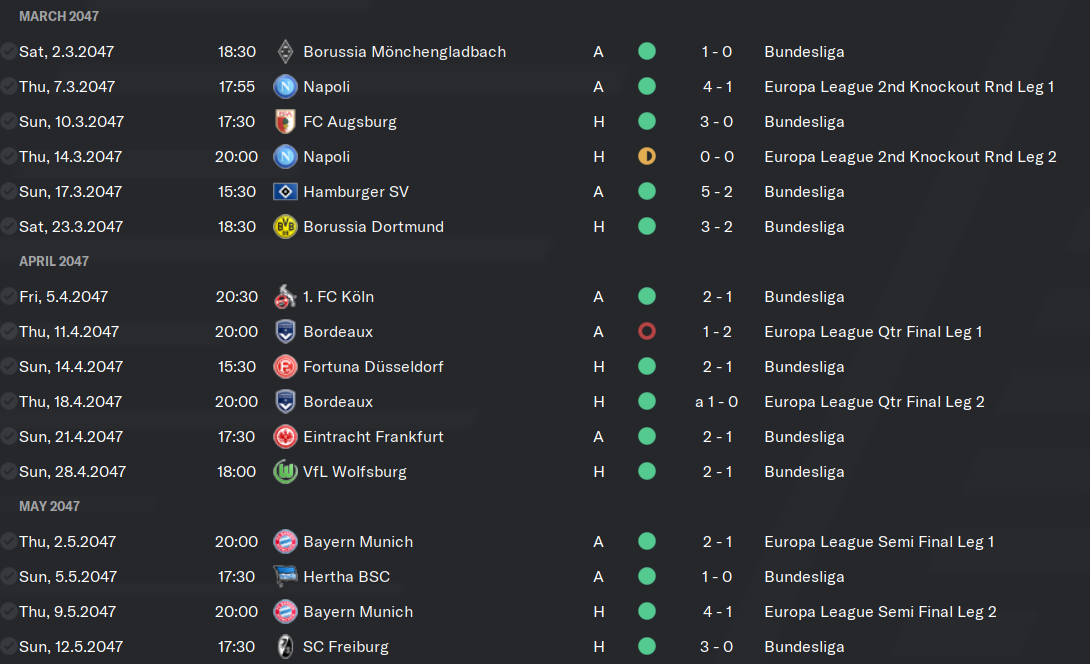 We took the positive energy and turned it into an unbeaten streak in the Bundesliga. Our distance to league leaders Dortmund diminished every week and we took the top spot with a 2-1 against Wolfsburg in late April. In the Europa League, we easily dispatched of Napoli, struggled a bit against Bordeaux, and then dominated Bayern in both legs of the semifinal. The 4-1 in the 2nd leg was a bit too high because they went all-out offensive in the end and we managed to score two more goals on counter attacks. But hey. On May 12th, the world looked great.

We were topping the league 1 point ahead of Dortmund. They'd be playing away at RB Leipzig on the last day, while we were going to visit 17th-placed 1. FC Kaiserslautern. Kaiserslautern still fought against relegation, but given our previous run through the year — who would expect us to lose this?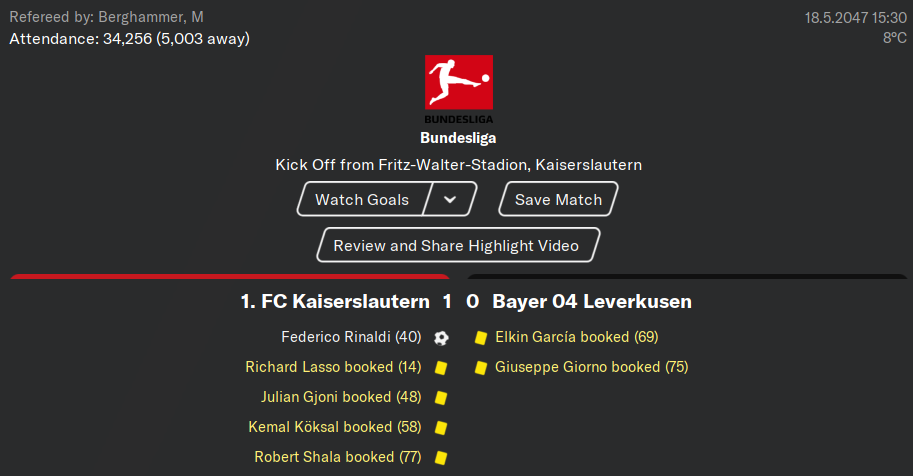 But we lost in the classic FM manner: none of our 30 shots on the goal hit the target, while Kaiserslautern scored from one of their 3 counter attacks. At the same time, Dortmund managed to get a 2-2 draw against Leipzig, making us Bundesliga runners-up on goal difference.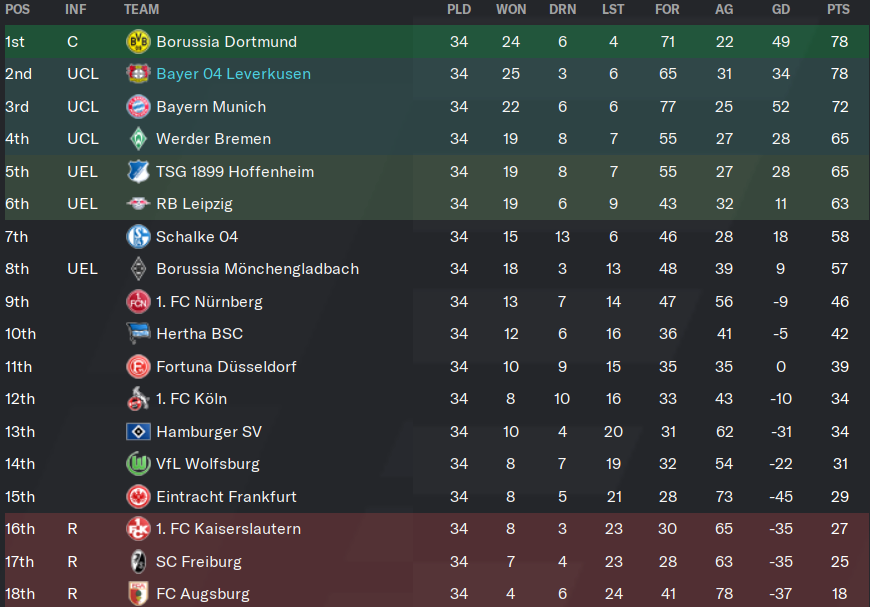 But fear not, the season wasn't over yet and we'd still play the Europa League Final. In which we'd be facing … Dortmund once more!

And while there could have been easier opponents for a European final, at least it gave us an opportunity to immediately hit back. We had beaten them twice in the league this year, so I figured we might have chances to get this title at least. For Dortmund's manager Thomas Tuchel it was his last match before retirement, which added some more spice to the table.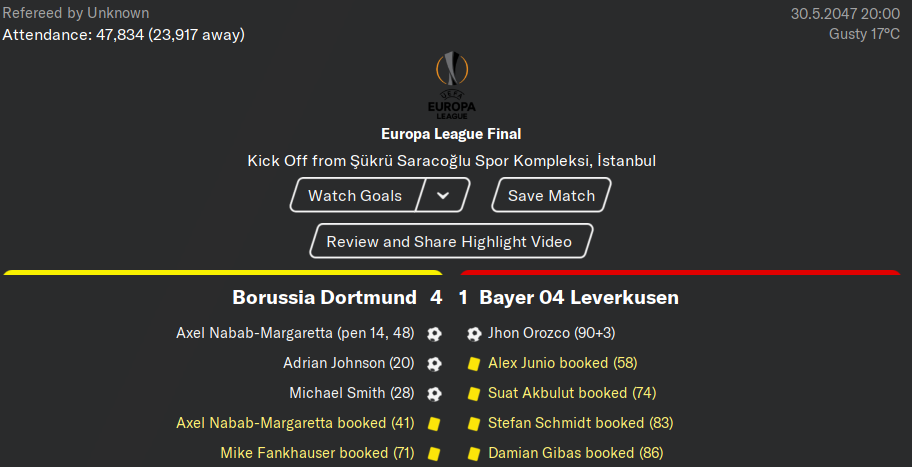 We did not stand any chance. Dortmund seriously dominated us at all times. We are still Vizekusen after all.
Devastation!
I admit, I was close to save+reloading after the Europa League final. But well, this is not the story of one invincible manager moving from one height to the next. It's just some regular dude failing to win the Champions League for the last 10 seasons. I must say I had not expected Europe to be such a bummer.
That being said, we still overperformed this season. The board expected us to qualify for the Euro League, and we nearly won the league! We made it to the Euro League final. We set a new historic record for goals scored in the Europa League. Not all is looking bad.
But you know what's looking bad? The transfer budget for next year. Leverkusen have failed to reach the financial safety of Champions League football far too often in the past few seasons. We are still in the green after all price money and sponsorship came in. But the board are a tad conservative and only willing to give me 25 million EUR to strengthen the squad for the Champions League. I'm still slightly optimistic: we have a good squad that has now also developed an understanding of our tactics. We won't need huge modifications. Let's see how I feel about that statement the next time round. :)

Subscribe to our Newsletter