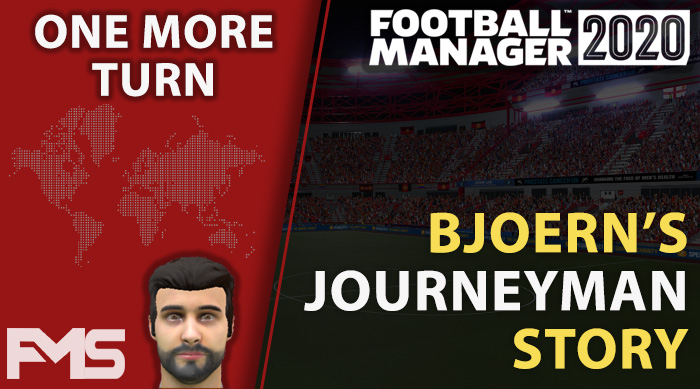 Gabriel's Diary
Moenchengladbach, Germany, March 17th 2046 — Tomorrow, 4:30 PM — Meet the Bayer Leverkusen Board.
In the Boardroom

SE: Gabriel, you've been Borussia Moenchengladbach manager for nearly seven years. Then you resigned and now, only 3 weeks later, you are sitting here with us. What happened?
GA: Let's be honest, Sascha. I didn't resign, the Gladbach board left me no choice but resign or accept to be put on probation. I'm in this business long enough to understand when things have gone sideways and it is time to leave.
SE: Merely 8 months ago your team were runners-up in the Bundesliga…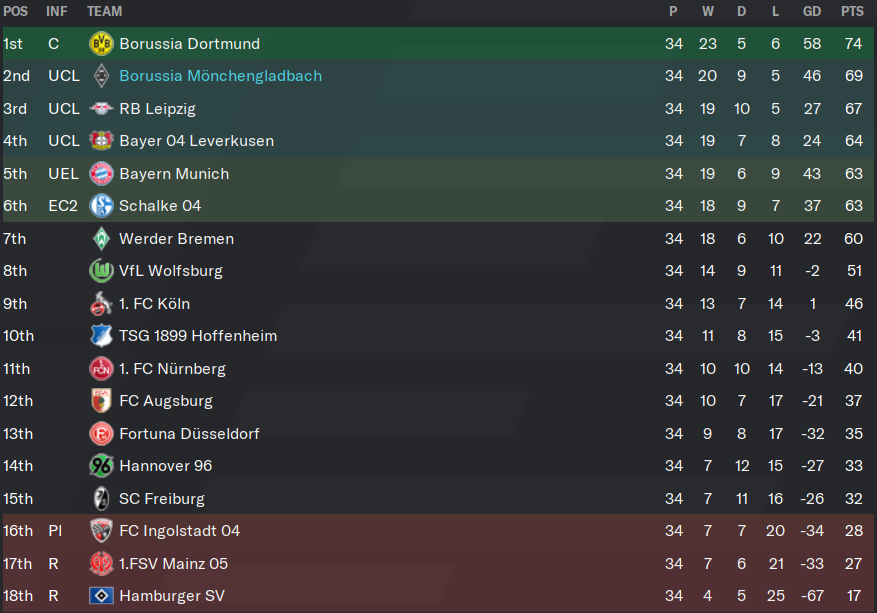 GA: Right, 2044/45 was a pretty successful one. We even had chances to win the title at times. Still, I think this was a huge success for Moenchengladbach. And let me put this into perspective: In my six full seasons as Gladbach manager, we managed to reach the Champions League four times and the Europa League twice. We even won the Europa League. Statistically, this was a period of success the club hadn't seen in the 15 years before.
SE: I know the colleagues over there and I'm sure they didn't ask for your resignation lightly.
GA: I'm not too sure. Obviously, we were not doing very well this season. We were aiming for a top-4 finish and only sat in 7th place after 23 matches with no realistic chance to get back into the top 4.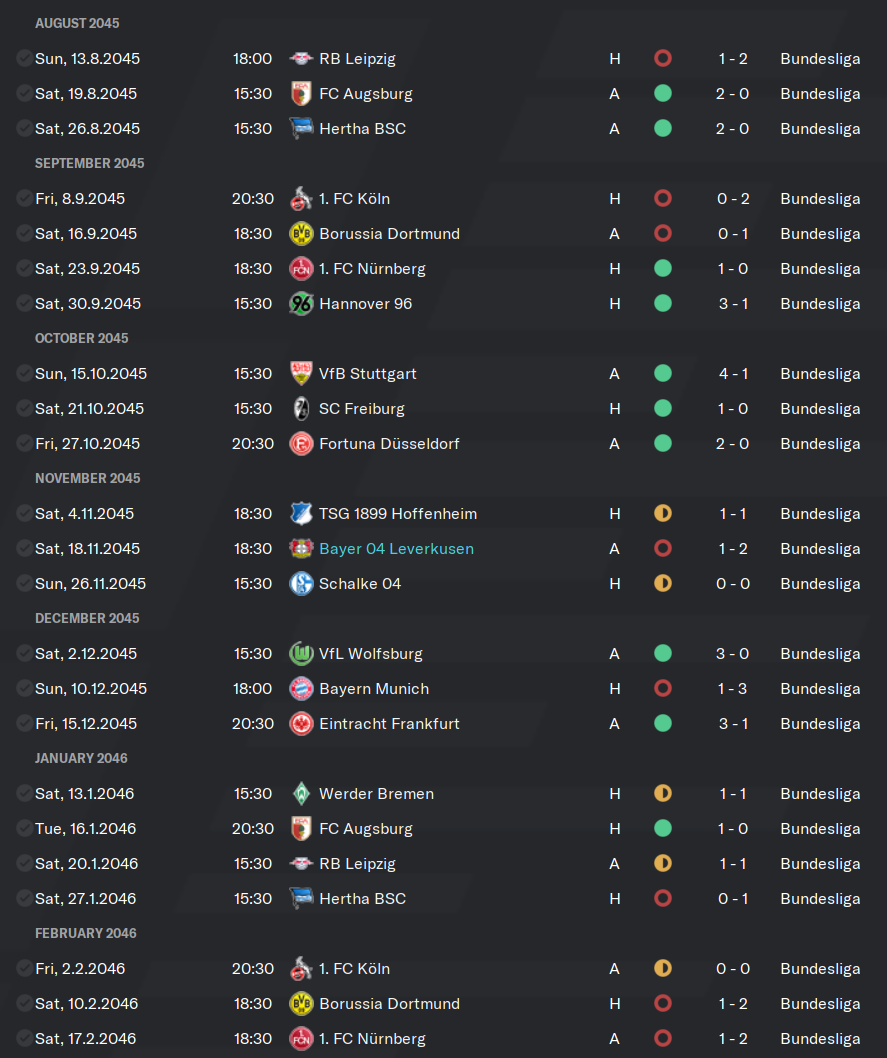 We were not only struggling against the top teams. Given the financial gaps in this Bundesliga, you have to expect losing against Bayern and Dortmund. I even accept the occasional defeat against Leverkusen or Schalke.  But this time things became even worse. Losing early on against Leipzig and Cologne. And in the last few weeks, losing 0-1 against Hertha in the 94th minute. Leading the Dortmund game 1-0 for 70 minutes, and then conceding two goals in extra time. And then getting beaten by Nurnberg in extra time again. I feel there was at least some misfortune involved here.
SE: You also weren't scoring a lot in the last couple of months.
GA: That is true. While scoring went well in the first half of the season, we struggled against oppositions going into 2046. Of course we had injuries and rotated more than we should, but even then: given the individual strengths this team had, I am the first one to say that I had expected more.
SE: Were the players unhappy?
GA: The dressing room was fine and there was no infighting. Maybe they were tired after 6 years with me? Maybe they were struggling because expectations had risen? Whatever it was, my dismissal set some powers free: they won the next 4 matches. Looking at the Gladbach board, the whole fact that they threw away 6 pretty successful years at the first sight of a problem indicates that problems lay deeper between us.
SE: But your team didn't only struggle in the Bundesliga.
GA: Right, there also was the DFB Pokal. 2nd round out against Hoffenheim.
This was a classic. We got more shots, more passes, more corners, more everything. And they score the goal. But let's look at the Champions League instead! We were third-seeded again and got a group with Real Madrid, FC Porto, and Olympiakos. And we got awesome results there!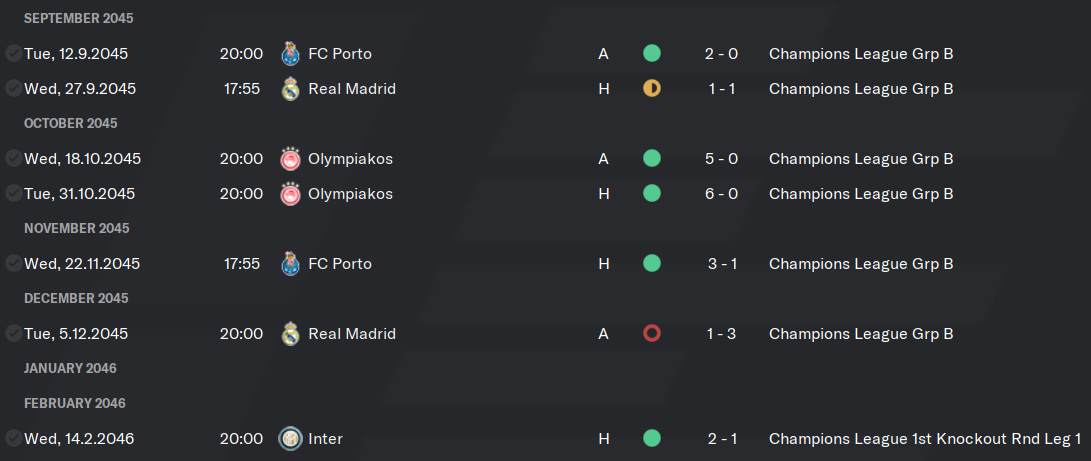 We got a point against Madrid and beat the other teams twice. There were no doubts about the knockout round and 4 days before my dismissal we made a great first step there by beating Inter in the first leg of the knockout rounds.
SE:  This is indeed the kind of results that made us invite you here, Gabriel. But I have to ask about another thing. You seem to have been splashing the cash in Moenchengladbach…?
GA: I know what you mean. There was this statistics making the rounds last year.

We had outspent Tottenham. Manchester. Real Madrid. A quarter billion EUR spent on players. Were we the new rich? If you look closer, we just had a very busy transfer window and actually made a profit in that year!

At that time it felt like good business. Vandendriesche went for a record 75 million to Liverpool. Klaus Hecking made us 20 million profit after a year. I'm still laughing how I got 40 million out of Wolfsburg on transfer deadline day. He wasn't even worth 20 if you ask me. Molinos, Draskovic, and Fuentes gave us another 90 million in total, for players that had never made it far away from the bench. So sure, we took all the money and then invested it.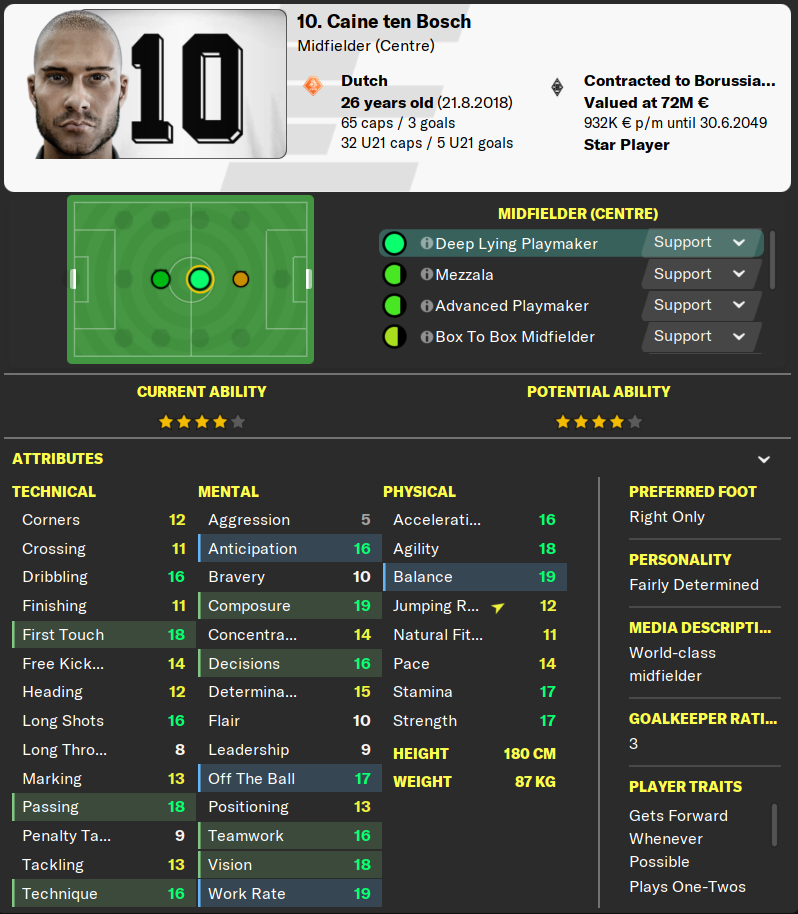 Caine ten Bosch surely was a record transfer. But the Bundesliga hadn't seen this kind of a playmaker outside the Bayern and Dortmund squads in decades! He is really that good. Will you allow me to bring him to Leverkusen?
SE: That is financially out of any question, Gabriel.
GA: I had guessed that.
SE: We still don't know what went wrong then.
GA: We had a great 2044/45 season: 2nd in the Bundesliga, dropped out of the CL, but reached the Euro League quarterfinals. Lost in the DFB Pokal semifinal against later winners RB Leipzig. Expectations for the next season were flying high.
But even if these results might have clouded observations, I felt we needed to continue improving the squad. Up to a point where for most of the positions we really had at least two equally good players at hand.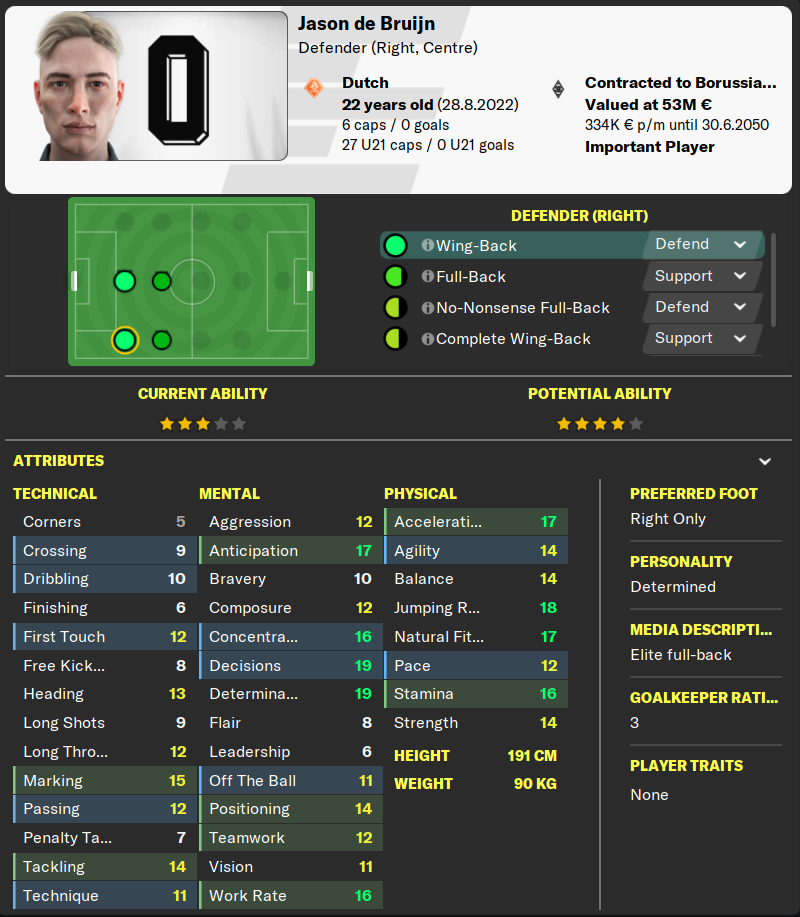 Jason de Bruijn was still a required update on the right flank. We paid 60 million for him to PSV Eindhoven and I believe we should have left it at that. But there were other players, and funding was available.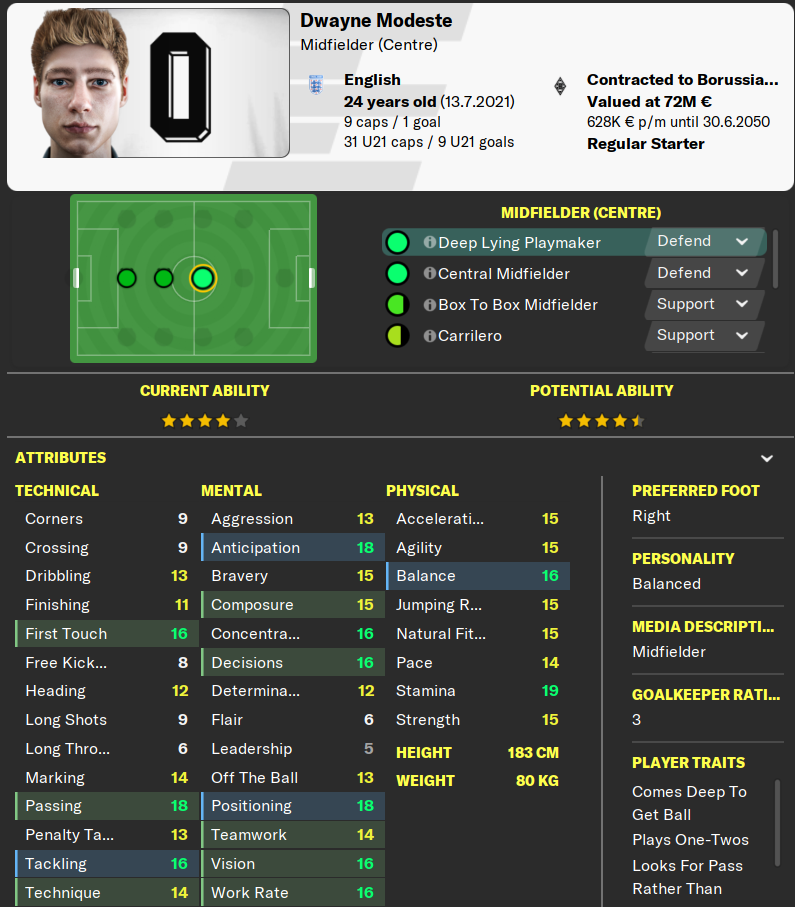 So we paid another 60 million for Dwayne Modeste to Manchester United. And hey, this guy is good, too!
The problem is: especially in the central midfield areas we had so many good players. And as a manager that leads you to over-rotate the squad. In hindsight, I should have stuck with a more or less fixed starting 11 over the season and that would have avoided some of our troubles. However, at times, I rotated 4, 5  players every week and that didn't really help our progression. Add injuries and the general downward spiral that comes from a run of losses and draws. This is where we lost control as a team.
SE: Gabriel, if we decide to hire you, when would you like to take charge?
GA: Right away, after this meeting. I want to set things right and help your team. And I'm itching to get to work when I look at your upcoming matches. First, Nuremberg were the team that made me lose the Gladbach job. And the second match against Gladbach themselves. Let's roll!

SE: Welcome to Bayer Leverkusen, Gabriel Ameobi!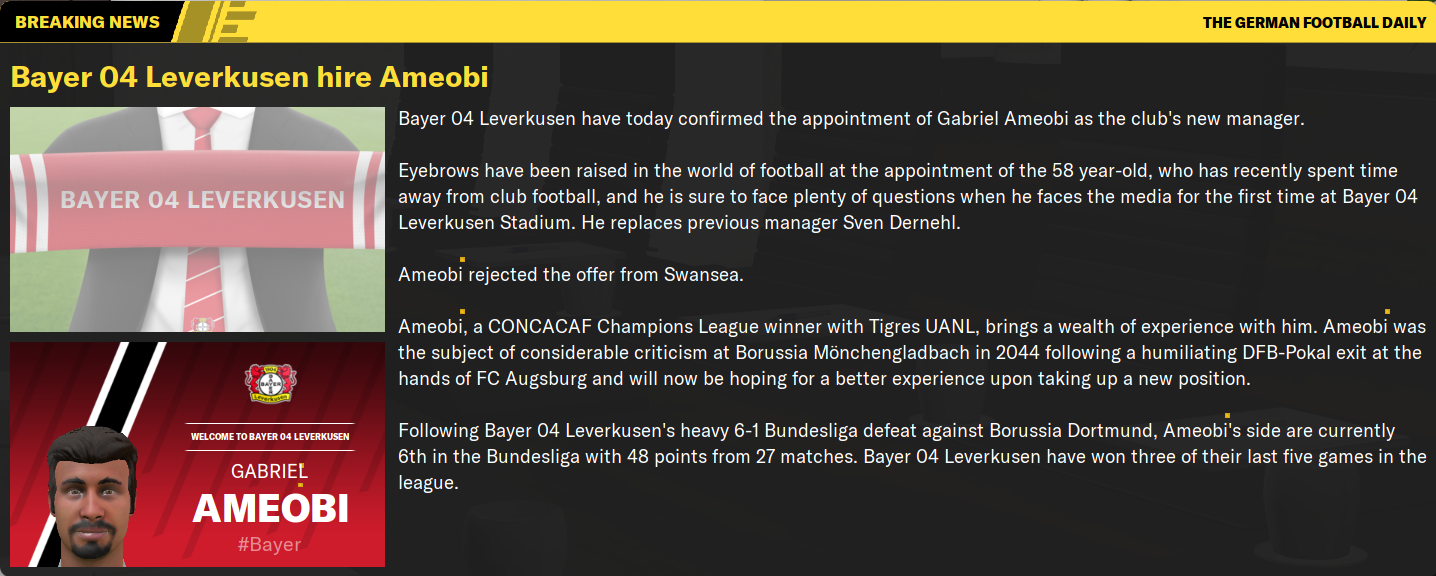 Subscribe to our Newsletter