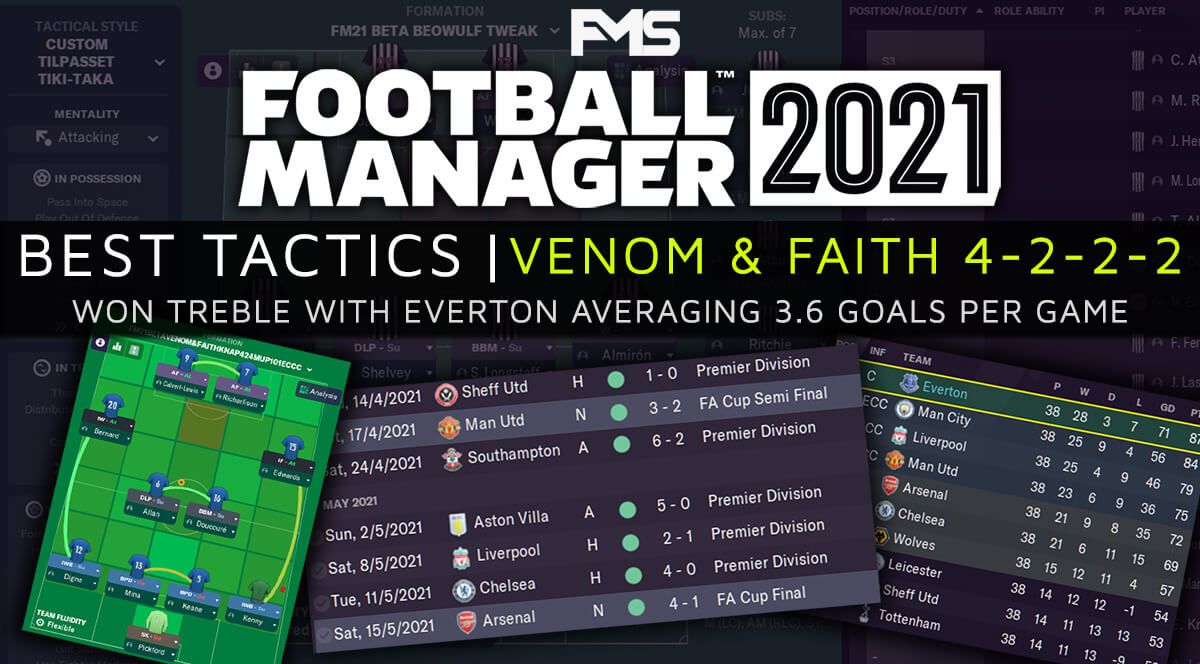 Hey guys and welcome to another review from our best FM21 Tactics series, in the spotlight today is Venom & Faith. This is an exciting, pressing system created by Knap around the very offensive 4-2-2-2.
I tested this system with two teams from outside the top 6 and found it great going forward. After winning the treble with Everton in season one I tried my hand at Crystal Palace punching above our weight averaging 3.6 goals per game.
Venom & Faith is by no means an underdog tactic, but with the right players could work for most sides. If you have fast forwards who can dribble and Wingers with speed to burn this is the system for you.
Best FM21 Tactics – Formation
Knap's Venom & Faith was created in various formations but we're reviewing the 4-2-2-2 which seems to be the most effective for FM21. You can expect aggressive, attacking Football and lots of goals both for and against. The success of this system rests firmly on your forwards, being the two strikers, AMR and AML, fail to sign fast players with good ball control and fail to win. It is also worth noting a slow Defence may come undone.
Moving onto the systems functionality and most important players, your front four. Two Advanced Forwards sit high waiting for those penetrating balls as the Inside Forward and Inverted Winger run infield utilising space left from a stretched opposition. Often in attacking scenarios AMR and AML join the front two forming a quartet and rather entertaining overload.
The Wing Backs are inverted and tend to sit in helping pack out midfield. A Deep Lying Playmaker will pick out the passes but mainly offers stability in shape while the B2B is your forward thinking MC and responsible for carrying the ball forward centrally.
Yes you will concede and a fair few at that but the resulting play is quite sensational especially when managing the top teams.
As always, player suitability and familiarity is vital. If you do not have fast forwards, Wingers and good dribblers this FM21 tactic may not work for you.
Note: Do not try and copy this tactic, there are many specific player instructions and important custom set pieces. If you do not download this best FM21 tactic, it will not work.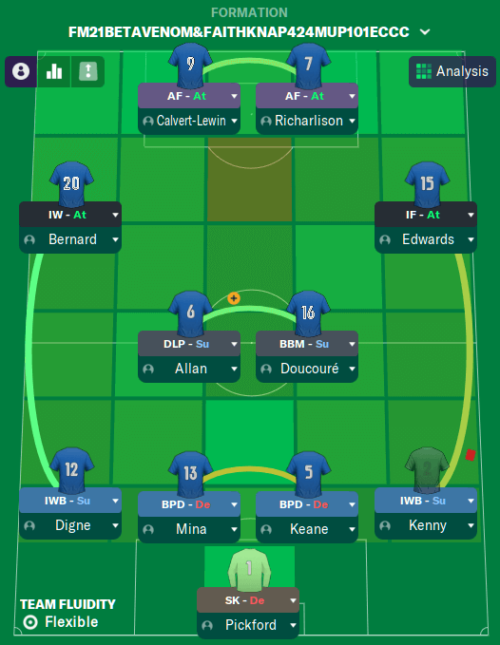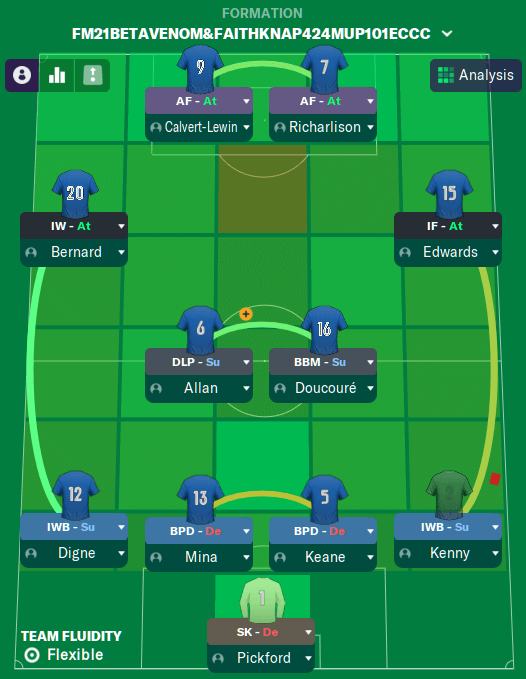 Venom & Faith Gameplay Video
Best Football Manager 2021 Tactics – Instructions
The best FM21 tactics not only utilise instructions to impose a style but rectify shortcomings. In Venom & Faith we use 'slightly shorter passing' to create neat link up play but also numb down those searching balls over the top, which feature heavily in all Knap's tactics. 'Run at defence' is active which you can see clearly in game and we not only play out from the back but look for overlaps.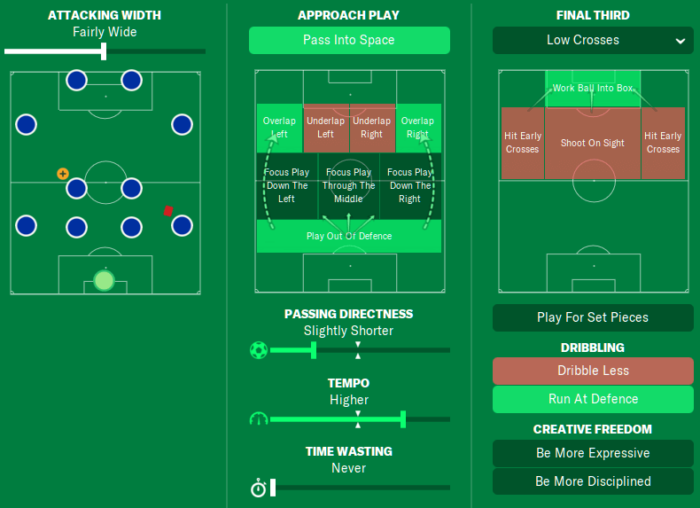 This is clearly a pressing system with counter and counter-press in use while the Keeper is setup to find those inverted Wing-Backs.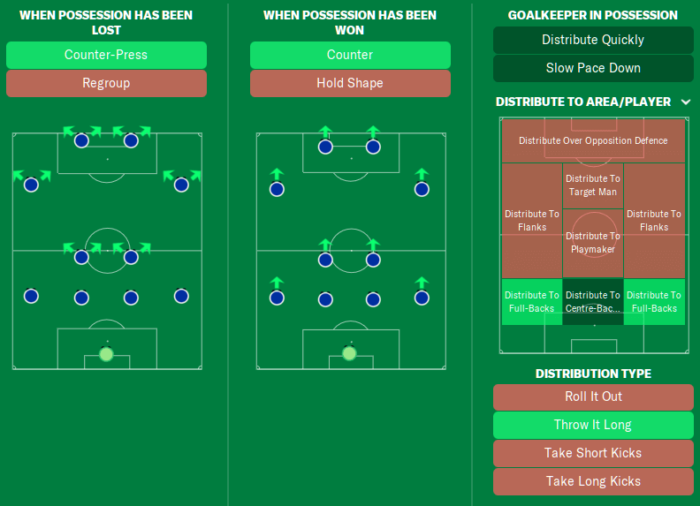 Out of possession we have the most aggressive style possible with much higher defensive and engagement lines, extremely urgent pressing and prevention of short distribution. Knap forces the opposition wide, marks tightly and gets stuck in.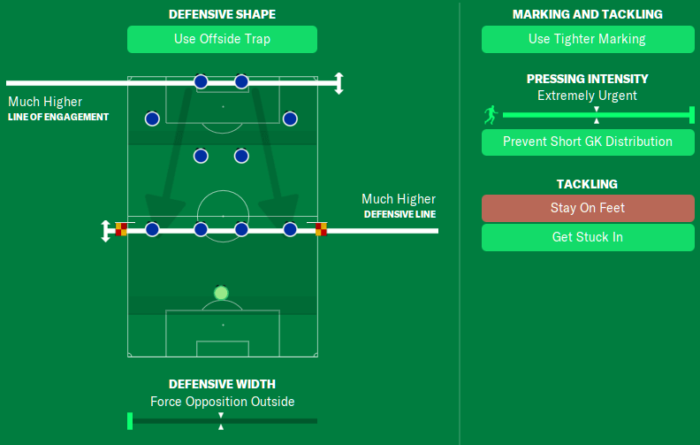 Best FM 2021 Tactics – Player Roles
GK – sweeper keeper (defend) – Just your standard Keeper but one v one ability should be preferred.
CD – ball playing defender (defend) – Ideally find centre backs who can pass and fulfil the role but I'd say its more important to have a towering presence with speed. Venom & Faith uses a very high line and pressing style of play so balls in behind can cause problems, slow Defenders may be exploited.
DR/DL – inverted wing backs (support) – An interesting role and vital to all phases of play, the inverted wing back sits narrow out of possession protecting the Defence and DMC. In attack they form a four man, narrow midfield or push on to support the Wingers. All rounders with good physicals do best as I found Digne the perfect player.
CM – deep lying playmaker (support) – The DLP is your link between defence and attack, probably the most stationary role. We need a great passer of the ball with vision and good long shot ability, Allan was the perfect all rounder for this role favoring his defensive duties allowing the B2B to push on.
CM – box to box midfielder (support) – The more attacking MC should have good physcial attributes and technical ability, a Yaya Toure type player capable of carrying the ball forward and instigating attack. Doucoure was decent but lacking in the final third whereas Andre Horta from Braga (great cheap buy) transformed my Crystal Palace team in this role.
AMR – inside forward (attack) – AMR and AML serve the same purpose; to cut inside and craft opportunities in the space brought on by your Advanced Forwards stretching the pitch. They also arrive late for crosses and form a quartet attack in the final third. You need speed, dribbling ability, flair and end product is a massive bonus. I highly recommend Marcus Edwards here, Vinicius Junior on loan is an option also on the opposite flank.
AML – inverted winger (attack) – As above.
ST's – advanced forward (attack) – The main goal threat, speed and dribbling ability is a must. Richarlison and Calvert-Lewin were great for Everton but Batshuayi and Ayew impressed while managing Crystal Palace also. Balls in behind are prominent and these guys should take advantage of that outlet over the top.
IMPORTANT – When to tweak
I used attacking mentality for all matches, even away to Man City but did change to a time wasting system to see games out, usually around the 75th to 80th minute.
You can download here the time wasting tactic in a 4-1-4-1 shape.
Aside from tactics it is vital you rotate the team, this is to prevent fatigue and more importantly throw the AI. How often do the wheels come off as the computer apparently 'works out your tactics'? Personnel changes can help, as the opposition prepare for your system they will also prepare for your team, regular changes to either or can delay this slump in form.
Best FM21 Tactics Results & Table
While testing with Everton we scored freely often relying on Calvert-Lewin and Richarlison but the results below speak for themselves. A treble winning season spoiled only by complacency after the title was won.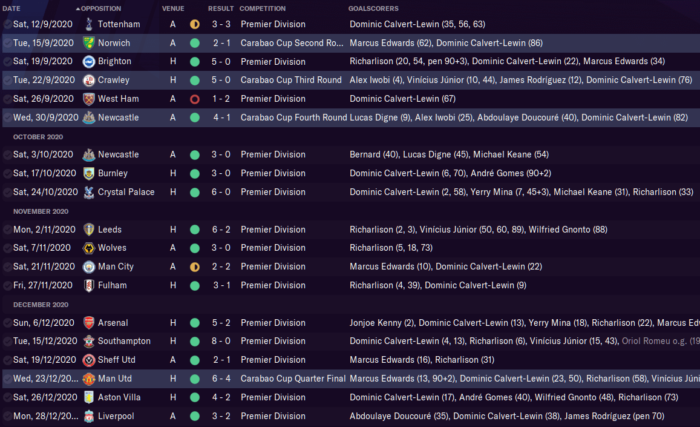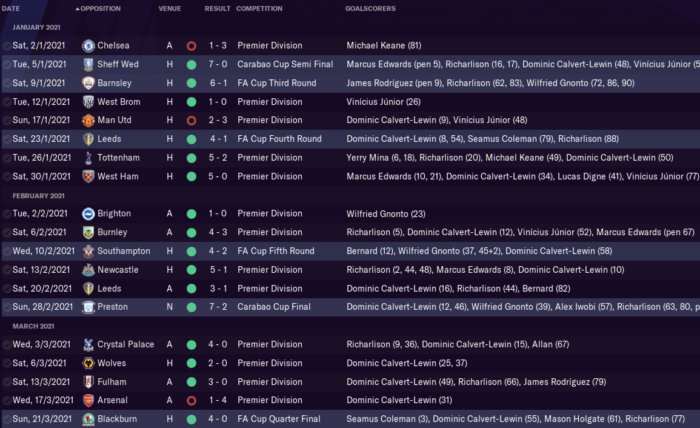 An impressive 121 goal haul not including the boat load we achieved in cup competitions. 7 losses in the league are indicitive of this system however as it can prove inconsistent but this is the nature of the tactic.

Finally some player stats from my Everton save highlighting the importance of a potent front four, Edwards, Junior, Richarlison and Calvert-Lewin were involved in 186 goals from 157 starts!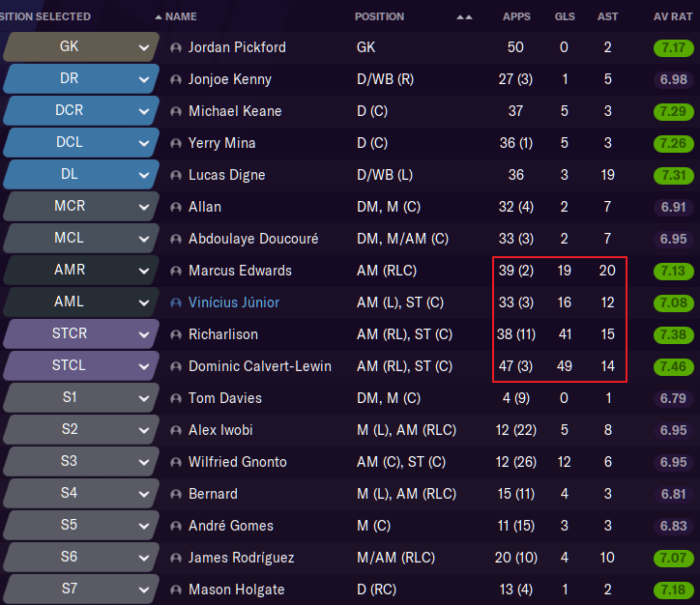 This proved the case in my Crystal Palace test also as Edwards, Batshuayi, Adam Armstrong and Zaha were central to success.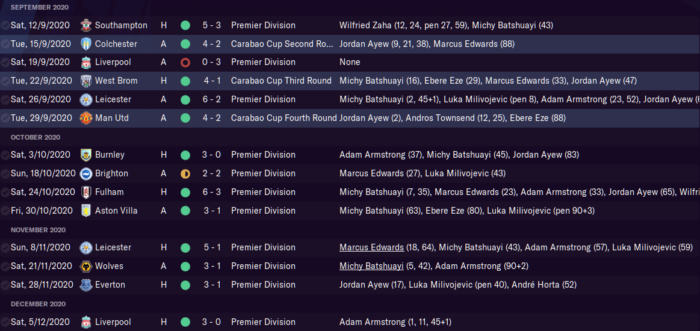 ---
Find the best FM 2021 players:
---
Best FM21 Tactics: Top Tips
This has been tested for patch 21.1. We cannot predict whether this will work on later patches due to potential match engine changes.
Change to 'See The Game Out' (download here) to see a game out.
If struggling to score, make substitutions to the frontline or midfield, this worked a treat for me.
It is vital you rotate the team to prevent fatigue and more importantly throw the AI.
As with any tactic it needs loading at the start of pre-season, tactical familiarity is vital in FM21. Also avoid signing a whole new team unless you are experienced doing so. These two things will see you under perform not because of a poor tactic but because of poor management.
I asked my Assistant to take care of training and team talks. Opposition instructions should not be set. I took charge of individual training to set each player up in their specific role.
You must get fast forwards and the best wingers at your disposal for this to work.
Be aware you need a decent size squad. Two players per position to allow for injuries and bans if you are in Europe.
You MUST download this tactic, do not try and copy it. There are many individual player instructions and set pieces are vital.
---
Try our best FM 2021 wonderkids, 500+ prospects fully rated with value buys highlighted here.

---
Best FM21 Tactics: Download
If you would like to give the tactic a try, follow the instructions below:

1. Click the download link above and download the file.
2. For Windows put the downloaded file in this folder: Documents/Sports Interactive/Football Manager 2021/tactics. If the "shortlists" folder doesn't exist you will have to create it. Windows users skip to step 2, Mac users read below.
Mac users put file in this folder: Users/YOUR Mac USERNAME/Documents/Sports Interactive/Football Manager 2021/tactics. To access your files on Mac open 'Finder', click 'Go' from the menubar, press and hold the 'alt' key to show 'library' in your menu, while still holding 'alt' click it, then go to 'Application Support' > 'Sports Interactive' > 'Football Manager 2021'
3. Now load the game as normal and enter the tactics screen.
4. In the tactics screen, click the tactic you currently have loaded then select 'load' from the drop-down menu
5. Select Venom & Faith 4-2-2-2 and click load.
---
Every year we test countless tactics and review the very best. For FM21 these systems will be ranked and listed within our tactics index linked below.

---
Thanks for reading, any social shares would be much appreciated. Follow us on social media for future posts in the series. Please feel free to leave a comment I'd love to hear how you get on. Likewise any questions.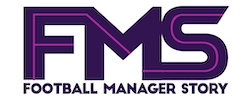 Subscribe to our Newsletter