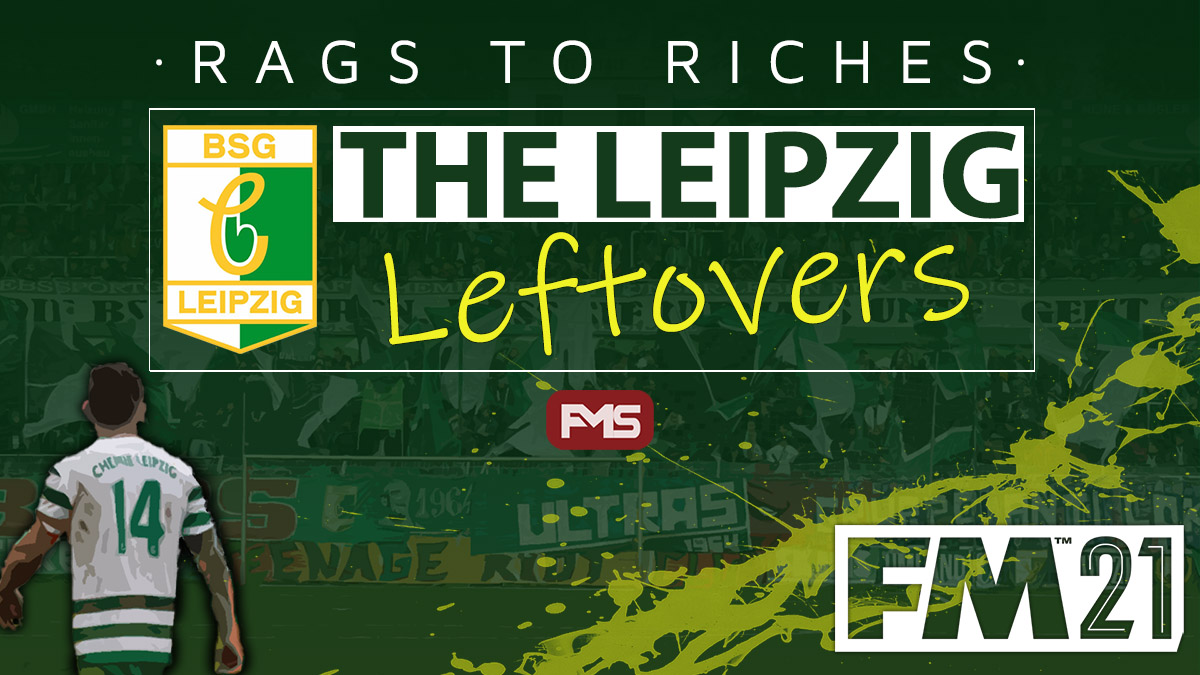 History Time: SG Dynamo Dresden
In a previous post we talked about SG Dresden Friedrichstadt and how they nearly won the first GDR Oberliga title. However, the club wasn't socialist enough for the reigning party. The riots that took place after they lost their final match of the 1949/50 season gave the leadership a good reason to disband the club entirely. However, the GDR was still a planned economy and if you wanted to satisfy the footballing needs of the Dresden workmen, you better gave them football. The powers that be decided that another Dresden club would take Friedrichstadt's place. And who would be more ideologically sound than a local amateur team organized by the police forces? — SG Volkspolizei Dresden  (literally: SG People's Police…) was chosen to enter the Oberliga for 1950/51.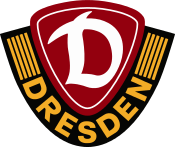 The problem: SG Volkspolizei were playing their trade in the local lower leagues. They were by no means up to the top division challenge. The problem was solved by collecting the best players from all GDR police teams and running a training camp. The most promising players from allover the country were "delegated" to represent SG Volkspolizei in their inaugural season. And they succeeded – after a 4th place finish in 1951, the team became vice champions and FDGB Cup Winners in 1952. One year later one of the many government-led reorganisations of GDR sports happened. Football teams under the belt of the public and secret police organizations were summed up nation-wide into "Sportgemeinschaft Dynamo". Local sections of SG Dynamo were created and SG Volkspolizei was re-founded as SG Dynamo Dresden on 12th April 1953. It was under this name that they then won their first Oberliga title at the end of the 1952/53 season.
SG Dynamo Dresden were so successful that in 1954 the whole team was delegated again: SG Dynamo Dresden in its entirety moved to Berlin and continued to live as SC Dynamo Berlin (later: BFC Dynamo). The remnants of Dynamo went through a decline and found themselves in the fourth tier of GDR football in 1957. But they fought their way up and were back in the Oberliga in 1962. In 1967 they even finished 4th and qualified for the Inter City Fairs Cup, where they went out against Rangers in the first round. This was followed by another relegation and promotion and from 1969 until its end, SG Dynamo would no longer be relegated from the Oberliga.
1969. Enter Walter Fritzsch. He already had 19 years of management in his bones (including 3 vice-championships with Empor Rostock). But it would be the 1970s decade in Dresden that would make him one of the true greats in Oberliga football. Fritzsch took the team and made them consistent. Under him, Dynamo won five Oberliga titles (1971, 1973, 1976, 1977, 1978) and two FDGB cups (1971, 1977). Together with 1. FC Magdeburg, Dresden were the dominant force in the 1970s GDR. At the end of the decade, Fritzsch left for the quiet pastures of the East German FA and politics decided to intervene in the Oberliga — Erich Mielke, head of the GDR's secret police and of Berlin team BFC Dynamo decided that now was the time for his team to win titles. But this is another story.
In contrast to other teams, Dynamo played European football regularly, including advances in the European Cup. Battles against Bayern Munich and Liverpool FC are to this day part of Dynamo's folklore. Everyone has an uncle that attended the European match against Rangers or made the daunting away trips to Victoria Bukarest or — help God! — Red Star Belgrade. But more often than not, Dynamo were on the losing end. Nothing exemplifies this more than the Cup Winners Cup tie against Bayer Uerdingen in 1986: Being a match against the West-German neighbours, this was of utmost importance. Dynamo won their home leg 2:0. In the second leg they were up 3:1 at half time. Uerdingen's fans were leaving the stadium because they could not endure that anymore. But at half-time Dynamo goalkeeper Bernd Jakubowski had to stay off injured. His young replacement Jens Ramme had his worst and the Bayer Uerdingens squad their best second half ever. Uerdingen scored 6 goals past Ramme and won 7:5 on aggregate.
In reunified Germany, Dynamo were sorted into the Bundesliga and managed to stay there for four years. Great sons of the club like Mathias Sammer and Ulf Kirsten were sold for peanuts and made great careers elsewhere. In 1995, the club was bankrupt and forced into the third tier. It took them a decade before they returned to the 2. Bundesliga in 2004. Since then, Dynamo have been going back and forth between 2nd and 3rd tiers, even though the officially stated club aim still is to get back to play European Football one day.
Chemie Leipzig: 2029/30
Welcome to another season with the Leipzig Leftovers. Last season we finished 8th in 2. Bundesliga, also due to the contributions from a few awesome loan players. The team is clearly trending up and. given that we managed to extend important loans, I was hoping for another strong showing of the team.
Transfers
We were lucky in securing the loans of Dennis Bock (ST), Axel Mayer (AML), and Tryfonos Leivartzinos (WBL) for another season. Given their performances over the past two seasons, this already gave us three strong players to move our offense ahead.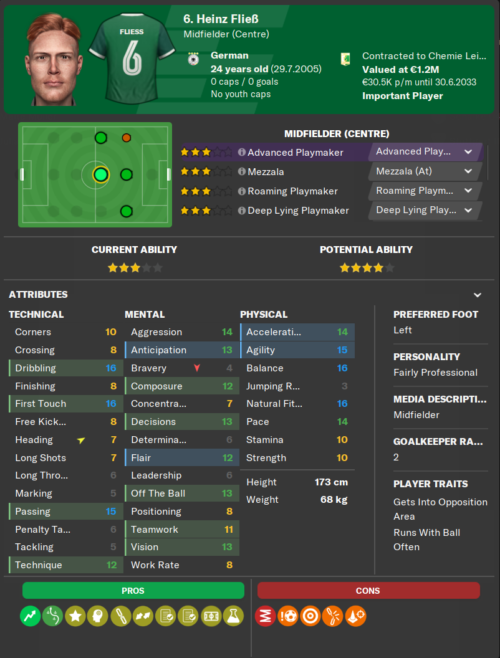 Heinz Fliess joined us after being released at Eintracht Frankfurt. He's a solid midfielder and throughout the year I found myself using him more and more in the AMR position rather than central midfield. Unfortunately, he did not make as much of an impact in his first season – he got injured for 6 months early on and thus only served as a backup in the 2nd half of the season, which still gave him 11 appearances.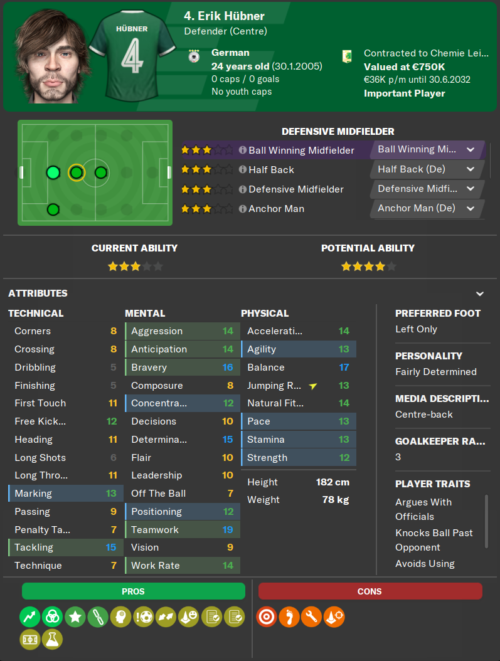 Erik Huebner was transfer-listed by Fortuna Duesseldorf. I got him for 350,000 EUR. He was to bolster our defense and turned out to be a great deal. He made 28 appearances in his first season for us with an average rating of 6.93.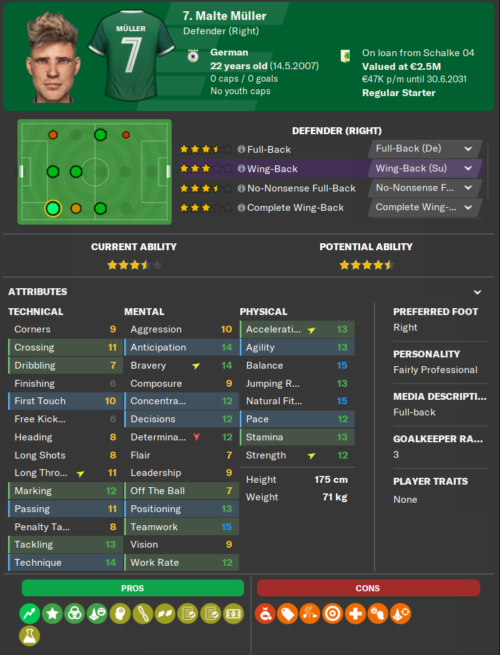 I said it before: good wingbacks are hard to find and usually to expensive for us. Given the success we had with Tryfonos Leivartzinos on the left wing, I was willing to bring in another loan player for the right wingback position. Our parent team Schalke had Malte Mueller out for loan and we brought him in on a 2 year loan deal. In his first season he made 33 appearences, assisted 7 goals, and was named Player of the Match three times.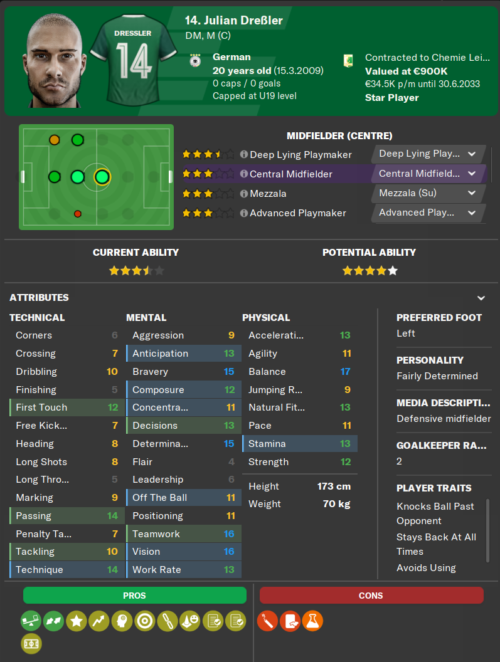 The last major signing of the season was Julian Dressler from VfB Stuttgart. Normally, we would not have been able to afford him. But on summer deadline day, Lazio came in with a 2.6 million bid for our central midfielder Lukas Baumgart (who we had signed for 275,000 only a year ago). I had no option but to accept and frantically look for a replacement. Dressler was as good as Baumgart and Stuttgart only wanted 1.4 million, so we had a deal.
The 2029/30 Season
We started mediocre as always. After an expected loss at Bochum, we bet newly promoted 1860 and 2. Bundesliga heroes Heidenheim. We also made it to the 2nd round of the DFB Pokal again, but after that we started dropping points. We should have beaten Osnabrueck, but did not score. We nearly won against Hannover, but they drew shortly before the end. Expected losses against top clubs like Mainz and Paderborn interseeded with a single win against Darmstadt. We got unlucky against Essen where we led the score multiple times, but failed to secure a result. The draw against Stuttgart was a good result actually, but I was nervous because our next match would be a 2nd round DFB Pokal meeting with Bundesliga side TSG Hoffenheim. Getting destroyed there might hurt our morale for the upcoming weeks and we really needed to pick up some points again.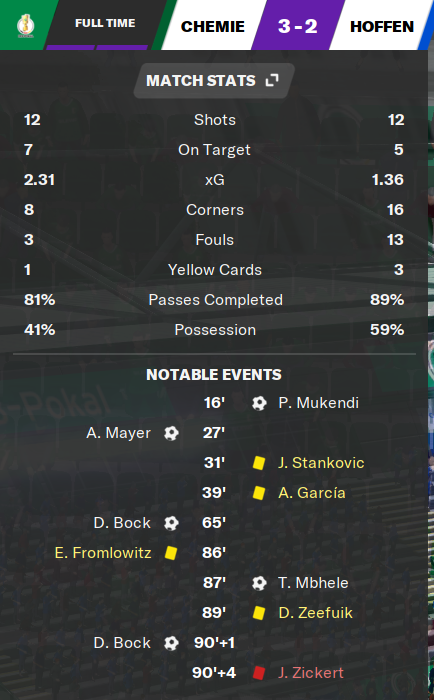 But then a miracle happened! We actually played really well against Hoffenheim and got our deserved result when Dennis Bock scored the 3-2 end result in the 90+1st minute. We had beaten a Bundesliga side and were moving to the DFB Pokal 3rd round for the first time ever!
And this was just the beginning. Boosted in confidence by the Hoffenheim result, we started a winning series. We blew Kaiserslautern out of their own stadium, followed by four more well-deserved league victories. Around Christmas we drew a few matches before going into the DFB Pokal 3rd round.

And our opponents would be no one else but our local rivals: Chemie would play RB Leipzig in a competitive match for our first time ever! I did not expect anything here – RB are a top Bundesliga side. The question was only, how many goals they would score against us.

It turns out: zero! With a combination of parking the bus, sheer luck, and a single Dennis Bock counter attacking run we won this. DFB Pokal Quarter Finalists. Certainly a nice sound to it.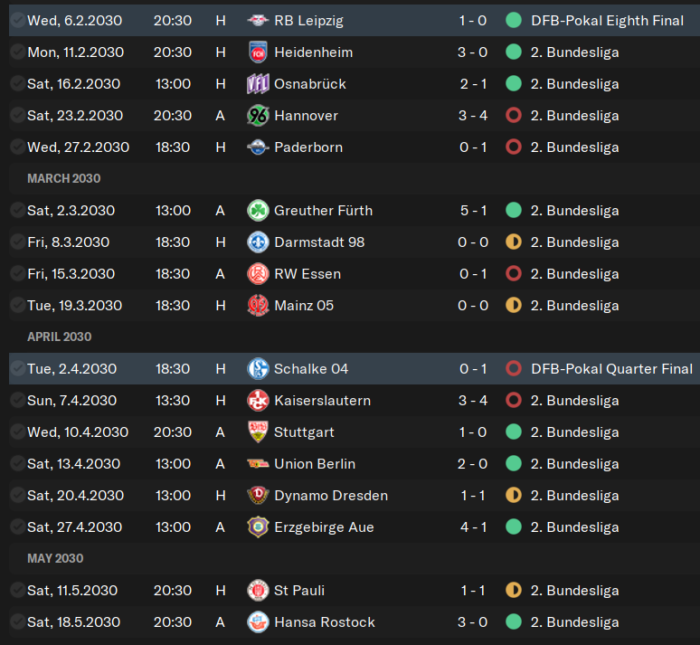 The rest of the season is quickly told: we had a little slump in February, but picked ourselves up with a 5-1 away win at Greuther Fuerth. We then had issues scoring, leading to a few more bad results in the league. Schalke 04 eventually were too hard  an opponent and we were out of the DFB Pokal. The good news is that after that exit we started scoring again. An unlucky 3-4 against Kaiserslautern was the last loss of the season and we finished the year with a 6 match unbeaten run.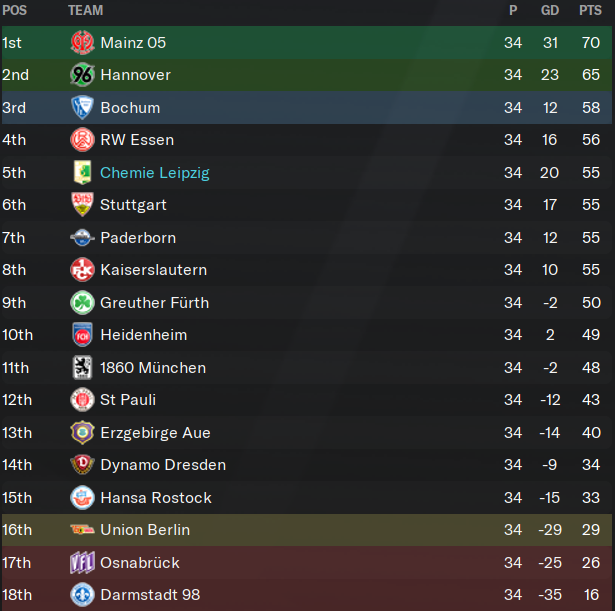 This put us in the 5th spot. Not too bad for the team ranked 16th in the wage budget still. And we were only 3 points away from the Bundesliga promotion playoff. Looking back at the season, I can easily point out a few matches where with a little more luck we could have picked up these 3 points.
But I'm by no means bitter here – the playoff would likely have come too early for us. Instead of whining, I'm happily taking the financial benefits from our league position and the DFB Pokal run. The board finally agreed to upgrade both our training and youth facilities. We are building infrastructure to keep the club more than a one season wonder. I surely think we are right now building a team that can aim for promotion in a few more years. I will keep you posted on the progress.

Subscribe to our Newsletter