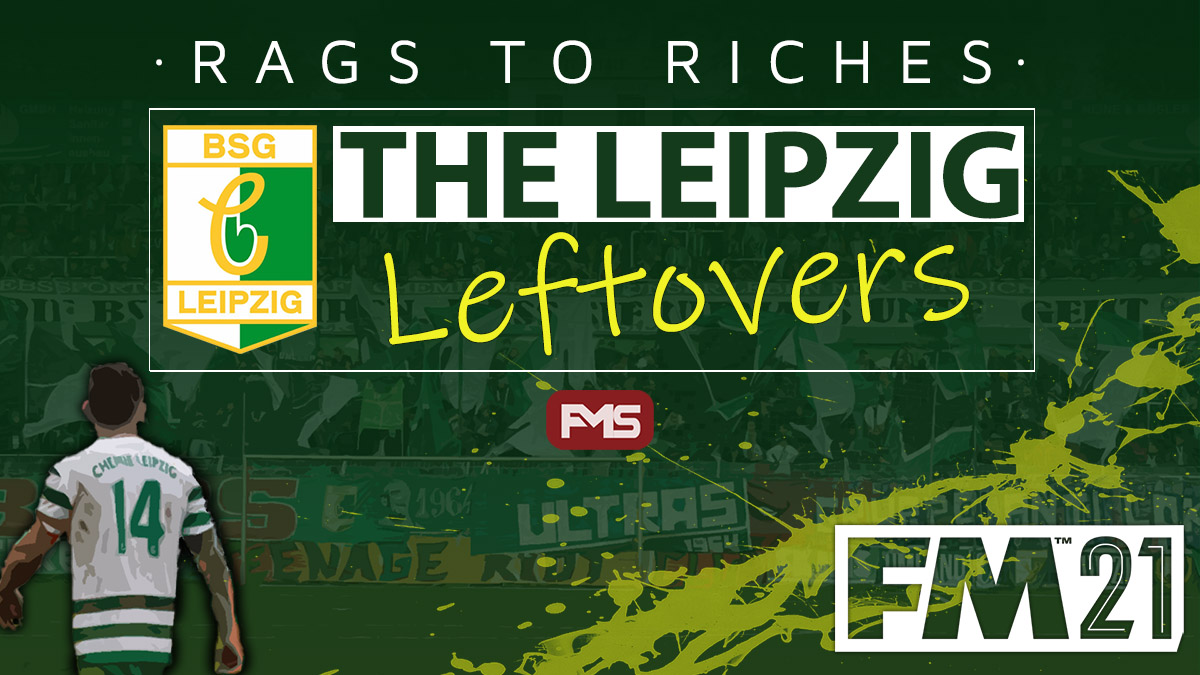 History Time: 1. FC Magdeburg
The 1970s were the most successful period in GDR football. The national team did reasonably well and qualified for a World Cup for the only time in 1974. And not only that: in the same year, the 1. FC Magdeburg team, made up solely from players born in the government district of Magdeburg, won the European Cup Winners' Cup (mandatory reference to Celtic's Lisbon Lions). After wins against NAC Breda, Banik Ostrava, Stara Zagora and Sporting Lisbon, they faced Milan in the final. The end result was a rather humor-less 2-0 win, German efficiency bet the world stars (led by Gianni Rivera and managed by Giovanni Trappatoni) on that day in Rotterdam. It was unusually cold on that May day, hence the winners are wearing white bathrobes on all the photos of their iconic cup win.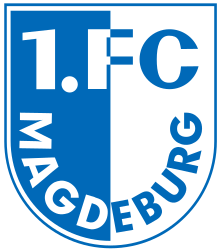 At that time in 1974 Magdeburg was one of the top teams of the Oberliga. Manager Heinz Kruegel built a team from local lads that were able to challenge for titles. They won the league in 1972, 1974, and 1975. On top of that, together with Dynamo Dresden they share the record for the most FDGB-Pokal wins, having won seven cups in 1964, 1965, 1969, 1973, 1978, 1979, and 1983. Kruegel himself was fired in 1976 for political reasons. Allegedly, during a match against Bayern Munich in the European Cup, he had refused to listen into the speech the Bayern manager was giving to his team, although the GDR secret service had spent much resources on wiretapping the opposing team.
After Kruegel left and the majority of his team retired, Magdeburg went into a slow and steady decline. Their successes were a thing of the past in the 1980s and when German football leagues were united in 1992, Magdeburg was sorted into the 3rd tier. It took them decades of a buildup (with some ups and downs to the 4th tier) before they finally made it to the 2. Bundesliga for a singular season in 2018/19. Today they are back in 3. Liga, struggling against relegation.
Chemie Leipzig 2027 – 2029
Welcome back to another episode of the Leipzig Leftovers! In the last post I covered our first four seasons in 2. Bundesliga. I'm trying to get back into a season-based schedule for posts, but we're still building up in 2. Bundesliga and while there is progress, there's just not lots of exciting stuff to tell every year. Hence, I'll be covering two seasons in this post.
The 2027-28 Season
In the last post I spoke about how pivotal Egson Gashi had been as a lone striker in our first four seasons. We had no real backup for him and I was worried what would happen if Gashi ever got injured for a longer time and looked for replacements. Unfortunately, our transfer budget did not allow for big investments.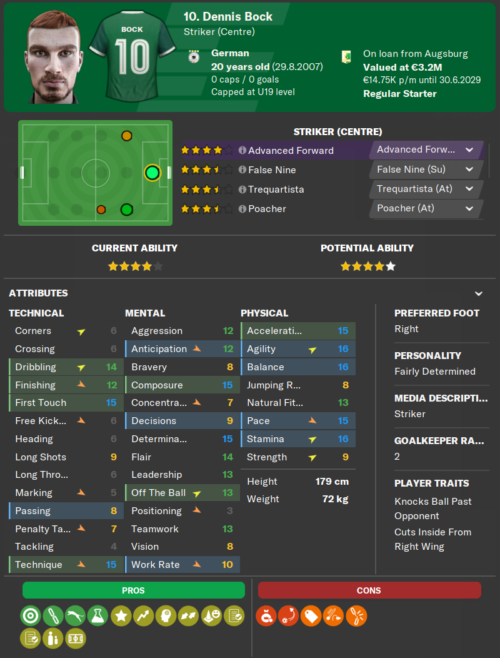 Luckily, I found then 20 year old Dennis Bock loan listed from Bundesliga side FC Augsburg. He signed a 2 year loan contract. Bock not only served as a great backup for Egson Gashi – he actually immediately grabbed his place in the team and held onto it by scoring goals galore. His speed and dribbling ability allow him to regularly outrun opposing defenders on counter attacks and his composure and technique make sure that he actually hits the goal after running with the ball.
In general, we've been loaning players quite successfully as we can't make big signings on our own so far. That strategy worked for me in the past as well. However, in FM20 and earlier it seems I was able to get free loans pretty easily. This time round, AI teams seem to look more after their finances and I usually end up paying a substantial amount of the players' wages. I'm not complaining – this seems totally fair – it just makes things a bit different than before.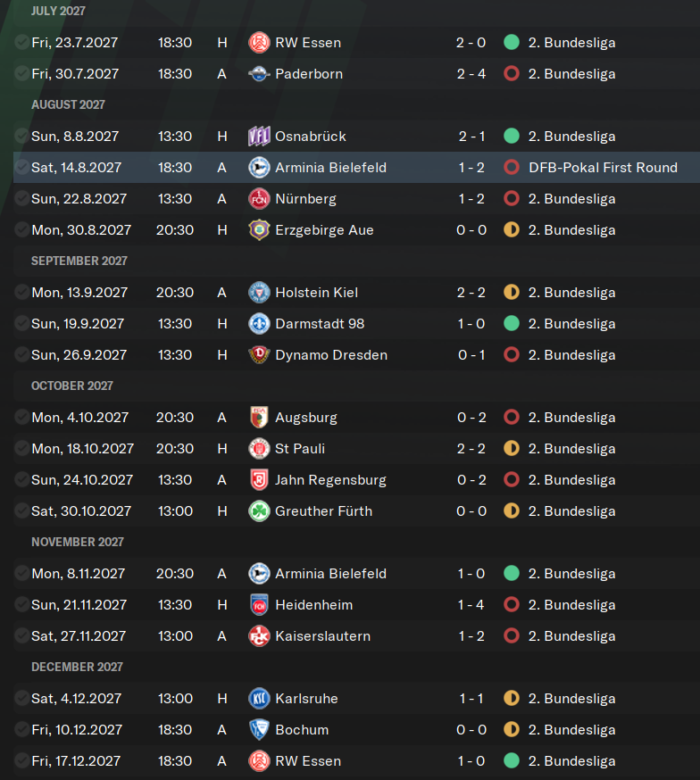 We started the 2027/28 season with wins against recently promoted sides RW Essen and Osnabrueck. At the same time we lost heavily to Paderborn and suffered a first-round exit in the DFB Pokal against fellow 2. Bundesliga side Bielefeld. We then were able to grab the occasional win, but never got ourselves too far away from the relegation spots. I was particularly unimpressed by our goal scoring – neither Bock nor Gashi were hitting the goal regularly. It seemed the very defensive setup that had somehow gotten us through the relegation fights previously was no longer good enough.
I tried to improve the team by bringing in more loan players in the winter transfer window.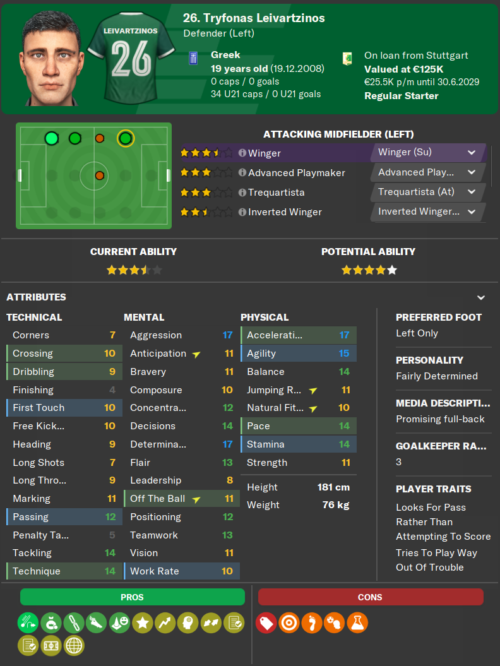 Good wingbacks are hard to come by and expensive. I was amazed to find Tryfonas Leivartzinos available for loan and sealed a 1.5 year deal from VfB Stuttgart.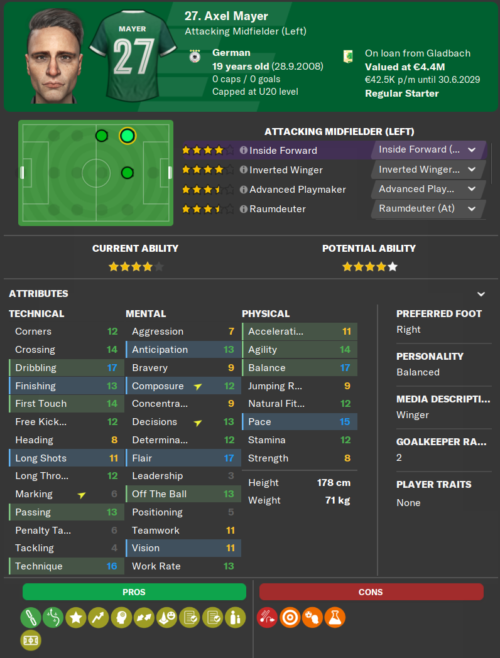 On top of that, we found Axel Mayer at Borussia Moenchengladbach. His attacking capabilities are certainly needed as we rarely scored more than one goal in our matches in the first half series.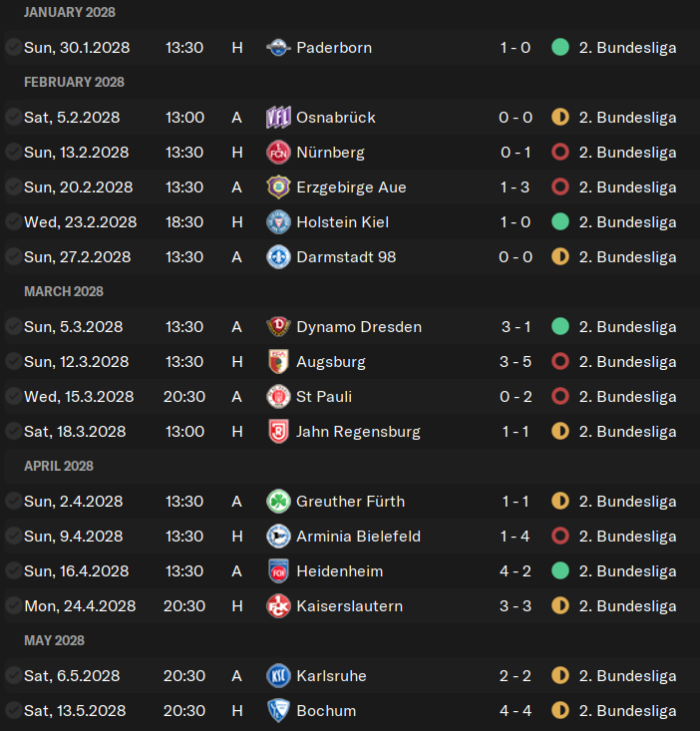 Things did not improve right away. The new loanees took some time to get acquainted to the team. But come March we see an uptick in goals scored. 3 against Dresden, 3 against Augsburg. In the last four matches of the season we would even go and score more than a quarter of our total goals this season! Unfortunately, our defensive performances left a few question marks. We struggled with hefty defeats against Augsburg and Bielefeld and were unable to turn our scoring record into wins in the final few matches.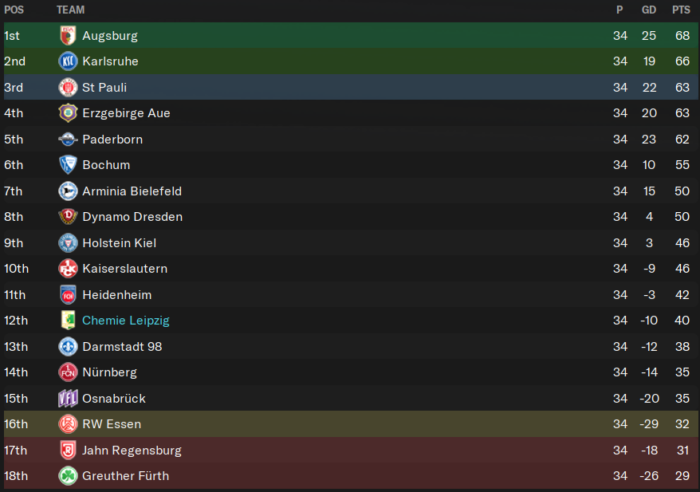 In any case, we were still good enough to avoid relegation and improve on last year's position. For the next year our goal would be to improve defensively while maintaining the attacking prowess that our loanees Bock and Mayer provided. And there is a silver lining: we scored 25 goals from January to May and 20 of those came from Axel Mayer and Dennis Bock.
The 2028-29 Season
We were able to make a few updates to the team in the summer of 2028. We already had Mayer and Bock upfront to score the goals, now we needed people to win the ball and pass it up to them.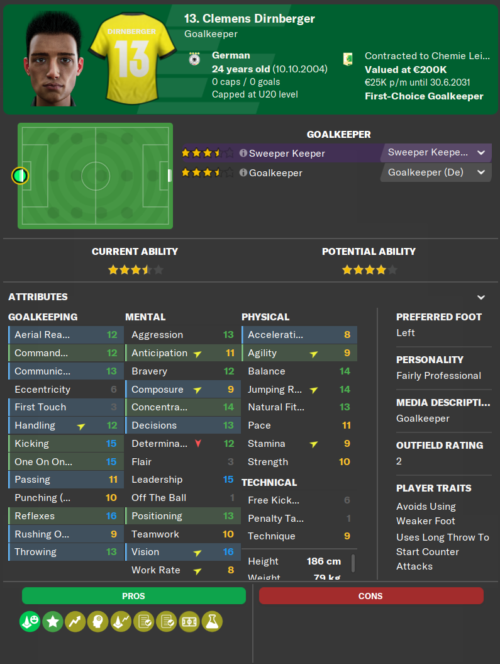 Clemens Dirnberger had just been relegated with Jahn Regensburg last year. Based on that history he doesn't sound like the first choice to bring in as your new goalkeeper. But looking at their stats, they had quite a good goal difference for a relegated team. They lost matches because they didn't score enough, their defense was okay. Hence, we spent 325,000 EUR on Dirnberger's relegation release clause and haven't looked back since. He's our rock in defense and even provides the occasional assist with a long kick over the opposing defense.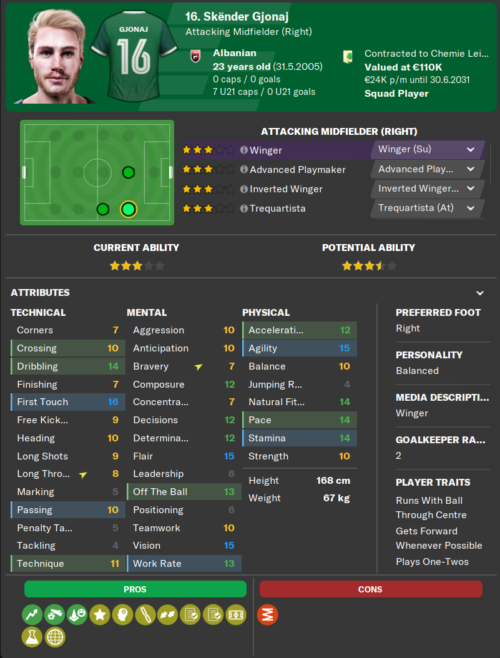 Skender Gjonaj was available for free after his contract at Hertha BSC ran out. I brought him in as a backup for right winger Bartosz Konieczny, who has his injury problems every year. This turned out to be a good call because Bartosz spent most of the first half of the season in rehab and Skender managed to suitably replace him.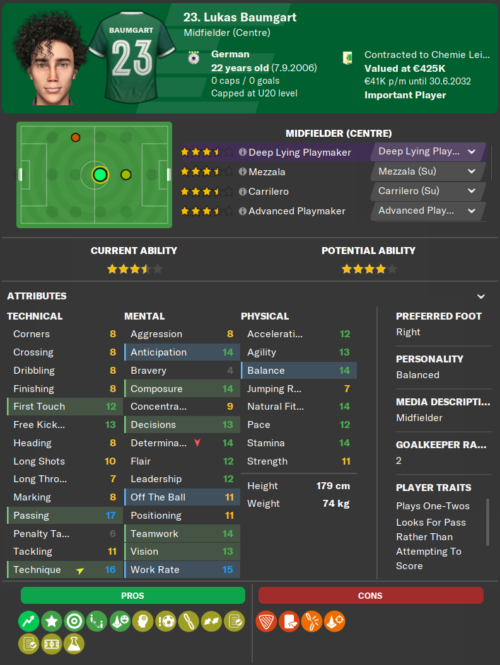 Last honorable mention is Lukas Baumgart. Another one to have suffered relegation last year, we got him for 275,000 from Greuther Fuerth. He would be leading our midfield, which I feel had done a bad job in keeping and distributing the ball last year.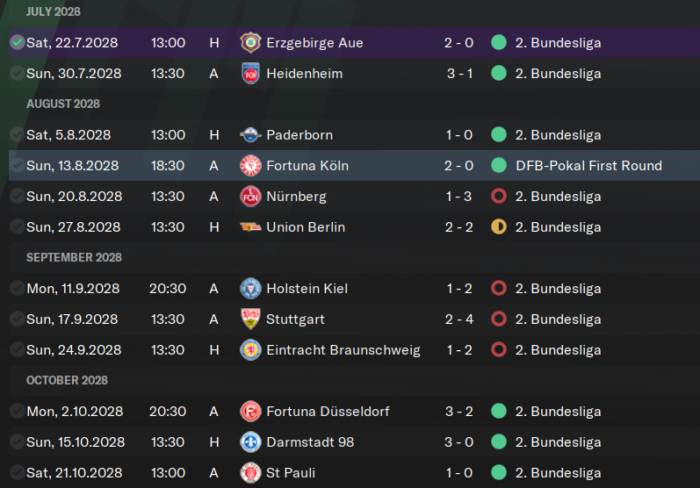 We had a great start into the new season. Four successive wins placed us at the top of the table and we made it to the DFB Pokal 2nd round! We then lost a few matches, but picked ourselves up in October and won three more matches. This was good enough to place us 5th after 11 games:

But good times won't last forever. Next I looked we faced a serious injury crisis: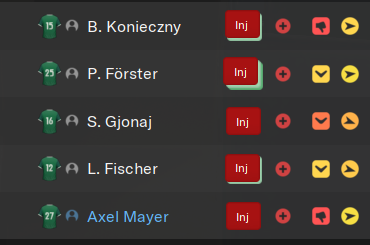 Both right wingers (Konieczny and Gjonaj) out for months, same for defender Foerster and left winger Mayer. As deep as our squad could be (it wasn't) — this is more than you can cover for.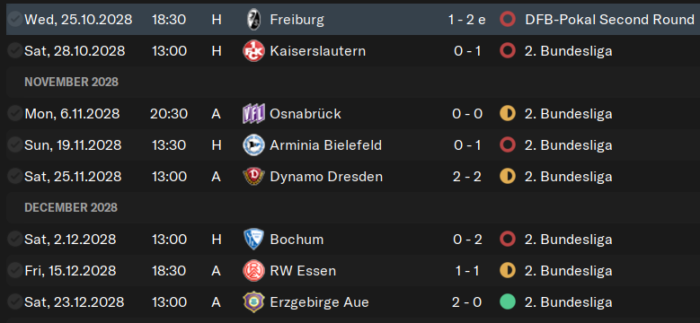 The injury crisis turned into a result crisis pretty soon. We put up a fight in the DFB Pokal and managed to force Freiburg into extra time. But thereafter we missed our form. Luckily we went into the winter break with a bitterly needed 2-0 win to improve our morale.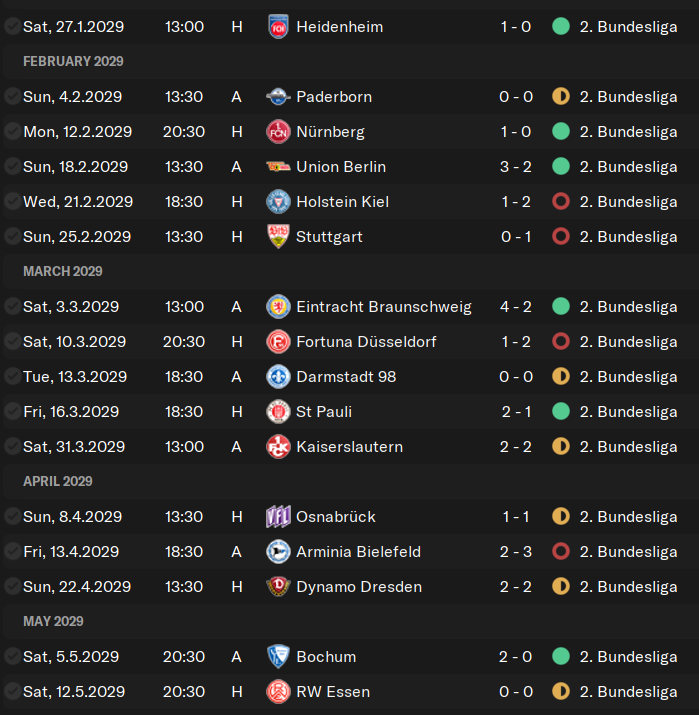 In January, most players were ready again and we maintained a better form with only four losses from the last 16 matches. All that would not have been possible without strong performances by loanees Dennis Bock (22 goals, 3 assists) and Axel Mayer (7 goals, 10 assists), who ripped through opposing defenses. As their loan contracts were ending, I specifically asked my scouts to find replacement players at low cost. They did not find any and I was fearing for our future. But luckily we could push this away one more year as both, Augsburg and Moenchengladbach, agreed to extend the loans for the 2029/30 season.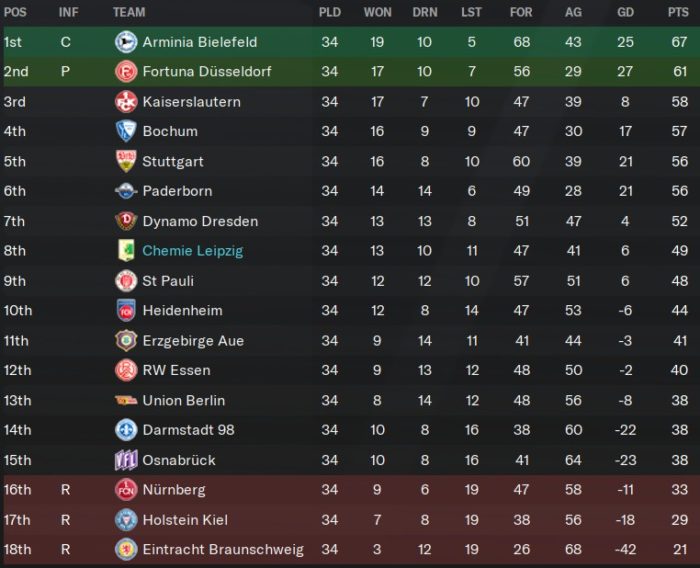 Our overall results are trending upwards. We achieved a top-half finish this year and never were in any relegation trouble.
What's Next?
Two more years in 2. Bundesliga are over and we established ourselves as a mid-table team. Media prediction sees us around 8th place for next year, even though our wage budget is still 15th out of 18. I think we should start to build a team that can challenge for promotion one day. We will have to keep using loanees and young players for financial reasons. The loan part might become simpler going forward as I was finally able to convince the board to get us a senior affiliate.

No serious Chemie Leipzig board would do a deal with RB, so it is only natural that I selected Schalke as our parent team.
While our league results are more and more satisfying, we lack in the long-term development department. Players come and go and we will have to improve our infrastructure if we want to get repeatable success. Unfortunately, the Chemie board are reluctant to invest our scarce financial resources into facility improvements. I was able to convince them of one training facility upgrade back in 2027 by threatening to quit. Not sure I want to go there again. Perhaps, if we can get a good DFB Pokal run, we might improve our financial background far enough. Crossing fingers for next year!

Subscribe to our Newsletter