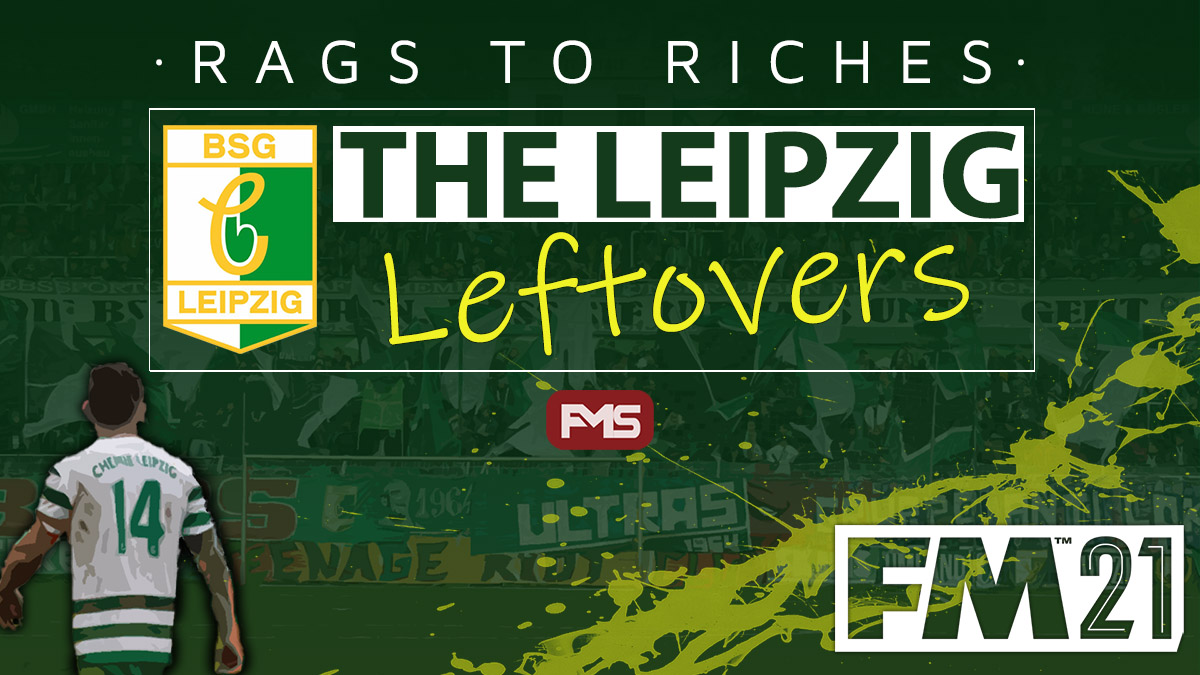 History Time: BSG Empor Lauter
The village of Lauter is located in South-Western Saxony. It's part of the Erzgebirge (literally: ore mountains) area, which derives its name from the fact that for centuries people had been digging the ground for silver, coal, and eventually Uranium. Lauter never hosted more than a few thousand residents, but in the early 1950s, they had their own football team playing in the GDR's top division.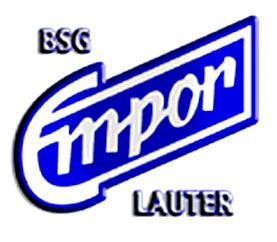 BSG Empor Lauter raised some eyebrows when they managed to get promoted from the GDR 2nd division as champions in 1952. They managed to stay up without problem for the next two years. And at the start of the 1954/55 season, they suddenly seemed title contenders. 8 matches into the 26 match season they were top of the league with 5 wins and 3 losses. And although unlikely, some villager might have already dreamed of winning a title.
We will never get to know, as politics got involved. 8 of the 14 Oberliga teams in 1954 were located in Saxony. The other 6 were also from the southern part of the country with Vorwaerts Berlin being the northern-most top division club. If you look at a map of Eastern Germany you will realize: there was a barren footballing wasteland to the North. The socialist party decided to step in because they wanted to make sure that the workers all across the country have access to footballing distraction. The failed uprising of 1953 had happened merely a year ago and anything that would contribute to people's morale was considered helpful.
So, party officials decided that one of the Saxonian clubs would move north. They initially tried to move BSG Wismut Aue. However, Aue was a central Uranium mining location and a major source of the nuclear material to fill the Soviet nuclear program. When the miners got aware of the move, they threatened to go on strike. Aue was saved, but just 10 kilometers down the road, there was this tiny village of Lauter…
And so, right in the middle of the 1954/55 season, Empor Lauter were "selected" to move to the city of Rostock. The team were integrated into SC Empor Rostock and would later be rebranded to FC Hansa Rostock. Lauter's players had a tough decision to make: move to Rostock and be considered a traitor by your former friends and neighbours? Or end your career because they party would make sure you would not get another foot into the Oberliga? Around half of the players decided to move north, seven players ended their careers to remain in Lauter, and only five eventually found places in other Oberliga teams. 
Chemie Leipzig: 2023 – 2027
In the last episode we managed a back-to-back promotion from 3. Liga and find ourselves in 2. Bundesliga at the start of the 2023/24 season. And indeed, in this post I'm going to cover another four seasons. Why? – First, because the development is fairly slow at this point and each of these four seasons followed a similar pattern. But also second – I just got carried away playing the game and now need to catch up with where I am. :-)
Gaining promotion to 2. Bundesliga is a great thing – even if we get directly relegated, we will be around 9 million EUR richer. That's way more money than you will ever see in the lower leagues. We have two problems though: budget and reputation. The board gave us 200,000 EUR per month in wage budget for the first season. This is once more way less than any other team in the league has – 800,000 would put us somewhere in the lower half of the table. Apart from that, our reputation is still that of a lower-tier 3. Liga team. This means, no serious 2. Bundesliga player will even consider joining us even if we had the money to afford them. So we will have to resort to loaning young players and trying to give lower league players a chance.
Egson Gashi (ST, 2023 free transfer, Viktoria Aschaffenburg)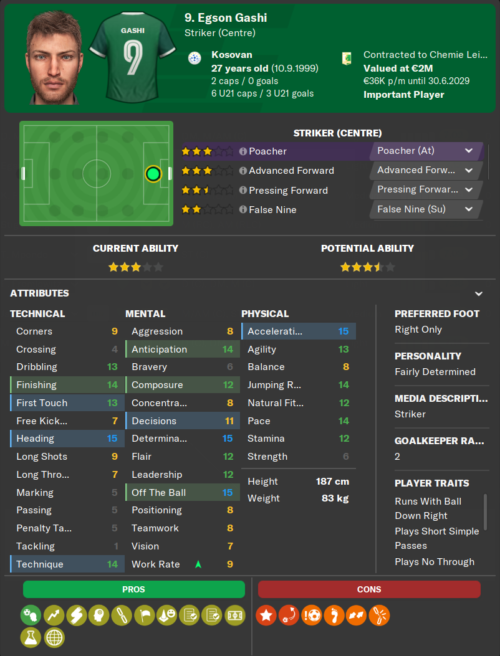 Egson Gashi's contract at Regionalliga Bayern side Aschaffenburg had run out. 23 years old at the time, free and cheap (at the time), I gave him the chance to move 2 divisions up. He duly delivered – in 4 years he made 108 appearances for us and scored scored 68 goals. He was also pretty consistent, scoring at least 15 goals in every year. In 2025/26 he even got close to becoming the 2. Bundesliga top scorer with 21 scored.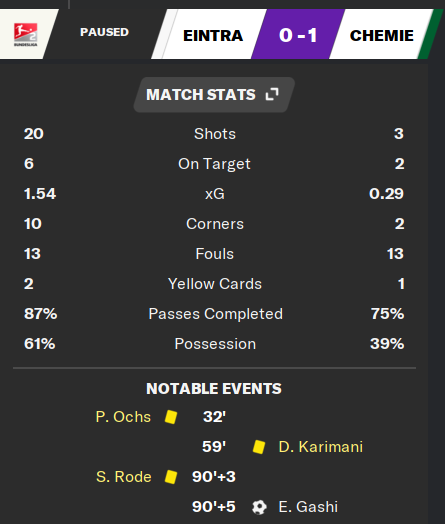 In our first 2. Bundeliga season he scored his most important goal so far. Matchday 31. We are playing away at top-of-the-league Eintracht Frankfurt. We are putting up a fight and by sheer luck none of their 20 shots hit the net. We barely make it into their half. Veeery late, 5 minutes into injury time, we get a freekick right outside the penalty area. Egson Gashi steps up and hits the net! We beat Eintracht Frankfurt 1-0 and take three very surprising (and likely undeserved) points home.
The importance of this goal becomes evident when we look at the closing table of our inaugural 2. Bundesliga season: without these 3 points we would have gone into the relegation playoffs instead of St. Pauli. And similar to St Pauli it might have been us who lost that playoff. Egson Gashi is worth is weight in gold and even though by now he is one of our top earners, I would not want to miss him.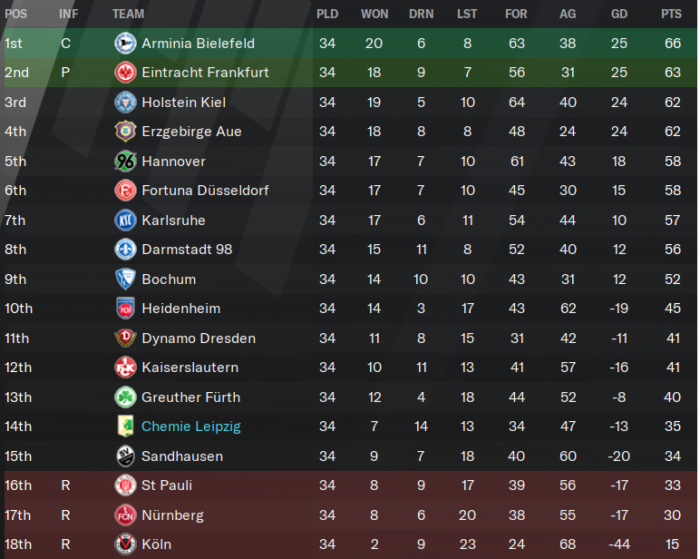 Benjamin Dach (CM, 2023 free transfer, FC Hansa Rostock)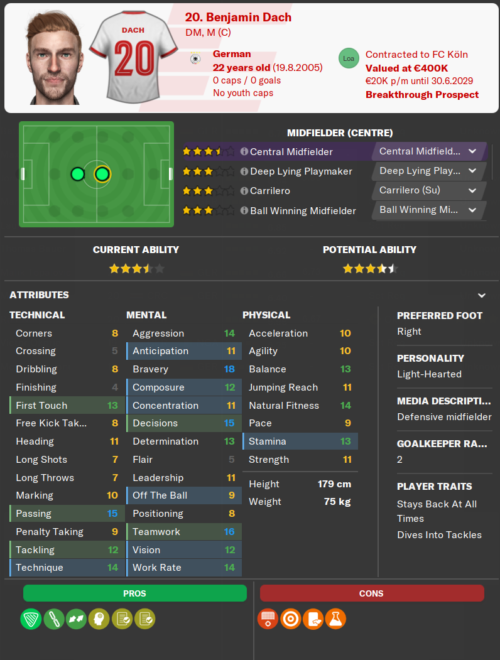 When Benny Dach was 18 years old, his youth contract as Hansa Rostock ran out. Instead of signing for their 3. Liga side, he decided to make the move to Leipzig at a time where it wasn't clear yet we would be promoted to 2. Bundesliga. Despite his age, he would go to play 33 competitive matches for us in 2023/24, scoring two goals and assisting seven more. He was on his way to become our most important 2. Bundesliga player. But then, on deadline day of the 2024/25 season, Bundesliga side 1. FC Koeln come in with a 4 million EUR transfer offer. He really insisted on leaving and this was a too good offer to pass by. So we're 4 million richer and Benny hasn't played a single Bundesliga match in his three years at Koeln so far.
Jan Schoeppner (CM, 2024, 41,000 EUR, 1. FC Heidenheim)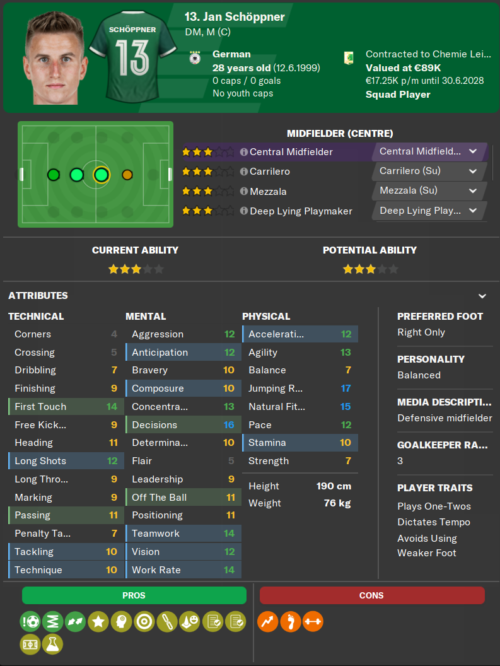 We brought in Jan Schoeppner as a replacement for Dach during that transfer deadline day. While his attributes are not as exciting, his main feature was that he was our first player to join that had actual 2. Bundesliga experience before. But even that sounds overly exciting if you consider that this "experience" was made up of 13 matches played for 1. FC Heidenheim over the course of 4 years. Nevertheless, Jan was a regular first team player in his first two seasons for us and a major contributor to 2024/25 being our best 2. Bundesliga season so far. We not only avoided relegation but actually stayed pretty far from the relegation spots for most of the season.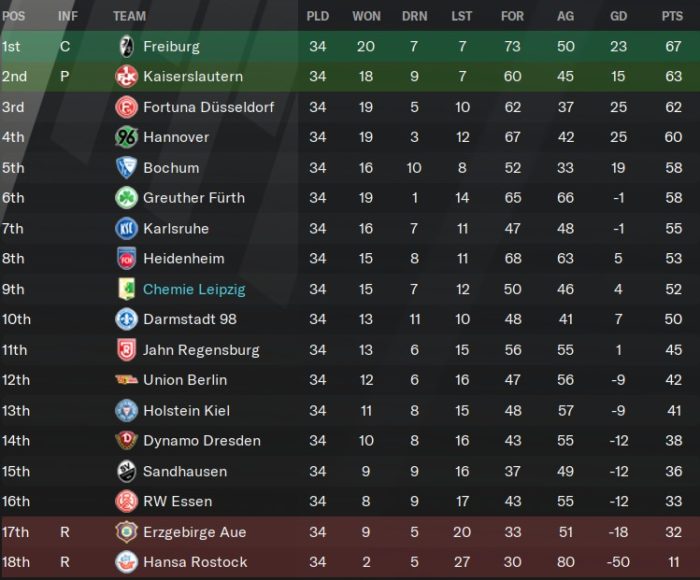 Players That Were Not There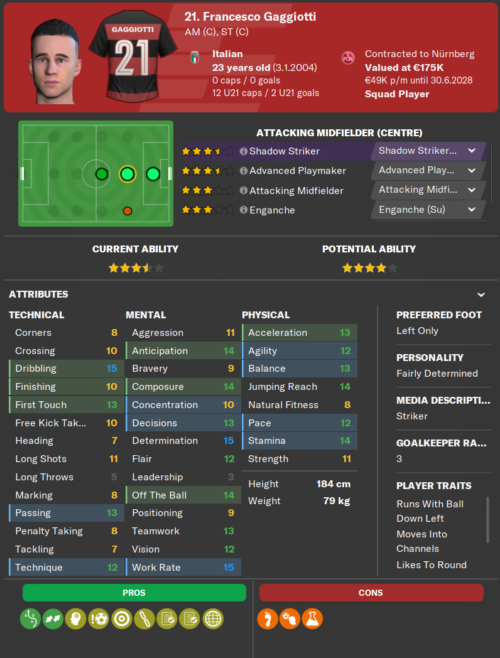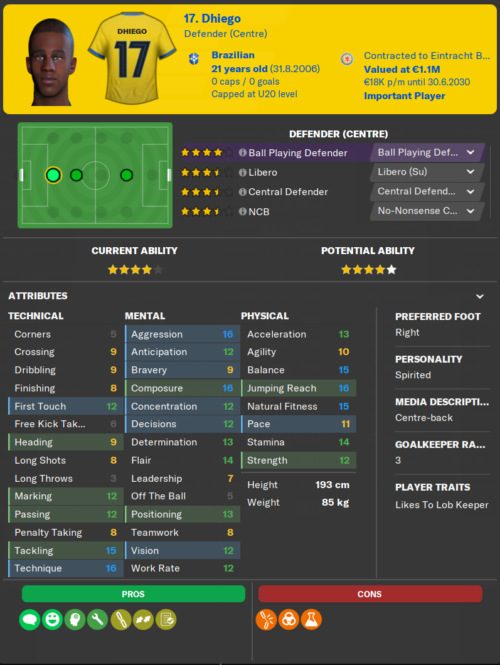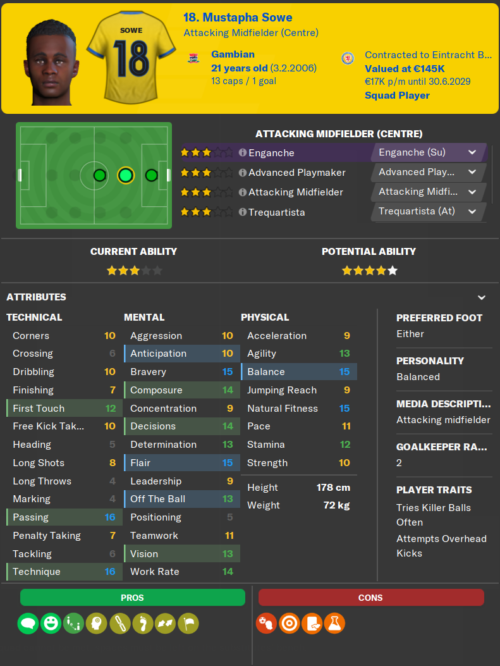 Mustapha Sowe (CM), Dhiego (CD), and Francesco Gaggiotti (AM/ST) look amazing. And they share another trait: they were on trial at Chemie Leipzig in the summer of 2025. They had agreed contract deals with us. And they then decided they rather wanted to play somewhere else. We were just going into our 3rd season in 2. Bundesliga, but Sowe and Dhiego preferred to play 3. Liga football for Eintracht Braunschweig (earning less than with us!). Gaggiotti got an offer from Nuernberg who had just spent a year in 3. Liga, but were now back to 2. Bundesliga. This is what low reputation can do to your ambitions.
The fact that we were unable to sign them also really hurt our progress in the 25/26 season. We were unable to find similarly good players and had to scrap by with the existing ones. This led us to sitting in 18th place from early October until deep into February. Luckily, we were not far off safety, the bottom of the league was just very close together this year. We also had some spare budget to bring in improvements in the winter break.
Dawoud Iraqi (AM, 2025, 300k EUR from Hansa Rostock)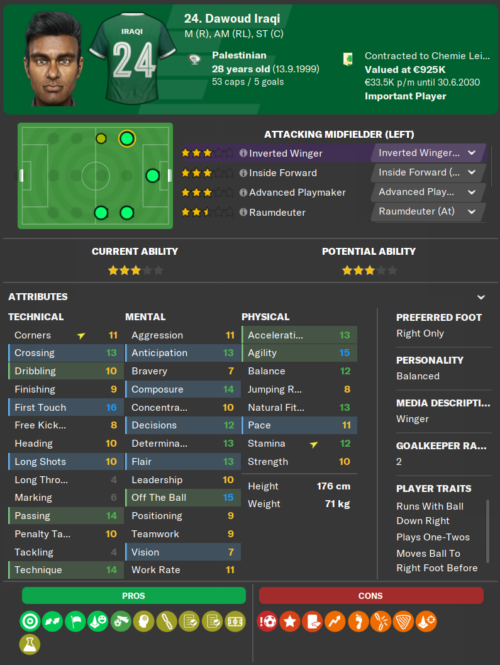 Dawoud Iraqi took a long time convincing. When we were playing our 2nd season in the Regionalliga, he was 20 years old and out of contract from TeBe Berlin. We tried to sign him for Chemie as we had just been promoted to 3. Liga. In another case of us being a low reputation team he decided that Hansa Rostock would be a better option for him. History tells us that it was us who went to 2. Bundesliga, whereas Dawoud took another two years with Rostock before they were promoted. They went back down immediately in 2024/25 and that was the point where he finally figured he'd have to leave. So we got him four years later than we had hoped for. He turned out to be one of the few players doing well in our 25/26 season, making 30 appearances, scoring 7 goals, and assisting another 8.
Frans Kraetzig (CM, 2026, 220k EUR from Bayern Munich II)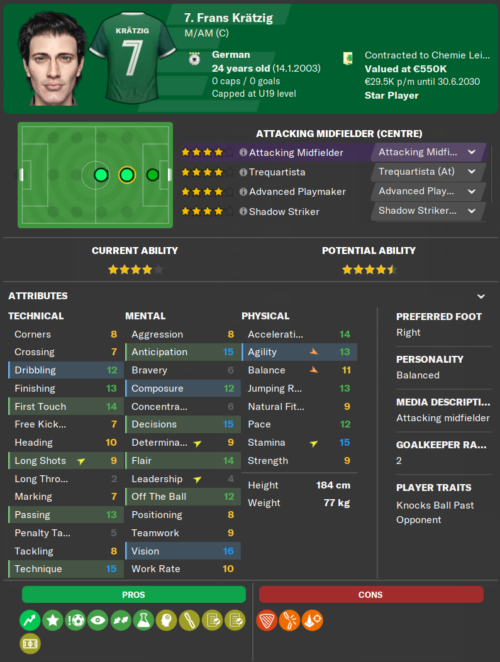 Frans Kraetzig's contract at Bayern Munich II was running out at the end of the 25/26 season. He had been on my shortlist for some time already and after the negative experience in summer, I was overly joyed when he agreed to sign for us at the end of the season. Bayern were even willing to sell him right away. 220,000 EUR seemed worth it and so he joined us for our next relegation battle already. He got injured and only played 7 matches, but went on to play another 27 games in the following season. I'm using him as a CM on attack and his statistics mostly show him being one of the most prolific key passers in our team.
Finn Bormann (CD, 2026, 325k EUR from FC Magdeburg)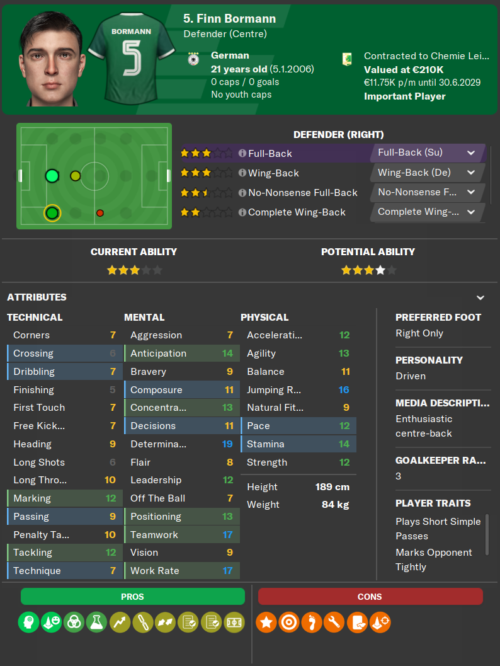 We had not been able to sign Dhiego in 2025 and it showed — our defense was leaky and we seriously needed to improve. Finn Bormann was unhappily playing 3. Liga football at Magdeburg. He is not the greatest defender, but he has potential. Our defensive performances went a lot better once he joined our central defense. Lately, I have even been looking to retrain him as a ball-winner in midfield.
Overall, Bormann and Kraetzig cost us some money, but they were worth every penny, because our performances improved in the 2nd half of 25/26. 8 of our eventual 12 wins came in the 2nd half of the season and we avoided relegation quite clearly.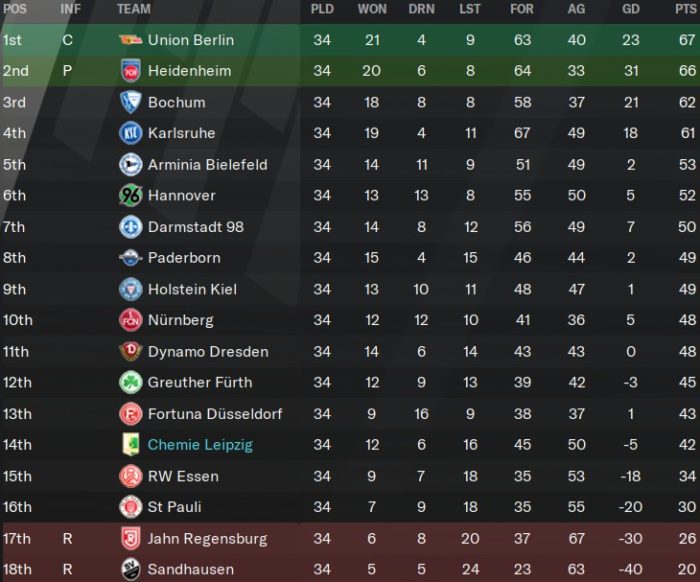 Bartosz Konieczny (WR,2026,  1.1 million from Jahn Regensburg)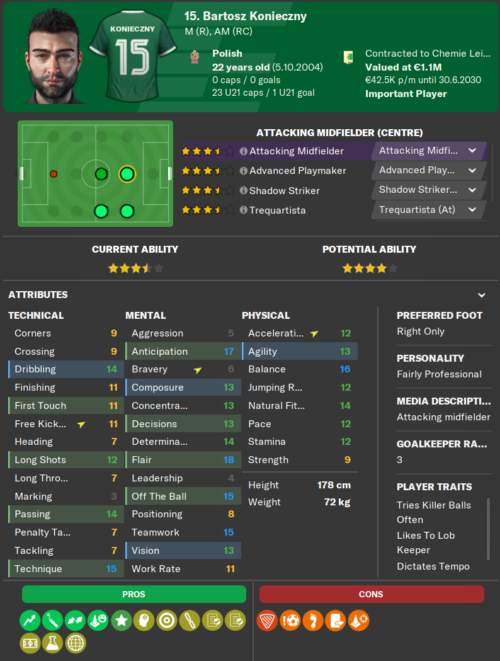 When Jahn Regensburg were relegated in 2026, I scanned their squad for useful players. Bartosz Konieczny caught my eye as an improvement over our current right winger Stig Hartig. He cost a hefty 1.1 million transfer fee and that was already his relegation release clause. He showed his power on the first match day, where he sprinted the right wing 5 minutes into the game against Holstein Kiel, crossed the ball into the penalty area, and we scored our first goal of the season. He delivered a few more assists and goals in August and September, before two subsequent injuries put him to the sidelines until January. This was the second sign of his importance – while he was not there, we did not win a single 2. Bundesliga match. That changed upon his return where we bet Eintracht Braunschweig 1-0.
Overall, 2026/27 ended up being yet another mediocre season. It was the first season where media did not predict us to finish last anymore, but we're still closely within the group of potential relegation candidates. This showed in our results, but once more we put together a better performance in the 2nd half of the season and that was enough to quite securely remain in 2. Bundesliga for another year.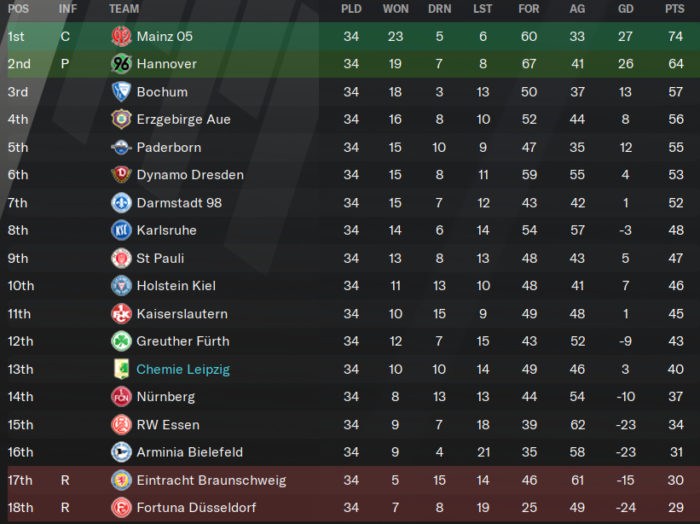 Are we Progressing?
That's the story of my last four seasons at Chemie Leipzig. Four relegation battles do not feel like a huge progress. However, if we look at the finance side of things, we are improving – our wage budget has gone from 200k per month to 700k for the 2027/28 season. That still ranks us 16th of 18 clubs in terms of wage expenditure. However, we are actually catching up. Apart from that we invested any financial benefits we saw into the squad so far – staying up was the most important thing we needed to do. I feel we are now at the point where we should be eyeing midtable positions. To see real progress, we absolutely must invest into our facilities. This is however easier said than done – we are roughly breaking even right now – it will be hard to find a million or two to improve facilities.
I'm taking things slowly here – we will likely be a few more years away from making a promotion challenge. But at least I'm no longer constantly afraid of falling back into 3. Liga.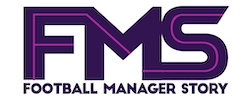 Subscribe to our Newsletter