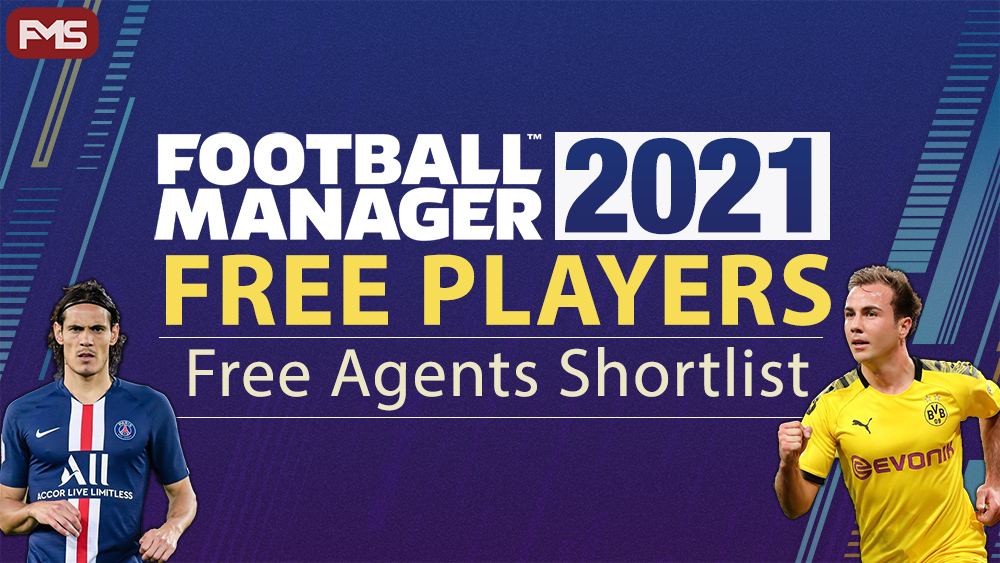 This page will host the most comprehensive list of Football Manager 2021 free players upon release. Our best FM21 free transfers will be ranked by current ability and should be suitable for most top flight to second tier clubs.
Every year we invest countless hours head deep in research and expect this FM 2021 free transfers list to be the best yet. We will split the best Football Manager 2021 free players into league specific lists, the lower leagues will follow on from this list of best FM21 free transfers.
For now we have listed the best possible free transfers and should they fail to find clubs, we are looking at the best free agents for some time.
Football Manager 2021 Free Players
Free agents are players with no contract and no obligation to a club. These best FM 2021 free transfers are available to sign for nothing and could boost your team pre-season. In the twilight of their career most will offer vast experience on a budget.
Players without a contract fall under the same work permit restrictions as fee earning transfers. Our FM 2021 free players list includes nationality so you can avoid players outside of the European Union. Even non-EU free agents can get a work permit but this comes down to International caps or the wage you are prepared to offer.
Our Rating
Every FM21 free player is ranked using the FMS rating system. A numerical grade out of 10, in descending order based on current ability and our personal opinion. You can sort the list by clicking any header column or by searching for position, ie 'MC' for midfielders.
This list proceeds our best FM20 free players which proved very popular last year.
Until the release of FM2021 this page will feature players with a contract due to expire in real life. Of course some deals will be agreed before release, but there are some cracking potential FM21 free agents.
Potential FM 2021 Free Players – Top 5
Mario Gotze – attacking midfielder – 28 years old
Mario Gotze has suffered a spectacular fall from grace to become one of the best free agent in FM21 (assuming he fails to find a club.) Once among the best players in World Football, the German has scored 17 in 63 on the International stage.
At just 28 years of age Gotze boasts amazing stats domestically scoring 81 goals, assisting 85 time from a combined 333 games for Borussia Dortmund and Bayern Munich. His move to the latter in 2013 began with promise but fizzled to a whimper in recent years.
That said, if you need a technically proficient, experienced playmaker and enjoy a hefty wage budget, Gotze could be your marquee signing, for free.
Edinson Cavani – striker – 33 years old
One thing is clear, Edinson Cavani will not sign a new contract with PSG but it remains to be seen who will sign the Uruguayan. Should he be out of contract Cavani could be the most deadly free agent in Football Manager history. Yes those physicals are in decline but you can not argue his experience and instincts on goal.
Ryan Fraser – left winger – 26 year old
At just 26 years of age Ryan Fraser would make one hell of a bargain. Dynamic, skillful and a Scottish International Fraser can play a number of roles from both the left and right wing.
Having scored 7 and assisted 14 from 38 Premier League appearance with Bournemouth the Scot is ready to move on and I would consider him a great buy for almost any team playing top flight Football.
---
Our best FM 2021 wonderkids to watch list is ready, find the most likely hot prospects for Football Manager 2021 here.
---
Nathaniel Clyne – right back – 29 years old
Speed is one of the most important attributes for a wing back and Nathaniel Clyne has it in spades. I would be surprised if the ex-Liverpool star remains available on a free transfer come FM 2021 release, but he'd make a cracking buy bringing great experience and Athleticism to any top flight team.
Andrija Zivkovic – right winger – 24 years old
Many will remember Andrija Zivkovic from his wonderkid status in earlier versions of Football Manager. Still just 24 years of age the Serbian has plenty to offer with a cracking technical base and great promise.
For such a highly rated player to be out of contract I do question how FM may penalise his profile in the new game, but he should still be a great addition for absolutely nothing.
For all the latest Football Manager 2021 news, feature announcements and release date follow our FM 2021 news page here.

Subscribe to our Newsletter