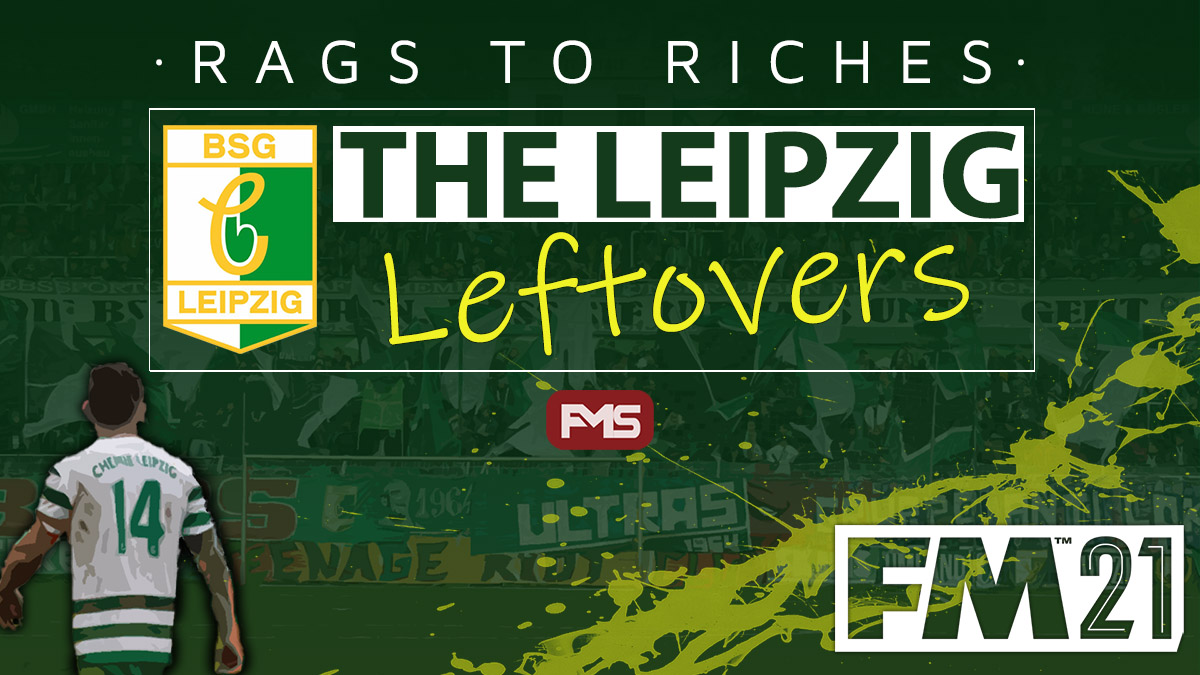 History Time: Lutz Eigendorf
We talked about clubs so far, but football is played by humans, and some of them are more interesting, to say the least. Let's chat about Lutz Eigendorf. Born 1956, the 18 year old midfielder joined BFC Dynamo in 1974 and went on to make 100 appearances and 7 goals for the club. He was one of the best players of the country and represented the GDR national team at all youth levels before making the jump to the senior national side in 1978. Eigendorf was on the path of a great footballing career.
But even with all the success and privilege, Lutz wasn't happy. Like so many of his countrymen he felt imprisoned behind the Iron Curtain. He wanted western freedom, western goods, and most importantly professional football. In March 1979 BFC Dynamo travelled to Kaiserslautern to play a friendly match. One day after that match, Eigendorf fled the team's shopping tour and made sure he would not return. 1. FC Kaiserslautern were willing to sign him, but FIFA rules meant he would be banned from football for a year for leaving his team without their consent. He spent this time working for the club and its president before finally signing a professional contract  and making his first appearance for Kaiserslautern in April 1980.
Eigendorf wasn't the first footballer to flee the GDR and he would not be the last. But this one was special: young and promising star, playing for BFC Dynamo, which was under control of the Stasi, GDR's secret service, and their boss Erich Mielke. They hit back hard. His wife and kid had stayed in the GDR and officials told her that they would give the kid  out for adaption if she didn't immediately divorce him. An undercover Stasi agent started a romantic relationship with her to "speed things up". (This was a standard tactic used by the secret service to obtain information.) Stasi agents in Western Germany started a constant surveillance of the defector and reported on his movements.
Eigendorf enjoyed three years in the Bundesliga. After two years in Kaiserslautern (53 matches, 7 goals) he moved to Eintracht Braunschweig in 1982. And it was there that, on March 7 1983, Lutz Eigendorf died under strange circumstances. Official investigations found that he crashed his car, driving at excessive speed and under the influence of 2.2 per mil of alcohol.
In 1990, the investigation was reopened after German reunification. There were too many coincidences here: Eigendorf had gone public with his criticism of the GDR in a TV interview one month prior to his death. Testimonies stated that Eigendorf had drunk 2 glasses of beer over the course of the evening before his death. The head of Stasi's Eigendorf recon team got a bonus exactly on the day of Eigendorf's death. Documents partially recovered from the Stasi offices in 1990 mentioned Eigendorf's name in relation to "blinding someone". However, none of these constituted substantial evidence. Eigendorf did have a reputation for drinking one too many. His stint in Braunschweig wasn't going great and everyone knew he was frustrated by not making more first team appearances. The investigation was closed inconclusive in 2004 and Lutz Eigendorf's death will remain one of the unsolved mysteries of GDR history.
BSG Chemie Leipzig 2034/35
Welcome back to another episode of the Leipzig Leftovers. Last time round we talked about our first three years in the Bundesliga and how we by some luck managed to qualify for the UEFA Europa League for the 2034/35 season. Given that, I was getting somewhat nervous about our sole reliance on loanee Dennis Bock as our sole great forward option. And then, Augsburg — after 7 years of loan — said they were not willing to renew the loan because they didn't want to help a league rival. So, we started looking for new options upfront.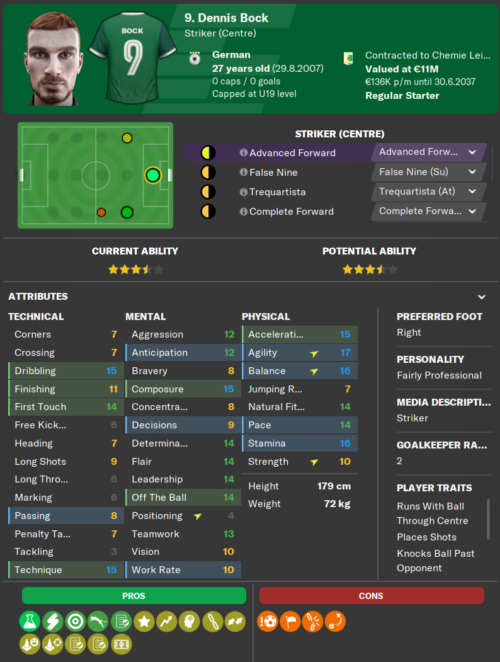 Call it as you want – stupidity, loyalty, conservatism – our first signing was the man himself. After 7 years on loan, 193 matches, and 120 goals, we finally paid a hefty 13.25 million EUR transfer fee. Dennis Bock became an official Chemie Leipzig player!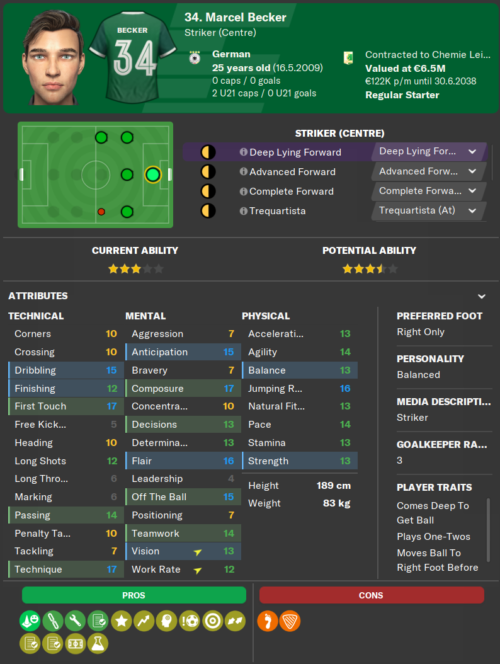 We had eyed Marcel Becker as a striking alternative for many years. First, when he played for Kaiserslautern in 2. Bundesliga and then when he made the move to the Bundesliga by joining Augsburg. This year, the prospect of playing European football finally made him agree to a move for 3.4 million EUR.
The remainder of the team looked quite ok still, so we went ahead and started our new Bundesliga season.

The first month was a bit bumpy. League results were kind of expected – lucky draw against our local rivals and then two clear losses against the current Bundesliga top sides Bayern and Wolfsburg. We nearly embarrassed ourselves in the DFB Pokal by needing an extra time against lower league side Baunatal.
At the end of August we got the highly anticipated Euro League draw:

The boys in green would travel to Lyon, Glasgow and Istanbul for their first European tour in ages. I had no idea how good our chances would be, the board wanted us to not embarrass ourselves…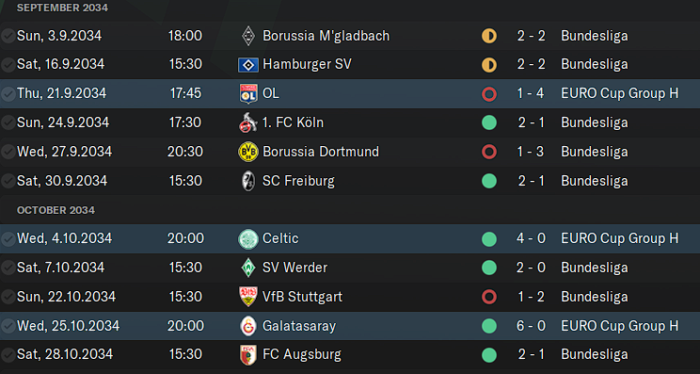 We were close to embarrassment when we eventually played our first Euro match at Lyon and lost 1-4. The better news was that thereafter we started picking up points in both the Bundesliga and the Euro League. 4-0 against Celtic and 6-0 against Galatasaray, both matches played in our temporary "home" RB's Red Bull Arena, because our own Alfred-Kunze-Sportpark wasn't sufficient for European football.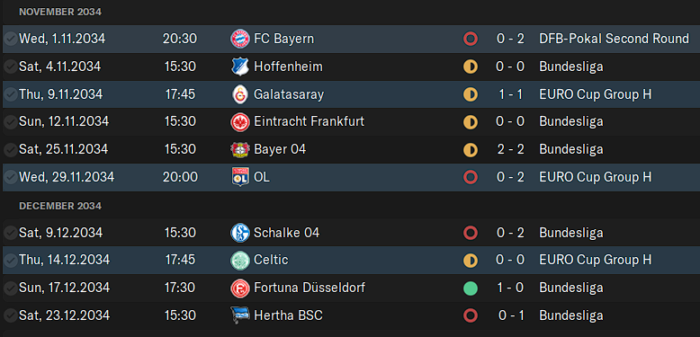 But come November we somehow blew it. Going out in the DFB Pokal 2nd round against Bayern was somewhat expected. But then we failed to score and that cost us points everywhere. A win at Galatasaray would have sealed the knockout rounds for us. But a 1-1 and the subsequent loss against OL meant we needed at least a draw against Celtic. We got it in the most nerve-wrecking manner – failing to score and seeing their strikers try our keeper again and again. But eventually, we prevailed!

I was developing some concern, though. Our strikers weren't scoring enough and our defense was too leaky to be happy. We were sitting annoyingly close to the relegation zone in the Bundesliga and having to play more matches than our rivals might work in our favour.

January underlined my greatest fears. We played three pretty decent teams and didn't stand a chance. To improve quality, we brought in some loan players.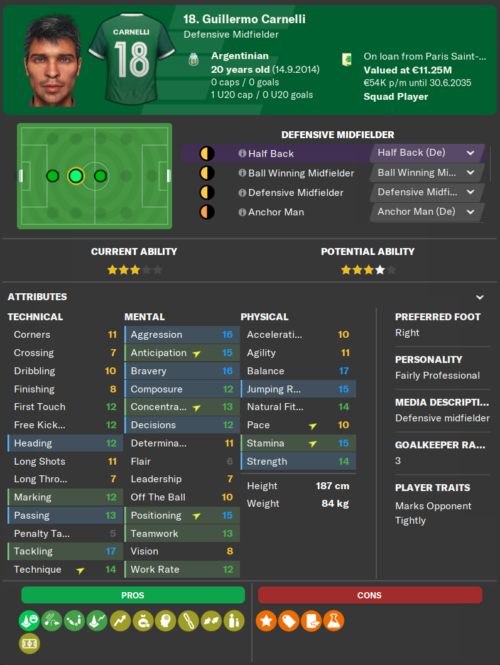 Defensive midfielder Guillermo Carnelli joined from PSG until 2036 to tighten our defense.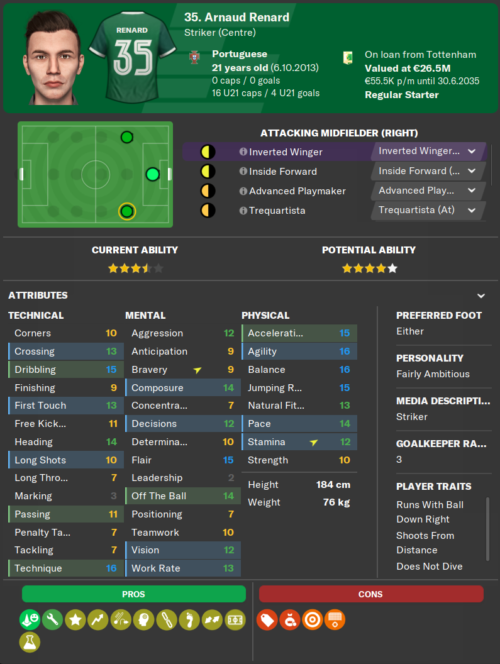 And indeed, Portugese striker Arnaud Renard would be our fourth candidate for the sole striker role, joining until the end of the season from Tottenham.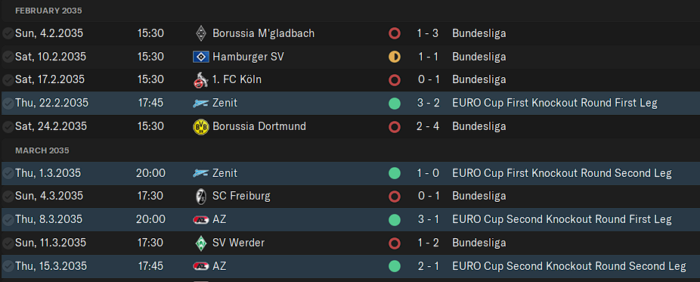 There were no immediate improvements. In fact, Renard got injured a week after joining and was unavailable until April. The silver lining: we managed to beat Zenit and AZ and qualified for the Euro League Quarter Finals! Now if only we were able to avoid relegation from the Bundesliga – we were sitting in 15th position and the media were getting nervous, too.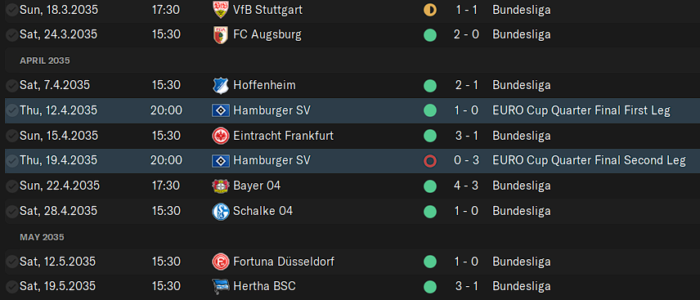 Somehow the AZ win clicked with the team and we started winning. I really didn't mind losing against Hamburg in the Euro League QF – at least we gathered the necessary points for another safe mid-table finish in the Bundesliga. (And see how tight it was – 22 of our 44 points came from the last 8 matches of the Bundesliga season…)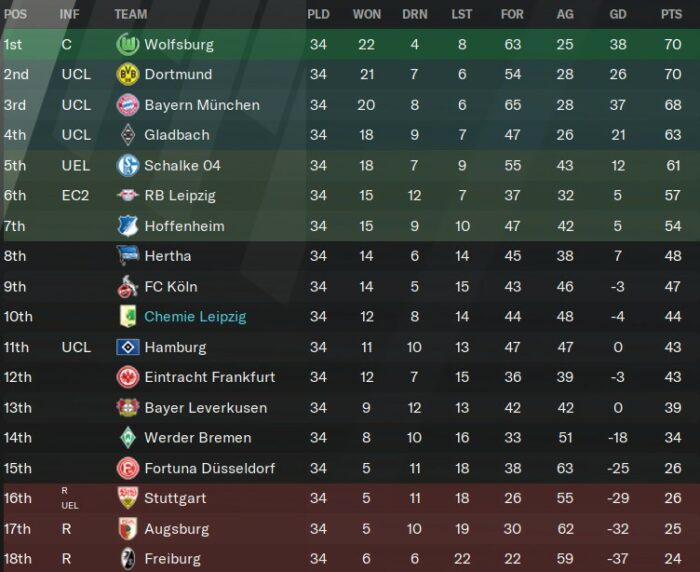 Also note that the year 2035 is the first time in 23 years that the Bundesliga winners are not Bayern Munich. VfL Wolfsburg break the spell on goal difference ahead of Dortmund.
Chemie Leipzig 2035/36
Without European football we were looking at a rather quiet season ahead. Nevertheless, we were able to bring in a few updates to the squad. Hence, I was optimistic that this time round we would not be in a relegation fight.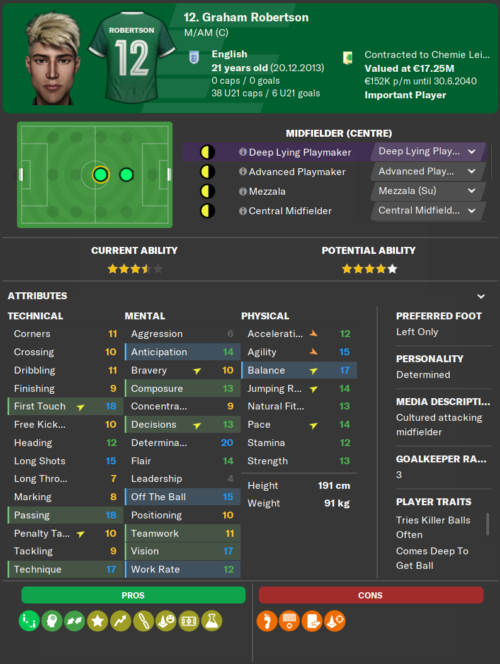 Graham Robertson was looking great. Contracted to Man City the central midfielder had spent his last year on loan at Hoffenheim and helped them qualify for Europe. When I realized he would be available for free in summer, I immediately signed him in January. Hoffenheim did not act fast enough and so he was ours!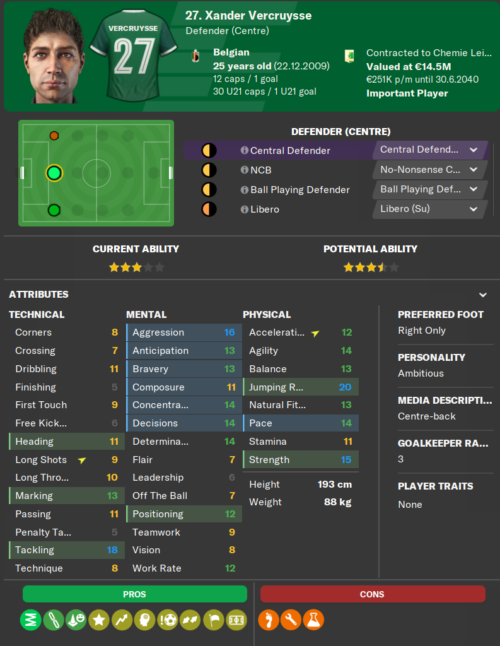 Right ahead of the first match of the season, we lost our main central defender. South African wonderkid Mohau Mogale finally found a Champions League team to pay his buyout fee, so he left for a record of 47.5 million EUR for Borussia Moenchengladbach. As a replacement we brought in Belgian defender Xander Vercruysse, who joined for 17 million from Belgian side Beerschot.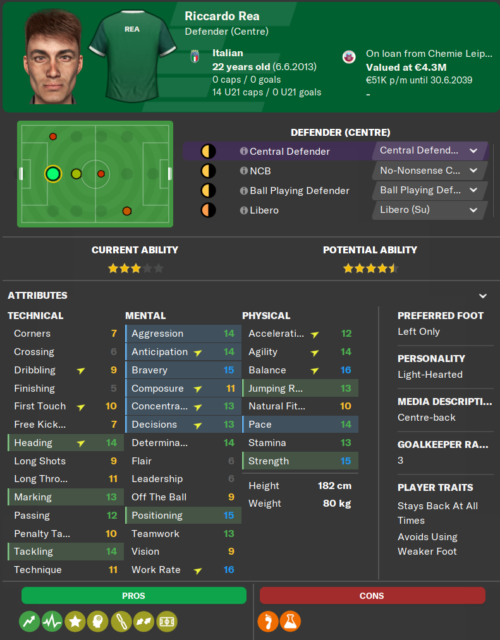 And while we're at it for defense, we also brought a player with some perspective. Italian defender Riccardo Rea joins us as another free transfer from Juventus. Even with Mogale gone, I figured he'd not get enough playing time behind our central defenders Vercruysse and Alberto. Hence we loaned him out to Citadella in Serie B. As Vercruysse dramatically underperformed in his first few months, I reverted that decision in the winter break and recalled Rea. It would appear to be one of my better decisions as Chemie Leipzig manager…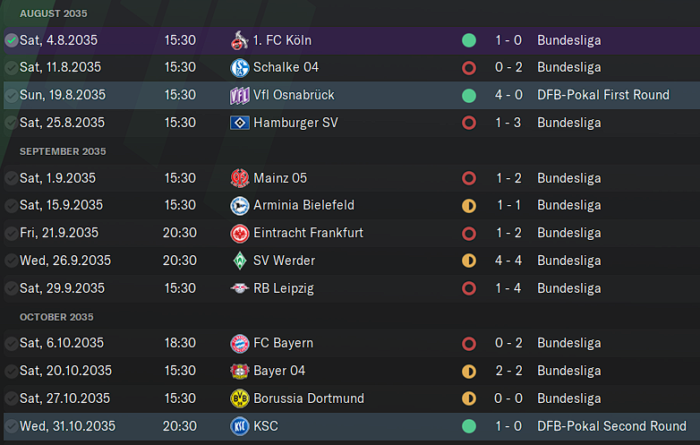 Our start of the season didn't go well. Two main things happened: star striker Dennis Bock lost his drive. He scored 3 goals in those three months – all in our 4-4 against Werder Bremen in September. Eventually, he lost his top spot to last season's loan signing Arnaud Renard who we loaned for another season from Tottenham. The second thing was that our defense got leaky with the loss of Mohau Mogale. His replacement, Xander Vercruysse, just didn't provide the same level of quality and we conceded goals in pretty much every game.
We were lucky getting past Osnabrueck and KSC in the DFB Pokal. But in the Bundesliga, we sat with 7 points out of the first 10 matches and faced another unexpected relegation struggle.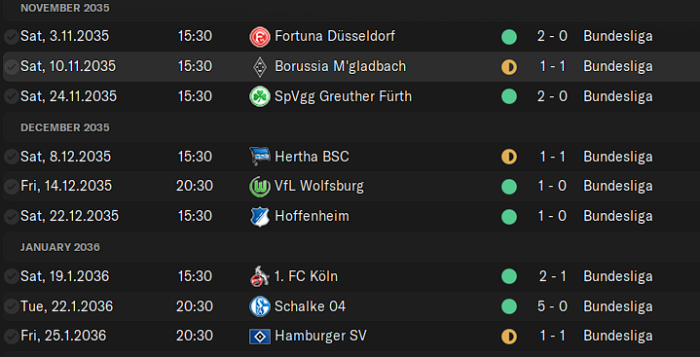 But one way or the other – the tight win against KSC helped to get us back on track. The team geled together and we suddenly started winning. We did not lose any more matches in 2035 and our great form culminated in victories over reigning champions Wolfsburg and a 5-0 beating of Schalke 04 in January.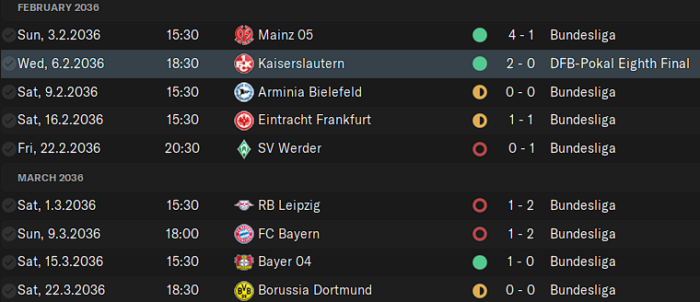 We went back to mediocre form in February and March. Losses against RBL and Bayern were more or less expected – on a positive note we beat Bayer Leverkusen and kept a tight defense away at Dortmund. This was all in the build-up for our DFB Pokal quarterfinal, which we would play at home against Bayern. Again.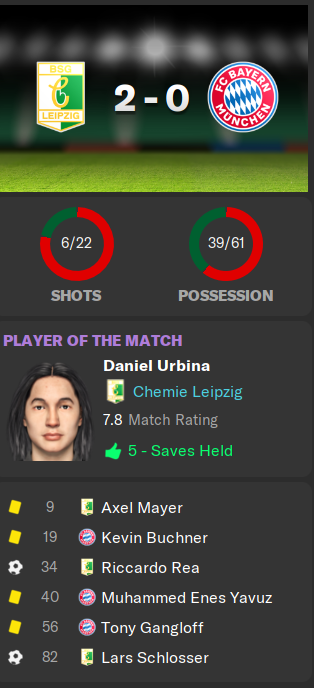 And once more we got lucky in a cup competition. Bayern dominated the match. We won. Riccardo Rea scored his first and oh so important goal for the club. With the champions out of the way – could we make it all the way this time?

But first there was the Bundesliga to conclude. No big deal – we managed to do a few more unbeaten matches and more importantly also had no problem beating 2. Bundesliga side VFL Bochum in the DFB Pokal semi-final. This set us up for a final against Hannover 96 – another 2. Bundesliga side who surprised everyone by beating Dortmund in the quarter final and making it to the final.
Being the big side, we went into the final as strong favorites. We showed why that was the case and never showed any weakness that day.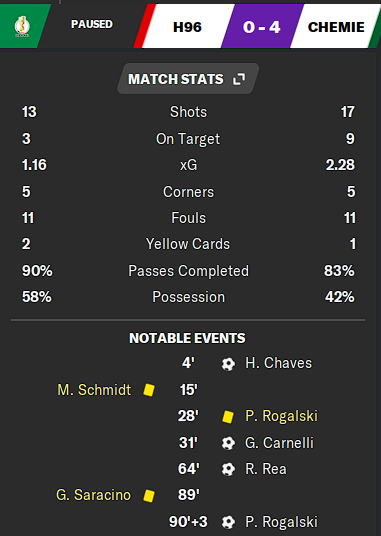 We won 4-0 and finally won our first domestic title! DFB Pokal winners after 16 years at BSG Chemie!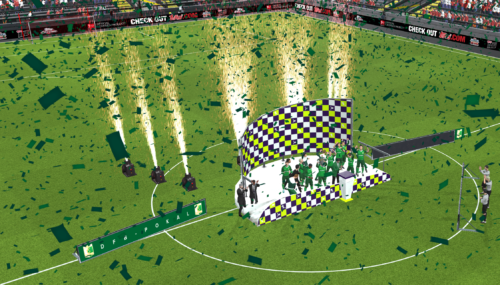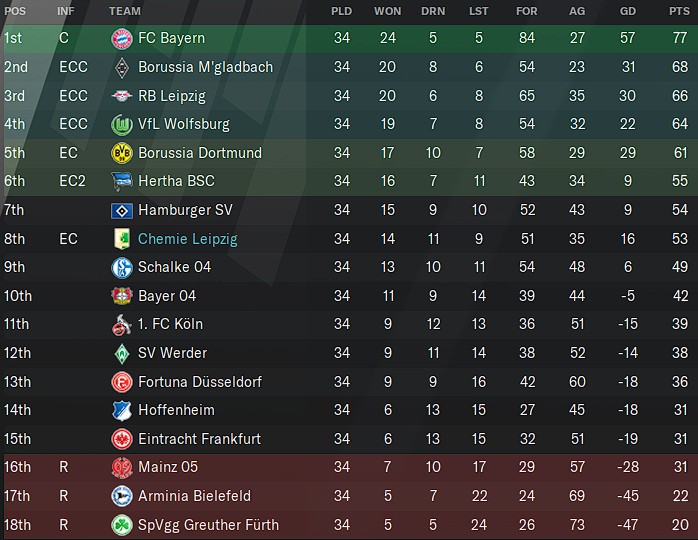 This was a great achievement. In the Bundesliga, our poor form in August to October meant missing out on the EURO League once more. But the cup win ensured we would play international football in 2036/37 again.
What the Future Holds
Some things at my real-life job changed over the past months, leading to two things: first, I have less time to play FM, and second, writing text is now an even more prominent part of what I do during the day. Hence, I find it hard to get myself to write even more in my spare time.
I also found that researching the history bits and pieces is a huge time sink. This is great learning, but it also prevents me from getting articles out at a pace that matches my playing speed. As a result, my blogs are multiple seasons behind where I really am in game. Which in turn frustrates me for not making enough progress on the blog, so I rather go and play a few more matches. A vicious cycle.
Without further ado: this is the end of the Leipzig Leftovers series. Huge thanks to everyone who enjoyed it. Thanks to FMStories for hosting it. I'll see you around on Twitter. And I'm not ruling out a return to blogging for FM22. Take care!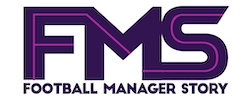 Subscribe to our Newsletter