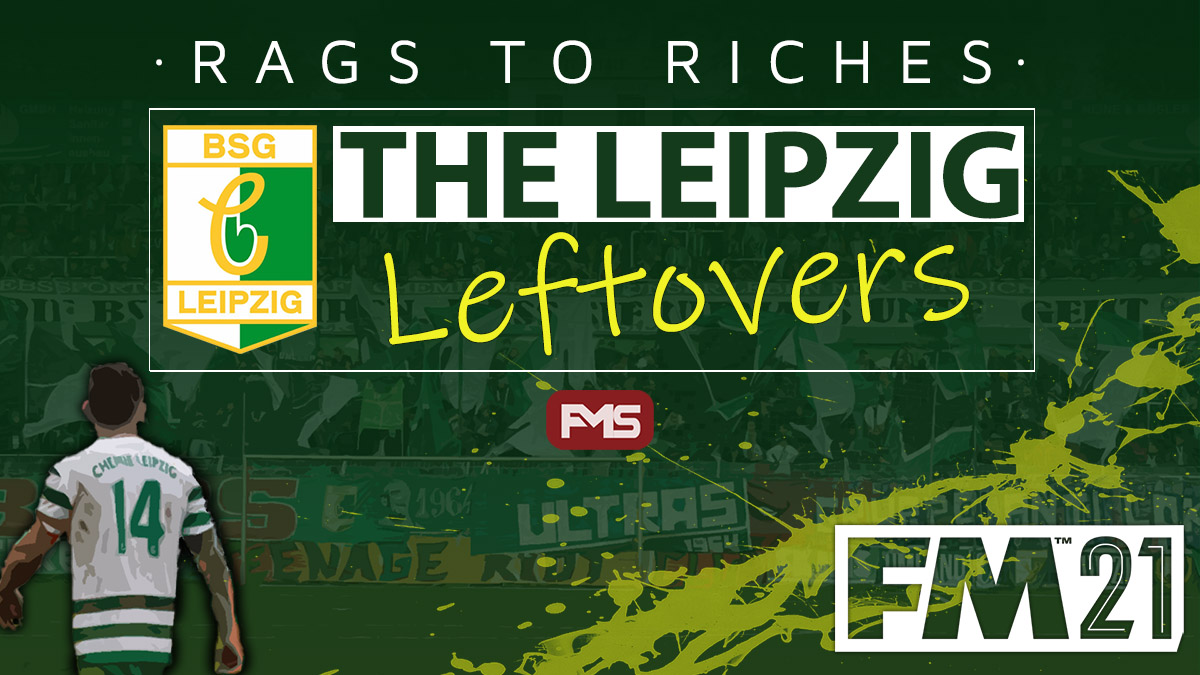 Welcome back to another Leipzig Leftovers blog! It is time to update once more and again, I will be covering multiple seasons in a single post to keep up with my save progress. Sit down, take a coffee, and hear about our ventures in the promised land of the German Bundesliga!
BSG Chemie Leipzig 2031/32
11 years into the Leipzig save we won promotion to the Bundesliga in 2031. Not too bad for what used to be a tiny 4th division team back in the day. And as this was a third promotion, we already knew the drill: way too low wage budget, way too low reputation, tipped to finish last in the league. This wasn't going to be a piece of cake!
Reinforcements were needed and luckily at least some players were willing to enter negotiations with us once we sealed our Bundesliga place.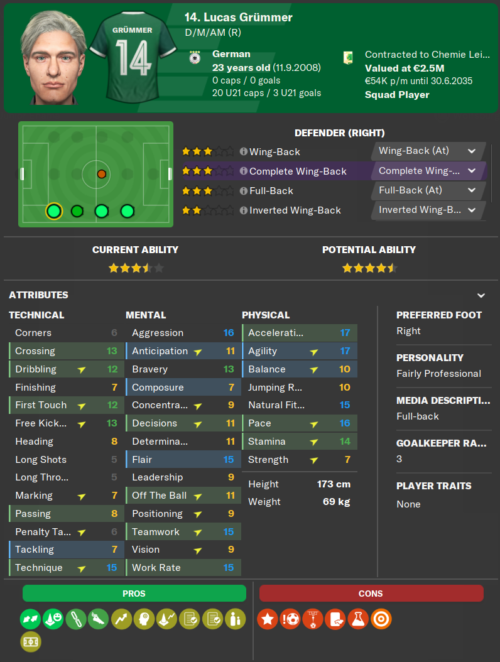 Lucas Gruemmer had played in Borussia Dortmund's B team in 3. Liga the last couple seasons and was released at the end of the season. He joined for free once he could be sure that we would allow him to play Bundesliga football. A pacy wingback he made our right wing his own. I the three seasons covered in this post he made 81 appearances for us and assisted 9 goals. And he is the reason that Germany national manager Juergen Klopp as well as his successor Julian Nagelsmann are regular visitors to Alfred-Kunze-Sportpark. They want to assess him for the national team. (Caveat: 3 years into that, he hasn't actually earned a cap for his country yet).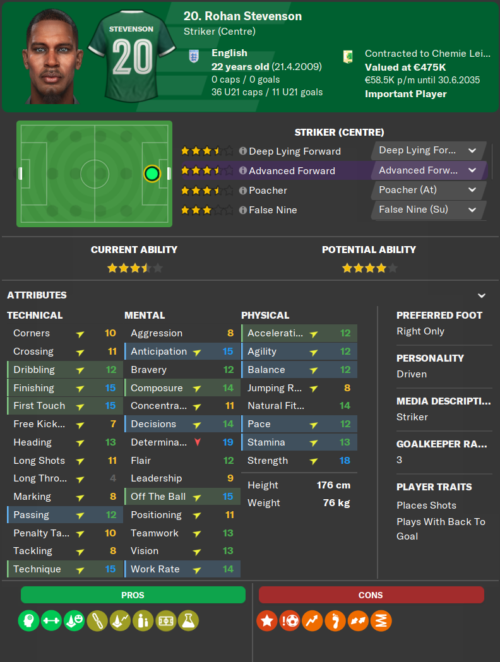 If there's a dedicated feeling towards Rohan Stevenson, then it's likely that I'm torn between love and hate. He was released from Liverpool and joined us for free. I wasn't sure if our long-term loanee Dennis Bock would make the jump to the Bundesliga and wanted Rohan to be there as an alternative. Unfortunately, he never really got past Bock in the end. He made 67 appearances in 3 years and nearly half of them were coming from the bench. He scored a mere 16 goals in 3 years, which certainly is less than I'd have expected from him. On the other hand we will see that some of these goals were pretty important ones.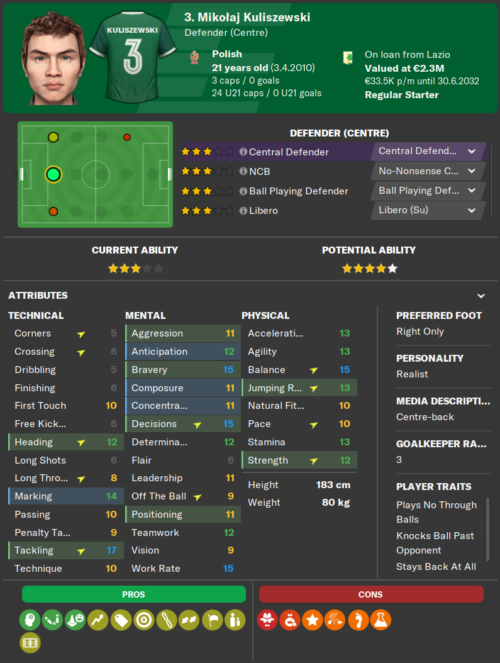 Miklaj Kuliszewski joined us for this season on loan from Lazio. 24 rock-solid appearances in defense were great, but they also made him interesting for other clubs. At the end of the season, Napoli stepped in and payed Lazio actual money, so he remained a one-season loanee.

Our Bundesliga campaign didn't start great. We got one point from our first match at Leverkusen, but then lost three more matches in August on top of an embarrassing first-round exit from the DFB Pokal against 2nd tier Heidenheim. I was not yet nervous, though. We had scored against Dortmund and the Hamburg and Leverkusen matches both were fairly close. Only Hoffenheim really taught us a lesson about Bundesliga football. We would pick up points eventually.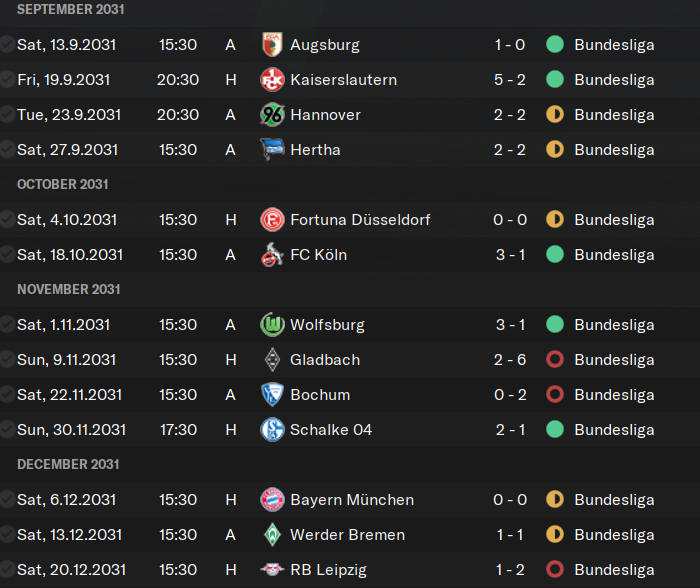 And indeed we did. A 1-0 away win at Augsburg gave us confidence and we then went on a 7 match unbeaten streak. We then got a bit too confident and lost 2-6 at home against Gladbach. But come winter break the gap ahead of the relegation zone started growing big enough to give us some peace of mind.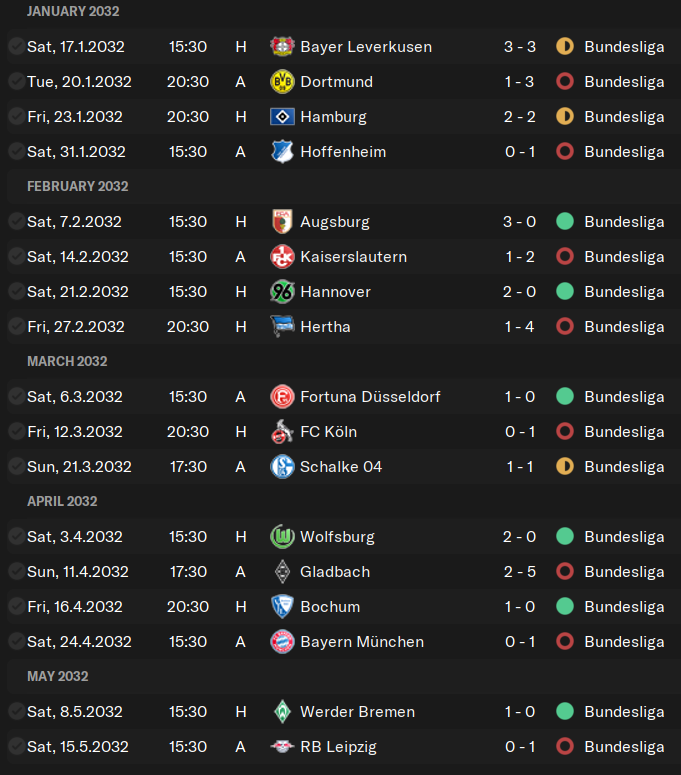 The second half of the season was a mixed bag of results, but I won't complain – at the end of the day we were tipped to get relegated and we avoided that fate by a huge margin.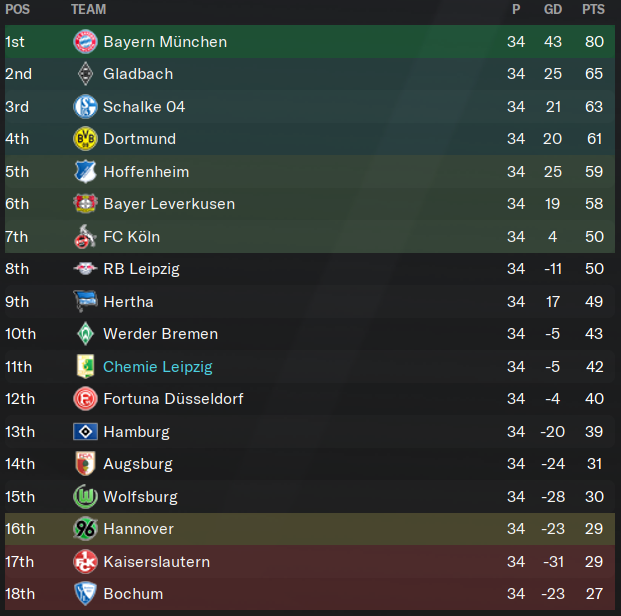 The final table saw Bayern Munich capture their 20th consecutive Bundesliga title (booooriiing!) and Chemie Leipzig finishing 13 points ahead of the relegation spots, safely in mid-table. The financial gains of the Bundesliga allowed us some infrastructure investments (training and youth facilities), although I do not like the fact that the Chemie board are very reluctant to spend any money on such improvements.
BSG Chemie Leipzig 2032/33
Surviving our first Bundesliga year and finishing mid-table gave us an unexpected splash of cash and allowed us to further strengthen the squad. Long-term loanee Axel Mayer's contract at Gladbach ran out and we managed to convince him to join us full-time.
I found Dragan Majdancic when randomly scrolling Serbian clubs for scouting targets. He joins us for 2.5 million and immediately slotted into our central midfield Over the next two seasons he would make 53 league appearances at an average rating of 6.90, score 4 goals and assist 10 more.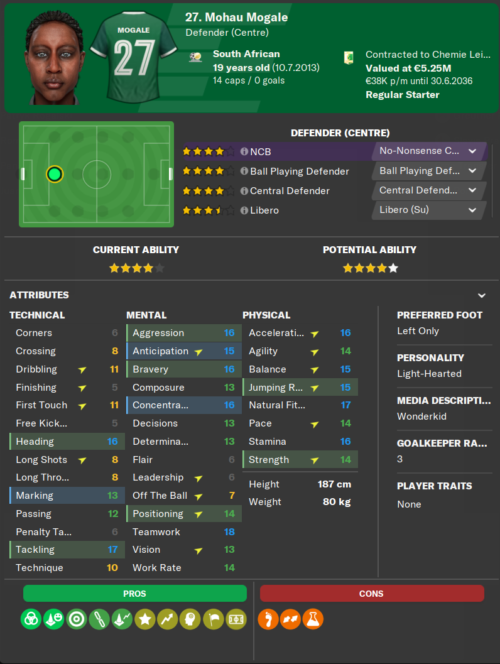 South African youngster Mohau Mogale must be the signing of my save so far. Joining us for FREE from Supersport United after his contract expired, this guy is better than any other player I have on the team. He immediately became our main defense outlet and I fully expect big clubs to come bidding for him soon. I initially gave him a 35 million release clause. When he told me at the end of his second season that he is happy to wait for a club to come bid this sum, I immediately extended his contract and bumped that clause to 47 million. He is content that someone is going to pay that eventually, and so am I.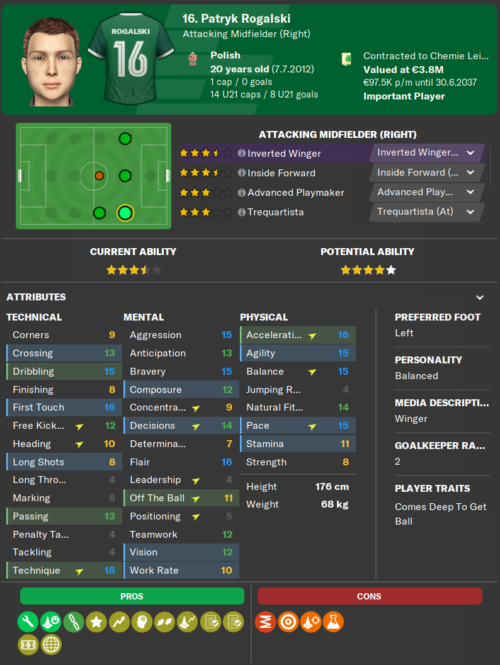 In contrast to the two rather cheap signings above, it was Patryk Rogalski that I busted the bank for. I reluctantly spent all the remaining transfer budget of 7 million EUR on him because we really needed strengthening on our right wing. I'm afraid, Rogalski has yet to show that he is that required strength. Two seasons into his contract he has played mediocre at best. I had hoped for more than the 36 appearances (14 from the bench), 8 goals, and 9 assists at very average 6.6 ratings. He is still young, but I hope he delivers his potential soon.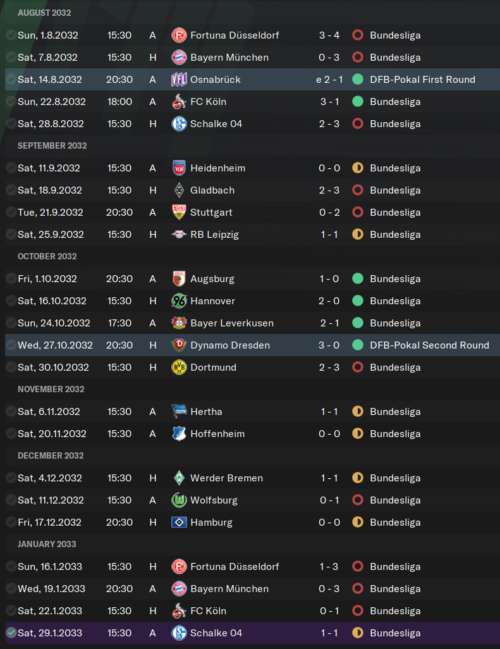 Our first half of the season was not good at all. We found ourselves bottom of the table after only grabbing two points from the first 8 matches. A series of 3 wins in October looked like an improvement, but too many bore draws towards Christmas did not significantly help us. And when we returned from the winter break with new hopes, these were crushed immediately by another 3 losses and a draw against Schalke. The table had us sit 15th and was extremely tight around this time of the season.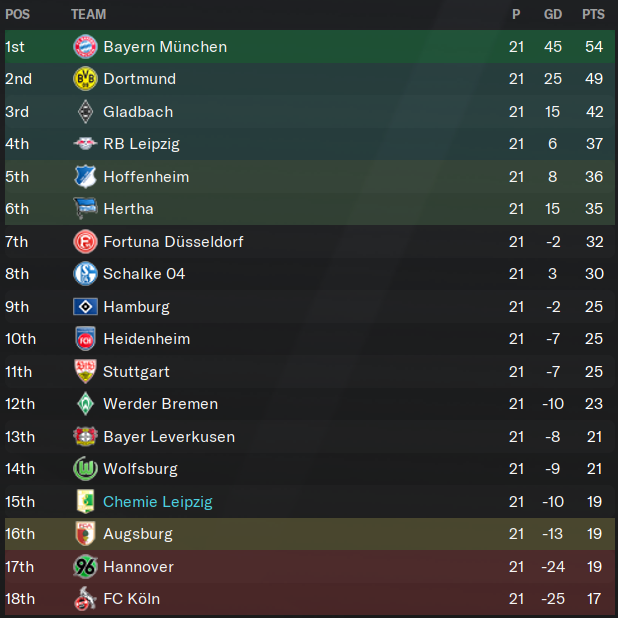 For some lucky reason (a 2-1 extra time win against 3. Liga side Osnabrueck is nothing more than that) we were still in the DFB Pokal. Our next opponent in the third round? Bayern Munich. Away. Surely they would pile on our misery.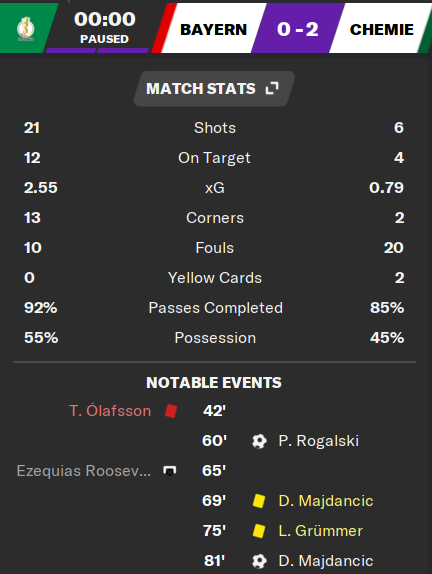 But then magic happens. We park the bus, a frustrated Bayern lose a midfielder in the first half. Mediocre winger Rogalski scores a goal. They miss a penalty. And then Dragan Majdancic finishes the tired Bayern side off. What a night!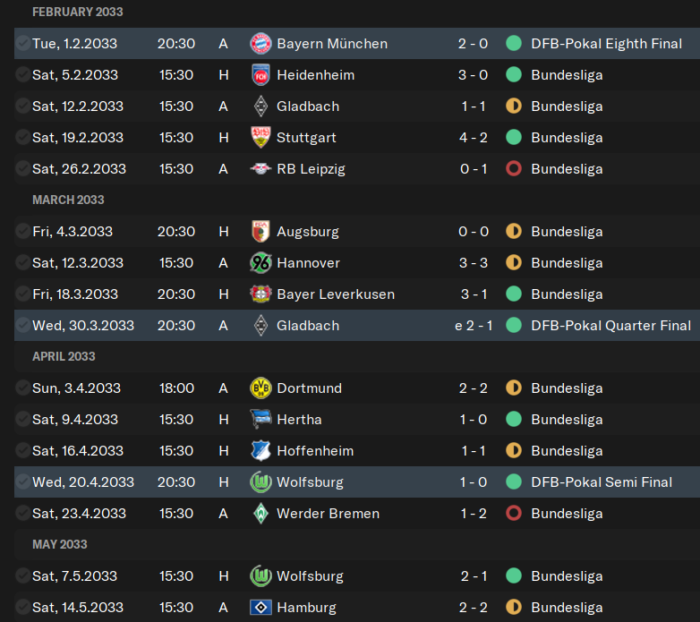 And more than that: the win against Bayern breeds confidence and we suddenly play like we deserve to stay in the Bundesliga. We easily avoid relegation eventually.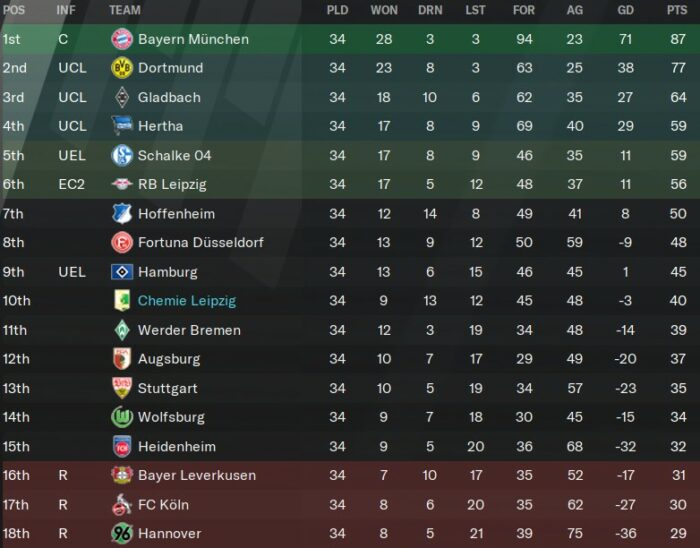 And keeping true to our Bayern performance, we sneak past Gladbach and Wolfsburg to claim our place in the DFB Pokal Final. Our opponents there would be Hamburger SV, who we also draw with on the last day of the Bundesliga. Let me be straight: we had a lot of luck on the way to this final. Other sides surely deserved to be there, but at the end of the day it was us who showed up. I told the lads to enjoy the evening and not worry about the result. And Hamburg tried to hammer us. We merely made it to their penalty area. But as so often in this season, we somehow kept a tight ship in defense. We got ourselves into the penalty shootout. And Lukas Gruemmer as our 5th shooter has the chance to win the cup and put us into Europe next year. But young Lukas misses, so do all our other scorers and eventually Hamburg claim their deserved victory.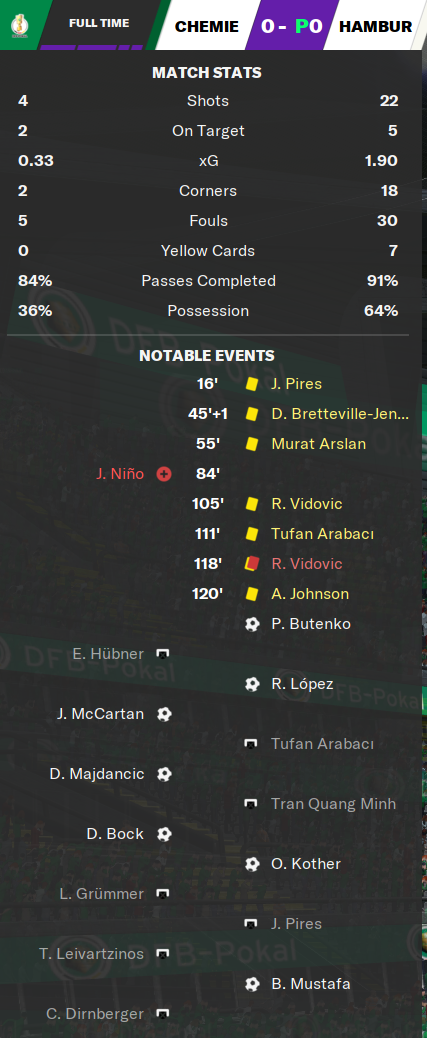 BSG Chemie Leipzig 2033/34
I did not take the lost cup final as a setback. Instead, we had just made some extra cash to invest into facilities and new players for the 33/34 season! Interestingly, we did not spend a lot on players in summer.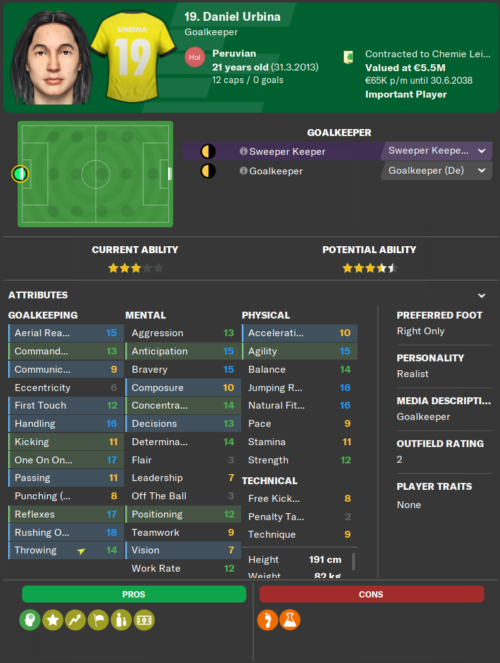 Goalkeeper Daniel Urbina was released from his Peruvian home team Universitario de Deportes. He is Peru´s first choice national keeper and comes in to replace our 2. Bundesliga quality goalkeeper Clemens Dirnberger. In his first season he still shared duties with Clemens, but 16 appearances, 5 clean sheets, and an average rating of 7.06 made him our all-out goalkeeper going forward.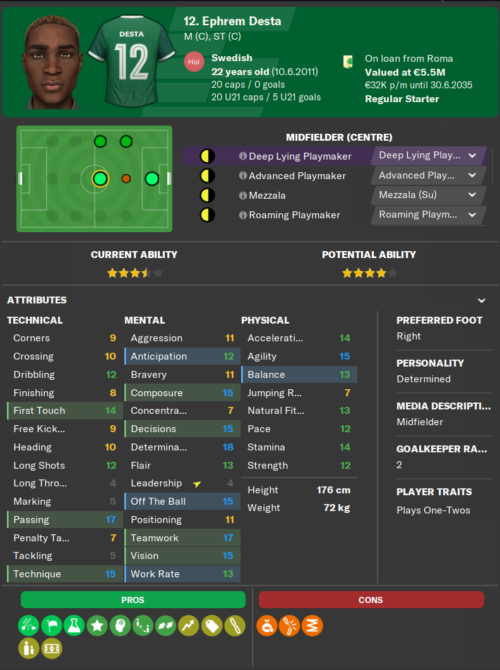 Swedish midfielder Ephrem Desta was available on loan from Roma and promised to be a great backup if not more for our midfield. He joined for two seasons on loan and would make 46 appearances, score 9 goals, and assist 4 in the Bundesliga. At the end of the 34/35 season his contract at Roma ran out and he decided to forfeit our offer for a permanent contract and rather join our league rivals TSG Hoffenheim. Another reputation victim.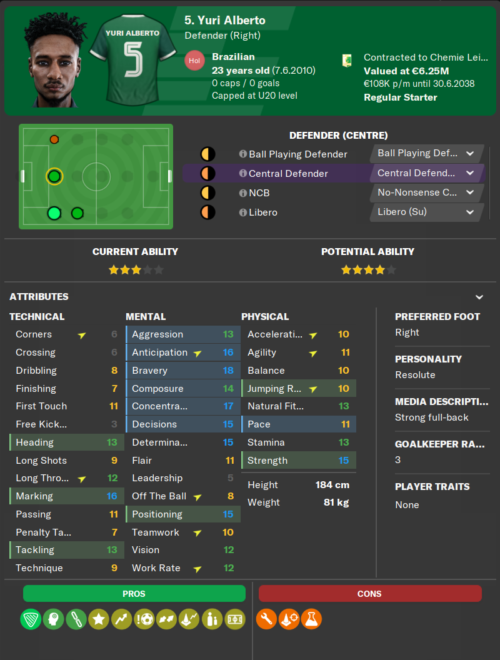 Another output of our South American scouting focus, Yuri Alberto joined us for free from Santos FC. We used him mostly as the prime backup for our two central defenders and he was solid there, averaging a 6.81 rating this season.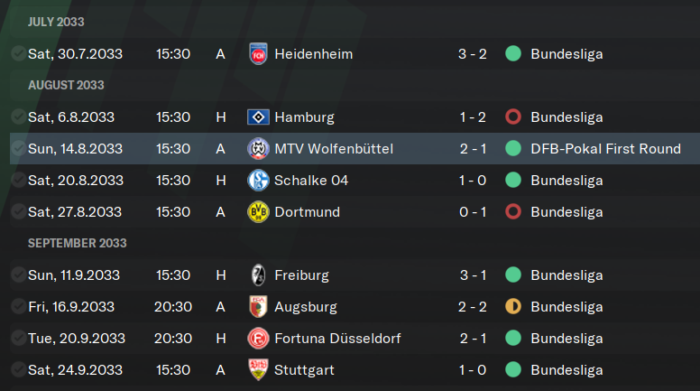 We had our best start to a Bundesliga season so far. We won 5 out of our first 8 matches this year. The losses against top sides like Hamburg and Dortmund were kind of expected, on the positive side we also beat Schalke early on.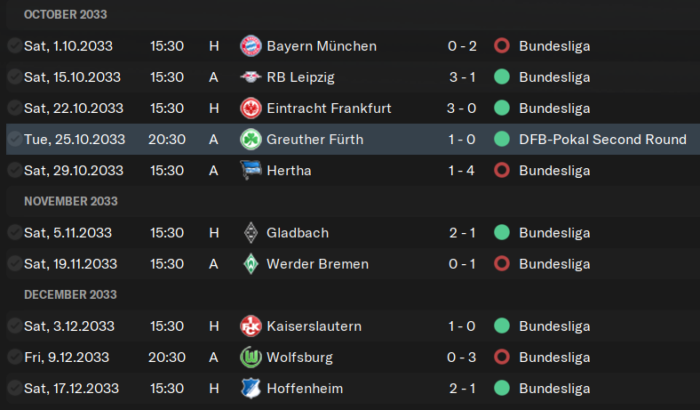 Our form mostly continued and we were aiming for a certain top-half finish until Christmas. We beat our Austrian neighbours 3-1 in their own stadium and reached the 3rd round of the DFB Pokal without bigger troubles. To keep things realistic, we did not have any chance against the big teams and deservedly lost against Bayern, Hertha, and Wolfsburg. The 0-1 at Bremen was a bad day — we should have at least drawn there.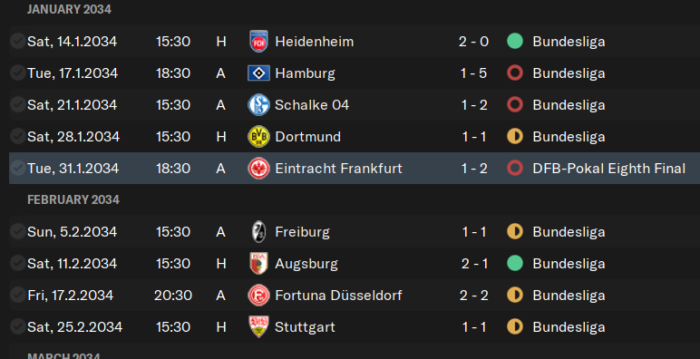 After the winter break we went on our seemingly regular slump. A heavy 1-5 defeat at Hamburg, followed by a loss against Schalke. We were able to fight for a 1-1 against Dortmund, but then were too tired to get past Eintracht Frankfurt in the DFB Pokal. It took some time to pick ourselves up as we mostly drew our matches in February, although we would have expected to win at least some more.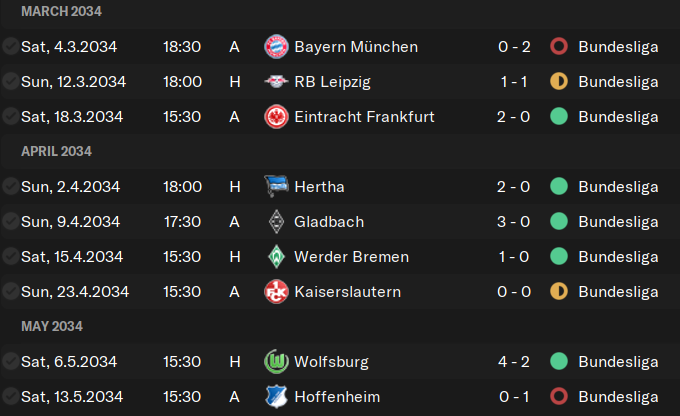 The last months of the season were much better then. We went 7 games unbeaten between mid-March and early May. We even had strong showings like a 4-2 win at home against Wolfsburg. These results let us rise through the ranks again.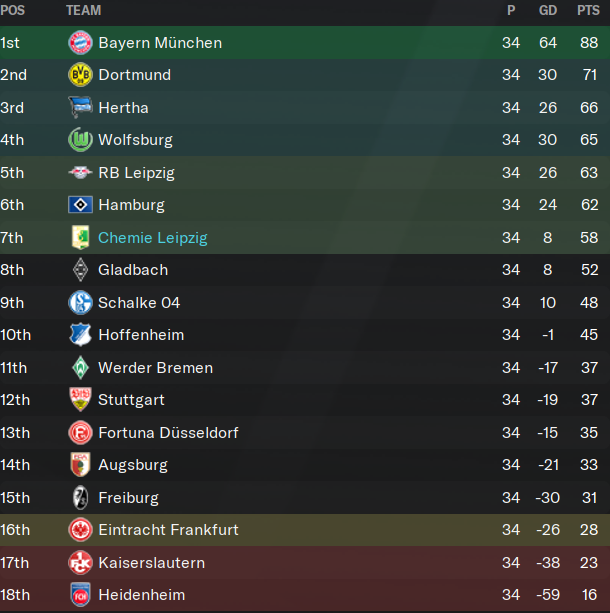 At the end of the day, we finished in 7th place – 18 points more than last year. Regularly, this would have put us into the Euro Conference League playoffs in 2034/35. However, as Bayern Munich won the DFB Pokal (against Hoffenheim) and were already qualified for the Champions League, this meant that we would automatically participate in the Europa League group stage next year.
What an achievement! 3 years in the Bundesliga and we qualify for European Football! I´m totally looking forward to that, although I´m having a hard time to predict how we will hold ourselves up in the Europa League and whether our squad is good enough to fight both internationally as well as domestically. There´s only one way to find out — I´ll tell you next time!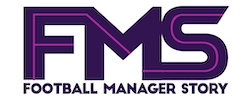 Subscribe to our Newsletter