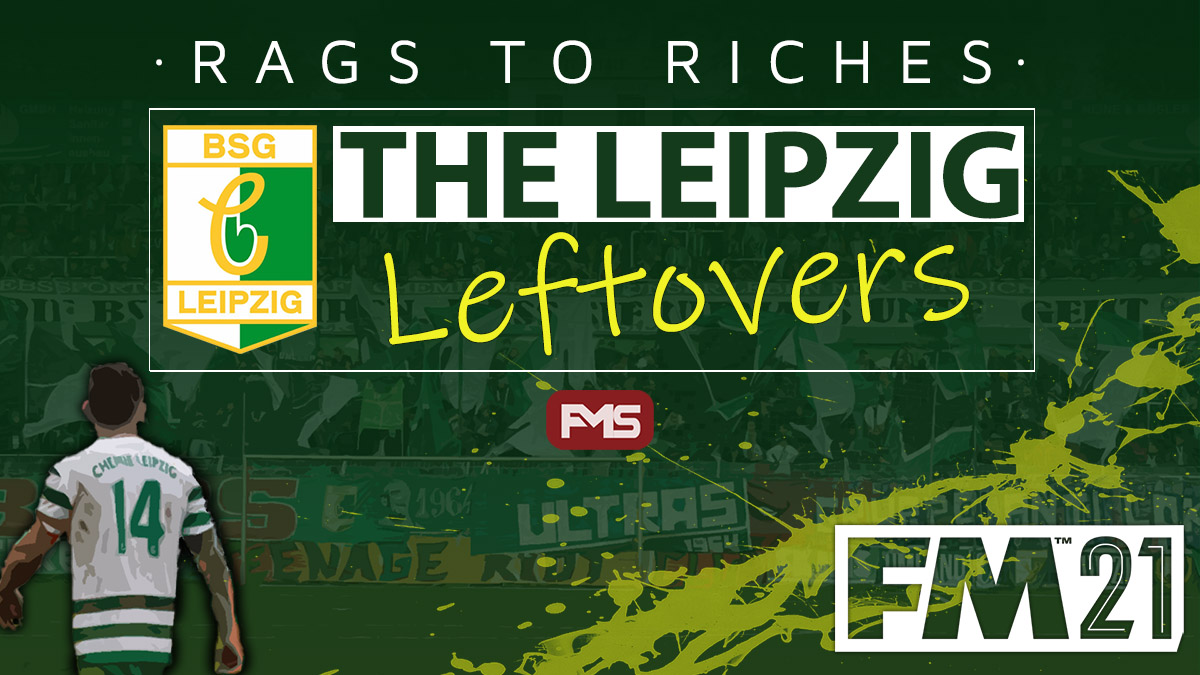 Welcome to the first of hopefully many posts about the Leipzig Leftovers in FM21. If you came here by accident, feel free to see my intro post first. Otherwise as a quick recap, I'll be trying to take BSG Chemie Leipzig from the 4th tier of German football to everlasting fame and glory. Can't be that hard, right?
We're starting off with a slightly modified setup. To get access to the German lower leagues, I am using a DB extension provided by Dani from the German FM community over at meistertrainerforum.de. The DB models German tiers 4-6 in extreme detail and most importantly for me includes accurately modeled regional cup competitions. On top of that I loaded the top divisions of neighbouring (Austria, Czech Republic, Poland) and top European nations (England, France, Italy, Spain). They are configured as view-only as I do not intend to move to those countries during this save.
A Primer on the German Lower Leagues
There are five 4th tier divisions (North, North-East, West, South-West, Bavaria) in Germany, sitting underneath the country-wide 3. Liga. Here things get hairy: There are five Regionalliga divisions, but only four promotion spots to the 3. Liga available. Rules have changed around a bit, but right now the story goes as this: the West and South-West divisions represent a larger amount of active teams and footballers, so their champions get promoted to 3. Liga directly. A third direct promotion spot rotates every year between the other three (North-East, North, Bavaria) with North-East owning that direct spot in the 2020/21 season. The remaining two champions (Bavaria and North in 2021) will play a promotion playoff for the fourth promotion spot into 3. Liga. Sounds simple, right?
But the story isn't over yet. The leagues are regional and the number of relegation spots can vary. If a team from Bavaria gets relegated from 3. Liga it will end up in Regionalliga Bavaria. But if the Bavarian team fails to win the promotion playoff you will now have too many teams in the Bavarian 4th tier. There are different solutions to this problem depending on which division you're in. And COVID-19 has tangled up things even more:
Regionalliga North: The 2019/20 season was cancelled in March 2020. No team was relegated. Teams from the 5th tier were promoted as planned. Therefore, the league has 22 teams in 2021/22. To avoid playing 42 matches, the league is split into two groups of 11 teams (geographically and creatively named North-North and North-South). After 22 matches, the top 5 teams of each group reach a promotion stage where they determine qualification for the promotion playoff against the Bavaria champions. The bottom 6 teams from each group play a relegation playoff. Officially, it is yet unclear how many teams get relegated as the long-term goal is to reduce teams and unify the groups again. The DB I'm using has 5 planned relegations, bringing the league back to a regular 18 teams in 2021/22.
Regionalliga North-East: The 2019/20 season was cancelled in May 2020. 2 teams from 3. Liga were relegated (Chemnitzer FC and Carl Zeiss Jena). No team was relegated except for Rot-Weiss Erfurt which had already gone bankrupt before COVID-19 hit. As a result, there are 20 teams in the league for 2021/22. One team will be directly promoted, 3 teams will be relegated. Unless more than one local team get relegated from 3. Liga, in which case there will be an additional 4th relegation spot. Depending on all things, the league will play with anything from 18 to 21 teams in 2021/22.
Regionalliga South-West: Previous season cancelled in May 2020, no team relegated. Similar to the North division the South-West ends up with 22 teams for the 2021/22 season. In contrast to the North, this division is playing a full 42 match day schedule with six teams being relegated in the end and the winner directly promoted to 3. Liga.
Regionalliga West: Again, no relegations from the cancelled 2019/20 season. 21 teams will be competing for 1 direct promotion spot. The bottom five teams are relegated.
Regionalliga Bayern: The crazy one. Instead of cancelling the 2019/20 season, the league decided to simply pause and commence next year, creating an over-arching 2019-2021 season. This left a problem: they still had a direct promotion spot for 3. Liga. So they nominated Turgcucu Munich as the league leaders for promotion and then annulled all their matches to continue the league with 17 teams without the Turkgucu results. My local DB does not model that, but instead goes for a newly-started 17 team season. League winners will play a promotion playoff against the winners from the North. Bottom two get relegated, teams in rank 14 and 15 play a relegation playoff against the winner of Oberliga Bavaria for the remaining spots (whose number may vary depending on the number of teams relegated from 3. Liga…)
League rules being out of the way, there's another important thing to Lower League German football: Regional Cup competitions. While there is the nation-wide DFB-Pokal, only teams from 1. and 2. Bundesliga plus the top 4 teams from last year's 3. Liga directly qualify for it. The field is then expanded by 24 teams that qualify through the regional cup competitions run by the 21 regional sub-bodies of the German FA. In most cases this means that the regional cup winners will qualify. Except for the bigger sub-bodies (Bavaria, Lower-Saxony, West) where both cup finalists qualify. This is important because participating in the 1st round of DFB Pokal will easily net the team around 175,000 EUR of appearance money plus an automatic home match against a bigger opponent. The result is a huge financial windfall for these teams.
Starting Off at Chemie Leipzig
Here we are. It is late summer of 2020 and my manager alter ego, Hans Lipsius, has just taken over the reign at Chemie Leipzig.
Young Hans recently ended his career in lower league football and the Leipzig job is his first venture. The players are at least skeptical about his lack of experience. In fact, it took me a couple of early failures. In my first attempt I was on the verge of being sacked around Christmas 2020, in the 2nd attempt I had a players revolt in fall of 2020 after we had not won a couple of games and the players doubted my skills. But third time's a charm and I finally got the vibes of Chemie and the save started for real.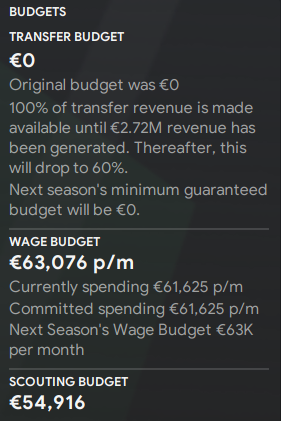 As I plan on being here in the long run, keeping the club afloat financially will be high priority. In positive news, at the start of the game the club have no debts. However, the bank contains a whopping 29,000 EUR. Our wage budget of 63,000 EUR per month is pretty much used up and getting rid of our dead wood is not likely before their contracts run out – at our level other teams either cannot afford those players or already have their own.
63,000 EUR times 12 months equal 756,000 EUR that we will need to pay wages alone.Where does the money come from? — We could not make huge money with player sales even if we had players to sell. There is no prize or TV money in the Regionalliga. Board investments do not exist. Our sponsoring covers roughly 100,000 EUR. Let's disregard any other expenses: we need to somehow bring in 650,000 EUR annually to pay the players and our only source of real income will be gate receipts.
Our old-fashioned Alfred-Kunze Sportpark can host 18,000 visitors. Not so good news: we average less than 3,000. The major exception being visits from our local rivals Lokomotive Leipzig, which draw in crowds of around 6,000. 3,000 fans times 10 EUR ticket prize give us 30,000 EUR per game. We play 19 matches at home this season, so we expect a rough 19 x 30,000 = 570,000 EUR of income. We are missing at least 80,000 EUR to break even. And there are a bunch of other expenses that we do not even calculate for (scouting, youth teams, travel cost, etc.) The situation is dire and whichever way you turn: the only long-term stable solution for Chemie Leipzig is to get out of this division as soon as possible.
2020/21 New Signings
Given our situation, there is no way to do a major squad overhaul. That will happen next summer where most player contracts run out and we will have some financial breathing space. For now, I was able to bring in two new signing before the season started. I went slightly above the budget, but I really needed improvements in their squad areas (CM and left wing).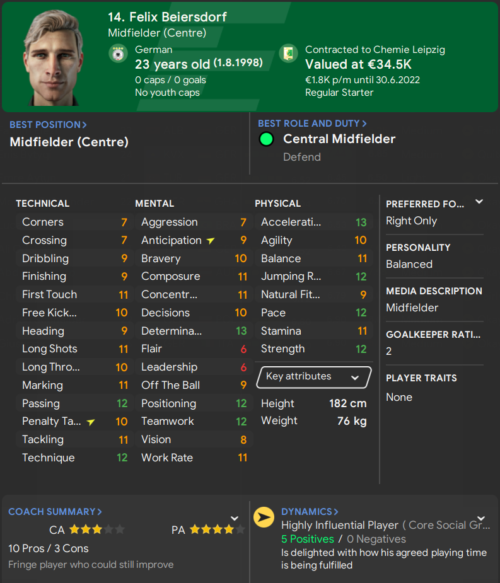 Felix Beiersdorf went through RB Leipzig's youth teams, but did not make the cut for their Bundesliga squad. He was released and we signed him on a free. He became an important presence in our central midfield, appearing 32 times, scoring 6 goals and 6 assists in the process at an average rating of 6.96.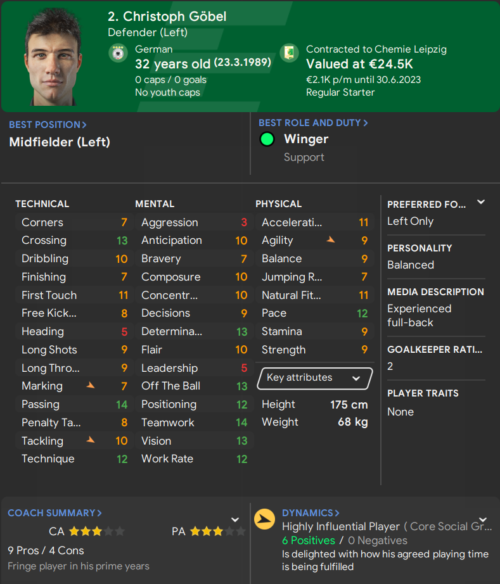 Christoph Goebel brings some experience to our left fullback position. He made 34 appearances over the season and was a hit-and-miss guy. His average rating was only at 6.60, but that is because this guy often either gives a 7.5 performance or a devastating 6.2 one. Nevertheless, he's the best we could get for this position.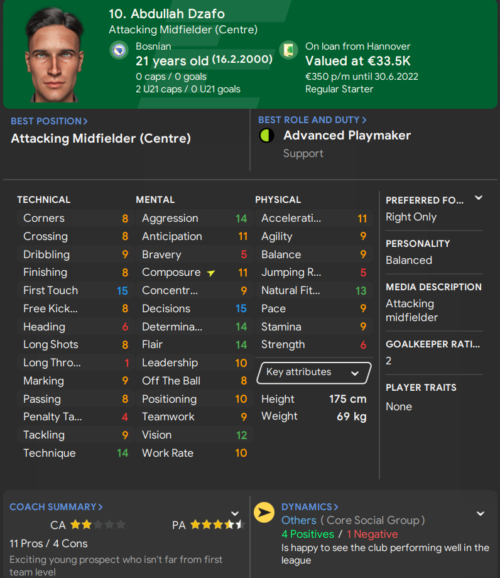 Eventually we secured Abdullah Dzafo for a cheap loan fee from Hannover 96 during the winter break. He was going to provide us some alternative in central AM, appearing as an AP(a). He still managed to play 22 matches for us, scoring 6 and assisting in 5 more goals.
2020/21 Regionalliga
Media predicted us to finish mid-table and given that squad restructuring would have to wait at least another year, it looked rather unlikely for us to challenge for the single promotion spot our division has.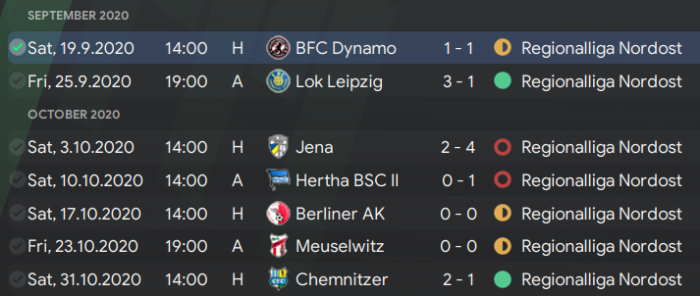 It took us some time to find a reasonable tactical approach, fitting in the different cogs into a smoothly running machine. We were able to beat local rivals Lokomotive early on, but lost against bigger teams Jena and Hertha II, while scoring a few dull draws, where we dominated, but were not able to finish the opponents off. The 2-1 win against Chemnitz at the end of October showed that we can compete with the division's big teams.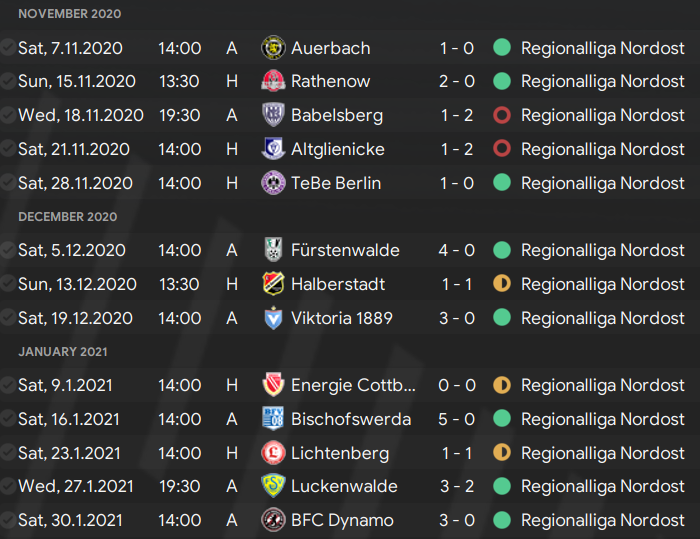 Things went better from there. We lost against Babelsberg and Altglienicke (who were both playing good seasons overall), but other than that started winning regularly. The 4-0 away at Fuerstenwalde in early December was amazing – they were sitting in 3rd position at the time and we were expected to heavily lose out. At this point we were closing in on the top 5 and might even be on the verge of mounting a promotion challenge.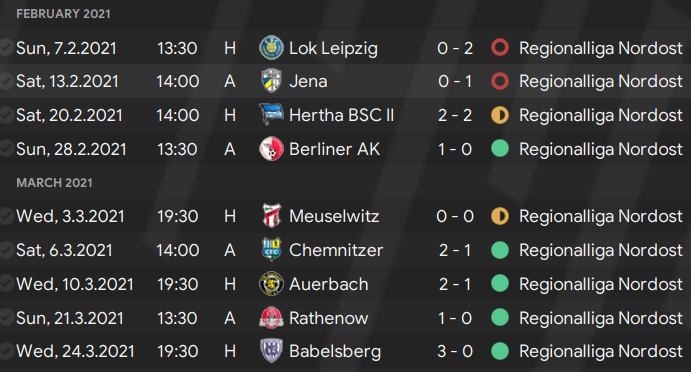 Talk of promotion was then killed off by two sobering defeats against Lokomotive and Jena. But then we picked up wins again. At the end of March we were in 2nd position and a win against Altglienicke in our next match would have given us the top spot!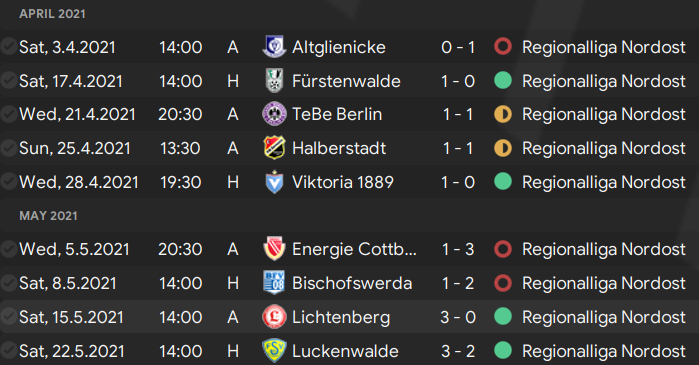 But we failed at beating Altglienicke and went on to drop a few more points. Match contention was becoming an issue as we were also competing in Sachsenpokal along the way.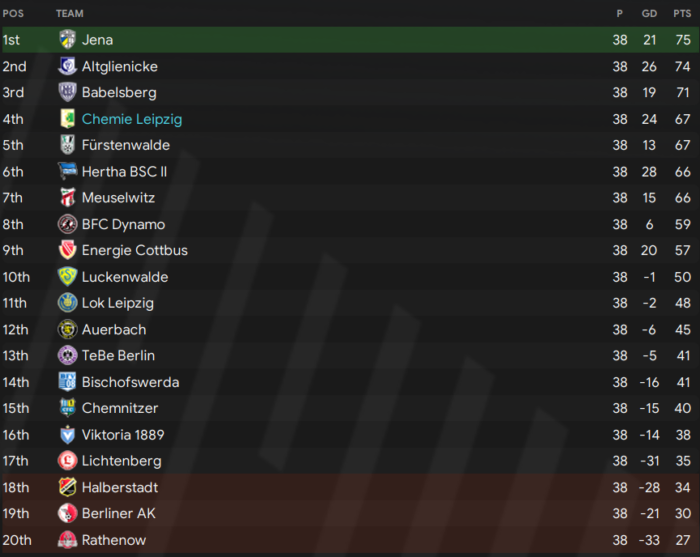 At the end of the day we finished the league in 4th place, way off eventual winners Jena. Nevertheless, this is an encouraging result and shows we are not too far off the top. If we can bring in some improvements and are lucky in terms of injuries, we may look at promotion next year. I tried to even tell that my players in the end-of-season speech, but they would not hear any of that.
2020/21 Sachsenpokal
I pointed out before that regional cup competitions might be a pathway to financial success because just participating in the DFB Pokal 1st round next year would already net us more than 200,000 EUR in appearance fees and gate receipts. We did have an outsider's chance here. Only teams from Saxony participate, which is mostly teams from Regionalliga (which we should be able to beat on a good day)  and below. However, there are also two 3. Liga teams in the draw: FSV Zwickau and Dynamo Dresden. They are the natural favorites to win the cup and benefit from those financial wonders.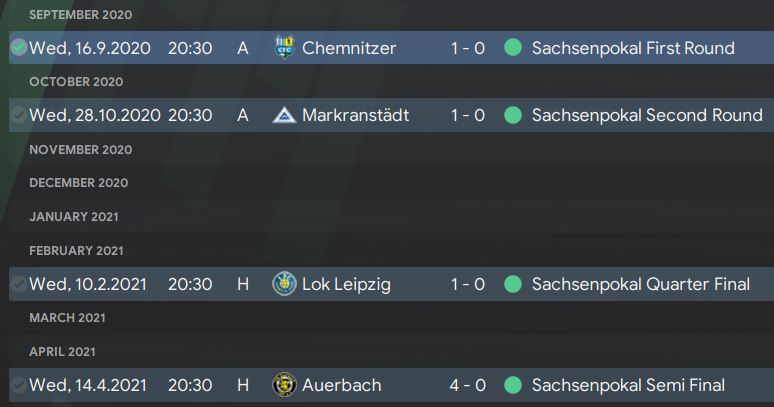 We drew Chemnitz in the 1st round, who had just been relegated from 3. Liga. Luckily we got a 1-0 win. Next up, minnows Markranstaedt also only allowed us a narrow 1-0 win as well.
The quarter final set us up for another home leg against Lokomotive Leipzig. Extra gate receipts and we even won the match. After that we cruised past Auerback in the semi-final and thus deservedly gained a spot in the final! Luckily we had not faced one of the 3. Liga sides on our way there. But this was about to change. In the final we faced none less than Dynamo Dresden themselves.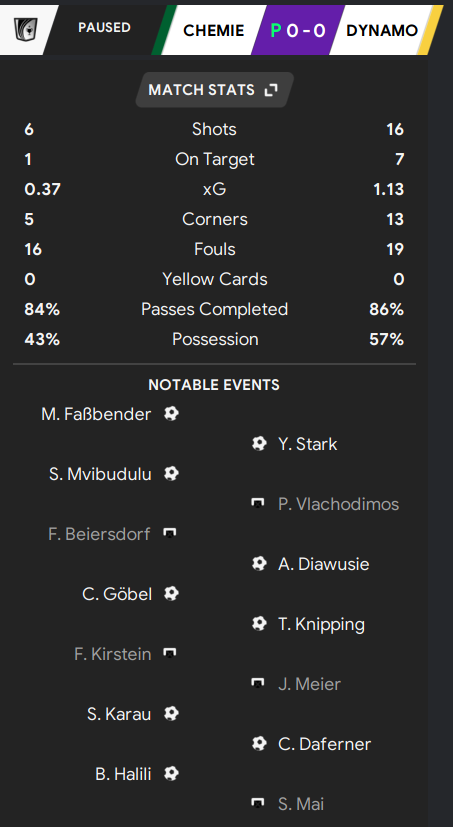 I did not doubt we were going to lose out here. So we set out to camp tightly in front of our goal and for whatever strange reason were able to see Dynamo into the penalty shootout. Here, our goalkeeper Sebastian Bellot demonstrated his heroism by saving 3 of their shots. We made it. We won the Sachsenpokal. And more importantly, we will be 200,000 EUR richer come August and the first DFB Pokal round.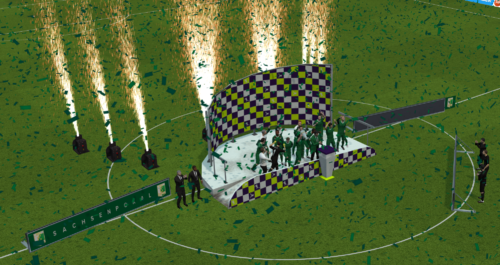 Coming Next
Those 200,000 EUR will be very welcome. We recorded a loss of around 300,000 EUR over our first season and that's going to help a long way here. We'll also be looking to bring in a couple of new players and structure the squad to push for promotion in one or two years. More on this and also a first historic tour of former GDR football will be waiting for you in the next installment of this series.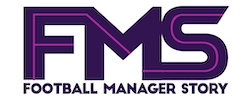 Subscribe to our Newsletter