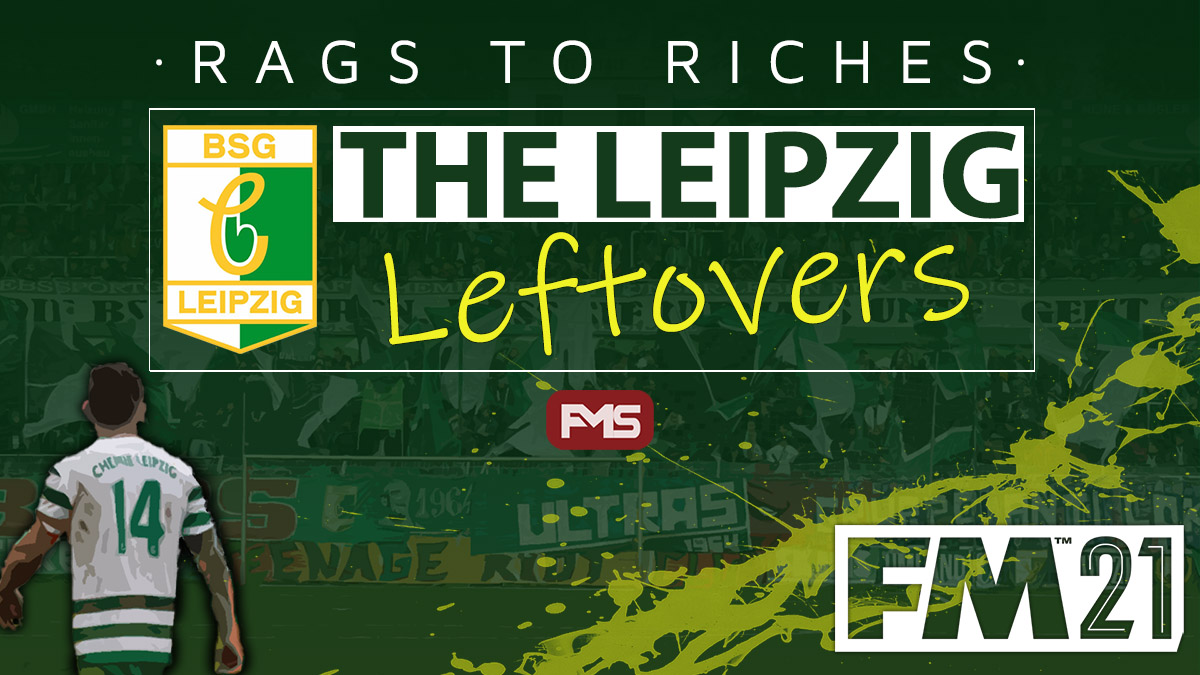 History Time: FC Carl Zeiss Jena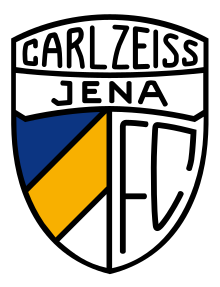 If you're asking people with some knowledge of GDR football about the successfull teams there, many will mention the big ones like the Dynamo teams from Berlin and Dresden, Magdeburg, or even Lokomotive Leipzig. Nevertheless, when you look at the all-time table of the Oberliga, another team comes up top: FC Carl Zeiss Jena. They played 929 Oberliga matches in 35 consecutive seasons. However, their great successes date from before the other teams made the news: Carl Zeiss won the Oberliga in 1963, 1968, and 1970 and the FDGB-Pokal in 1960, 1972, 1974, and 1980. Little town Jena also regularly produced top-notch GDR footballers at the club and national level.
Their successes throughout the 1960s were guided by Georg Buschner, a home-grown who had spent his entire playing career at Jena and six weeks after his retirement in 1958 took over the management job. After two league titles and two cup wins, he caught the eyes of the higher ups and was promoted to GDR national manager in 1970, a job that he would keep for another 11 years. His successes went on. His team would finish 3rd in the 1972 Summer Olympics and eventually win the title at the 1976 Olympics in Montreal (eliminating Valery Lobanovsky's Soviet Union in the semi-finals). And he also was the manager in the infamous 1974 World Cup match between the GDR and West Germany – the only time these teams ever competed in an official match. The GDR team won against the later world champions with 1-0, giving the socialist party a great propaganda success.
Back to Jena — when Buschner left Carl Zeiss for the GDR manager position, his young assistant Hans Meyer took over. And while it got harder for Jena to compete with the bigger teams, they still had some successes in the cup competition. And it was their latest cup win in 1980 that led to even bigger success: entering the 1980/81 European Cup Winner's Cup, Jena managed to beat Roma 4-0 at home after a 3-0 loss away. And they continued with wins against Valencia, Newport County (sic!) and Benfica to rightfully claim their place in the Cup Winners' Cup final. In a malicious twist of fate they would travel to West-Germany to meet Soviet side Dinamo Tblisi in Duesseldorf's Rheinstadion. Two small-ish communist teams facing off in Duesseldorf was nothing people really cared about and the cup final went into history as the least attended cup final ever. 4,750 spectators saw a 1-2 loss. And this was the last time Jena ever made the news.
The club's great days were over and while they stayed in the Oberliga until the very end, they never managed to win it again. In reunified Germany they stayed a few years in the 2. Bundesliga before they went on the long way down the leagues, spending most of their time in the 3rd and 4th tiers.
Hans Meyer, however, became one of the very few GDR managers to be successful in unified Germany. He nanaged FC Twente in the Netherlands before becoming Borussia Moenchengladbach manager in 1999. He later went to manage Nuremberg as well and led the Frankonians to win the DFB Pokal in 2007. Today he is a member of the Borussia Moenchengladbach board of directors.
Chemie Leipzig 2022/23
Welcome back to Leipzig! Last year we narrowly won promotion to 3. Liga. Squad improvements will be required to stay up. We just turned professional (as it is required in the German 3rd tier) and have some more wage budget to spend. Nevertheless, less than 1 million EUR for the whole year put us somewhere at the bottom of the division. We anticipated a struggle.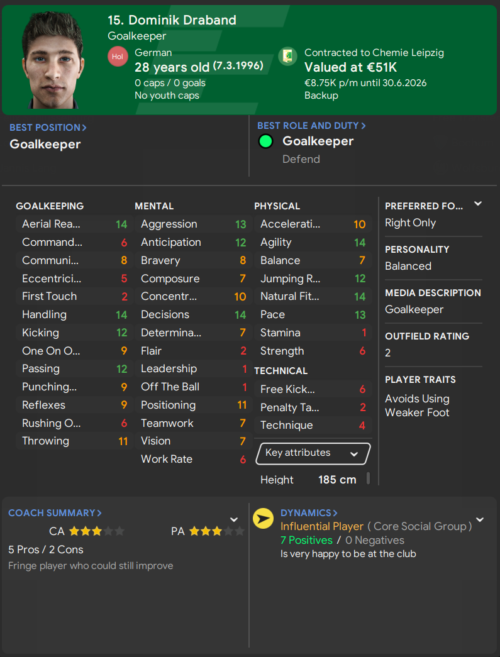 Our aging first goalkeeper Benjamin Bellot decided he wanted to leave after promotion. As a replacement we brought in Dominik Draband from Kickers Offenbach on a free. Experienced at the Regionalliga level, he looked ready for 3. Liga. Cannot complain about the results – he went on to keep 17 clean sheets in 38 appearances!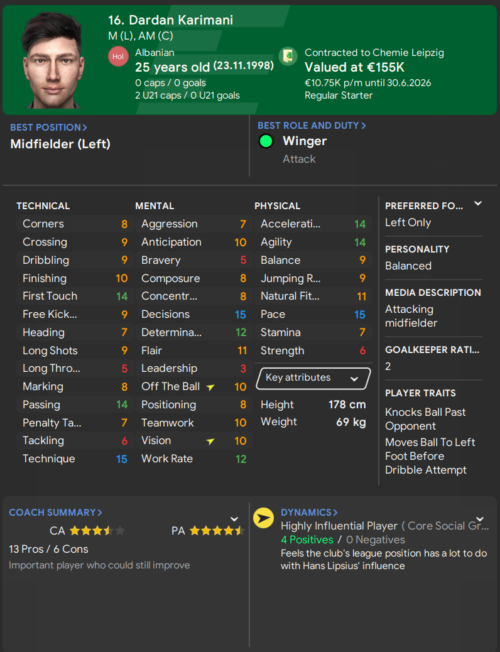 Dardan Karimani joined us with some Regionalliga experience from Lippstadt. He would share the left wing with our promotion-winner Fatlum Elezi and delivered solid performances as well.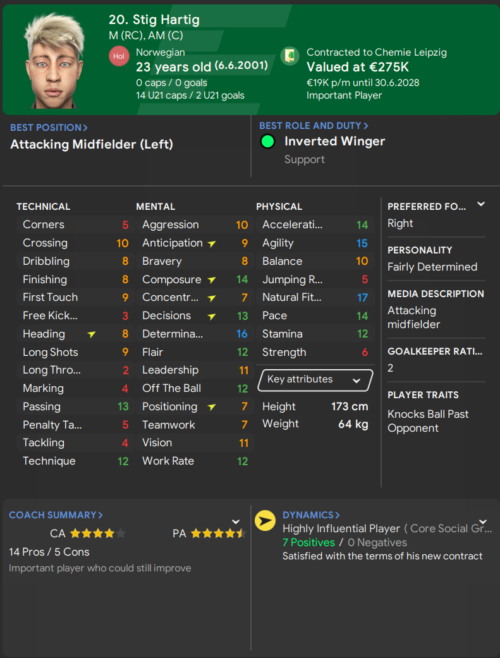 Norwegian winger Stig Hartig joined from Drochtersen. I intended to use him as a backup for our captain Max Kessler, but over the course of the season he turned out to be at least as good, so I occasionally slotted him into an AM position along with Kessler as the winger.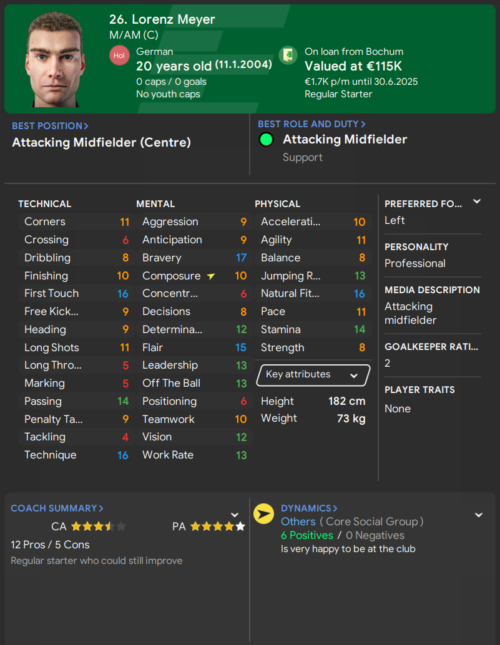 And as a final notable transfer we sealed Lorenz Meyer as a creative player for central midfield. He joined us in the January window from 2. Bundesliga side Bochum on a 1.5 year loan.
Sachsenpokal 2022/23
Last season we had missed out on the Sachsenpokal against Zwickau and thus also missed out on urgently needed DFB Pokal participation fees. We got another shot at the cup this year.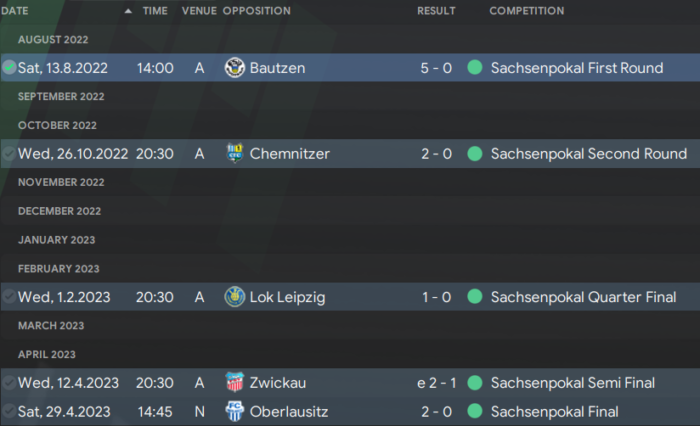 And we did better! An easy first round against lower-division side Bautzen. Then we faced Chemnitz and local rivals Lok and bet them without problems. After that, we got the dreaded semifinal against Zwickau again. However, this time we're playing in the same division and should have a fighting chance. We took them to extra time and ended up winning by a 119th minute goal from Dardan Karimani. After that we had eliminated the most dangerous foe from the cup. The 2-0 final win against FC Oberlausitz wasn't ever contested. We're back in DFB-Pokal for 2023/24!
3. Liga 2022/23
Our first year in 3. Liga looked daunting. As newcomers with a fairly low budget and mostly Regionalliga players the board expected us to avoid relegation. The press agreed and thought us to finish 17th.

And we got an awesome start to the season! We surprised Kickers Wuerzburg in the first match and bet them 1-0, before going to lose the away match at Hansa Rostock as expected. But then we bet Offenbach and Jena without conceding! Especially Lex-Tyger Lobinger, signed last year as a backup to our main striker Bytyqi, scored in all three of the wins.

Four matches into the season we were sitting 2nd in the table! Surely just an accident, so I quickly took a screenshot to have something to admire when times got rougher.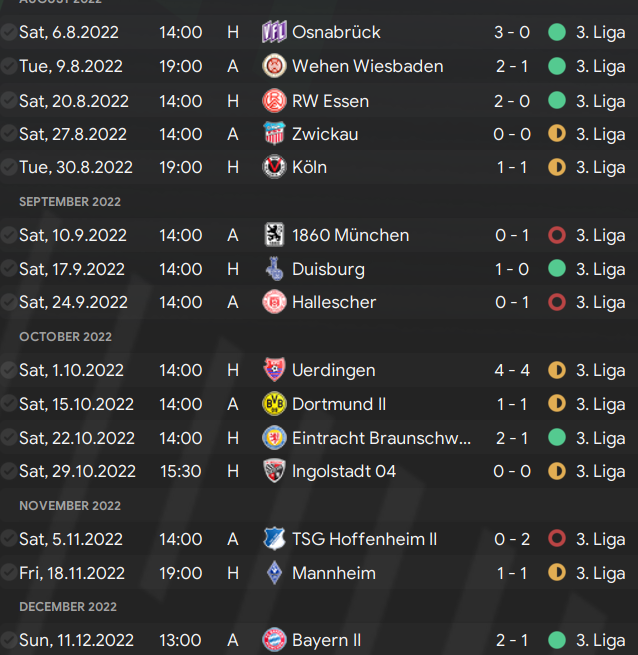 But the rough times simply did not happen. Lobinger continued scoring, we continued winning throughout August and even two losses in September did not break us. In the last match of the 1st half of the season we even beat mighty Bayern's B team 2-1 away.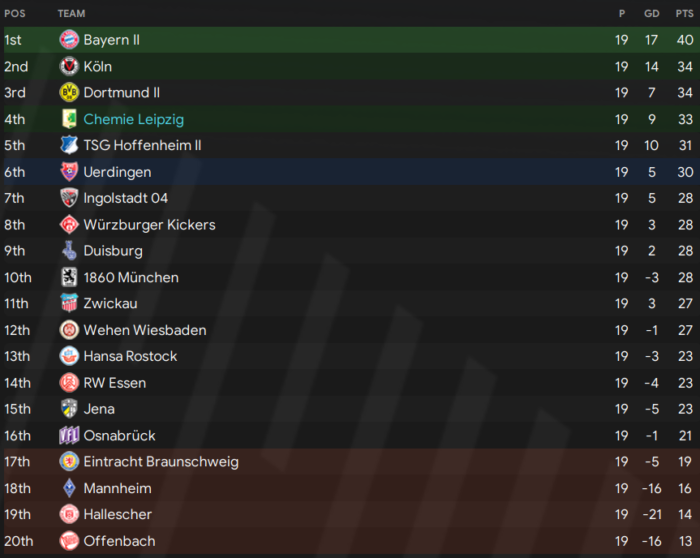 After 19 matches we were sitting 4th and this actually meant a promotion spot. This is due to another complexity in Germany's league system: B teams of Bundesliga sides are not allowed to gain promotion to the 2. Bundesliga. So automatic promotion to 2. Bundesliga goes to whatever non-B teams occupy the topmost places in the table. Things were going alright.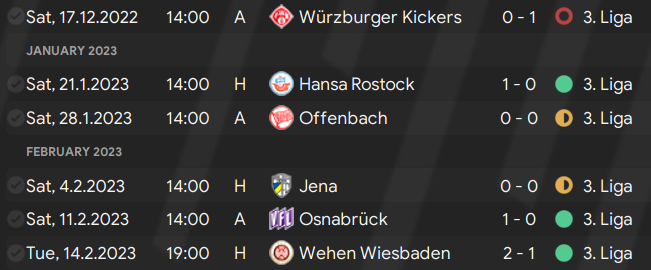 We then lost to Wuerzburg by a narrow goal before Christmas. The new year started with more points gathered and we were manifesting our promotion challenge especially due to our great defensive record. The next thing that happened? – Everyone lost their freaking minds.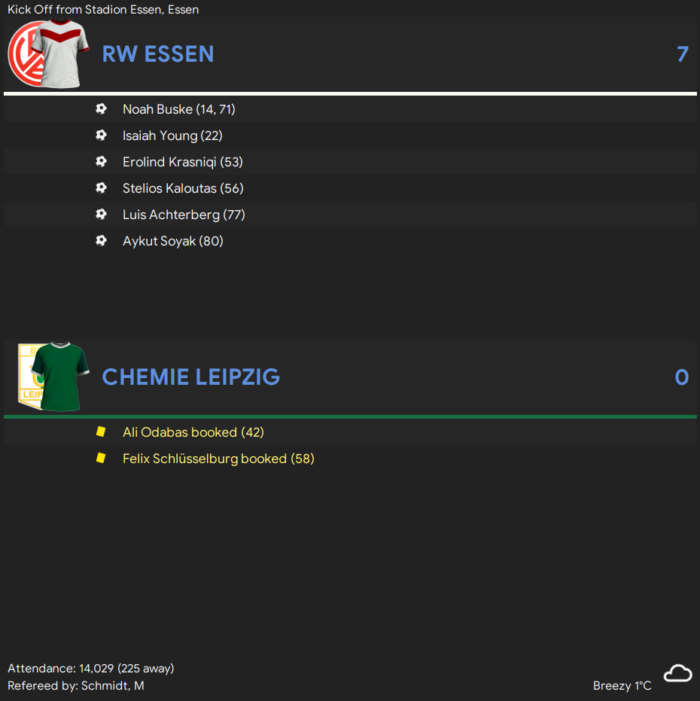 We're playing RW Essen away. They were sitting mid-table at the time and I was hoping for a draw at least to continue our run. It still fills me with dread to see Chemie being dismantled 0-7 against all hopes and expectations. We did not show up in this match at all.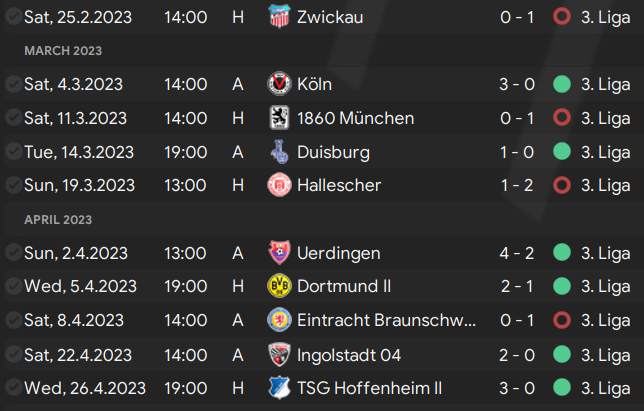 I got a bit worried when we then lost our next home game against Zwickau as well. However, we picked ourselves up with a 3-0 away at promotion contenders Viktoria Cologne and then started winning matches again. No big surprises and on Wednesday, 26th of April 2023, a 3-0 home win against the Hoffenheim B team sealed what no one would have expected before that season:

We had won a back-to-back promotion to 2. Bundesliga! And even though we went on to lose the remaining two matches of the season, this could not change our mood.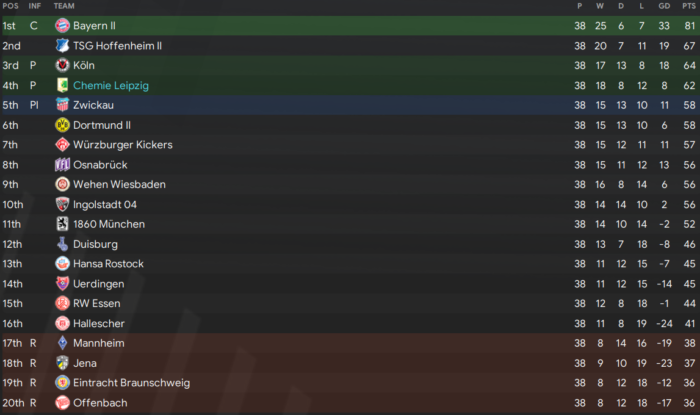 Bayern's B team won the league, Cologne and Leipzig go up. Zwickau managed to reach the promotion playoffs but lost out against Greuther Fuerth.
Struggles Ahead
We reached 2. Bundesliga within an extremely short amount of time. While that's a great feat, the not so great truth is: we were barely expected to stay in 3. Liga. And now we are moving to 2. Bundesliga with pretty much the same squad – we are expecting thrashings. Unfortunately, our reputation is still somewhere in the upper Regionalliga levels, so 2. Bundesliga players are not even considering joining us. We may secure some from 3. Liga sides, though. Whatever happens next year, I feel my manager job and thus the concept of the whole save will be at risk. The next post is certainly not going to be boring!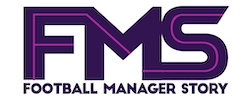 Subscribe to our Newsletter