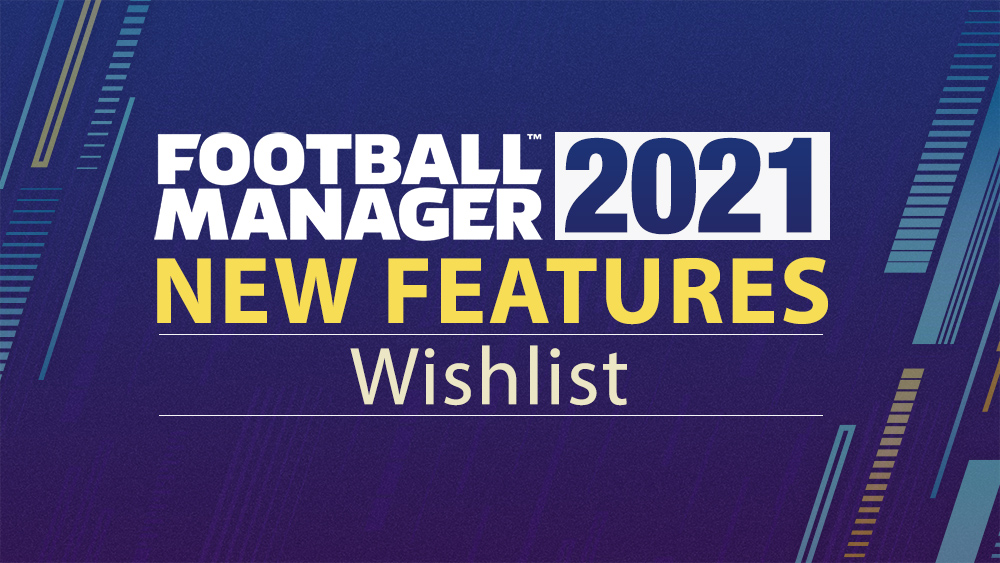 I am still loving FM20 from my Scarborough series, to testing tactics and researching player development, but I can feel a shift happening on social media. Talk of FM21 has begun, excitement is brewing and its time to start a Football Manager 2021 new features wishlist.
Myself and Rodrigo have brainstormed a few ideas but we want the communities opinion. Send your FM 2021 new feature requests in by comment, Twitter, or Facebook to appear on this page. Twitter handles will be included but only the best suggestions may feature!
What FM21 new features do you want to see?
Football Manager 2021 New Features Wishlist
Board Requests
– Visibility for the cost of facility upgrades before confirming with the board. Whether presented in the request itself or a further confirmation screen. Likewise stadium expansions which can be quite costly.
Database & Career
– @ashleyeastman would like to manage U18 teams and maybe work his way up through the youth teams, learning his trade. You could attain coaching badges in a more realistic, authentic way for the long term managers.
Graphics
– Glen Michael wants a kit designer with more options from sponsorships and networking plus a stadium designer. This reminds us of LMA Manager, a classic on console.
Interface
– Our first request is for more statistical detail in scouting reports and the player comparison screen. Specifically each players total number of attributes in any given role/duty. Yes we have the spider chart in comparison view and the familiarity screen in scouting but a numerical representation would be nice also.
– @Bjoerns_fm would like more statistics in various angles…he said:
We currently lose detailed statistics on players and matches at the end of a season. I'd like to keep this data for many seasons, ideally at least for each player's whole career. (I don't need to watch full 3D recordings of the matches, just want to keep track of pass completion and CCC etc.)
I'd like more statistics, like an easier way to calculate xG and xA from within the game.
– @VGrandum tweeted: Being able to set default staff instructions for all saves.
---
For all the latest news follow our Football Manager 2021 release date, BETA and new features page here.
---
Matchday Experience
– The matchday experience could be improved when fighting for the title or battling relegation. We would like 'live' video replays of goals from important games on the final day of the season. Imagine needing your rivals to draw, then on the 88th minute a video pops up!
– I often miss pivotal moments in a game, like the oppositon switching formation, making a substitution or changing mentality. An option to request alerts from my Assistant for particular events on matchday would be great.
Online/Multiplayer
 – @fryman7 tweeted: I would like to see versus/online mode get revamped and be more like the main game with shouts/instructions etc. Plus I would like it to be more consistent.
Players
– Daniel Maguire would like more from his captain with the option to delegate responsibilities like taking charge of mentoring, welcoming new recruits, dealing with unhappy players and holding team meetings.
Scouting
– The Director of Football needs an overhaul. Getting player recommendations is great but almost without fail my DOF reports back with useless suggestions.
– When players from my shortlist recieve a new contract release clause, I would like to be notified. Countless bargains have been missed through the years without this.
– @Neilm74 tweeted: I'd like to give my DOF a budget when he is suggesting recommended signings. Particularly in the January transfer window. My Director of Football does not seem to take the clubs actual transfer budget into account.
– @VGrandum tweeted: Being able to send scouts directly to youth intake in the country you desire. Then you don't have to go through the whole list.
Set Pieces
– Set pieces should have an option to be set by Assistant Manager so he can adapt with mentality. For example, you switch from attacking to cautious and your AM keeps more bodies back for set pieces.
– More freedom with set pieces and an option to create custom plays; Like dummies, the Wayne Rooney disallowed corner and diversion plays which have become so popular in the modern game.
---
Need an attacking FM20 tactic, try Knap's BEOWULF 4-4-2, we won the top flight quadruple with York City, just click here.
---
Tactics
– An option to automatically instruct booked players to 'ease off tackles' or at least deactivate those with 'get stuck in' as a player instruction.
Transfers
– An option to pre-agree future loan deals for players already on loan. We hate waiting for the player to leave not knowing if he can return the following year.
– More realistic asking prices for Bundesliga players which seem massively inflated.
– Mike Flanagan would love the chance to be able to bid for two players on one deal.
Your Football Manager 2021 New Features Requests
Some cracking suggestions already but we want more. What Football Manager 2021 new features would you like to see? Hit us in the comments below and follow us on Twitter or Facebook for all the latest FM 2021 news.
Our Football Manager 2021 release date, BETA and new features news centre is now live. Bookmark it for all the latest news about the new game!

Subscribe to our Newsletter