Miguel Silveira
Age: 17
Position: AMC/AMR
Role: Advanced Playmaker, Attacking Midfielder, Enganche, Shadow Striker
Club: FLU
Nationality:

Value: £57K
Price tag: £6 million (patch 21.2)
Hidden Potential: CA: 101 / PA: -8 (130-160)
---
Miguel Silveira profile in 2020 (patch 21.2)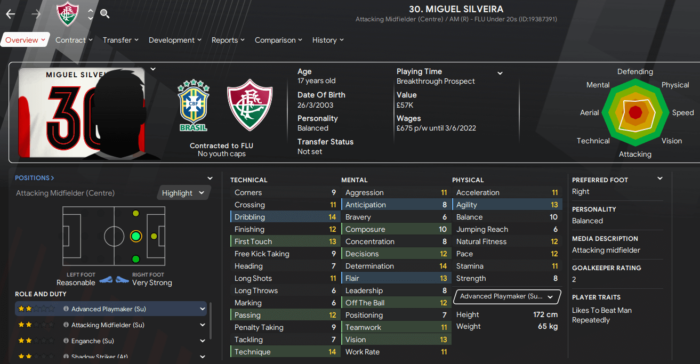 Miguel Silveira profile aged 24 in the year 2027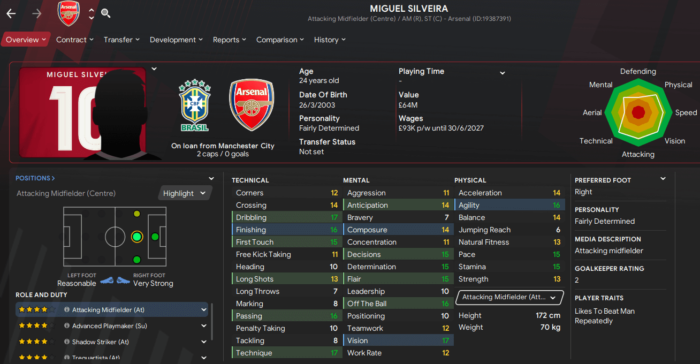 Miguel Silveira career history until 2027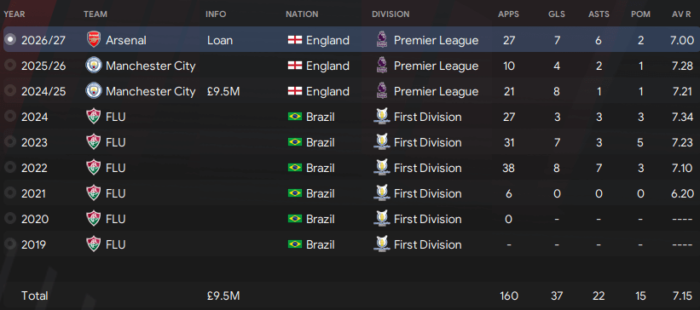 ---
For all the best Football Manager 2021 wonderkids click here, from cheap bargains to worldclass prospects.
---
Summary
Miguel Silveira is a 17 year old Attacking Midfielder from Brazil boasting good, flexible potential for a reasonable price tag. While development may vary from save to save Miguel fits into a Kaka(esque) mould with brilliant technical ability and a surprisingly well rounded game.
During my test save the Brazilian developed 16 and above for finishing, dribbling, passing, technique, movement, vision and agility. Silveira can score, assist and perform to the highest level. With 19 goals and 9 assist from 58 Premier League appearances the young gun impressed for both Manchester City and Arsenal boasting an impressive 7.16 average rating.
You may find better potential Wonderkids for £6 million but if Silveira has maxed out PA in your save he is a must buy.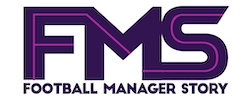 Subscribe to our Newsletter