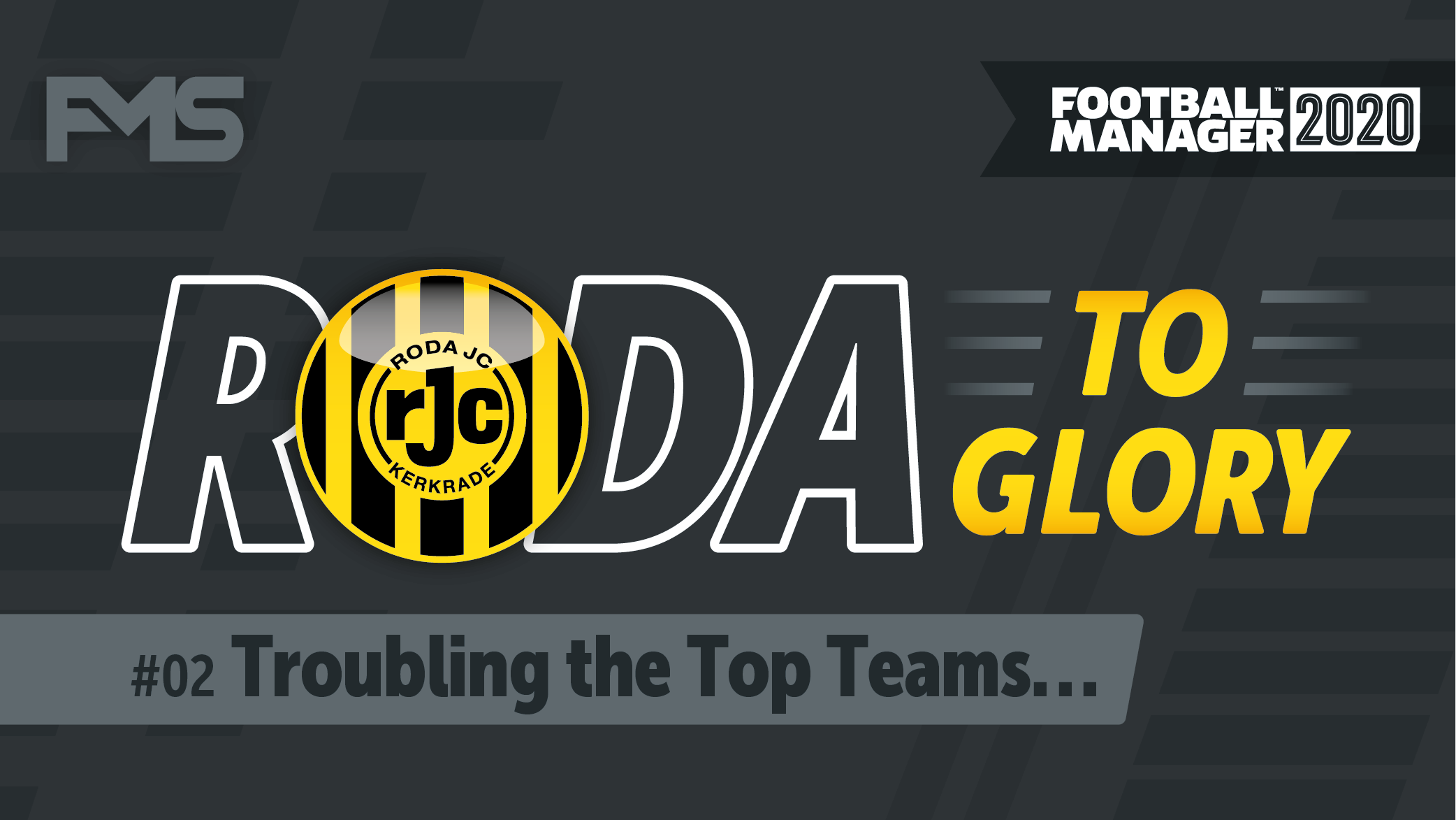 In our previous visit to Kerkrade, I introduced the club and told you all about Roda JC's arrival in the top division of Dutch football. We concluded that episode with a 6th place finish in 2024/25. Let's jump straight back in and see what happened next, starting with a bunch of players who made a massive difference…
Moving on up (2025-2027)
Towards the end of the last post, I teased that I'd landed Roda's first ever wonderkid: here he is in all his glory (at the beginning of the 2029/30 season). Luiz Pereira arrived the day after his 18th birthday for a meagre £20K and hasn't been out of the team since. When he's not making rival number 10s miserable, he's pinging Xabi Alonso-esque long passes in behind for forwards to prey on…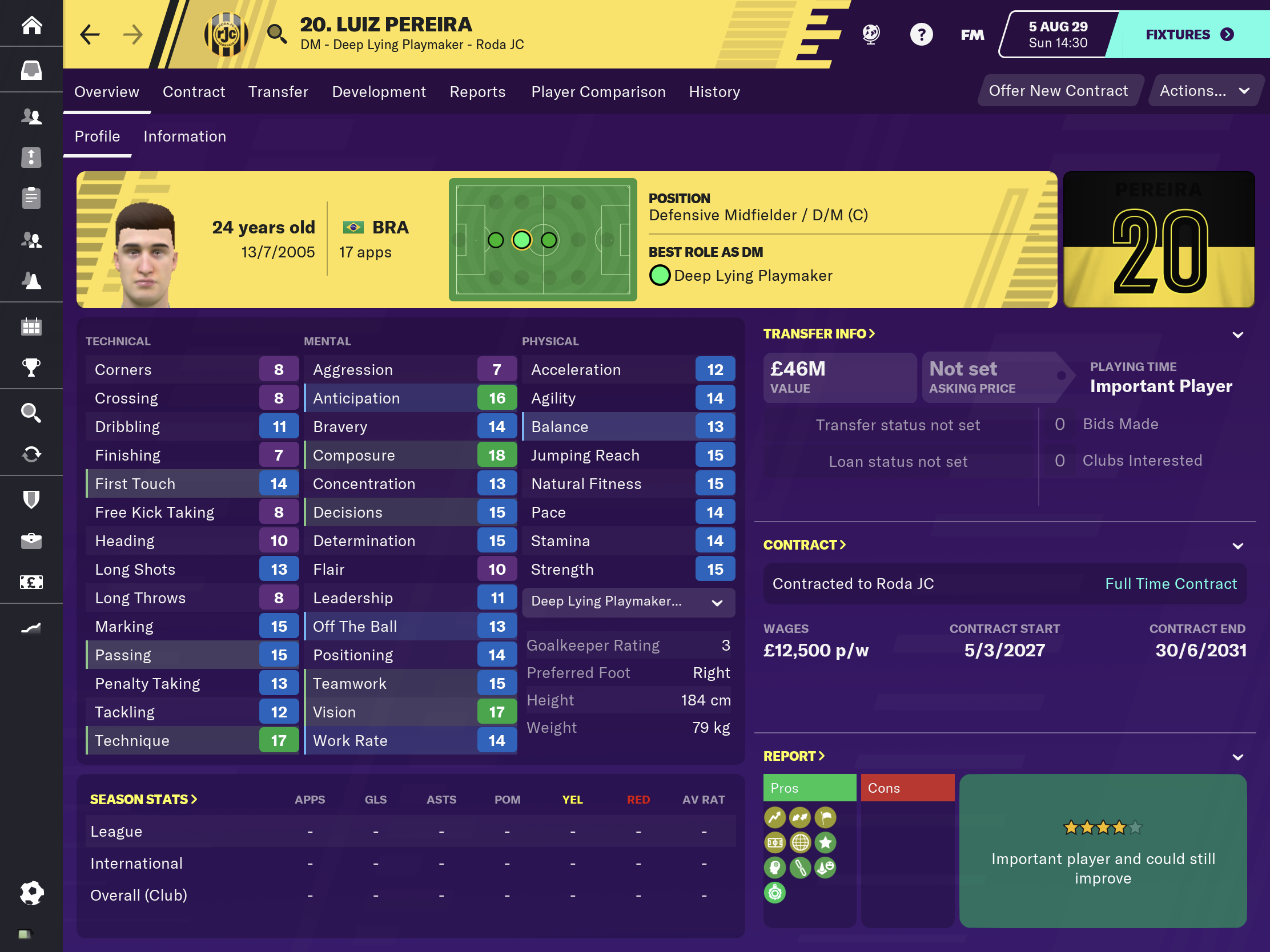 Two new players arrived soon after Luiz who gave the team a further shot in the arm. Our biggest problem up until this stage had been goals conceded. We had a steady number one (Yanick van Osch) but a series of freak injuries revealed a alarming lack of depth. David Ramos joined for an outrageously low £2 Million to plug this gap. He picked up points all on his own, saving a ridiculous number of penalties and clear-cut one-on-ones. The saddest part of his story is that we only really came to appreciate what he offered after he'd moved on to a bigger club.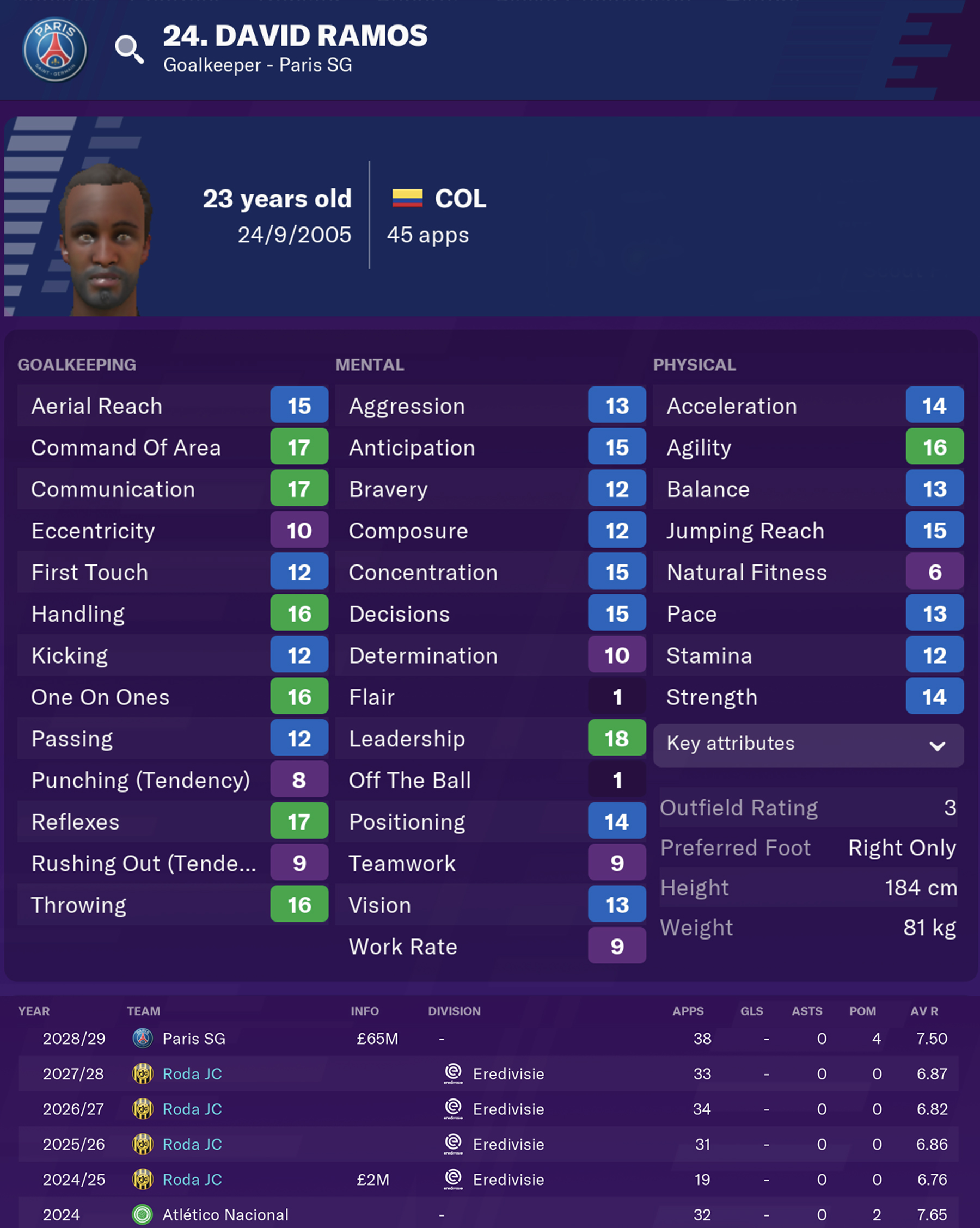 The second piece of the puzzle was French youngster Pascal Roy. He'd joined on a free, and I'd planned merely to give him game time for a couple of years then 'sell high' for a big profit. His performances, however, quickly made him indispensable. Playing as an Advanced Forward (Attack), he became our go-to when chasing games using a 'Distribute over Opposition Defence' transition instruction. Despite his poor technique, he scored a bucketful and gave me the confidence to persevere with a lone striker system.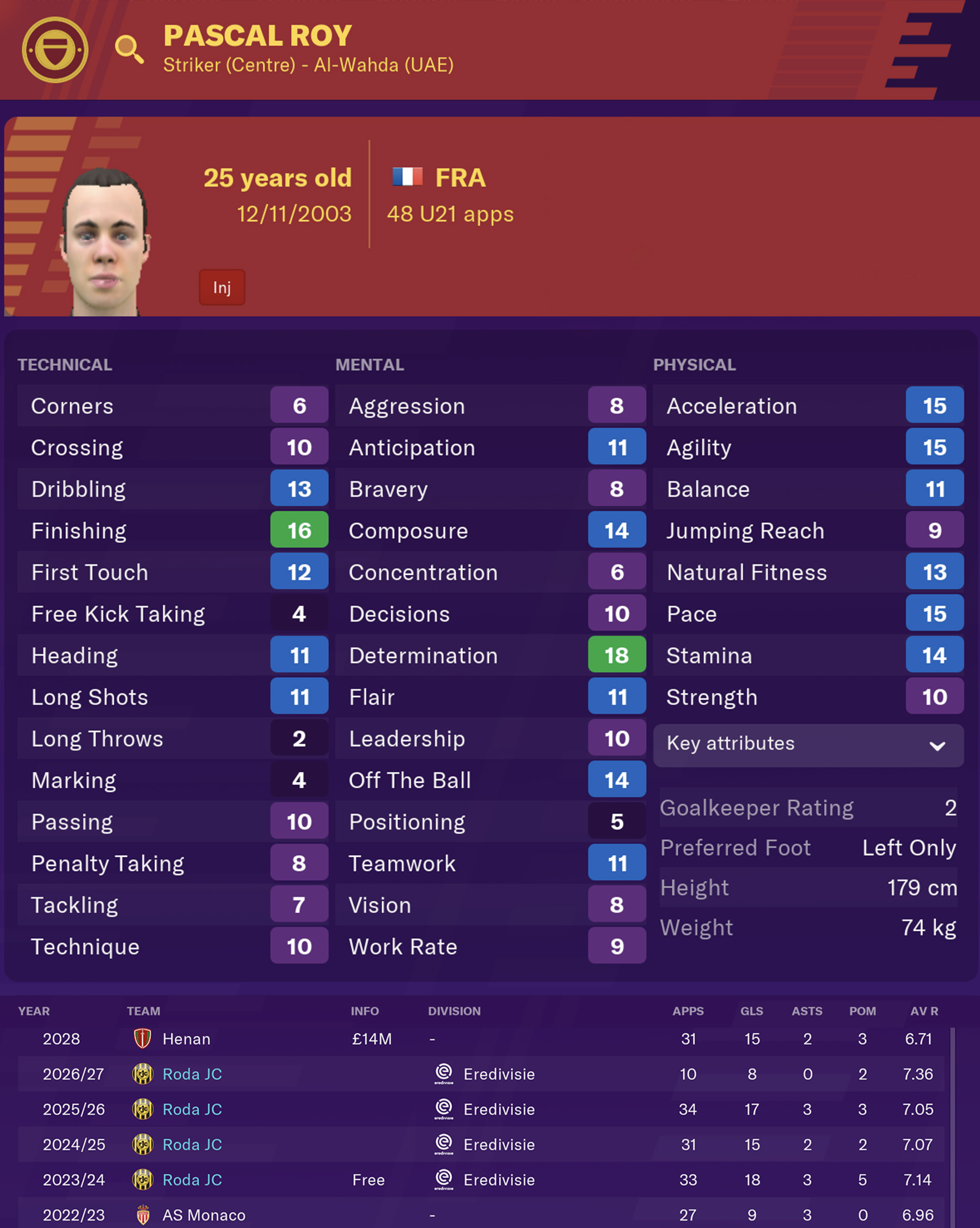 We really tightened up in 2025-26, conceding just 26 goals in the league (15 fewer than the previous campaign). We lucked out a bit, since we were also struggling to find the net, but the biggest change was our increased competitiveness against big sides. Whilst Ajax had trounced us in previous campaigns and put 4 or 5 goals past us, the games were getting tighter, and we even sneaked a win against them in the final game of the season. Had our new found solidity helped us improve from 6th? We only gained 3 extra points, but this was enough to lift us to 4th: Roda JC's highest league finish for 30 years.
The following campaign was even more competitive. The team had a confidence about them and were even beginning to be seen as favourites in games against the lower-achieving members of the traditional top 5 (PSV, AZ and Utrecht). Even better, we were actually managing to win these games – despite PSV manager Roberto Martinez's attempts to nullify us with an extremely negative 3-4-3. Ahead of the penultimate game of the season against Ajax, we could feasibly have moved up to top spot. Sadly it wasn't to be, as Ajax's wonderkids rolled us over for a 2-1, consigning us to second place, which equalled the club's highest ever finish.
So close yet so far (2027-2029)
Despite flying high, tight finances meant that we couldn't get too carried away with spending. Any incoming transfers had to be offset by departures. In January 2026, we were handed a stroke of luck which helped us to exploit this strategy to perfection. Wonderkid Robin Bijl, who had torn us apart several times over the past two seasons, was unhappy at Vitesse and attracting some bids from the MLS. We put in a matched bid on the off-chance, and he ended up choosing to join us due to our league form.
Our problem was a lack of funds, and we'd already had to promise £9M of the deal in instalments. Thankfully, Chinese interest in Pascal Roy allowed us to do almost a straight swap, matching the structure of instalments to effectively land Bijl for a one-off net outlay of £5 Million. It's probably the best deal I've managed to pull off on FM, as I'm sure you'll agree that he presents a serious upgrade up front!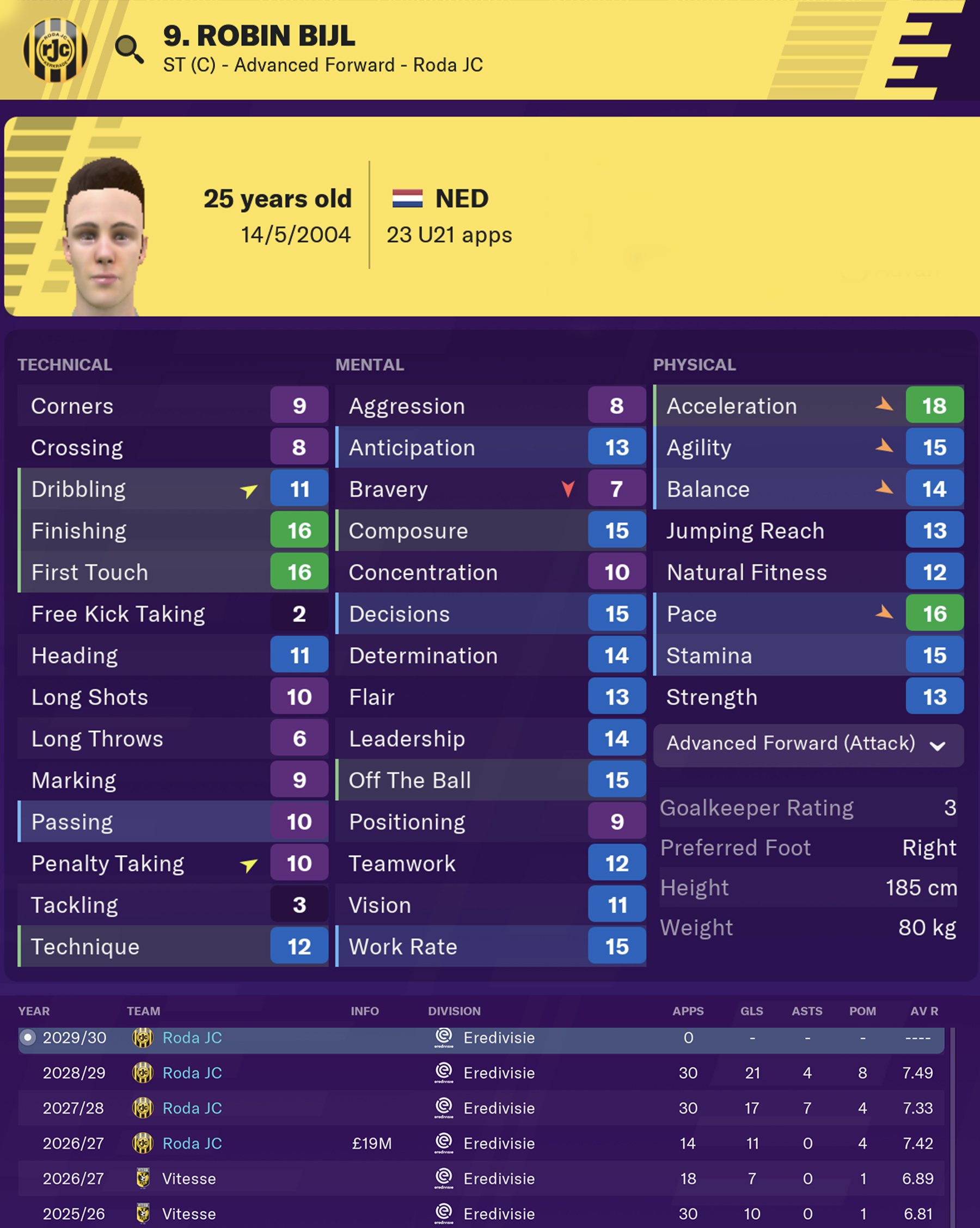 Bijl ended 2026/27 as the Eredivisie's top-scorer and continued his form into the new season. Unfortunately, he hit a dry spell around the turn of the year, but the rest of the team contributed enough to for us to stay competitive in the league, and we also flourished in the cup competitions. We were beaten in the Dutch Cup Final by Ajax, although we fought right up until the second half of extra time.
Arsenal dealt us a further lesson in the Euro Cup, beating us in the semi-final by an embarrassing 8-1 margin. Despite these defeats, we were able to bring in bundles of prize money, and give plenty of second-string players enough game time to keep them happy.
Groundhog Day, Act One
Somehow, in spite of all these extra-curricular activities, we'd still managed to keep fighting for the Eredivisie title. On matchday 37, we'd travelled to Ajax and managed to come away with a point (Bijl snatched a goal on the break to give us a 1-1 draw). This meant that the league title was up for grabs on the Final Day. Given our superior goal difference, if we managed a win and Ajax lost to a strong FC Twente side, we could win the title!

We travelled to SC Heerenveen, where our left-winger Javier Hernandez scored a powerful header to put us in front early on. He repeated the trick on the cusp of half time to give us a great chance of an unlikely away victory.
In the second half, we came under pressure and Heerenveen pulled a goal back before we received the update we'd been hoping for: Twente had scored again and were now 2-1 up against Ajax. All we had to do was hold on to our lead and hope that Twente could do the same.
Sadly, it wasn't to be. Whilst Twente held up their end of the bargain, Heerenveen's fourth-choice centre back (who has a 'long shots' rating of 4) had other ideas. In the 92nd minute, he went full Phil Jagielka and scored a screamer which broke our hearts and consigned us to the runners-up spot for a second season.

We go again
The following season began with a Dutch Super Cup defeat to the old enemy, Ajax. It would have been far worse had it not been for some astonishing goalkeeping by Ramos, who saved a penalty and a couple of clear cut chances. Regrettably, that proved to be his final game in a Roda JC jersey, as PSG triggered his release clause the very next day. The big transfer fee should have been a consolation, but with little value to be found in the market, it was hard to see any positives.
And so we tackled the league again. Europe and the Dutch Cup provided only fleeting distractions as tough draws saw us exit both at an early stage, despite qualifying ahead of Juventus from our Champions Cup group. I'll go into more depth about what went wrong next time, but whilst we had chances to really challenge for the title from the outset, we dropped far too many points and were lucky to still be in contention late in the day.
It had been a funny old season, and somehow we managed not to lose to Ajax again after our Super Cup humbling. In fact, we could have done the league double over them, but ended up settling for 1-1 draws on both occasions. Feyenoord, who finished the previous season in 6th, profited from both of our struggles, putting together a consistent campaign and beating us 3-0 at De Kuip to put themselves in with a shout of winning a title of their own.
Groundhog Day, Act Two
As it happened, only one thing was certain on the Final Day: Ajax's decade-long monopoly on the title had to end. But who would be the usurper? Feyenoord would probably need to get a result at Vitesse to be sure of lifting the trophy, and our superior goal difference surely made us the favourites if they couldn't manage it. The only issue was that FC Twente had proved something of a bogey team for us, and looked particularly deadly up front.

And so it proved. We tried to man-mark their front two out of the game but a double from Roland Visser meant we trailed by two goals within half an hour. Half time substitute Ricardo Cabral was able to bag a goal for us soon after the break, and the noises from Vitesse's GelreDome were promising: Feyenoord looked to be headed for a draw.
So I did what any FM player would do: I switched to a 'Very Attacking' 4-2-4 and sent in the cavalry (i.e. every potential goalscorer on the bench). But it wasn't to be. Just after the hour mark, usually rock-solid central defender Felipe Gomes Lopes received his marching orders, then we conceded from an indirect free kick in the closing stages. Twente deservedly won, and in doing so sent the title to Rotterdam. We'd only lost twice in the league all season, and both defeats had proved costly. Still, at least Ajax didn't win another title, eh?

Reasons to smile (why the future is bright)
So we've still not won the league. There's always next season, right? My next update will explore what went wrong and how we hope to fix it, but for now I just wanted to offer a sneak peak at what we're building. Our finances and reputation have soared over the past decade.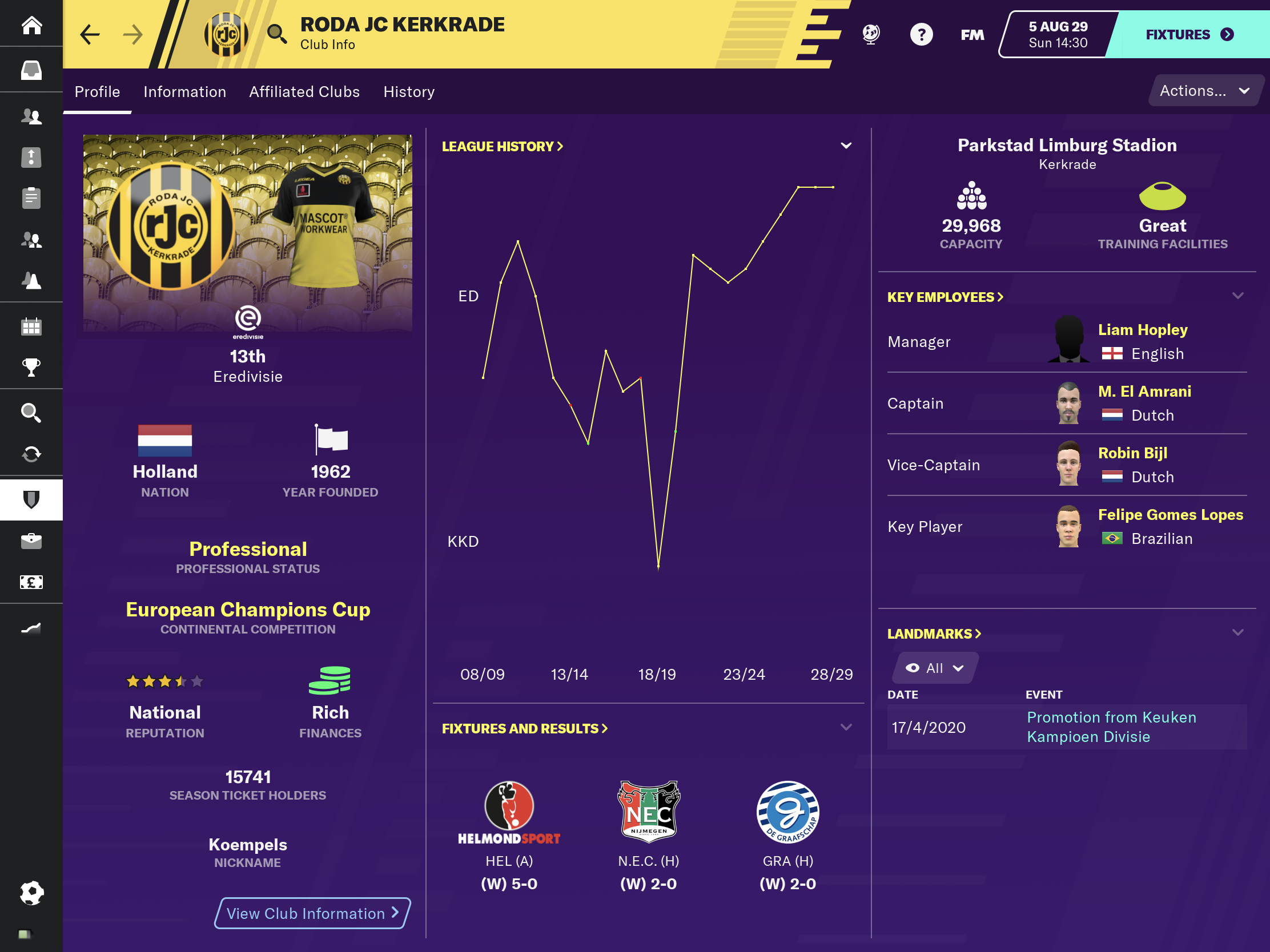 A quick look at the stats suggests we've spent £299 million, but receiving £297 million in fees means we are living well within our means given all the extra prize money we've brought in lately. There's plenty of breathing space in the wage budget too, which I might have to make more use of now that the players are starting to realise how good they are!
This graphic breaks down the age of our key players. It's based on a format by the Athletic's Tom Worville and includes the dashed line that he uses to indicate the start of a player's 'peak years'. As you can see, it's a young squad (the average age of 22.04 is the lowest in the division) and Xavi Simons – who Darren's tipping as a star of FM2021 – is the only non-newgen still in our core matchday squad.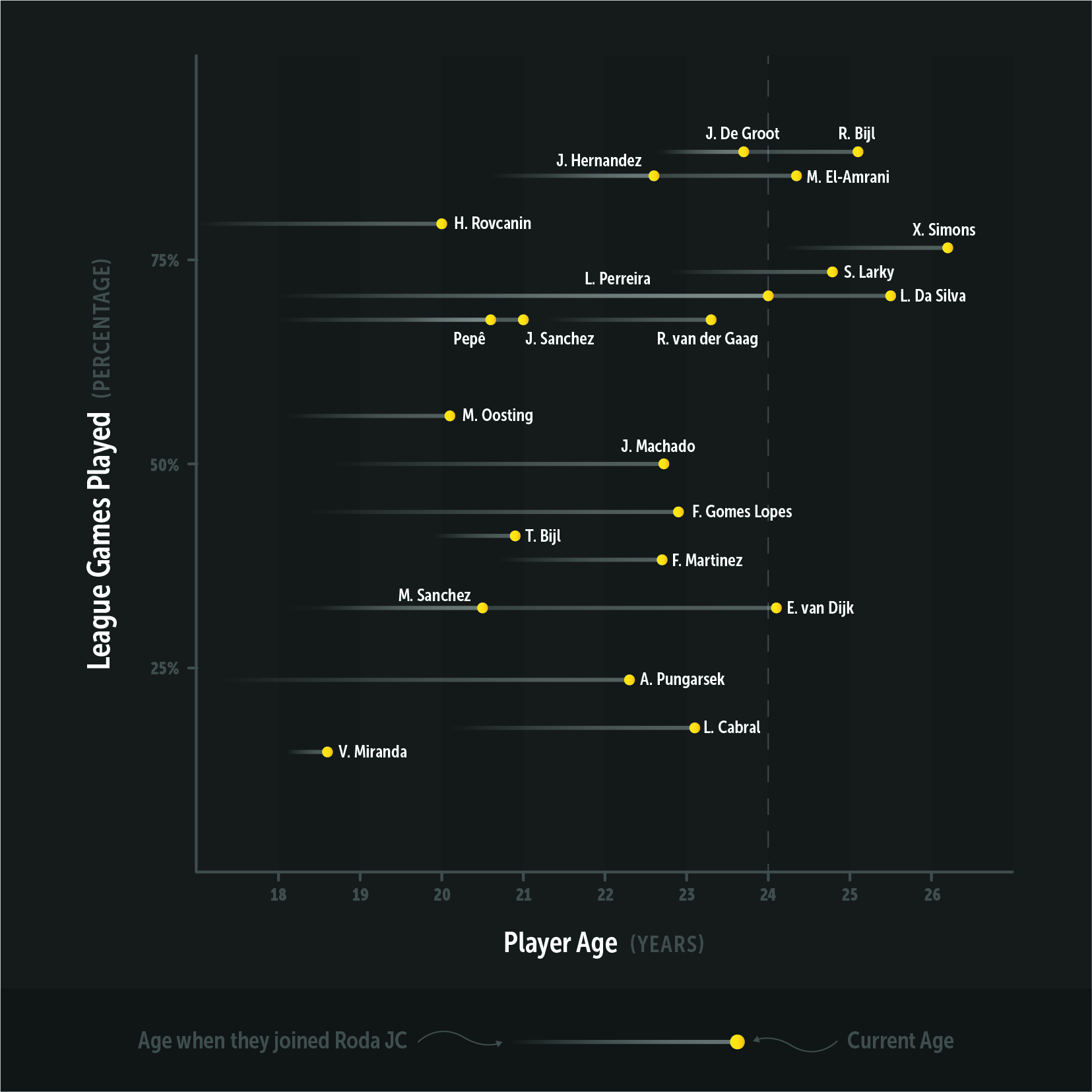 The plan going forward is to keep the average age down, and introduce more Dutch and homegrown players. Hopefully we'll be able to create a more local, sustainable squad if we can focus on developing youngsters rather than bringing in big names over the next few seasons.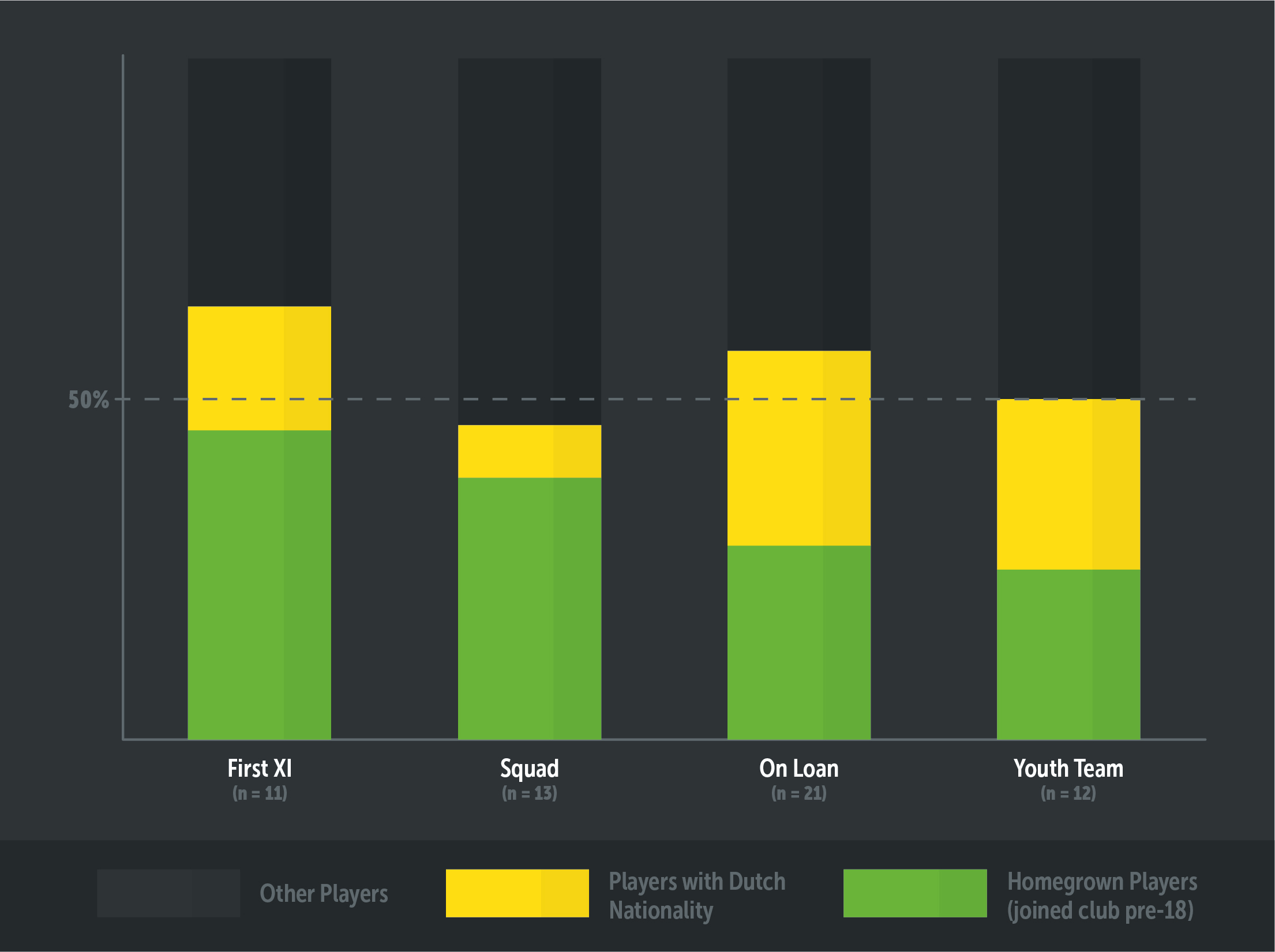 Thanks for sticking with what's been a whirlwind of a recap post covering four very dramatic seasons! Next time around, we'll look at the challenges facing us in 2029/30 and introduce the cast of characters who I'm hoping can end Roda JC's 30 year wait for a piece of silverware.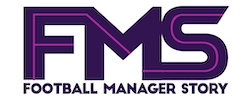 Subscribe to our Newsletter