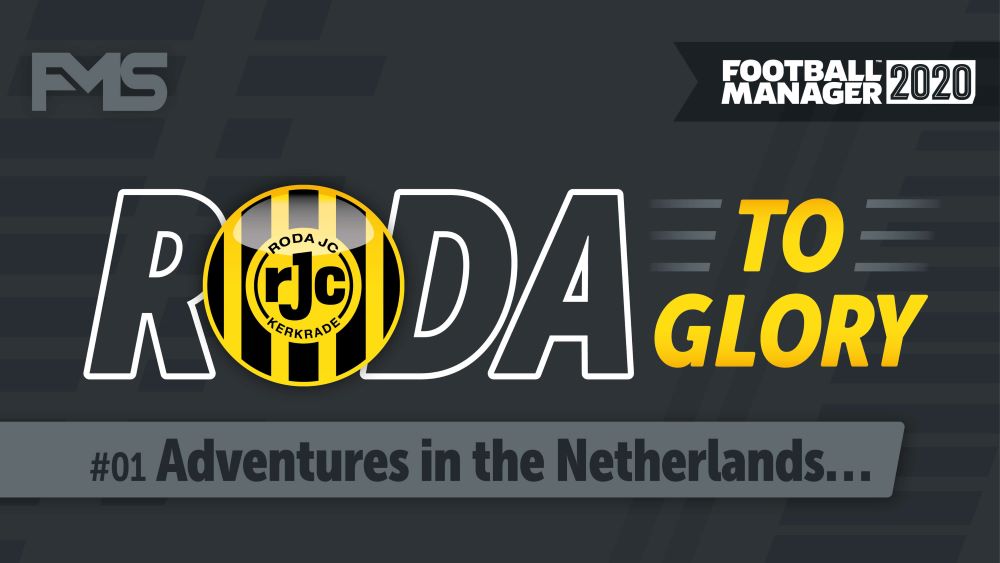 This first chapter explores my first few years at the helm of Roda JC. The city's located on a panhandle at the south of the Netherlands, with the German border only 2km to the east and the frontier with Belgium just 10km to the south. Kerkrade is the home of the once-mighty Roda JC: the only club who dared to take a chance on me in 'Become a Legend' mode back in PES09.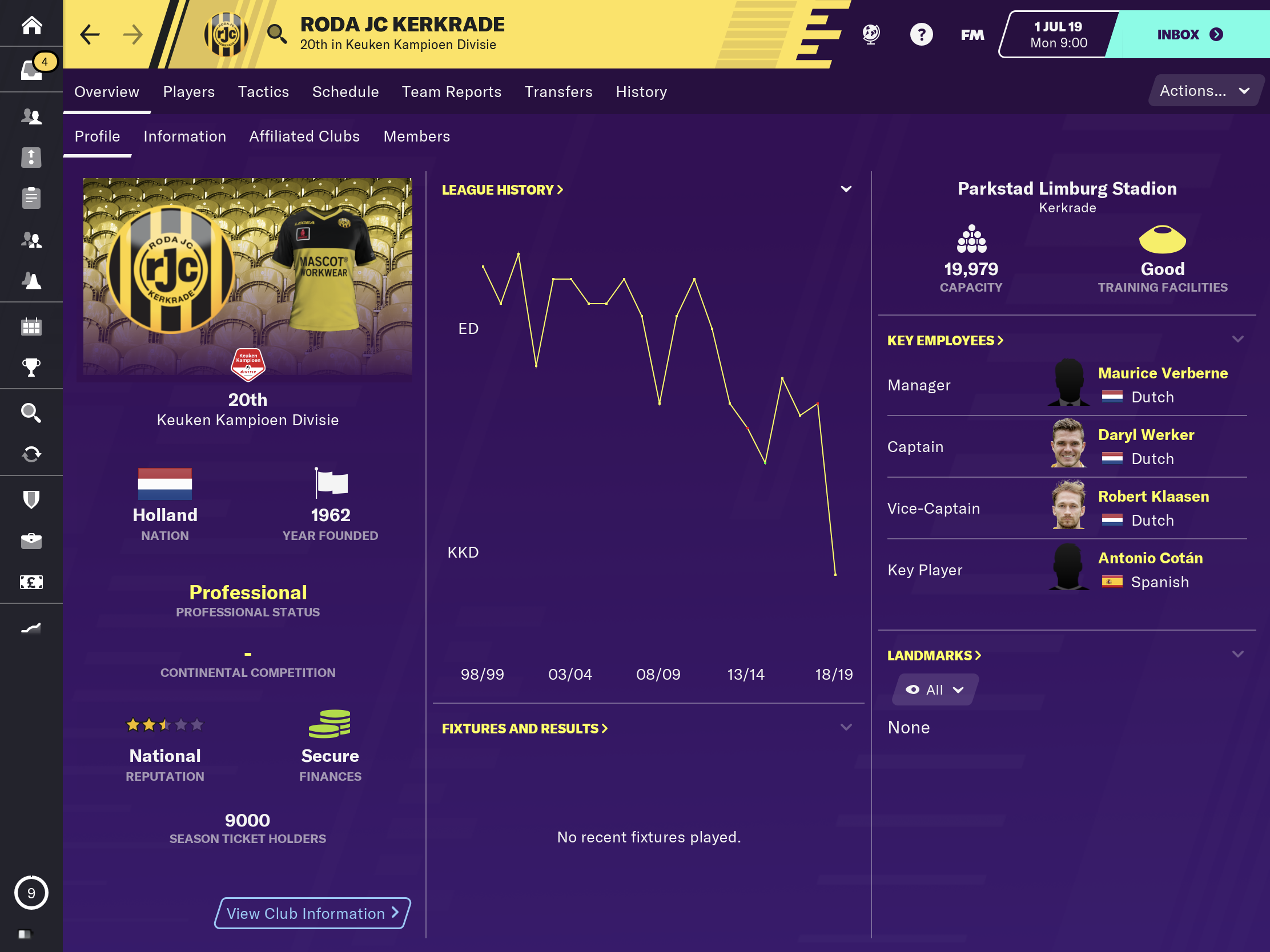 In 2019, Roda were in dire straits. They'd finished 13th in Holland's second tier (the Keuken Kampioen Divisie) and the pundits were tipping them to climb a single place in the table. Due to some dodgy takeover dealings, we began the season on -3 points, but surely that couldn't make too much difference over a 38-game season, could it?
The early years (2019-2022)
Most of the top performers in our first season (whose profiles you can browse in the slider below) were there before my arrival. Antonio Cotàn, Ivan Prtajin and on-load defender Yann-Aurel Bisseck provided consistency, whilst a flurry of free agents supplied the flair. The team performed beyond everybody's expectations – even my own – as we finished second, securing automatic promotion to the Eredivisie. I wouldn't have minded another campaign in the second tier to bolster the squad, but we ended up being promoted automatically. In fact, we could even have got our hands on some silverware, were it not for our initial 3-point handicap!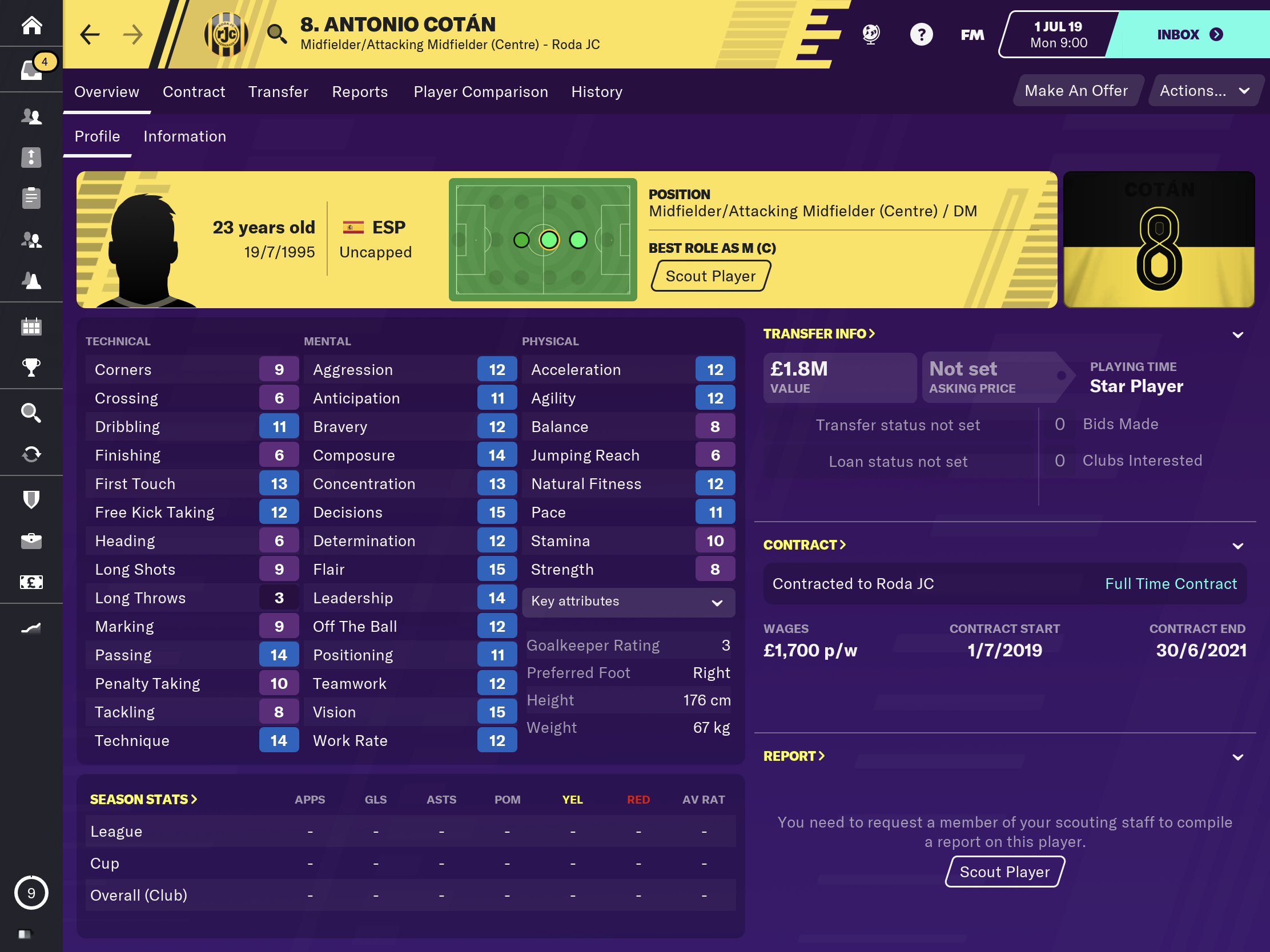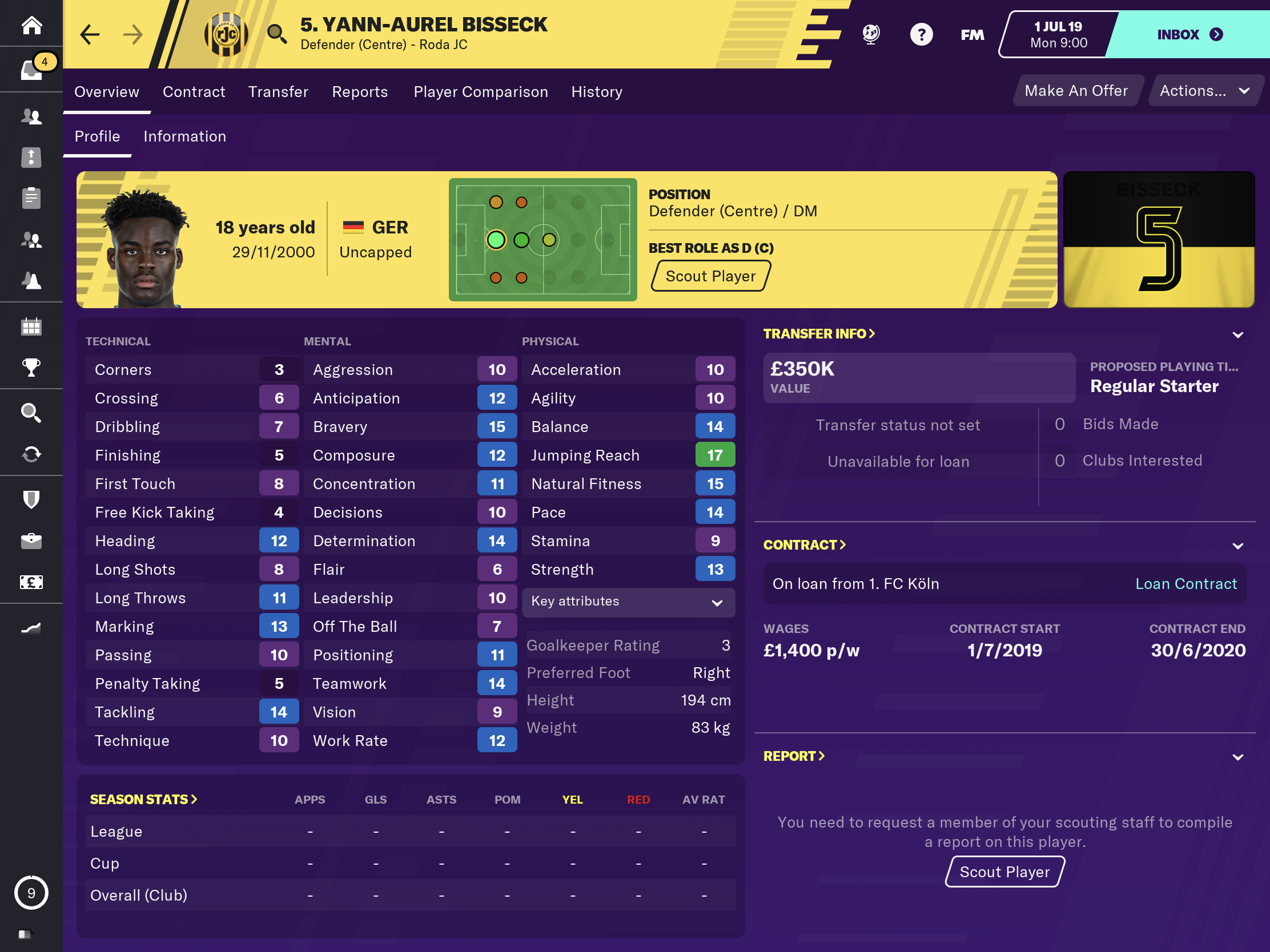 Survival was the only thing on my mind during the second season. We carefully recruited a motley assortment of solid defenders and lined up with five at the back. It didn't help much against the league's elite, who cut though us like a hot knife through butter, but stood up well against the other also-rans. 
Around this point, it became evident that any team from 10th in the Eredivisie down to 10th in the second tier could beat one another on any given Sunday. This openness worked out kindly for Roda JC, and despite not racking up all that many 'goals for', allowed us to finish 7th in our first season back in the top flight.
In truth, we stumbled to 7th, and were getting ready for our summer hols before I realised we still had a tricky playoff tie to contend with. Playoffs add an extra level of intrigue to the Eredivisie: the bottom two teams are relegated outright, but the team in 16th fights for survival against 3 runners-up from the Keuken Kampioen Divisie (note that these can't include B teams such as Jong Ajax). 
There's also a playoff to get into Europe (for teams anywhere from 4th to 9th, depending on who wins the Dutch Cup), which is why we ended what should have been a triumphant campaign with a 6-1 aggregate hiding from PSV Eindhoven. 
European adventures would have to wait, but knowing that we could hold our own gave us license to invest more substantially in our squad. It felt like we signed half of Belgium's youngsters on a free ahead of 2021-22, and we were rewarded by scoring 21 more goals over the course of the campaign. Increased openness, however, meant that we also conceded 22 extra goals.
Despite performing at a higher level, we finished with the same points total as the season before, and actually dropped a place to 8th. This time, however, we were in better shape for the playoffs. We trialled a new system with Cotàn as a false 9 and somehow won both rounds 2-1 on aggregate. In 2022, Roda JC would be making their European bow in the Euro League II.
Key performers: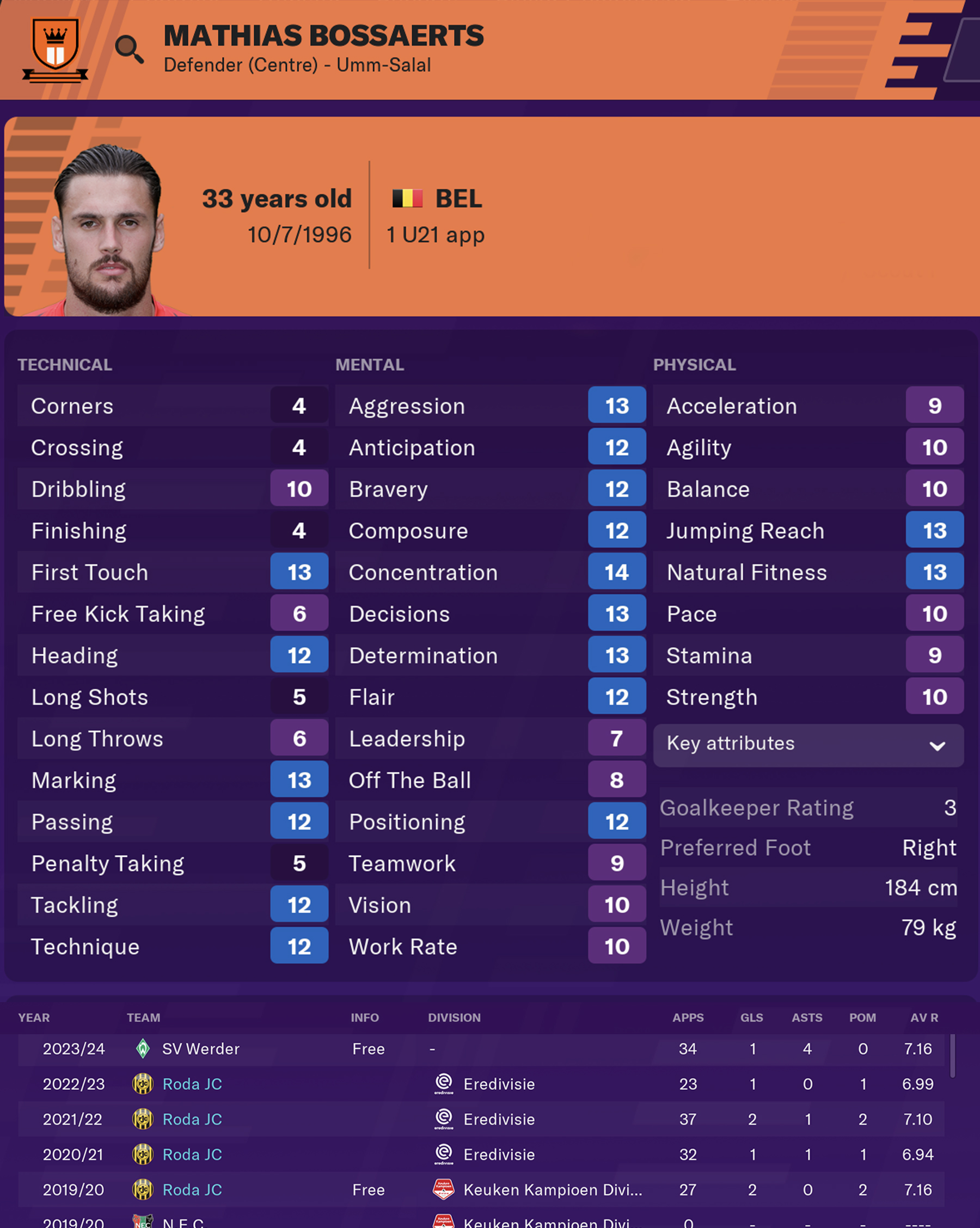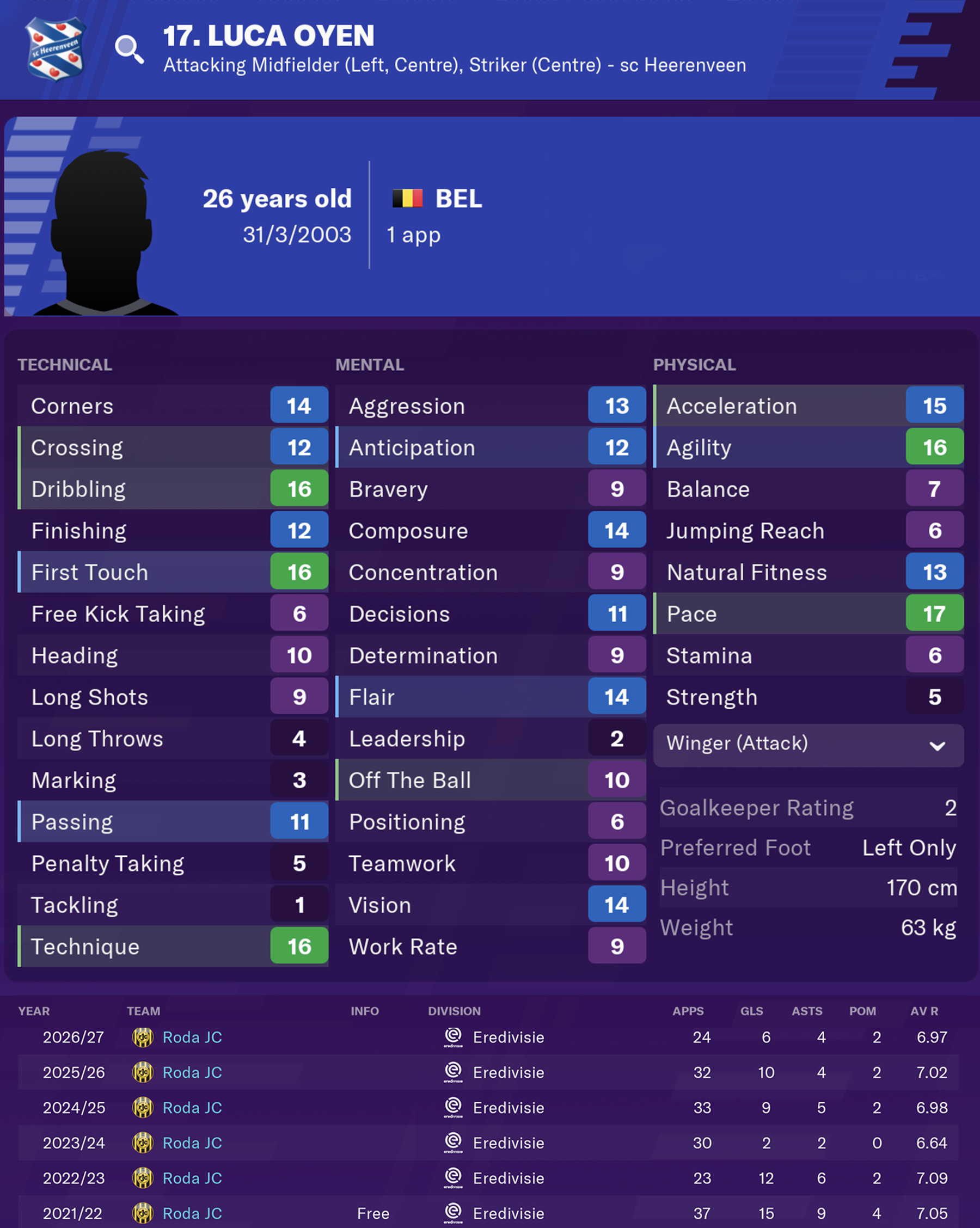 Chevonie Amatkariyo outperformed his attributes and was involved in far more goals than he had any right to be throughout our promotion campaign, which turned out to be the pinnacle of his career.
Mathias Bossaerts was an excellent servant to the club, adding much-needed steel to the back line and offering a threat in the opposition's box to boot.
Luca Oyen was the pick of our Belgian prospects signed in 2021 – he turned full backs inside out for fun and managed to top-score from his berth on the left wing.
Mid-table Mediocrity (2022-2025)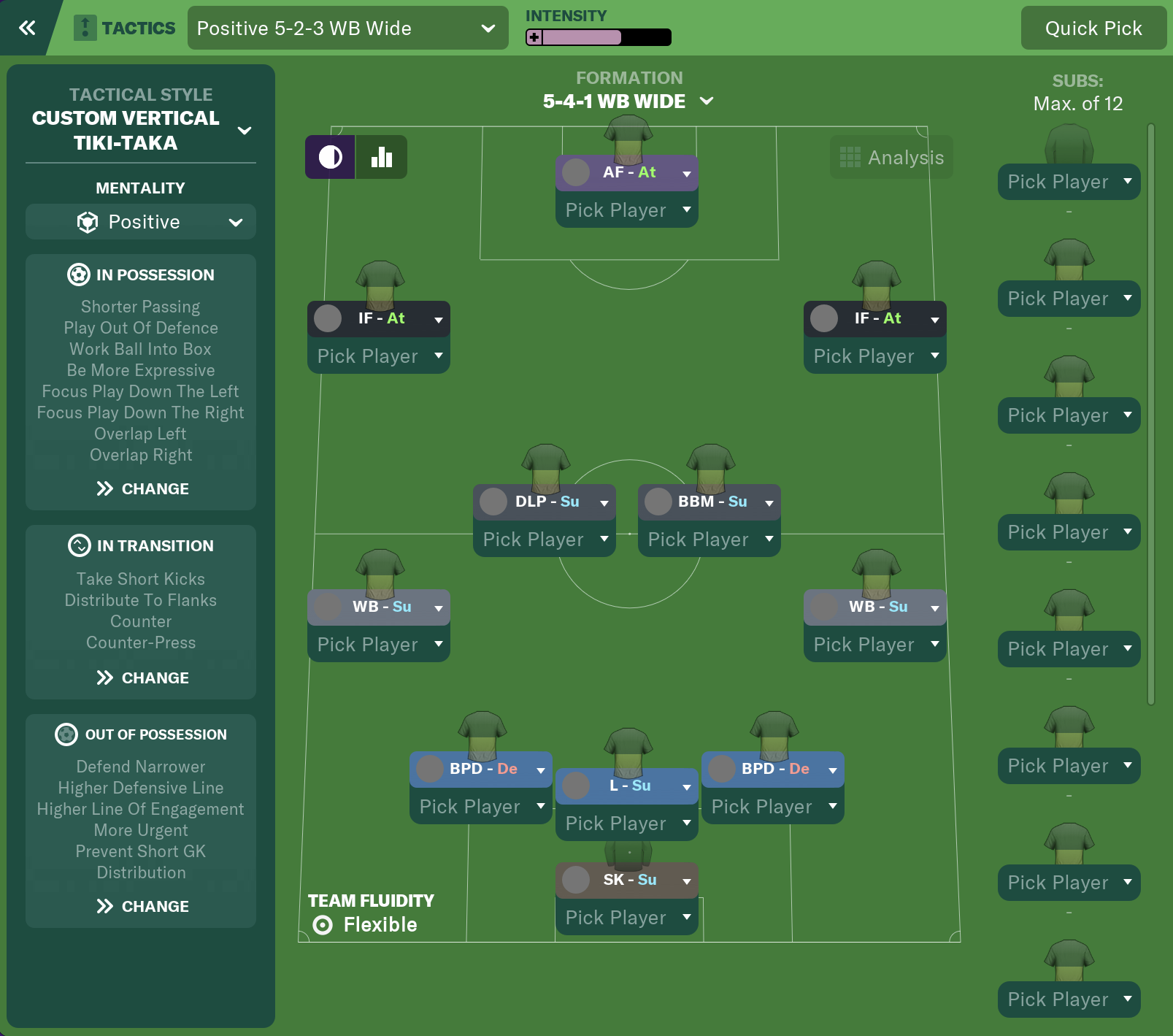 Let's talk briefly about tactics. During this time we still lined up with 3 at the back, with two wing-backs and a central midfield duo. This base was supplemented by three 'goal-getters' – a pair of wingers with attack duties, and an advanced forward through the middle. We were mostly facing 4-3-3 and 4-2-3-1 setups, which we managed to keep in check (most of the time, at least) thanks to tight man-marking centre halves and zonal-marking wing backs.
2022-23 featured a fun jaunt in Europe. We topped a group which included Real Betis, then made it all the way to the semi-final, where we faced the Spaniards again. This time, we came out second best, but the extra revenue and reputation boost left me with few complaints. Unfortunately, our domestic form stuttered; whilst we scored more than ever before, our defence remained just as porous. A tally of 50 points for a third straight season was only good enough for a 9th place finish, leaving us with no chance of squeezing into Europe via the playoffs.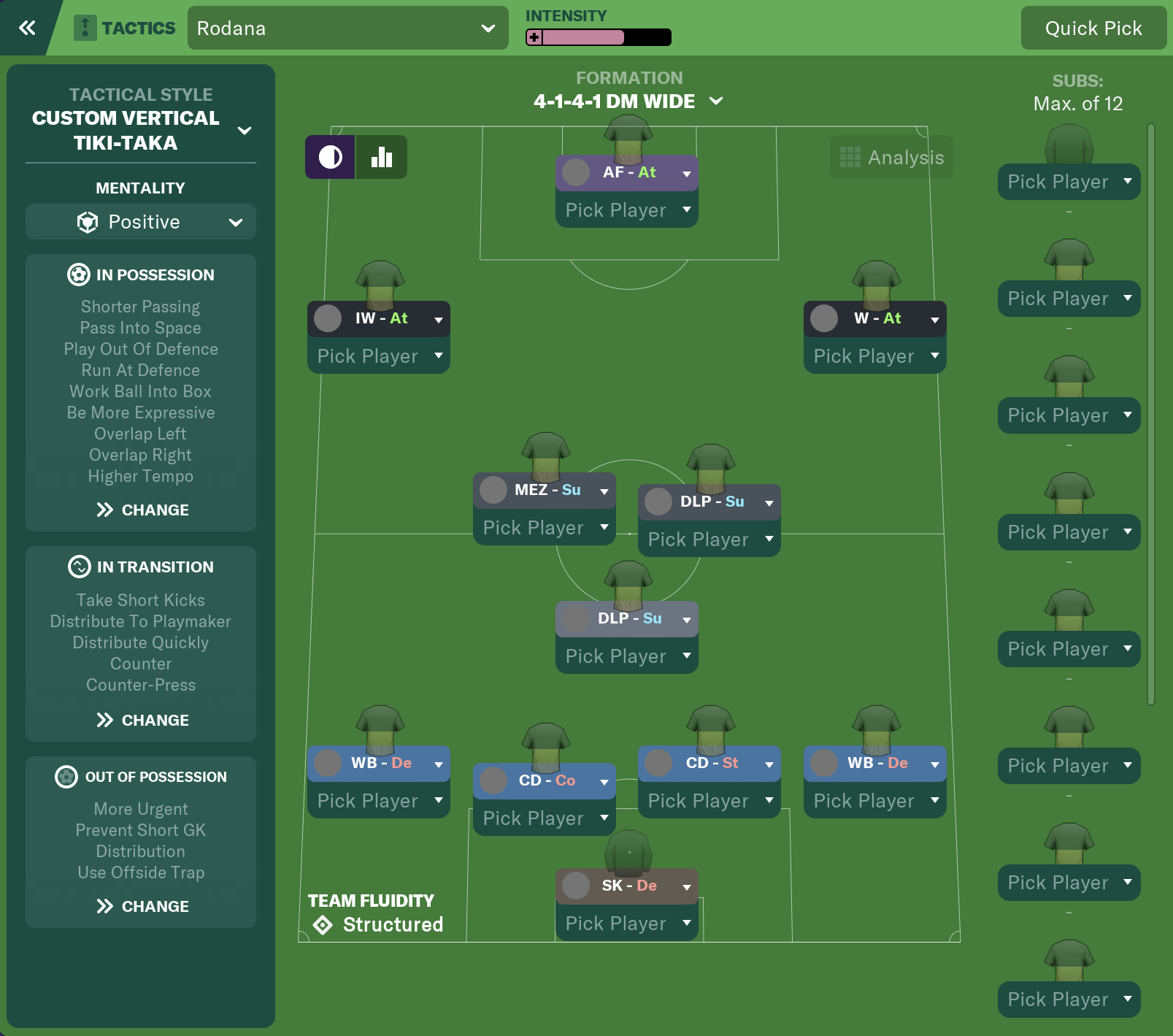 The next season began with a tactical rethink. Since we could focus our energies on a single 'home front', I resolved to make the famously Dutch 4-3-3 work for us and build a team to suit it. The ever-dependable Luiz Perreira (my first official wonderkid of the save) arrived and slotted in at DM, providing a defensive stability which allowed us to revert to a flat back 4 and freed up the duo ahead of him to push further forward. We picked up 6 extra points, which was enough for us to climb to 8th and reach the playoffs, where we convincingly bested PSV and SC Heerenveen.
Our Euro Cup II adventure in 2024-25 was short-lived, as we failed to get beyond the group stage. Our equally abysmal efforts in the Dutch Cup left us with only the league to play for. We were able to make our domestic focus count, as we finally found our shooting boots and scored enough goals to make it to 6th. Poor performances in the playoffs meant we faced another season without European income, but there were promising signs that enough youngsters were coming of age for us to do far better in the following campaign…
Key performers: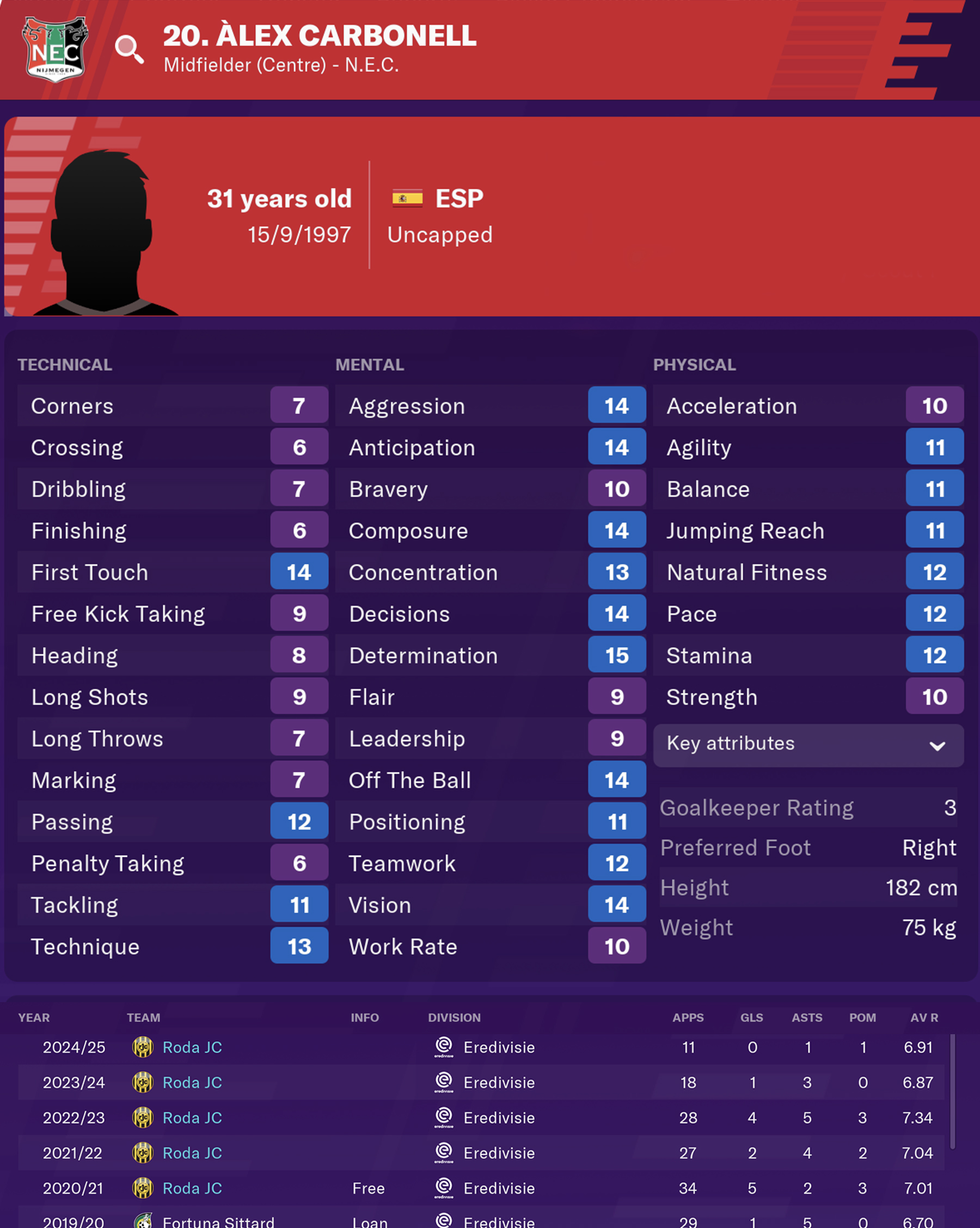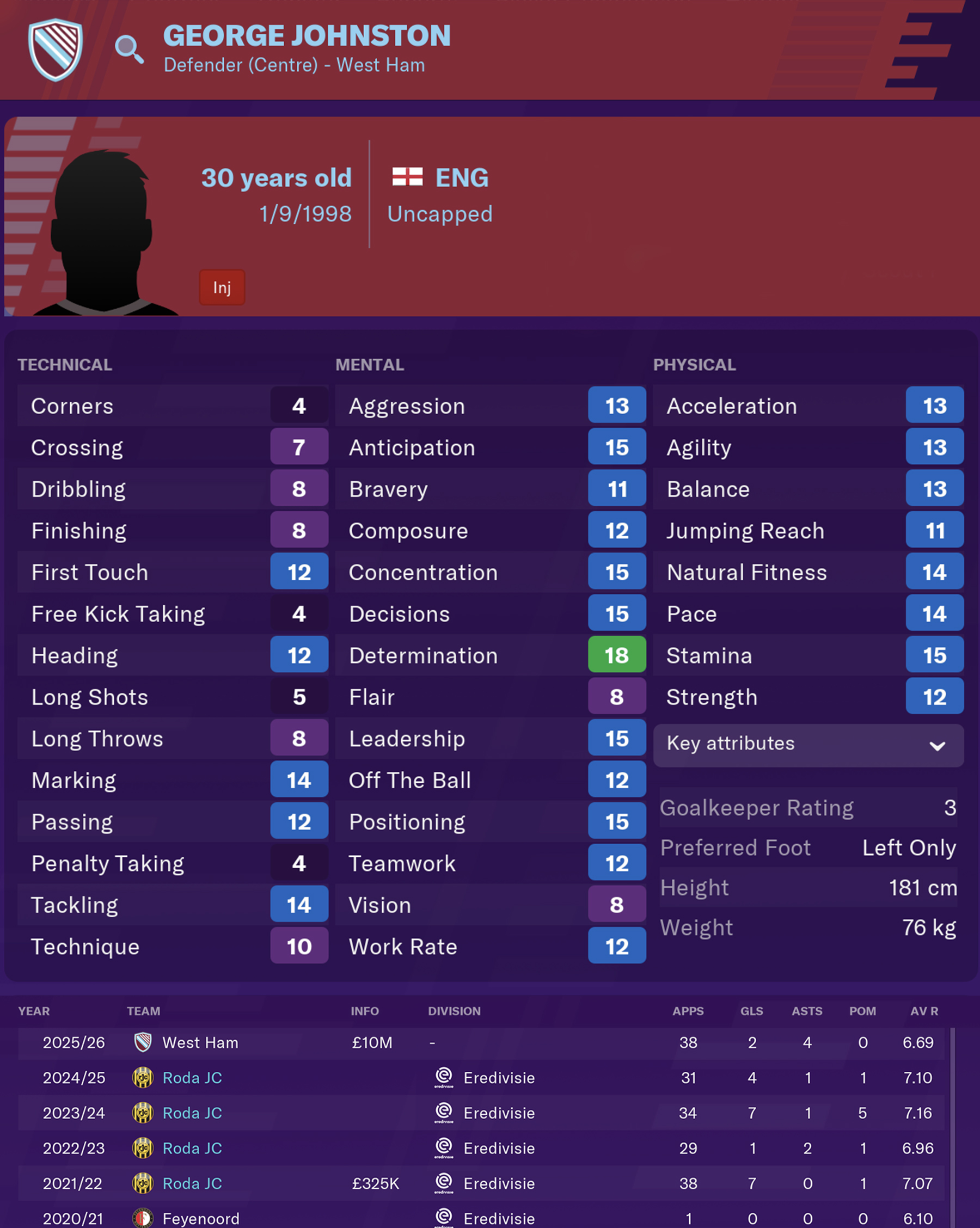 Àlex Carbonell was the star man in 2022-23, seeming to be involved in a goal every time he played, even though he played as a reserved DLP(S) alongside the mercurial Antonio Cotàn.
Jayden Fevrier, despite his diminutive frame and rotten luck with injuries, was the first name on the team sheet when fit. Happy to play on both sides and with the inclination to get forward and put in handy crosses, he could always be depended on to turn up for the biggest occasions.
George Johnston was an absolute steal at £325,000. He was cool and classy enough to fill a Libero (Support) role, before reverting to left-sided Ball Playing Defender (Cover), where he evolved into a legendary, goal-scoring, club captain.
Summary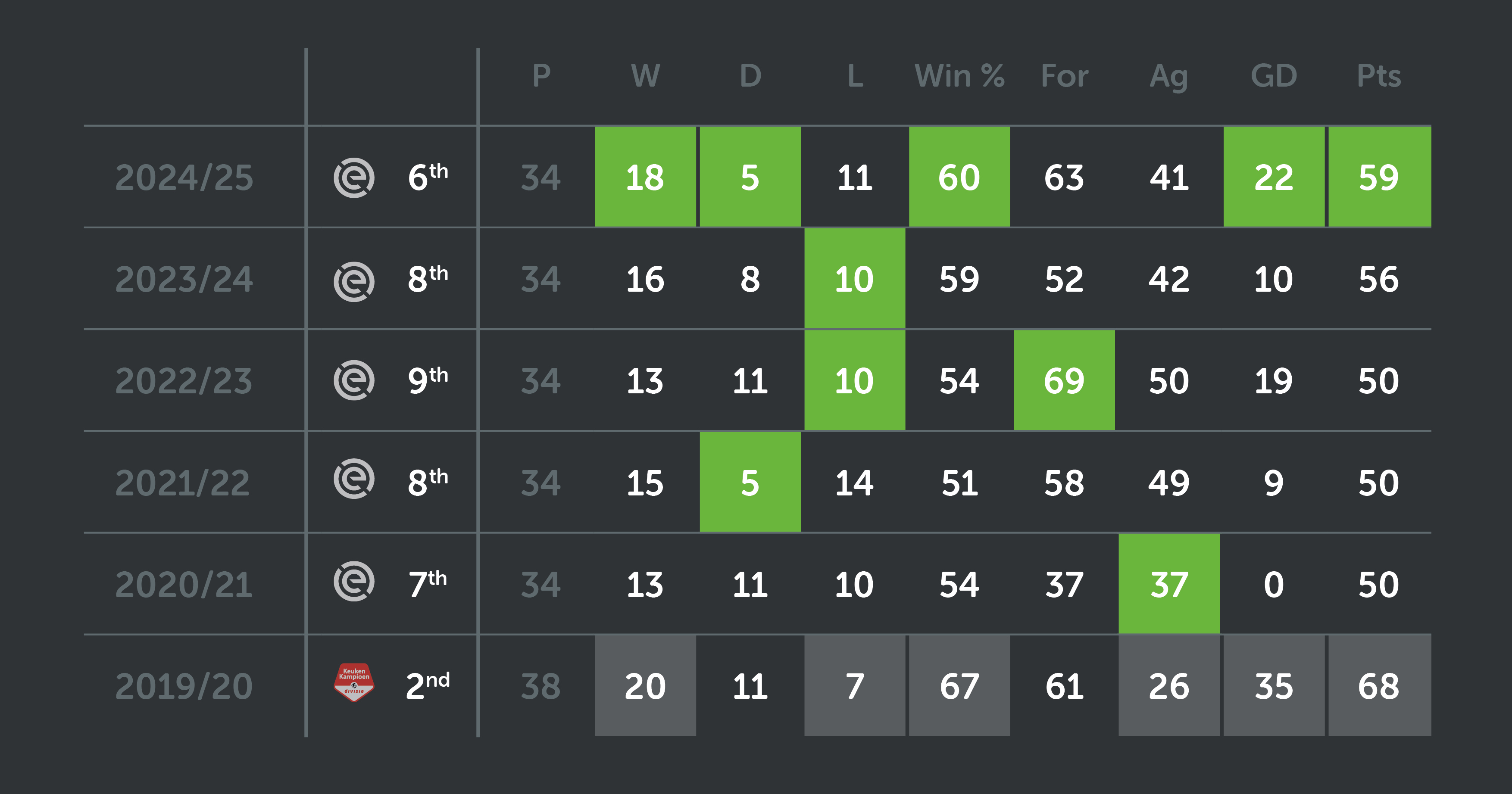 This quick chart shows how far we came in these first six seasons. As you can see, we racked up our best ever win percentage (NB this metric considers a draw as equivalent to half a win) in our most recent season, and also managed our best goal difference in the Eredivisie so far. Our stats were much better in the Keuken Kampion Divisie, but it'd be unfair to draw direct comparisons given the difficulty levels.
Next time around, I'll introduce you to some of the players that we brought in to help kick on from these solid foundations, and give you all the juicy details of  just how close we were able to get in our quest for the club's first ever Eredivisie title.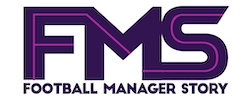 Subscribe to our Newsletter