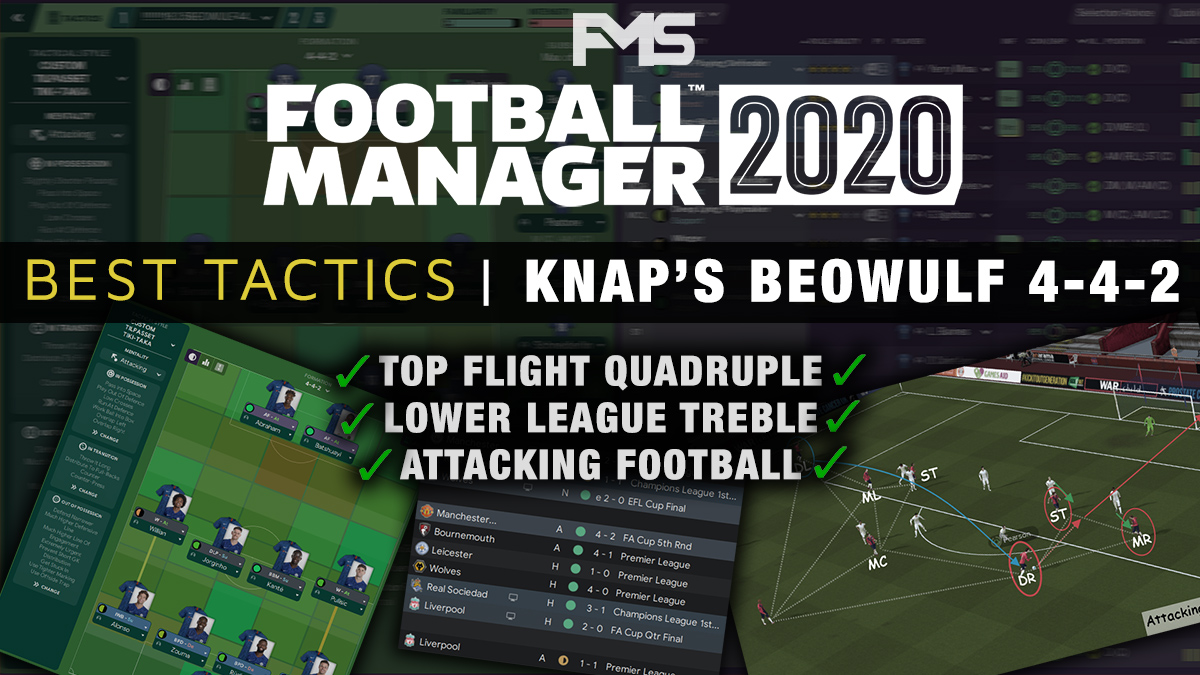 Welcome to our best Football Manager 2020 Tactic for patch 20.4, labelled an FM20 lower league tactic Knap's BEOWULF also works in the Premier League. Originally posted on the SIGames Forum, its a flat 4-4-2 featuring attacking, high pressing Football. Built on a high line of engagement and high defensive line BEOWULF creates beautiful Football and is my go to tactic at every level.
This post is coupled with a Youtube video explaining how to use Knap's best FM20 tactic from player roles, to tweaks and even some gameplay but for those who prefer our written reviews, keep scrolling.
Best Football Manager 2020 Tactic – Video
Best FM20 Tactic patch 20.4 – Formation
A simple system with two Advanced Forwards stretching the pitch, a pair of wingers who can either hug the line or cut inside (yes inverted wingers will work) and central midfielders to link up play.
This is an attacking, pressing system and can leave you exposed so two inverted wing backs are used to sit narrow and try to solidify the defence.
Please note, this system does require small tweaks for big games and certain scenarios. That is all explained in the video and this post further down, keep reading.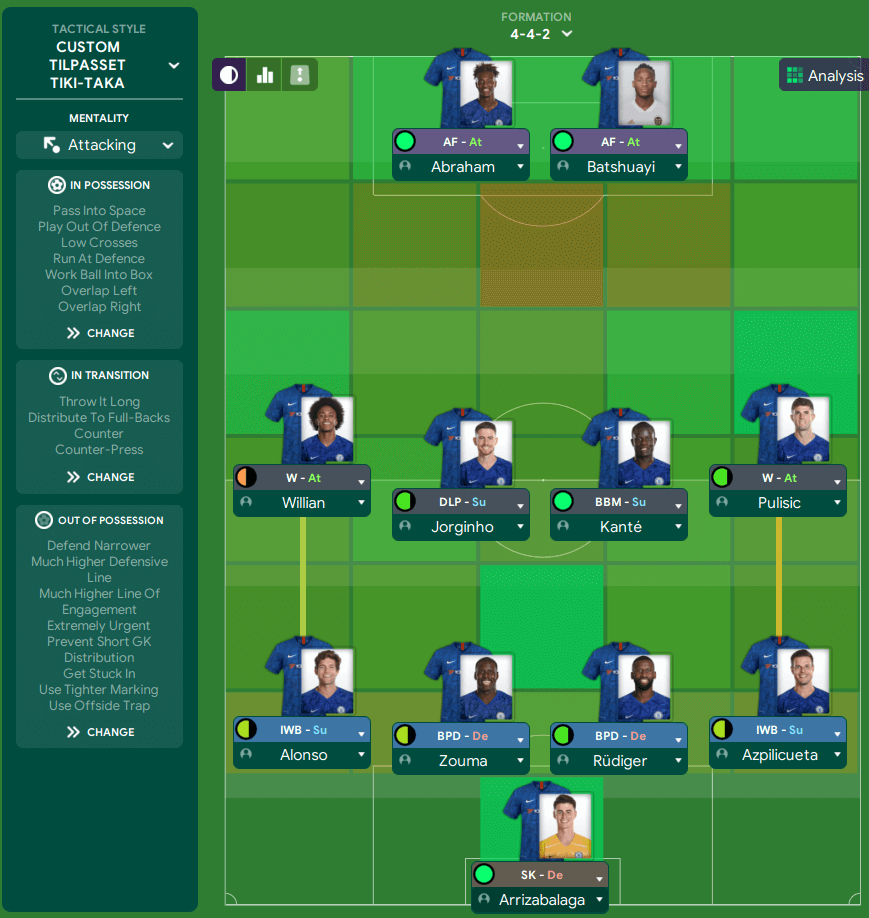 Best FM20 Tactic patch 20.4 – Instructions
We use a slightly more dirct style of play, this helps find those searching passes over the top and works a treat against attacking teams who like a possession based game. Higher tempo compliments this and fiarly wide width with the overlap on helps get those wingers involved.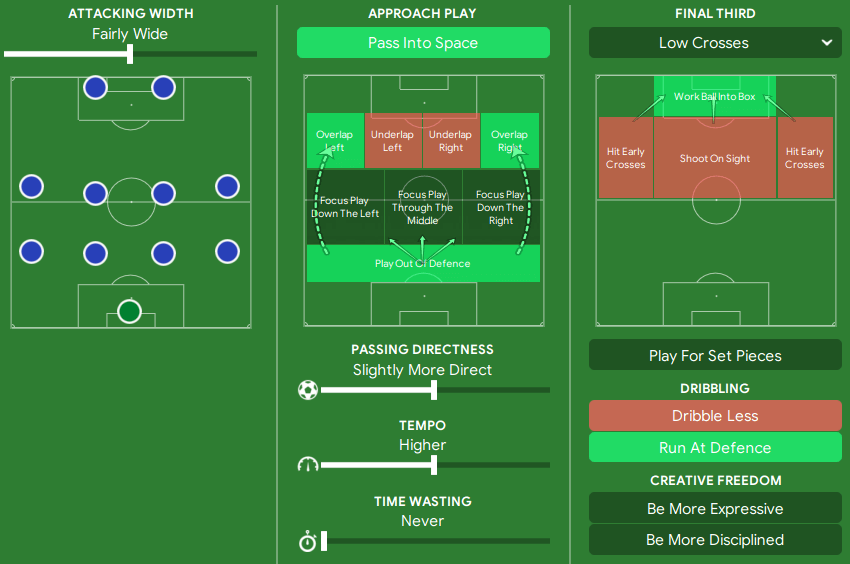 The counter and counter-press work well but nothing out of the norm here.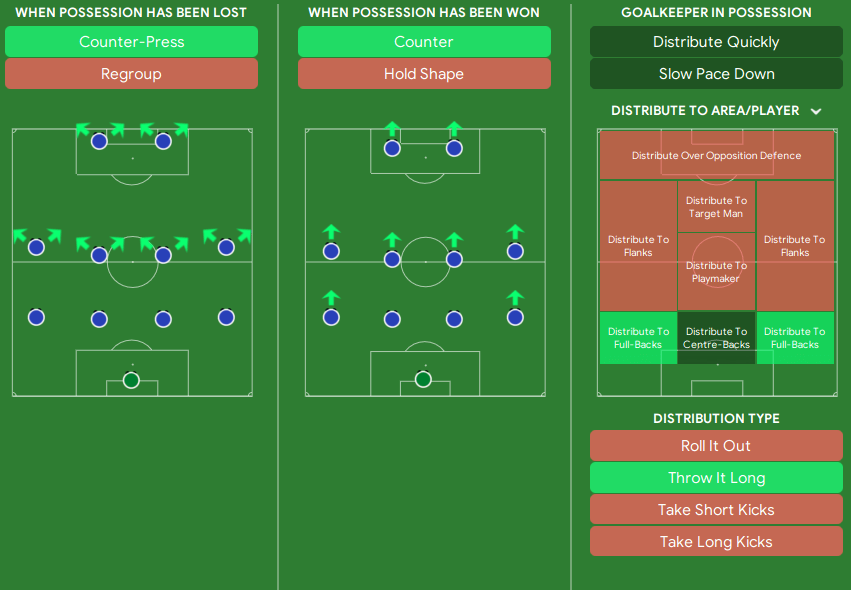 That very high line of engagement can be seen in the match engine but these instructions are standard. The player instructions and roles are where the magic happens. There are times you may need to knock off 'get stuck in'. Namely against the very top teams away from home but also other away games you feel maybe in the balance as red cards can be an issue.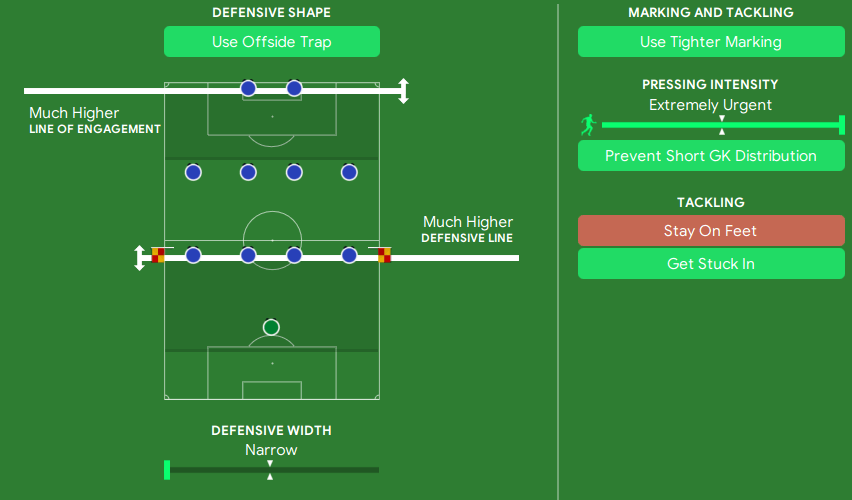 Best Football Manager 2020 Tactic patch 20.4 – Player Roles
I have listed each player role below, followed by a description of the ideal player. This tactic does use custom set pieces which I will not upload. You really do need to download this tactic for it to work to its best.
GK – sweeper keeper (defend) – Due to the amount of one on ones in this years game I'd look at attributes in this area for any keeper.
DC's – ball playing defender (defend) – I look for a towering presence, someone who is not a calamity on the ball (they will give away possession) and speed can be helpful.
DR/DL – inverted wing backs (support) – Fast, forward thinking wing backs will do very well in this system and passing ability should not be overlooked
MCR – box to box midfielder (support) – The engine room this MC will trace play effecting your defence and offence. Find all rounders with good physical attributes but more technical if you can. Passing is very important and the box to box midfielder can score from range so long shots would help.
MCL – deep lying playmaker (support) – The maestro, your Iniesta. The deep lying playmaker can go unnoticed unless a poor selection, they make passes you rarely see until misplaced. Obviously a great passer is important but good all round mental ability and technique are vital.
MR/ML – winger (attack) – I chose to use a right footed winger from the left with Scarborough and it worked a treat scoring goals galore. You should not change the role when doing this and any player preferring the opposite foot to his wing must be a class act for the level you play. Otherwise use standard wingers to cross the ball. Speed and skill are a must plus crossing and if cutting inside long shots will make a big difference.
ST's – advanced forward (attack) – The main goal threat good finishers are a must but speed is even more important. If you can find an all round striker with good aerial ability, great, but don't let this sacrifice speed and finishing.
When to tweak
Knap's BEOWULF is a great base system and can be used for most matches but there are times you should look to tweak. Below is a tweaked download for big away games and other small changes you can make when needed.
When away from home in even affair take 'get stuck in' instruction off if you are seeing too many yellow cards. Ensure get stuck in is off for all 'player instructions' also.
If away from home against very big opposition (I'm talking United, Barcelona and Man City etc) use my cautious version (download here.) The changes are deeper defensive line, get stuck in off, cautious mentality and narrow attacking width. Credit to RDF for the idea here.
If holding a slender lead and worried about conceding, try cautious mentality with instructions 'regroup' and 'hold position'.
In game, tell every player with a yellow to 'ease off tackles'. Not doing so could lead to a second booking.
Best Football Manager 2020 Tactic Results
Simply amazing results, this was York Cities second season in the Premier League and while we have good players they're all 22 or under and predicted to finish 7th.

We won the quadruple this season beating Man Utd in the Champions League final and FA Cup 5th round before Liverpool and Man City in the following rounds.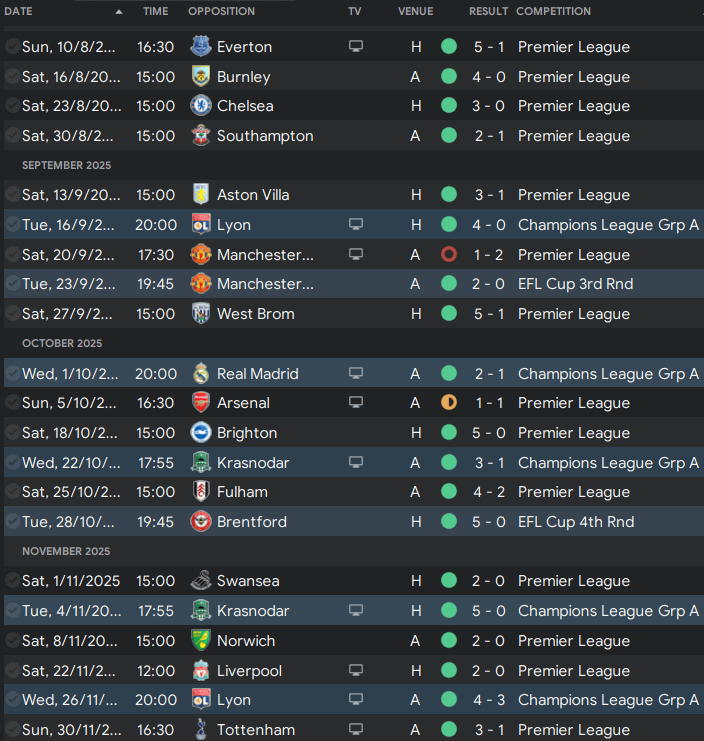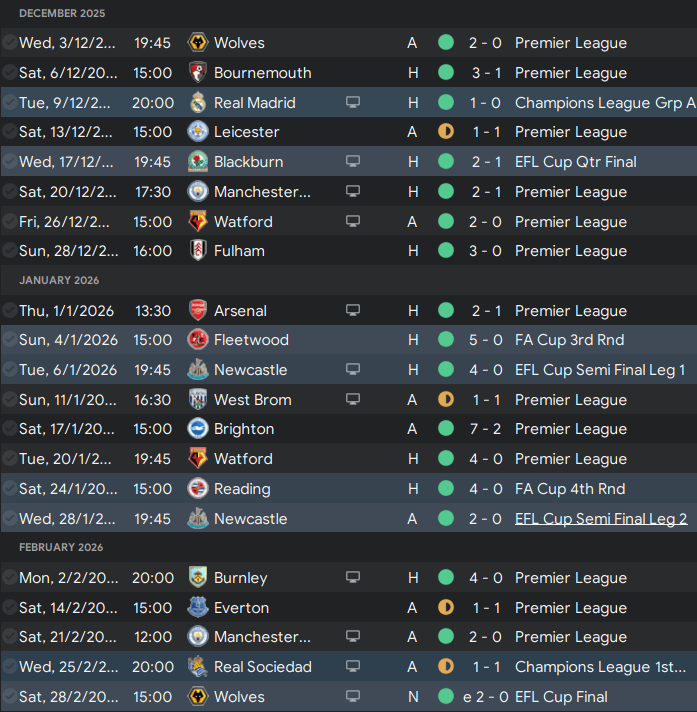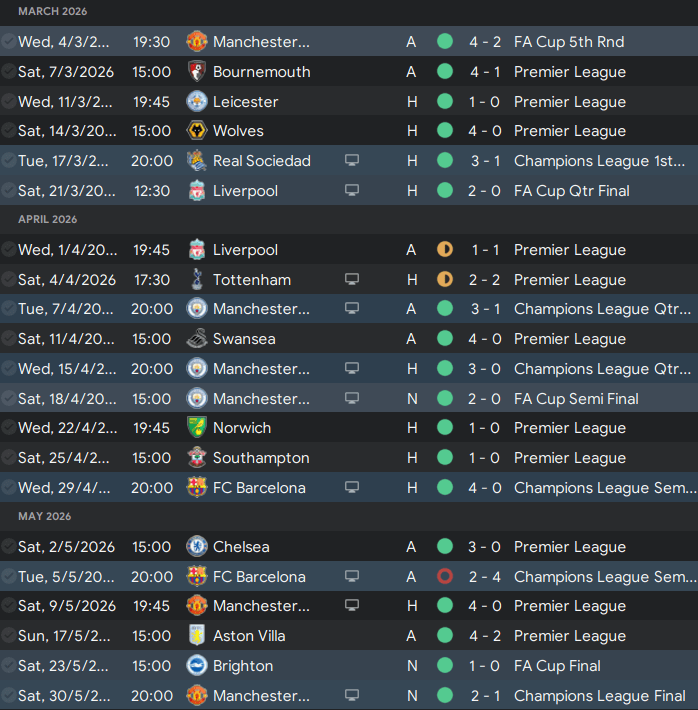 For those wondering about the lower leagues, we set a new record in the seventh tier of English Football while lifting the FA Trophy beating four National League sides…the National League is two divisions higher than tier seven.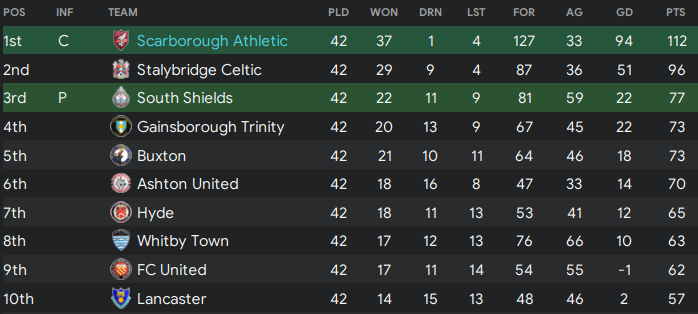 ---
Why not get a head start on the new game and read our best FM 2021 wonderkids to watch?
---
Best FM20 Tactic: Top Tips
Take notice of the 'when to tweak' instructions already mentioned.
If using right footed ML or left footed MR they must be high class for your level and capable of shooting from range.
Be wary of slow defenders and don't buy DC's with terrible passing and technique.
As with any tactic it needs loading at the start of pre-season and avoid signing a whole new team unless you are experienced doing so.
Read this guide for training schedules which will help create chances.
You must get fast forwards who can finish, attacking wing backs and fast, technical wingers.
Be aware you need a decent size squad. Two players per position to allow for injuries and bans if you are in Europe.
You MUST download this tactic, do not try and copy it. There are many individual player instructions and set pieces are vital.
Finally ensure you use my cautious version (download here) against the very big teams away from home.
Best FM20 Tactic: Download
If you would like to give the tactic a try, follow the instructions below:

Download default attacking version here – Use as default for most games
Download cautious version here – Use when playing very top teams away
1. Click the download link above and download the file.
2. For Windows put the downloaded file in this folder: Documents/Sports Interactive/Football Manager 2020/tactics. If the "tactics" folder doesn't exist you will have to create it. Windows users skip to step 2, Mac users read below.
Mac users put file in this folder: Users/YOUR Mac USERNAME/Documents/Sports Interactive/Football Manager 2020/tactics. To access your files on Mac open 'Finder', click 'Go' from the menubar, press and hold the 'alt' key to show 'library' in your menu, while still holding 'alt' click it, then go to 'Application Support' > 'Sports Interactive' > 'Football Manager 2020'
3. Now load the game as normal and enter the tactics screen.
4. In the tactics screen, click the tactic you currently have loaded then select 'load' from the drop-down menu
5. Select the tactic and click load.
Thanks for reading, any social shares would be much appreciated. Follow us on social media for future posts in the series.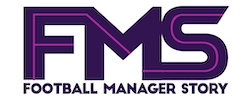 Subscribe to our Newsletter