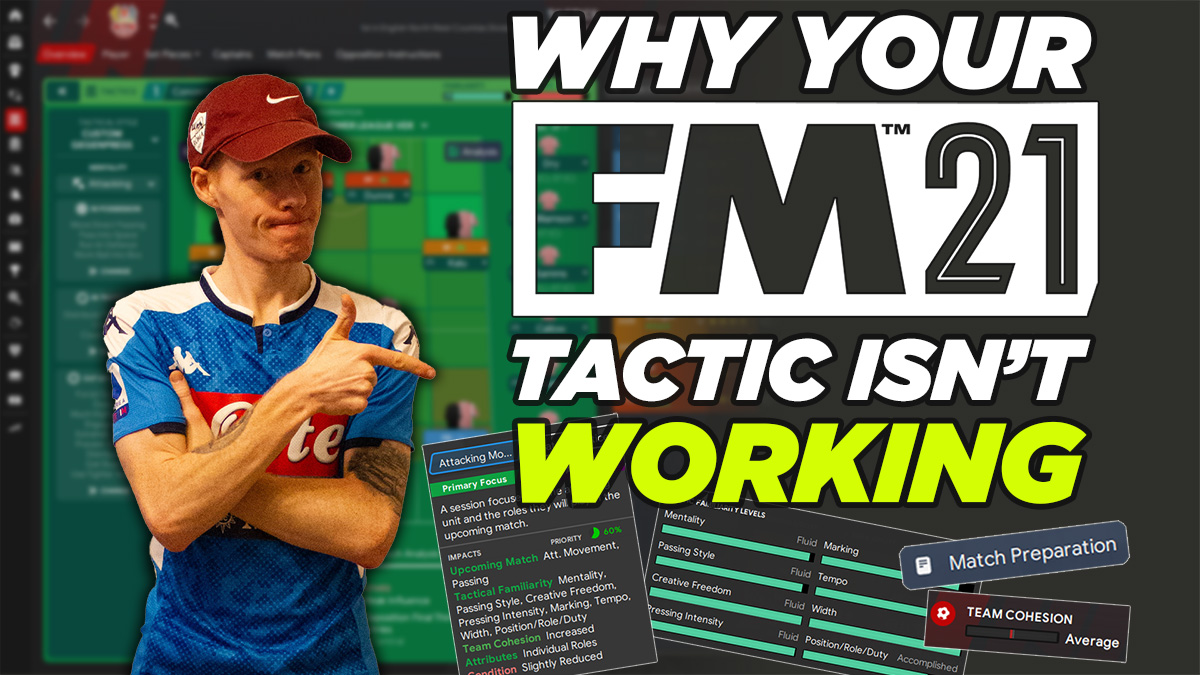 Are you struggling with tactics in Football Manager 2021? Have you downloaded a "plug & play" system which works wonders for everyone but you? In todays Football Manager 2021 guide we'll uncover why your tactic doesn't work and it probably has nothing to do with the system itself.
It is natural to blame tactics when you lose in Football Manager, but the reality is much more complex. Layer upon layer of decisions have led to your teams performance and because it is hard to pinpoint potential issues we attack the one fixed element, the system.
We recommend watching the full Youtube video below to benefit from every tip, but a shortened, written version is included also.
Why Your FM21 Tactics Don't Work – Tutorial
So, what actually affects player performance and match outcome in FM 2021? Lets outline the key elements excluding tactics before we dive into the detail and troubleshoot your save:
Player suitability
Match preparation
Team cohesion & tactical familiarity
Morale
Form & momentum
Player Suitability
Your squad should be the most important factor in choosing a tactic, there is no system more powerful than a team setup to utilise their strengths and allow for weakness.
Positional Familiarity
First and foremost, can your squad play the positions? Always look to use players in their natural position but I find accomplished familiarity is OK too.
To understand which formation may suit your team best head over to 'team reports' and 'squad depth'. You will find every position on the pitch populated with players capable in those areas and a star rating. Make note of the most populated areas and highest star ratings then select a formation around these positions.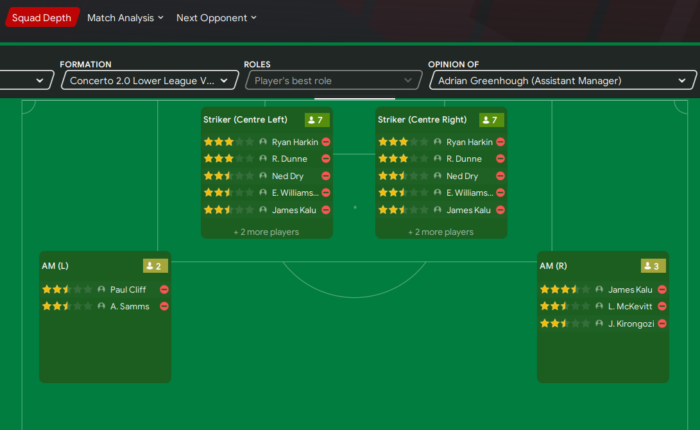 Square Pegs In Round Holes
Positional familiarity is only one piece of the puzzle, role suitability is arguably more important. Upon selecting your starting XI you may notice star ratings appear in the tactics screen which vary from your players current ability rating in the squad view. This is because the tactics screen takes role ability into account.
Note I said ability and not familiarity, this is because players do not 'learn' to play a role as they do a position over time. This rating comprises of both positional familiarity and attribute mix, FM analyses each players attributes to rate their effectiveness in the selected role.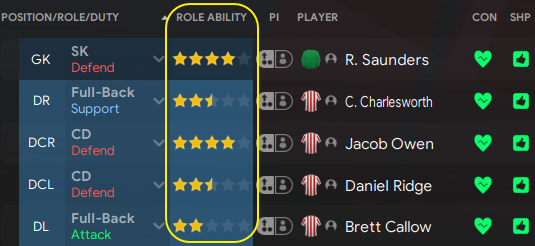 You can use this rating to gauge if a player can perform as requested. The ratings are quite detailed too, should you assign a left footed player on the right wing with Winger role, his rating will be lower as opposed to being utilised as an Inverted Winger to cut back and take advantage of that left foot.
Role Functionality
Your backroom staff cannot analyse a system and understand how it functions in the ME. You need to consider what is being asked of each player and if they're up for the task. For instance; You may have a 4 star Advanced Forward with poor pace and acceleration, if your system exploits the ball in behind he will not be suitable.
Style Of Play
You should also consider style of play; This can extend to passing, pressing, defensive line, team width, basically your team instructions. Are you trying to implement a lower tempo, short passing, Tiki Taka style of play? This is impossible without good all round technicians while physical attributes may not be as important.
Trying to press your opponent's high up the pitch, turn over possession quickly and hit hard on the counter? You should look for the opposite, physically dominant players are a must while mentals attributes play a huge part also. For a pressing approach I like aggressive, hardworking players with good teamwork.
Training – Don't Leave It To Your Assistant Manager
Training is one of the most misunderstood and undervalued tools in Football Manager 2021. Unless you train the system and help bond your team correctly even the most overpowered tactic will fail eventually.
So why not just leave such a key element to your Assistant Manager? Because the Ass Man does not schedule match preparation, the most important tool to build tactical familiarity and team cohesion.
Match Preparation Is Vital
As mentioned your Assistant Manager does not schedule match prep, this should feature heavily during pre-season and at least twice prior to each match once the season begins.
Let me outline which sessions you should use and the benefits.
Match Tactics – Covers every aspect of tactical familiarity, increasing cohesion but does little in the way of player development and does not benefit the upcoming match. Best used during early pre-season.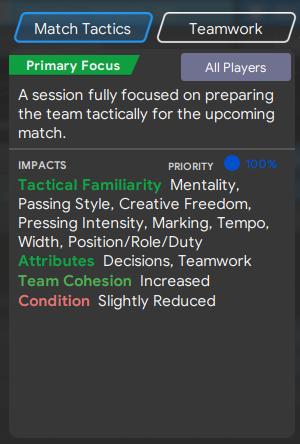 Attacking Movement – Works on attacking movement and passing for the upcoming match plus general tactical familiarity. Increases team cohesion and increases attributes for the individual roles assigned to players in their individual training. Benefits attacking units most.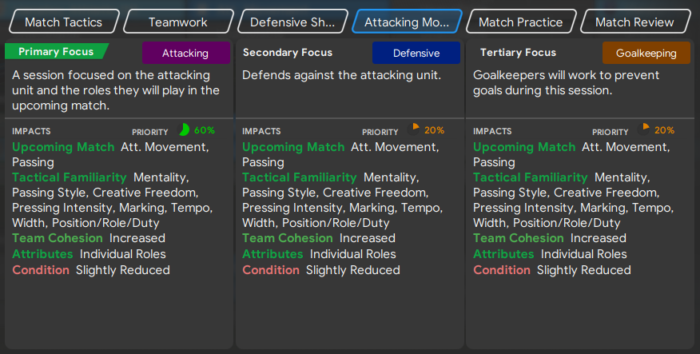 Defensive Shape – Works on defensive positioning and marking for the upcoming match plus general tactical familiarity. Increases team cohesion and increases attributes for the individual roles assigned to players in their individual training. Benefits defending units most.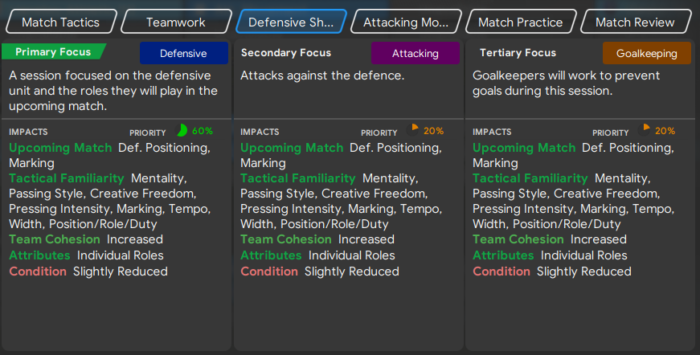 Teamwork – Works on teamwork and pressing for upcoming match and general tactical familiarity. Team cohesion greatly increased but only develops the teamwork attribute so not great for player development.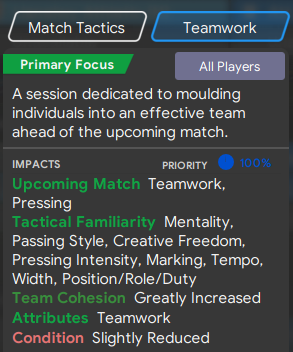 Note 'Teamwork' is the only session to target pressing for an upcoming match, this is important for a pressing style of play. That is one example of the logic you can use, but as a general rule you can't go wrong with Match tactics in pre-season and a mix of the rest then hone in on attacking movement, defensive shape and match practise during the season.
---
If you struggle with training, use our FM 2021 Training Schedules here.
---
Team Cohesion
Team cohesion affects your teams collective mental state, positioning during the match and each players vision and reaction to events unfolding. If familiarity dictates how well your team performs within a system, cohesion is how much they can perform above what is expected in my opinion.
Team cohesion can be increased through the training sessions above and game time. The team dynamics screen offers a great visualisation of team cohesion and helps you understand where the squad currently sit.

Morale
So you have training down, role suitability and tactical familiarity nailed, but are they happy? From Strikers lacking in confidence to complacent Defenders your squad mentality is vital to performance. You should manage each players state of mind using the tools below.
Praise – Any outstanding matchday performance should be praised as should progress in training. This is especially important for maintaining a strikers confidence.
Criticism – Very poor defensive displays should be individually criticised as should poor discipline. Be sure to tell your Striker he has performed poorly in front of goal BEFORE the goal drought sets in.
Team talks – A seperate subject but never underestimate the power of a good team talk, they can turn a match in either direction.
Shouts – These are basically mini team talks from the touchline but only last for upto 10 minutes.
---
Every year we test countless tactics and review the very best. For FM21 these systems will be ranked and listed within our tactics index linked below.

---
Form & Momentum
Be aware of momentum and never underestimate its impact on your tactic. I have hit great form and almost any system seemed godly while the opposite is true. You may start the season off the back of a poor, this WILL change how your team perform so try not to judge a new tactic too soon.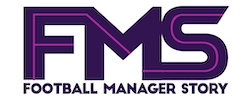 FM 2022 Latest
Welcome to this Football Manager lower league tactic guide. Intro: Hi, I've been playing...

Hi, welcome to a new episode of my save managing Gateshead from Vanarama National...

After the great first three seasons of the Gateshead to Glory story, now it's...

After the great first and second seasons of Gateshead to Glory, in which we...

Welcome to a new series, where Andrew goes Head-to-Head in a Tactics Test. This...

Here at FMS we will be testing and creating the best FM22 tactics throughout...
Subscribe to our Newsletter