I'm pleased to report that the Motormen have won everything that they could have won bar the npower Championship and the npower League Two!
The club has reached a whole new level considering that it was a semi-professional outfit when I took charge. My two Brazilian strikers became club legends and they surely deserve this status as they were the ones that kicked off our ascension through the world football ranks.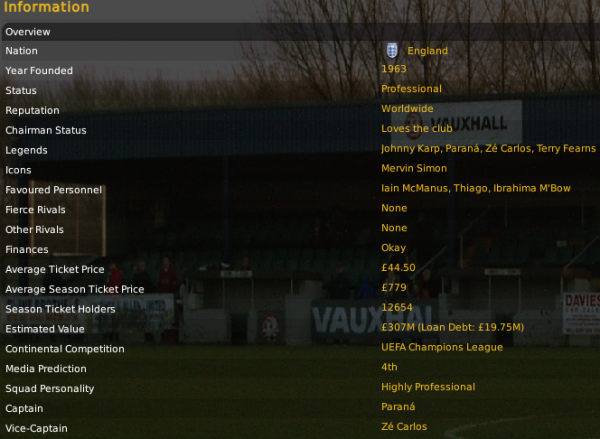 The overall club best eleven was presented to me at the end of the season, it's in the shape of the 4-4-2 that I have used for quite a few seasons. As you can see there are quite a few former players in that best eleven, including people like Omar Koroma on the bench.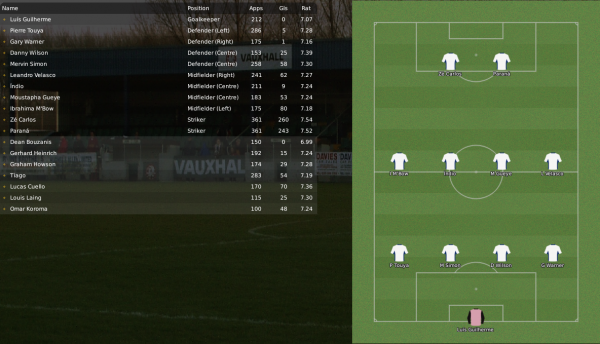 The name that caught my attention is Ibrahima M'Bow, the French/Senegalese striker that joined the club back in 2013 for a modest fee. He was just a boy when he moved from Senegal to England and I am extremely happy to see that his career reached a good level even after he left our club. This lad has scored a few major goals for us during his spell with the Motormen and I can tell you that Ibrahima did me a final favour before the end of my FM 2011 career, you'll know everything about that a bit later…
So, I resigned and almost all the staff members decided to follow me. It's nice to see that the board are considering Ancelotti as a replacement, he's a manager that I admire.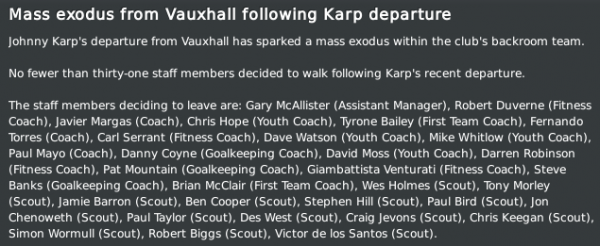 And now, the surprise! In October 2023 the French FA offered me a job as manager of their national team and I accepted mainly because that meant that I had a shot at the European Championship in the summer of 2024. And it was a pretty good shot considering the strength of the French team. However, I made a few modifications in the squad and the most important one was that I called up… Ibrahima MBow, the lad had just one cap for the nation and no goals! The group stage was as easy as it gets, we won all three games, scored 9 and kept a clean sheet. MBow scored his first goals for France in the last game, it's funny how he always manages to perform well under my guidance.

The next two rounds were even easier as we cruised past Greece and Turkey. The most difficult game of the tournament was the semi final against Spain, a really tough game but only due to a bit of bad luck. Spain opened the scoring with their very first shot on target and then survived the pressure until Abdallah Yaisien (an ex Vauxhall player!) sent the game into extra time. And guess who turned up in the dying moments of the game… Ibrahima M'Bow! (click here to watch the highlights)

The final was expected to be a lot easier as we were going to meet Russia, a team that we had beaten quite comfortably in my first friendly game with France. The game was easy indeed, it was a major onslaught, but Russia somehow managed to survive and push the game into extra time. They finally cracked after 108 minutes of digging trenches in their penalty area, we definitely deserved to win this final and it really couldn't have gone any other way. (click here to watch the highlights)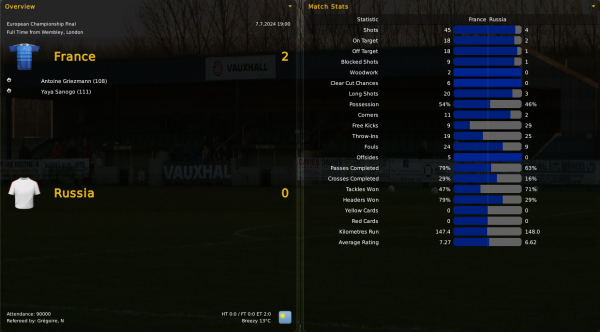 So, I added the European Championship to my international tally after lifting the World Cup, Copa America and Confederations Cup with Argentina. Here is my profile after resigning from the France job, as you can see I am not friends with the media :) That is quite strange considering that I am a journalist in my day-to-day life :)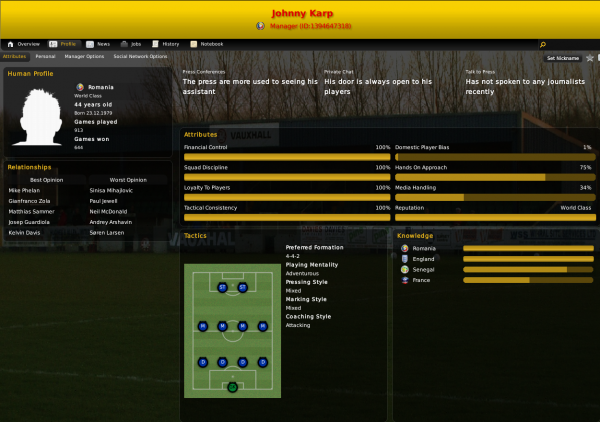 Last but not least, my statistics screen… There are a few interesting aspects in there but I will leave those for you to discover.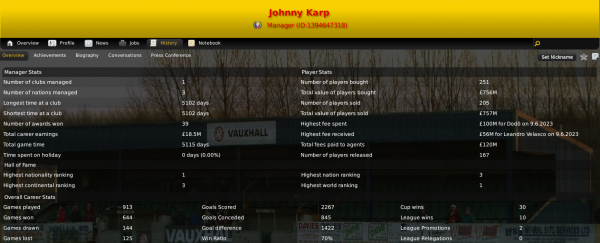 And a quick biography…

That was it folks, 89 posts, a few trophies and hopefully lots of fun for both you and me along the way. Thanks a lot for the faithful support that you have shown throughout this fantastic journey from the lower league slumps to the peaks of world football, this story existed for you and thanks to you. Football Manager 2011 was a great game, I'm sure you agree, but now we're all looking forward to the bigger and better Football Manager 2012! I know that you are curious to find out more about my FM 2012 story but I'm not going to reveal too much now. All that I can say is that I will manage a Romanian team ;)
P.S.: What do you think about our new logo?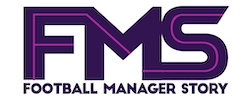 Subscribe to our Newsletter