Here we go… It's time for the last post, the last update, the last episode of the Vauxhall Motors Football Manager 2011 story! It's the 89th post in this story, there were quite a few in there :) So, you all know the situation at the halfway point of the season, we were top of the table in the Premier League but just because Man United had a game in hand, we had won the Community Shield and we were still in the three cup competitions: Carling Cup, FA Cup and Champions League. Let's see how the second part of the season went…
The Carling Cup semi final saw us taking on Manchester City and I was quite pleased to watch the first leg as we thrashed them at Vauxhall Stadium courtesy of braces from Iain McManus and Parana. The second leg didn't start too well as the Citizens took an early 2-0 lead but thankfully we managed to restore parity and advance to the final once again.
I was quite confident before the final because we were going to face Liverpool, not a very tough opponent to be honest. But I wasn't expecting an easy game either. Well, it turned out quite easy after all as we thumped the Reds 6-0 in a game that really saw just one team playing football at Wembley: the mighty Motormen! Lucas Cuello started things off with a superb goal and then, four goals later, Parana wrapped it up with an awesome effort. (click here to watch the highlights)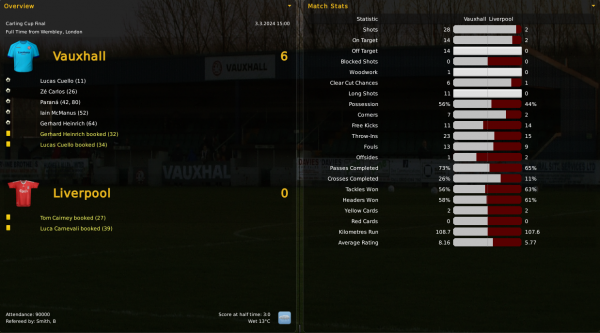 This was our third consecutive Carling Cup and fourth overall, I'm satisfied with what we have done in this competition.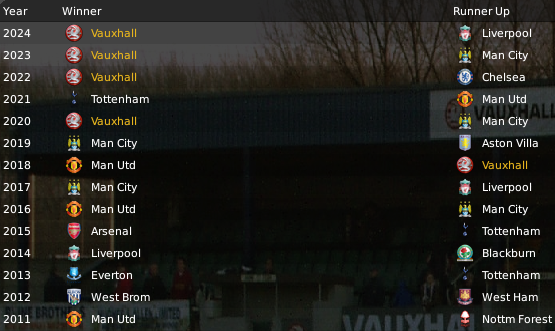 Now let's move on to the Premier League results, I was expecting a good battle for the title with Manchester United. January went pretty well for us up to a certain point, we snatched four consecutive wins at the beginning but then we were stopped by Liverpool before getting beaten again by Manchester City! That game was quite frustrating even though my lads didn't play too well but Man City scored twice from two shots on target, that's never easy to swallow. However, the situation at the top of the table was unchanged as we were level on points with Man United.

February was a lot better, we grabbed all our points while Manchester United dropped no less than six of them! The best game of the month for us was the 3-2 win against Arsenal, a victory that seemed highly unlikely after 40 minutes as one of my players got sent off. The lads showed great spirit in that game and pulled off a massive victory which helped us to build a six-point gap over Man United at the top of the table.

We suffered a setback in March as Ipswich managed to clinch a 2-2 draw against us but Manchester United had it far worse as they dropped four points in March due to a couple of unbelievable high-scoring draws: a 4-4 and a 6-6 against Liverpool! That means that we were enjoying a lead of 8 points at the top of the table , the title was ours to lose at that point.

The first game of April was the title decider as we were travelling to Old Trafford, Manchester United had to win it in order to get back in the title race. That didn't happen though as my boys turned on the style and eventually won the game 2-0 courtesy of a brace from backup striker Thiago. (click here to watch the highlights) The title was secured two games later and that left us with a relaxed finale to the Premier League season.

We won the title by a considerable margin mostly because Manchester United really crashed in the last part of the season, they even lost the runner-up spot to Arsenal. We scored quite a few goals again this season but it was the defence which impressed me with only 19 goals conceded in 38 games.

This was our seventh consecutive Premier League title out of nine top-flight seasons, I guess I couldn't have wished for more.

Now on to the Champions League, I was quite keen on winning it again after being knocked out in the semi finals last season. Things went smoothly again until the last four as we went past Sevilla and Juventus without major headaches. But then it happened again… The first leg of the semi final against Chelsea was immensely frustrating as we dominated the game from start to finish but the Blues survived the onslaught and silenced our fans with a late corner kick goal. The second leg was even more annoying as we didn't play too well. Nevertheless, we managed to push the game into extra time but then it went to the penalty shoot-out and we lost it…

Manchester City won it eventually and that really annoys me as they have won four of these since the start of the game while we managed only three… I know that we are better than them, we have proven that in the Premier League by winning seven titles in a row but somehow they always managed to turn up for the Champions League big matches. As you can see, they have never lost in a Champions League final, that's what I call efficiency!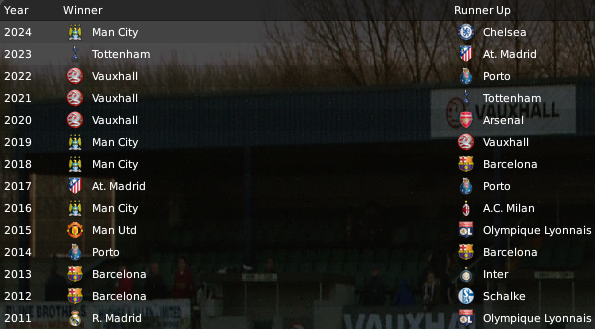 The disappointing Champions League exit left us with only one more trophy to aim for, the FA Cup. We cruised to the final even though we met tough teams like Chelsea and Tottenham on the road to the final act. The most difficult test was against the Spurs in the semi final, the game went into extra time as the score was 1-1 after 90 minutes but we really nailed them in those last 30 minutes ;)

In fact, the big final was a lot easier than the semi final. We met Aston Villa in the final battle and really outplayed them throughout the 90 minutes. They had survived the onslaught for quite some time but a fortuitous goal from centre back Gerhard Heinrich finally opened the flood gates and allowed Lucas Cuello to bag a brace and wrap things up in style. (click here to watch the highlights)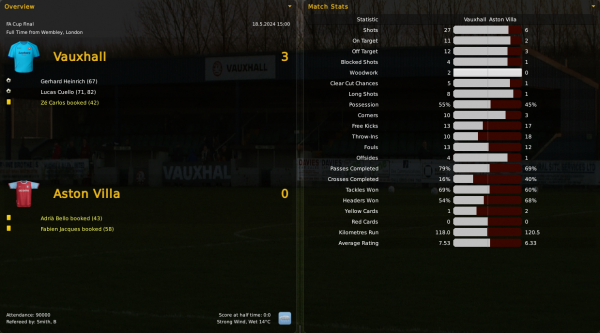 This was our third consecutive FA Cup and fourth overall, it's nice that we have won in all the finals.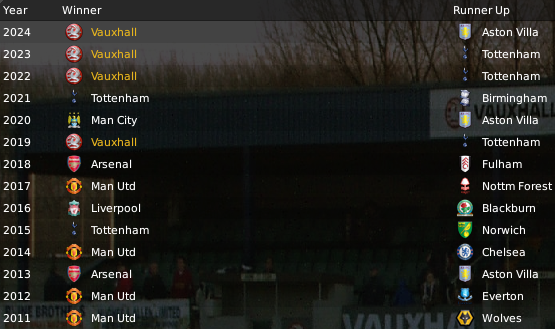 My strikers had a really good season, especially Parana who scored no less than 49 goals. Zé Carlos was not up to his standards this time but there is a good excuse as he was injured for a couple of months during the second half of the season.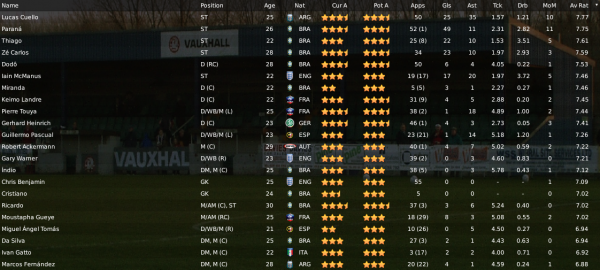 That wraps up my last season with Vauxhall but this post isn't over yet, I have a few interesting statistics for you in the next page plus a nice international surprise! ;)
Go to the next page to read the rest of the story.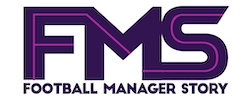 FM 2022 Latest
Welcome to this Football Manager lower league tactic guide. Intro: Hi, I've been playing...

Hi, welcome to a new episode of my save managing Gateshead from Vanarama National...

After the great first three seasons of the Gateshead to Glory story, now it's...

After the great first and second seasons of Gateshead to Glory, in which we...

Welcome to a new series, where Andrew goes Head-to-Head in a Tactics Test. This...

Here at FMS we will be testing and creating the best FM22 tactics throughout...
Subscribe to our Newsletter